9 Shops for the Best Interior Doors in Auckland
Along with walls and sections, interior doors complete the architecture of the house. If you are thinking of having them put up, we've compiled the companies providing the best interior doors in Auckland.
Interior doors express the character of your house as a part. Mostly situated along the hallways or nestled beside each other, it's the first thing you see as you enter or go out of the room.
Lots of designs are available such as minimalist, simple or elegant. Choosing the wrong one makes that door seem out of place and goes against the style and feel of your house.
As long as you have experts who will install it for you (even make it for you if so desired), you are sure to find the door of your dreams.
So without any more delay, here are the companies selling the best interior doors in Auckland!
1)  Hi Qual Doors and Stairs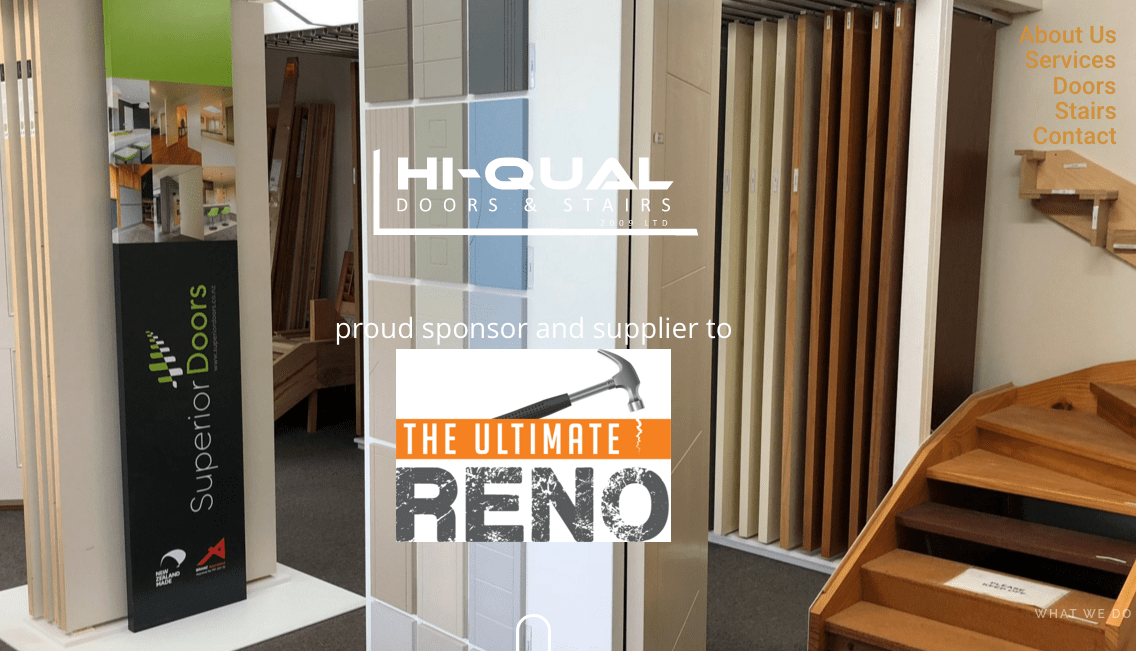 | | |
| --- | --- |
| BEST FOR | Durable and Elegant Doors |
| PRODUCTS | Doors, Handmade and Joinery Doors, and Stairs |
| WEBSITE | https://www.hiqualdoors.co.nz/ |
| ADDRESS | 16 Ashfield Rd, Glenfield, Auckland, New Zealand |
| CONTACT DETAILS | 09 443 4805 |
| OPERATING HOURS | Monday to Friday: 8am – 4pm |
Need new quality interior doors for your new house? Hi Qual Doors and Stairs is a terrific choice in Auckland.
They can provide your home with interior and exterior doors, handcrafted doors, and stairs. Their durable and elegant doors of many colours are supplied by Hallmark Group and Superior Doors.
Owned by Roddy Ball and Darran Mudaliar, they have decades of experience in the door and stairs industry. And they will give you valuable tips and advice on what doors are best for your home.
For their workmanship, knowledge, and friendly service, be it one-off or full house, Hi Qual Doors and Stairs can't be skipped among the providers of the best interior doors in Auckland.
Highlights
Exceptional workmanship
Provide your home with elegant and durable interior doors
Decades of experience in the industry
Friendly service
Customer Reviews
David Brown, one customer, commented on Google Business:
"Friendly, knowledgeable, and quality product ready on time. ?"
2)  Doormakers Ltd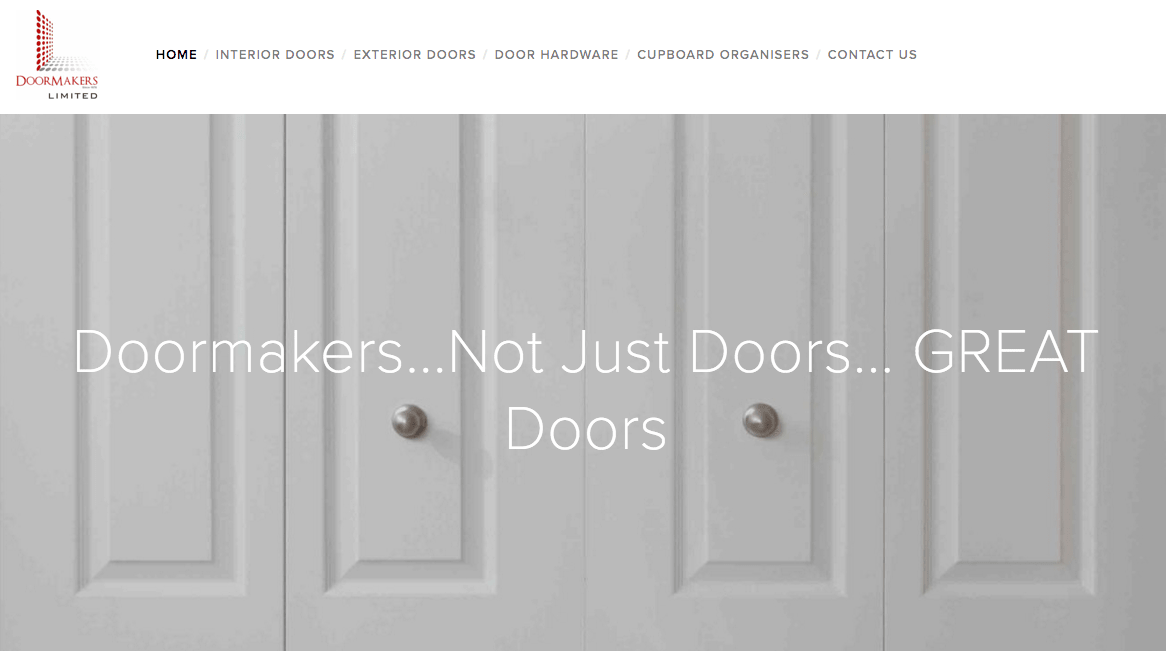 | | |
| --- | --- |
| BEST FOR | Superb-Quality doors |
| PRODUCTS | Interior Doors, External Doors, Door Hardware, Cupboard Organisers |
| WEBSITE | http://www.doormakers.co.nz/ |
| ADDRESS | 36 Angle Street, Onehunga, Auckland 1061, New Zealand |
| CONTACT DETAILS | +64 09 634 6300 |
| OPERATING HOURS | Monday to Friday: 8am – 4pm |
Another of the best interior door companies in Auckland is Doormakers Ltd. It offers superb-quality doors that are hollow-cored, solid-cored, wooden or with an MDF finish.
If you can't find the door that you want for your home or office, the company also specialises in producing a new one, even with translucent panels, or embossed aluminium for creative styling.
Beside that, they also make external doors, cupboards, and door accessories like knobs, sliders, locks, and etc. Don't forget that they can install it for you too — like all those drilling, cutting holes and stuff.
You can expect your home will look elegant and inviting with the help of Doormakers Limited! That's why they provide some of the best interior doors in Auckland.
Highlights
Offers superb-quality doors
For an elegant and inviting home
Makes custom interior doors
Customer Reviews
On Google Business, Moe Sylver said:
"Very fast. 3-4 days to have my doors ready and delivered. Excellent customer service too."
3)  The Door Shed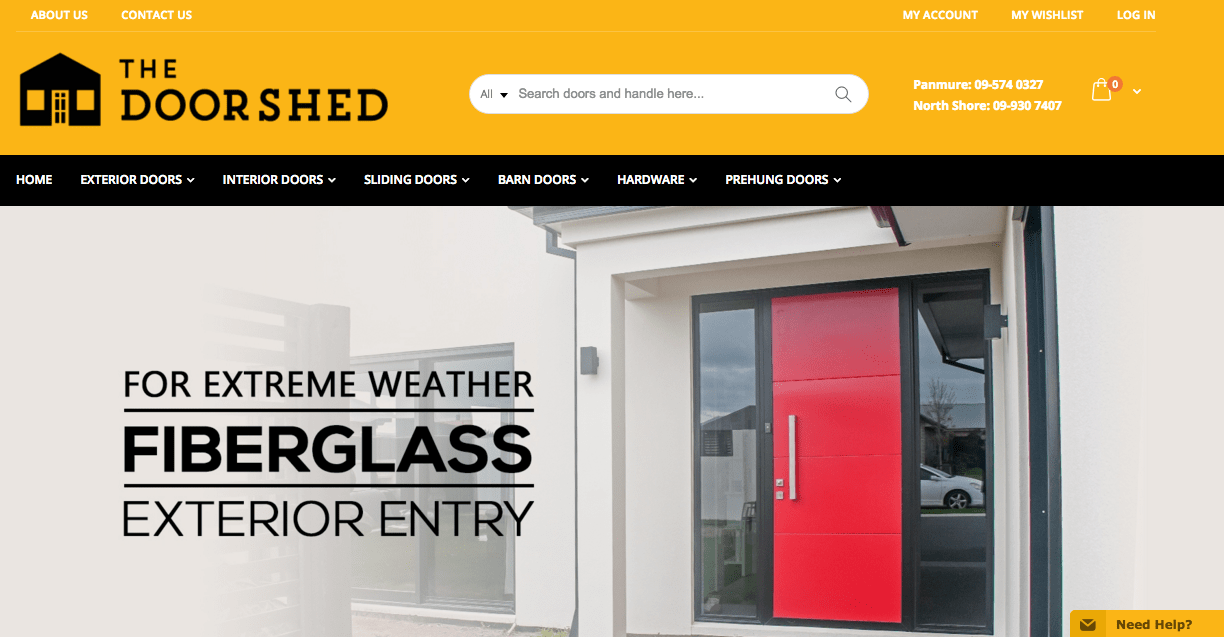 BEST FOR
Well-Crafted and Premium Doors and Hardware
PRODUCTS
Interior Doors, External Doors, Sliding Doors, Barn Doors, Prehung Doors, Door Hardware
WEBSITE
https://www.doorshed.co.nz/
ADDRESS
6C Link Drive,Wairau Valley, Auckland, NZ (North Shore Store)

6 Morrin Rd, Panmure, Auckland, NZ (Panmure Store)

CONTACT DETAILS
09-930 7407 (North Shore Store)

09-574 0327 (Panmure Store)

OPERATING HOURS
Monday to Friday: 7.am – 4pm
If you need any sort of door to your terrace, room, or bathroom, you should visit the Door Shed stores located in either North Shore or Panmure Stores. They're another of the top companies selling the best interior doors in Auckland.
They have a slew of hollow, bifold, barn, prehungs, french doors, louvres and sliding doors to choose from with varying textures and materials used.
These are supplied by local manufacturers that produce well-crafted and premium doors and hardware. They include Renall, Corinthian Doors, Sylvan, Miles Nelson, and others.
And if you can't find your door in their existing inventory, you can have it customised. The staff can visit your house to measure and assess what else is needed.
Furthermore, check out their door hardware in order to equip door stops or guards on your door. Besides carrying some of the best interior doors in Auckland, they also provide some excellent door hardware.
Highlights
Premium quality doors and hardware
Slew of interior doors to choose from
NZ produced
Can also be customised to your needs
Customer Reviews
Though the man bought exterior doors, you can still get a glimpse of how their staff works. Pradeep Kadyan stated on Google Business:
"Excellent service. Guys were really helpful and knowledgeable. Went to buy exterior doors with frames and got them. Also got all the hardwares as well. Man at the reception was very honest about feedbacks of their products. Great deals. I would say best in town."
4) Panels 4 U

| | |
| --- | --- |
| BEST FOR | Hassle-Free Service |
| PRODUCTS | Kitchen Doors, Wardrobe Doors & Shelves, Bathroom & Laudry Cupboards Doors, High Gloss Kitchen Doors, Wood Grain &Pattern Kitchen Doors, Desks & Table Tops, Plywood Kitchen Doors, White Kitchen Doors |
| WEBSITE | http://www.panels4u.co.nz/ |
| ADDRESS | Unit 7/135 Pilkington Road, Panmure, Auckland 1072, New Zealand |
| CONTACT DETAILS | (+64) 9- 666 0632 |
| OPERATING HOURS | Monday to Friday: 8.30am – 5pm |
Are there times where you think of renovating your kitchen? What about your doors, or your wardrobe? With so many elements involved in home alterations, your service provider should be one that considers all your requests, while still being reliable enough that you will let them touch your items with no worries.
Panels4U understands that life is busy. With errands to run, mouths to feed, and many more activities filling up your day, the last thing you want to do is let a renovation eat up the majority of your time– with so many things to do, it's already tiring to just think about it.
You won't need to spend any more countless hours and energy driving all over town, measuring, quoting, and talking to various contractors to get them to work together. Panels4U will get everything in order– they'll get the job done for you without any hassle.
Highlights
Reliable and helpful personnel
Offers a large selection of doors
Hassle-free service
Customer Reviews
Wayne Watkins remarked on Google Business:
"These guys are the best. Simple procedure to order, quality product and regular updates at each stage. My cabinet doors look great A+++"
5)  Visual Hardware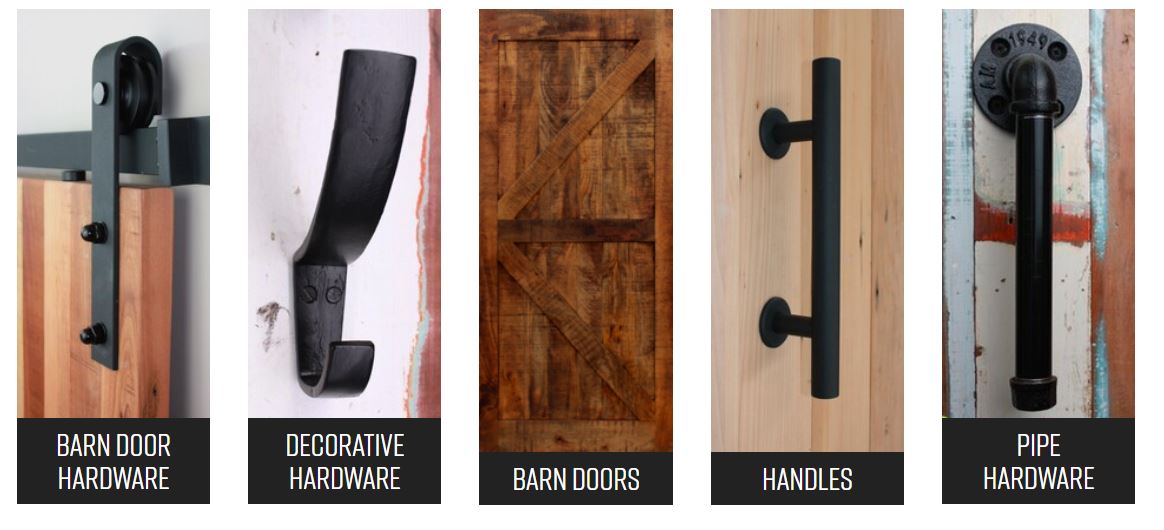 BEST FOR

Barn Doors and Hardware

PRODUCTS
Handcrafted Artisan Barn Door
WEBSITE
https://www.visualhardware.co.nz/
ADDRESS
1/84A Elizabeth Knox Place, St Johns, Auckland
CONTACT DETAILS
[email protected]

0800 111 005

OPERATING HOURS
Monday to Friday: 8am – 5pm
Visual Hardware specializes in barn door sliding hardware and set size barn doors. They also have a range of handles, decorative hardware, shelf brackets, and pipe hardware.
If you want something timeless, their Artisan Door range and Iron soul brand embrace the charming feel of the very essence of barn doors creating a homely rustic style. Visual Hardware also has a range of more contemporary options in their aesthetic barn door hardware range. Their most popular barn door hardware can also be in stainless steel or white, creating a very sleek modern look. They have options for all personal tastes so you are able to achieve the style you set out to create.
Highlights
Specializes in

barn doors and hardware

Homely rustic style

Many options catering to your personal taste
Customer Reviews
Here's one customer, Helen Crummey who shares:
"Very pleased with the service and product. They answered the phone every time I rang and answered all my questions promptly. Excellent friendly and informative service which is hard to get these days and I love the product. I bought the classic hanger barn door hardware kit and it looks great. Highly recommended."
6)  Won-Door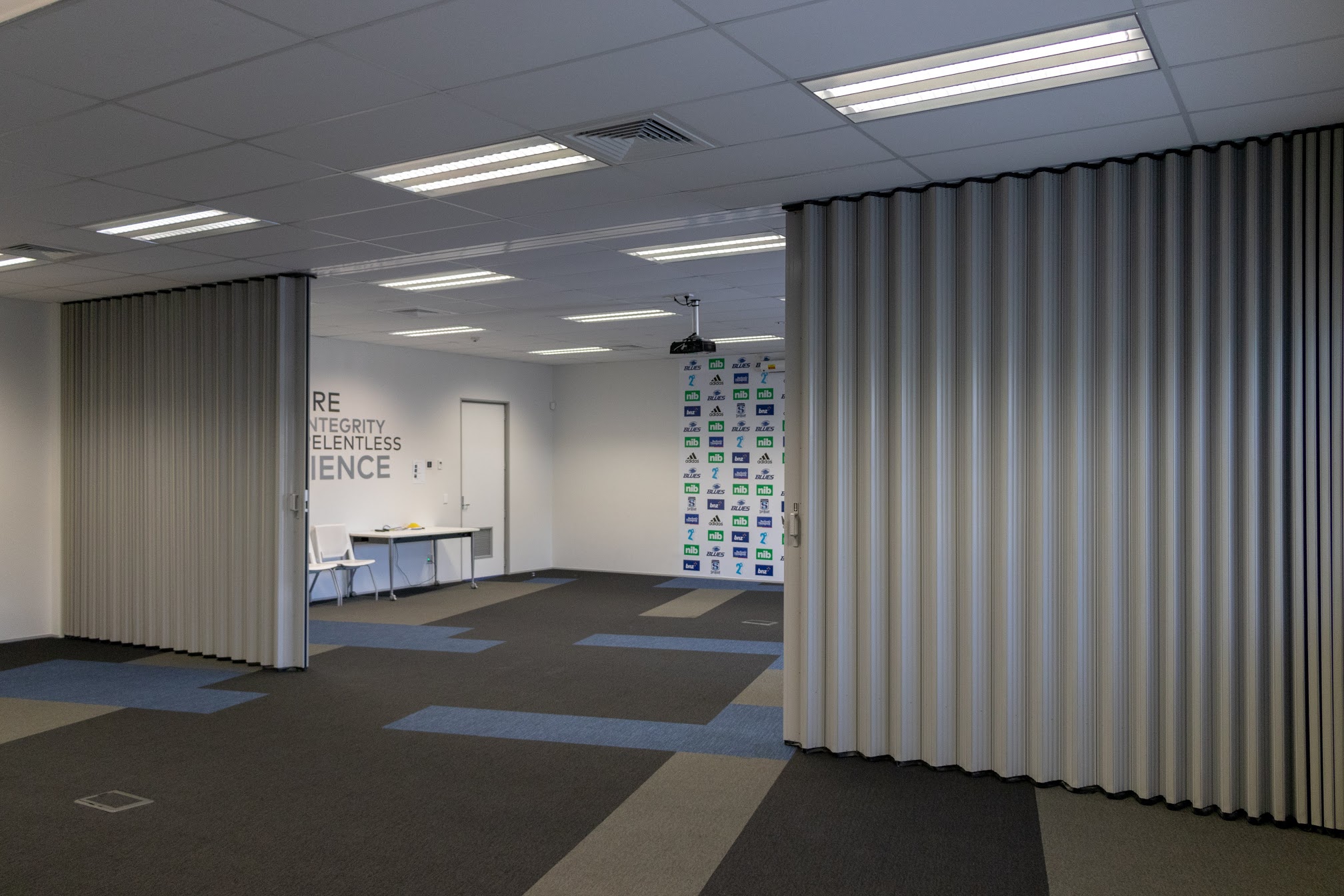 BEST FOR
Accordion-Type Folding Partitions
PRODUCTS
Won-Door DuraSound
(acoustic barrier)
Acoustically rated Aluminium Accordion Folding PartitionWon-Door DuraFlex
(sight/privacy barrier)
Non-acoustic rated Aluminium Accordion Folding PartitionWon-Door FireGuard
(fire & smoke barrier)
Steel Horizontal Sliding Accordion Fire Door
WEBSITE
https://www.won-door.co.nz/
ADDRESS
Unit 1 29B Alfred Street
PO Box 13-381 Onehunga
Auckland, New Zealand
CONTACT DETAILS
0800 688 555
09 634 2242
[email protected]
OPERATING HOURS
Monday to Friday: 7.30am – 4pm
Won-Door is the world's largest manufacturer of accordion-type folding partitions. Offering the most cost-effective partition in the market, Won-Door folding partitions perform multiple functions, cost less to install and maintain, while lasting longer than any other folding partition.
Highlights
Offers accordion-type folding partitions
Cost-effective prices
Lasts longer than other folding partitions
Customer Reviews
One client, Roger Kesseler said:
"We have just had our new Won Door installed in our home & we are delighted with the out come, it looks fabulous. We viewed other products but found the Won Door to be of a far superior quality & looks.
We dealt with Nick from day one & he kept us informed all the way through even over the lock down period, thanks Nick a pleasure to do business with you."
7)  Fit Easy Door Company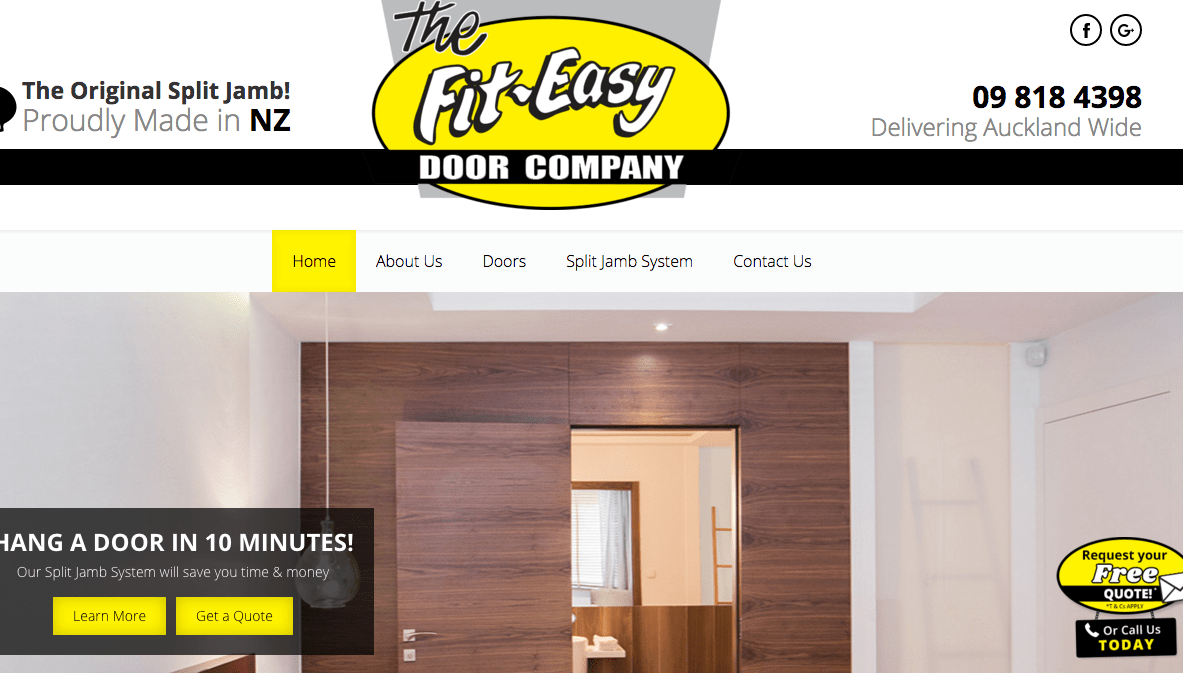 | | |
| --- | --- |
| BEST FOR | Split Jamb Prehung Doors |
| PRODUCTS | Split Jamb Prehung Doors, Grooved Doors, Standard Doors, Cavity Sliders, Sliding Wardrobes |
| WEBSITE | http://fiteasydoors.co.nz/ |
| ADDRESS | Unit 2, 4 Waikaukau Rd, Glen Eden, Auckland, New Zealand |
| CONTACT DETAILS | 09 818 4398 |
| OPERATING HOURS | Monday to Friday: 7.30am – 4.30pm |
Ordinary doors can be quite laborious to set up. But if you'd like to save time and effort, you could do away with the patented Split Jamb prehung door by Fit Easy Door Company.
All it takes is 10 minutes of your time with the necessary tools to fit the Split Jamb unit. But before you buy, it will be handy if you have noted down the measurements to get the right size.
With over 30 years of experience, Fit Easy is your quality door provider if you want the best interior doors in Auckland made from materials from New Zealand. They have grooved, standard, sliding doors, plus wardrobe sliding doors.
Customers have praised the quality of the split jamb unit and the fact that it takes just a few minutes to install it. This innovative door is worth a try of one of the best interior doors in Auckland.
Highlights
Specialising in split jamb prehung doors
Over 30 years of experience
Offers numerous options for sliding doors
Customer Reviews
Sarah Bowler noted on Google Business:
"Recently purchased a framed door for our reno at home. Fit easy doors had a great selection of door styles which was great. The Fit Easy system also worked really well. Thanks."
8)  Doorways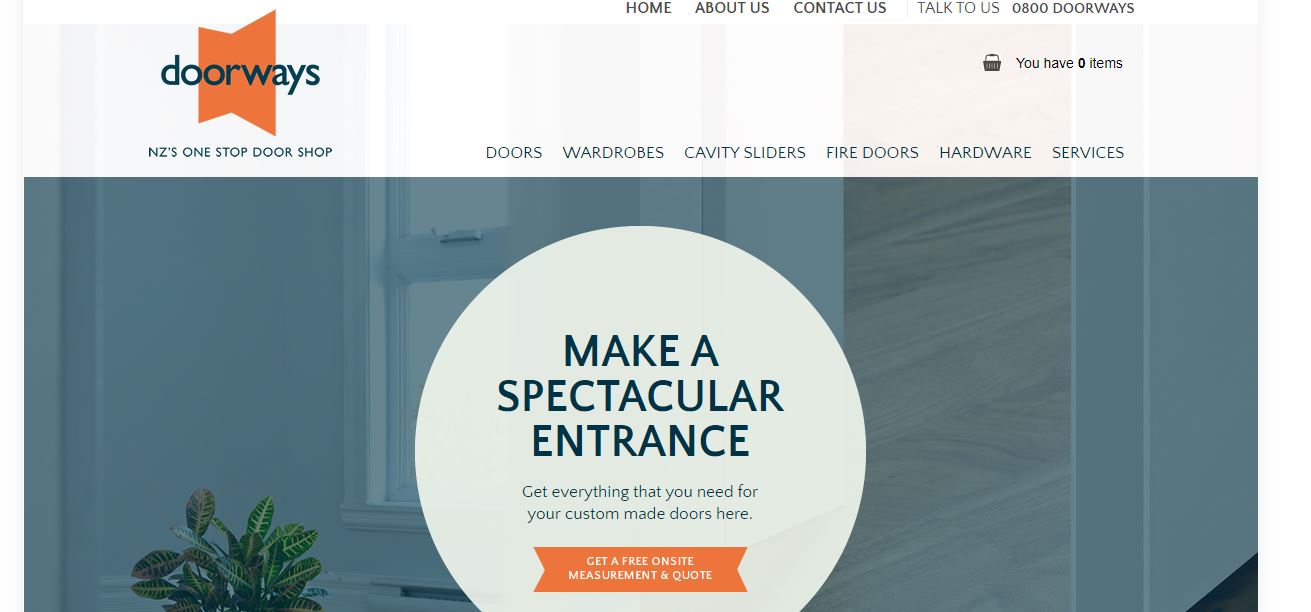 | | |
| --- | --- |
| BEST FOR | Classic and Stylish Designs |
| PRODUCTS | Interior Doors, External Doors, Fire Doors, Hardware, Wardrobes, Cavity Sliders |
| WEBSITE | https://www.doorways.co.nz/ |
| ADDRESS | 428 Church Street East Penrose Auckland, New Zealand |
| CONTACT DETAILS | 09 571 0605 |
| OPERATING HOURS | Monday to Friday: 8am – 5pm |
Doorways is a one-stop-shop for all your needs at home and this includes their best interior doors in Singapore. Through their several decades of experience, their collections have been consistently following the market trends with their classic and stylish designs.
They feature moulded panels, solid timber, veneer, and many more styles and patterns that'll surely complement any home interior design. They also have door renovation services in case you've done through home renovation and noticed that your old door is already out of style.
Highlights
Classic and stylish designs
Complement any home interior design
Also has door renovation services
Customer Reviews
On Google Business, Julia Hennessy sincerely wrote:
"Dear Doorways, thank you very much for your professional services. You were able to work through the issues I had and achieved a great outcome. Again many thanks and we look forward to continuing to work with your business in order to complete our renovations."
9) CKR Doors Limited
BEST FOR
Commercial and Industrial Doors
PRODUCTS
Roller Shutters
Roller Grills
Sectional Doors
Automatic Doors
Operable Walls and Doors
Overhead Closer's
Fire Exit Doors
WEBSITE
http://www.ckrdoors.co.nz/
ADDRESS
Killarney Street, Takapuna, North Shore City,
Auckland – 0622
CONTACT DETAILS
09-4861455

021 0863 8199

OPERATING HOURS
Mon to Fri: 9.30am to 5pm
CKR Doors understands the importance of time for every individual, which is why they do the best they can to ensure that anyone will be able to use the doors they install easily and immediately.
Their experienced team guarantees that their clients will receive only the best service. They can install and service all kinds of automatic and manual doors no matter the location– may it be commercial or industrial premises. They've also started making their own doors, specifically for shops and factories.
If you ever need a door for your property, CKR Doors is at your disposal. Whether it's for rapid rise doors, insulated freezer doors, or loading dock equipment, give them a call– they can provide you with a variety of solutions.
Highlights
Experienced team
Installs and services automatic and manual doors
Variety of door solutions
---
And with that, we conclude the list of vendors with the best interior doors in Auckland. There are all sizes and shapes of doors that will go well with your home or office in this list.
Do you have any questions about what we discussed? Send it our way via the comments and we will answer as soon as possible.
If you plan to conduct a semi-annual check to see if the locks in your house or office are still working or if you intend to add more locks to your new doors, by the way, you can read about the best locksmiths in Auckland.