The 5 Best Italian Restaurants in Hamilton
Craving a richly flavoured spaghetti or tasty Pizza Margherita? If so, you're on the right page, as we've gathered the best Italian restaurants in Hamilton here for you.
We chose the ones that serve authentic Italian dishes that are just to die for. Second, we chose those with a cosy and relaxed atmosphere as well as friendly and nice staff.
So let's get started, here are the best Italian restaurants in Hamilton!
1)  Portofino

BEST FOR
Northern Italian dishes
SERVICES
Lunch

Dinner

Wine List

Takeout

Dessert

WEBSITE
https://www.portofino.co.nz/
ADDRESS
237 Victoria Street, Hamilton Central, Hamilton 3204, New Zealand
CONTACT DETAILS
+64 7-834 2034
OPERATING HOURS
—
Portofino is an Italian restaurant business started by brothers, Kiro and Gino. It now has many locations around the North Island, including in Hamilton, Auckland and Wellington.
They serve delicious and simple Italian dishes with a Northern influence, all of them made from either local ingredients fresh from the market or imported from Europe.
You'll delight in the cosy and welcoming ambience of the restaurant. This complements both the food and service to give you a wonderful dining experience every time!
They believe in showcasing classic Italian hospitality, so you'll definitely feel comfy while indulging in your cravings! So if you want to do some Italian food tripping, drop by soon at Portofino Hamilton restaurant.
Highlights
Northern Italian dishes
Delicious and simple food
Cosy and welcoming atmosphere
Hospitable service
Customer Reviews
Ken Tsangyum, one guest, said this of Portofino Italian restaurant:
"If you're looking for a good Italian restaurant then Portofino will not disappoint. With a good selection of wine and a menu to match, its pretty hard to fault.
Highly respectful and very attentive staff make the dinning experience very enjoyable.
The price reflects the quality and the quality is high.
Still one of my favorite restaurants in Hamilton."
2)  Caffé Centrale

BEST FOR
Authentic Italian cuisine
SERVICES
Starters

Pizzas

Main Meals

Desserts

Takeaways

Catering

WEBSITE
https://caffecentrale.co.nz/
ADDRESS
10 Alma Street, Hamilton Central, Hamilton 3204, New Zealand
CONTACT DETAILS
+64 7-838 1013
OPERATING HOURS
Tuesday to Saturday: 5.30pm – 10pm

Sunday: 5.30pm – 9.30pm
Awarded Heritage Status for the Mediterranean diet by UNESCO, Caffe Centrale is one of the top go-tos and best Italian restaurants in Hamilton.
They serve irresistible traditional Italian meals prepared by Chef Marco Scarpa. The establishment itself is an Italian-owned and -run restaurant, so there's no question everything is authentic.
Regular, vegan, vegetarian and gluten-free options are available too, which is great for everyone.
For simple and flavourful meals, try their Penne Arrabiata, Spaghetti Pomodoro or Pizza Napoli. And for desserts, you cannot miss their homemade, refreshing gelatos and sorbets!
Takeaway and catering services are available too. Fun fact: they are the sponsored caterers for the NZ Italian Film Festival and the Hamilton Film Festival.
Highlights 
Proudly Italian-owned and -run
Traditional Italian meals
Great variety of food
Offers catering services too
Awarded the Heritage Status by UNESCO
Customer Reviews
Here's feedback from one blogger about his experience at Caffe Centrale:
"We popped down to Cafe Centrale for dinner afterwards – a modestly priced veal marsala for me and a substantial bowl of spaghetti for Iggy. It was fine, accessible, family fare and served with healthy steamed vegetables as part of the dish, which I applaud."
3)  Adriana's Caffé & Ristorante Italiano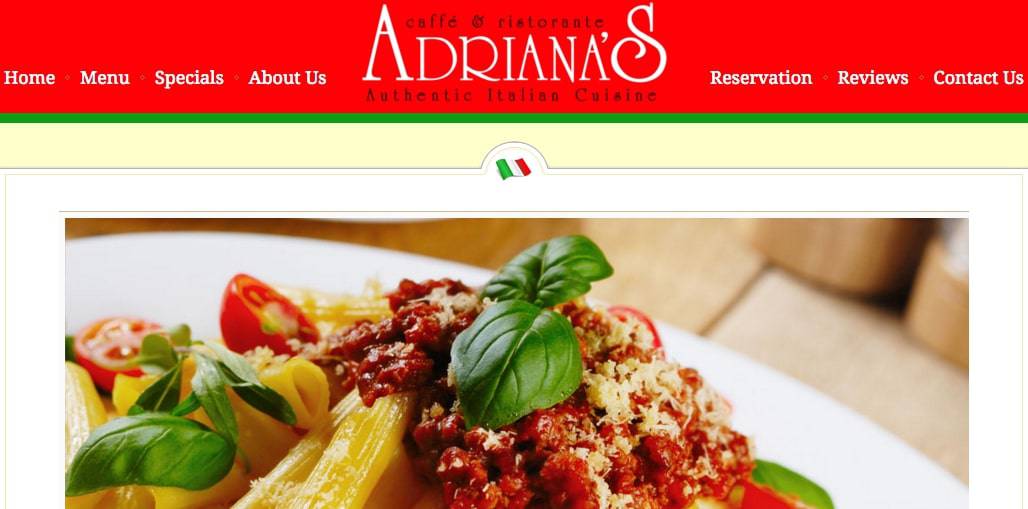 BEST FOR
Memorable Italian dining experience
SERVICES
Appetisers

First Course

Main Course

Dessert

Coffees and Wines

WEBSITE
http://adrianas.co.nz/
ADDRESS
6 Alma Street, Hamilton Central, Hamilton 3204, New Zealand
CONTACT DETAILS
+64 7-838 0370
OPERATING HOURS
Monday to Saturday: 5.30pm – 12am
If you're looking for a 'truly' authentic Italian menu for your dinner, then Adriana's Caffé & Ristorante Italiano is the perfect place for you and your family.
Its history goes back to the 80s, when a woman from Rome named Adriana first opened this Italian restaurant. It went on to become successful for over 30 years and counting.
People are raving about this restaurant. One customer even stated that after his trip to Italy, he became certain that Adriana's was one of the best Italian restaurants in Hamilton!
Add to this the fact that the place has a charming ambience reminiscent of the restaurants in Italy. Furthermore, the waiters are said to be polite and welcoming, according to another customer.
Highlights
Consistently authentic Italian food
Opened doors in the 1980s
Polite and welcoming staff
Charming vibe 
Customer Reviews 
Bob and Alex from Hamilton shared a review about Adriana's:
"Lovely place, relaxing, great food and the service was excellent; Best Italian food I have had outside of Italy."
4)  The Keg Room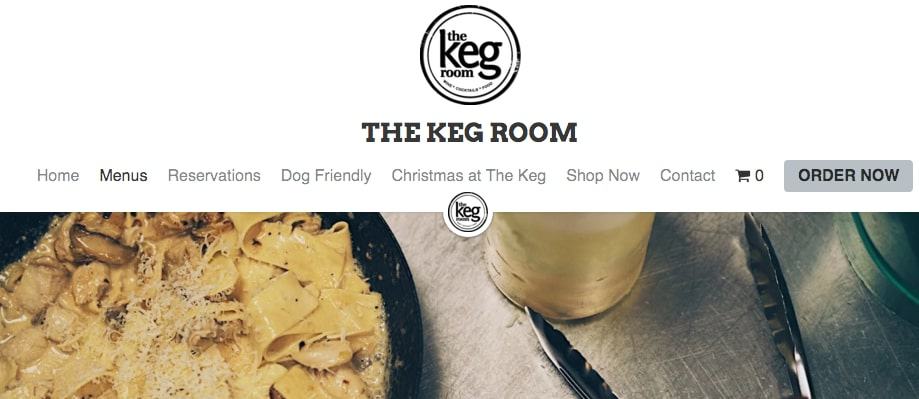 BEST FOR
Laid-back and personable place
SERVICES
Food

Sweet Treats

Drinks

Cocktails

Children

Dog Menu

WEBSITE
https://www.thekegroom.co.nz/
ADDRESS
36 Horsham Downs Road, Rototuna, Hamilton 3210, New Zealand
CONTACT DETAILS
+64 7-852 5925
OPERATING HOURS
Wednesday: 3pm – 10pm

Thursday: 3pm – 10.30pm

Friday: 3pm – 11.30pm

Saturday: 11am – 11.30pm

Sunday: 11am – 8.30pm
Take a break from your hectic week and have some wine and great food by coming to The Keg Room. It's a down-to-earth place that has a laid-back and friendly vibe.
It's basically a restaurant or pub where you'll experience hospitality and connect with friends and family. They serve really delicious meals, especially for their authentic pizzas and pastas.
Special diets are catered for whether you're following gluten-free, dairy-free, vegan or vegetarian diets. From salt and pepper calamari to sirloin steak, they offer it all.
Uniquely, you can even bring your dog in and order from their dog menu. Note however that rules and regulations apply to this (you can check them out on their website).
Highlights
Laid-back and friendly vibe
Caters to people with certain diets
Personable staff and environment
Allows dogs 
Customer Reviews 
Check out this review about The Keg Room on Tripadvisor: 
"No matter if it is booked, or you just wing it the service and food is just worth it any day!
Thanks for having such a wonderful place that you always feel welcome in! Have tried pretty much all of the menu and it is always quickly served and good food! Even just a drink after work is no drama."
5)  The Bank Bar & Brasserie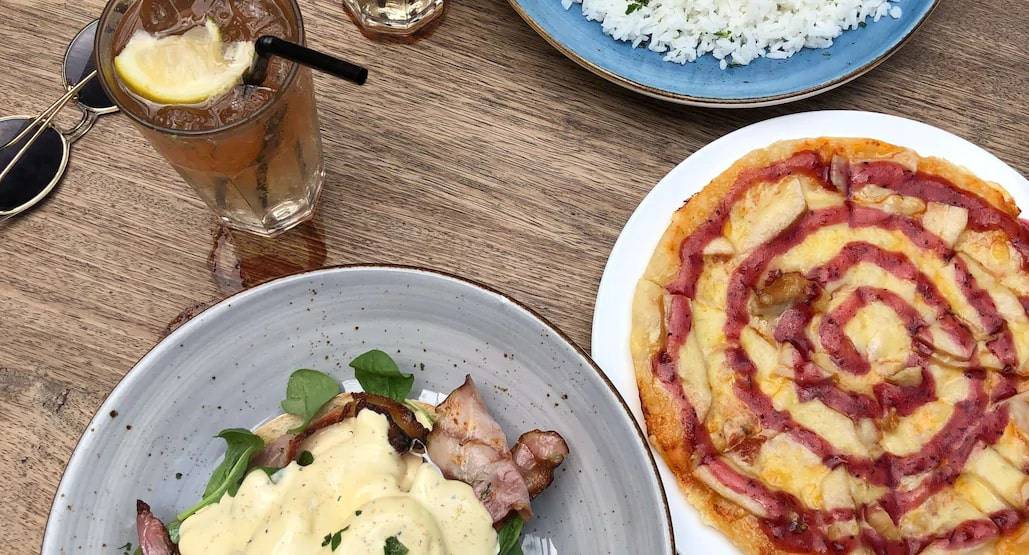 BEST FOR
Value for money
SERVICES
Starters

Mains

Pizzas

Salads

Bar Snacks

Wines

Beers

Cocktails

WEBSITE
https://www.zomato.com/hamilton-waikato/the-bank-bar-brasserie-2-hamilton-central/photos
ADDRESS
127 Victoria Street, Hamilton Central, Hamilton, New Zealand
CONTACT DETAILS
+64 7-839 4740
OPERATING HOURS
Restaurant Hours

Monday to Friday: 11.30am – 11pm

Saturday: 11.30am – 3am

Sunday: 10am – 11pm

Happy Hour

Monday to Friday: 4.30pm – 6.30pm
The Bank Bar & Brasserie is a popular restaurant and bar based in Victoria Street of Central Hamilton, NZ. They offer great-tasting Italian meals at value prices 7 days a week.
Their mains selection for lunch includes roast vegetable ravioli, seafood chowder, and cheeseburger. They have interestingly named pizzas like the Meateor, Fat Tony, The Hot Chick and Hawaiian.
They also have an extensive wine list perfect for afterwork drinks with your buddies. Plus, you can also dance with your partner to the music played by the live band.
Highlights
Great-tasting Italian meals
Value prices
Extensive wine list
Open 7 days a week
Customer Reviews
Hailz Stevens-Nordell shared a review about one of the best Italian restaurants in Hamilton, The Bank Bar & Brasserie: 
"A great time to celebrate my husband's birthday last month. Great atmosphere, tasty food, wonderful service with the staff members! Can't wait to come back."
And that completes our list for the best Italian restaurants in Hamilton. Certainly, you won't be disappointed with these eateries with regard to food or service!
Did you find a restaurant that you'd like to go to from those we've listed? If you do, share it with us — just send us a message and we'll get back to you in a bit.
Also, if you have a special event coming up and need the best food for your guests — or maybe just for yourself — you can simply order from one of the best catering services in Hamilton.