The 8 Best Japanese Restaurants in Christchurch
Who doesn't like Japanese food? If you love it yourself, you're in luck. We've listed the best Japanese restaurants in Christchurch for you!
We selected them based on their menus, the excellence of their flavours, and their ambiance. Also, we chose only those with excellent customer reviews so you know that we're not the only ones who believe they offer great food!
You can drop by these restaurants for dinner or lunch tonight or in the next few days. Anyway, here are the best Japanese restaurants in Christchurch!
1) KINJI Japanese Restaurant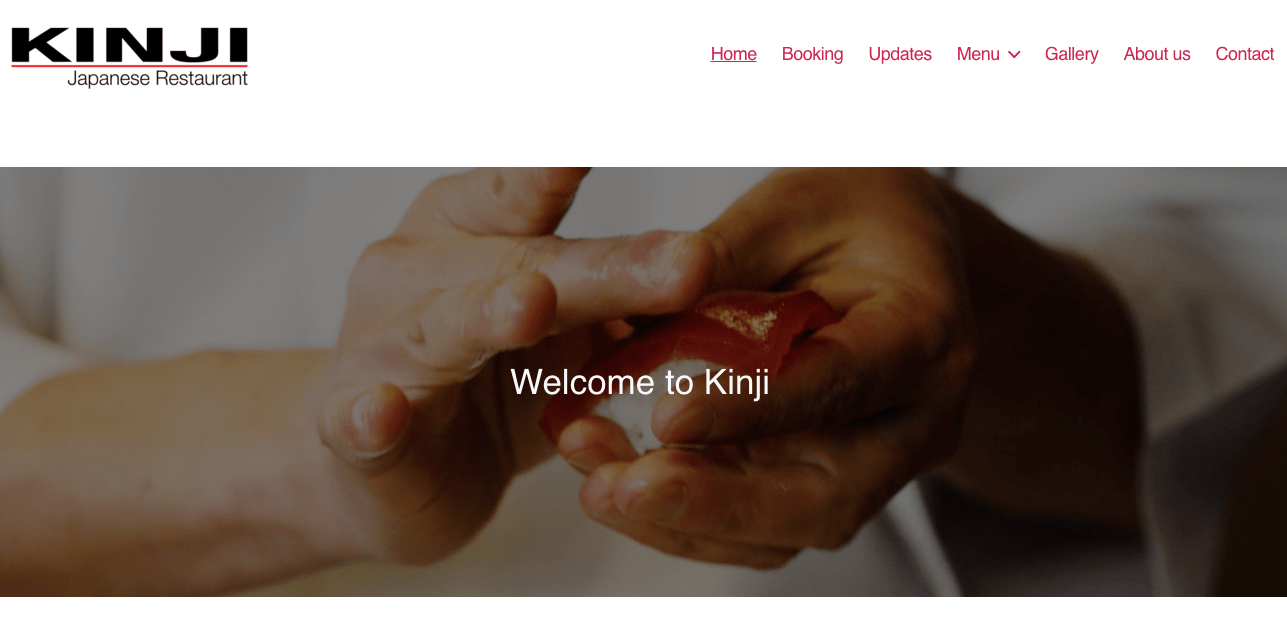 BEST FOR
Fresh and Organic Ingredients
MENU
Click Here to See Their Dine-In Menu

For Their Takeaway Menu, Kindly Click Here

WEBSITE
https://kinjirestaurant.com/
ADDRESS
279B Greers Road, Bryndwr, Christchurch 8053, New Zealand
CONTACT DETAILS
03-359-4697
OPERATING HOURS
Tuesday to Saturday: 5pm – 10pm (Last Order)

Monday, Sunday & Public Holiday: Closed
Fancy a savoury Yakiniku Beef Barbecue or mouth-watering Crumb Chicken? Well, you should go to Kinji Japanese Restaurant in Bryndwr, Christchurch!
They use fresh and organic ingredients in cooking where possible. These include vegetables, tofu, eggs, seafood and beef — making for supremely delicious meals!
Formed in Colombo Street in 2007, the restaurant gained a loyal customer base in that original establishment. But since the devastating 2011 earthquake, they have moved to their current location.
Here at Kinji, you will be spoiled for choice with their diverse menu. From Deep Fried Rice Cakes to Coffee Jelly Ice Cream and everything in between, they've got it all for you!
Highlights
Savoury and tasty Japanese food
Uses fresh and organic ingredients
Offers a diverse menu
Customer Reviews
Kinji Japanese Restaurant is one of the best Japanese restaurants in Christchurch you can find. You can see why through one patron's review on Google Business:
"I really wish I was a local because whenever I am in town and visit Kinji, the service and food are superb. Really well looked after here and a great variety of food on offer plus regularly updated specials. Convivial, intimate atmosphere, definitely book a day or two ahead."
2) Yamagen Japanese Restaurant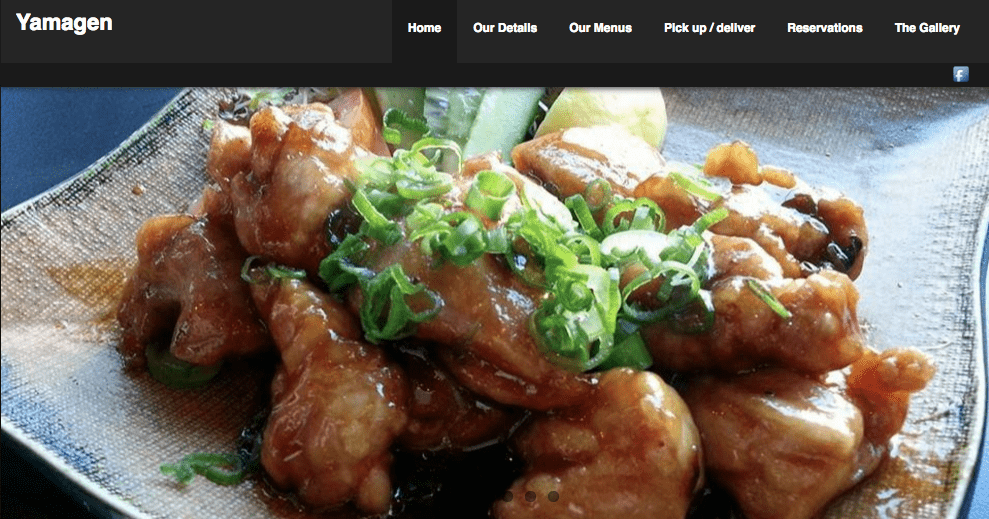 BEST FOR
Light Lunch and Sociable Dinner
MENU
Please visit their website to view their menus
WEBSITE
http://www.yamagen.co.nz/
ADDRESS
53 Victoria Street, Christchurch Central City, Christchurch 8013
CONTACT DETAILS
(03) 365 7799
OPERATING HOURS
Lunch: Monday to Sunday: 12pm – 2pm

Dinner: Monday to Sunday: 5.30pm – Late
Here at Yamagen, not only will your hunger pangs be satisfied, but you will enjoy the spectacle of Teppanyaki cooking by their dexterous and experienced showman chefs!
This place is perfect if you want to invite your friends to come along to delight in Japanese cuisine that's cooked to steaming perfection and presented in an artistic way.
For something delicious, you can try their Sukiyaki, which comprises beef/seafood, tofu and a mix of vegetables. Or if you like hot broth, you can order their Udon noodles.
Their dinner set menu starts from $60 – 85 per person depending on your choice. A set usually includes an entree, soup and salad, main, mixed vegetables and dessert.
Highlights
Tasty and stunning food
Offers a variety of set and a la carte menu
Adept and dexterous teppanyaki chefs
Customer Reviews
Yamagen surely belongs to the best Japanese restaurants in Christchurch. To prove that, here's what one diner, Kylie Huang, wrote on Google Business:
"We got the Seafood / Chicken / Beef Teppanyaki set and it was definitely worth it! We got quite a few different entrees to try, I can't remember all of them but there was some marinated fish and fried chicken. They give you a few different varieties of seafood too. We also got an extra side of pumpkin to try and everything was so good, I can't choose what my favourite part was. Even the dessert was quite good."
3) Tomi Japanese Restaurant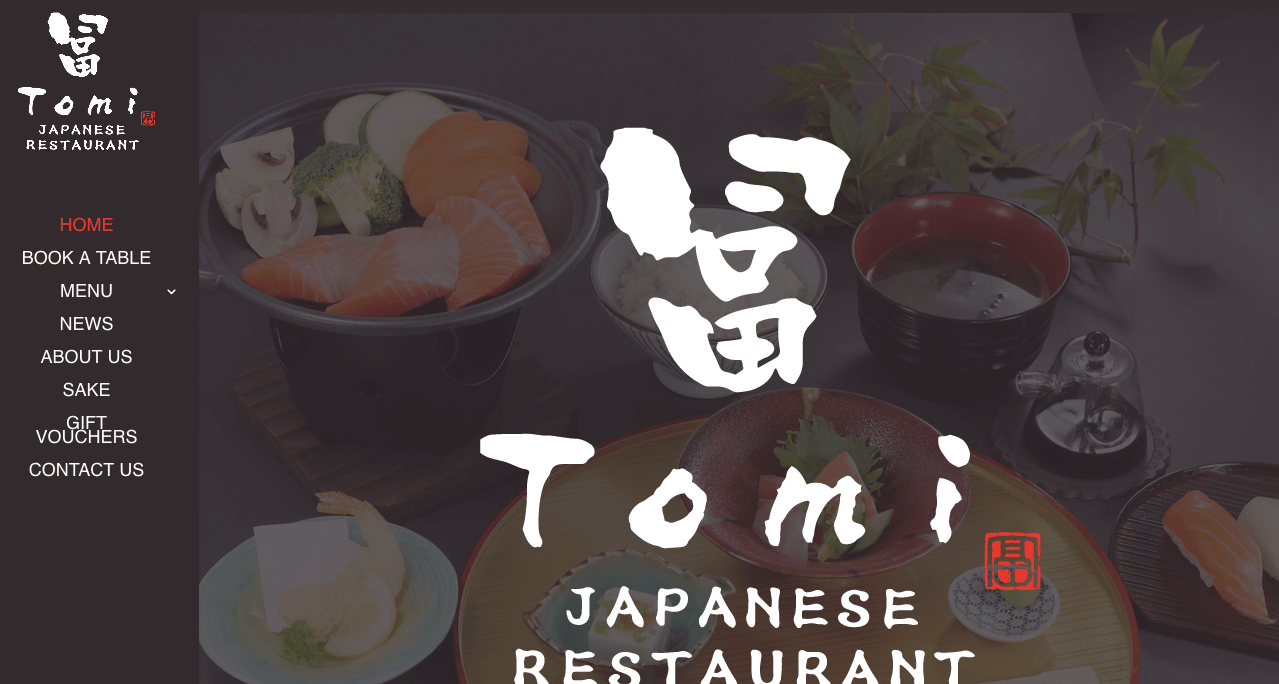 BEST FOR
Japanese Fusion Experience
MENU
Browse Their Menu Here
WEBSITE
https://tomi.co.nz/
ADDRESS
Edgeware Mall, 76 Edgeware Rd, St Albans, Christchurch
CONTACT DETAILS
03 377 8028
OPERATING HOURS
Lunch: Tuesday to Sat from 11:30am – 2:00pm

Dinner: Tuesday to Sun from 5:30pm till late

Monday: Closed
Tomi Japanese Restaurant is a Japanese Fusion restaurant tucked away in the Edgeware Village of St. Albans. It offers a versatile range of meals suitable for both solo or group dining.
Their Nigiri Sushi, Pork Miso Katsu (crumbed pork cutlet), Crispy Chicken or Toban Lamb Rack Sizzling Hot Plate are fantastic and enjoyable in taste. So, pick your poison!
You'll feel right at home in Tomi restaurant with its pleasant vibe as well as its friendly and respectful staff. They'll take your orders and takeaway and serve them with a smile.
Let nothing hold you back, whether you just like to have a balanced bento box meal and a cup of green tea, or some sake to celebrate an important event or just want a nice drink for yourself.
Highlights
Delectable and well-presented meals
Wide selection of Japanese Fusion food
Pleasant and welcoming vibe
Customer Reviews
One customer, Philippa Pidgeon commented about Tomi Japanese Restaurant on Facebook:
"We love the menu flexibility Joe offers, great atmosphere – a hidden neighbourhood gem – don't let the ongoing roadworks keep you away."
4) Tony's Teppan Yaki Japanese Restaurant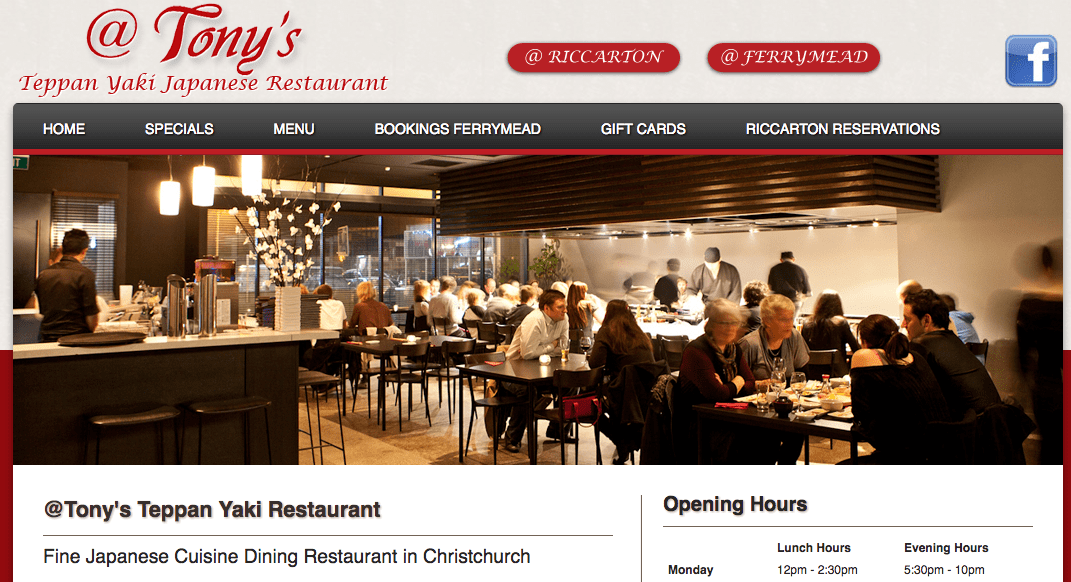 BEST FOR
All You Can Eat Teppanyaki
MENU
You can browse their menus through the link provided below
WEBSITE
https://www.teppanyaki.co.nz/
ADDRESS
2 Waterman Place, Woolston, Christchurch 8023, New Zealand
CONTACT DETAILS
+64 3-341 6608
OPERATING HOURS
Level 2 Opening Hours

Lunch: Tuesday to Friday from 12pm – 2.30pm

Dinner: Tuesday to Saturday from 5.30pm – 9pm

Monday and Sunday: Closed
Looking for an affordable yet fantastic Japanese restaurant to dine at? Well, look no further than the popular Tony's Teppan Yaki Japanese Restaurant!
Their signature Spicy Sushi Tempura Roll is to die for. You can even choose your desired filling, such as between sashimi, beef tataki or teriyaki chicken.
While the price is affordable, the restaurant never compromises on food quality. After all, the food has been made using the freshest produce, seafood, and meat.
They offer an all-you-can-eat teppanyaki for those who want to eat a lot too. This is available the whole day from Monday through Thursday.
Not only that, but they can tailor-cook food for those suffering from allergies. Moreover, they can adjust the meals to be dairy-free and gluten-free too!
Highlights
Offers all-you-can-eat teppanyaki food
Affordable pricing
Wide range of food choices
Can customise their cooking to be gluten- and dairy-free
Customer Reviews
Debbie Paulsen, one customer, commented on Facebook:
"Great food, great atmosphere. Food is always super fresh and Tony's do the best Crayfish dish And their Spicy Sashimi Tempura Sushi Rolls are to die for! Wish we lived next door…."
5) Sakimoto Japanese Bistro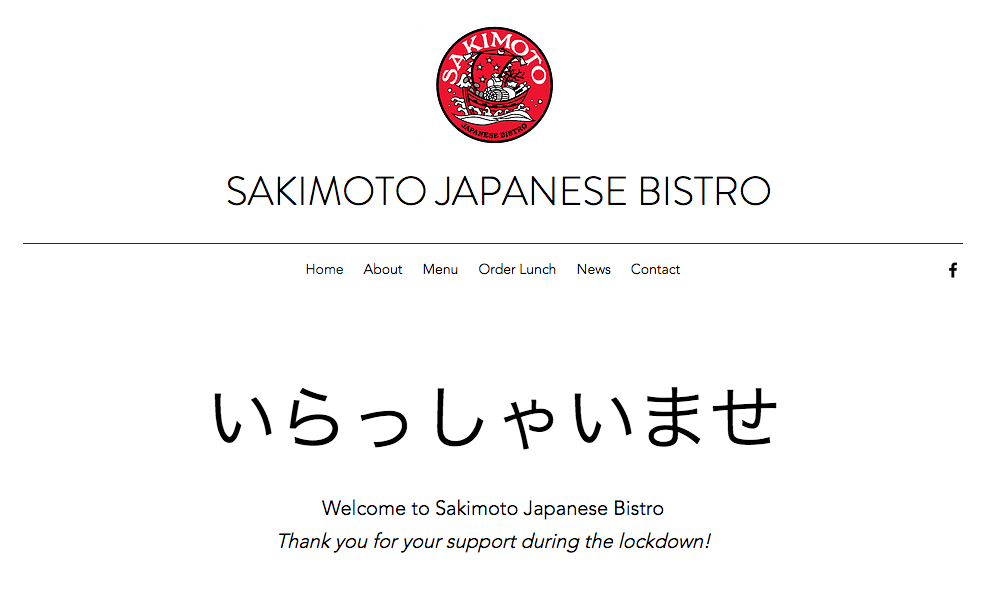 | | |
| --- | --- |
| BEST FOR | Authentic Dining Experience |
| MENU | View Their Menu Here |
| WEBSITE | https://www.sakimotojapanesebistro.com/ |
| ADDRESS | 119 Worcester Street, Cathedral Junction, Christchurch 8011, New Zealand |
| CONTACT DETAILS | 021 0830 6389 |
| OPERATING HOURS | Monday – Sunday: 5pm – 9pm |
Sakimoto Japanese Bistro is committed to bringing the authentic flavours of Japan to your plate. It is located in the laid-back and accessible Worcester Street in Christchurch.
One of the best Japanese restaurants in Christchurch, they only use seasonal and fresh ingredients for their bento meals, salads, side dishes, vegetarian and gluten-free meals.
You can have a complete meal with their Sakimoto Box for a hearty lunch or dinner. What's more, their Tonkatsu Pork Box or Grilled Eel Box are exceptionally delicious choices you'll love!
For vegetarians, try their Boiled Vegetarian Dumplings and Tofu Salad with Sesame Dressing or Edamame Beans, which is flavoursome yet healthy.
What's more, you can also opt for takeaways. The Family Sushi Platter is perfect for the whole family, while the Grilled Chicken with Garlic Chive Mayo is great for 1-2 persons.
Highlights
Authentic Japanese food
Big portions
Offers a great variety of meals, including vegetarian and gluten-free
Uses only the freshest ingredients
Customer Reviews
Here's Carlos' review on Google Business:
"Authentic japanese kitchen with japanese speaking staff. One of the best japanese restaurants in New Zealand. I never had this kind of delicious and awesome tasting food outside of Japan. Highly recommended place!!!"
6) Ramen Ria
| | |
| --- | --- |
| BEST FOR    | Ramen |
| MENU | View Their Menu Here |
| WEBSITE | https://www.ramenria.co.nz/ |
| ADDRESS | 3/112 Oxford Terrace, CBD, Christchurch 8011, New Zealand |
| CONTACT DETAILS | +64 20 4013 3266 |
| OPERATING HOURS | Monday – Sunday: 10:00 AM – 9:30 PM |
If you're craving authentic Japanese noodle soup, then Ramen Ria may just be the perfect restaurant for you.
They are dedicated to their craft and thus make everything, from noodles to broth, in-house. Their menu is also creative because it even has vegan ramen and brothless ramen.
Aside from these signature dishes, Ramen Ria is also well-known for its Japanese beers, cocktails, and of course, the traditional sake. Ramen Ria also has an ambience that resembles that of a Japanese street-style ramen bar.
Highlights
Specialty, vegan, and brothless ramen
Noodles and broth made in-house
Happy hour at 3-6 pm
Customer Reviews
Marcus Fung wrote this on Google to share what he liked about Ramen Ria:
"Ordered trio pork and double black tonkotsu ramen. The broth was amazing and the noodles was on point, nice texture. Pork belly was done perfectly, crispy on top and tender on bottom. A proper ramen bowl would've made it 100% perfect."
7) Sushi Soldier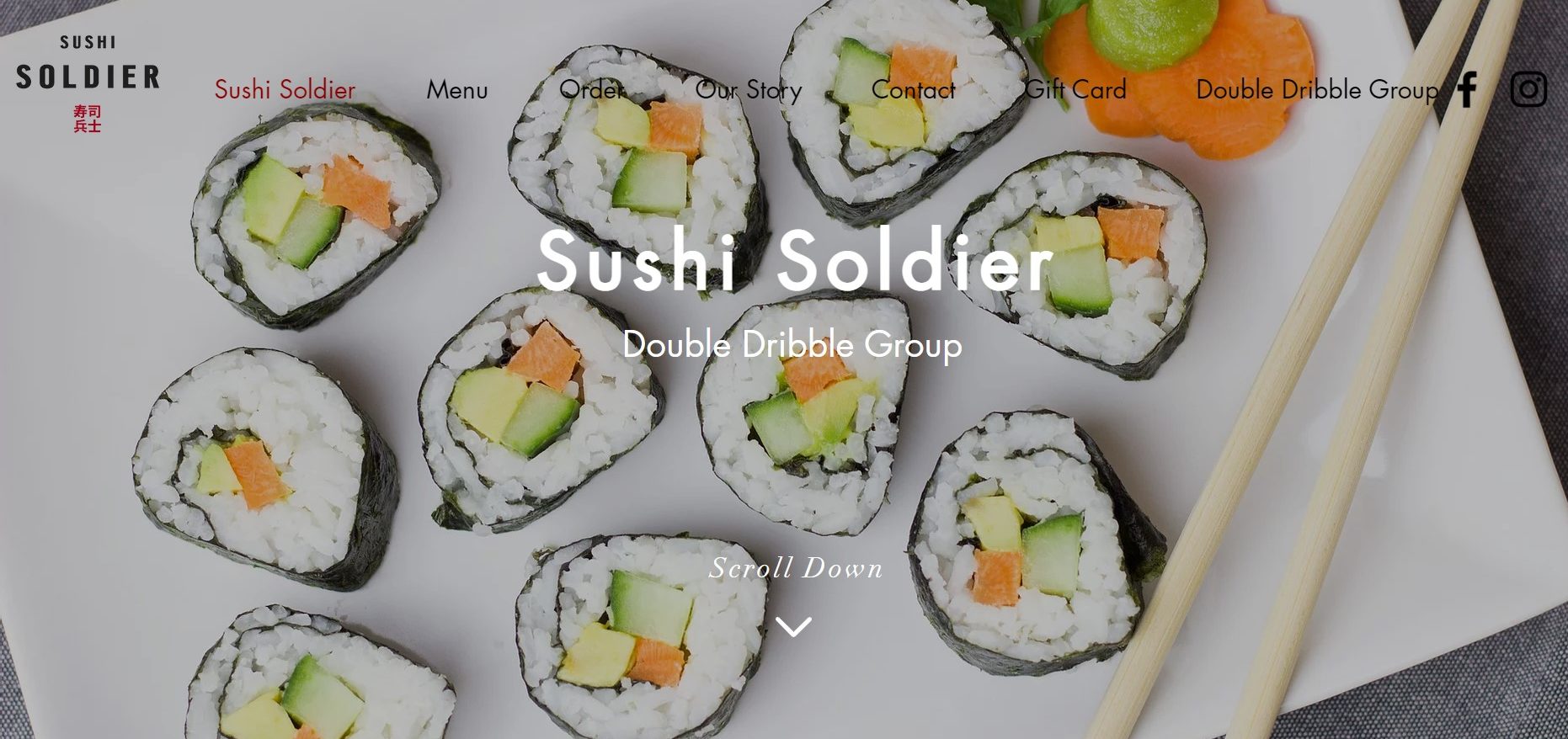 Experience authentic Japanese cuisine, head to Sushi Soldier to try their vast menu. They offer meals that everyone would enjoy, from salad, sushi, rice bowls, ramen, and so much more! You'll never run out of options and match.
If you don't have time to dine-in, Sushi Soldier offers takeaways and even frozen handmade dumpling and ramen packs. Contact them to arrange your orders and just come pick them up when you're free.
Have a taste of Japan, order now at Sushi Soldier.
Highlights
Good service
Accessible location
Comfortable atmosphere
Fulfilling bento boxes
Customer Reviews
Read some of the feedbacks left on Sushi Soldier's Google Review:
"This place is amazing, a bit of a struggle to find the place within the other restaurants but the few times I've ordered Donburi here via Uber eats the food has always arrived hot with large pieces of chicken and plenty of vegetable. Well worth the money and will definitely eat here again." – Samantha Clements
"This place is located in the little high food court in city center. Parking available with $2 dollars per hour fees. Assorted and wide ranging menu from Japanese to Chinese. Ramen, yakisoba, and pen fried dumplings are tasty. Reasonable priced with decent portion. Matcha ice-cream is great!"
8) Zen Sushi & Dumplings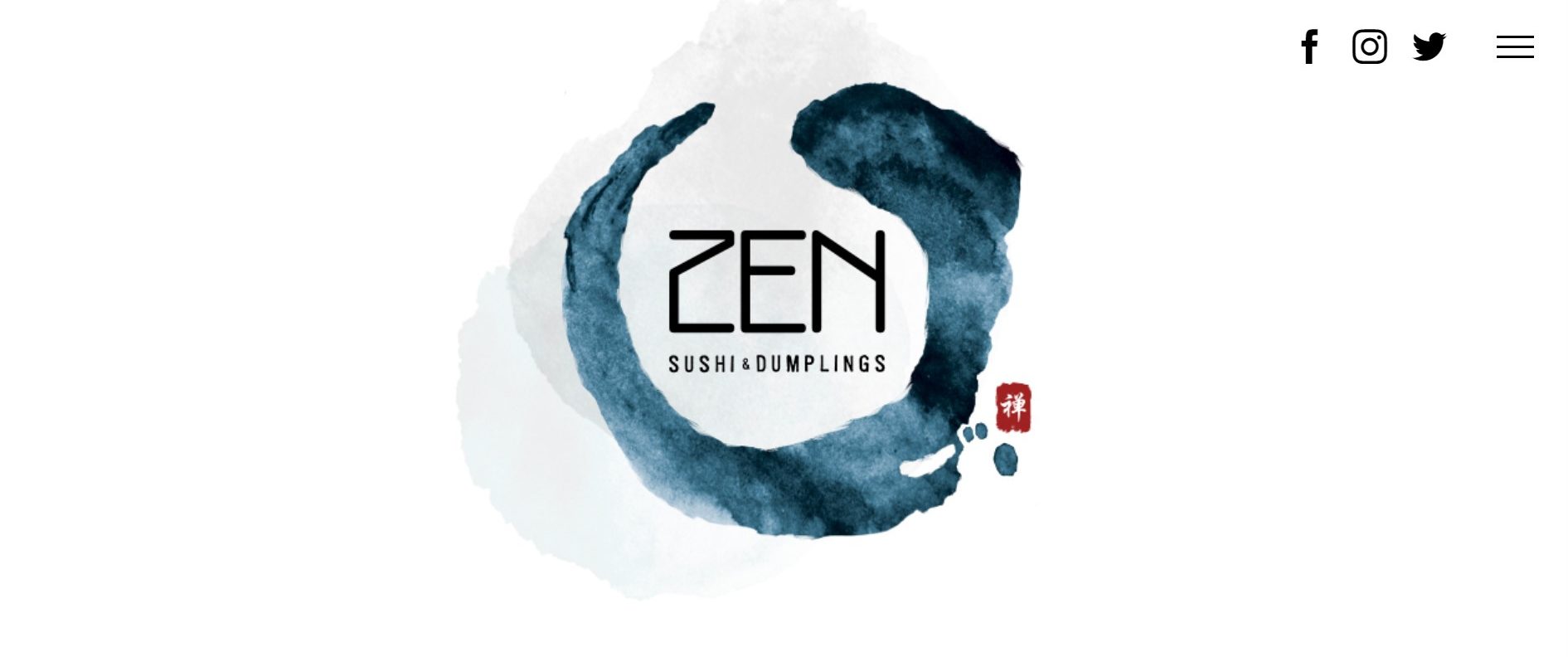 Zen is known to produce some of the best sushi in dumplings in all of Christchurch. Their food is always made with the premium ingredients, fresh and locally produced, to assure customers that what they're eating is only of the best quality.
They're located in the Arts Centre, and being in the heart of Christchurch, it's a restaurant you can easily go to after a day's work or after walking around.
Contact Zen Sushi & Dumplings for reservations, takeout orders, or even catering! They'll always be glad to assist you.
Highlights
Vegetarian-friendly
Gluten-free options
Uses free-range meat
Donates daily leftovers
Customer Reviews
Read some of the feedbacks left for Zen Sushi & Dumplings, proving that they're a restaurant worthy of trying.
"Great sushi. Arrived towards their closing hours and they had no salmon, however the guy at the counter was mind enough to whip some rolls up for me even though they were packing up. Great service and greT food. Will be back again."
"The sushi is so fresh and tasty! Dumplings are delicous too! Friendly staff, I will definately come back again!"
"Zen sushi and dumplings has great meals and drinks. A handy spot doted in the city center with helpful staff and custom made sushi if you have allergies. With free range eggs and king salmon making this the best sushi shop in Christchurch."
And that's it for the best Japanese restaurants in Christchurch. Not only will you delight in their food, but you will also enjoy being in the restaurant with your friends or colleagues.
Do you have any questions about what we talked about? If you have one, don't hesitate to send us a message and we'll get right back to you.
Check out our other food establishment lists if you'd like something different to eat. For example, you can read about the best cafes in Christchurch!