The 10 Best Jewelers in Auckland
Whether you're picking out an engagement ring or looking for a new set of earrings, finding the ideal jewelry store can be both dazzling and daunting. Luckily, we've rounded up some of our top picks today to help you out!
While choosing jewelry is a subjective experience, the criteria that we based our reviews on are quite objective. We've rounded up jewelers that offer large and largely acclaimed collections, a wide range of services, years of industry expertise, and a good track record of satisfied customers.
Before we dive into our list of the best jewelers in Auckland though, we're pretty sure you're wondering how much you might spend. With that said, let's talk about cost first.
How much do jewelers cost in Auckland?
Jewelry can vary greatly in price, depending largely on the quality of metals and stones.
Engagement rings, for example, can typically cost around $1,500 to $3,500 but can anywhere between $500 and $30,000.
Single-carat diamonds are some of the most common purchases, which are roughly priced between $2,000 and $15,000.
The prices of these items vary depending on what is known as the 4 C's: the Cut, Clarity, Color and Carat of the diamond.
Carats typically have the greatest impact on price. Carat denotes the diamond's weight, with 1 carat equalling 0.2 grams or 200 milligrams.
All diamonds are priced per carat – a half-carat diamond can cost around $1,700 per carat, so a 1-carat diamond would equal $1,700 x 0.5 or $850.
However, the price and value of jewelry also depends on the exchange rates of currency and the prices of metals and stones. These often fluctuate, so it can be difficult to pinpoint precise prices for precious jewelry.
Moreover, the jewelry market is largely driven by subjective emotional value. This means that a lower-carat or lower-cut diamond that's aesthetically pleasing can sometimes cost more than a higher carat variant.
Now, the prices you can be sure of (at least to some degree) when going to a jeweler, are the prices they charge for repairs or resizing. We've rounded up the average starting costs for some common services in the table below.
| SERVICE | ESTIMATED AVERAGE STARTING COST |
| --- | --- |
| Appraisal | $95.00 |
| Engraving | $40.00 |
| Polishing | $25.00 |
| Gold Electroplating | $75.00 |
| Rhodium Plating | $40.00 |
| Tighten Loose Stones | $40.00 |
| Set Gemstone or Diamond | $40.00 |
The Best Jewelers in Auckland
Now that you know what to expect when visiting a jeweler in terms of cost, let's go and take a look at our top choices for the top jewelers in Auckland.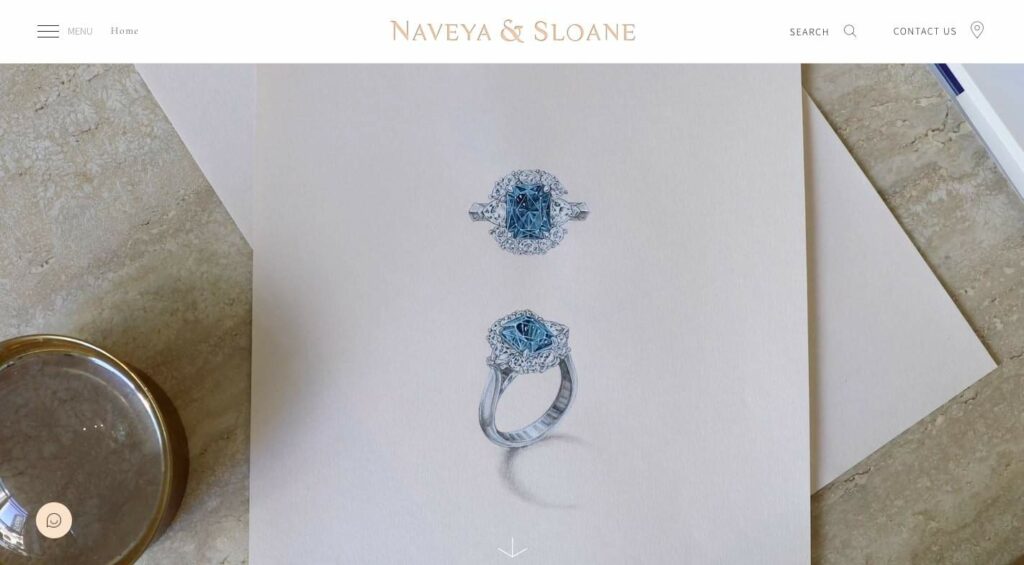 Test
Info
SERVICES
Engagement Rings, Bespoke Designs, The Original Setting, Wedding Rings, Bespoke Designs, High Jewellery, The Modern, Cocktails, Earrings, Necklaces, Rings, Sloane Slipper Earrings, Lovers Knot
WEBSITE
https://www.naveyaandsloane.co.nz/
ADDRESS
Level 3, Imperial Buildings 44 Queen Street, Auckland CBD, Auckland 1010
CONTACT DETAILS
Phone: (09) 373-4370

Email: [email protected]

OPERATING HOURS
Monday to Friday: 9:00am - 5:00pm

Saturday: 10:00am - 4:00pm
Naveya & Sloane markets their business rooted in the "love story" of how the owners, Alex Burnett and Rachel Sloan, found each other. After meeting in 2010, their romantic partnership also became a business partnership, utilizing Alex's business acumen and Rachel's creative eye for design.
Now known as one of Auckland's premier jewelry design houses, Naveya & Sloane offers handcrafted jewelry locally and globally. All the pieces sold are designed by Rachel, who sits as the creative director and has earned a reputation for her detailed made-to-order pieces.
No matter what your budget is, Naveya & Sloane can accommodate your needs, whether you're looking for an engagement ring, wedding band, or other fine jewelry. They offer completely bespoke options crafted in their workshop or a wide range of existing designs.
Their team of master jewelers and diamond setters have a combined experience of over a century, which helps bring any design to fruition. This is one reason why they earn a spot on our list as one of the best jewelers in Auckland.
Naveya & Sloane are no strangers to consulting with clients remotely either, landing them a good number of international orders. However, those residing in Auckland are encouraged to meet in person with their consultants to discuss their wants and needs.
After you've chosen your ring or jewelry, they'll guide you in selecting the ideal diamond or gemstone. This helps you find a balance between what you're looking for and what you can afford.
Each custom-made order will take approximately 6 to 8 weeks to complete, so you'll need to plan well in advance, whether it's a bespoke piece or a ready-made piece.
It's not recommended to put in a rush order, especially since these are intricately handcrafted pieces, and a delivery date can't be guaranteed.
Do take note that they do not perform any repairs or adjustments on jewelry not purchased from their store, either.
Nevertheless, what makes Naveya & Sloane worth considering is that they regularly release featured one-of-a-kind collections for a limited time. This should appeal to those who are looking for something unique but don't necessarily want a bespoke piece.
Specializes in handcrafted customized jewelry
Can accommodate international clients
All pieces are created in-house
Doesn't repair or resize jewelry from other establishments
No guaranteed delivery times
No financing options
Customer Reviews
So professional
"Words cannot express how fantastic the team at Naveya and Sloane have been throughout our journey with them. So professional, so thorough and so divine." – Samuel N.
Highly recommended
"We loved our experience with N & S – from go to woah. Walking into their delightful showroom is a 5 star experience. Not only did we feel like we were buying our wedding bands from a premium brand, the price was very competitive with other 'mainstream' options. N & S – highly recommended!" – Chloe Boerema
2. Orsini Fine Jewellery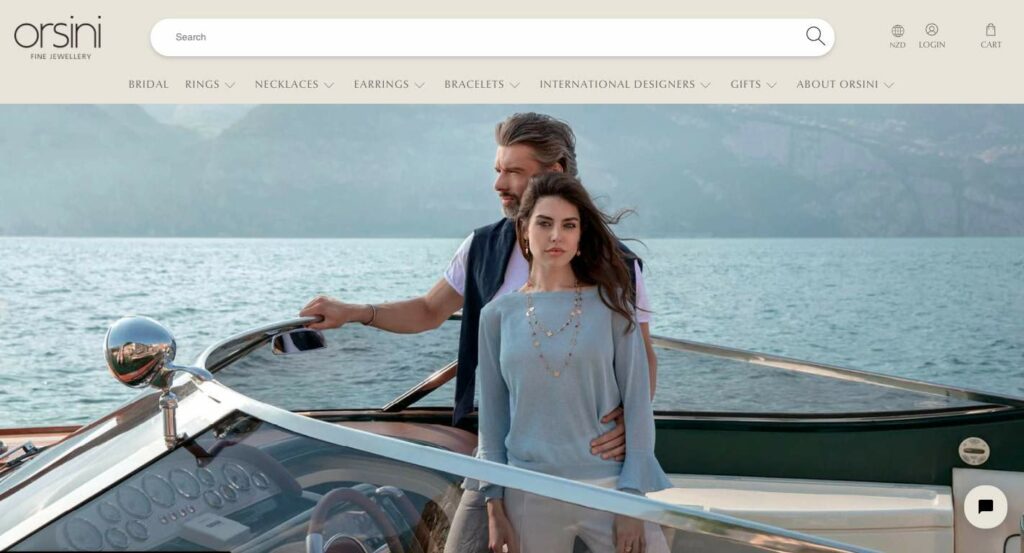 Test
Info
SERVICES
Bridal, Rings, Necklaces, Earrings, Bracelets, International Designers, Jewellery Cleaning, Insurance Valuations
WEBSITE
https://www.orsini.co.nz/
ADDRESS
241 Parnell Road, Parnell, Auckland 1052, New Zealand
CONTACT DETAILS
Phone: (09) 354-3115
OPERATING HOURS
Monday to Friday: 10:00am - 5:00pm

Saturday: 10:00am - 4:00pm
Orsini was founded by Sarah Hutchings in 2008, with her heritage as a jeweler's daughter helping fuel her passion for the trade. She became completely enamored with Italian jewelry after visiting a fair in Italy with her father, convincing her to set up her own business in Auckland.
Orsini offers handpicked selections of Italian jewelry only, which they import from Europe. They also craft handmade bespoke engagement rings that are based on traditional Italian design concepts.
Now, Sarah Hutchings is no ordinary director – she is also a designer certified in diamond grading and has received GIA training in Gemmology. She also has a team of Kiwi master jewelers in her employ to help create custom jewelry.
Free jewelry cleaning is offered with any Orisini purchase that you can avail of at any time. They are capable of various cleaning methods such as
ionic, ultrasonic, and rhodium polishing.
They also offer repair services for any kind of jewelry, including ring sizing and estate jewelry repairs and restoration. Lead time may vary, but repairs usually take four days to one week.
Orsini can also provide expert appraisals and valuations including those from Marco Bicego, Hulchi Belluni, and Pomellato. They can even email you a soft copy of the valuation for your insurance company.
If it's a bespoke item that you purchased from Orsini though, they'll need to refer you to a third-party valuer to avoid conflict of interest. Nevertheless, they offer full replacements to cover any loss or theft of your jewelry in tandem with most large insurers in New Zealand.
When you've purchased an item at Orsini, your order will be on your doorstep within two business days to almost any major region in the country.
They can also send orders overseas for any international purchases, which can be offered tax-free for around 15% less the original price as long the cost is above $1,200.
However, visiting their store in person has its perks, since you can view the items first hand. You can even arrange private viewings with Sarah Hutchings herself, who is more than willing to provide personalized attention.
Specializes in Italian jewelry and designs
Can design bespoke and custom made pieces
Complimentary cleaning with each purchase
Can give expert appraisals and valuations for insurers
Private viewings of items are allowed
Limited to Italian jewelry
Workshop is off-site
Customer Reviews
I would not shop for jewelry anywhere else
"Orsini is itself a diamond – Sarah takes incredible pride in the quality, originality, fashion, and art of her store and the lines she carries. Even under lockdown she was able to help me select and size perfect pieces. I would not shop for jewelry anywhere else." – Scott Walker
Highly recommend
"I was going through the process of getting help and the ring for proposing. I had shopped around Ponsonby, Parnell, CBD ways and found Orsini to be the easiest to go inside and share what I am planning to do. Sarah was knowledgeable and was able to explain to about design, size, time frames, quality, price and sound advice. Highly recommend for anyone wanting to know where to get help on the ring choice to pop in or call." – Kurt Rains
3. Michael Hill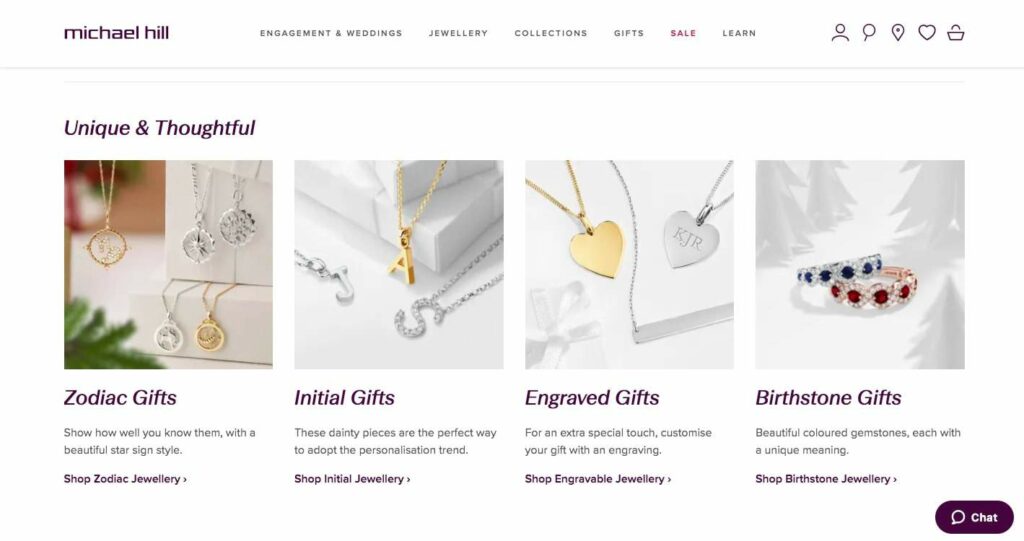 Test
Info
SERVICES
Engagement, Weddings, Rings, Earrings, Necklaces, Pendants, Chains, Bracelets, Bangles, Men's Jewellery, Watches
WEBSITE
https://www.michaelhill.co.nz/
ADDRESS
Complete list of Auckland locations here
CONTACT DETAILS
Toll-Free: 0800-445-590

Email: [email protected]

OPERATING HOURS
Complete list of Auckland locations here
Sir Michael Hill, along with his wife Christine, founded their now-iconic jewelry store business in 1979. Today, they have more than 300 stores spanning three different countries.
Their business premise was simple – to provide an atmosphere where customers didn't feel too intimidated with buying jewelry. This was done by creating large, inviting storefronts and by letting customers try on the jewelry.
Michael Hill also made a name for themselves as the first and only jeweler to offer customers a Lifetime Diamond Warranty in the 1990s.
Today, they likewise offer a specialized Professional Care Plan for each jewelry purchase, available in three-year or lifetime packages. This will provide you with repairs and services at "no extra cost" that include ring sizing, refinishing, polishing, clasp replacements, resetting of precious stones, and more.
All you have to do is visit any of their stores within 30 days of your order to get this plan. However, contrary to what is advertised, these plans aren't free and will depend on the retail value of the item you purchased.
If you don't want to get a Professional Care Plan, you can still have your jewelry repaired, as long it was purchased at a Michael Hill store. You don't have to worry about your diamonds, though, because their Lifetime Diamond Warranty still applies today.
Visiting one of their numerous stores in Auckland has a range of benefits that have proven to be enticing to customers. Aside from having certified experts on hand, customers can avail of complimentary cleaning and valuations for their jewelry.
Financing options are also offered in-house, from providers such as Afterpay, Zip, and Humm with credit limits extending up to $10,000. Long-term finance is also available from up to six credit providers with up to $200,000 in credit limits.
Michael Hill has exclusive online-only services as well such as laser engraving to give your jewelry a personalized touch. The only font available is a single serif type, though, and only the English alphabet is entertained.
Nevertheless, each Michael Hill diamond purchase comes with a Certificate of Authenticity that authenticates its quality and purity. You'll also receive an Independent Diamond Certificate from Australian Diamond Grading Laboratory that provides information on your diamond's unique qualities.
Michael Hill earns a top spot on our list of the best jewelers in Auckland for many reasons. Not only do they offer a range of beautiful pieces to choose from, but Michael Hill has financing options and warranties to put your mind at ease as well.
Lifetime Diamond Warranty
Offers a wide array of financing options 
Provides certificates of authenticity with each purchase
Numerous locations in Auckland
Cost of Professional Care Plans depend on the retail value of an item
Will only repair jewelry purchased at Michael Hill 
Only one serif font available for engraving
Customer Reviews
Very happy with Michael Hill and their staff
"I brought a braclet for my fiance here with a lifetime warranty. After them repairing twice they agreed to replace it with a new one. Even though I purchased it at a different location the manager was amazing and gave me a great experience. They got the braclet sized again no charge and got it to me in time to give back to her for our anniversary party tomorrow night. Very happy with Michael Hill and their staff." – Cyrus Rad
Awesome customer service!!
"Just picked up a watch that needed resizing and walked away with the hugest smile on my face. Awesome customer service!! Had two staff members ask me how I was and wished me well for an upcoming surgery. Both very genuine. Had amazing conversations with them even tho I wasn't spending any money!" – Hinemokai Grey
4. Walker & Hall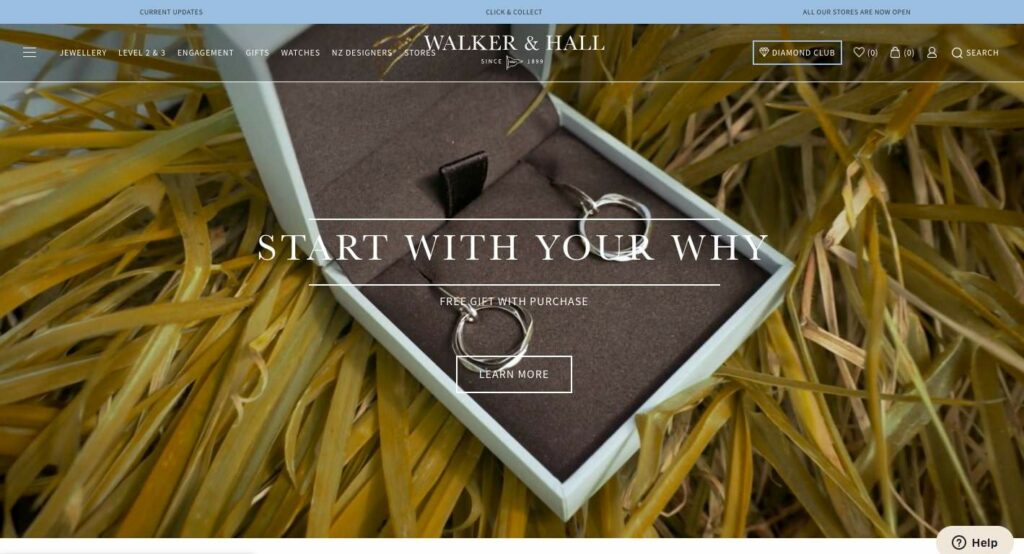 Test
Info
SERVICES
Jewellery, Engagement, Gits, Watches, NZ Designers, Jewellery Manufacturing, Tax Free Shopping, Estate Jewellery Purchasing, Jewellery Trade Ins, Engraving, Ring Sizing, Jewellery Repairs, Jewellery Cleaning, Pearl Restringing, After Loss Jewellery Valuations
WEBSITE
https://www.walkerandhall.co.nz/
ADDRESS

Head Office:

32 Anzac Ave, CBD, Auckland 1010


Complete list of Auckland locations here
CONTACT DETAILS
Phone: (09) 369-1624

Toll-Free: 0800-674-255

Email: [email protected]

OPERATING HOURS
Complete list of Auckland locations here
George Walker and Henry Hall first established their jewelry business in the United Kingdom in 1845. Although they started selling their products in New Zealand as early as 1881, it would take almost 30 years before they opened their first showroom in Auckland.
Almost a century after being founded, Waker & Hall separated from the main company, eventually became a privately owned family business. They garnered a local following and soon thereafter became the first online seller of fine jewelry in New Zealand.
Walker & Hall is known for its wide range of carefully curated diamonds, gems, pearls, and vintage collectibles. They likewise house the creations of Kiwi artisans such as Karen Walker, Meadowlark, Zoe & Morgan, Stolen Girlfriends Club, and Boh Runga.
With numerous locations around Auckland and the rest of the country, Walker & Hall can design, customize and craft jewelry to your unique requirements. However, not all locations have the same services available, so you may want to give the branch a call before you visit in person.
Walker & Hall's in-house gemologist routinely performs quality checks of all their diamonds, before it's further inspected by independent valuers. By doing so, they can provide a more precise evaluation of your gemstones to ensure their quality, which they will guarantee in your valuation document.
You'll receive complimentary ring cleaning services with each diamond ring purchase from Walker & Hall, which can be scheduled every two to three months. They also offer free annual checks of your setting, rhodium plating, and emery polish to ensure the quality is up to standard.
Walker & Hall is our top option to consider if you need to personalize your jewelry. They have a dedicated Engraving Collection that offers the service for free, where you can choose from several font styles, zodiac signs, and even monograms.
You can have any piece of jewelry engraved though, which will take around one week to complete, with a starting price of $100 for each design.
Walker & Hall can also function as a middleman to sell or trade-in any of your unwanted jewelry to registered second-hand dealers. All you have to do is bring in your documentation, and after a short waiting period, you'll receive a quotation for cash price or in-store credit.
We also like Walker & Hall's free delivery throughout New Zealand for purchases made online that you can receive within two to three days. If you live in Central Auckland, you can opt to pay a fee of $20 for same-day delivery.
They also have finance options from various providers, offering interest-free payments from 3 to 24 months. This way, you can purchase the jewelry of your dreams without worrying about the costs.
All diamonds are routinely inspected
Offers same-day delivery service
Free engraving if piece is from Engraving Collection
Free annual quality checks 
Can put you in touch with registered second-hand dealers
Some locations may not offer all services
Complimentary cleaning services for diamond rings only
Customer Reviews
Lovely and non-stressed experience
"To be honest, I am actually not a diamond person, but me and my husband both know that it's something meaningful and our hard-earned relationship deserves it. Therefore when we were introduced to the brand of diamond dealer Walker&Hall, we knew we were in a good hand. It was a lovely and non-stressed experience…" – Joanna Chen
Highly recommend this place
"Walker and Hall have been amazing. The experience and satisfaction that you get when shopping with them is like no other store. Highly recommend this place" – Nakib Bookwala
5. Jeweller's Workshop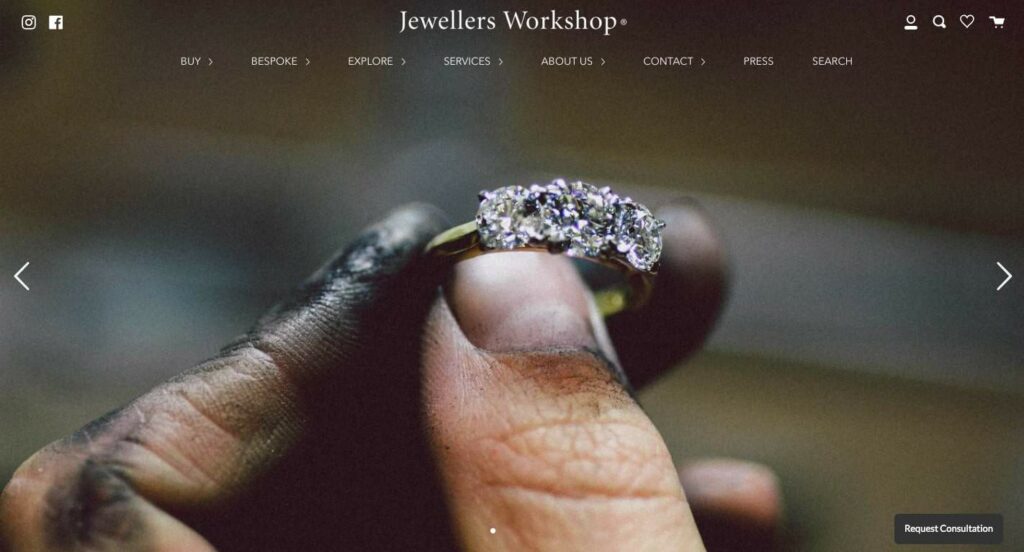 Test
Info
SERVICES
Repair / Remodeling, Professional Care, Jewellery Care, Tax Free, Bridal, Engagement Rings, Wedding Rings, Fine Jewellery, Dress Rings, Earrings, Necklaces, Bracelets, Men's Rings, Cufflinks, Tie Bars, Loose Gemstones, Bespoke
WEBSITE
https://jewellersworkshop.co.nz/
ADDRESS
​​50 High Street, Auckland CBD, Auckland 1010, New Zealand
CONTACT DETAILS
Phonel: (09) 373-4437

Email: [email protected]

OPERATING HOURS
Monday to Friday: 10:00am - 5:00pm

Saturday: 10:00am - 4:00pm
Jewellers Workshop is a family-owned business that has been crafting jewelry in Auckland since 1987. What makes their bespoke designs unique is that they use their own customized alloys and unique in-house techniques.
Part of their unique technique involves repurposing precious and noble metals which they alloy right on site. Approximately 80% of the gold they use is recycled, and they prioritize outsourcing any other metals they don't have from other locally-owned businesses.
Although they have a preference for working with platinum and 18-carat gold, their experienced jewelers can also handle sterling silver, palladium, and platinum, among others.
Customers enjoy visiting the store because they have a unique open plan workshop, wherein you can see pieces being crafted as well as view their wide collection of traditional and modern jewelry.
They provide a comfortable ambiance for you to browse their wares, to alleviate some of the pressure involved when purchasing jewelry.
Whether you're looking for a new piece or need a custom-made design brought to life, Jewellers Workshop has you covered too. Each purchase you make here comes with a lifetime warranty, although they only carry their own designs and not other brands.
They are a small team that consists of master jewelers, artisan goldsmiths, and a dedicated diamond setter. Due to the intricacy of some of their designs, you can expect up to 4 weeks for a custom piece to be made.
You don't have to design everything from scratch, though – you can choose from one of their signature "template" designs and work your way from there. However, Jewellers Workshop's specialty is sitting down with you and working on a bespoke piece beginning with the sketch until the final stone is set.
The best part is that they offer free, no-obligation consultations whether you walk in the store or set up an appointment. They highly suggest scheduling in advance though so they can ensure that a member of their team can give you their full attention.
Jewellers Workshop also specializes in sourcing gemstones, so you'll get a wide range of choices to choose from. They can even source raw white and colored diamonds to make your design even more special.
Specializes in bespoke designs
Uses recycled noble metals to create unique alloys
Free no-obligation consultations
Only carries their own designs
Prefers to work with platinum and 18 carat gold
Customer Reviews
Definitely recommend them
"Amazing team! They were so helpful in every way possible! Definitely recommend them!" – Mee Na Jessica Park
They went above and beyond
"Outstanding service and absolutely beautiful jewelry! I cannot sing the praises any higher of the team at The Jewelers Workshop, they went above and beyond for us and we could not be happier with our rings. They helped us through the process of designing our wedding rings after they also designed my amazing engagement ring." – Natalie Corbett
6. Layla Kaisi Collection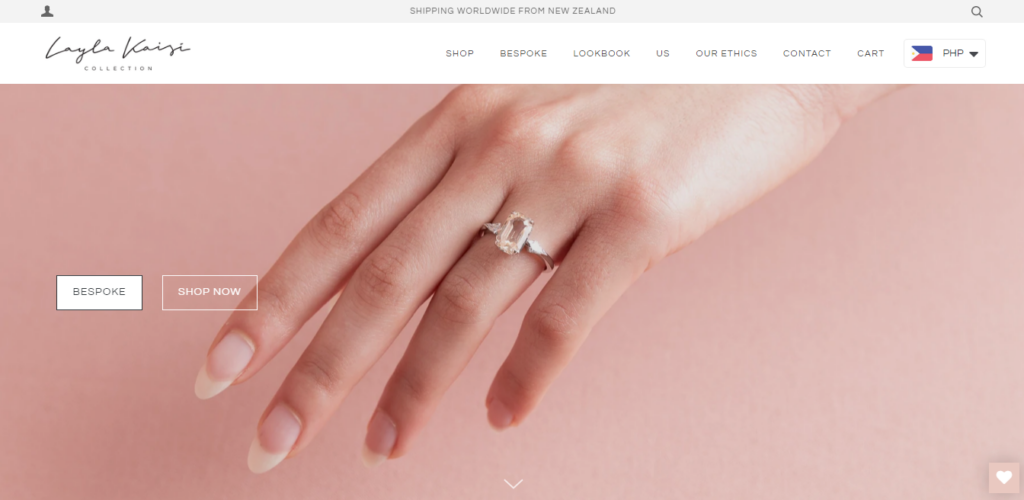 Layla Kaisi Collection is a company that specializes in varied handcrafted fine jewelry that uses diamonds. Transparency and identity are what they market as they produce one piece after another.
This is an excellent option for clients looking for a wide range of customization options to the jewelry they would like to avail themselves of. Along with their pre-made collections, customization is also readily available.
From classic to modern designs, they can spin each idea and concept into a minimalistic and aesthetic approach that takes hold of the latest trends.
Clients need not worry if they are new to such services as their website alone offers comprehensive information that can greatly assist them in availing their services.
It is important to note that since they value quality to a great extent it may take 6-12 weeks to work on order with 1-3 days shipment.
Highly customizable
Care guides available online
Fast shipping
Visits are only accommodated by appointment
Slightly long production period
7. Fifth Avenue Diamond Experts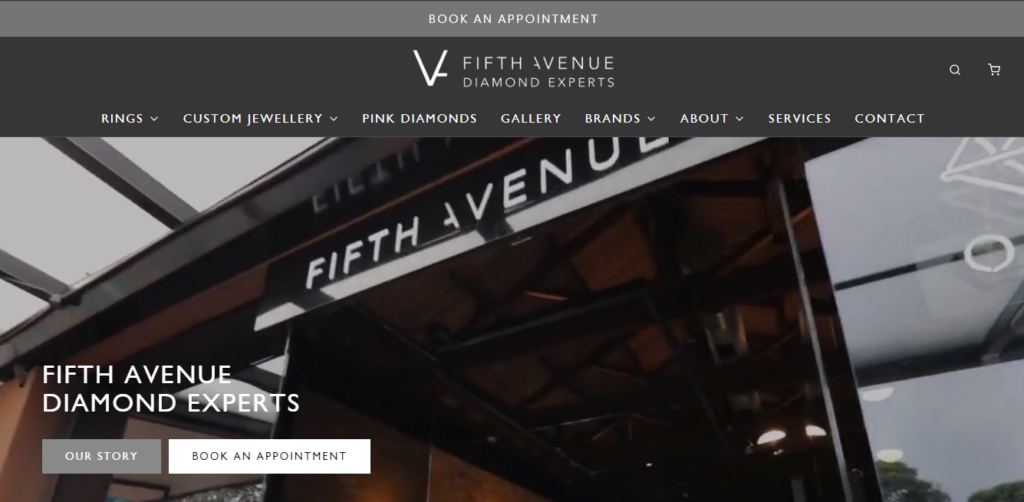 SERVICES
Engagement Rings, Wedding Bands, Diamond Dress Rings, Coloured Stone Rings, Customized Jewellery, Pink Diamonds
WEBSITE
https://www.fifth-avenue.co.nz/
ADDRESS
5 Hustmere Road, Takapuna Auckland
CONTACT DETAILS
Phone: (+64) 9-489-8461
E:

[email protected]

OPERATING HOURS
Mon – Friday 9am – 5.30pm
Saturday 9-5.00pm
Closed Public Holidays
Fifth Avenue Diamond Experts is a shop that enables clients to craft jewelry pieces that just spell out the client's vision and dream. They have been in the industry for over 70 years already and have been acclaimed to offer consistent services from then on.
Their process is highly personalized to what the client wants as a consultation session will be in place wherein after getting a rough sketch of the piece – clients can then select a stone to come with it.
For clients considering their budget, readily guide you through the options of the best approach for the piece that will make it shine more than what is perceived it is worth.
Reliable and experienced, clients will be aided by experts in the field who can either walk you through the products that they offer or the customization options they can do as well.
Overall, we recommend this company for clients who just have a passion for diamond pieces and would like a piece made especially for them that is within their budget but satisfies their liking.
Partnered with numerous brands
Highly customized jewelry is available
Expert consultation available
8. Aurum Fine Jewellery Ltd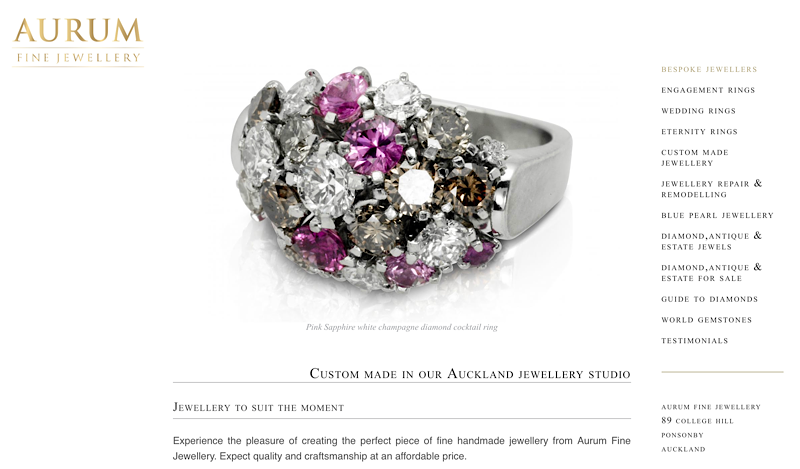 Aurum Fine Jewellery Ltd provides affordable quality jewelry to its clients. For those who look for personalized jewels, they specialize in unusual commissions and custom pieces.
They provide engagement rings, wedding rings, eternity rings, custom-made jewellery, and blue pearl jewellery. This means that they mostly offer a collection of rings for various occasions, however they also have earrings and necklaces.
Aside from the number of available selections on jewellery, clients can choose the carat weight of diamonds. Aurum Fine Jewellery Ltd also sells diamond, antique, & estate jewelleries and makes repairs on jewellery and remodelling.
So far, Aurum has earned a lot of satisfaction from its clients. They are told to have quality and a satisfying service that exceeds their expectations.
Couples or individual clients who wish to avail their services must book an appointment on Tuesdays to Saturdays from 10am to 4pm. For payment options, they accept bank deposits, cash, Visa, Amex, MasterCard, Bitcoin, and a 0% interest on 6 to 12 month installments.
Best at personalised jewellery
Flexible payment options
Offers a wide array of services
Only has real and authentic jewels
No delivery
Closed on Mondays
Appointments are a must
Customer Reviews
Here are what some clients have to say:
"I was so pleased that Colin thought outside the square to help me fit my wish list within our budget, and after the great job he did on my engagement ring, I didn't hesitate to go back (albeit 4 years later!) for the wedding band to be tailored. Thanks for making one major aspect of our wedding so stress-free!" – Marlena
"I had been looking for the perfect ring to buy myself for two years. I found Colin to be professional, creative and informative about his stunning high quality jewellery. He produced a truly brilliant ring for me and his service and after care is 2nd to none. I know it will be Colin who looks after me and my jewellery forever. Thanks so much." – Jules Sh'oosh, Sh'oosh Hairdressers
9. Julian Bartrom Jewellery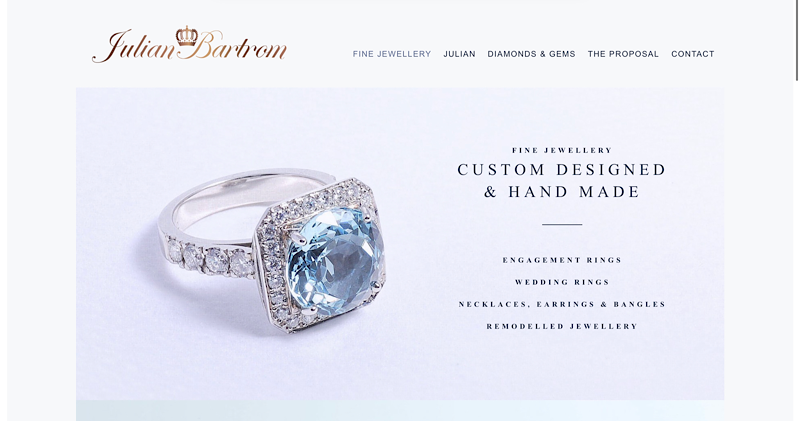 Julian Bartrom specialises in refined handcrafted jewellery made from an excellent quality of gemstones.
He has built his credibility by working with the Gemological Institute of America and trained by the craftsmen of Cartier and Boucheron at the Peter Minturn Goldsmith School. Julian Bartrom is also awarded an Advanced Diploma (Hons) in Goldsmithing and Jewellery.
Given the various qualifications of Julian Bartrom, it is no question why he is one of the leading jewellers in NZ. His clients may choose from diamonds and gems with which he will create a design from, but you may opt for custom-made jewels according to your own.
Interestingly, Julian Bartrom also extends his presence on wedding proposals. His clients have various proposal options using a 'Will You Marry Me' ring complete with an engraving, a voucher, a ring with an unset stone, or a classic solitaire ring.
For those who need advice on what to commission, Julian Bartrom offers an obligation-free consultation. Potential clients may seek advice on diamonds, gemstones, engagement rings, wedding rings, valuations, and other jewelleries.
Exquisite handcrafted jewels
Accepts commissions on custom-made jewellery
Highly qualified jeweller
Obligation-free consultation
No delivery
Clients can be accommodated by appointment only
Customer Reviews
Here are what some clients on Facebook have to say:
"Julian custom made our rings to perfection! My husband designed my engagement ring with Julian which is so special to me so we wanted to get our wedding bands made there too. Julian has such a calm nature and he had a way of bringing our ring imaginations to life." – Jacqueline Kong-Lago
"Julian is an excellent designer, and was a pleasure to work with. I initially contacted Julian because I needed a jeweller to replicate a wedding ring I couldn't buy from the USA. – a solid gold band with a pattern engraving on the face and the side of the ring. Something noticeable but subtle, especially when you don't have an engagement ring. I called several jewellers for quotes and to ask their opinion whether they could do the job. Julian was the only one who approached the question logically. He took time to understand what effect I wanted, and then took time to try to replicate the design from the US. But in the end he designed something that was even better. At our initial meeting, he worked for two hours coming up with a new design that I was happy with and explained everything I needed to know to make a decision. I am really happy with the final product. It was finished on time, and the quality is fantastic. Julian is one of those people who clearly knows what he is doing. Many thanks!" – Moria Brengauz
10. Nuttall Henderson Jewellers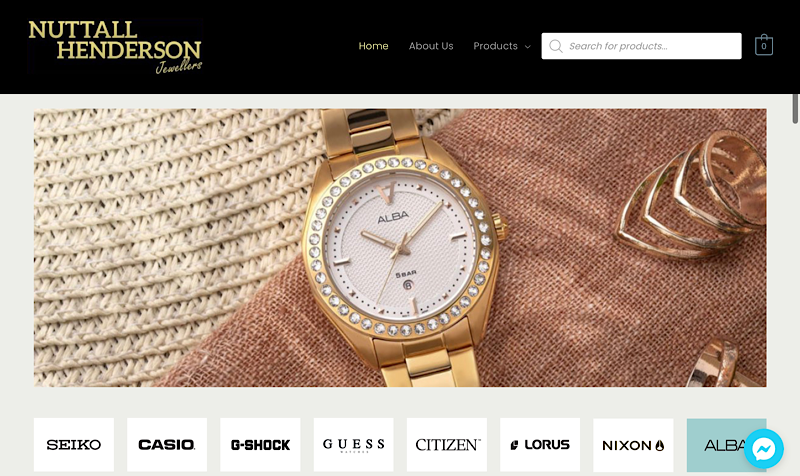 SERVICES
Handcrafted Jewellery Made from Diamonds and Gems, Proposal Jewellery Options
WEBSITE
https://nuttallhendersonjewellers.co.nz
ADDRESS
357 Great North Road, Henderson, Auckland 0612, New Zealand
CONTACT DETAILS
+64 9 836 3617
OPERATING HOURS
Monday to Saturday: 9:00 am – 5:15 pm
Closed on Sundays
Based in Henderson, the Nuttall Henderson Jewellers has been providing watches and jewellery since 1996. They have established their name in the industry given their experience of over two decades.
Most of their jewelleries are already pre-made from raw materials including gold, rubies, diamonds, and pearls. They have chains, earrings, men and ladies' rings, and pendants available for sale.
Aside from jewellery, their specialty includes luxury watches. The Nuttall Henderson Jewellers works with distinguished brands such as Seiko, Casio, G-Shock, and others for their watches collection.
They also provide a really wide range of services from jewellery manufacturing to ring sizing, and watch battery replacement & water pressure test.
Nuttall Henderson Jewellers accepts various payment methods through PayPal, Internet Banking, Visa and MasterCard, Cash, and the likes. They are also flexible with payment for those looking for a four-month installment method.
Offers watches aside from jewellery
Has pre-made jewelleries
Accepts installments and various payment options
Has a 12-month supplier warranty
Does not specialize in custom-made pieces and commissions
Closed on Sundays
Customer Reviews
Here are some of their customer reviews from their website:
"Excellent price and service. Custom made the ring and stone with awesome help from the staff." – Patricia Warren

"Great service and product. Highly recommended.Great team here very helpful and very professional would highly recommend! 10/10!" – Lauren Lane
Tips on How To Choose A Jeweler
Unless you're extremely wealthy, buying jewelry isn't an everyday thing. Therefore, it's only natural that you would want a good jeweler.
With that said, here are some tips to help you find a jeweler you would feel comfortable dealing with.
1. Credibility and reputation
Trust is an important factor when finding the right jeweler. After all, you'll be spending quite a bit of money, so it's only natural to make sure that you're in the hands of a reputable professional.
The easiest way to find the jeweler of your choice is to ask for recommendations or research about the store's reputation. Whether it's by word of mouth or through online reviews, finding out if the jeweler has satisfied clients goes a long way to ease your trepidation.
Moreover, you can also ask to see any certifications that the jewelry and the jeweler have. Most prized pieces should have some form of documentation and a really good jeweler should have an in-house gemologist or similar expert.
2. Style collection
A jeweler is essentially a boutique store selling hand-crafted items…the only difference is that their products are extremely expensive. With that said, each jeweler will often have a persistent style or theme that is evident in the products they showcase.
Since most jewelers create custom pieces and carry other brands, you can get a better sense of their general aesthetic and style by looking at their general collection. If you fancy most of what they're offering, then it's probably a good fit for you.
3. Rapport and comfort
Shopping for jewelry can make a lot of people feel pressured or anxious, so being comfortable with the staff in a store is extremely important. They should make you feel at ease and be able to understand what you're looking for in a piece of jewelry, especially when it's a bespoke design.
4. Terms of sale and pricing
Granted, you need to be comfortable with the prices you're being offered, but you also need to consider any warranties or terms that come with it. Some companies offer lifetime warranties and complimentary cleaning, which can add a lot of value to whatever piece you choose to buy.
FAQs about Jewelers
---
That's our list of the best jewelers in Auckland! Whether you're looking for an engagement ring or want a custom piece made, we hope this list helped you out!
There are a number of reputable jewelers out there, so if your favorite didn't make our cut, send us a message so we can check it out!
Now, if you're planning your wedding in Auckland, then you may find the links below useful: