Your flooring imparts a certain character and feeling to every room of the house. If you're hoping for something affordable yet neat, we've collated the shops selling the best laminate flooring in Christchurch.
Laminates are the closest thing you can get for a polished timber look without paying the high price of real timber. Its wear and tear process takes very long and it's resistant to punctures or scratches.
There are a variety of different hues and styles to match your house or office's theme. Whether it's on the classic, contemporary, elegant, or simple side, the shops we've found will help you find the right one.
So now, we give you our list of vendors carrying the best laminate flooring in Christchurch!
1)  Carpet Plus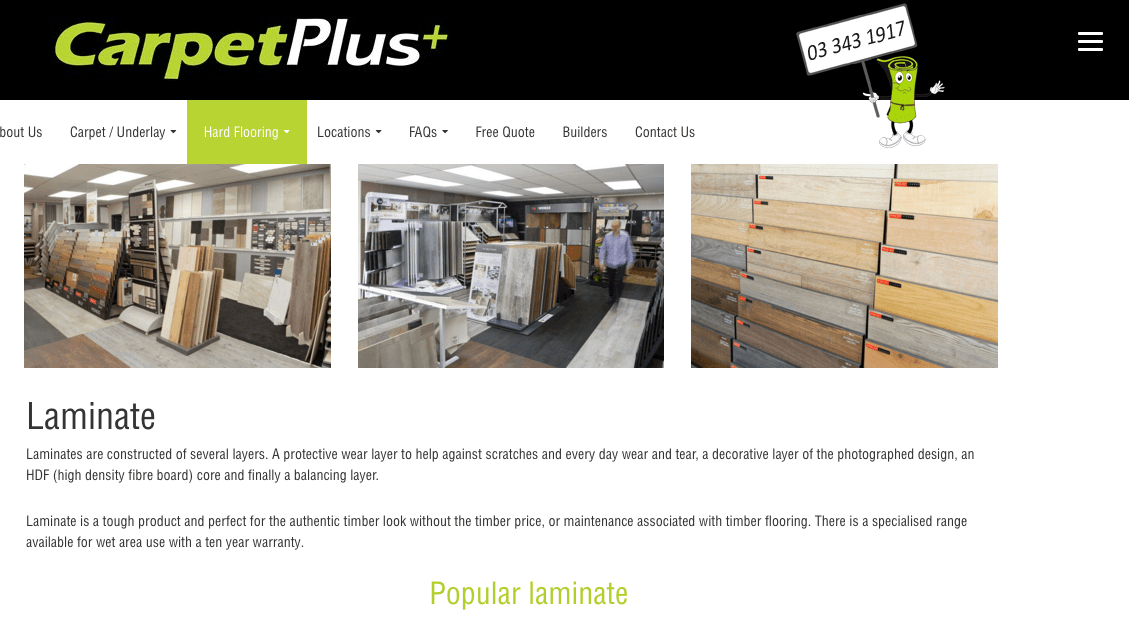 | | |
| --- | --- |
| Product range | Dark, Classic Oak Laminate, and a whole lot more |
| Address | 1/251 Blenheim Road, Riccarton, Christchurch 8041, New Zealand |
| Contact no. | 03 343 1917 |
| Website | https://www.carpetplus.co.nz/ |
Get a perfect wood or oak finish at your home for the ultimate look and elegance. Carpet Plus, a 15-year veteran in the industry, is a supplier for the Kiwi market for quality and durable flooring.
Their range of laminate flooring includes classic oak that is light brown in shade for a clean and cosy look and dark oak that is greyer in appearance but easily fits in your interior.
Don't forget to check out their special wet-resistant laminate flooring that can hold well under soaked shoes and floor mops too.
For an affordable price, kind and helpful staff, and wonderful laminates, Carpet Plus is one of the top purveyors of the best laminate flooring in Christchurch.
2)  The Natural Flooring Company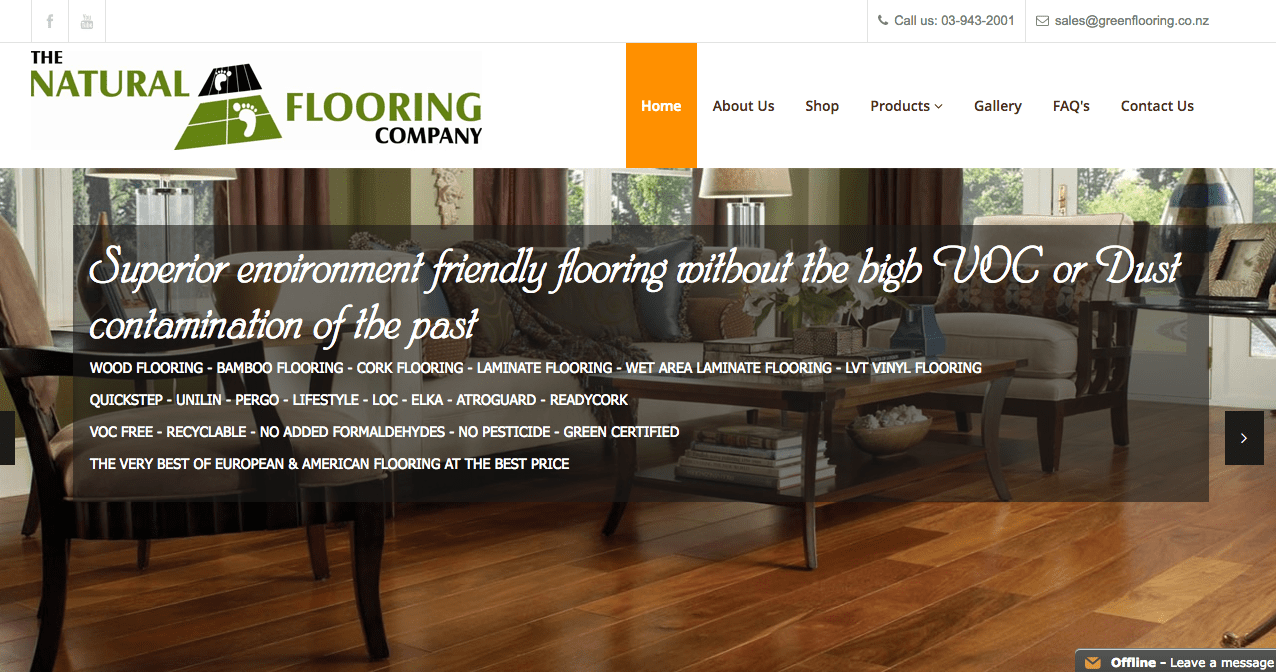 Product range
Quick Step, Pergo, AtroGuard, Clix Laminate
Address
Unit 3 / 954 Ferry Road, Ferrymead,

Christchurch 8023, New Zealand

Contact no.
03 943 2001
Website
http://www.greenflooring.co.nz/
There is an ideal laminate flooring for your rooms with Natural Flooring Company. Come to their place in Ferrymead and and you'll get to see better choices and selections than most.
They offer laminates from suppliers like Quick Step, Clix, AtroGuard, and Pergo. They also have a massive range.
If your room is big, you can decorate it with selections like their Quick Style Largo line, having the longest and widest planks for a wide, encompassing feel with a luxe and smooth appearance.
For a flooring to withstand all sorts of drops and glass breakage, you will like Clix Laminates instead. Their flooring is made from a tough material that is easy to clean and maintain.
Whatever your special needs, we're sure they can accommodate you. They can provide different laminate flooring suited to different rooms such as the kitchen, bathroom, laundry (where it can easily get wet), or bedrooms.
3)  Watkins Flooring Xtra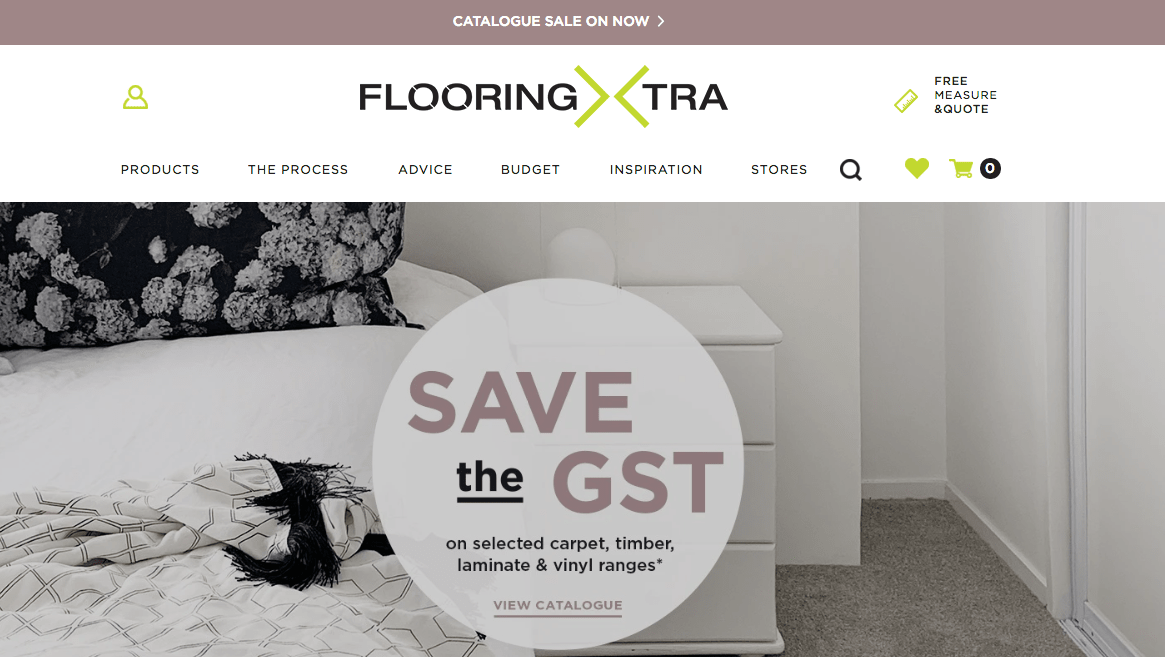 | | |
| --- | --- |
| Product range | Light, Medium, and Dark Wood Laminate |
| Address | 239 Annex Road, Middleton, Christchurch 8024, New Zealand |
| Contact no. | Not mentioned |
| Website | https://www.flooringxtra.co.nz/ |
For all your flooring needs, Watkins Flooring Xtra has got the answer. You will get value each step of the way from their expert advice and quoting up to installation and after service.
You can take a look at their flooring range, which is simplified into light, medium, and dark wood. Like competitors on this list, they source their flooring from prominent suppliers.
For example, Vitality Style laminates are Belgian-made, water-resistant options created to have the genuine feel and look of timber. Another of the same kind is Quick Step Imperio for high-quality parquet… and Watkins carries both of these.
What's more, Watkins Flooring Xtra isn't just here to sell home essentials but also to help out. For every dollar made from 1 metre of carpet or flooring sold, the team will donate it to the Australian Bushfire relief fund.
4)  Carpet Court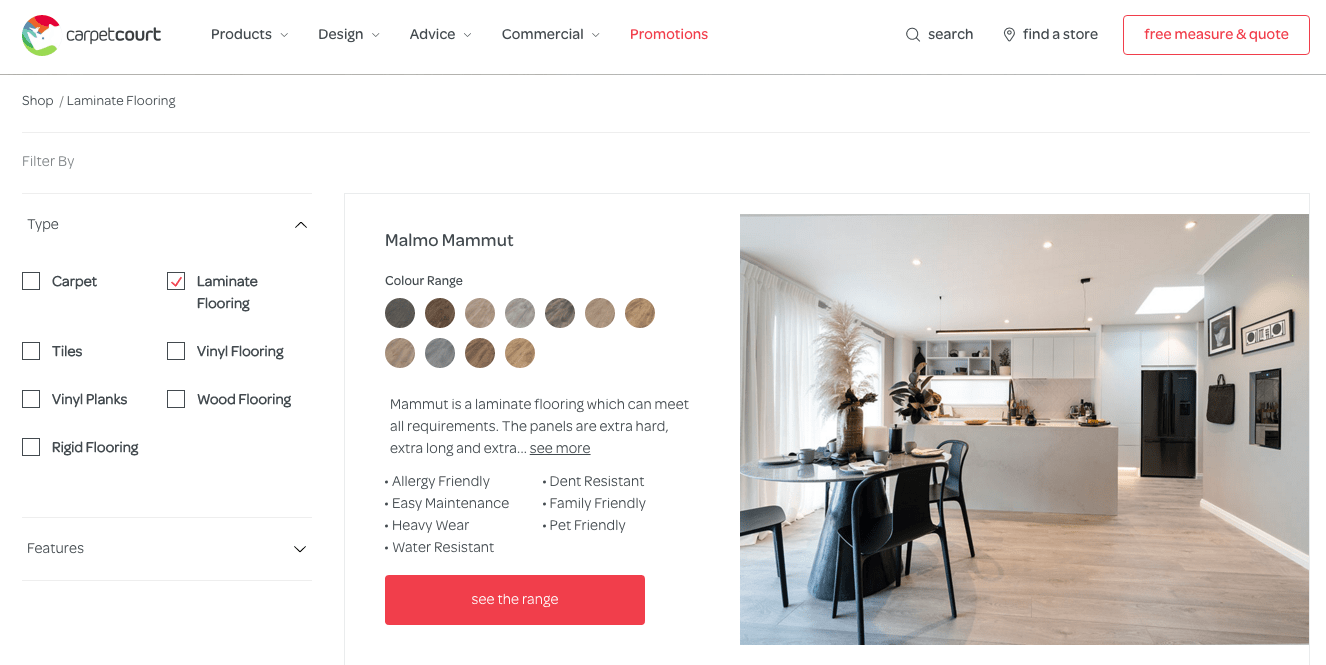 | | |
| --- | --- |
| Product range | Malmo Mammut, Malmo Exquisit, Quick Step Impressive, Quick Step Eligna Wide, Quick Step Eligna Quick Step Classic, QuickStep Majestic Laminate |
| Address | 460 Moorhouse Avenue, Waltham, Christchurch 8011, New Zealand |
| Contact no. | 0800 787 777 |
| Website | https://carpetcourt.nz/ |
Need to find a laminate flooring that stilettos can't dent or chairs can't scratch? In Carpet Court, you have many incredible solutions that are functional, hygienic, and stylish.
Its extensive range includes the Malmo Mammut with long panels and a spacious feel, Malmo Exquisit for authentic wood styling, and QuickStep Eligna for affordable and durable choices.
Most of the flooring brands here are hypoallergenic, people- and pet-friendly, scratch resistant, dent resistant, and very durable.
It has 57 stores located all over the country, and is a popular vendor of some of the best laminate flooring in Christchurch. You can get a quote via their website.
5)  Plantation Bamboo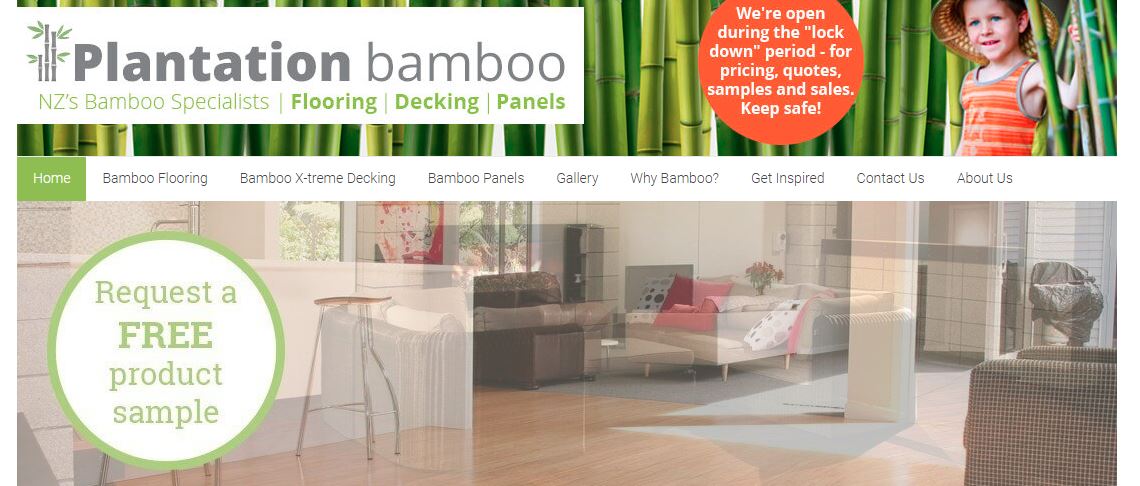 Plantation Bamboo – New Zealand's only specialist bamboo importer and supplier, loves to challenge the use of traditional hardwood building products. They enjoy seeing their beautiful products used in gorgeous design and building solutions and understand the importance of using sustainable products, that are truly hard wearing and do not compromise beauty or aesthetics.
Plantation Bamboo's knowledgeable team is here to help you – through understanding your needs and making the information gathering, pricing and the decision-making process easy for you. They will go the extra mile to help you get the finished result you're looking for.
6)  The Flooring Centre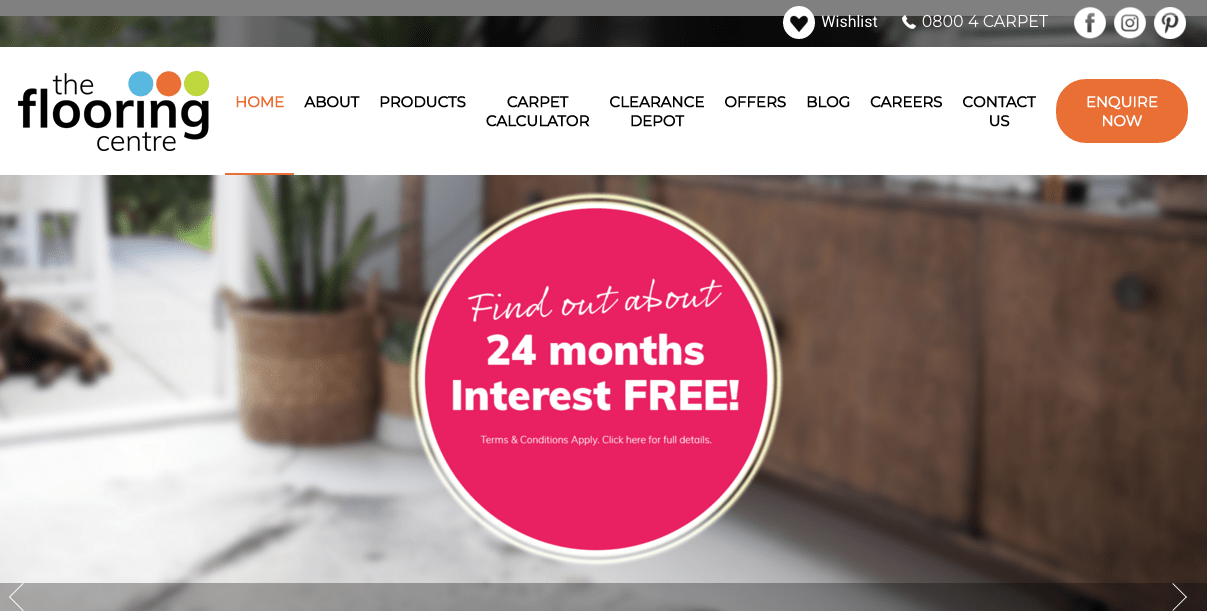 Product range
Amor Classic, Artemis, Astoria, Belle Endless, Belle XL, Classic, Coventry, Deluxe 4V, Endless, Grande Wide, Long Plank, Sensation Plank, Solido Elite, Veles, Vitality Style Laminate
Address
147 Blenheim Road, Riccarton

Christchurch 8440

Contact no.
0800 4 CARPET (227738)
Website
https://www.theflooringcentre.co.nz/
The Flooring Centre is a one-stop shop to complete your building project, be it private or commercial. They have an exciting range of all sorts that can assimilate into your house perfectly.
To list some of the products they carry, they are the Astoria, Endless, Grande Wide, Long Plank, Solido Elite, and Vitality Style.
Some of them are great for lots of movement or foot traffic while others are water resistant and great to use in a kitchen or laundry. But all of them bring that authentic timber look and feel.
They also have hybrid flooring that is produced of vinyl and laminate (like the Veles range). The combined attributes of both give it a durability to last for decades.
On top of that here in the Flooring Centre, you get what you need plus an affordable price. Indeed, one of the top purveyors for the best laminate flooring in Christchurch!
7)  My Floor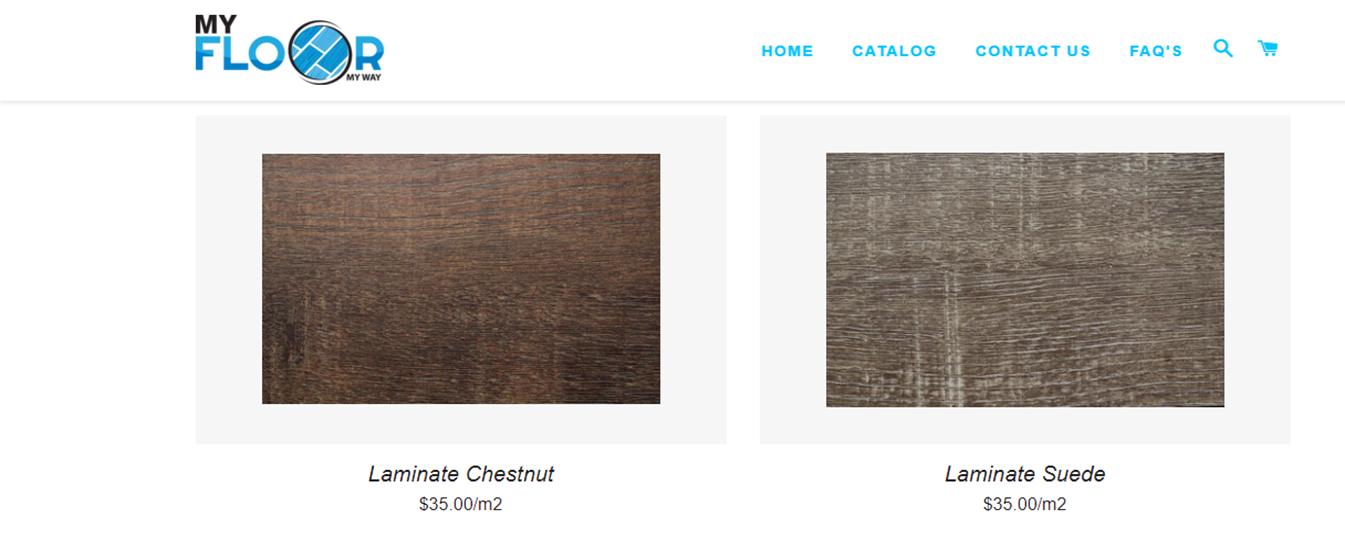 My Floor is the most well-equipped company in New Zealand that can attend to your flooring needs. Builders and DIY practitioners alike avail of their products– not once getting disappointed by what they offer.
Backed by New Zealand's most trusted suppliers, My Floor can provide any materials required to work on your floor. If you are planning to go for laminate flooring, their staff is more than ready to offer you complete assistance and knowledge on how to do it.
With just one call, My Floor can deliver premium-grade materials from their Auckland warehouse right to your doorstep.
---
And there you have it for the vendors with the best laminate flooring in Christchurch! You can simply browse their extensive offerings on their websites and let them arrange a quote.
Do you have any questions about the shops we listed today? Feel free to send us a message and we will get back to you in a bit.
As an alternative to laminate flooring, you may want to go with a carpet for a softer touch. You do have to keep it clean, though, but you can just refer to our list of the best carpet cleaners in Christchurch for that!