The 14 Best Laptops in New Zealand
Laptops have been a necessary tool for our needs as entrepreneurs, writers, students, and travel bloggers. We can't do projects or articles without its help more often than not. As time goes, its structure has gotten smaller and thinner alongside with new features, and powerful performance. A portable word processing or video editing tool you can take with you wherever you go at any time.
There are some things to be considered before buying a laptop and looking into them will prove invaluable to you. The first thing is to know is what you need it for. Do you use Photoshop? Are you going to use Microsoft Office such as Word and Excel? Or do you intend to enjoy gaming to the maximum? Looking at the specs will answer that question. Once you have given it some thought, you have to see the budget if it will sit well for you that's going to solve your needs.
Breaking down the specs
The specs most important are the Processor, Graphics Cards (GPU), RAM, storage, and screen. Let's discuss them each in turn.
• Processor
The processor is the brain of your laptop and it dictates how fast the performance is. It is often referred as a CPU. An example is the Intel Core i3, i5, or i7. The i3 is of a low range power today as compared before, the i5 a mid-level fast processor whereas i7 is the fastest and the faster it is the better speed and performance you'll have in your apps. Also, the better graphics it can display. So that, if you're going for HD or 2K, i5 or i7 would be a good choice as it can hit those frame rates per second that will bring you a seamless, breathtaking detail and pictures.
Just a tip. When looking upon the processor, you may see a U on the model name such as Intel Core i7-7600U. That simply means that it uses a U core that powers your performance even more contrary to the Y core (a Y on the model name). The Y core when in use doesn't heat up that much which allows the system of the laptop to be without fans and since it has a lower performance, it is cheaper in cost. Plus, its battery lasts for a shorter time. Another thing is the 7 on the model name like 7600U and that stands for 7th generation of Intel Core's newest Kaby Lake processor and it packs a superior performance and output. So, if you can, you should pick the one with the U core and the one with the 7 in the model name.
• Graphics Cards or GPU
Graphics cards are also processors responsible to bring the images, video or animation onto the screen. You may have encountered names like the Intel Graphics 620, NVIDIA GTX, or Radeon Graphics. These are what brings your graphics to life in 1080P, 2K or even 4K definition. Used by contemporary PCs, GPU and the processors can be combined within one chip called Integrated Graphics. But for a clearer and sharper detail, a separate card can just be inserted to support in playing 4K gaming.
• RAM and storage
These are the laptop's maximum storage capacity with the former being able to run multiple programs at once without closing or slowing down. This is especially good for people with multitasking skills and the second one storage, as we know is the total amount of data, movies, and music we can save in our laptop. Note that they can be customized or upgraded as an optional choice before your purchase. For a good laptop you should choose one with at least 4 GB of RAM and more than 8 GB for SSD.
• Screen size
The screen size that you pick is the measure of your monitor on your laptop. The sizes range from the smallest being 11" up to the largest which is 18". The standard and most popular type is 15" that weighs around 4.5-6.5 pounds that is well-balanced in terms of portability, graphics, and performance. But if you want something lighter you could go for 13-14″ type which is easy to carry, isn't too small, and are great notebooks. The largest of them 17-18″ is ideal to only be used at home or office for something that has a greater resolution and blazing hot speed in gaming.
It is good as well to observe that a larger laptop doesn't always mean that it's better and more powerful than the smaller ones. It still depends on the brand and the specs that it has for your use of it.
• Others
Taking a look at the specs, you could glance the information about ports, dimensions, camera, audio, chassis, and color. If you use a certain software for instance, it will save you some frustration to know it has the software and that it works on your new laptop.
Now that you have an idea of the specifications, we are now all set to round up the 6 Best Laptops in New Zealand to help you decide which one to buy.
Best performing Laptop: Dell XPS 13 Remastered
Cheapest Laptop (for students): Acer Chromebook 514
Best design for artists and writers: Microsoft Surface Laptop 2
Perfect gaming system: MSI GS65 Stealth
Best Laptop for Safety: Toshiba Tecra x40
All around Laptop: MacBook Air
Best for High-spec users: Apple MacBook Pro 15 inch Touch
1. HP ENVY x360 2-in-1 Laptop
Best for Lightweight and High Resolution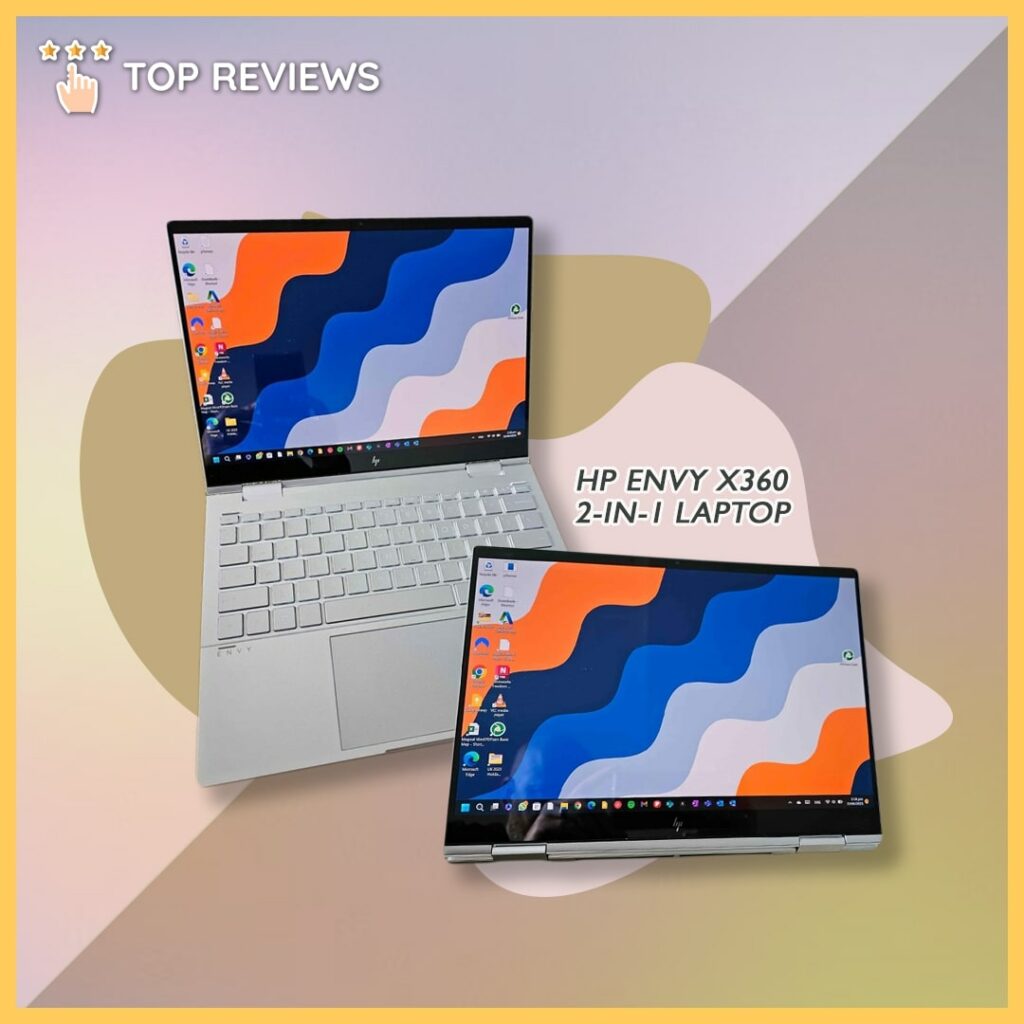 Processor: Intel® Core™ i7-1250U | RAM:
16 GB memory; 512 GB SSD storage |Platform:
Windows 10 |
Screen:
13.3″
Pros: Lightweight. Switchable to tablet mode. Excellent graphics. Designed to handle multitasking. Easy to transport.
Cons: Slight limitations on the screen size.
Price: $2,699
When considering the HP ENVY x360 2-in-1 Laptop, there are several compelling reasons why it stands out as an excellent choice for potential buyers.
Firstly, HP has a long-standing reputation for delivering quality products, and this laptop is no exception. Its seamless fusion of a tablet and laptop experience means you get the best of both worlds in one device, making it incredibly versatile for various tasks and scenarios.
The slim and lightweight design is a standout feature, making it perfect for individuals on the move. Whether you're a student, a business professional, or a frequent traveler, this laptop's portability ensures you can carry it effortlessly wherever you go.
Despite its sleek form factor, it doesn't compromise on performance. The fast processing and loading times make multitasking and handling demanding applications a breeze, ensuring you stay productive no matter the task at hand.
Customizability is another key advantage of choosing an HP laptop. Clients can tailor their configurations to suit their specific needs and budget constraints directly on HP's website. This flexibility means you can have the stellar graphics and long battery life that suits your requirements.
It's worth noting that while the processor's speed can vary depending on the applications and tasks, this is a consideration with any laptop, and HP provides a range of processor options to meet various performance needs.
In conclusion, the HP ENVY x360 2-in-1 Laptop offers a winning combination of portability, performance, and customization. With HP's strong track record and the positive feedback from satisfied customers, it's clear that this laptop is a worthwhile investment for anyone seeking a travel-friendly and versatile computing solution.
If this model isn't for you, we're sure that you can find a model that can suit your needs here.
2. Everis 14 Inch Laptop Charcoal (E2033C)
Best Budget Laptop for Light Tasks and Streaming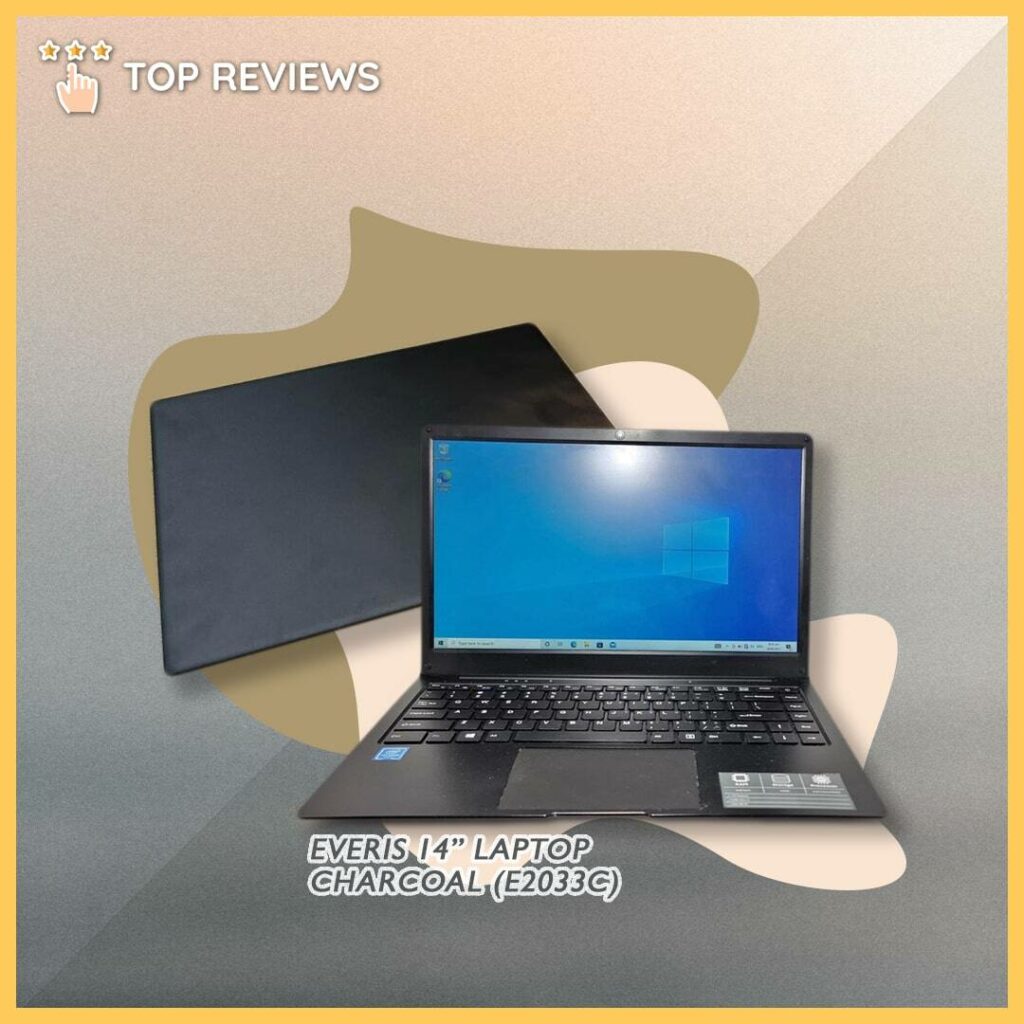 Processor: Intel Celeron N3350 Dual Core Processor | RAM: 4GB | 64GB eMMc storage | Platform: Windows 10 | Screen: 14″
Pros: Great price-to-value ratio. Reliable Intel Celeron processor. Enables you to stream in Full HD. Excellent for use in school or for light surfing and streaming.
Cons: Short battery life. Memory capacity could be higher. Limited features.
Price: $399
The Everis E2033C is a budget-choice laptop for students. It's ideal to use for basic surfing, streaming and light gaming.
Equipped with an Intel Celeron dual processor, it can run popular apps for you to keep your pace with the world. In addition, you can stream TV shows or movies in Full HD.
Its 4GB RAM and 64GB storage allow you to store important documents, pictures and music without lagging or slowing down.
Moreover, it has a 14-inch screen and weighs 1.37kg, making it very light and easy to take and travel with you. Plus, you can go without charging the Everis laptop for 5 hours.
On top of that, you get a 1-year subscription for Office 365 that includes Microsoft Word, Excel, PowerPoint and Outlook. Separately, this pack would cost you $119!
3. HP 15.6 Inch Laptop (15S-EQ1027AU)
Best Well-Balanced Laptop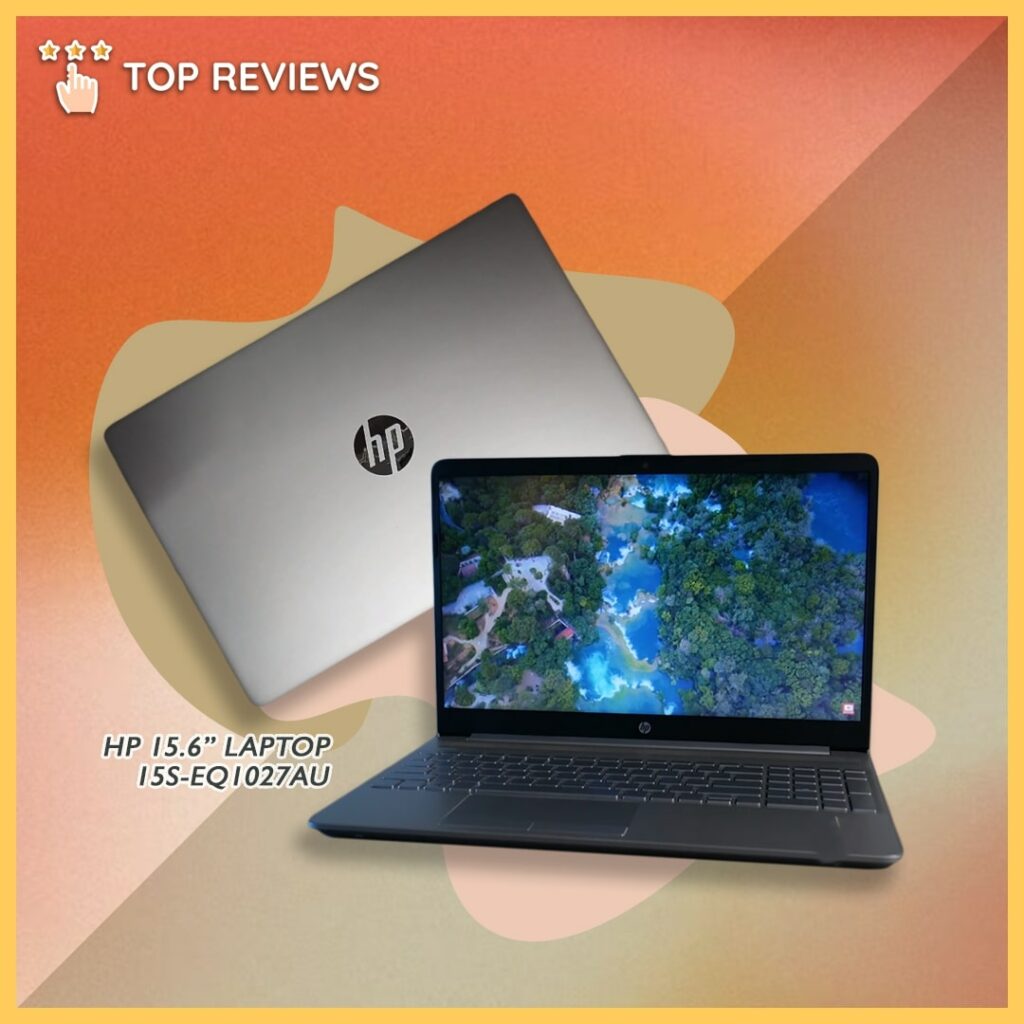 Processor: AMD Athlon Gold 3150U Dual Core Processor | GPU: AMD Radeon Graphics | RAM: 8GB | 256GB SSD | Platform: Windows 10 Home | Screen: 15.6"
Pros: Fast and powerful AMD processor. Sleek and lightweight design. Wonderful micro-edge bezel screen. Excellent battery life. Abundant storage for your files and media. Affordable price.
Cons: Keyboard isn't backlit. Doesn't have any ethernet port.
Price: $1,349
Run through the day's task with long-lasting battery and HD graphics. For this, you have to have the sleek and lightweight HP 15.6" Laptop (15S-EQ1027AU)!
Utilising AMD Athlon Gold 3150U processor, you'll be able to edit videos, write blogs, browse pictures, and stream movies in HD. It will keep your productivity and satisfaction up!
Its micro-edge bezel screen transports you to the movies that you're watching. Besides that, it adds to the style factor too — a small detail that can make a big difference!
The battery is also solid for this laptop, bringing you 11 hours of continued use. Hence, you'll be able to accomplish more tasks without needing to plug it in until later.
A large internal memory means you can save more of what matters most. At the same time, this allows the laptop to work optimally in terms of speed and efficiency.
For just one thousand plus bucks, this matte metal gizmo is really worth the buy. And along with that, you even get a 1-year limited warranty for parts and labour.
4. Lenovo 15.6 Inch IdeaPad C340 Convertible Laptop (81N5001LAU)
Best Creative Laptop for Work or Leisure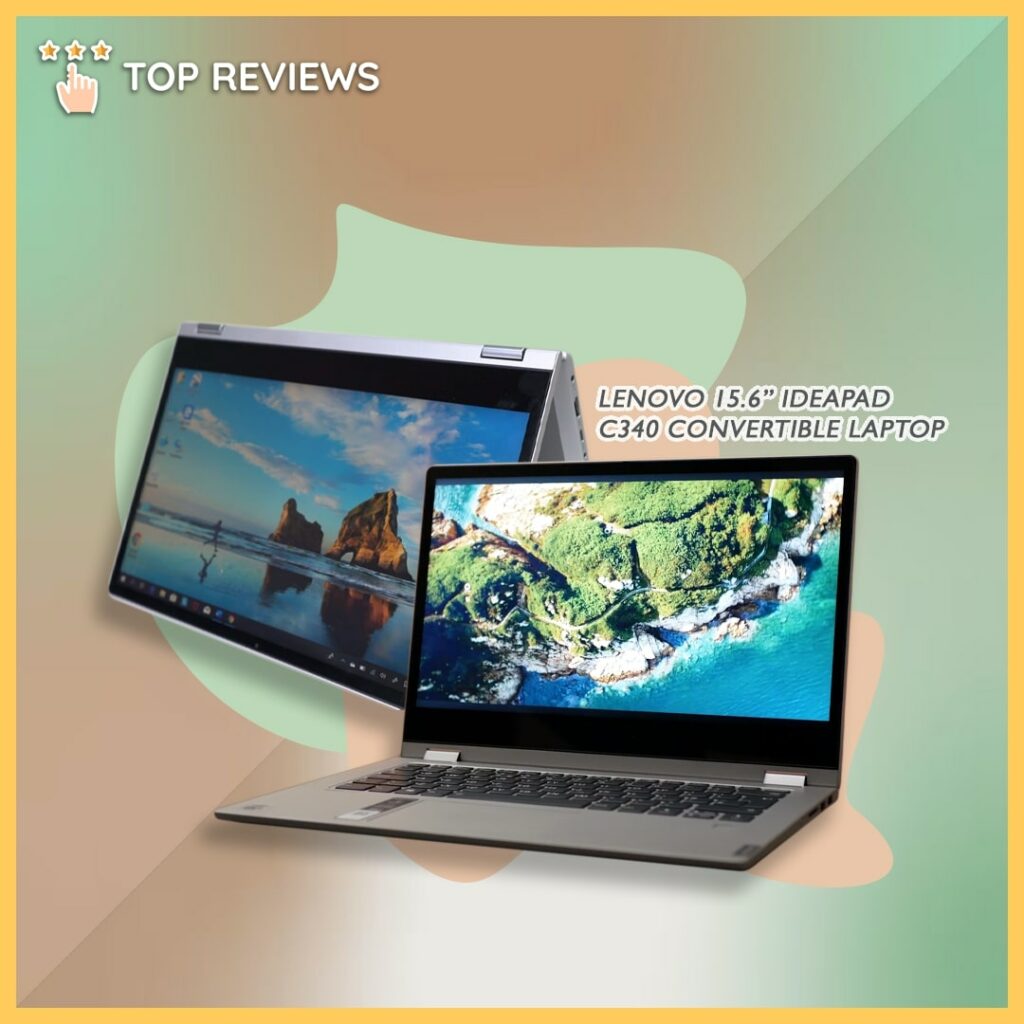 Processor: Intel Core i5-8265U Quad Core Processor | GPU: Up to NVIDIA GeForce MX230 | RAM: 8GB RAM | 256GB SSD | Platform: Windows 10s | Screen: 15.6″
Pros: Can be folded for various uses. Powerful and fast i5 quad core processor. Webcam shutter. Stream and game in HD.
Cons: Low battery life. Stylus only included on select models. A bit heavier.
Price: $1,449
Express yourself in more ways than one with the Lenovo IdeaPad C340! Its flexible and versatile design provides you several options to create artistically, record spontaneous ideas or share the entertainment together!
Foldable end-to-end to either tent mode, laptop, standing or tablet mode, this laptop is your oyster! If you get a digital pen with it, there are even more and better possibilities.
Fast, multi-tasking performance is promised by the Intel Core i5-8265U Quad Core Processor. Stream, game and work all you want, as all you'll get is smooth operation.
Moving on, its battery will power your computer for 8 hours. Then if you've used it up, the Rapid Charge charger will bring it up again to 80% capacity in just the span of an hour!
What's more, the IdeaPad C340 features a webcam shutter. This will ensure you and your home are safe and secure from the prying eyes of the Internet!
Customer Reviews
The build quality, discrete graphics and stylus add-on of the Lenovo Notebook have been listed as pros by one reviewer. But he mentioned the heavier weight, short battery life and lack of stylus storage as cons.
That said, a different independent reviewer, Notebook Check concluded:
"Thanks to the Core i5-8265U quad-core processor and the GeForce MX230 graphics core, Lenovo's convertible provides enough computing power for all common applications. Playing games is possible to a limited extent. Good: The device only heats up moderately and produces little noise."
5. Apple MacBook Pro 15-inch Touch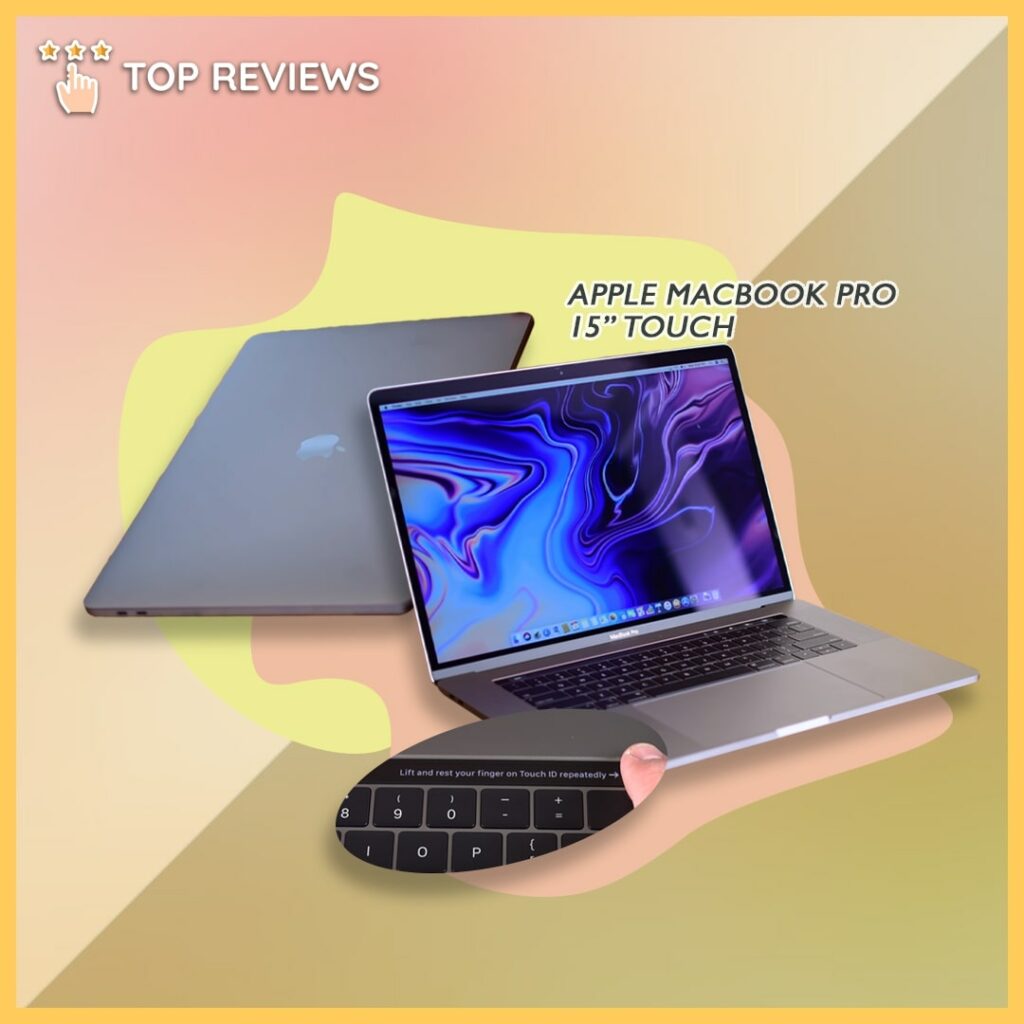 Processor: Intel Core i7 | GPU: Radeon Pro 555X 4GB Graphics | RAM: Up to 16GB | 256GB NVMe Solid State Drive | Platform: macOS Mojave | Screen: 15 in
Pros: Amazing processors. Slender design and powerful overall performance.
Cons: Expensive. Onboard storage isn't massive.
There are several iterations of the 15-inch Macbook Pro, but this one is among the best, with its 6-core i7 processor and Radeon Pro 555X graphics card supported by Intel UHD Graphics 630. Everything you love about the Macbooks is here, only boosted to professional, powerful levels.
There's no need to talk about the Retina Display, because that's something you expect (and adore!) on all Macbooks. We should probably mention the 4 Thunderbolt ports and the battery, which can last for up to 10 hours of wireless Web usage.
Performance-wise, it's hard to fault this machine, thanks to all the power packed under its hood. We do think it could stand an upgrade in terms of onboard storage, but that's just about all we found to nitpick about here.
That said, it's not for everyone. The price makes it prohibitive for some, and the specs are just overkill if you're not using demanding programs like video or photo editing apps anyway.
If you do need a strong workhorse with style, though, this laptop's ideal!
Price: $3,498.00, see it here
6. Dell XPS 13 Remastered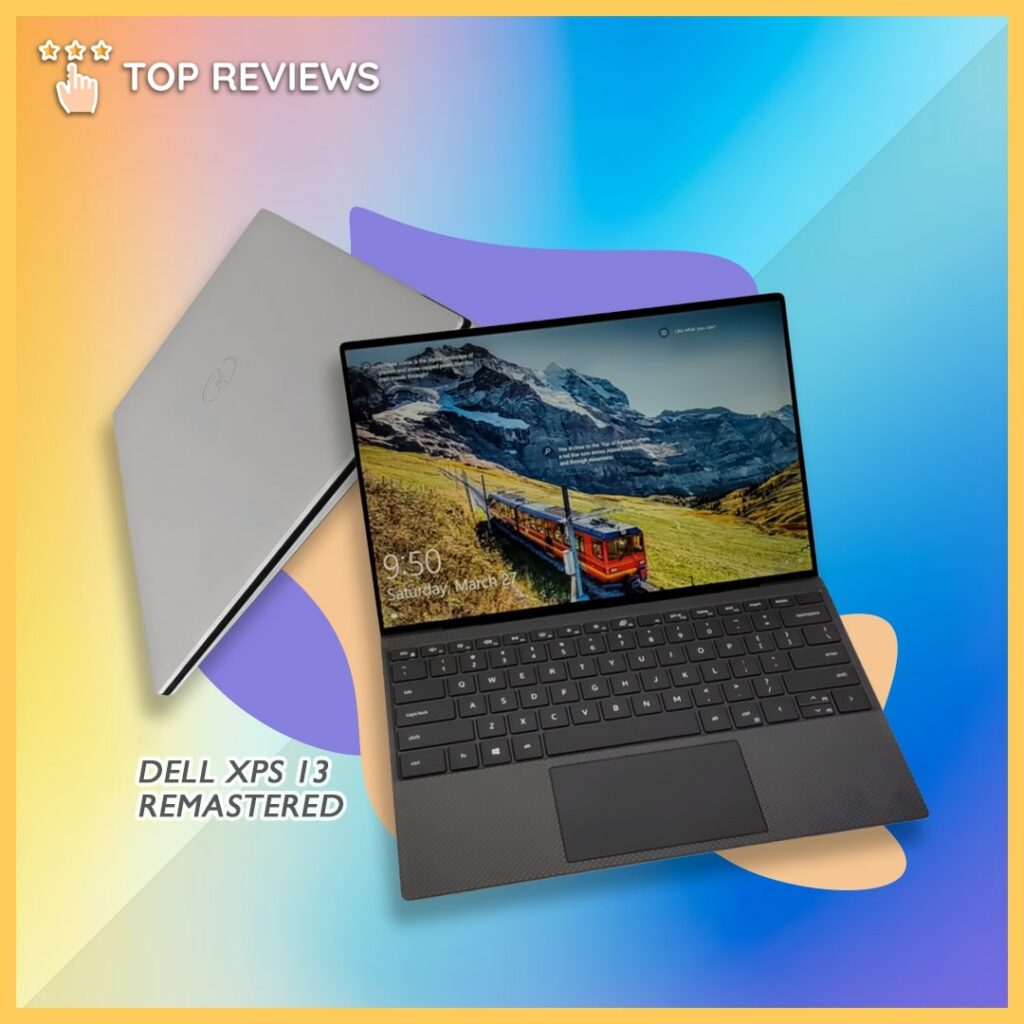 Processor: Up to 10th Generation Intel Core i7-10710U | GPU: Intel UHD Graphics with shared graphics memory | RAM: Up to 16GB LPDDR3 | Up to 512GB NVMe Solid State Drive | Platform: Windows 10 Home 64bit | Screen: 13.3 in
Pros: Most powerful processors. Elegant design. Thinner and brighter. Longer-lasting battery.
Cons: Expensive. Lower storage capacity.
Dell has unraveled an unbelievably powerful 10th gen i7 Quad Core and graphics capable of beyond realistic UHD presentation with Dell XPS 13. Its storage can be further upgraded to 16 GB RAM with SSD storage of 256 GB. You can't help but be mesmerized by InfintyEdge's ultra-sharp details as you watch your favorite movies and listen to your playlist. Better yet, 21 hours of battery capacity means you can travel with it anywhere and do some blogging and video chatting with its HD webcam without charging it for a while.
It is constructed with a woven texture for a neat and noble appearance around the touchpad and keyboard. It comes with color choices of platinum silver, carbon black, rose gold, and arctic frost.
The price starts at $999 for a 10th Gen i3 and add just a little $150 and you've got yourself an i5.
Price: $1,999.00 see it here
7. Acer Chromebook 514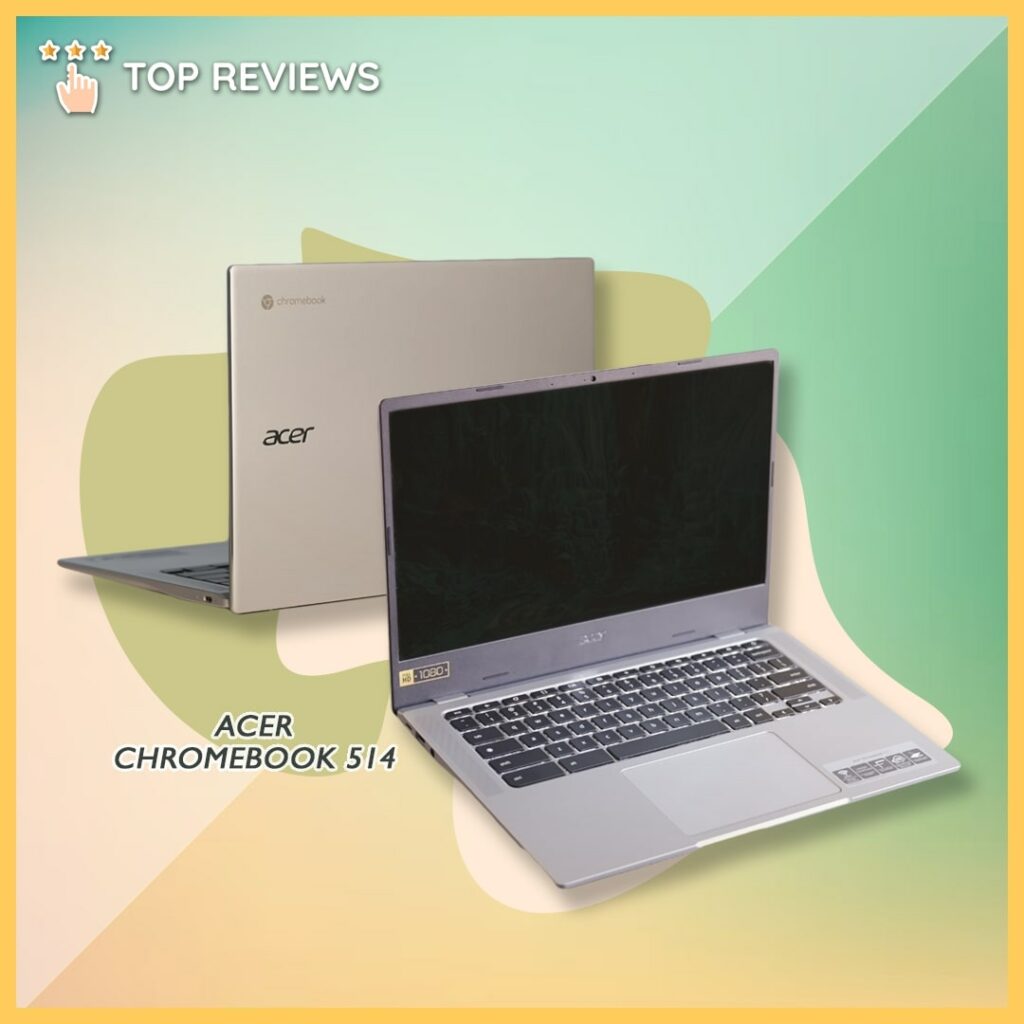 Processor: Intel Celeron N3450 processor | GPU: Intel HD Graphics 500, Full HD (1920 x 1080) memory | RAM: 4 GB, LPDDR4 | 32 GB Flash Memory | Platform: Chrome OS | Screen: 14 in
Pros: 9mm thickness edge-to-edge display. Conveniently portable. Beautifully polished casing. 12-hour battery capacity. Reliable power. Cheap laptop option
Cons: less efficient processor. lower storage memory. speaker issues.
When you're absolutely short on a budget but need a laptop that's good enough for homework or entertainment, Acer Chromebook 514 will take you out of the water. Its Chrome OS ensures that you get online word applications such as MS Word, Excel, and Skype. It uses Intel Celeron processor which is not bad and the Intel HD Graphics 500 will involve you in the movie scenarios for a dynamic cinematic experience.
It also satisfies the threshold of 4 GB of RAM that is sufficient enough for running multiple programs and listening to music without bogging down. However, the SSD only reaches at 32 GB but as long as you insert an external hard drive, downloading movies and watching them will be a breeze. For students who likes a 9mm knife-thin streamlined design and save on their budget, this will be a good laptop for you.
Price: $435.86, check it out here
8. Microsoft Surface Laptop 2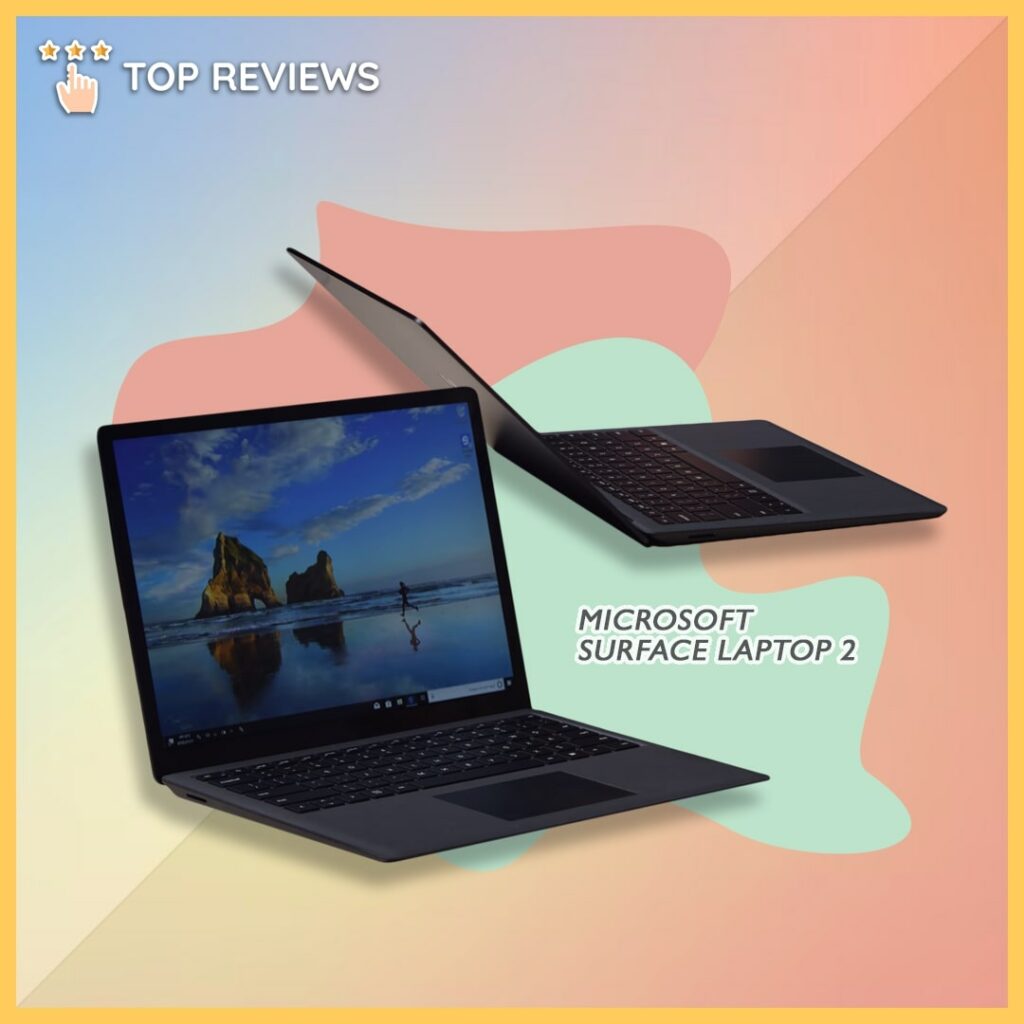 Processor: Intel Core 8th Gen i5 or i7 | GPU: Intel UHD Graphics 620 | RAM: 8 GB or 16 GB | Solid-state drive (SSD) options: 128 GB, 256 GB, 512 GB, or 1TB | Platform: Surface Laptop 2, Windows 10 Home, Microsoft Office 365 30-day trial; Surface Laptop 2 for Business, Windows 10 Pro 1-month trial for new Microsoft Office 365 customers | Screen: 13.5" PixelSense Display
Pros: Awe-inspiring Alcantara design. Solid 8th Gen processor. Perfectly crafted. Has Microsoft Office software. Touch screen capable.
Cons: Not Detachable. No free MS Surface Pen. Expensive.
Very few laptops are able to match the speed and elegance of Microsoft Surface Laptop 2. The product line includes 2 in 1 detachable screen that invites your creativity through digital artworks or photography. However, Surface Laptop 2 model isn't detachable, but it is still a great laptop. Here's why.
Running on 8th Generation processors send it way ahead of its competitors such that it mentions on its website that it is 1.6x faster than MacBook Air, 14.5 hours of battery life as 1.5x hours more than MacBook Air who has been their fiercest competitor.
The laptop can be navigated and accessed by touch screen, making it all the easier to use. The Alcantara design has garnered praises from customers while others have loved the screen and the receptive and quieter keyboard.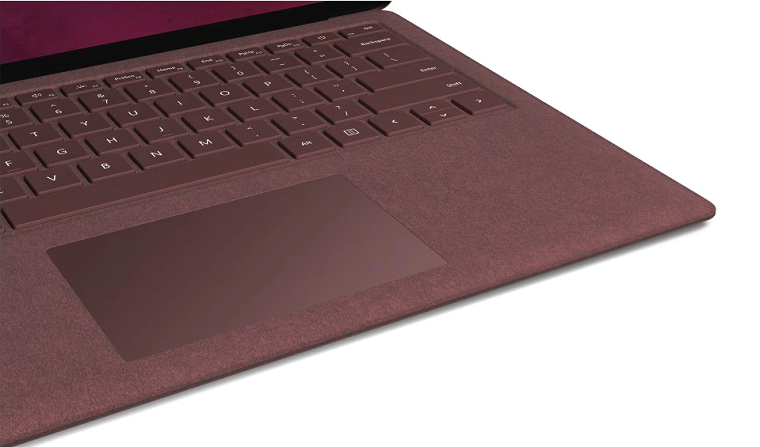 Price: starts from $899.99, order here
9. MSI GS65 Stealth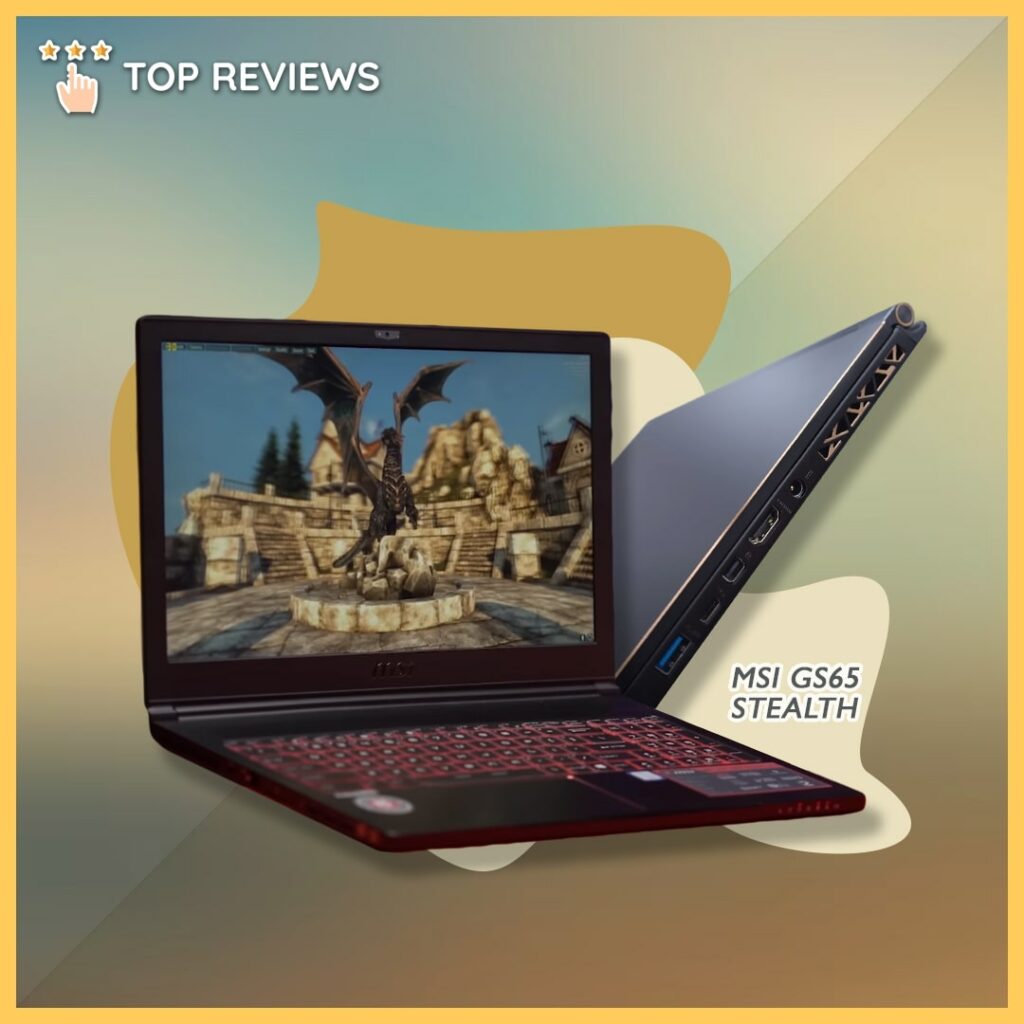 Processor: Up to 8th Gen. Intel Core i7 Processor | GPU: GeForce GTX 1070 with Max-Q Design, 8GB GDDR5 | RAM: Max 32 GB | 1x M.2 SSD slot (NVMe PCIe Gen3), 1x M.2 SSD Combo slot (NVMe PCIe Gen3 / SATA) | Platform: Windows 10 Home, Windows 10 Pro | Screen: 15.6″ FHD (1920×1080)
Pros: Gaming ready. High Res audio and surround sound. Super thin 17.9mm. Keyboard lights.
Cons: Shorter Battery span. Expensive.
MSI GS65 Stealth takes your gaming to another level. It features a thin bezel of 4.9mm bordering your screen, sending you to the wider screen of war zone you're playing in. Fast video rendering of 144Hz sharpens the picture right to its details and hues for 4K aesthetics and realism.
Using a 7th-8th Generation processor with a graphics card of GTX 1070, the laptop's performance will be faultless, smooth, and enjoyable that's also perfect for talking through Skype or watching YouTube with the nicely-built audio in the mix.
If you want, you can always configure or upgrade the storage or the processors.
Price: starts at $1249, purchase now at Amazon here
10. Toshiba Tecra X40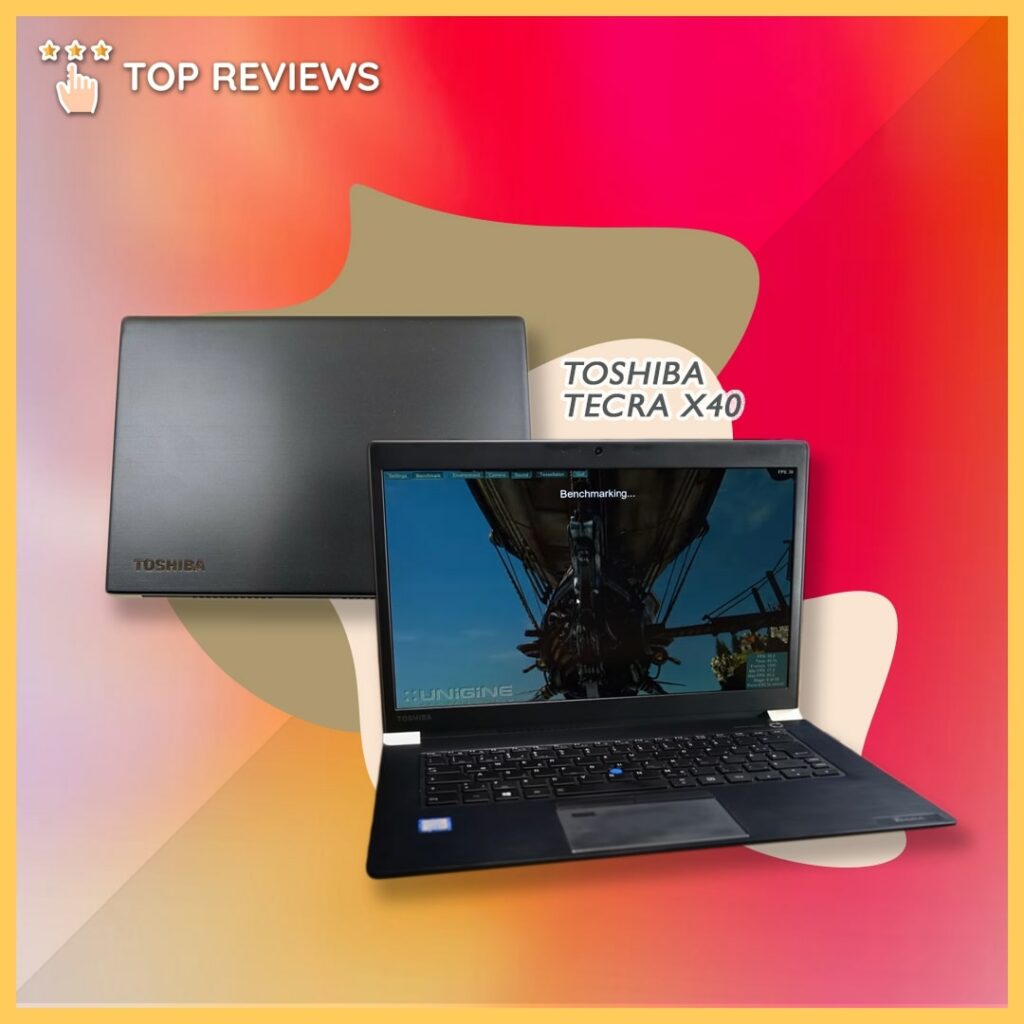 Processor: 8th Gen. Intel Core Processor | GPU: Intel HD Graphics 620 | RAM: up to 32 GB | 256 GB solid state drive | Screen: 14 in | Dimensions: 16.8 x 13.9 x 2.4 inches
Pros: 8th Gen processors. Military grade durability. Fingerprint and facial recognition authentication. Mobile to bring it in your bag. 2 Thunderbolt 3 ports.
Cons: Less storage. brand not among the top 5. lower res graphics.
Toshiba Tecra X40 grants its users a safer and more secure laptop through its signature facial and fingerprint authentication. Its casing is made from a durable scratch-resistant magnesium alloy material that will lessen the impact from dropping or bumping it accidentally.
It is a fairly speedy laptop with Intel Core of 8th Generation and graphics capable of rendering a clear and lively HD. The system is open to more configuration of SSD storage, thunderbolt ports having a boosted speed of 40 GB/sec to give you an edge in transferring, saving, and downloading files.
For a security efficient laptop that's portable, Toshiba Tecra X40 is for you.
Price: starts from $1199.99, order one here
11. MacBook Air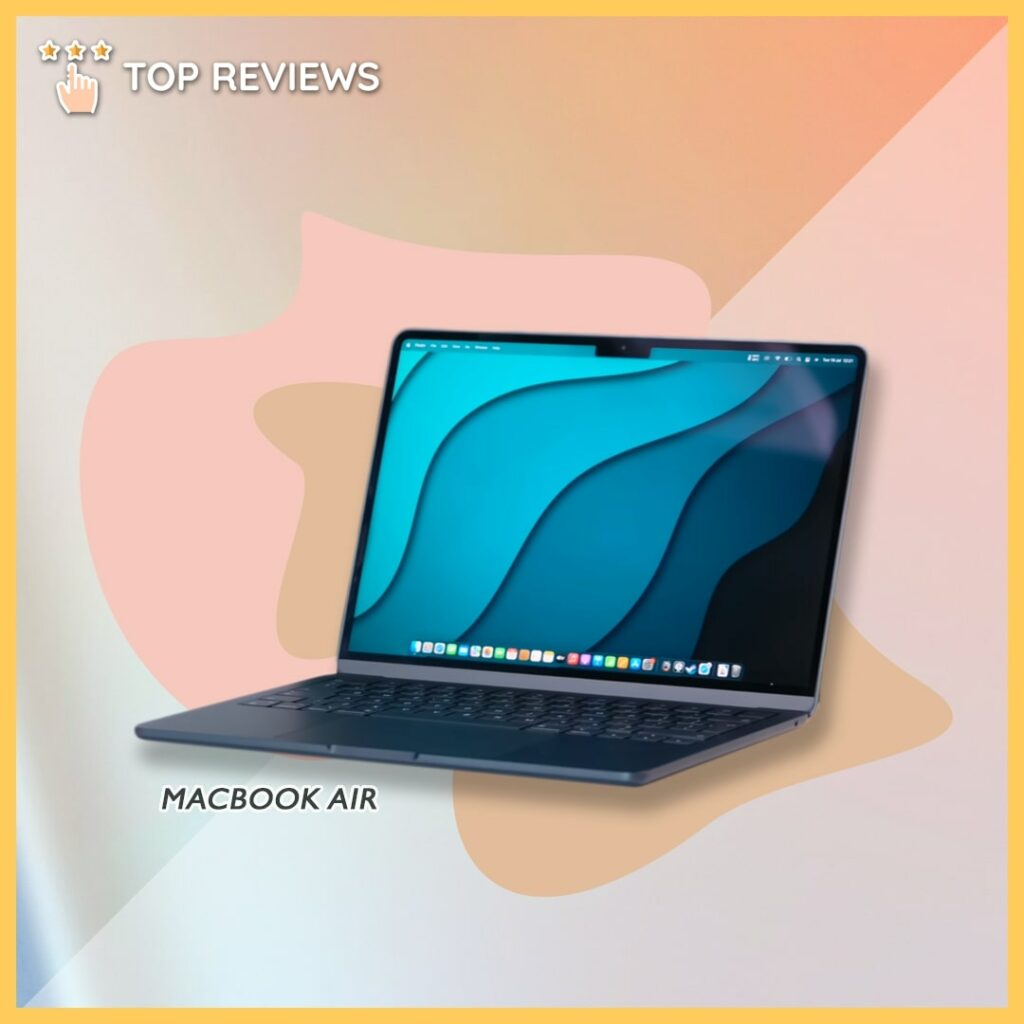 Processor: Dual-core Intel Core i5, Turbo Boost up to 3.6GHz, with 4MB L3 cache | GPU: Intel UHD Graphics 617, Support for Thunderbolt 3–enabled external graphics processors (eGPUs) | RAM: 8 GB – 16 GB of memory | 128 – 1TB SSD; 256 – 1 TB SSD | Platform: macOS | Screen: 13.3 in Retina Display
Pros: Thinner and more lightweight than previous version. Brilliant graphics through the Retina Display. Dual core ultra-efficient processors. 12-hour battery life. Touch Password sensor. Trackpad sensitivity. butterfly keyboard makes it more natural and comfortable to type. made from 100% recycled aluminum.
Cons: no USB 3.0 ports
The new MacBook Air returns with a lighter, razor-like form weighing only at 2.75 pounds that's an excellent companion to take it on your adventures or hangouts with friends. Thanks to the dual core processors, the battery works with an extra efficiency that lets you use the laptop for 12 hours running. Try a movie marathon and it will not fail you.
The graphics make a leap with Retina Display that uses 48 more colors lending TV shows and movies a closer, more beautiful look as though you were really there and even better!
Plus, MacBook Air's recycled aluminum casing is another cause for celebration that in their own kind acts help the environment and make a difference. It is available in 3 fantastic colors of gold, space gray, and silver.
Price: $1799, to purchase click here
12. EUROCOM Nightsky RX15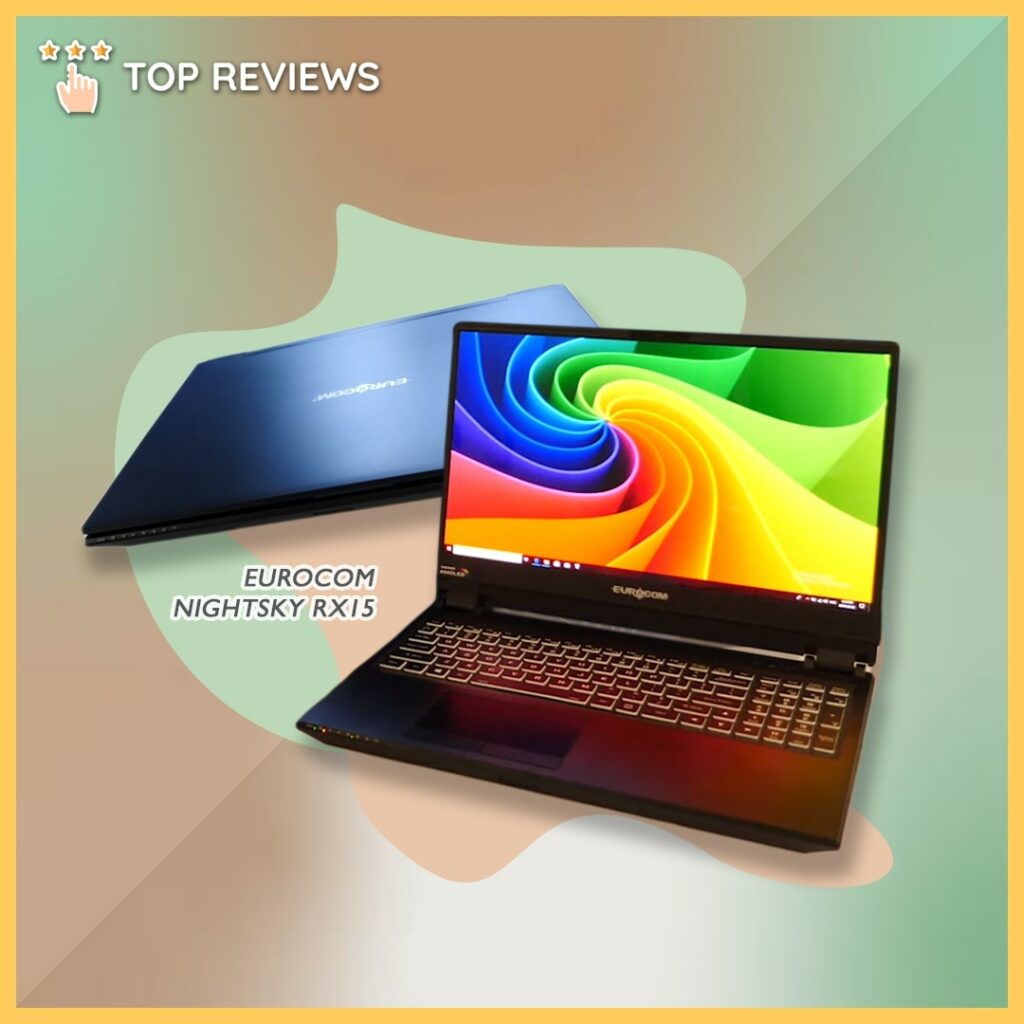 Processor: Intel Core i7-9750H (6C/12T) or i9-9980HK (8C/16T); on-board | GPU: Intel Core i7-9750H (6C/12T) or i9-9980HK (8C/16T); on-board | RAM: Two 260-pin SODIMM sockets; DDR4-2400/2666/3000/3200; 1.2V; up to 64GB | Platform: Windows 10, Linux | Screen: 15.6-inch (39.6cm); OLED UHD 4K; 3840×2160; 60Hz; Glare; 120,000:1; B/R 0.0005 to 600 cd/m²; DCI-P3 100% Gamut; Samsung ATNA56WR06-0
Pros: Can be further customized to upgrade specs: https://eurocom.com/ec/configure(2,460,0)NightskyRX15. It is also possible to upgrade the storage and RAM (memory) of the RX15 because of their special design that gives easy access to internal components. Their users are not only able to configure and customize their laptop builds upon purchase, but they can also upgrade these components many years into the future. The RX15 and all Eurocom laptops have TPM 2.0 Drive Encryption to protect stored data and for added security on their laptops.
Cons: With a 15.6-inch size, the laptop is not among the lightest in this list. It may also not be ideal for those who prefer slimmer, easier-to-carry laptops.
The Nightsky RX15 is a 15.6" system featuring a vibrant Retina-type OLED panel, and the Intel i9-9980HK CPU. It comes standard with an NVIDIA GeForce RTX 2070 8GB GDDR6 GPU that can tackle the most demanding workloads. All that in a thin and light platform, weighing in at under 2.5 kg.
One feature that is unique in Nightsky RX15 is its RGB per-key colour keyboard. If you don't like the default colour scheme, you can also customize your keyboard across thousands of different colour combinations and designs!
The Nightsky RX15 is designed for a wide range of users varying from architects, designers of all kinds, graphics, audio and video professionals, up to pro gamers who need high-performance, on-the-go computing.
Price: From $1899, to purchase click here
13. EUROCOM Nightsky Sky X7W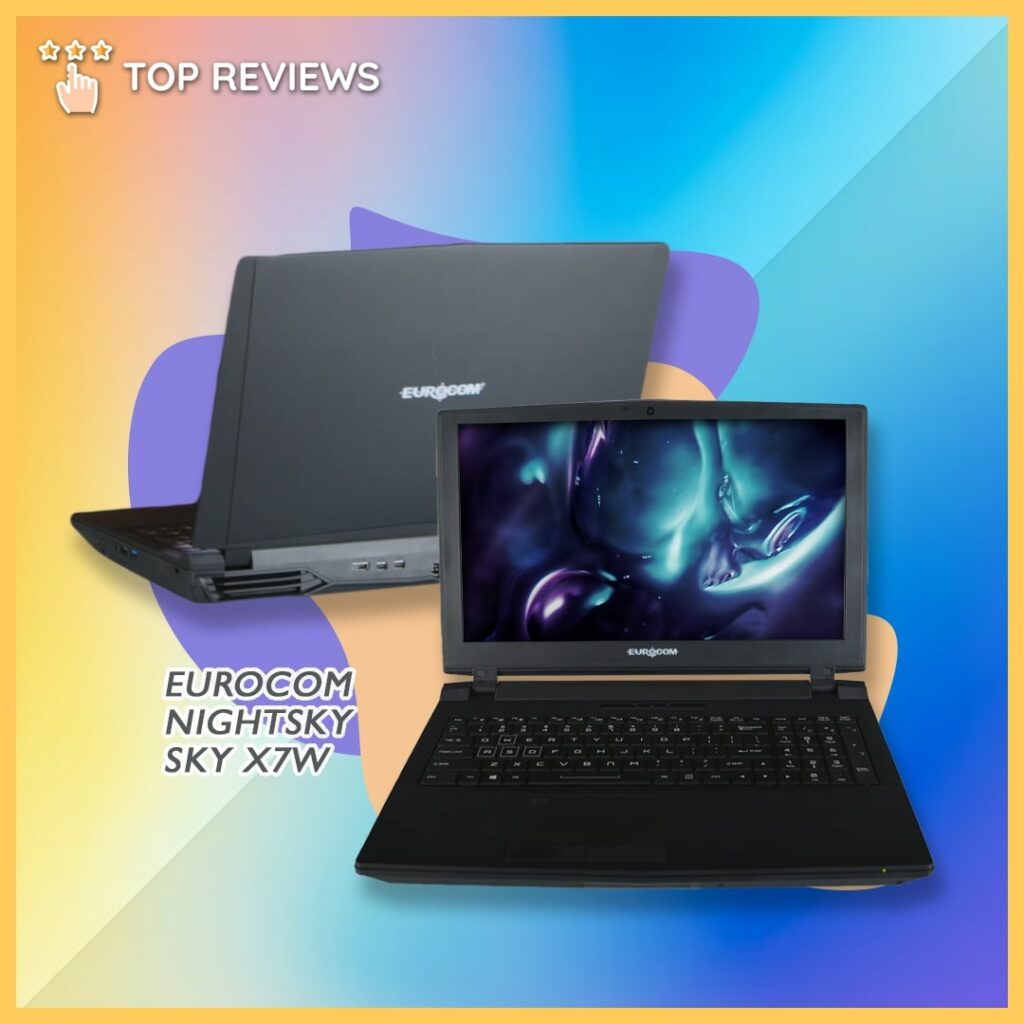 Processor: Intel Z370 Express (Coffee Lake); socketed desktop LGA1151 CPU, up to Intel i9-9900KS, 8cores/16threads, fully- unlocked | GPU: NVIDIA Quadro P5000, P4000 and P3000; GeForce: RTX 2080, 2070 and 2060; GTX 1080, 1070 and 1060; MXM 3.1; up to 190W; GPU upgradeable | RAM: up to 128GB DDR4 RAM via 4 x SODIMM slots | Platform: Microsoft Windows 10, Microsoft Server 2018, Linux/Ubuntu | Screen: 17.3-inch 60Hz, 144Hz FHD or 60Hz UHD with Matte Surface; LED Backlit
Pros: Designed for heavy-duty, engineering-on-the-go. It can be further customized to upgrade specs. Just like RX15, Sky X7W and other Eurocom laptops have TPM 2.0 Drive Encryption to protect stored data and for added security on their laptops. Advanced privacy and security options are also available such as fingerprint and Kensington Lock security, TPM 2.0, and BIOS Disk encryption.
Cons: With a 17.3-screen size and a weight of 3.9 kg (8.58 lbs) 418 x 295 x39.9 mm (16.72×11.81×1.6-inches), Sky X7W might be lighter than its predecessors in Eurocom's supercomputer line, but it might be heavier than most of the laptops in this list.
For those who are looking for advanced users or prefer to switch to portable laptops from desktop units, the EUROCOM Nightsky Sky X7W is for you. It is powered by Intel's i9-9900KS 8core/16thread processor and features NVIDIA's Quadro P-series or GeForce RTX 20-series GPU's.
EUROCOM Nightsky Sky X7W also packs selection of vibrant displays ranging across different resolutions and refresh rates (up to stunning 60Hz 4K UHD) and the ability to support up to four separate monitors. How's that for high-definition for multi-tasking? When switching from work to entertainment, this laptop's built-in ONKYO speakers and subwoofer with a Sound Blaster X Pro-Gaming 360˚ sound system, and a backlit colour-customizable keyboard, the Sky X7W makes it seamless for you to combine your hobbies and work together.
Price: From $2,166, to purchase click here
14. ASUS Zenbook 14 UX434FAC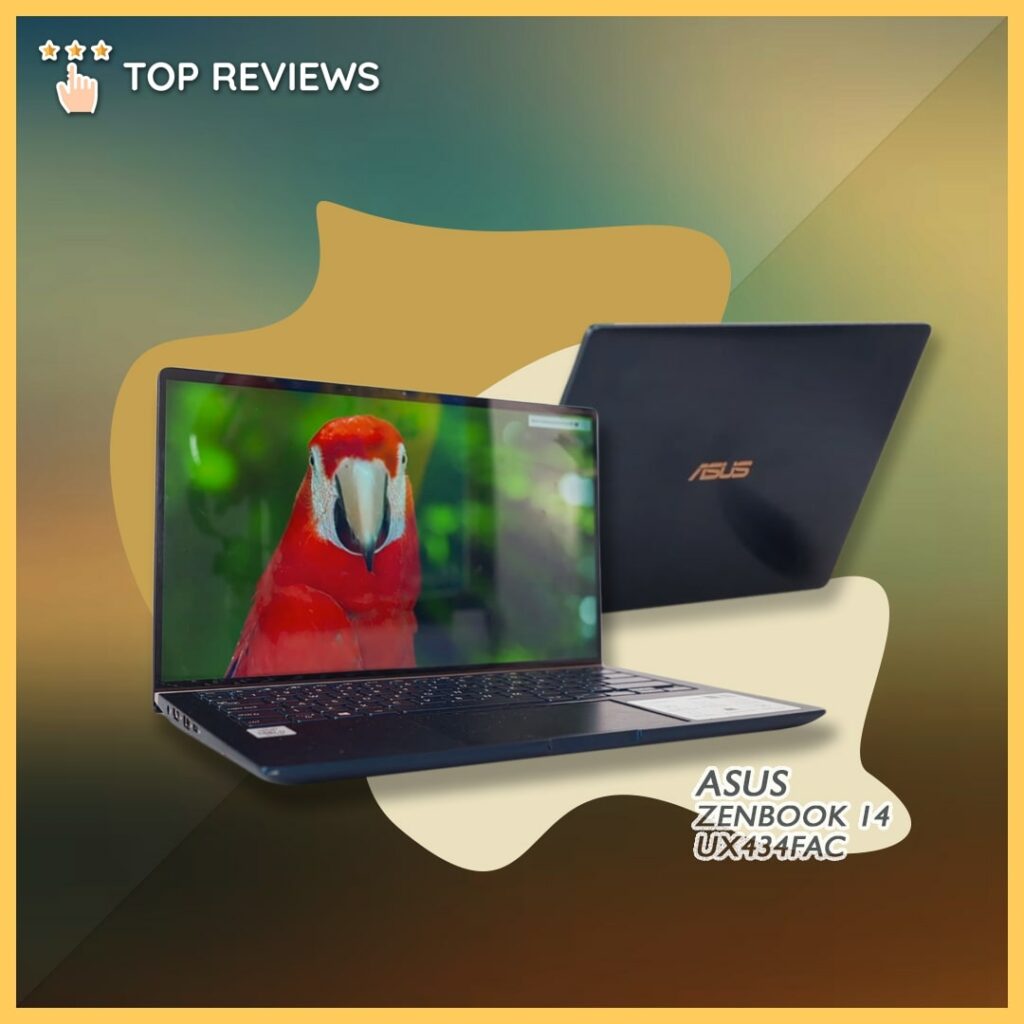 Processor: INTEL® CORE™ I5-10210U PROCESSOR 1.6 GHZ | RAM: 16GB | 512GB SSD| Platform: Win10 Pro 64bit| Screen: 14 Inch
Pros: NanoEdge display, Ergonomic design
Cons: Small screen
The ASUS Zenbook 14 UX434FAC is lightweight but powerful, suited for any of your office needs. It's portable thanks to its relatively smaller size, allowing you to bring it to and from your home and office.
This laptop can perform a wide variety of intensive operations. The slimmer bezels of the screen serve for more immersive visuals, while the screen also has the added function of being a touchscreen.
When it's open, it becomes elevated by a small angle. This ergonomic design is not only more relaxing for your hands but also allows the laptop to cool down easier.
All in all, the ASUS Zenbook 14 UX434FAC is an item worth its price, especially if you're looking for a high-performance and handy laptop.
Price: From $1,699. To purchase click here.