The 9 Best Laser Hair Removal Services in Auckland
Yearning for soft and silky-smooth skin without unwanted hair? You're in the right place if so, as we've featured the best laser hair removal services in Auckland to get you ready for that summer beach getaway.
Laser hair removal is a cosmetic treatment to remove excess or unattractive hair from your body. Carried out by a specialist, laser hair removal is perfectly safe, gentle, and fast where you won't feel any pain at all.
Services usually include packages for the chin and lips, full legs, Brazilian, bikini, underarms. However, you can also let them remove specific areas of hair on the face, arms, feet, toes, or legs.
Anyway, wherever you may want hair removed, the places we've found will take care of it. So now, we bring you the best laser hair removal services in Auckland!
1)  New Face Laser and Cosmetic Clinic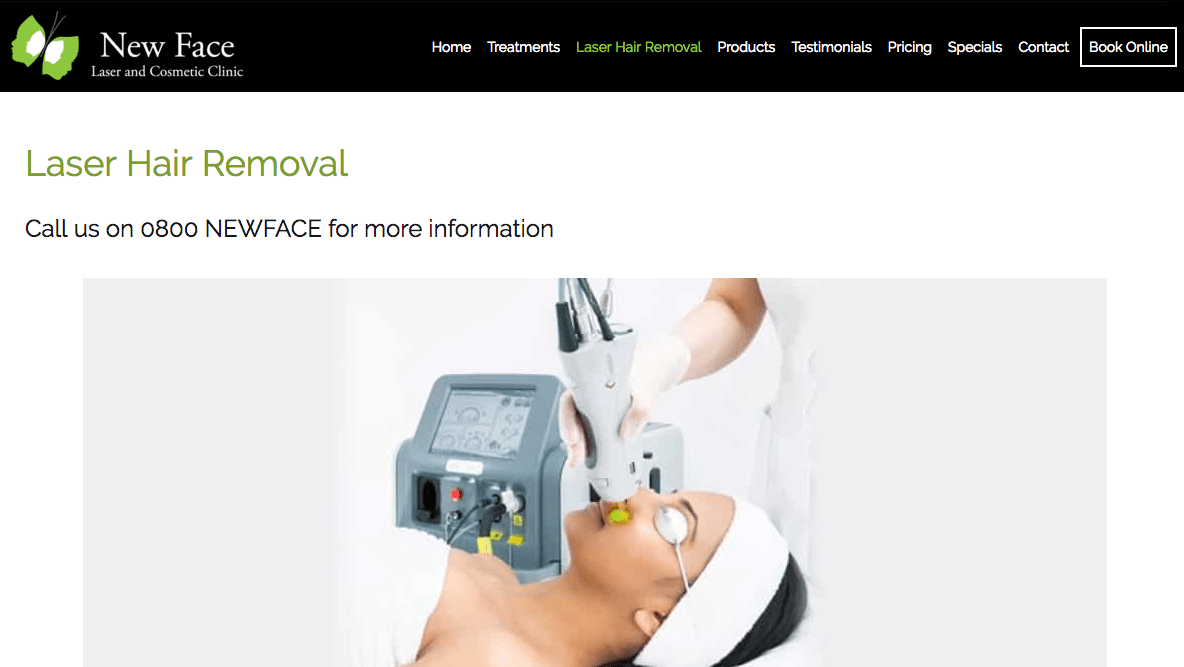 | | |
| --- | --- |
| Services | Laser Removal for Full Face, Lip and Chin, Neck, Underarms, Brazilian, Bikini, Full and Half Legs |
| Address | 54A Ponsonby Road, Ponsonby, Auckland 1011, New Zealand |
| Contact no | 0800 NEWFACE (0800 6393223) or 09 3789492 |
| Website | https://www.newface.co.nz/laser-hair-removal/ |
You can look more flawless and beautiful through laser hair removal conducted by New Face. The company has an experienced team, the latest equipment, and genuine care for the client.
At the initial consultation, you will be asked about your skin or if the laser hair removal is safe for your skin. Your safety comes first with them, so you know you're making a good decision if you go to them for your hair removal needs.
People often get laser removal for the full face, lip and chin, neck, underarms, Brazilian, bikini, and full or half legs. Whatever your request there, they should be able to handle it.
Highlights
Expert team
State-of-the-art equipment
True care for their clients
Packages or specific part laser hair removal
Customer Reviews
Let's see Andrea Silvestre's review from Google Reviews:
"I've had laser before but this is the first time it's 100% pain free.  I've been coming to the clinic for about a year now to treat different areas and I'm very happy with the results.  The staff is so nice and the prices are really convenient.  I definitely reccomend this place."
That proves New Face deserves to be listed among the best laser hair removal services in Auckland!
2)  The Cosmetic Clinic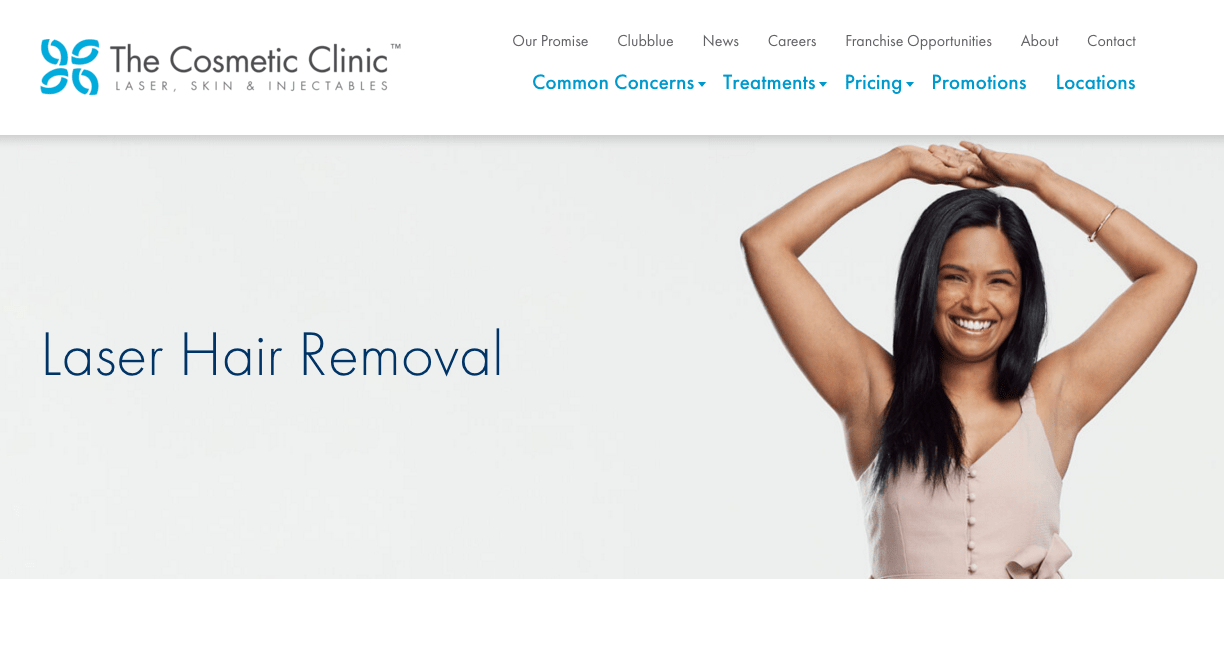 | | |
| --- | --- |
| Services | Laser Removal for Face, Upper and Lower Body, Package Areas |
| Address | Botany Town Centre Mall, Botany, Auckland, New Zealand |
| Contact no | (09) 220 5011 |
| Website | https://www.thecosmeticclinic.co.nz |
Ditch the unsightly hair that's killing your beauty for good! The Cosmetic Clinic is the go-to cosmetic clinic for laser hair, skin, and injectables right now, with over 60 branches worldwide.
Their laser hair removal services are safe and reliable for any skin tone or hair. The treatment is performed by an adept and qualified team using cutting-edge laser technology.
As a result, you will look beautiful and have impeccable skin. So, if you're looking for the best laser hair removal services in Auckland, you've found it with the Cosmetic Clinic.
Highlights
Safe and Excellent laser hair removal
Highly trained team
Latest equipment
Say goodbye to unsightly hair
Affordable prices
Customer Reviews
Leonie described her laser hair removal from the Cosmetic Clinic:
"Bit nervous as this was my first time getting laser hair removal however Tee was absolutely amazing! She made me feel comfortable and at ease. The entire process was smooth and painless. Will definitely go back for another session and recommend anyone who is need of laser hair removal to go and see the Botany clinic!"
3)  Ash Laser & Cosmetic Clinic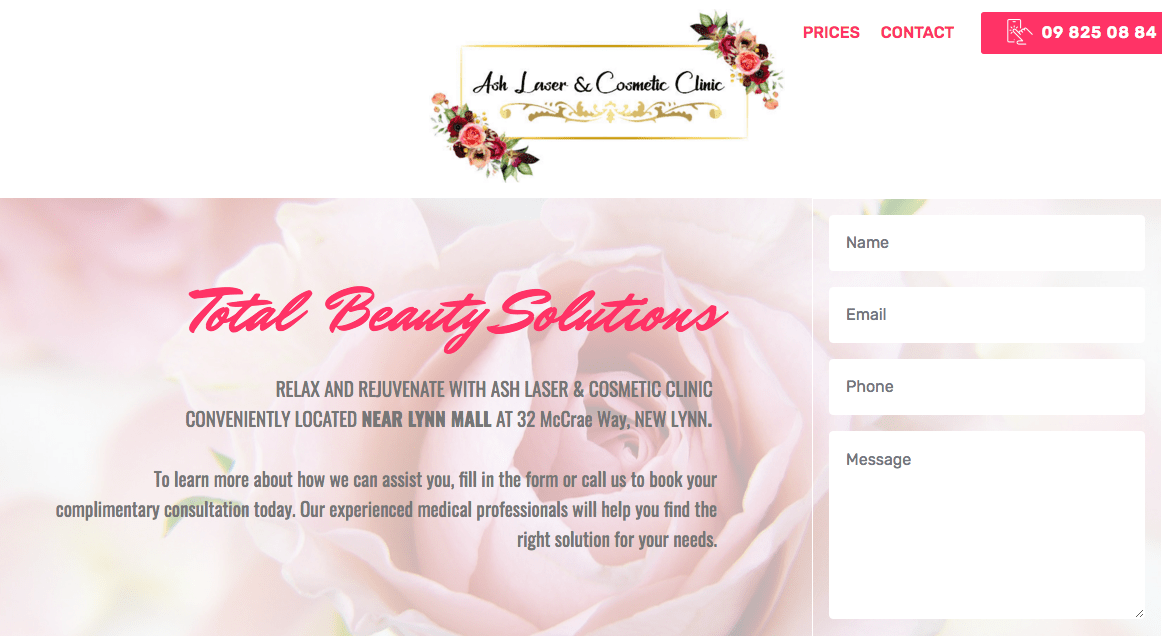 | | |
| --- | --- |
| Services | Laser Hair Removal, Skin Treatment – Dermapen, Skin Peel, Microdermabrasion, Red Vein Removal, Sun Spot Removal, Skin Peels, Collagen Induction Therapy, Pigmentation, and Facial Cleaning |
| Address | 32 McCrae Way, New Lynn, Auckland, New Zealand |
| Contact no | 09 825 08 84 |
| Website | https://ashlaserclinic.co.nz/ |
For trustworthy and certified beauticians, look no further than Ash Laser & Cosmetic Clinic. It is led by Ashiyana, who has industry certifications and significant experience in laser hair removal and skin care.
They use the FDA-approved Candela Gentle Lase Mini with Zimmer to give your skin a cool feel without sting or pain. This has been proven to reduce your hair by up to 80% in 8-10 sessions.
Come to their clinic and just relax and make yourself at home. Soon you will feel more beautiful and confident with your body, courtesy of one of the best laser hair removal services in Auckland!
Highlights
Modern laser equipment
Fully qualified staff
Feel confident and beautiful
80% reduced hair
Free consultation
Customer Reviews
From the homepage of Ash Laser & Cosmetic Clinic, Sonia related her experience:
"I started with getting my under arms done at Ash Laser and it has been 4 weeks now, not a single hair growth has come through. I just got my 1st treatment for my forehead and already can see a difference…"
4)  Auckland Laser Hair Removal Ltd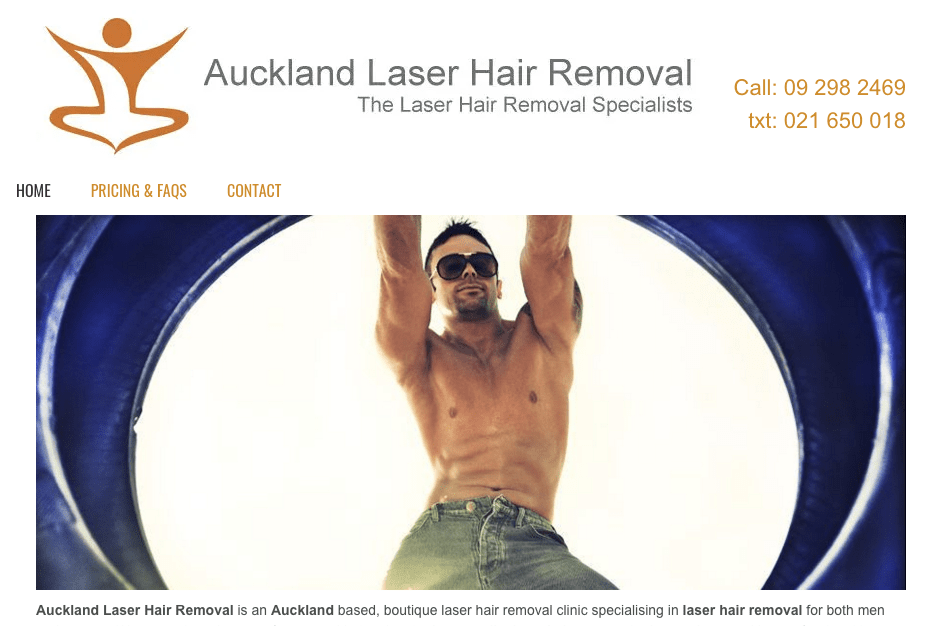 You won't have to shave and wax as often as before with Auckland Laser Hair Removal.
As opposed to competitors, Auckland Laser Hair Removal only does laser hair treatments. They use medical-grade equipment to remove unwanted hair regardless of your skin tone or hair type.
Using the right laser for the patient (they have 3 of them), the specialists are safe and gentle in treating you. For both men and women, you can consider this clinic to be one of the best laser hair removal services in Auckland
Highlights
Laser hair removal for men and women
Uses medical grade equipment
Safe and gentle treatment
Wonderful results
Customer Reviews
Here is Ash King commenting from Google Reviews:
"Certainly the best clinic for hair removal. I have been to a few clinics with unsatisfactory results. I don't know if its the lasers they use or the way they do their treatments but I have had extremely good results from this clinic. And the girls here are quite friendly…"
5)  Silk Laser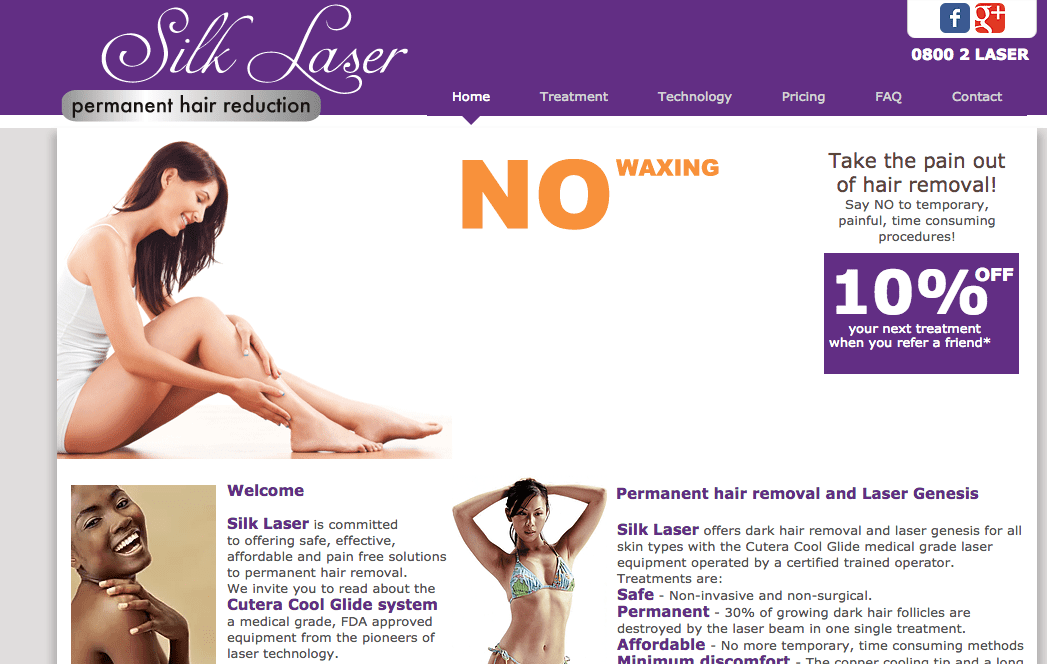 | | |
| --- | --- |
| Services | Laser Removal for Face, Upper Body, Lower Body, and Full Body |
| Address | 22 Station Road, Otahuhu, Auckland, New Zealand |
| Contact no | 0800 2 LASER or 0800 52737 |
| Website | https://www.silklaser.co.nz/ |
Make your hair removal permanent with just 6-8 treatments at Silk Laser. You'll save money by not having to shave, wax, or thread unwanted hair ever again.
They use the FDA-approved Cutera CoolGlide Laser that is suitable for any skin type, from light to dark. It will be used by their qualified staff, giving you a zero-pain treatment.
You can have laser hair removal for your face, neck, arms, underarms, buttocks, lower legs, and feet. What's more, all their laser hair services are extremely affordable!
Highlights
Uses the effective Cutera Coolglide
Qualified and careful team
Affordable prices
No more shaving and waxing
Customer Reviews
Silk Laser holds 4.8 stars out of 5 stars from 49 reviewers. Koleta Savaii wrote:
"Shana is highly professional, very knowledgeable and friendly. My results since my first treatment have been amazing – slow hair growth and much thinner. I highly recommend Silk Laser to anyone looking for laser hair removal. Thanks Diana for your excellent service."
6)  Face Doctors

Face Doctors is one of the best when it comes to appearance medicine and beauty treatments. They're visited by many due to their personalised treatments and relaxing environment.
They can modify treatments to suit their patient's needs, whether they may need facials or aesthetic surgeries. With Face Doctors, you can rest assured that any aesthetic treatment will be done skillfully and to your preferences.
Highlights
Committed and honest services
Personally tailored programs
7)  Monalisa Laser Clinic

Monalisa Laser Clinic offers a wide range of hair removal and skin treatments. They use the most advanced technology for their services, while still offering them at the most affordable prices.
Take up their free consultation and let their specialists advise the best treatment for you. With Monalisa Laser Clinic, you can get the best aesthetic services you may need.
Highlights
Wide range of treatments
Free initial consultation
Customer Reviews
"I love this place. I have had 2 sessions so far and results are unbeleivable. The clinic is so comfortable they make you feel at home and they are so sweet. machine they use is the same as many of the laser hair removals in any other clinic. The priceing are unbeleivable unlike anywhere else and they always have deals that will satisfy you. I recmmend to anyone they have so many other services they give advice on skin products and they also help with any concerns about the skin such as figuring out if you are oily or dry and what you should use for your skin type. I 100% recomment to anyone if you are not convinced go for a consultation and get all your concerns and questions answered."

8) Roskill Hair and Beauty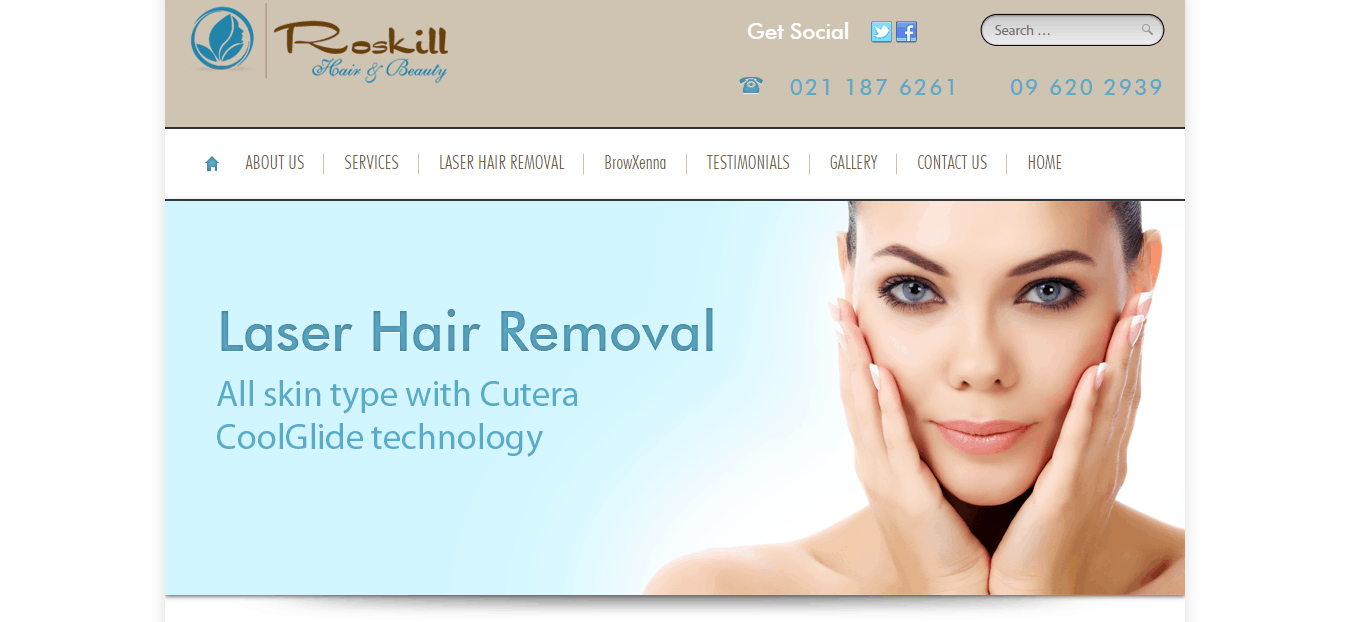 | | |
| --- | --- |
| Services | Laser hair removal, threading, waxing, facials, bleaching, depigmentation |
| Address | 13 Mount Roskill Road, Mount Roskill, Auckland 1041 |
| Contact no | +64 9-620 2939 |
| Website | https://roskillhairandbeauty.co.nz/ |
Roskill Hair and Beauty aims to make hair removal and pampering services accessible to anyone in Auckland. The first way it makes beauty treatments accessible is by offering three approaches to hair removal, namely threading, waxing, and laser hair removal.
Next, this salon uses the Cutera Coolglide Laser technology, which is why it can cater to anyone with any type and colour of skin. As a guarantee that its treatments are indeed beneficial for its clients, Roskill provides initial consultations and patch tests for free. 
Besides offering permanent hair removal, this laser also has cooling properties to avoid burning or irritating the skin. 
Third of all, Roskill Hair and Beauty makes its hair removal services accessible by providing a 25% discount for student customers. Additionally, old clients who bring referrals can get another $10 off for their next visit.
Lastly, Roskill is open up to late evenings to accommodate those who are too busy with work or school. All these conveniences make Roskill among the best hair removal salons in Auckland.
Highlights
Open until late evenings

25% student discount

Applicable for all skin and hair types and colours

Numerous hair removal treatments

Free initial consultation and patch test
Customer Reviews
Here are some of Roskill Beauty and Hair's previous customers, vouching for this salon's excellent treatments and customer services:
"Anna is so flexible with appointments, I usually text her an hour or so before and she always manages to fit me in which is much appreciated. She is super quick and efficient, doing hair color in 15 mins! Other operators can take double that. I highly recommend her ?"—Heather Macbride
"Anna is the experienced laser therapist and best hair beautician and also skin treatment specialists. She is well known beautician for more than twenty years and very efficient beautician. I will highly recommend for everyone. Specifically ladies for the laser treatment she is the BEST"—Rajani Dhatathiri
9)  Illuminate Me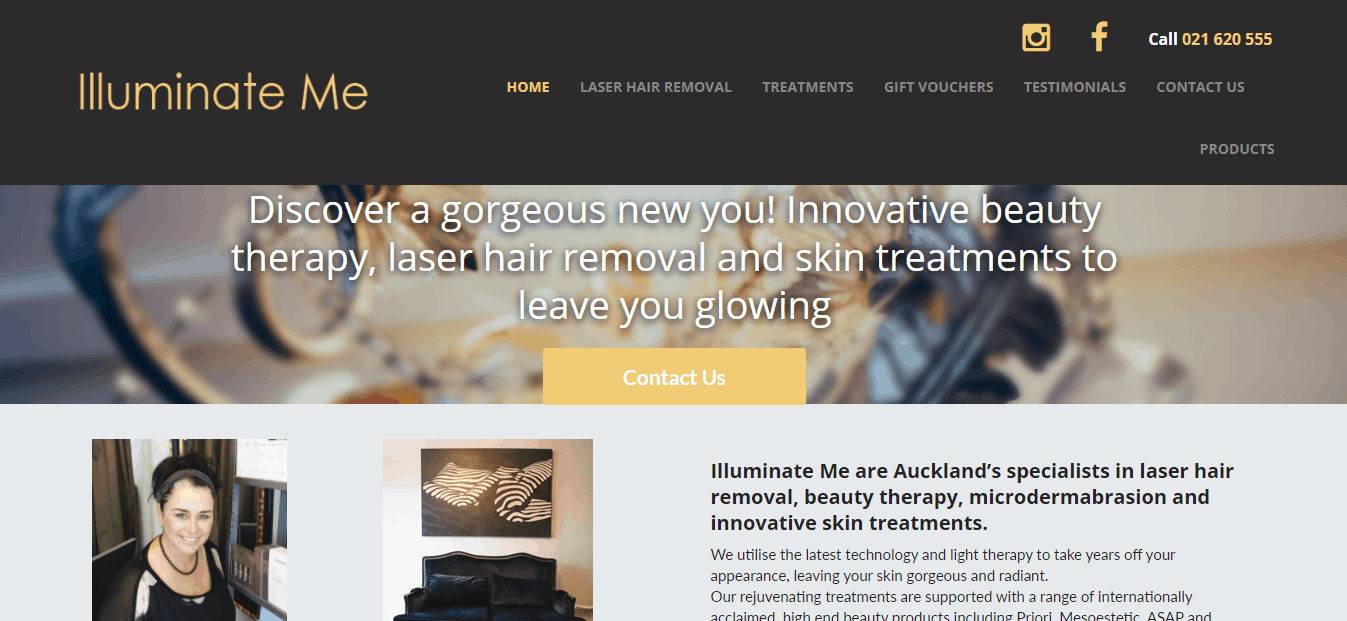 Illuminate Me is an all-around salon for your pampering needs. It has trained aestheticians to perform skin remodelling, microdermabrasion, and other effective skin treatments.
To carry out its services, Illuminate Me uses laser equipment. This salon even uses this technology in more ways than one as it does hair removal, IPL, and even superficial vein removal using lasers.
This salon uses the Cutera Coolglide laser and can thus remove hair from all skin types, including tanned summer skin. It also features copper cooling for its clients' comfort.
Aside from providing effective skin treatments, Illuminate Me also offers excellent customer services as it has friendly yet professional aestheticians. Additionally, it is open until late 9 PM from Monday to Thursday. 
However, these opening hours are available only for those with scheduled appointments. So, book a session online before visiting this salon and make sure you get there on time as they charge a no-show fee for those who are at least 5 minutes late.
You should also know that Illuminate Me's treatments are a bit more expensive than other shops. So, if you're looking for affordable treatments, then you may do better with other salons.
Highlights
Applicable for all skin types

Late-night appointments available

Built-in cooling for skin comfort

Numerous laser treatments
Customer Reviews
Here are some customer reviews to let you know exactly what previous clients like and dislike about the salon:
"Very much knows what she is doing. Great results and she is a walking advertisement for her skills as her skin is fabulous.4 stars instead of 5 because I feel that the shop at the front was a little dusty and felt it needed a bit of a makeover, as well as the some of the appointment feeling like a sales pitch."—Hayley Phillips
"I had the most decadent facial with Leanne! My skin felt like silk afterwards and looks much more radiant! I highly recommend Leanne – she will pamper you so much you'll be back regularly ❤️"—Tracy Ilton
And with that, we conclude the best hair removal services in Auckland. Now you can go out, show off your body and enjoy your newfound confidence!
Do you have any questions about these services we listed? If so, you can let us know by sending us a message, and we will come back to you.
Also, along with removing the unwanted hair permanently, what's better than looking beautiful with glowing skin? If you're interested in that too, read up on the best dermatologists in Auckland for more beauty treatments!