The 6 Best Lounge Suites in New Zealand
Looking for a lounge suite that you can use for the long haul? If so, you're just in time, as we've compiled the best lounge suites in New Zealand for this article!
You might be furnishing your new home or getting a new lounge suite for your backyard. Lounge suites can cosy up your space and provide a place to bond with your family — and even pets.
Now, there are a multitude of lounge suites out there in a wide spectrum of fabrics and price points. To ensure that you make the right decision, we'll go over some basics for choosing one. However, feel free to skip right to our featured list if you wish to do so.
Anyway, let's start!
What to Look for before Buying a Lounge Suite
Looking for a lounge suite requires consideration of more than comfort — there are matters like durability and ease of maintenance as well.
You'll see that as we go through our guide to buying one here. Here are the things that you should consider first before you buy a lounge suite:
1) Quality
As much as possible, you'd like to get a lounge suite that is durable and long-lasting. This mainly depends on the kind of frame or base structure it has.
Lounge suite frames can be made from a variety of materials. One of them is timber. While they offer excellent durability and support, they cost more than other frames.
Another is aluminium, which makes the entire suite light and durable for use. And it's even better if that frame is powder-coated to help resist corrosion.
The tougher the frame, the longer you can potentially use the suite. That's because the covering and padding is easy to replace — the frame, on the other hand, is the very core of it and can't be replaced or repaired as easily.
2) Fabric/Cover
Next, you have to be aware of the fabric or covering, which can be cotton, linen, microfibre, polyester, polyurethane, nylon, acrylic, polypropylene… the list goes on.
Which one should you pick? It really depends on your needs and preferences.
If some materials irritate your skin, for example, you obviously want to avoid them. If you're more concerned about it being hard-wearing, get something made of canvas, microfibre, or a twill blend.
The important thing is that the seat offers what you need, along with comfort and softness without snagging or tearing apart at the seams.
By the way, a cover may have double-stitched seaming that helps prevent tearing or bursting from daily use. This is a great feature for a lounge suite as well!
3) Decor
As lounge suites are fairly noticeable items at home due to their length and size, you want something that fits your aesthetics. They are often the centerpiece of your living room too!
Obviously, what you pick should seamlessly blend into your current decor. Pick a lounge suite that pleases you or your family, yet provides the comfort and function you require.
4) Warranty
Warranty is especially important in buying a lounge suite. This will ensure the product will be duly replaced or repaired if something goes wrong.
You can actually have an idea of the lounge suite's quality through the warranty that you're offered for it. A higher warranty means a better-quality product, although this can depend on other factors.
5) Easy to Clean
This is an obvious must-have. With a removable cushion, you can remove bread or pizza crumbs, lost items, dust and dirt, etc.
Leather and microfibre fabrics are the easiest to clean as they have stain- and water- resistant features. Hence, they last longer and require less maintenance.
6) Price
It's better to go for a more expensive lounge suite than be disappointed that it doesn't meet your expectations. Prices of lounge suites generally range between $1,000 and $4,000.
If you're not using your lounge suite a lot, then you don't have to get an expensive one. On the other hand, if you are looking for one that will last long, then you can invest in suites with a middling to high price.
The Best Lounge Suites in New Zealand
Now you know what to look for in lounge suites. As such, allow us to present the best lounge suites in New Zealand so you can choose one for yourself!
1) Berry Chaise Suite
Best for Budget Lounge Suite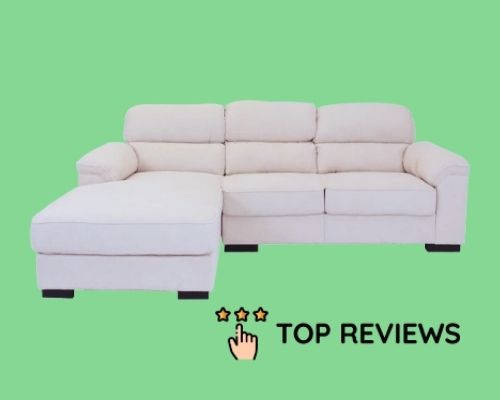 Price: $799
You can spruce up your living room space with the Berry Chaise Suite. Not only does it look elegant to begin with, but it also feels comfortable to lounge nap in.
This comes in either steel grey or cream. It has unit dimensions of 85 x 235 x 150cm — a decent-sized lounge that will seat your family comfortably!
It uses a soft fabric material that makes it durable and long-lasting. To back that up, it comes with a 1-year warranty for total peace of mind and client satisfaction.
With an affordable price and great quality, the Berry Chaise Lounge is one of the best lounge suites in New Zealand you can find!
Also, the Berry range collection comprises a 2-seater, 3-seater and 3-seater with chaise such as this one. You may want to check them out if you really like this one's look.
Pros
Neat and luxe lounge suite
Comfortable to sit on
1-year warranty
Affordable price
Cons
2) Kris 3 + 2 Seater Lounge Suite
Best Overall Lounge Suite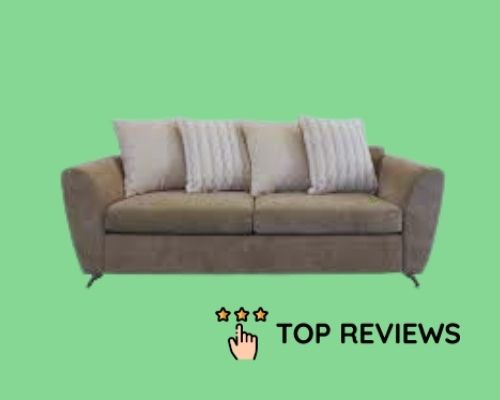 Price: $2499
Great-looking inside and out, the Kris 3 + 2 Seater Lounge Suite is a solid piece of furniture. Its frame is made of natural timber that will stay with you for years to come.
Its dark blue personality is complemented by silver metallic feet. Given its comfortable fabric, you will find yourself staying in this seat for hours while chatting or reading a magazine.
At Furniture Now, you get to pick the fabric and opt for add-on throw pillows. At their online store, available fabric choices are gold, silver and platinum.
Plus, to keep things interesting, you are provided a 3-year, 5-year, and 10-year warranty on fabric, foam, and frame respectively.
Pros
Durable natural timber frame
Delightful and comfortable seat
Includes a set of 3 and 2 seater lounge suite
Bespoke choices in ordering
Warrantied product
Cons
High price point
Smaller size than others
3) Blade Lounge Suite
Best for Offices Lounge Suite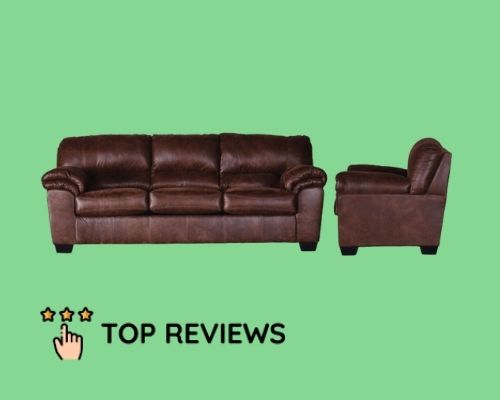 Price: $1599
Looking for a cosy and pristine lounge suite? You can get the Blade Lounge Suite. It can either be in coffee or slate and is perfect for your home or workplace.
What we like about this seat is the combination of leathery comfort and soft seating. It is warming and relaxing at the same time, perfect for those cold winter nights.
It's also very well-made with double-stitched seams to take on the everyday wear-and-tear. Furthermore, its smooth and beautiful texture will class up the room!
With removable seats, it's very simple and straightforward to clean. Note that it should be kept away from direct sunlight and vacuumed frequently.
Pros
Has the softness of plush covers and elegance of leather
Removable cushions make it simple to clean
Perfect for the workplace
Durable lounge suite
2-year warranty
Affordable price
Cons
Sensitive to the heat or sunlight
Traditional look
4) Milano Lounge Suite
Best in Warranty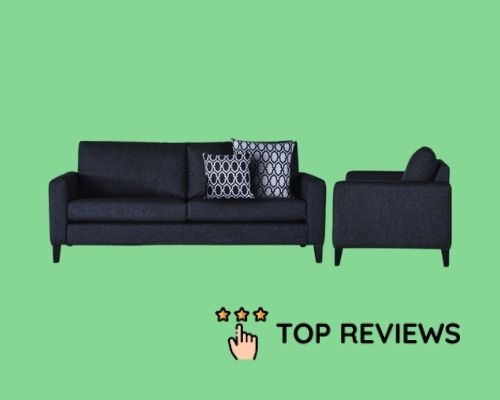 Price: $1,999
Get Yours Now On Bigsave Furniture
Featuring a minimalist and low-profile style, the Milano Lounge Suite is ideal for small families and living spaces. It is customisable in size as well.
Don't be deceived by its lanky looks though, as the frame is crafted from timber and plywood to give it longevity and durability. Contrasting scatter pillows come with this set.
The Milano Lounge Suite takes inspiration from Scandinavian style seats with a higher-levelled seat and tapering feet. It seems just the kind of seat for a busy person with a fast-paced lifestyle.
You get a sweet deal in terms of the warranty too: 15 years on the frame alone; 10 years for the seat, foam and webbing; 5 years for the back cushions; and 2 years for the fabric.
Without a doubt, the Milano Lounge Suite ranks among the best lounge suites in New Zealand!
Pros
Minimalist and low-profile style
Durable and well-made
Customisable in size
Suited for hectic lifestyle
Includes two scatter cushions
15-year frame warranty
Cons
No other colours are available
Smaller space
5) Trade Tested Palm Springs Rattan Corner Suite
Best Lounge Suites for Decks or Patios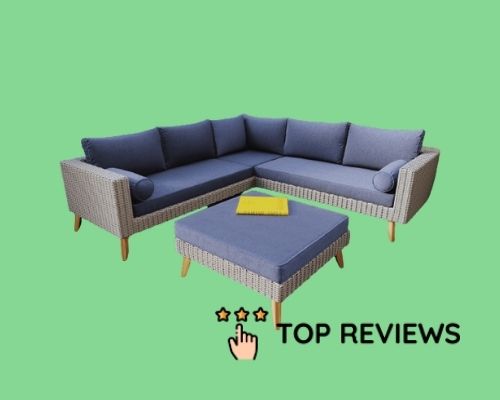 Price: $2,499
If you're looking for a deck or patio suite, look no further than the Palm Springs Rattan Corner Suite. It is specially designed to adjust to the shifting NZ weather.
Being UV and weather resistant, this three-piece, attractive rattan suite lets you enjoy being outdoors to lounge amid the sun's warmth and the cool breeze.
Its well-padded cushion and artistic design certainly brings it to the next level for outdoor lounges, along with the powder-coated aluminium frame that makes it light, durable and corrosion resistant.
Another wonderful detail is the elegant, protruding acacia feet. Beside being an additional seat, the ottoman itself can be covered with glass to transform it into a coffee table.
All these stylish features and comfort are covered by a limited warranty of up to 5 years!
Pros
Durable and lightweight lounge suite
Beautiful rattan craftsmanship
Designed for the outdoors
UV- and weather-resistant
5-year limited warranty
Cons
High price point
Colour of the fabric can fade
Customer Reviews
Gina from the Canterbury Region wrote a review on Trade Tested website:
"I wasn't sure about ordering this outdoor furniture online as none of the staff could tell me if it was comfortable to sit on or not. I took a risk and it definitely paid off…. it is super comfortable and I love the shape, colour and the wooden legs. Easy to put together and I have found a waterproof cover for it from elsewhere that fits perfectly !!! Thanks trade tested."
6) Sofa – Couch – 3 Seater with Chaise
Best Lounge Suites for Modern Interiors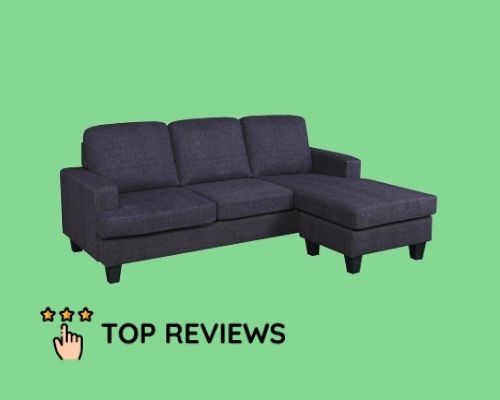 Price: $499
No one said, comfort and style had to be expensive– Sofas & More's Sofa – Couch – 3 Seater with Chaise can attest to that. This lounge chaise features a simple design and comfortable cushions, perfect for a room with minimalist or modern interiors.
It can comfortably seat numerous people thanks to its generous length and wide arms. Moreover, the cushions are made with fresh new foam, ensuring soft and plush seating no matter the location.
It comes in various neutral colors so you can use it to complement any room nicely. With its reversible chaise design, you won't need to worry about making it fit your room layout either.
Finally, it comes with a 1 year conditional warranty. Given its excellent quality and reasonable price, the Sofa – Couch – 3 Seater with Chaise is the perfect choice for those designing their homes on a budget.
Pros
Comfortable
Reversible chaise
Uses fresh new foam
Affordable price
Cons
Color options are only charcoal, black, and grey
And that's all for the best lounge suites in New Zealand!
Do you have any questions about our discussion? If you have one, don't hesitate to let us know by messaging us, and we'll get back to you shortly.
And if you find that you need maintenance or repairs for your lounge suite later on, just leave it to the specialists. In this case, you can read about the best upholstery Auckland companies!