It's all about the journey when it comes to driving through Auckland's best tracks. Whether you're taking a Maserati or Mercedes, we have the best luxury car rentals in Auckland for you!
Say you've been dreaming about a sports car that will take a lifetime for you to afford. But there's another way and it is to hire a luxury car you can drive around in New Zealand.
What's more you will have many choices for a stylish driving, being in comfort as you lean back and relax with your favourite soundtrack. Now's the time to chase that dream and make it happen.
Now let us show you the best luxury car rentals in Auckland so that you're ready to see the magnificent places and scenery of the country behind the awesome wheel.
1)  Luxury Car Rentals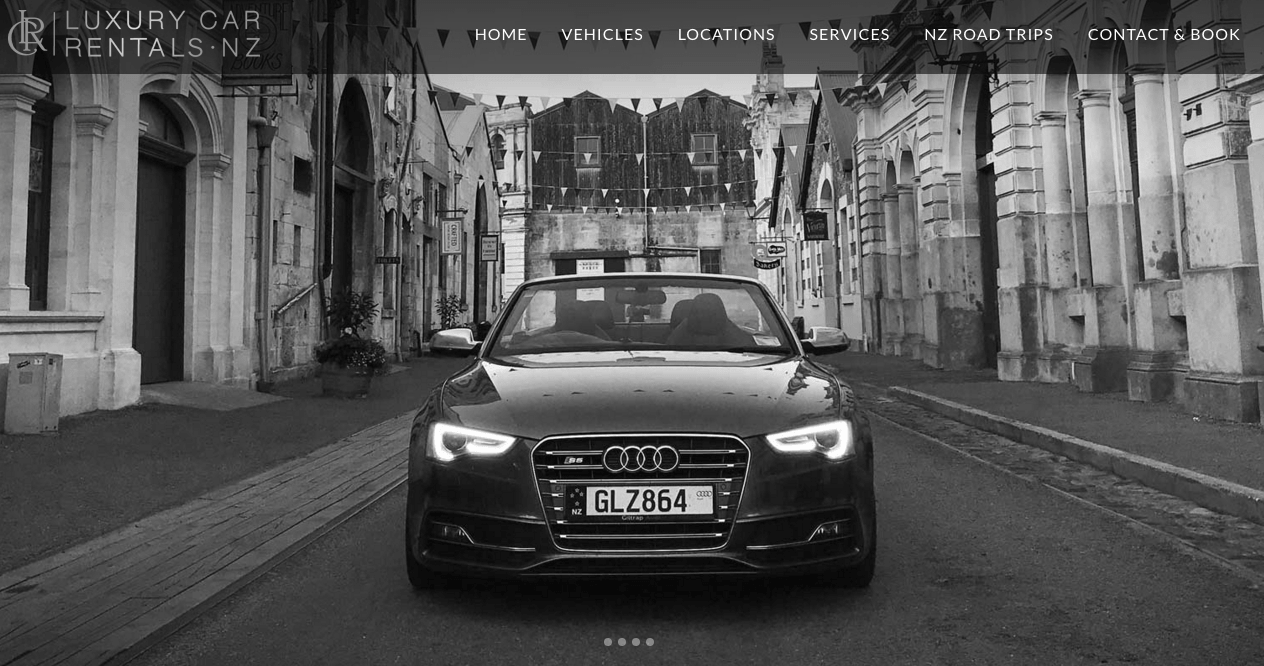 Start your road trip and hire from one of the best luxury car rentals in Auckland, named Luxury Car Rentals NZ. Your adventure awaits with the car of your dreams.
For varying but fair per day rates, they offer convertibles, sports cars, sedans, minivans, and luxury SUVs. Their range includes high-end and top-of-the-line brands that suit car lovers.
Take the Aston Martin V8 for a James Bond-esque feel with its car chase speed and cosy leather interior. Or blaze down the road with the growling Porsche Cayenne S producing 385 bhp.
However, if you like to stay at the back of the car while appreciating the sights, you can book their chauffeured service. Now you can take pictures and rest on long drives.
2)  Samuels Vehicle Hire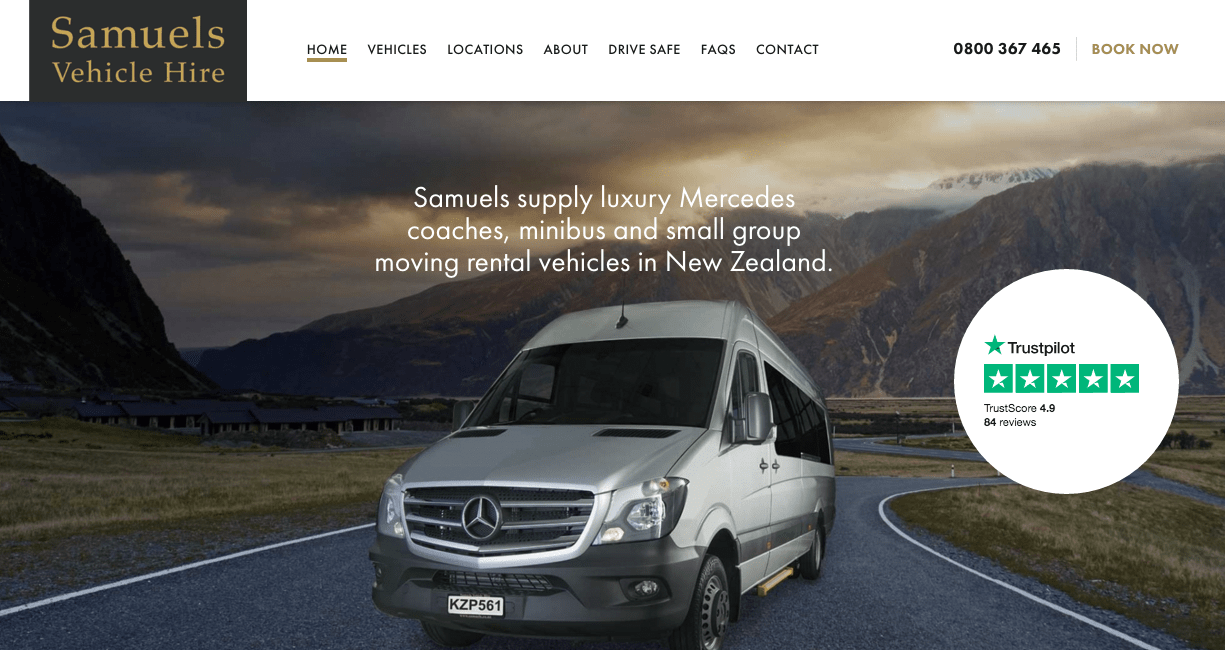 | | |
| --- | --- |
| Type of car available | Minibuses and People Movers |
| Locations | Auckland, Christchurch, and Queenstown |
| Contact no. | +64 9536 4560 or 0800 367 465 |
| Website | https://samuels.co.nz/ |
If you're arranging a tour or to see a sports event with your mates, look up Samuels Vehicle Hire. In terms of vehicle availability, they are one of the best luxury car rentals in Auckland.
Whether you're in the city or airport, they can come to you with your Mercedes coach at the ready. Pickup and drop-off are round-the-clock, super simple and efficient, with the staff taking it from there.
They only offer Mercedes Sprinters and V-Class that are mostly 2017-2019 models with an immaculate interior and GPS system. It comes with insurance and breakdown assistance too.
It's also great to note that you only pay for the quoted price. And along the way and after the collection, you won't be conned with a surprise fee, so you can have peace of mind as you drive.
3)  Smart Car Rental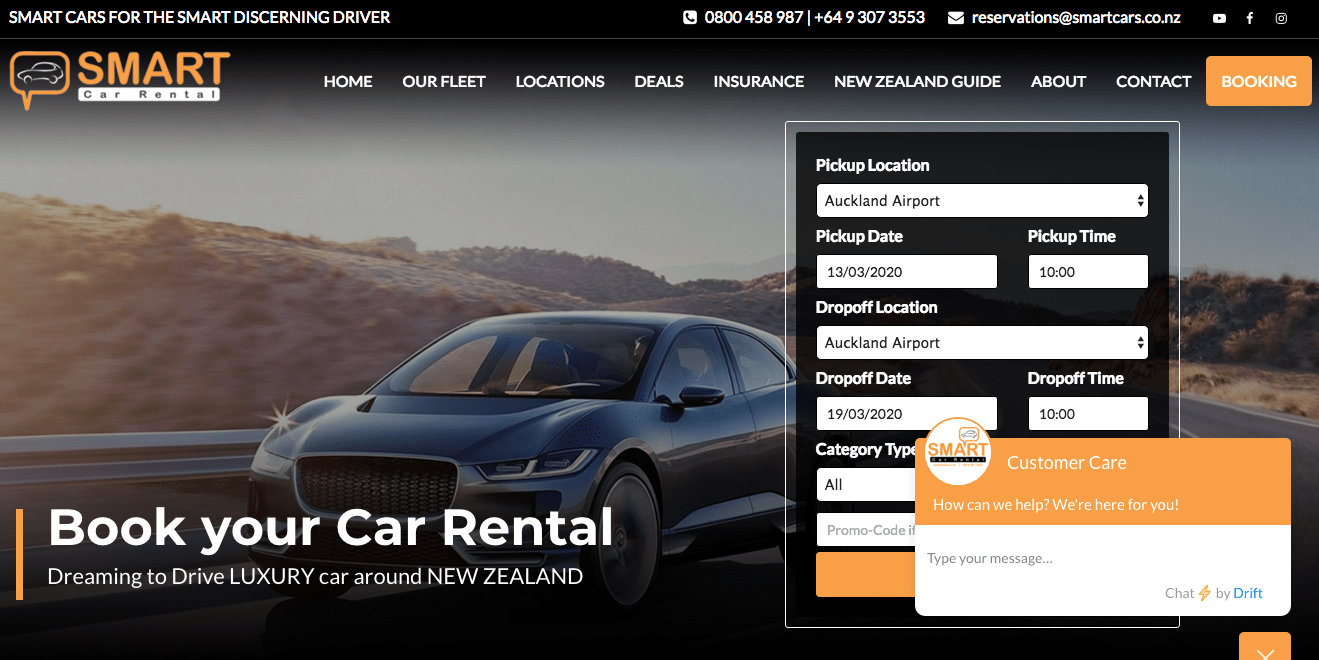 | | |
| --- | --- |
| Type of car available | Hatchback, Compact, Full-Size, Convertible, Luxury, Sports Car, Wedding Car, People Movers |
| Locations | Auckland City, Auckland Airport, Queenstown; Rotorua, Taupo, and Tauranga (drop-off only) |
| Contact no. |  0800 458 987 or +64 9 307 3553 |
| Website | https://www.smartcarrental.co.nz/ |
Driving around Auckland and the country with your one and only? Reserve a cool and laid back convertible from Smart Car Rental.
With unique cars you won't find in other rental companies, you will have a special experience here. That includes prestigious brands like Audi, Mercedes, Ford, Nissan, and Volkswagen.
The fleet is all relatively new and modern. The price comes with standard insurance cover but you have the ability to further reduce this liability to zero.
No boring queues or frustrating coordination but a staff that delivers the car and waits for you in Auckland City or airport. This way, you and your family can start having fun without wasting a second!
4)  Sports Car Rental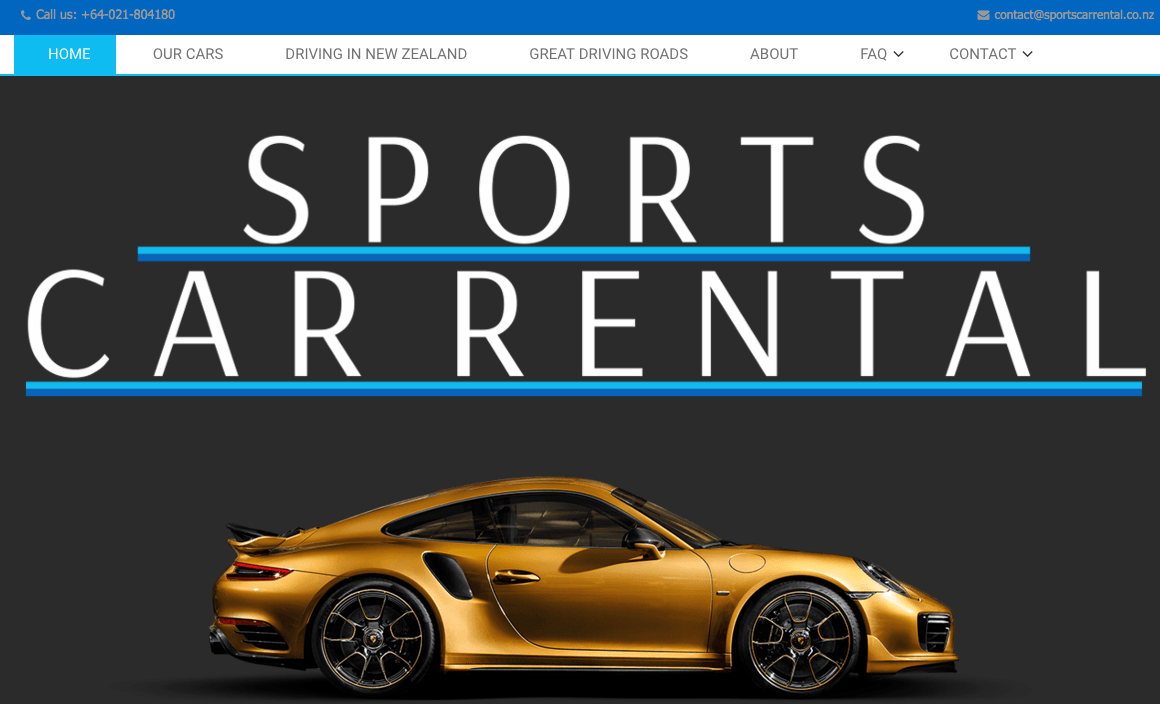 | | |
| --- | --- |
| Type of car available | Luxury Cars, Sports Cars, Hatchbacks, and Convertibles |
| Locations | Auckland |
| Contact no. | +64 0218 04180 |
| Website | https://sportscarrental.co.nz/ |
Keen on taking a sports car to stream across the city but stuck with a small budget? Then you should book with Sports Car Rental as they have fast and powerful cars that are affordable.
For just NZ$270 per day, it's very worth it to go for the sleek Mustang V8. It has a sleek muscle car look,19" alloy tyres, and a V8 engine letting it blaze less than 5 seconds up to 100km/hr!
Nissan, Mazda, and Audi are also available among its range of hatchbacks, luxury cars, and convertibles. Feel the wind and thrill as you drive the winding roads along mesmerising views.
Aside from that, you get unlimited kms (excluding the Mustang), mechanical breakdown assistance, 24/7 customer support, and a lighter burden of insurance excess of NZ$2000.
Hence, we included this in the best luxury car rentals in Auckland.
5)  Devine Rentals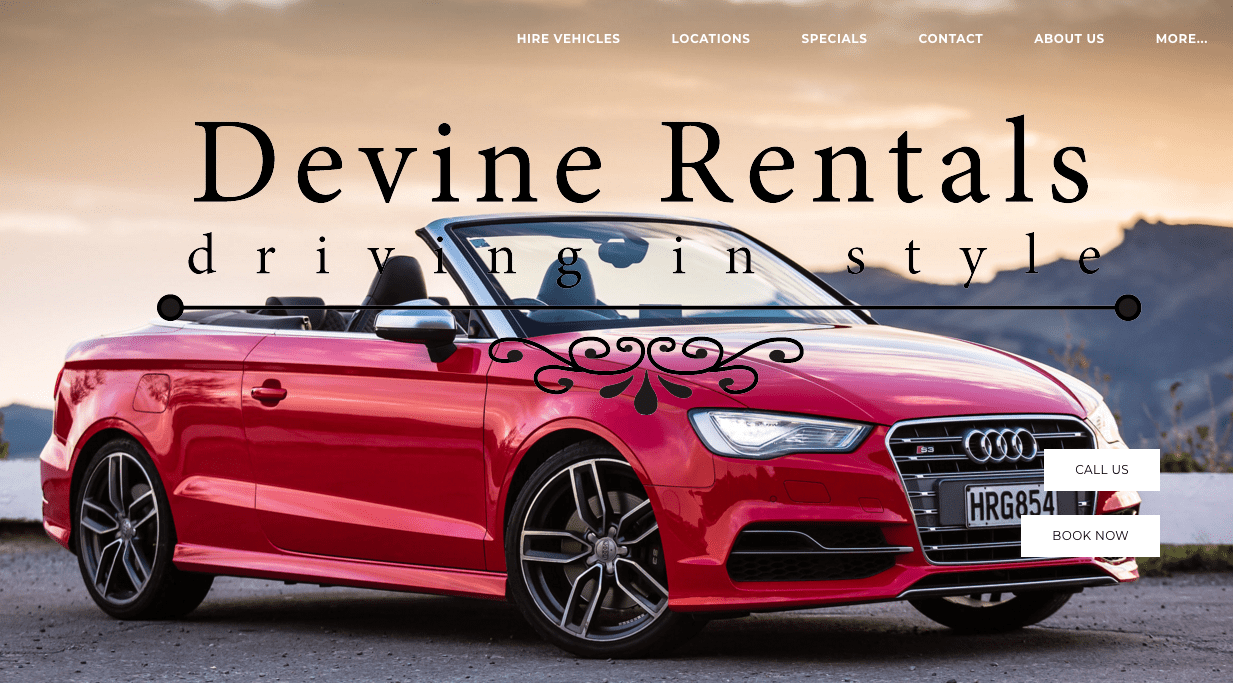 | | |
| --- | --- |
| Type of car available | Coupes, SUVs, Convertibles, and Sedans |
| Locations | Auckland, Wellington, Christchurch, and Queenstown |
| Contact no. | ​00 64 21 026 08644 |
| Website | https://www.devinerentals.com/ |
If you're going to city hop on the freedom roads of New Zealand, why not ride in style? Take a Porsche convertible or BMW SUV from one of the best luxury car rentals in Auckland.
Offering stunning and premium range of cars with brands like Audi, BMW, Porsche, Mercedes, Tesla and Land Rover, it will be an unforgettable and sweet experience as you reminisce about it.
To take it further, not only do they have a great car selection but great service as well. Delivery of the car is available whether you just came off your flight or are just coming down from the hotel.
You should book as early as you can, though, so you can reserve the car you chose. And watch out for their special deals to get more value from your trip inside these amazing roadsters.
And that's all for the best luxury car rentals in Auckland at the moment. This is your chance to get up close and personal with the car you always see in the movies and wish you could drive.
So far, do you have any questions about these companies? Talk to us, send us a message and we'll be right with you.
For a cheaper but equally great option for car rentals, you could read our list of the best car rental companies in Auckland. They are great for heading to the sun-kissed beach or concerts!
Alternatively, you can also read about campervans which is another sweet as way to experience the land of the long white cloud. Check out the best campervans in Auckland for this.