The 12 Best Massage Auckland Spas
If you need to relax and unwind, having a massage may be the answer! In fact, to help you out, we've even put together a list of the best massage Auckland spas for relaxation.
We carefully selected the spas with adept and experienced staff and affordable rates, as well as with a serene and friendly atmosphere. We also based our list on client ratings — just to make sure we weren't the only ones who thought these spas to be great.
Anyway, you're probably raring to book your appointment already. So without any more tarrying, here are the best massage Auckland spas!
1)

Bloom Massage Therapy
BEST FOR
Pregnant Women
SERVICES
Pre-Conception Massage, Pregnancy Massage, Postnatal Massage, 'Endo' Assistance Massage, Monthly Ease Relaxing Massage
WEBSITE
https://www.bloommassage.co.nz/
ADDRESS

6 Tyrian Close

Half Moon Bay

Auckland 2012

CONTACT DETAILS
021 256 5057
[email protected]
OPERATING HOURS
Mon Tues Thurs 9am-3pm
​Late nights Mon/Tues 6.30-8pm
Tues 3.45 -5.15pm
Fri 1.30pm-3pm
Bloom Massage Therapy aims to assist women through their conception journey, from pre-natal to beyond. They also help alleviate the pain women experience from endometriosis.
Their main therapist, Pip Lodge, was inspired to provide these massage services due to her own experiences with endometriosis and conception. You can rest assured that her massage techniques are reliable and guaranteed to have a healing effect on your body.
Highlights
Uses natural essential oils
Qualified massage therapist
2)  Auckland Massage
BEST FOR
Hassle-Free Booking & Payment
SERVICES
Remedial & Relaxation

Beauty & Pampering

Sports

Pregnancy

Elderly

Dry Needling

WEBSITE
https://aucklandmassage.co.nz/
ADDRESS
396b Don Buck Road, Massey, Auckland, New Zealand
CONTACT DETAILS
027 844 4661
OPERATING HOURS
Monday to Friday: 9am – 9pm

Saturday and Sunday: 9am – 6pm
At Auckland Massage, none of your time will be wasted. Their easy booking process and online payment option sets them apart from the rest even in this list of the best massage Auckland spas!
Here, you will be pampered and cared for by dedicated and professional masseuses. They offer a complete array of services ranging from remedial to elderly massage.
They accept credit payments through PayPal or Stripe, or by mobile. But in case you have to cancel, you could reschedule to another date or get your refund in full.
Highlights
Stress-free booking & payment process
Offers a complete range of services
Professional, dedicated staff to assist you
Customer Reviews
Contributing to the 4.9 stars on Google Business, Emma Blomeley said:
"Best massage ever! Divine experience. Rachael was professional and awesome. I will be back + recommend to friends and family. I want to work my way through all their services."
3)  Aroma Massage
BEST FOR
Stress Relief & Rejuvenation
SERVICES
Thai Remedial Massage

Deep Tissue Massage

Aromatherapy Massage

Thai Massage

Foot Reflexology

Indian Head Massage

Aroma Hot Stone

Mother-to-Be

WEBSITE
https://www.aromamassage.co.nz/
ADDRESS
Level 3 Premier Buildings, 2 Durham Street East Auckland 1010, New Zealand
CONTACT DETAILS
027 428 9629, 09 377 1069
OPERATING HOURS
Monday to Sunday: 9.30am – 8pm
If you're looking for a massage in East Auckland, book one at Aroma Massage. They offer a selection of massages that will help you move toward a happy and healthy state of being.
There is something for you here, whether you're an employee, sportsman or just a casual customer. Most customers choose to have Thai Massage, Deep Tissue Massage, and Aroma Hot Stone therapy.
Also, check out some of their packages on their website. These include a series of therapy options and massage services for a reinvigorating experience at a competitive price!
Highlights
Provides a reinvigorating massage
Offers a selection of massages
Value packages available
Customer Reviews
Here's Harvey Hayes's comment on Google Business:
"EXCELLENT massage. I've had a lot of massages around Auckland and the world, and this was one of the better ones. Professional reception, clean facilities, warm table and room, masseuse who actually listened to what you want. A+"
4)  Massage Me Day Spa
BEST FOR
Customised Massage and Best Value
SERVICES
Thai Massage

Balinese Massage

Hot Stone

Deep Tissue

Aromatherapy

Classic Swedish Massage

WEBSITE
https://massagemedayspa.co.nz/
ADDRESS
415/2 Beach Road, Auckland CBD, Auckland 1010, New Zealand
CONTACT DETAILS
+64 27 226 3678
OPERATING HOURS
Monday to Sunday: 9am – 8pm
Since each person's body needs are unique, a tailored massage can work wonders and produce better results. This is exactly what you get with Massage Me Day Spa.
The therapists adjust their techniques based on what your body requires. They can ease strained and stiff muscles in your body.
And then what's left for you is value because you will be able to move about freely again, free of your pain or symptoms. Furthermore, you will feel refreshed, sprightly, and ready to roll through the day!
Highlights
Tailored, focused massage
Great value
Expert and knowledgeable therapists
Customer Reviews
Jan Kraan, one of their clients, shared this on Facebook about one of the best massage Auckland spas:
"Nicky has given me a very good massage. Good pressure and worked on the problem areas, neck/lower back.
45 min was over too quickly, very relaxing.
Thanks!"
5)  Auckland Sports Massage
BEST FOR
Sports Massage
SERVICES
Sports Massage

Therapeutic Massage

Deep Tissue Massage

WEBSITE
https://aucklandtherapeuticmassage.co.nz/
ADDRESS
Level 9 12-26 Swanson Street Auckland CBD, New Zealand
CONTACT DETAILS
0800 100 368
OPERATING HOURS
Monday to Friday: 7.30am – 6.30pm

Saturday: 10am – 2pm
If you've sustained a sports injury and need to treat it, you should get in touch with Auckland Sports Massage!
The therapists here have more than 10 years of experience. They have treated many athletes across different sports like running, Paralympics, and swimming, to name a few.
They tailor their services to help you recover and get back in the game faster! Plus, they work with physiotherapists and chiropractors to formulate an effective treatment plan for you.
That makes them one of the best massage Auckland spas you can book with — and many of their customers will agree!
Highlights
Tailored service
Works with specialists to formulate an effective treatment plan
Specialises in sports massage
More than 10 years of experience
Customer Reviews
One customer, Catherine MacGregor, said this on Google Business:
"Friendly folks, reasonable prices, and the massage is always just the right level to make me feel so much better afterwards!"
6) Healing Hands
BEST FOR
Aromatherapy
SERVICES
PREGNANCY MASSAGE

SPORTS MASSAGE

DEEP TISSUE MASSAGE

BACK MASSAGE THERAPY

SPORTS MASSAGE

COUPLES MASSAGE

INJURY REHABILITATION MASSAGE

LYMPHATIC DRAINAGE MASSAGE

WEBSITE
http://healinghands.co.nz/
ADDRESS

28 Baulcomb Parade, Windsor Park, Auckland 0632

CONTACT DETAILS
[email protected]
021 121 1918
OPERATING HOURS
Mon-Sun: 9:30am-8pm
By Appointment Only
For over 17 years, Healing Hands has continuously proven that they're one of the best to consider when in need of a good massage. Their quality of service is unmatched; each client ensured to be personally catered to, and their satisfaction, met.
Services offered in the establishment include different kinds of massages, ranging from sports massage and rehabilitation massage to pregnancy massage and deep tissue massage. Whatever you may require, they probably can help you with.
For inquiries, you can head on to Healing Hands' website. Booking for appointments, as well as purchasing of gift vouchers, can also be done there.
Highlights
Clean and well-maintained rooms
Highly skilled team of professionals
Relaxing massages
Customer Reviews
Read what Sam Husson, a satisfied client, had to say about Healing Hands' services:
"Healing Hands. What can we say? Friendly, professional and a great environment to work out muscle tension after training. If you are looking for a regenerative, sports massage Michel or Sara are top-notch.

They take pride in their work, and both have loads of natural ability! Which is just what an aspiring fitness couple needs. If you are looking for precision, perfect pressure, great technique and assistance with sports recovery check them out."
7) Total Body Bliss
BEST FOR
Sensual massage
SERVICES
WEBSITE
http://www.totalbodybliss.co.nz/
ADDRESS
1/1 College Hill
Freemans Bay
Auckland 1011
CONTACT DETAILS
[email protected]
09 337 0605
027 337 0605
OPERATING HOURS
Tuesday 10am–12am
Wednesday 10am–2am
Thursday 10am–2am
Friday 10am–2am
Saturday 10am–2am
Sunday 10am–12am
Monday 10am–12am
Total Body Bliss is a fantastic establishment that offers their massage for men, women, and couples alike. Start your session with a steamy shower and let the masseuse you pick do the rest of the work for you.
Starting at $120, you get to have the time of your life relaxing your body while having fun at the same time. Enjoy a more sensual massage within your comfort zone.
Other added services are also available aside from the regular massage. Check out the list and rates for it on Total Body Bliss' website. Some are more intimate than the rest, so make sure you to come to your appointment clean and well-groomed if you're thinking of acquiring this kind of assistance.
Highlights
Clean and professional environment
Amazing masseuse
Customisable service
Customer Reviews
One client, Josh Mcfree, left this feedback on Total Body Bliss' google reviews:
"I spent an hour with Josie last week and it's left me on a high. Everything was very well done.
The reception staff were friendly with very clear directions.
The room was warm and beautifully presented.
Josie is even more breathtaking in person!
Thank you and I'll be back again soon."
8) Float Culture
BEST FOR
Ultimate Relaxation Packages
SERVICES
Floats, Massages
WEBSITE
http://floatculture.co.nz/
ADDRESS
12 Water St, Grafton, Auckland 1023
CONTACT DETAILS
+64 9-281 4648
OPERATING HOURS
Opening hours: Mon to Fri 10am – 10pm
Sat & Sun 8am – 10pm
Considered to be Auckland's prime institute for floating, Float Culture is the place to be if you're looking to experience the best relaxation method ever.
Through Float Culture's very own floating tank and massage services, they can help their client restore balance within their body and achieve over-all well-being like no other.
With lots of benefits to receive from acquiring their services, you'll definitely get your money's worth and more, with Float Culture.
Highlights
Best to release muscle tension
Relieves stress and pain
Peaceful atmosphere
Customer Reviews
Below are some of the feedbacks left on Float Culture's google review:
"Wow. What an experience! The feeling of weightlessness, so relaxing. Caleb and the team were very helpful and always happy to answer all our questions. The couches are comfy and the tea warm! ?Will definitely come again."

"This was my first time floating and I've got to say it exceeded my expectations. With all the crazy happening in the world right now, this was very much needed. The staff was lovely (hey Susana), the facility was clean, and the overall experience was very relaxing. I will definitely be coming back."
9) Optihealth
BEST FOR
Wide range of services
SERVICES
Weight and Nutrition
Massage
Ice Massage
Charcoal Therapy
Hot/Cold Water Therapy
Trigger Point Therapy
Heating Compress
Activity and Rest
WEBSITE
http://www.optihealth.co.nz/
ADDRESS
167 Main Highway. Ellerslie
CONTACT DETAILS
Email: [email protected]
OPERATING HOURS
Sun – Thu 6:15am to 9:45pm
Fri 6:15am to 4:30pm
Sat Emergencies only
True to their name, Optihealth provides top quality services to their customers to help them achieve optimal health for longer life. With a team of amazing masseuses and staff, you're sure to experience only the best massage in the establishment.
Knowing how no single treatment can aid in the betterment of one's health, Optihealth makes sure to have a comprehensive list of therapies and services you can acquire in packages. Partnering up with your physician, the establishment can create a better regime for you for the ultimate effect.
You can get an hour full treatment or a course of 15-20 treatments, depending on what you need. For a more in-depth explanation, you can simply inquire on their site.
Highlights
Good value for money
Phenomenal massage services
Great vouchers
Customer Reviews
Dani Weaver, a happy customer, has said nothing but good things to Optihealth. Here's his full review:
"I bought a 60 minute massage voucher from grab one last week and chose Mary for my appointment. She. Was. Amazing!! She was so lovely and welcoming and her massage skills were phenomenal. I was very impressed. I'll be back to see Mary again :)"
10) Siwalai Thai Massage
BEST FOR
Thai Massage
SERVICES
MASSAGE
FACIAL
NAILS
WAXING
PACKAGE
WEBSITE
https://siwalaithaimassage.com/
ADDRESS

426 East Coast Road, Windsor Park, Auckland

CONTACT DETAILS
09 479 3474 , 021 234 9904
[email protected]
OPERATING HOURS
Open Daily: 9 am – 9 pm
Siwalai Thai Massage is considered to be the most excellent place to go to in the North Shore if you're looking for a quality Thai Massage. Since 2010, they have been offering a wide range of services for customers to take up.
The services they offer include massages, facials, nail care, and waxing, all for the quintessential self-care. Customers are allowed to mix up the services or pick a package for a lower price.
You have the option to go alone for a satisfying me-time or book a session with your friends or family for a relaxing bonding. Whatever you decide on, Siwalai Thai Massage will make sure you get what you deserve: only the best massage.
Highlights
Highly skilled masseuse
Attentive and friendly staff
Comfortable and relaxing atmosphere
Relaxing music and warm lighting adding to the great ambience
Customer Reviews
"The massages here are absolutely out of this world. I cannot recommend this highly enough. Very neat, tidy and professional. Very helpful and kind. I have a really sore shoulder, and the massage has helped very much. Thank you."
11) Refreshing Massage
BEST FOR
Traditional treatment
SERVICES

Body massage, Foot Reflexology, Acupuncture, Cupping

WEBSITE
http://refreshingmassage.co.nz/
ADDRESS

108 queen street, Auckland City

Shop 5, Highury Shopping Centre, Birkrenhead, Auckland

CONTACT DETAILS
09-3033123
09-4191979
[email protected]
OPERATING HOURS
City

Monday 10.00am-8.00pm
Tuesday 10.00am-8.00pm
Wednesday 10.00am-8.00pm
Thursday 10.00am-8.00pm
Friday 10.00am-8.30pm
Saturday 10.00am-8.00pm
Sunday 10.00am-8.00pm

Birkenhead

Monday 9.00am-6.00pm
Tuesday 9.00am-6.00pm
Wednesday 9.00am-6.00pm
Thursday 9.00am-6.00pm
Friday 9.00am-6.00pm
Saturday 9.00am-6.00pm
Sunday & Public Holiday 10.00am-5.40pm
Refreshing Massage is an establishment known for its comprehensive range of services available. Their goal is to make their clients' lives easier and provide them with the best solution for body pains and other uncomfortable kinks present.
The massage shop's services range from a simple head massage to a full-body treatment. What makes them a very stable competitor is their excellent value for money. Starting at only $15, you get to relax as you receive the best massage yet.
Treat yourself only with premier massaging after a day of hard work, stop by at Refreshing Massage to unwind!
Highlights
Reasonable rates
Hospitable staff and masseuse
Relaxing and professional massage
Customer Reviews
Here is feedback from Harpreet Chopra, a satisfied customer of Refreshing Massage:
"Had the best deep tissue massage, the massage therapist released all muscle knots n i feel relaxed, highly recommended for those who are looking for a good relaxation and therapeutic massage. Will be back for sure. Thank you for the wonderful service…"
12)

Male Massage Auckland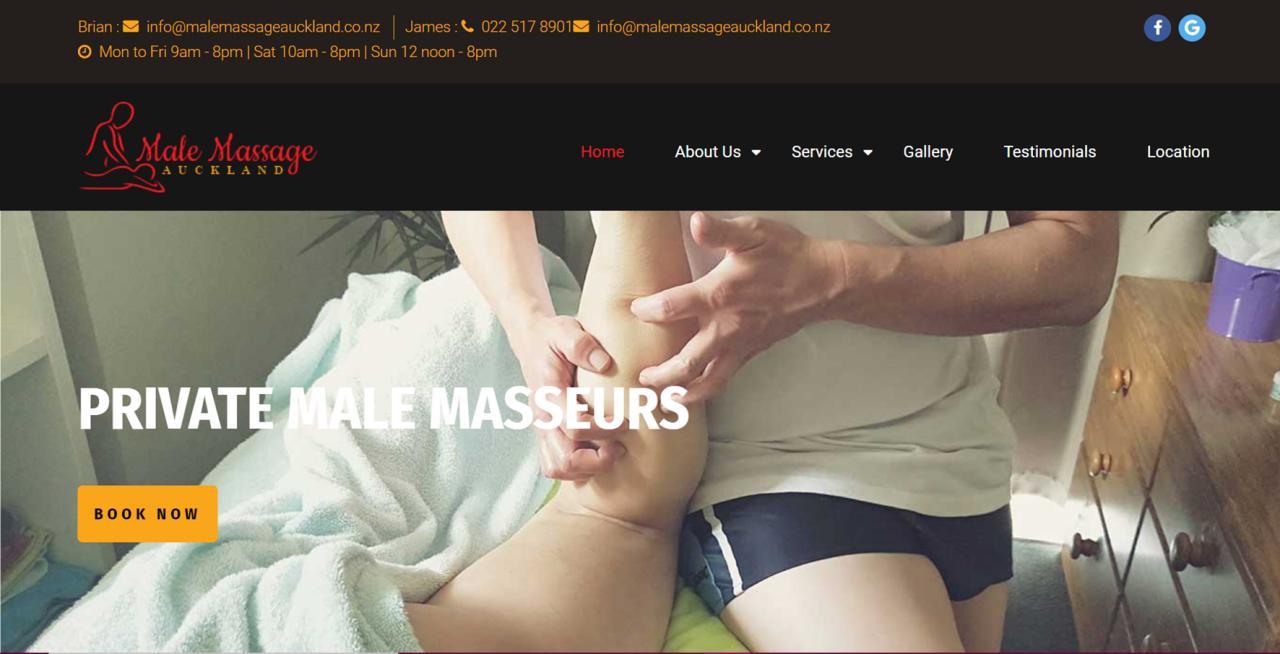 BEST FOR
Sensual massage
SERVICES

Sensual Massage, Integrated Massage, Hotel massage, Duo or Couple Massage

WEBSITE
https://malemassageauckland.co.nz/
ADDRESS

Alberta Street, Point Chevalier, Auckland 1022, New Zealand

Mount Albert Road, Three Kings, Auckland 1041, New Zealand

CONTACT DETAILS
OPERATING HOURS

Mon to Fri 9am – 8pm | Sat 10am – 8pm | Sun 12 noon – 8pm
Male Massage Auckland is the place to be for the most relaxing massage in Auckland. Their way of service is unique from other massage establishments, allowing a sensual touch for a more satisfactory experience.
Their massage therapists are equipped with years of experience in the field, and expertise like no other. When you acquire Male Massage Auckland's services, you're sure to enjoy every bit of the time you spend with them.
Book your services now to de-stress from a tiring day. Bring in a friend or your significant other for a discount!
Highlights
Accessible locations
Amazing massage therapists
Peaceful ambience
Customer Reviews
Here's what a very satisfied customer had to say about Male Massage Auckland's services:
"Brian has magic hands. From his unique pre and post massage rituals and an intuitive massage to wring out all the stress knots, the whole experience for me was extremely relaxing and exhilarating at the same time. Will use again."
And those were the best massage Auckland spas. Whether you feel a niggling or full-blown pain, these therapists will help to relieve it through their work.
Do you agree with the services we selected? Share with us what you think by sending us a message and we'll get back to you in a bit!
Alternatively, you might also like to try the best acupuncturists in Auckland! Acupuncture is an ancient therapy that may also remedy the different symptoms that you're feeling.