The 6 Best Massage Tauranga Spas
Want to refresh your mind and body with a comfortable massage but don't know which spa to book with? We've got your back as we've rounded up the best massage Tauranga spas right here!
We picked the massage establishments with talented and wonderful staff, fabulous decor, and excellent treatment menus. Also, we read some of the client reviews — that told us that we were right in featuring these great spas!
Now without any further ado, we now present to you the best massage Tauranga spas. Check these ones out first whenever you need massage services in the area!
1) Thai Massage Tauranga
BEST FOR
Traditional Thai Herbal Massage
SERVICES
Traditional Thai Massage

Deep Tissue Massage

Thai Herbal Massage

Thai Aromatherapy Massage

Thai Herbal Massage for Women's Health

Thai Foot Massage (Reflexology)

Thai Herbal Sauna

WEBSITE
http://www.thaimassagetauranga.co.nz/
ADDRESS
149 Carmichael Road, Bethlehem, Tauranga, New Zealand
CONTACT DETAILS
07 579 3844

022- 595-1165

OPERATING HOURS
Monday to Saturday: 9am – 8pm
If you're looking for relaxing therapy to work away chronic pain and fatigue, you should book with Thai Massage Tauranga!
As the name implies, they are best at providing Traditional Thai Massage and its associated modalities, including Thai Aromatherapy, Thai Herbal Massage and Thai Herbal Sauna.
They have seasoned and certified therapists with a combined experience of over 70 years! And they use only quality natural oils and herbal balls for your massage.
Consequently, there's no doubt that they are one of the best massage Tauranga spas you can visit!
Highlights
Thai Massage specialist!
Helps to remove chronic pain and fatigue
Uses great-quality natural oils and herbal balls
Combined experience of over 70 years
Customer Reviews
One client, Justine Gradon, wrote on Google Business:
"Chorn's Traditional Thai Massage is incredibly healing and relaxing and in a most warm and peaceful environment. She is completely professional in her approach and presentation and her skills have helped all of my aches and pains over the years. I can highly recommend her treatments to anyone and everyone."
2) Tranquil Therapy
BEST FOR
Holistic Therapy & Massage
SERVICES
Therapeutic Massage

Hotstone Heaven

Pregnancy Massage

Holistic Head Massage

Reflexology Foot Massage

Aromatherapy Facial

Deluxe Facial

Half Day Spa

Day Spa Add-Ons

Bliss Pamper Package

Bach Flowers

Reiki Treatment

Pedicure

WEBSITE
https://www.tranquiltherapy.co.nz/
ADDRESS
64 Milton Rd, Otumoetai, Tauranga, New Zealand
CONTACT DETAILS
07 576 8166

021 2730411

OPERATING HOURS
Monday to Thursday: 8am – 7pm

Friday: 8am – 5pm

Saturday: 8am – 2pm
Treat yourself to a pampering, blissful experience at Tranquil Therapy! This spa is best for women as it offers relaxation massage, Bach flower remedies, day spa services, and pedicure treatment.
Its proprietor, Diane Belz, has a nursing background complemented by a Massage diploma. This ensures that you can trust her massage therapies to rejuvenate you.
In addition, she also offers Reiki Massage, which is gentle and relaxing and can heal the body's aches and pains. Or if you want, you can try out Sacred or Hot Stone Massage too!
Highlights
Professional massage therapist
Excellent spa for women
Pampering, blissful experience
Customer Reviews
This is another one of the best Tauranga spas you can go to. Here's Robyn Hanna, who stated on Google Business:
"Excellent, professional and friendly service. I have been to many massages therapist and this is one of the best. Can't believe how much better I'm feeling. Not only amazing massage but very knowledgeable about wellbeing and shares openly."
4) Restore Yourself Therapies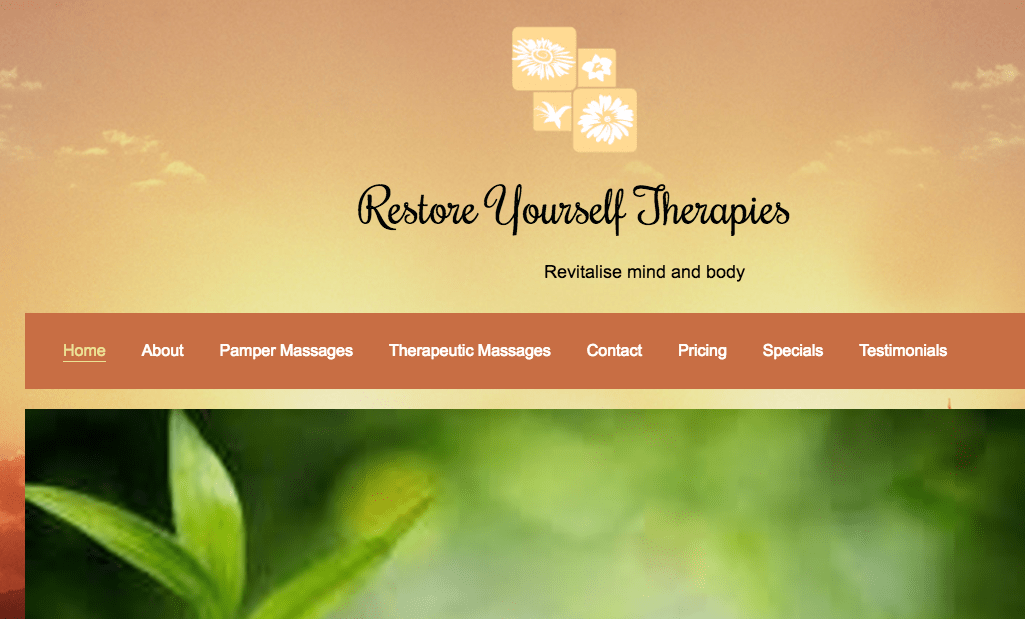 BEST FOR
Deep Tissue Massage
SERVICES
Relaxation

Orthobionomy

Hot Stone

Pregnancy

Deep Tissue

Sports

Myofascial Release

Cranial Sacral & Sacrum

Reflexology

Pressure Point Work

WEBSITE
https://www.taurangamassage.nz/
ADDRESS
Suite 203, First Floor Churchill Building, 45 Grey Street

CBD, Tauranga 3110, New Zealand

CONTACT DETAILS
07 577 0703
OPERATING HOURS
Monday to Tuesday: 9am – 5pm

Wednesday: By appointment only

Thursday to Friday: 9am – late

Saturday: 9am – 5pm

Sunday: Closed
Enjoy a massage that reaches down to the deep tissue layers to remove trapped tension? It's just what Restore Yourself Therapies offer and specialise in.
Their spa is wonderfully furnished, ready for you to lie down and relax with their massage. The team aims to meet your needs and even exceed your expectations, so you can feel safe entrusting yourself to them!
By the way, the therapists are accredited by NZQA and other certifying bodies. And they have extensive experience in massage therapy.
Couple massage is also offered, which is a great way to know more about your spouse — and have an unforgettable time together!
Truly, they are another of the best massage Tauranga spas you can find!
Highlights
Specialises in Deep Tissue Massage
Aims to exceed your expectations
Wonderfully appointed rooms
NZQA-accredited
Also offers couple massage
Customer Reviews
Check out what Ian Sadler said on Google Business:
"Great massage with myofascial release. Big increase in my range of motion. 10/10 will go again."
5) Wayne Rush Bodywork Massage
If you have a wicked injury or pain in your body, then Wayne Rush can help! You can book with Wayne Rush Bodywork Massage, which is based in Otumoetai, Tauranga.
You'll feel welcome in their clean and modern rooms with the fragrance of essential oils. And as they say, they will offer you 'the treatment you need with the luxury you deserve'.
With over 2 decades of experience, Wayne Rush provides a broad array of services. He will help to treat your injury and relieve the pain that you are feeling safely and effectively.
Highlights
Safe and effective injury treatments
Highly experienced therapist
Offers a broad array of services
Clean and modern rooms
Customer Reviews
Wayne Rush Bodywork Massage ranks among the best massage Tauranga spas. Here's one client, Trish, whose review is posted on the website:
"I am a great fan of treatments with Wayne, from his early days of training to the present. Having 3 degenerate discs in my lower back and one leg longer then the other, which plays havoc with my hips and digestive system, I visit Wayne whenever I need to and have never failed to be amazed at how wonderful I feel at the end of my treatments."
6) Pure Health & Beauty
BEST FOR

Head massages

SERVICES

Relaxation body massage

Head massage

Body wrap

Manicure

Pedicure

Facials

Waxing/sugaring

Lymphatic Drainage

Tinting

WEBSITE

https://www.pureyou.nz/

ADDRESS

24 Waitui Grove, Mount Maunganui, Tauranga 3116, New Zealand

CONTACT DETAILS

+64 21 183 0143

OPERATING HOURS

Monday to Saturday: 7.30am – 8.00pm
Pure Health & Beauty offers its relaxing services and natural products to men and women alike. Their convenient location helps any customer relax from the bustling life of the city.
The head therapist in Pure Health & Beauty, Nicole Emmett, already has over 11 years of experience in the industry. Thus, you can trust that she will give you the best massage in Tauranga.
Her relaxing body massage is available in thirty-minute and one-hour sessions. Pure Health & Beauty also offers head massages, as well as body wraps, nail services, facials, and waxing.
They also use the Miessence, a certified natural and organic skincare range, to pamper and keep you revitalized.
Highlights
Head massage for better blood circulation and relaxation

One-hour and thirty-minute body massages

Experienced therapist

Natural skincare and beauty products
Customer Reviews
Sofia Wood wrote this review on Google Business to share just how Pure Health and Beauty always delivers:
"Nicole is like a breath of fresh air. Could not recommend Pure Health and Beauty for those in Tauranga more. I have never looked forward to beautician appointments before, but now I do. Fantastic eyebrow waxing, tinting and eyelash tinting – not to mention the head massage while waiting for the tint to set! Body Talks is also amazing. Highly recommend Nicole to all."
Anyway, those make up the list of the best massage Tauranga spas. With these specialists, you're just one call away from having a reinvigorating, tranquil massage.
Do you agree with the spas we've included here? Feel free to tell us by dropping us a line and we'll get back to you in a jiffy!
However, if you think you need a more specialised service for your treatment, you can have a go at the best chiropractors in Tauranga instead! These may be better able to address certain joint and muscle issues, anyway.