The 4 Best Mattress Protectors in New Zealand
Featured Image Source from The New York Times
It's effortful to clean a mattress that has been deeply stained by dirt, soot, or wine. If that happens, you'll need to resort to a DIY stain treatment, which may or may not end up well.
To prevent that from even happening, we've put together a list of the best mattress protectors in New Zealand. With a great variety of them online such as waterproof, anti-allergy, lush and soft, and eco-friendly types, you might not know where to start at all.
Thus, we listed down our top picks to help you decide on the ideal protector for your bed. Also here, we'll be looking into the rates as well as what to consider when buying a mattress protector.
Ready? Let's start!
The Average Cost of Mattress Protectors in New Zealand
The prices of mattress protectors vary widely in New Zealand. They typically cost around $30 to $350 depending on the material and size.
Be careful of products that are too cheap as they may not offer the protection you need. At the same time, you won't want to overspend on one with features that you don't need— balance is key.
It's also possible that a mattress protector can have the features of a mattress topper, which brings a higher level of comfort to your current bed. Therefore, it may help you save money as you won't need to buy a mattress topper.
The Best Mattress Protectors in New Zealand
With a general idea of the costs, we now give you our top options for the best mattress protectors in New Zealand!
1) Peacelily Mattress Protector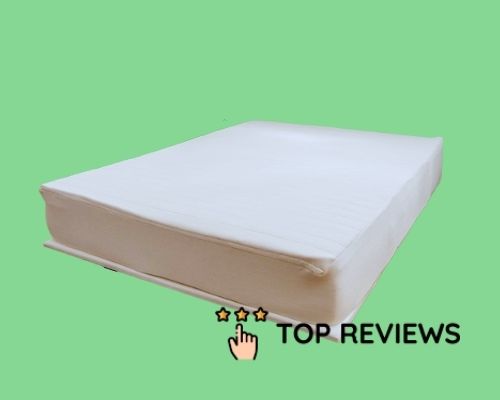 | | |
| --- | --- |
| Material | 100% organic cotton fabric and 100% organic cotton wadding |
| Type | Fitted |
| Sizes | Single, Long Single, King Single, Double, Queen, King, Super King |
| Pocket depth | 40 cm |
| Quilted | Yes |
| Waterproof | Partially |
| Hypoallergenic | No |
| Warranty | 1 year |
| Price | $249 – $349 |
Want a super-comfortable, luxurious, and sustainable mattress protector? If so, consider getting the Peacelily Mattress Protector.
The Peacelily Mattress Protector can protect your bed from sweat, odours, dirt, dust, oils, spills, and dead skin cells, keeping your bed underneath clean for years. Made of industry-certified natural cotton materials, the protector provides coolness and comfort helping you to sleep soundly at night.
Although it can absorb moisture such as perspiration, it isn't completely waterproof like other polyurethane protectors. Furthermore, it doesn't completely do away with bed bugs and dust mites that trigger an allergic reaction like coughing or sneezing.
Hence, for this, it might be better to get a bamboo mattress protector or those with hypoallergenic or anti-allergy properties instead.
As the Peacelily protector is a fitted or skirted sheet, it covers snugly all four corners of the bed on both the top and sides. It's easy to install and remove when it's accumulated enough dirt and needs to be washed.
Also, it fits most mattresses given its seven size options from Single to Super King. Its price is higher than other high-quality mattress protectors out there, but it's extremely reliable and relaxing to sleep on.
Finally, the premium mattress protector comes with a 1-year warranty so you're covered in case something goes wrong. Bonus: you get a reusable drawstring bag that is made in the same texture as the protector—pure natural cotton.
GOTS certified mattress protector
Made from organic cotton and cotton wadding
Comes with a reusable drawstring bag
1-year warranty
Expensive rates
Not completely waterproof
Not hypoallergenic
Customer Reviews
Buyers said wonderful things about this mattress protector. One said that it amazingly made a rock-hard mattress comfortable and another said that it supported her limbs to prevent them from aching.
Here's a review of one satisfied client named Jan:
"We purchased the Mattress Protector from Peacelily. We have had many of them over the years to help with the life span of our mattress. They have all failed in a short period especially after washing them. The quality of your product is exceptional and has been very well made to a very high standard. I believe we will have many years of use. Once again your product has exceeded our expectations and will be ordering additional items in the future."
Also, another bloke, Rodney, wrote this:
"I have been searching for an organic cotton mattress protector that is not exorbitant. So glad Peacelily released one. The material is thick and it's well made. It comes in a handy bag as well that is reusable. I liked that the sides are deep and I can really tuck them securely under but the fit is still snug. No plasticky layer so no annoying crinkling and the customer service team was upfront that it is not 100% waterproof and I'm okay with it if the trade off is natural protection. Price is affordable given the material quality. No regrets with this purchase."
2) My Bambi Tencel Mattress Protector Health Assurance Pack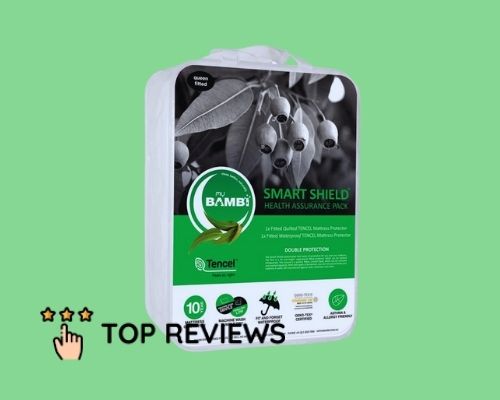 | | |
| --- | --- |
| Material | Tencel, cotton |
| Type | Fitted |
| Sizes | Single, Long Single, King Single, Double, Queen, King, Super King |
| Quilted | Has x1 quilted mattress protector |
| Waterproof | Yes |
| Hypoallergenic | Yes |
| Warranty | 10 years |
| Price | $137.52 – $256.20 |
Can't decide between a waterproof or general-use mattress protector? Well, problem solved, as My Bambi's twin Tencel mattress protector pack has them both!
Tencel is an eco-friendly material sourced from eucalyptus trees. It provides sheer comfort and durability to the sleeper while also keeping allergy- and asthma-causing pests at bay.
You can alternate between the two protectors while one is being washed. The first is great for everyday use and keeps your mattress untouched by stains, dirt, mud, and grime, whereas the other one is waterproof and will protect against spills from coffee, fruit shakes, or spaghetti sauce.
Compared to other products that aren't certified, the mattress protector is definitely better. Both fitted sheets are approved by OEKO-TEX that guarantees its high standards only made the better by its unbeatable 10-year warranty.
Another reason to buy this mattress protector pack is the sheets are easy to clean. But the waterproof one doesn't have to be cleaned that often as long as you don't make a lot of mess on it.
For value for money, we strongly recommend My Bambi Tencel as one of the best mattress protectors in New Zealand!
Uses sustainable Tencel material
OEKO-TEX certified product
Fit-and-forget waterproof
Asthma- and allergy-friendly
Low-maintenance waterproof protector
Relatively high rates
Not suitable to be washed in hot water
3) Allerzip Smooth Fully Encased Mattress Protector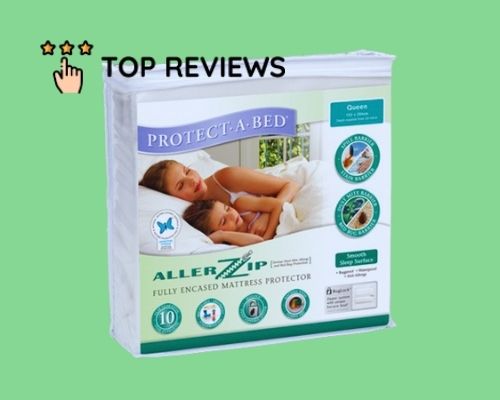 | | |
| --- | --- |
| Material | Polyester |
| Type | Encased |
| Sizes | Double |
| Pocket depth | 20 – 40 cm |
| Waterproof | Yes |
| Hypoallergenic | Yes |
| Warranty | 10 years |
| Price | $149.95 |
Allerzip is kind of a clever name for a product, don't you think? Because through it, it has managed to completely describe what it offers.
The first one is 'all' meaning the mattress protector is waterproof, bug-proof, and spill-proof. Next is "allerzip", which is a play on the words 'allergy' and 'zip' referring to its incredible anti-allergy capabilities.
In other words, you already get the whole package with this mattress protector set!
Now, the mattress protector is made of polyester that gives it its trademark durability and softness. Although it resists liquids and stains, it can't protect your bed from oil stains like those that come from lotion or certain food items.
It is an encased type with a zipper to cover your entire mattress, keeping it safe from harm's way from spills to infestations. However, this also makes it harder to remove it when it's time to take it to the laundry.
Another con is that it has only a Double size available on The Market. So if your bed is any size besides that, this particular one won't fit perfectly.
Back to its essential specs, you and your spouse, or your little ones will be sleeping comfortably on this bed protector. Nothing will give the dust mites and bed bugs even the slightest foothold to bite so they will starve and just go away, leaving you free on your own.
Having 20 to 40 cm of pocket depth, this thing can fit larger mattresses without any problem. Plus, the price is reasonable and worth the spend, considering that almost anyone in your family can sleep on it since it will protect them from 'everything'.
Certified by entomologists to be shielded from bugs and allergies, the Allerzip mattress protector is no doubt one of the best mattress protectors in New Zealand!
Anti-allergy mattress protector
Waterproof sleeping surface
10-year warranty
Encased protector is harder to remove for washing
Doesn't repel oil stains
Only one size is available
Warranty is not indicated
4) Dreamaker Cotton Quilted Waterproof Mattress Protector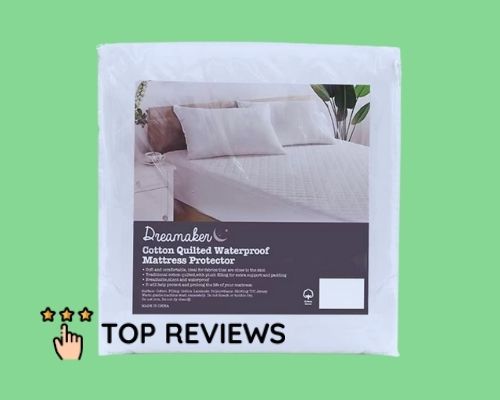 | | |
| --- | --- |
| Material | Laminated polyurethane, bamboo, TC Jersey |
| Type | Fitted |
| Sizes | Super King |
| Pocket depth | 45 cm |
| Quilted | Yes |
| Waterproof | Yes |
| Hypoallergenic | Yes |
| Price | $134.99 |
A mattress is a big home investment since it will be used for many, many years. So it makes sense to protect it to extend its life and give you wonderful sleep and dreams every night.
If you want to protect your high-end mattress, then we endorse the Dreamaker Waterproof Mattress Topper as another of the best mattress protectors in New Zealand. Here are several reasons why we chose this product:
First, it's made of a polyurethane backing that prevents liquid from sneaking through to the mattress. It's completely waterproof and you can even pour a cup of coffee on it—but don't do it on yours because then you'll have to wash the fabric protector.
Secondly, it looks classy with the quilted square patterns across the surface. With a TC Jersey skirt to fit compactly onto and tuck under your mattress. The mattress protector is also breathable so you won't feel hot and sweat in your sleep overnight.
Furthermore, another material used in making Dreamaker mattress protector is bamboo. This material is inherently repulsive to insects so they won't go anywhere near it, keeping allergies at bay and gone for good—provided you clean the protector regularly, of course.
And the icing on the cake is that the protector does not create any noise when you turn your body or move while sleeping, as opposed to most PU fabrics.
The only con that we actually found with this product is it's a bit heavier compared to others we've listed here.
Not the cheapest mattress protector available, but as you can see, this one packs a punch as it shields your mattress from spills, stains, and bacteria.
Great for protecting luxury mattresses
Waterproof construction
Breathable to keep you cool
Bamboo-knitted to resist bacteria
Does not produce noise
Only a Super King size is available on The Market
A bit heavier to set up and remove
Warranty period isn't indicated
Customer Reviews
This mattress protector garnered 4.7/5 stars on the Temple and Webster AU website. Most buyers wrote that it was comfortable and great value for money.
One buyer named Kundai left this feedback:
"Unlike some mattress covers this cover fits perfectly on my thick mattress. Highly recommend."
What's more, Inga commented this:
"Happy with the quality of this product and value for money."
What to Consider When Buying a Mattress Protector
Here are the essential factors you need to consider when buying a mattress protector:
1) Quality Materials
A mattress protector is made of different materials like cotton, polypropylene, bamboo, polyester, polyurethane, Tencel, or a blend of these.
Allow us to explain a bit about these fabrics.
This is the most common type of protector material that is naturally grown. This fabric is known for its comfort and softness and moisture-wicking ability.
As it regulates your body temperature, you will feel cool throughout the night when you sleep on a cotton mattress protector.
This one is a thermoplastic composite that offers durability, fade and stain resistance. With these properties, they make good fabric protectors though they're not as soft as cotton.
Other than that, polypropylene can resist mould, dust mites, and chemicals, also making them a great option for allergy sufferers.
Since it is common, biodegradable, and doesn't need pesticides, bamboo is considered an eco-friendly material. It is naturally pest-resistant, anti-mould, anti-fungus, and anti-allergy.
Bamboo is also breathable that will regulate your body's temperature and keep you cool and comfortable at night. However, it can be more expensive than cotton and polyester fabrics.
Polyester is a man-made fibre that is strong and long-lasting, unlike other materials. Besides that, it's resistant to wrinkling, shrinking, and fading even after a long while.
Also, it's an excellent material that resists soils and stains on the mattress protector. Note, however, that it doesn't resist oil stains like those you get from snacks or bicycle grease.
If you want a waterproof mattress protector, look for one made of polyurethane. While it absorbs water and prevents spills from seeping into your mattress, it can feel to be a bit warm.
Produced from eucalyptus trees, Tencel is a sustainable fabric that is stronger than cotton and even stronger when it's wet. This means that it can withstand hot washing and drying cycles.
When you're choosing a mattress protector, it has to have great-quality materials for a longer lifespan to keep your bed fresh and clean. And that it won't tear or become damaged as you wash every two months or so.
2) Waterproofing
You might want to consider getting a waterproof mattress protector, especially if you sweat a lot while sleeping or have kids prone to accidentally dropping cold juice or hot chocolate in bed.
As mentioned earlier, protectors having polyurethane membranes are great options as well as Shropshire wool, which is a unique fabric offering both water absorbency and temperature control.
3) Breathability
Another factor to consider is breathability. A breathable mattress protector does not lock in heat, thereby allowing you to sleep coolly and comfortably through the night.
This is ideal for people with warmer room temperatures or who often feel hot when they sleep. So for this, look for bamboo- or cotton-made products.
4) Noise
Noise has become an issue for mattress protector owners when they move in bed. Now, this often happens with waterproof products due to the material used to produce them.
For this, you have to take a look at a protector's fabric and item description. What's more, you might want to read the reviews to see if the particular product creates noise.
5) Budget
Depending on size and material, mattress protectors differ widely in costs. Those that have cooling or a quilted pattern can cost higher than regular ones.
Our tip is to go for a balance between price and quality. After all, if paying more means that your mattress protector will last long, it will save you money in the long run than having to replace it often.
The goal is that you feel comfy when you sleep or take a nap on the bed while keeping it protected from stains, spills, and allergens.
6) Warranty
Always look for a mattress protector with at least a year of warranty. This assures you that you won't have to pay an additional charge just in case the product exhibited faults.
Also, a longer warranty proves that the mattress protector is well-made, though this isn't always the case. You will still have to consider the other factors that we've listed in this section.
FAQs about the Top Mattress Protectors in New Zealand
---
And that completes our top picks for mattress protectors in NZ! All of them will keep your mattress clean, fresh, and comfortable for you and your family to sleep on.
Do you have any questions or thoughts about our list? Feel free to send us a message if you have one and we'll get right back to you.
Also, if your bed is too firm or too soft, a mattress topper can make you feel more comfortable. For this, you can read about the best mattress toppers in NZ where we have top-quality products for you.