The 8 Best Mattress Toppers in New Zealand
Sometimes, mattresses aren't enough in terms of giving you the support and cushioning you need. That can be easily solved, though, as we've rounded up the best mattress toppers in New Zealand here!
There's a large array of mattress toppers differing in fill material and comfort level. As a result, it can be difficult to know which one you should get.
That's why we wrote a guide on how to buy a mattress topper for you too. However, feel free to skip it and dive into the best mattress toppers in New Zealand now if you like!
How to Buy a Mattress Topper
The right mattress topper will depend on what you want to get out of it. Does the cold get to you even under your blanket? Do you like a softer underlay for your body?
Ask yourself what you want. From there you should have some idea about what you'd like. Now, let's delve into the things you need to look for in a mattress topper to help you make the right buying decision.
1)   Fill Material
Fill material dictates the comfort level of the mattress topper. It can come in many types, such as egg crate foam, polyester, down, feather, cotton, wool, rayon, latex, or memory foam.
Polyester and cotton are the most common types: they're soft but aren't as durable as the other types. Some mattress toppers are a mix of polyester, cotton and other fillings.
Down or feather types offer a very soft, luxurious feel; however, they aren't the best choices for those with allergies. Also, they help keep you warm in winter and cool in summer.
Rayon is made from bamboo trees and removes heat buildup throughout your sleep. Besides making you feel cool, it is hypoallergenic and safe.
And memory foam and latex adapt to your body's contours — that makes you feel very comfortable as you sleep. They retain heat, however, due to their thicker densities.
2)   Price
Pricier ones aren't necessarily better or more comfortable. You should pick one that you will need and can reliably use.
Those in the lower price range include egg crate foam, cotton, and polyester; mid-priced range for down, feather, premium cotton, while high-end ones are of course memory foam, latex, and wool.
3)   Comfort 
Fill material is just one aspect of what makes a mattress topper feel comfortable. For instance, you should consider the thickness, feel, temperature, and fabric.
Part of the choice will boil down to your current mattress. Is it soft or firm?
For a firmer mattress, you could use a 'thinner' mattress topper about 2-inches thick, and for a softer mattress, toppers that are 3 to 4 inches thick will do.
As for fabric, polyester and cotton provide average softness and comfort. Rayon has that cooling touch perfect for the summer, but wool fabric makes you feel toasty warm.
You want to be able to sleep soundly all night — and not be distracted when your partner turns or tosses, or be kept up by back pains. You want to feel cosy when it's cold outside.
Consider all of these requirements when you pick toppers, because they will affect your comfort when you're actually using the topper.
4)   Weight
A lightweight topper is an advantage because you'll need to move, set up, remove, clean, or dry it. Heavy ones will make that a chore.
Most of our featured products below are lightweight, by the way. So, when you receive your package, it will be easy to place on top of your bed or remove from it.
5)   Allergenic Potential 
Generally, it's wisest to go with toppers that have a minimum of allergens. Even if you don't have a lot of allergies, what if your significant other or family members do?
In this case, you should choose something that's hypoallergenic to counter that. Most toppers will have a note if they're hypoallergenic, fortunately.
6)   Ease of Cleaning
After some time, your mattress topper might end up with stains, dirt or an unpleasant smell. So look for those that are machine-washable, sparing you the effort of washing it by hand. 
7)   Warranty
Since a mattress topper can cost a fortune, a warranty is a must before buying. Most of the toppers you'll find will offer at least a 1-year warranty — better if it's 2-3 years or up!
So if the strap on your mattress topper breaks or that the product isn't as claimed in the shop, then the warranty will allow you to have replacement, repair, or even a refund. Terms vary across warranties, though, so be sure to check first!
The Best Mattress Toppers in New Zealand 
Now that you know the fundamentals, we'll now show you the best mattress toppers in New Zealand. They are:
1) Emma Mattress Topper
Best for Flippable Mattress Topper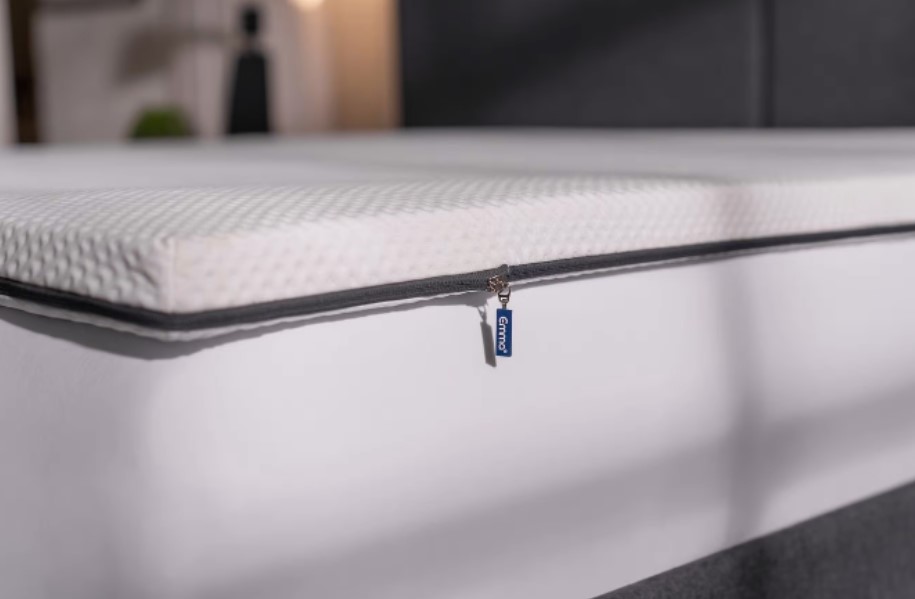 Price: $449
Emma – The Sleep Company is the world's leading direct-to-consumer sleep brand. Since it was founded in Germany in 2013, Emma has set out to awaken everyone's best through the transformational power of sleep.
Emma is constantly pushing the boundaries of what technology can do for our sleep. And with a team of sleep researchers leading the way of Emma's product development, there is no surprise that Emma has won more than 40 product awards globally.
Not sure if you want to get a soft or firm mattress topper? With Emma Mattress Topper, you will get both feel at the price of one!
What we love about this product is the unique combination of HRX foam and Airgocell foam. These are the ones that create the feeling of sleeping on clouds while giving your body optimal support.
When we mentioned that you will get both, it means that the mattress topper is reversible. If you are a firm-mattress-topper type of person, you should place the gray HRX foam side up to get the support you are looking for.
But if you prefer a softer topper, place the blue-ish purple Airgocell on top. With its point elasticity and open-air pore structure, you will be seeping comfortably cool.
Similar to others, it also has a breathable and washable cover. However, what makes its cover stand out is that it is made out of moisture-wicking fiber, which can reduce humidity and keep you fresh.
Plus it is made out of 98% polyester and 2% elastane.
Pros
Available in single, double, queen, king, king single, and super king
Emma flip topper is OEKO-TEX® Standard 100 certified (class 1, 16.0.93305)
2-in-1 mattress topper
Cons
Expensive in comparison to other products on the list but offers promos from time-to-time
Customer Reviews
Here are some reasons why customers love Emma Mattress Topper:
"Sooo comfortable
My mattress was still comfortable but getting old. This has made such a difference!! It has made it so much more comfortable and great support. No regrets, would definitely buy again." – Gill
"Should have done this years ago!
The perfect addition to my Emma mattress, giving it that soft feeling I was after! It also adds about 10cm of height making it easier getting in and out of bed" – Drew R.
2)  Peacelily Mattress
Best for a Luxury Plush Comfort Feel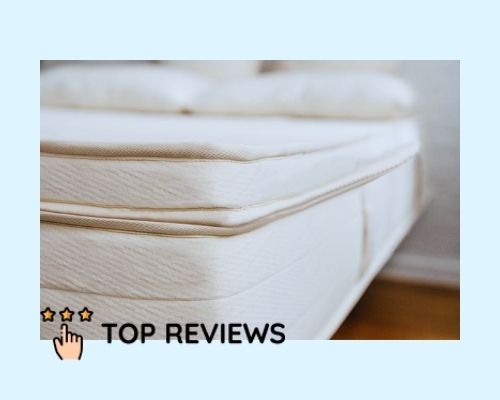 Price: $409
The Peacelily Mattress Topper has 100% natural latex rubber of 5cm in thickness to provide a luxury plush comfort feel to improve your daily sleep experience. It is made to provide extra pressure relief and to give you a softer, more cloud-like comfort.
It's also ideal for side and back sleepers, athletes, and those wanting a more luxurious feel. If you already have the Peacelily Mattress, this is definitely a match made in heaven!
It also comes with a breathable, GOTS-certified and 100% Organic cotton cover and is made to drastically improve your pre-existing mattress.
Furthermore, it is made with eco-INSTITUT and Oeko-Tex Class 1 certified, 100% natural Dunlop latex from tree-tapped and sustainable sources; Global Organic Textile Standard (GOTS) certified 100% organic cotton fabric and 100% organic cotton wadding. This means that their mattress topper meets some of the most rigorous natural and non-toxic standards, making it perfect for children and adults who are highly sensitive to these toxins.
Pros
10 year warranty
100 night trial
Safe and non-toxic
Built for durability
Cons
Pricier compared to other entries
Customer Reviews
Despite it's steeper price, the reviews that people have left confirm that the investment is well worth it. Here's what some have to say about it:
"My son left home and left us with the latex mattress that he chose (another brand, not Peace Lily). We bought that particular mattress because he has a severe dust mite allergy and we wanted latex. It suited him but for anyone else it was like sleeping on planks. I bought the Peace Lily Plush Topper in the hope it would enable my daughter to use hRead more about review stating Converted a rock hard mattress into a comfortable mattressis bed and it did. No more feeling every bone in your body and waking with a sore back. Now she has a comfortable night's sleep. So much cheaper than buying a new mattress and because it's latex my son can still use it when he visits."
"I have been through 4 mattresses in the past 6 years trying to find one that is both comfortable and supportive to my back and neck. I can never be comfortable for more than a few hours before my limbs hurt. I purchased this topper as a last resort as my husband refused to entertain buying yet another mattress. This topper is fantastic. It supportRead more about review stating Changed my lifes your body so well, I can't believe It. There are no bumps in the middle like most mattresses develop. It is so comfortable yet fully supportive. I wake up refreshed and bodily rested each day now. I would recommend this topper to everyone. I was nervous of taking a risk on spending the money but am so happy I did. Next mattress will be a Peacelily one for sure."
3)   Riva Paoletti Home Ambassador Mattress Topper (Super King)
Best for Value Mattress Topper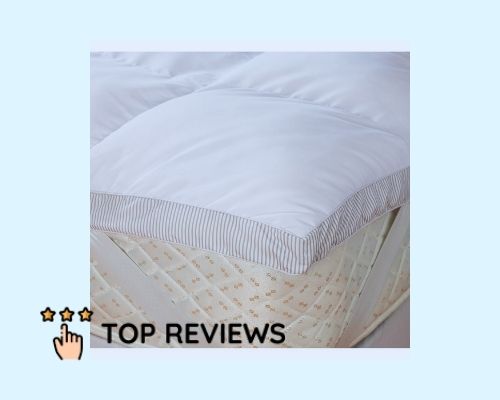 Price: $200.50
Looking to bring extra comfort and support to your Super King bed? You should check out the Riva Paoletti Mattress Topper!
It feels very soft and comfortable, as it is made from pure polyester. That includes the fillings, which are enclosed in box stitches going across the full length of your mattress.
Elasticated straps ensure a secured fit preventing the topper from moving about. It's also simple to install — just place it on top of the bed and fit in the straps for each corner.
Also, the Riva mattress topper can be machine-washed. It has to be set at 30 degrees using a mild detergent to protect the fabric and preserve its life span.
Pros
Provides extra comfort and support
Fashionable box-stitched design
Elasticated straps fit securely to your mattress
Machine-washable 
Cons
Expensive
Has to be redistributed to stay flat
Customer Reviews
On Amazon UK, the Riva Paoletti received mixed reviews. Customers mentioned that it became lumpy and needed to be shaken everyday for it to be flat and even.
However, it was not the case for the majority of owners. These people said that it provided good comfort and warmth, and reduced the discomfort of the springiness of their mattresses.
One buyer, Aimee Willies, shared her experience:
"The Topper got here extremely quickly first of all. Came in a little zip up bag you can keep it in if you move/travel about etc.
When we put the Topper on my bed last night it looked really really tiny, but then when you stretch the straps over your original mattress its a perfect fit and it feels amazing to sleep on.
Its like a little cloud and I couldnt feel ANY of the hideous springs I used to be able to feel (QUITE ALOT):) 
Overall a good little buy, really nice feel and for the price .. ITS PERFECT!
😀
Cant wait to get back in bed!"
4)   Downia Feather Bed Mattress Topper
Best Overall Mattress Topper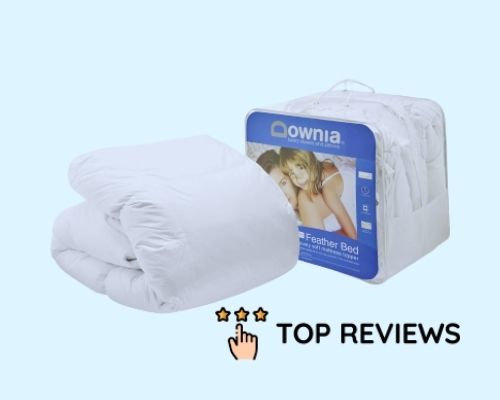 Price: $187.75 – $285.04
Get a great night's sleep with the luxurious comfort of a feather mattress. The Downia Mattress Topper consists of 95% duck feather and 5% duck down.
It has a baffled construction on top. Its main function is to hold the filling in place, in addition to improving air circulation and keeping you warmer or cooler in any season.
This mattress topper can be easily secured onto your mattress and is available in a range of sizes. It also comes with a 1-year guarantee for your peace of mind.
Needless to say, this mattress topper is fully washable too. Make sure to refer to its care label instructions so that you'll get the most out of it.
Pros
Comfortable, warm, and soft
Breathable fabric
Fully washable
1-year product guarantee
Reasonable price 
Cons 
Not for those who'd like a firmer bed 
Customer Reviews
Though there aren't many reviews for this product, the buyers who did review it liked the product. They said that it provided warmth and softness, and that it came as advertised.
Here's the review of one customer, Llewellyn O'Connor, from Australia:
"Fantastically warm for the very cold Canberra conditions. My rescue cat loves it as well!"
And another shared on productreview.com.au:
"We recently stayed at 5star hotel where this product was on the bed because we checked it out before we left. So when we returned we went on line and brought it. Its just great we love it. You will too. Also keeps you warm. Highly recommend this mattress topper to anyone.
How soft it was."
5)   Moemoe NZ Made Wool Mattress Topper
Best Wool Mattress Topper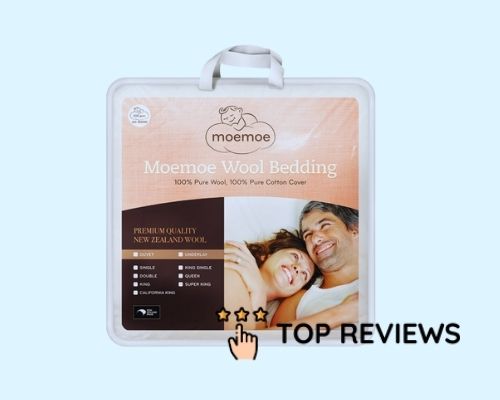 Price: $199 – $269
If you're not the feather or polyester type, then you might like to try out wool bedding instead. Made from 100% NZ wool, the Moemoe Wool mattress topper will not fail to comfort you on cold nights.
Wool regulates your body temperature to make you feel warm in winter and cool in summer. This is encased in cotton that adds comfort and softness to the topper.
Worried about accidentally spilling coffee or water on the underlay? No problem, as wool is moisture-absorbent and dries up faster, from its fibre to the outer covering of the topper.
Like the others, it has reliable flexible straps to keep it secured on your bed. This lets you have a restful sleep since it won't bunch, fold, or move out of its centre.
That just shows that this is one of the best mattress toppers in New Zealand!
Pros
Extremely comfortable & cosy
Made from natural NZ wool (500gsm)
Adjusts to your body temperature
Lightweight & moisture-absorbent
High-quality cotton covering
Cons
Slightly heavier than other types
Higher-priced
6)   Living & Co Mattress Topper Ball Fibre
Best for Budget Mattress Toppers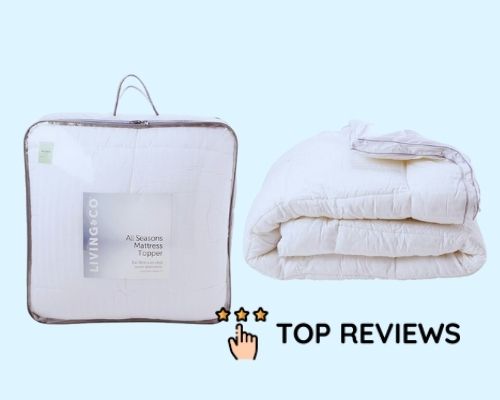 Price: $42 – $45
Are you on a budget and need a mattress underlay with ample comfort that won't break the bank? Well then, the Living & Co Mattress Topper would be a great choice!
Featuring ball fibre filling, this will make you feel relaxed and rejuvenated. No matter what position you are in, you'll get a restful and supportive sleep with this product.
Being ultra-fresh treated, this mattress topper hinders and decreases the growth of bacteria, fungi and dust mites, making it a good option for asthma and allergy sufferers.
To secure it onto your mattress, it also features a stretchable skirt bed glove that will envelop your entire bed.
Note that sizes are available in Single and King Single.
Pros
Great for those on a budget
Good option for asthma and allergy sufferers
Relaxing and supportive topper
Stretchable skirt bed glove
Cons
Needs to be readjusted for sleepers who move a lot
Thin mattress topper
Customer Reviews
Despite some owners saying that the mattress topper was too thin and needed to be moved back to place, others were happy about the product's comfort and feel.
One client, Louise, commented on the Warehouse:
"My mattress was getting a bit uncomfortable, then I came accross these Mattress Toppers, had the most cosy and comfortable sleep last night, now I won't need a new bed."
Also, Anne mentioned:
"Just love the comfort and the feel of this. This is the second one I have brought. Perfect in every way and love the price even more. Great fast delivery. Thanks so much."
7)   Linens & More Bamboo Mattress Topper
Best for Eco-Friendly Mattress Topper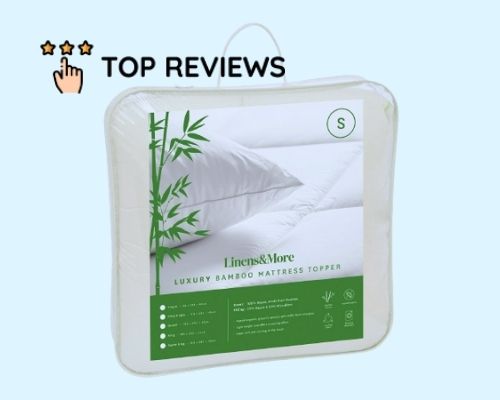 Price: $115.90 – $192.90
Is the summer heat irritating you in your sleep? Wait until you've tried Linens & More Bamboo Mattress Topper! This has a soft and very cool feel as you lie down on it.
Eco-friendly, this mattress topper's cover is made from 100% natural rayon, which comes from bamboo trees. It's also filled with a 50-50 combination of rayon and microfibre.
These contribute to making it hypoallergenic too — great for people who are prone to allergies or coughs. And since it's lightweight, it doesn't become a burden when setting up.
And this is absolutely washing-machine-friendly to keep it clean and germ-free all year round. Only wash the mattress topper in cold water and don't bleach or dry clean.
Other sizes are also available, by the way, including Super King and King Single.
Pros
Soft and comfortable feel
Has a cooling effect
Durable & eco-friendly product
Great for allergy-prone people
Cons
8) Beds4U Lily Bamboo Gel Mattress Topper
Best for Gel-infused Memory Foam Topper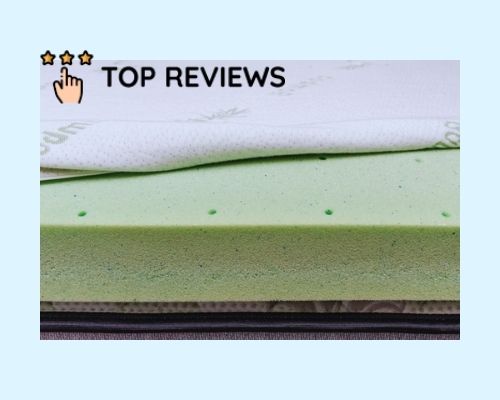 Price: $206
If you're looking for a mattress that can improve the softness of your bed and the overall quality of your sleep, then consider purchasing Beds4U's Lily Bamboo Gel Mattress Topper.
The gel-infused technology allows a more comfortable pressure on your body and allows excess heat to be released while sleeping. It's truly something you need to try for yourself.
Select the size you need and check out your very own bamboo gel mattress topper!
Pros
Comes with 1 year warranty
Wide range of sizes
Gentle support and cooling touch
Reduced motion transmission
Cons
A bit more expensive than other mattress toppers
And that's all for the best mattress toppers in New Zealand. There's no need to put up with broken or painful sleep or shell out for a new mattress — using one of these toppers will do!
Do you have any questions, opinions, or suggestions for us? If you have one, feel free to drop us a line and we'll get back to you as soon as we can.
Other than that, you may be interested in the best mattresses in New Zealand! Here we've featured great-quality mattresses if you'd like one for a super-relaxing sleep!