The 5 Best Meal Replacement Shakes in New Zealand
Need meal replacement shakes? Luckily, there's a range of impressive products out in the market today.
We tackled several criteria to slim down our choices for this list of the best meal replacement shakes in New Zealand. Our choices were based on nutritional profiles, flavors, cost per serving, and what customers had to say after they used the products.
Anyway, let's take a look at our reviews of the top meal replacement shakes available to Kiwis.
1. Optifast VLCD Shake by Nestle Health Science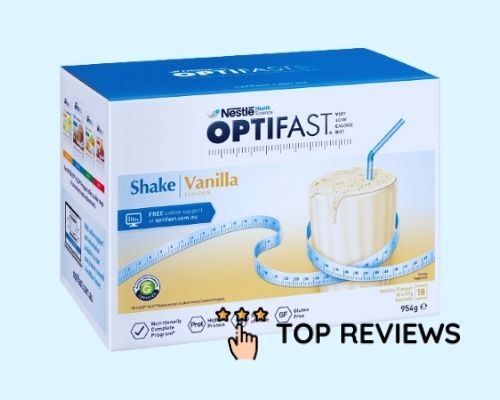 | | | |
| --- | --- | --- |
| KEY NUTRITIONAL INFORMATION(PER SERVING) | Calories | 207 kcal |
| | Protein | 17.5g |
| | Total Fat | 4.5g |
| | Carbohydrates | 22.5g |
| | Dietary Fiber | 3.6g |
Nestle Health Sciences creates weight-loss management systems and products for customers under the name Optifast. Their meal replacement program is aimed specifically at those that want (or need) to substitute "real meals" for a liquid diet.
Now, when you purchase an Optifast meal replacement shake you don't just get a product – you also receive a range of services along with it.
That is, you automatically become part of a comprehensive diet plan that provides medical supervision, counseling on nutrition, and the food that you will need to eat.
The VLCD in this shake stands for "Very Low Calorie Diet", which is officially defined as one that provides less than 800 calories in a day. This is well below the recommended daily intake of around 2,000 to 2,5000 calories.
However, Optifast's VLCD diet plan aims to provide enough vitamins, minerals, protein, fatty acids, and carbs to assist you with a fast and safe weight loss process. The program typically lasts about one month but can go as long as six weeks.
Not everybody can sign up for Optifast's offer, though – you'll need a body mass index greater than 30 and specific waist circumferences for men and women. It's also recommended for those with conditions such as diabetes, high blood pressure, hyperlipidemia, or osteoporosis.
Moreover, Optifast VLCD is often recommended and designed for patients before and after bariatric surgery. This allows you to receive the necessary food intake even though you're limited to a liquid diet.
There is enough protein in this shake to help preserve your lean muscle mass while helping you with weight loss. However, this isn't a product that you can use only occasionally – it's an entire program that should be followed to the letter.
We like that there are eight different flavors to choose from, but if you're drinking this shake for more than a month, it may not be enough variety for some people.
Don't worry, though, because Optifast also offers desserts, soups, and snack bars to help with the "withdrawal" you might experience from missing regular food.
Although controversial for regular use, Optifast is a great option to consider if you're serious about replacing all your meals with a nutritious shake. We like that signing up for the diet plan (if you qualify) puts you under the care of a health professional, making Optifast VLCD one of our top meal replacement shakes in New Zealand.
Both a meal replacement and weight management system
Suitable for use before and after bariatric surgery
Eight different flavors and variety of form factors
Comes with free consultations from health professionals
Not suitable for vegans
Contains gluten, dairy and soy
Customer Reviews
The flavor is delicious
"This has been a great protein shake. The flavor is delicious and I have not felt the least bit hungry after having one of these. I am using these as a meal replacement and have lost 20% of my weight so far!" – Lori V
Would recommend
"Tastes great and works when trying to suppress hunger. Also works when dieting and using in between meals. So many more flavours which is a bonus. Would recommend." – Krystel S
2. Isagenix IsaLean Shake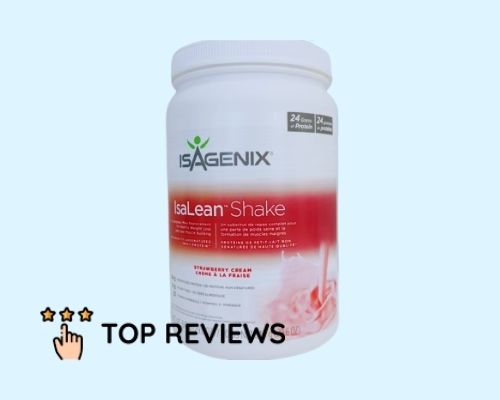 | | |
| --- | --- |
| PRICE | NZ $72.00 |
| PACKAGING SIZE | 854g (30.1oz) |
| SERVING SIZE | 2 Scoops (46g) |
| COST PER SERVING | NZ $3.88 |
| FLAVORS | Mocha, Creamy Dutch Chocolate, Creamy French Vanilla, Strawberry Cream, Birthday Cake Flavor, Chocolate Mint, Naturally Creamy Vanilla |
| WEBSITE | https://www.isagenix.com/ |
| | | |
| --- | --- | --- |
| KEY NUTRITIONAL INFORMATION(PER SERVING) | Calories | 240 kcal |
| | Protein | 24g |
| | Total Fat | 5g – 6g |
| | Carbohydrates | 20g – 24g |
| | Dietary Fiber | 8g |
Isagenix is an Arizona-based health and wellness company founded by Jim and Kathy Coover in 2002. They have received multiple awards and are the fourth-largest for-profit company in the state.
IsaLean Shakes can be consumed as part of Isagenix's diet plan or as a full meal replacement. The product contains essential nutrients and branched-chain amino acids to help maintain lean muscles while you're on a weight loss plan.
One serving of IsaLean Shakes provides 24 grams of protein, which comes from milk and unprocessed whey from grass-fed cattle. They have an equal amount of carbohydrates with 8 grams of fiber, 11 grams of sugar, and 5 grams of fat.
The fats in Isalean Shakes come predominantly from powders of medium-chain triglycerides, sunflower oil, and olive oil.
The carbs, on the other hand, are from flaxseeds and a prebiotic fiber named isomaltooligosaccharide.
Moreover, you'll get 23 vitamins and minerals in a single serving, which provides, on average, around 70% of your recommended daily intake (RDI). Moreover, you'll get a generous dose of B12 and biotin, at 600% and 450%, respectively.
IsaLean Shakes provide 240 calories with each serving, which is supposed to be enough as a meal replacement. They are also non-GMO, gluten-free, soy-free, low glycemic, and have nine enzymes to help with digestion.
You'll also find that these shakes have probiotic bacteria of the lactobacillus acidophilus variety. These are supposed to aid in nutrient absorption and minimize the stress on your gut.
Surprisingly, these meal replacement shakes have around 80 grams or one-third cup of caffeine in each serving. So if you have a low tolerance for the stimulant, you may want to watch your coffee intake.
Although IsaLean Shakes come in seven flavors, only four of these are available in New Zealand as of the time of this writing. These are Creamy Dutch Chocolate, Chocolate Mint, Creamy French Vanilla, and Strawberry Cream.
In short, IsaLean makes our list of the top meal replacement shakes in New Zealand because they have a good balance of healthy fats, undenatured protein, and carbs.
The product keeps you feeling full while maintaining a low intake of calories as well, which can help you power through a weight loss plan.
No artificial ingredients
Gluten-free and soy-free
Not suitable for vegans and lactose intolerant
High sugar content
Customer Reviews
No mid morning cravings
"Since I've been no mid morning cravingshaving a shake for brekkie I've had more energy than ever before and no mid morning cravings!" – Natalie Dean
Tastes amazing!!!
"Both of these are fantastic and you can make some Delish smoothie flavours, my favourite is the chocolate shake with a frozen banana, coconut flakes and a teaspoon of peanut butter, blended with ice! Tastes amazing!!!" – Nadine Ramm
3. FastFX Meal Replacement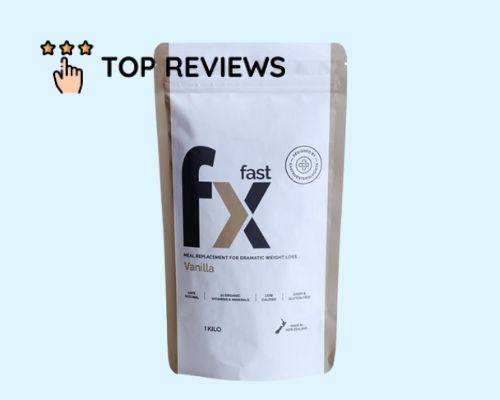 | | |
| --- | --- |
| PRICE | NZ $85.00 |
| PACKAGING SIZE | 1 kg |
| SERVING SIZE | 3 level scoops |
| NO. OF SERVINGS | 20 servings |
| COST PER SERVING | NZ $4.25 |
| FLAVORS | Vanilla, Salted Caramel, Chocolate, Green Apple, Spiced Chai, Mixed Berry |
| WEBSITE | https://www.fastfx.co.nz/ |
| | | |
| --- | --- | --- |
| KEY NUTRITIONAL INFORMATION(PER SERVING) | Calories | 204 kcal |
| | Protein | 27.4g |
| | Total Fat | 0.4g |
| | Carbohydrates | 16.4g |
| | Dietary Fiber | 5.5g |
One of the best reasons to consider FastFx (beyond its nutritional profile) is that it is manufactured and packaged right in New Zealand! So, if you're into supporting local businesses and products, then this is an option worth considering.
The formula for FastFx Meal Replacement was developed by Dr. Alasdair Patrick, a Gastroenterologist based in Auckland. He was the Director of the Gastroenterology Clinic at MacMurray Centre and Head of the Gastroenterology Department in Middlemore Hospital.
Fast Fx is essentially a doctor-approved, science-backed weight loss product. It was created alongside a team that included nutrition production specialists, dietitians, psychologists, and gastroenterologists.
This meal replacement shake is also 100% vegan and natural with no additives, preservatives, refined sugars, or artificial sweeteners (including Stevia). It is also dairy-free and gluten-free and contains no allergens!
Since FastFx is plant-based, it uses pea protein instead of the usual whey protein or milk powder. As such, it's suitable for the lactose intolerant and is also kinder to the digestive system.
It has 21 vitamins and minerals that include the full vitamin B Spectrum, which is essential to protect your immune system during a weight loss plan. FastFx is also a source of fiber, amino acids and contains probiotics.
FastFx is marketed as having been created by doctors and also recommended by doctors to manage weight and weight-related illnesses. It's also said to be suitable for use before and after any digestive-system-related surgery that limits the intake of food.
Despite it being clinically tested and approved, however, it's best suited for those 18 to 65 years old only. Those with any medical conditions, including eating disorders and active pregnancies, must consult their doctors first.
FastFx further advises that you'll need to avoid kumara, legumes, lentils, green peas, potato, parsnip, and turnip when using the meal replacement shake.
Moreover, you'll need a blender to mix FastFx thoroughly since it's all-natural and has no anti-caking agents. You'll also need to give it a good shake right before consuming it because the powder tends to settle on the bottom.
To make your life easier, you can always make the day's batch ahead of time and keep it in the fridge until you need it. You can safely replace your three meals a day with FastFx, which could help you lose as much as 4 kilograms in one week.
Despite its mixability and food restrictions, FastFx maintains its spot on our list as one of the best meal replacement shakes in New Zealand. It has a solid flavor profile, all-natural ingredients, and a nutritional profile that will make any Kiwi proud to give it a try.
Created by health professionals
All-natural and vegan
Has full Vitamin B spectrum
Need to avoid certain foods when taking the shake
Difficult to mix without blender
Customer Reviews
The results have been immediate
"I have been using Fastfx for two weeks now, and the results have been immediate. If one can discipline themselves to stick to the plan, then the results will come." – Stephen
Cheap and effective
"Well I started mine 3 weeks before Xmas – mad I know, but I lost about 7 kilos and then I lost weight over Xmas (but did have those 2 days off) and lost more up to New Years as well. I was amazed! I only replaced 2 meals per day, breakfast and lunch. So filling too. Sometimes I put 1/2 a banana in my shake as well. Thanks fastFX – in total I have lost about 14 kilos and kept it off. Cheap and effective." – Helen, Auckland
4. BSN SynthA-6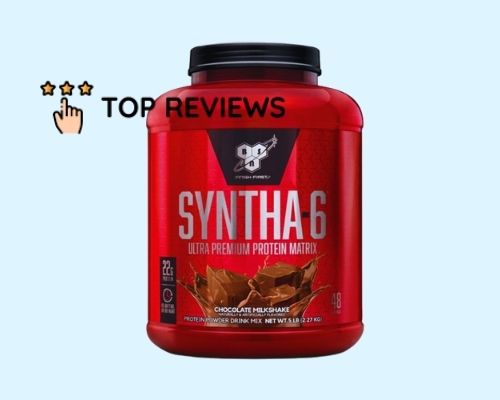 | | |
| --- | --- |
| PRICE | NZ $99.95 |
| PACKAGING SIZE | 2.7kg (5lbs) |
| SERVING SIZE | 1 Rounded Scoop (47g) |
| NO. OF SERVINGS | 40 servings |
| COST PER SERVING | NZ $2.50 |
| FLAVORS | Chocolate Milk, Choco Peanut Butter, Cookies 'n Cream, Banana, Vanilla, Strawberry, Choco Cake Batter |
| WEBSITE | https://www.gobsn.com/ |
| | | |
| --- | --- | --- |
| KEY NUTRITIONAL INFORMATION(PER SERVING) | Calories | 193 – 200 kcal |
| | Protein | 22g |
| | Total Fat | 6g |
| | Carbohydrates | 10g |
| | Dietary Fiber | 5g |
Bio-engineered Supplements & Nutrition or BSN is based in Illinois, Chicago, recognized for having a very wide range of supplements in its product lineup. They are best known for their flagship product Syntha-6, which is an "ultra-premium" protein powder.
Unlike the other products in our list, Syntha-6 is marketed towards those looking to amp up their protein intake. Despite this misdirection, it's popularly used as a meal replacement shake because of its nutrient and ingredient profile.
Syntha-6 has been on shelves for two decades, which should lend to its credibility as an effective product. However, as its name implies, this protein powder has more additives and synthesized ingredients than natural ones.
You'll find it has a lot of thickeners, stabilizers, artificial sweeteners, artificial colors, and other non-natural ingredients in its profile. You'll even find non-essential ingredients like polydextrose, which is a synthetic fiber with questionable benefits.
However, despite its long list of ingredients (which can seem foreign to most people), not all synthetic additives are necessarily bad. They are just something that the health-conscious are wary of and tend to stay away from.
Nevertheless, its protein matrix consists mostly of whey concentrate and whey isolate, and slow-digesting proteins. The other protein sources are calcium caseinate, micellar casein, milk protein isolate, egg albumen, and glutamine peptides.
In a single serving, Syntha-6 offers 22 grams of protein, 200 calories, 15 grams of carbohydrates, and 6 grams of fat. With these numbers, it's not the ideal protein powder but hits the sweet spot as a meal replacement shake.
It also offers 10 grams of essential amino acids and 15% of daily calcium requirements to help your muscles and bones remain strong as you forgo regular meals.
With high-calorie content and a moderate dose of carbohydrates, Syntha-6 is more than capable of being a meal replacement shake. Although it may not be all-natural, it still has a nutritional profile that can help hit your macronutrient targets of the day.
Mixes easily by shaking for ten seconds
Can be used any time of the day, even before bed
Cost-effective
Contains various synthetic ingredients
Low in carbohydrates
Customer Reviews
Its so good
"Absolutely love both vanilla and the chocolate flavors. The chocolate tastes like a chocolate milkshake but better and I enjoy adding fruits to the vanilla flavored protein powder, its so good" – Ngaire T.
Outstanding value for money
"Great Shake! This shake powder is excellent, the flavour is delicious and it is outstanding value for money." – Pete W.
5. Horleys Slim Shake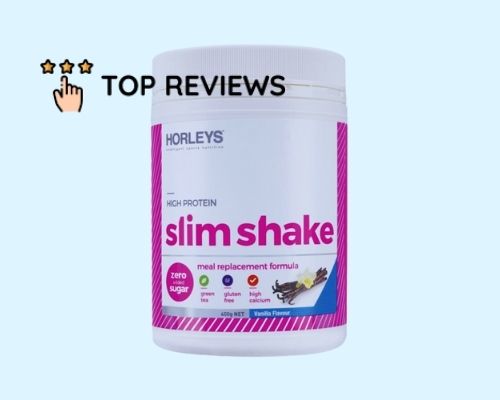 | | |
| --- | --- |
| PRICE | NZ $24.99 |
| PACKAGING SIZE | 400g |
| SERVING SIZE | 28g |
| NO. OF SERVINGS | 14 servings |
| COST PER SERVING | $1.75 |
| FLAVORS | Chocolate Vanilla |
| WEBSITE | https://www.horleys.com/ |
| | | |
| --- | --- | --- |
| KEY NUTRITIONAL INFORMATION(PER SERVING) | Calories | 99 kcal |
| | Protein | 11.8g |
| | Total Fat | 0.8g |
| | Carbohydrates | 10.8 |
| | Dietary Fiber | 3.2g |
Horleys is a homegrown, locally-owned Kiwi company that was founded over four decades ago. They specialize in sports nutrition products and performance supplements.
Horleys SlimShake is their entry into the meal replacement category, designed specifically for women only. It has all the essential vitamins and minerals, offering a complete nutritional profile in an easy-to-make shake.
If consumed with water, SlimShake has a modest profile, which is ideal for those who are watching their caloric intake. A single 28 gram serving contains 99 calories, 11.8 grams of protein, 10.8 grams of carbs and only 800mg of fat.
For those who plan to use SlimShake as a meal replacement, it's best to mix it with low-fat milk to amp up its nutritional profile. Doing so boosts calories up to 214 kcal and almost double the amount of protein and carbohydrates.
The high-protein content can help soothe your cravings and increase your metabolism while still giving you an extra boost of energy. It has vitamins, minerals, no added sugars, and is certified Halal as well.
Although it doesn't have the full vitamin B spectrum, it still provides 40% of your B6 and 50% of your B12 daily intake. But more importantly, it has 106mg of calcium in a single serving, which is especially beneficial to women.
Even though SlimShake can replace your meals, Horleys recommends combining it with regular balanced meals with smaller portions. Moreover, if using it as a weight-loss shake, a cardio-based exercise regimen will complement it well.
SlimShake only comes in Chocolate and Vanilla, which is probably why you won't fully replace your meals with this shake. However, if you have a busy schedule or don't want to bulk up while working out, this Horleys product is an option worth considering.
Gluten-free with no added sugars
Has green tea to help with weight loss
Specifically designed for women
High in calcium
Not suitable for vegans or lactose intolerant
Lower macronutrient profile
Only one packaging size
Customer Reviews
So yummy!
"I've used this for the past 6 weeks as a lunch replacement and have lost 5kgs -bonus that they're (both Vanilla and Chocolate) are so yummy!" – Helen C.
By far the best
"I have tried quite a few similar proteins but this one is by far the best. I love the ingredients list and it also isn't too sweet. I've tried others that are far too sweet and gritty, but this one is also nice and smooth. I like to mix in some Maca powder with the chocolate." – Kate
What to Look for in a Meal Replacement
Meal replacement or weight loss shakes can be quite controversial, which is why you should choose carefully. A product that doesn't give you necessary daily macronutrient targets could negatively affect your health.
In our opinion, you should still consult a health professional before incorporating meal replacements into your diet. Before you do, here are a few things to watch out for when selecting a product.
1. Protein
Just like with regular meals, the amount of protein in a meal replacement shake is crucial because it helps satisfy your hunger and keeps you feeling full. To be on the safe side, your meal replacement shake should have at least 15 to 25 grams of protein per serving.
2. Calories
On average, a total meal replacement shake should have at least 200 calories, but some can offer as much as 400 calories per serving. Anything less will not provide enough nutrients, which means you'll have to supplement it with real food.
3. Fiber
Fiber is another critical ingredient to watch out for – they digest slowly and can keep you satiated. Having at least 3 to 5 grams of fiber helps your body absorb nutrients more readily and helps your digestive tract process food.
4. Carbohydrates
Carbohydrates are important elements when charging our bodies' energy stores to complete tasks and refuel after exercise. Too few carbohydrates can result in feeling tired, lack of concentration, and bloating or digestion issues related to a lack of fiber found in many carb-dense foods.
5. Additives
Just like with any other food, you should keep an eye out for any additives, fillers, or chemicals. Meal replacement shakes can have a long list of ingredients, which sometimes makes it easy for companies to "sneak" in some questionable items.
FAQs about Meal Replacement Shakes
---
We've come to the end of our list of the best meal replacement shakes in New Zealand! We hope we got you started in the right direction toward your weight loss journey!
If you're currently drinking a meal replacement shake that's not our list, we'd love to hear about it, by the way. Send us a message so we can check it out!
We would love to hear about your current fitness journey and goals as well! If you need a little help figuring out how to go about it, you might want to check out these articles: