The 12 Best Moving Companies in Tauranga
A huge amount of time and effort is involved when it comes to moving and transporting your items with you. But you can take it easy this time, since we're listing the best
moving companies
in Tauranga today. With these movers and packers, all deft with the handling of items from the cheap in value to the exorbitant, your initial worries will be gone. From bedside lamps, bureaus, and cabinets through to washing machines, breakable items, and large artworks, it's "problem solved, case closed" when you work with them! So now, let's take a look at the best moving companies in Tauranga. With this list, you will find the right mover for your full house or office transfers.
1.  Transworld International Removals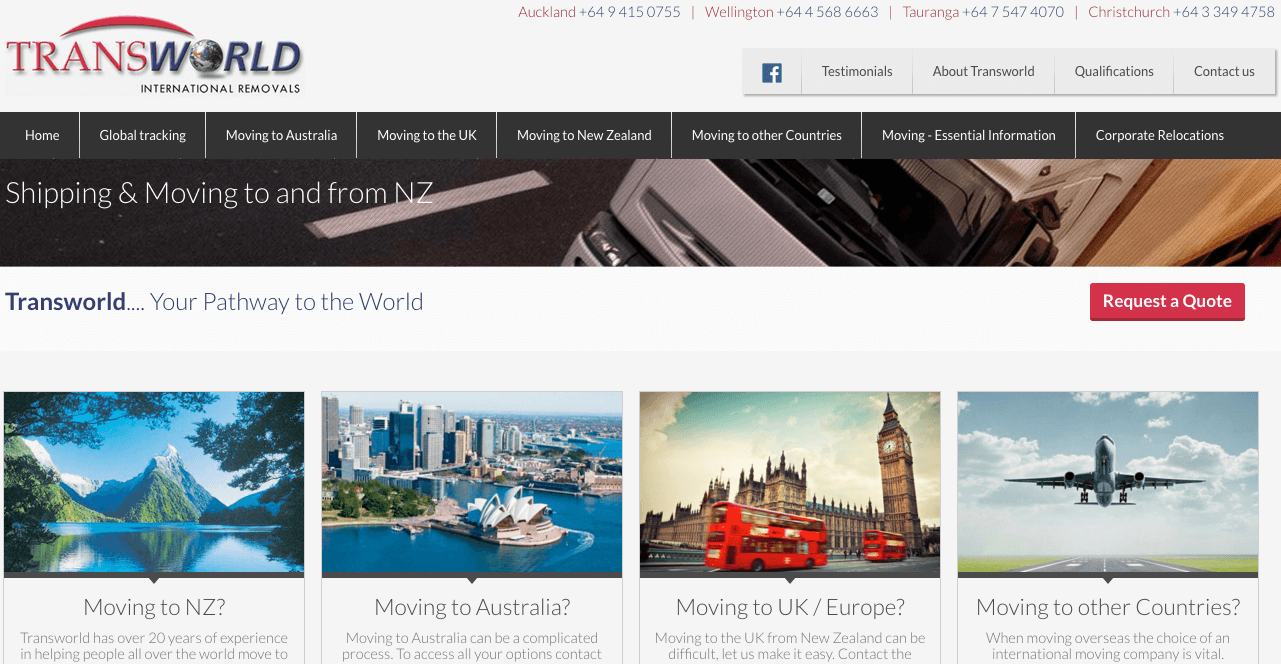 | | |
| --- | --- |
| BEST FOR  | Stress-Free Move |
| SERVICES | House Move, Office Move, Intercity Move, Overseas Move, FCL Shipment |
| WEBSITE | https://www.transworld.co.nz/ |
| ADDRESS | 49 Whiore Avenue, Tauriko, Tauranga 3171, New Zealand |
| CONTACT DETAILS | 07 547 4070 |
| OPERATING HOURS | Monday to Friday: 8:00am to 5:00pm Saturday to Sunday: Closed |
Transworld is a FIDI- and FAIM-accredited mover company based in New Zealand. With those credentials, it plans, organises, and executes to the highest commitment and standard the entire process, all to make your move stress-free. It has 20 years in this industry. You can expect that from communication, packing, moving, relocating to filling forms and customs and quarantine, you're in great hands. Though its head office is based in Auckland, it has branches all over the country. In Tauranga, it is located at 49 Whiore Avenue in the Tauriko suburb. And it also gives you competitive prices, safety handling of your goods, and express moving. Hence, you can rely on Transworld as one of your best
moving companies
in Tauranga.
Highlights
Committed to giving you a stress-free move
20 years of experience
Has branches across New Zealand
FIDI and FAIM certified
Customer Reviews
Deandra Cutajar mentioned on Google Business:
"I needed to leave NZ in a hurry and so I left my stuff with a friend. I was in contact with Sandra who patiently guided me through the processes and making sure I have all the documentation required. I highly recommend Transworld, my stuff are now a step closer to getting back to me. Sandra has been very responsive to my emails and answered each questions with the highest professional expertise I could hope for."
2.  Crown Relocations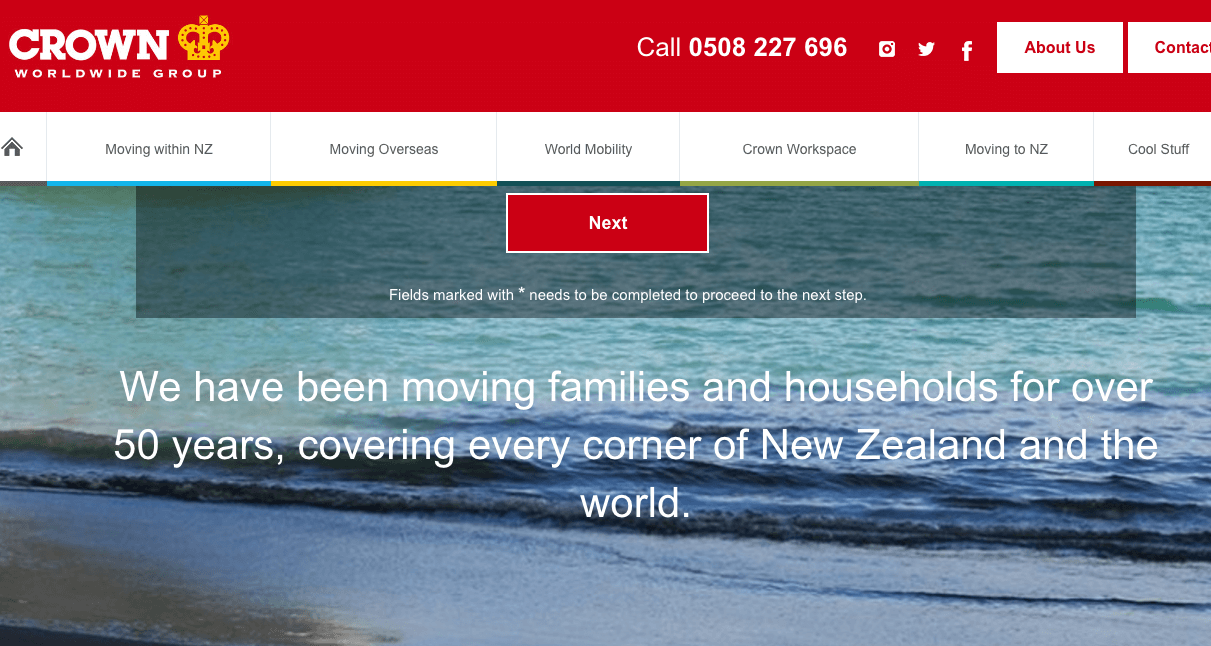 | | |
| --- | --- |
| BEST FOR  | Fast and Efficient Relocations |
| SERVICES | House Move, Office Move, Overseas Move |
| WEBSITE | https://www.crownrelo.co.nz/ |
| ADDRESS | 141 Newton Street, Mount Maunganui, Tauranga 3116, New Zealand |
| CONTACT DETAILS | 0508 227 696 |
| OPERATING HOURS | Monday to Friday: 8:00am to 5:30pm Saturday: 8:00am to 5:00pm Sunday: Closed |
If you need a hand in moving from the topmost city in the North to the blip on the South Island, choose Crown. They will handle your house, office, or overseas move above your expectations. Crown has a large fleet of moving trucks that are located at key places for faster and more efficient relocations. New to the fleet is the Northerner truck, capable of containing 3 full households of furniture and large items in one go! It takes only 3 days for this long-haul truck to cover the entire country. It's been moving Kiwis for an amazing 50 years and that experience can come in handy. Take advantage of that. As they're a member of the New Zealand Overseas Movers Association (NZOMA), you can be assured of the prime safety, care and handling of all your items both local and international.
Highlights
Fast and efficient moving
50 years' industry experience
Member of New Zealand Overseas Movers Association (NZOMA)
Handles both local and international moves
Customer Reviews
Reg Ackland commented on Google Business:
"We have used Crown Relocations three times moving between NZ and Australia ,each time we have been very pleased with their service, twice we have taken our car with us and they are very helpful in organising the formalities associated with this."
3.  Interior Storage and Removals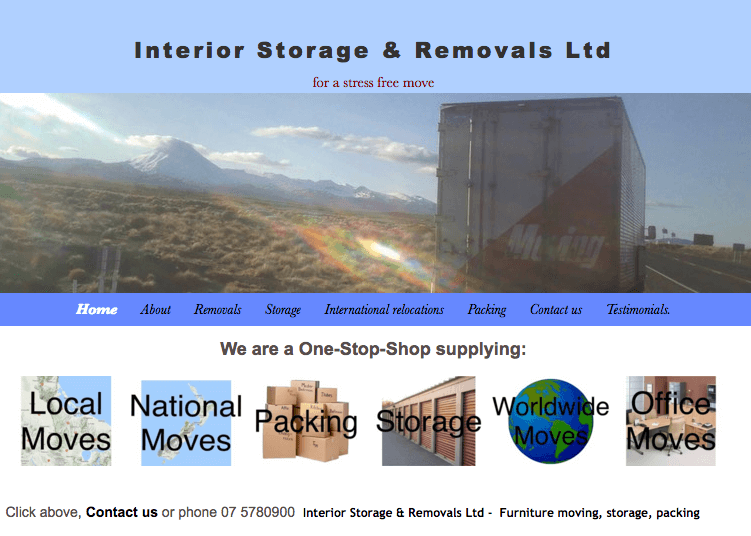 | | |
| --- | --- |
| BEST FOR  | Talented and Careful Team |
| SERVICES | Local Move, National Move, Packing and Storage, Worldwide Move, Office Move |
| WEBSITE | http://www.movingnewzealand.co.nz/ |
| ADDRESS | 11 Woods Avenue, Matua, Tauranga 3110, New Zealand |
| CONTACT DETAILS | 07 578 0900 0800 57 0077 |
| OPERATING HOURS | Monday to Sunday: 8:00am to 9:00pm |
The mission of Interior Storage and Removals is simple and concise: to bring the best service and price to the people. This company is run by Peter and Carolyn Turner acquiring it in 1996. Interior Storage and Removals offers packing, moving, and storage services locally and abroad. If you only need a standalone removal, packing, or moving, you can get in touch with them. Their team is made up of expert packers, storing things carefully in trucks or containers so your items can be delivered to you without one bit of damage. And we shouldn't forget the storage bit, which is another of their specialties. You can also house your items safe and secure in their facilities with CCTVs and electric perimeter fences.
Highlights
Best service and pricing
Offers a complete range of services
Tremendously skilled packers
Well-guarded storage facilities
Customer Reviews
CC and family wrote an email to Interior Storage and Removals:
"Hi Dave, just a quick email to say thank you to you and your team for the great job you did for us moving our furniture to  Perth.  But the biggest thank you has to go to the lovely people that packed and stowed it in the container as we have received it all with not one bit of damage which to the people that unpacked it was pretty rare.  So thank you again and please pass on our thanks to our packers."
4.  Pack and Send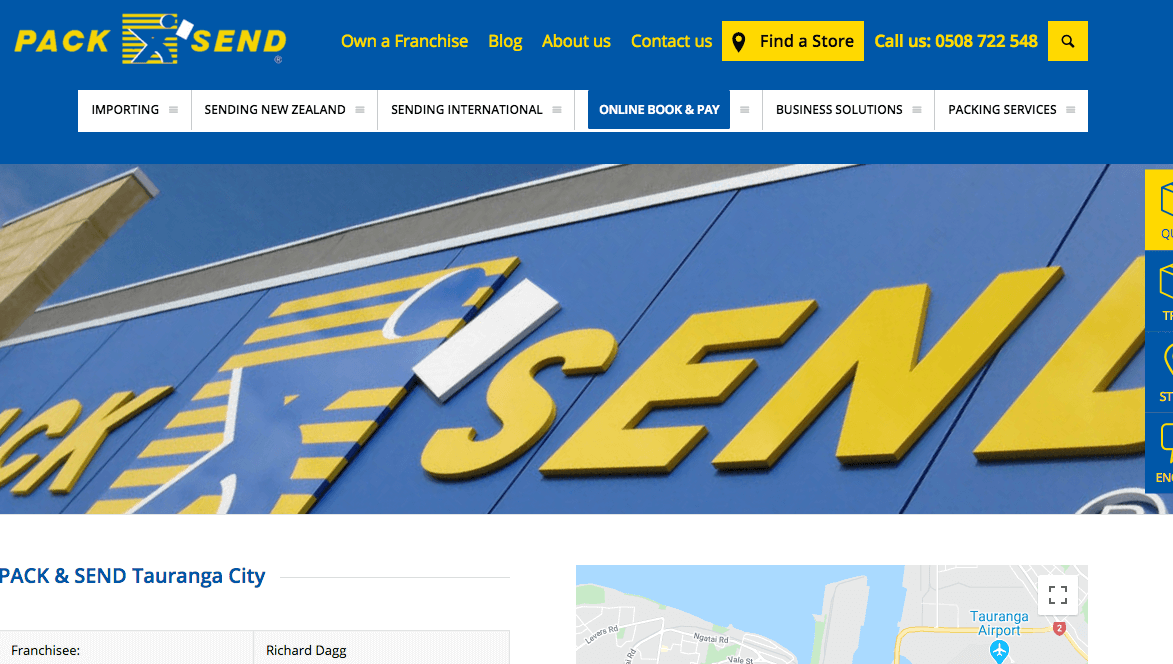 | | |
| --- | --- |
| BEST FOR  | Economical Prices |
| SERVICES | Moving and Furniture Removal, Courier Services, General Freight Services, Fragile Freight Services, Packing Services and Overseas Move |
| WEBSITE | https://www.packsend.co.nz/couriers-tauranga-willow-street/ |
| ADDRESS | 128 Willow Street, Tauranga 3110, New Zealand |
| CONTACT DETAILS | 0508 722 548 |
| OPERATING HOURS | Monday to Friday: 9am to 5pm Saturday: 9am to 12pm |
Pack and Send helps to move your items — not in bulk but in smaller takes. The reason is that with small-scale furniture removal and sending, more care and attention can be given to the goods. That ensures your items come to your door with no breakage or damage. And they can arrange for a more economical price as they can pack those items in with other furniture, safely. In terms of moving and furniture removals, they can help you relocate your home, office or rented place and assist you with packing, handling each item with care and meticulousness. In addition, if you are sending a parcel inter-city, or overseas, leave it to Pack and Send, one of your best
moving companies
in Tauranga.
Highlights
Specialise in small-scale removal and transport
Affordable services
Meticulous and careful staff
Customer Reviews
On Google Business, Ed Kruger said:
"Easy, hassle free, all inclusive service. We used Tauranga office to send couple large parcels national and international, and the level of service was outstanding. Will use again, and recommend with no hesitation."
5. Get Moved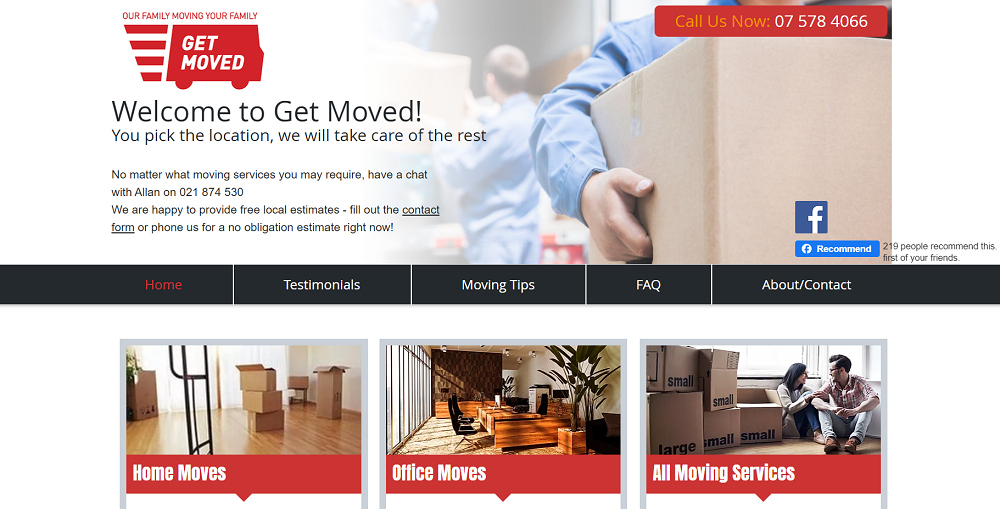 | | |
| --- | --- |
| BEST FOR  | All moving services |
| SERVICES | Home moves, Office moves |
| WEBSITE | https://www.getmoved.co.nz/ |
| ADDRESS | |
| CONTACT DETAILS | 021 874 530 | 07 578 4066 |
Get Moved is a family-run business that has been in the industry for over 60 years. With that many years of experience under the company's belt, it's no surprise that they're capable of handling any more, regardless if it's residential or commercial. Another great facet about Get Moved is that they're open to accepting both short-range and long-range moves, having moved people all over North Island for many years; and they can accomplish both without damaging any of your belongings! So, if you need a company that you can trust with your move, contact Get Moved today.
Highlights
Free local estimates
No obligation estimates
Competitive rates
Family-run business
Excellent customer service
Customer Reviews
Here are some reviews left by satisfied clients:
"We have used these guys 4 times now and highly recommend them. They get the job done fast and make a stressful time much easier." -Jonny Bloore
"Great guys to deal with. They get the job done fast and you know your furniture is being taken care of. Would definitely recommend them to anyone moving house ?" -Jasmin Igglesden
6.  Pacific Auto Rentals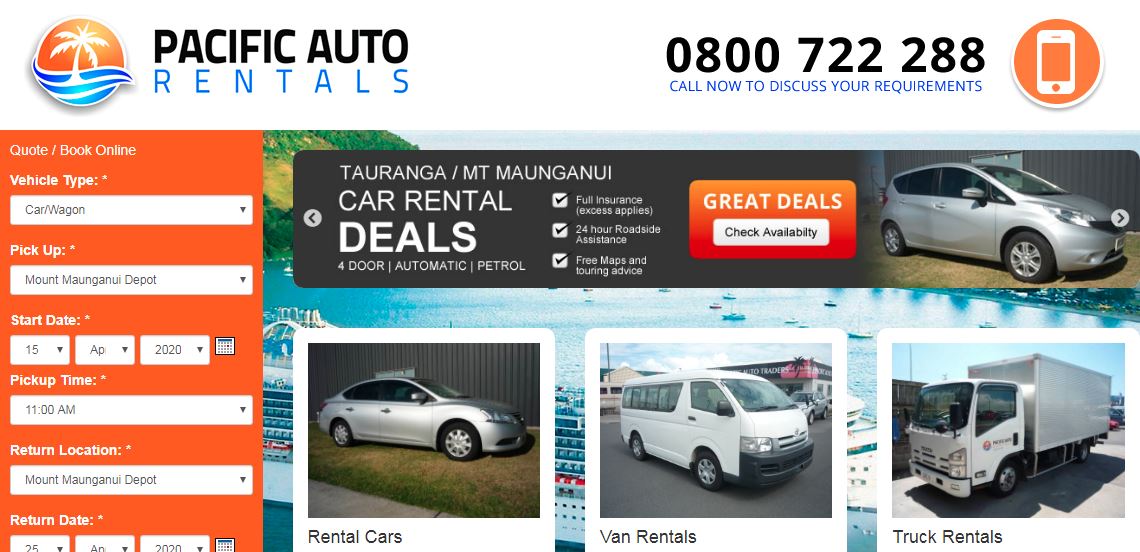 BEST FOR 
Affordable Car Rentals
SERVICES
Cheap Rental Car, Van or Truck
WEBSITE
https://www.taurangarentalcar.co.nz/
ADDRESS
Booth in Arrival Area, Tauranga Airport Terminal, 62 Jean Batten Drive, Mount Maunganui, Tauranga, New Zealand
CONTACT DETAILS
(07)574 2943 0800 722 288 0274 933 548 [email protected]
OPERATING HOURS

Monday to Friday: 8:00am to 5:00pm

Saturday: 9:00am to 3:00pm

Sunday: Closed
Pacific Auto Rentals has a great range of reliable and affordable Car, Van or Truck for rental. Suitable for the budget conscious customer. They're located up the road from Tauranga Airport, on Hewletts Road (driveway is located on Jean Battern Dr). They have been providing car rental services in and around the bay for 13 years. Whether you're after a small compact car to zip in and out of parks in the city, they also have large sedans or intermediate-sized cars to fit you and the kids, an SUV or UTE to cart all the gear up the mountain/ into the forest or perhaps you need to move 8-12 people between sports games or the orchard.
Highlights
Affordable car rentals
13 years of service
Have a large variety of cars, utes, SUVs and people movers to choose from
Customer Reviews
Bay Dragons Womens Dragon Boat Team reviewed the company on Google Business:
"Bay Dragons enjoy using Pacific Auto Rentals for all of our competitions throughout the year. Trips throughout the North Island are always accommodated well by Kevin and Karen. Appreciate your support and thank you for your wonderful Service! Would absolutely recommend!"
7.  2 Men and a Truck Tauranga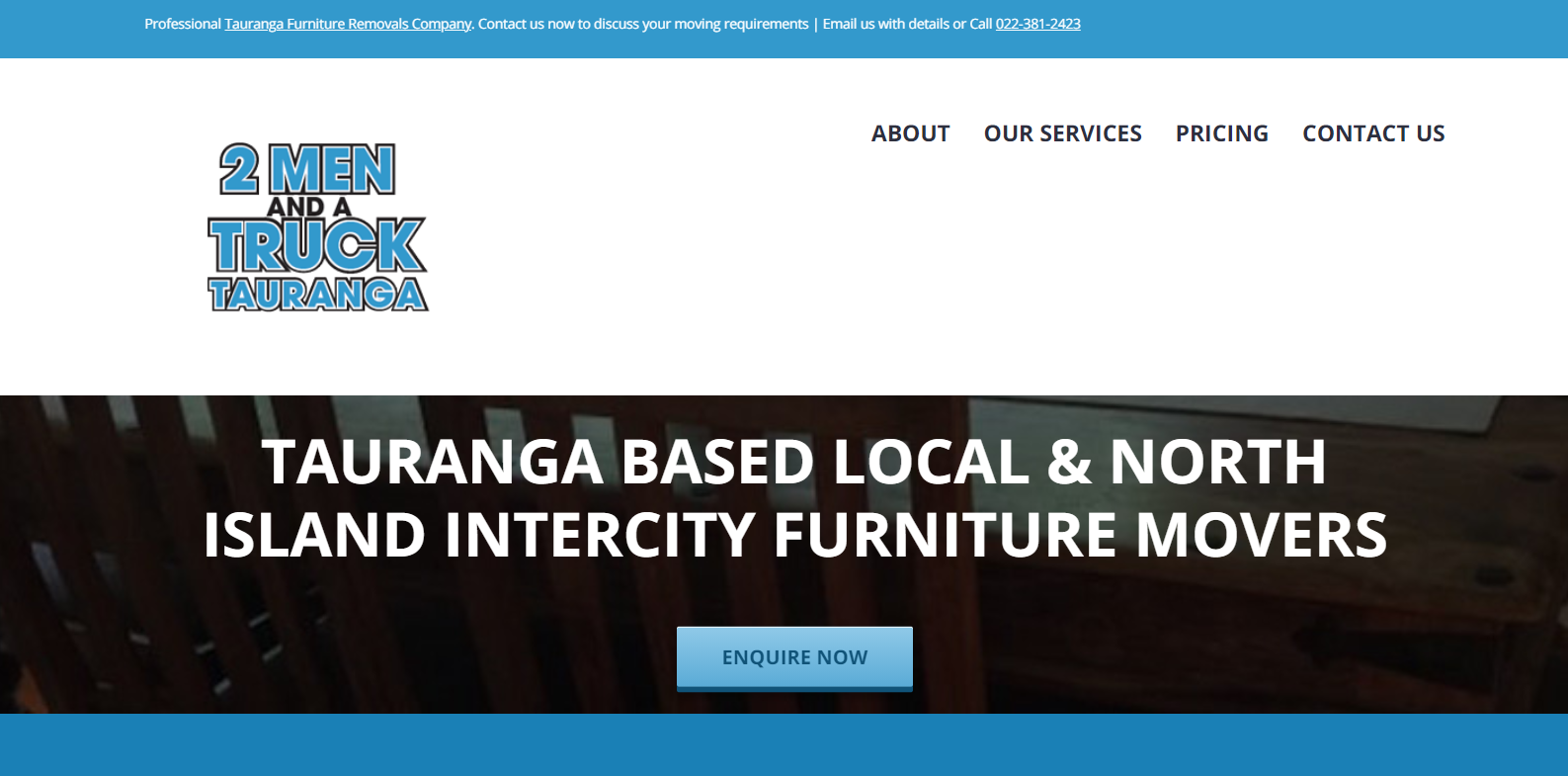 BEST FOR 

 

Local Tauranga and BOP moves of all sizes Intercity North Island moves up to 30m3
SERVICES

Tauranga Intercity furniture removals, office and storage moves, retail deliveries, general freight, logistic solutions

WEBSITE

https://www.taurangafurnitureremovals.co.nz/

CONTACT DETAILS

022-381-2423

[email protected]

OPERATING HOURS

Monday to Friday: 7.00am – 8.00pm

Saturday: 7.00am – 6.00pm

Sunday: 1.00pm – 6.00pm
2 Men and A Truck Tauranga delivers just as its name suggests, with 2-3 men working on your furniture removals project.
They are a professional and careful Moving Company focusing on removals both across the wider Tauranga region as well as Bay of Plenty and North Island Intercity.
Common Intercity moving locations including surrounding regions such as Auckland, Hamilton, Coromandel and Central North Island districts and more.
These movers operate a moving truck with tail-lift and can cater for loads of up to 30 cubic meters in one trip. As an added convenience for intercity or regional moves in particular, they can load up the day before and store your load in-truck overnight.
Their 2-men and a truck package is sufficient for most moves and removals. This package begins at $185/hr while 3-men and a truck option, which is best for larger moves or, starts at $220/hr.
With the help of their fully-equipped truck, they can handle furniture removals, retail deliveries, freight packages, and office & storage relocations.
Highlights
Fully-equipped moving truck
2-3 men removals professionals
WINZ Registered Removals Provider
Loading up and overnight in-truck storage
Customer Reviews
Customers also love the responsiveness and professionalism of this company. Jason Swain left this review on Google Business to share such a positive experience with Two Men and A Truck:
"Great team, very careful and with good communication. I was concerned that some of my more fragile items wouldn't survive the move but these guys did an awesome job and I would recommend this team to anyone would asks me. Thanks!"
8.  U-Pak Removals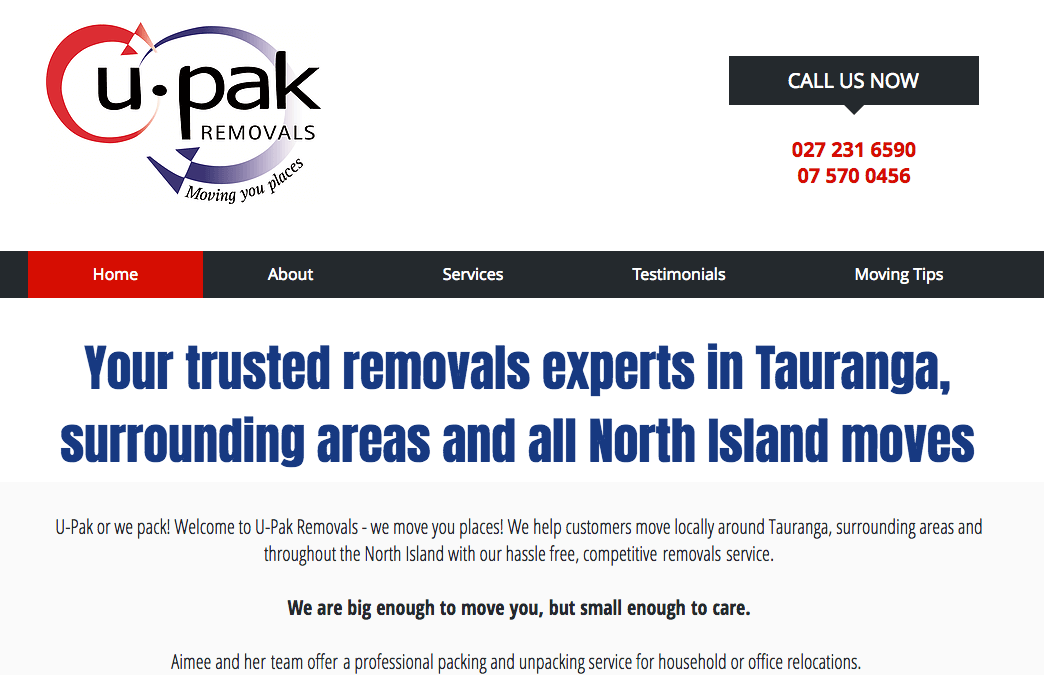 | | |
| --- | --- |
| BEST FOR  | Hardworking and Good-Natured Movers |
| SERVICES | Residential Move, Office Move, Secure Storage, Moving Materials |
| WEBSITE | https://www.upak.nz/ |
| ADDRESS | Tauranga, New Zealand |
| CONTACT DETAILS | 027 231 6590 07 570 0456 |
Looking for reliable and hard working movers with value for your money? U-Pak is the perfect choice for the best
moving companies
in Tauranga. Aimee, who joined the company after the late owner Fred August, leads her team of movers and packers at U-Pak Removals. Aimee works just as hard as the guys and even lifts boxes and drives the moving truck to help with the clients' moves. She is an all-around worker who makes a remarkable example for her team… not to mention well-known for being a joy to work with. Furthermore, you don't have to be in a hurry, as this North Island mover offers secured storage locations across the Island for convenience or as you're making the finishing touches to the new place. For home and office moves throughout Tauranga, its suburbs and anywhere in the North Island with efficiency, care, and great rates, this company is for you.
Highlights
Safe and efficient moves anywhere in the North Island
Hardworking, efficient and gregarious team
Competitive rates
Secured storage for your furniture and personal effects
Customer Reviews
Carolyn Nemeth was grateful of the excellent service of U-Pak Removals. She wrote:
"I have been raving about you and your team to friends, and I realised that I haven't said anything to you. We were so impressed with how hard-working, efficient, kind and good-natured you all were. It certainly made the day more enjoyable.
Thanks again."
9.  Bay Portable Storage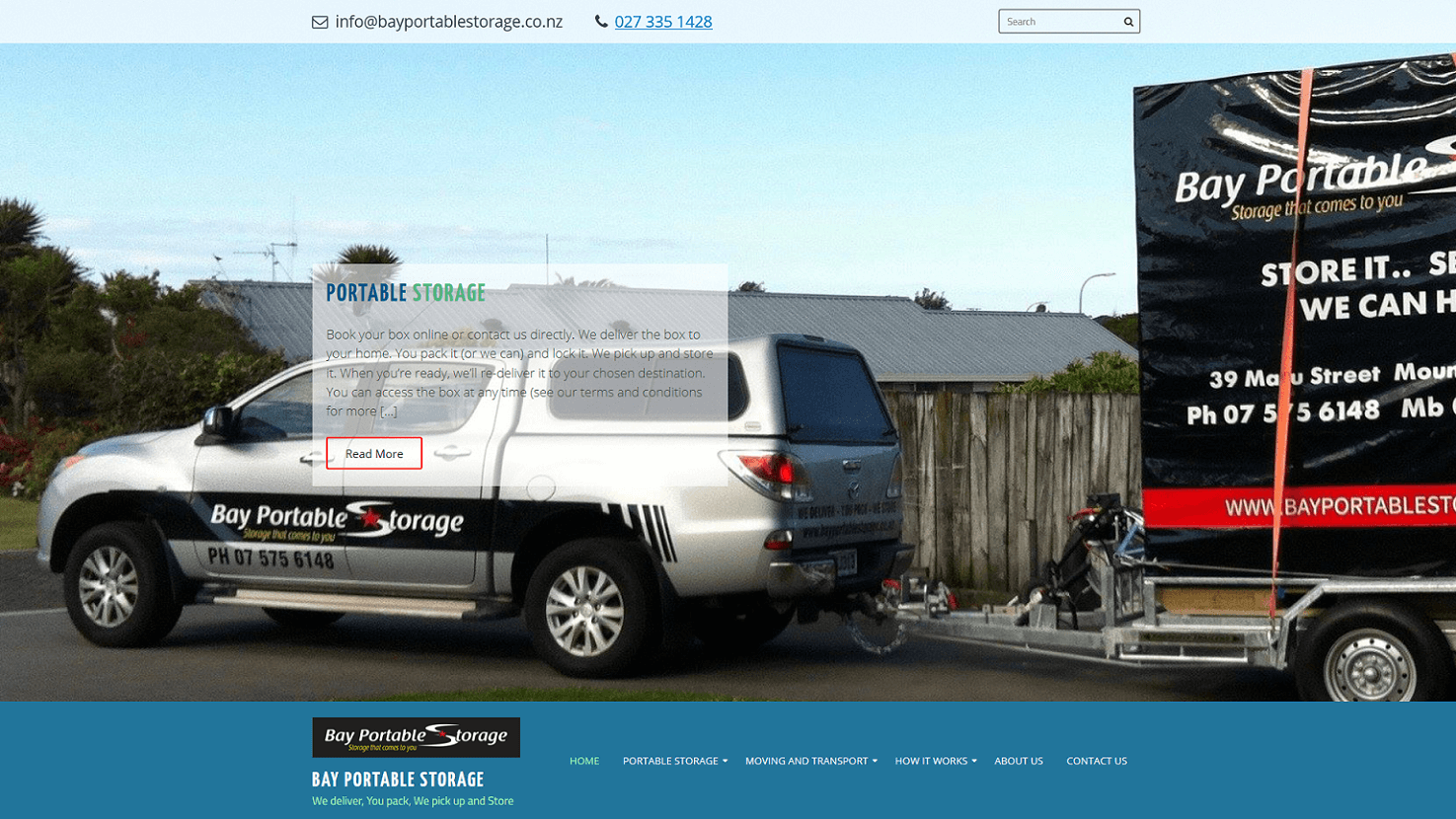 BEST FOR 
Customer Service
SERVICES
The Blue Barn Secondhand, Moving and Transport, Spa Deliveries and Relocations
WEBSITE
http://www.bayportablestorage.co.nz/
ADDRESS
39 Maru Street, Mount Maunganui, Tauranga 3116, New Zealand
CONTACT DETAILS
027 335 1428 [email protected]
OPERATING HOURS

Monday to Friday: 9:00am to 5:00pm

For weekends or after hours, you can send them a text
To help save the customers' valuable time and money, Bay Portable Storage was created. Over the years they've built up an excellent reputation, with their focus on making sure that their customers get the best customer service they can receive. They are always willing to go the extra mile to make it happen. At Bay Portable Storage, they keep the stress to a minimum. They deliver the storage box, you pack it, they pick it up and re-deliver it when you are ready.
Highlights
Focuses on customer service
Simple and efficient deliveries
Lighter prices
Customer Reviews
Nigel said on Google Business:
"Thanks Bay Portable Storage for making the transport and storage of our furniture so easy and convenient. You went the extra mile picking it up from our house and packaging it ready for shipping to our son in Wellington. Tremendous service and very reasonable rates."
10.  BOP Movers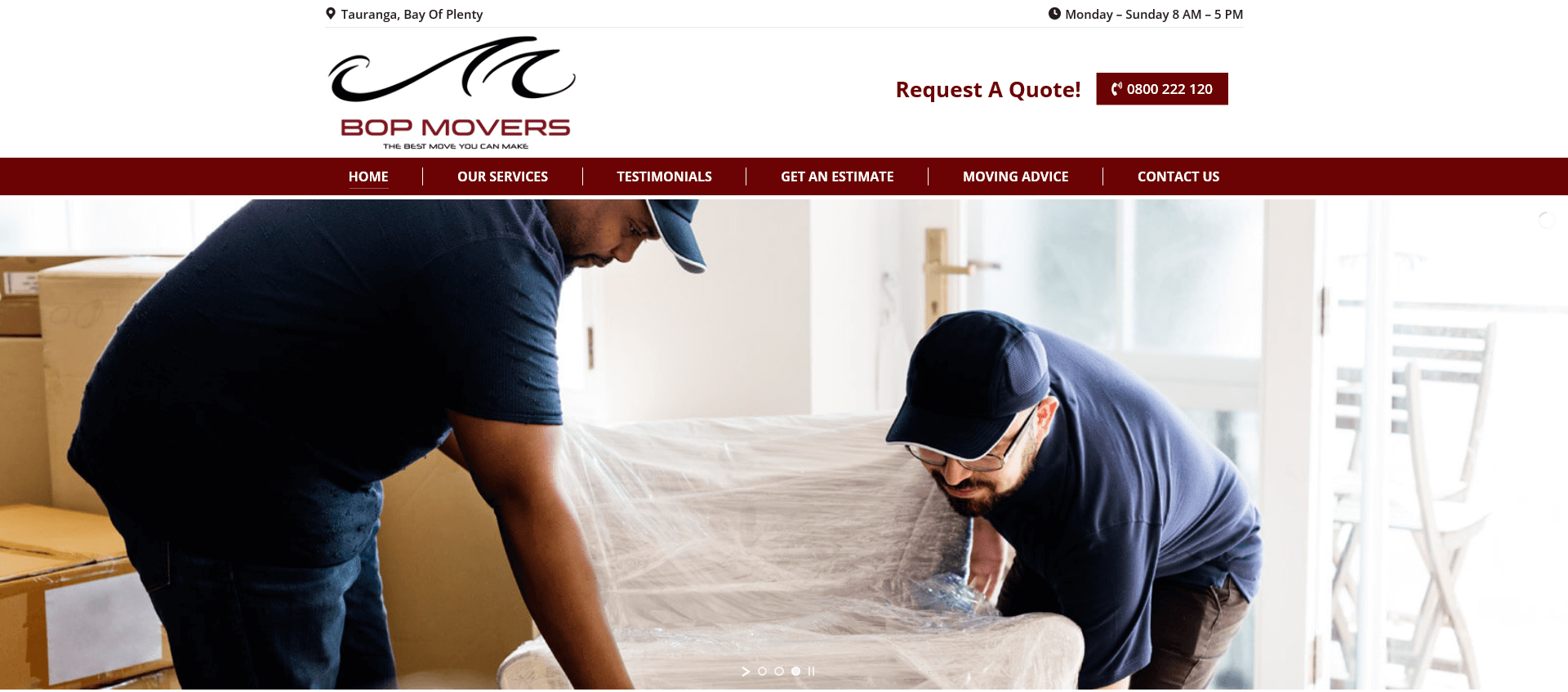 | | |
| --- | --- |
| BEST FOR  | Convenient Moving Services |
| SERVICES | Inter-island, Intercity, Moving, Packing, Storage, Piano Deliveries |
| WEBSITE | http://www.bopmovers.co.nz/ |
| ADDRESS | Tauranga, Bay Of Plenty |
| CONTACT DETAILS | 0800 222 120 [email protected] |
BOP Movers is a local furniture
moving company
that focuses on long distance removal. They offer full packing, moving and storage services. It doesn't matter whether you need shifting from a house, business, a flat or an apartment– they will make removal day a stress and damage free day for everyone. Whether you have a single item or a six bedroom house packed to the rafters, you won't have to worry, for you have professional movers that can help you all throughout the day. They offer different kinds of moving services to give their customers more options. You can be very specific about what you want to move and you'll have a relaxed day, courtesy of BOP Movers.
Highlights
Specialises in long-distance moving
Hassle-free handling and transport
Offers a wide range of moving services
Customer Reviews
Here's Toby Struthers review on Facebook:
"BOP Movers have just relocated our possessions from Tauranga to Auckland. They were excellent communicators, all our stuff arrived promptly and in perfect condition. Would highly recommend to all."
11. Able 2 Movers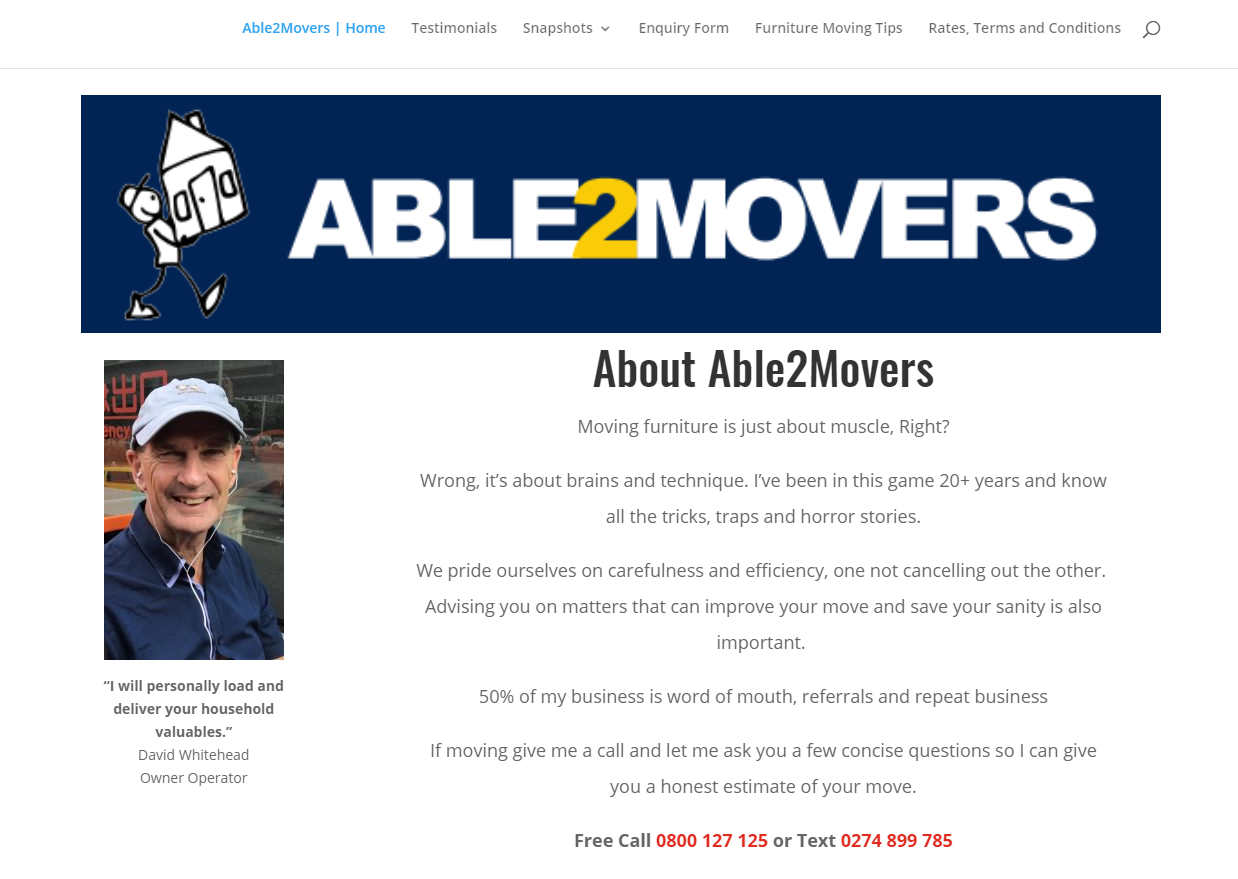 | | |
| --- | --- |
| BEST FOR  | Island-Wide Move |
| SERVICES | Local Moves Long Distance Moves Packing Service Business Moves |
| WEBSITE | https://able2movers.nz |
| ADDRESS | R403 Welcome Bay Road Welcome Bay, Tauranga 3175 |
| CONTACT DETAILS | 0800 127 125 or 0274 899 785 |
Able2Movers is a local
moving company
known for its speed, efficiency, and carefulness — traits that are much appreciated in this line of business. David Whitehead, the owner and operator, has over 20 years of experience in moving. His skills and expertise, as well as his expert team, give him the ability to successfully bring items from one location to another with little to no casualties involved. Service-wise, Able2Movers offers moving services for residential properties and offices. Moreover, they're also open to doing the packing to help remove some of the stress involved with moving. Clients who are interested should also note that Able2Movers has a large service area, not only including Tauranga but the entirety of North Island as well.
Highlights
Caters to residential and commercial clients

Quick and careful moving services

Large service area
12. Trust Movers
| | |
| --- | --- |
| SERVICES  | Nation-wide movers, warehouse moving, storage, package, office moving, house moving, loading & unloading, insurance, and moving truck. |
| WEBSITE | https://trustmovers.co.nz/ |
| ADDRESS | 3/155 Stoddard Road, Mount Roskill, Auckland 1041 |
| CONTACT DETAILS | 022 027 7299 0800 22 3331 |
| OPERATING HOURS | Monday – Friday, 8:00 AM – 6 PM Saturday – Sunday, 8:30 AM – 4:30 PM |
Moving can be such a pain, especially if you don't have all the necessities in order to move your goods without damaging them. Luckily, we have Trust movers to help you with that. They are one of the leading moving companies based in Tauranga, Hamilton, and Auckland, New Zealand.
Trust Movers provides affordable and stress-free long-distance moving services all over New Zealand. They offer a variety of services including nationwide moving, warehouse moving, storing, packaging, office moving, and house moving.
They aim to make moving cost-effective and time-saving by having their staff trained in order to pack, move, and store your precious goods as efficiently and safely as possible. Furthermore, they offer discounts and seasonal offers and you can also call them in order to be informed on all their option plans. 
They have garnered great reviews from clients and several professionals such as AutoDec, FrontStage, and Ray White. With everything they have to offer, it surely is  one of the moving companies in Tauranga that we should take an eye on.
Highlights
Prioritizes the safety of your goods
Professional and punctual staff
Great customer service
Customer Reviews
Moving with Trust Movers was so easy
"Moving with Trust Movers was so easy – great communication during the quoting stage, a reminder/confirmation message before the day, and prompt communication and service on the day. They even arrived a few minutes early! The movers were friendly and efficient, nothing was a problem, and they took good care of the furniture and boxes. They checked items before they loaded them, and made sure I was aware of any pre-existing damage before they put things on the truck – great attention to detail. I'll definitely use Trust Movers again." – Daria Williamson
Jolly natured staff
"We moved yesterday and booked trust  movers for their service. We are very happy with their punctuality. Ravi and Dylan arrived on time and also they confirmed the arrival time via phone call which was so convenient. Both Ravi and Dylan are very jolly natured. They ensured that the moving should be smooth and careful. We highly recommend trust movers and hapoy to give them five star ratings."  – Shalini Sharma
---
And that's it for the best moving companies in Tauranga! If you find some company you think will give you the smoothest move, just look up their website, or better yet call them. Have you used these
moving companies
before? You can comment, opine, ask, or suggestions down below and we will get back to you. If you enjoyed this article, feel free to check out our
best moving companies in Auckland
. We've made a list of great moving companies there that maybe you could use or suggest to your friends in that area.