The 6 Best New Zealand Hotels
Looking for a wonderful hotel to stay in for your vacation or trip in Aotearoa? If you are, you're in the right place, as we've compiled the best New Zealand hotels here for you.
We curated our list by selecting hotels that have awesome views, comfortable rooms, considerate and personable staff, and delicious food.
Additionally, we factored in what customers said about the hotel, to make sure we took into account others' opinions and experiences.
Your adventure awaits and these hotels will be perfect for that! So without any further ado, we now show you the best New Zealand hotels!
1) Rydges Auckland
Rydges Auckland is a premier 4-star hotel located at the heart of Auckland. This hotel is known for warm Kiwi hospitality and offers accommodation, venues and dining.
Interweaving London, Sydney and New York styles, the rooms are minimalist and lovely but comfortable. The hotel rooms are equipped with modern amenities, including free WiFi.
For dining, their CUT Restaurant offers a diverse and tasty selection of meat and seafood dishes, all made from locally sourced and fresh ingredients.
Furthermore, the Viaduct Harbour is within a short distance of many shops, bars and restaurants. This makes Rydges Auckland a pleasure to stay at!
Highlights
Minimalist and lovely rooms
Warm and hospitable staff
Includes modern features and amenities
Offers a variety of flavoursome food
Excellent location
Customer Reviews
Val Ogorman, one of the hotel guests, said on Google Business:
"The staff very hospitable and friendly. Food was delicious with good choices. All services were very well organized. A worthwhile visit."
2) Millennium Hotel New Plymouth Waterfront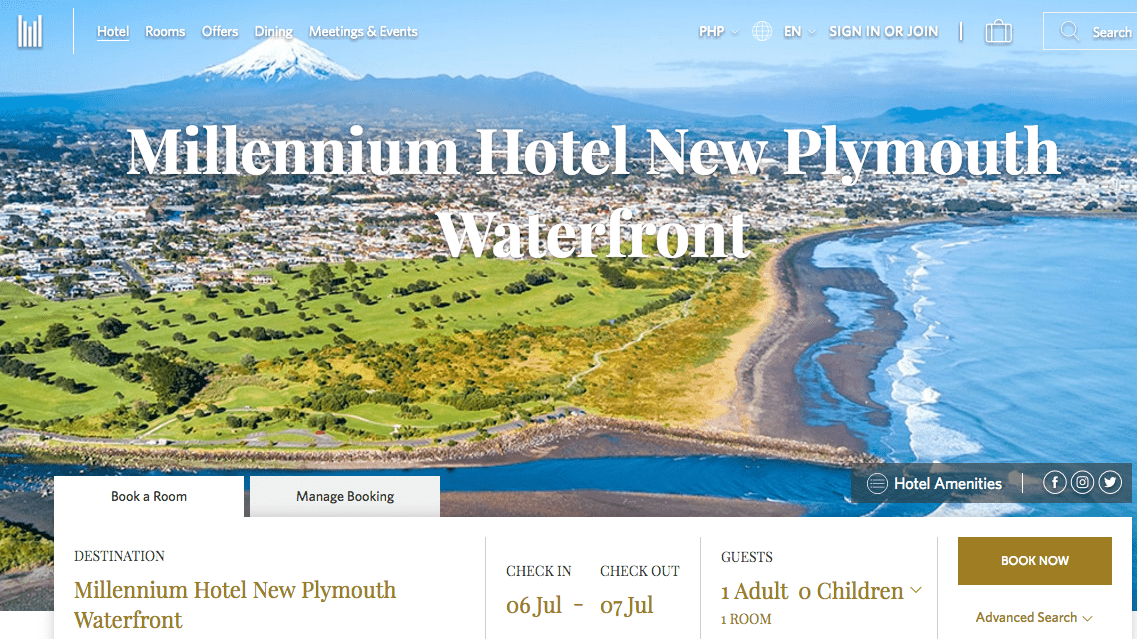 If you're looking for a hotel with wonderful staff and stunning views, then you should book in Millenium Hotel New Plymouth Waterfront.
They offer 42 well-appointed and spacious rooms with super-fast WiFi and SKY network with 50+ channels. Their suites have a spectacular view of the ocean scenery.
You can also break a sweat in their Rampage Fitness round-the-clock. And their Salt restaurant is decorated nicely and serves delicious food throughout the day!
One of the best New Zealand hotels, Millennium Hotel New Plymouth Waterfront can even host an intimate wedding reception or business event for you. See why it made our list?
Highlights
Modern, well-appointed and spacious rooms
Breathtaking views
24/7 access to Rampage Fitness
Delicious food
Provide a space for your event or wedding
Customer Reviews
One guest, Estelle wrote on Google Business:
"Absolutely amazing stay. Booked for a special birthday and on arrival was upgraded to a room with an amazing view of the sea. While out for a dinner at the on site restaurant "salt", a lovely note and some chocolates were awaiting me on my arrival back to the room. Wonderful staff, very friendly and accommodating. Would definitely return and recommend to others."
3) Hilton Auckland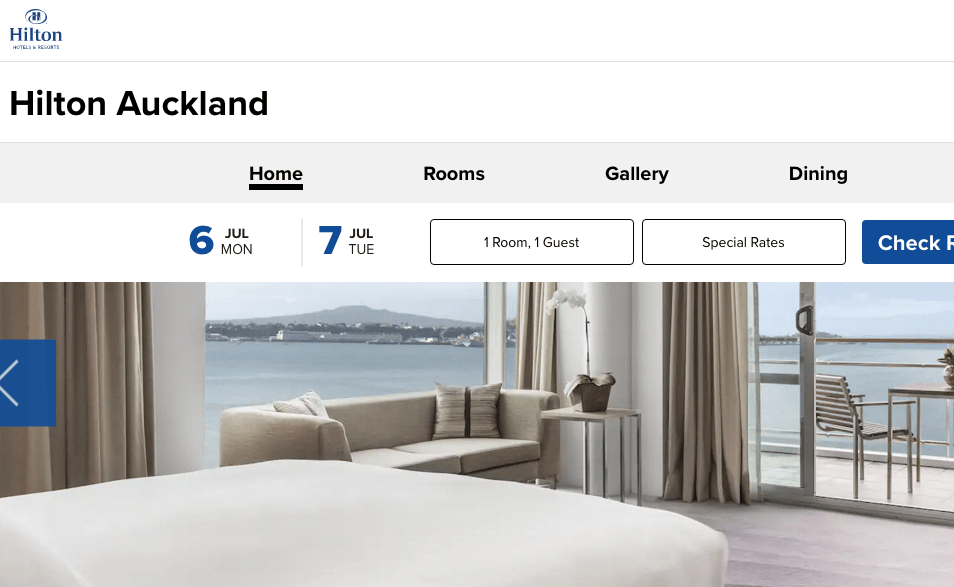 Soak up some sun and the breathtaking views of the ocean at Hilton Auckland! The 5-star nautical hotel stands tall and proud right on the end of Princes Wharf.
The room and suite's decor matches well with the ocean background. At night, the distant towns shine like small coloured gems while the dock is nicely illuminated too!
Next, there's an outdoor pool with a transparent underwater window that allows you to see the harbour from a unique vantage point. The gym is also open for your personalised workout routine.
And at the FISH restaurant, you'll be treated to a selection of superb food and beverages. Their ingredients are always fresh and sourced through sustainable means.
Highlights
Breathtaking, panoramic views of the ocean
Modern and well-adorned rooms
Great gym and pool facilities
Offers fresh and sustainably sourced food
Customer Reviews
Here's a comment of one guest, 639beverley, on Tripadvisor:
"My family and I have just had a superb couple of days stay at Hilton Auckland. Perfect stay 10 out of 10 for service. The hotel has a perfect location, enabling us to enjoy the Viaduct, watch the comings and goings of the harbour ferries, as well as being close to our favourite Crab Shack and Gelato place. We were treated to the massive cruise ship Princess Majestic berthing right next to the hotel, while we were there …. awesome!"
4) Trinity Wharf Tauranga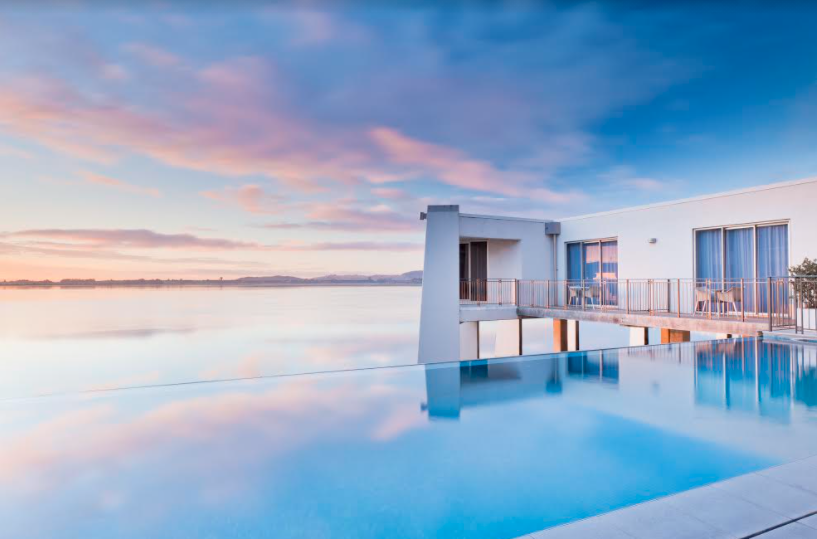 | | |
| --- | --- |
| BEST FOR | Waterfront view |
| SERVICES | Rooms & Apartments, Dining & Drinks, Meetings & Events |
| WEBSITE | https://www.trinitywharf.co.nz/ |
| ADDRESS | 51 Dive Crescent, Tauranga 3110 |
| CONTACT DETAILS | +64 7-577 8700 |
Situated on the cusp of Tauranga's CBD, Trinity Wharf is a premium waterfront hotel and conference facility. Built on three piers that stretch out over the water's edge, the panoramic water views framed by floor to ceiling glass bring the tranquil elements of the outside world in. Marine life can often be seen cruising in the shallows surrounding the hotel and you might even spot a seal or two sunning themselves on our private pontoon.
Coastal decor elements such as white walls, flowing curtains and interiors layered with neutrals, blues and sandy tones impart the type of tranquil ambience needed for a relaxing weekend escape, business meeting or work trip away.
Whether for work or for play, our guests come to relax from the hustle and bustle of city life, and to soak up the relaxed, laid back atmosphere.
123 rooms, suites & apartments | Infinity edge swimming pool | onsite restaurant | 7 flexible conference spaces
Highlights
Proximity to local shops, airport, and natural tourist sites

Heated bathroom floors and king-sized beds

Choice of waterfront or urban view

123 rooms and 7 conference halls
Customer Reviews
Customers equate their experience to that of a tranquil getaway despite Trinity Wharf Tauranga's urban location. A customer named Zaynah left this review on Booking.com:
"FELT LIKE I WAS IN BALI. This place was absolutely amazing!! We stayed in a room which had pool access. The room was great. Pool was beautiful with views. Breakfast was delicious. Most importantly the staff was great from the get go especially Carl who I spoke to before booking. Both hubby myself and my 7 month old had the best time! We will definitely be back! Thank you!!"
5) InterContinental Hotels & Resorts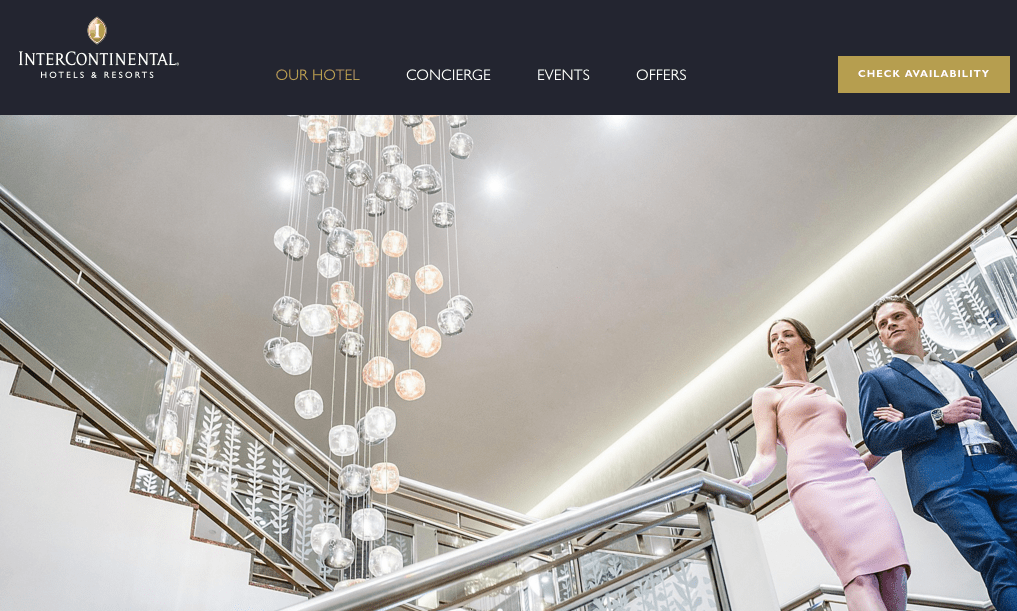 If you're in search of a luxe, comfortable hotel, then look no further than InterContinental Hotels & Resorts! This hotel is one of the best New Zealand hotels.
Its location is brilliant since it is situated beside the tranquil waterfront. You will be spoiled for choice activity-wise as you can go to shops, restaurants, galleries, theatres — the list is endless.
They offer elegant and spacious suites or executive rooms for you to relax, work or have a good night's sleep in. These come with all the usual amenities to give you comfort and convenience.
To curb your hunger, Chameleon Restaurant offers a range of seasonal and wholesome food. These are expertly cooked and delicately decorated by world-class chefs.
Highlights
Award-winning luxury hotel
Excellent location
Elegant and spacious rooms
Offers seasonal and wholesome food
Customer Reviews
One guest, GandJ5152 wrote 'affordable luxury' on the subject line and mentioned on Google Business:
"We decided to choose IC for a bit of a treat. Great CBD location. Easy walking distance to most everything in this area. My wife and I had a fantastic experience across the board. The breakfast was amazing. Our car was waiting outside to drive away once we cleared reception. We didn't even request this. This was a TEN stay.
Thank You."
6) The Rees Hotel, Luxury Apartments & Lakeside Residences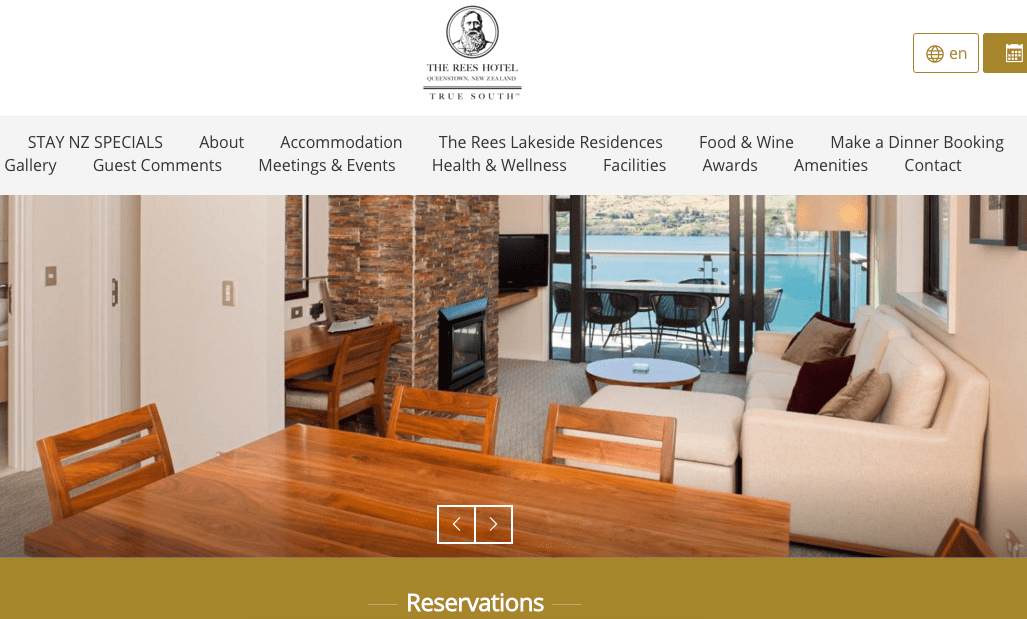 As opposed to the other hotels we've listed, The Rees Hotel is a quiet, private and sophisticated luxury hotel based in Queenstown of South Island.
Rees Hotel is directly across the tranquil and awe-inspiring Lake Wakatipu with the mighty alpine ranges in the distance. You can enjoy this panoramic view from the room.
In a way, you feel like you're camping and staying in a cosy and protected environment. There are great reads, high speed Internet, telephone, conference rooms, and a gym!
If you want to get into the city or back, you can just take the courtesy shuttle. Another option is to board their jet boats and water taxis, which add to the thrill and fun!
Apart from that, you are treated with professional and friendly service every time. Rees Hotel is definitely one of the best New Zealand hotels in terms of service in particular!
Highlights
Quiet, private and sophisticated hotel
Spectacular and awe-inspiring view
Neat and modern facilities
Treats guests with warm Southern hospitality
Jet boat and water taxi services available
Customer Reviews
Here's a comment from one guest, Paula Clements, as posted on the website:
"Your lovely staff were extremely helpful and sympathetic to our situation, even offering an upgrade when our choice of room was not available. The location, size, quality and cleanliness of our apartment was superb, and the shuttle bus an excellent service. It made our day after our earlier bad experience. We would not hesitate to recommend your property to anyone visiting Queenstown."
And there you have it for the best New Zealand hotels! All these premier hotels will exceed your expectations in terms of accommodation, service, and hospitality!
Do you have any questions about the hotels we featured? If you have one, send it over to us via message and we'll get back to you in a bit.
Other than that, you might like to explore places in NZ you've never been to. For that, you can also check out the best travel agents in New Zealand!