The 6 Best Notaries Public in Auckland
A notary is required to witness the signing of the document regarding important matters. If you're wondering where to do so, right on cue, as we have listed the best notaries public in Auckland.
Because Kiwis are making countless decisions everyday, notaries shouldn't be hard to find in the city. We have picked the top ones so you can have the least inconvenience and hassle.
1)  ytChoi Lawyers & Notary Public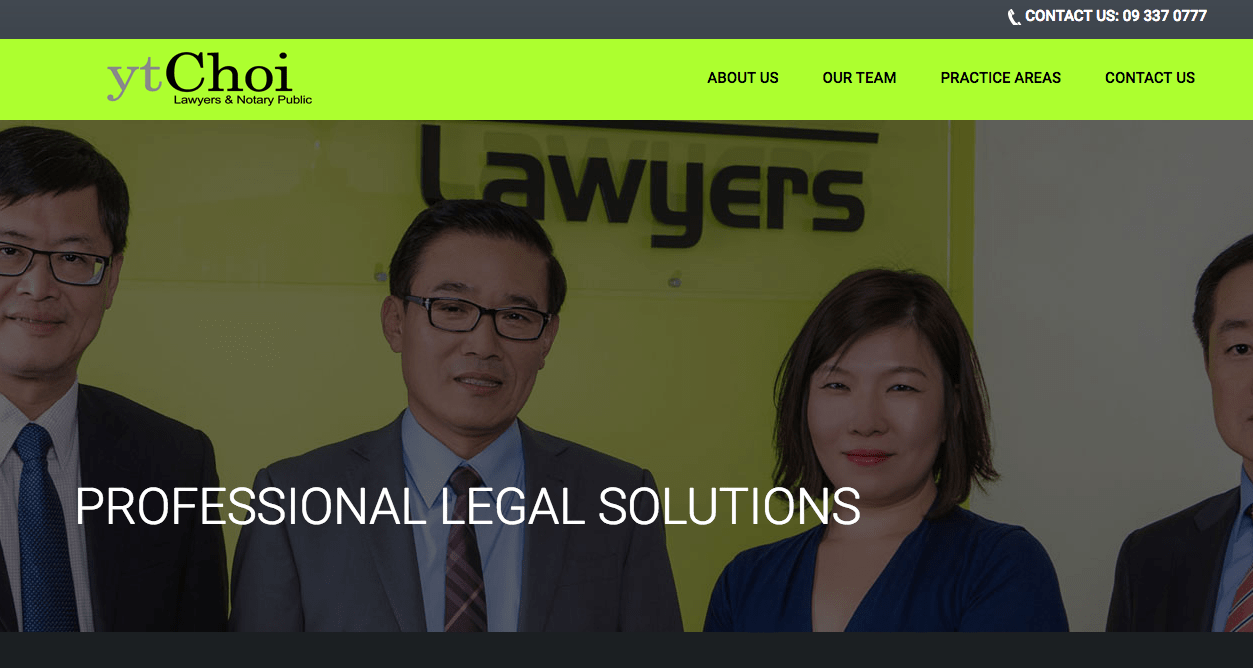 If you need to notarise your documents, look no further than ytChoi Lawyers. The company was formed in 2004 and has been offering notary services for documents ever since.
We like them because they take time to explain things clearly so that you are aware of what's going on and understand them. The staff are also bilingual, friendly, and efficient to speed up the process and get it done for you.
Highlights
Knowledgeable lawyers
Friendly and helpful
Fast notarisation process
Customer Reviews
As per Google Reviews, J W said:
"Had an exceptional experience at YT Choi Lawyers when I needed documents notarised. The principal of the firm was pleasant to deal with, professional and knowledgeable as to the requirements for notarising documents."
2)  Foley Hughes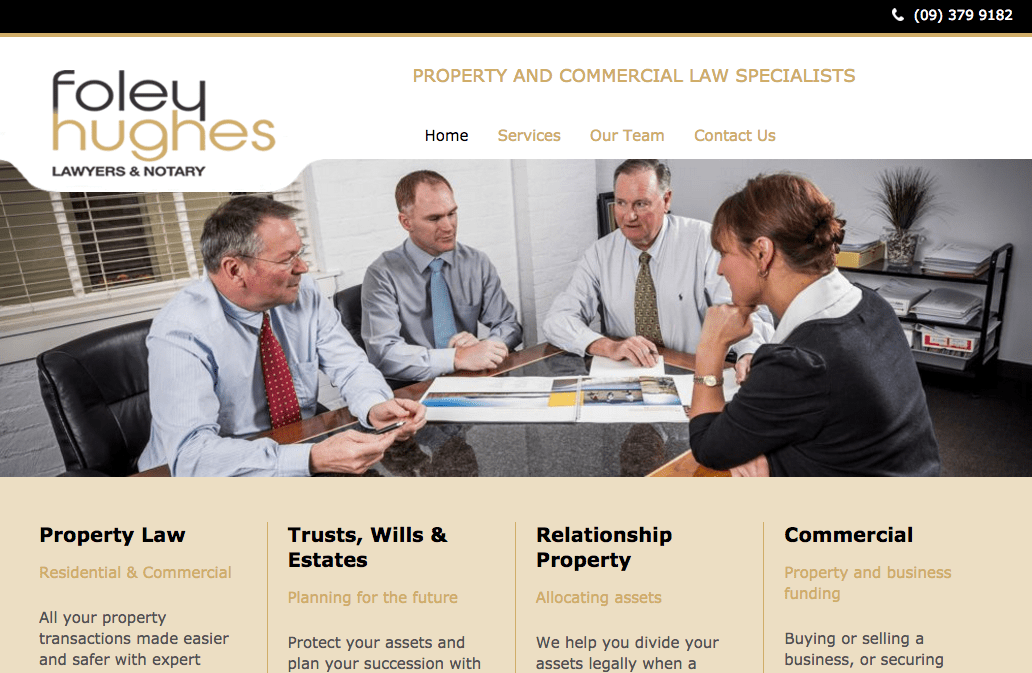 | | |
| --- | --- |
| Services | Notarise Documents |
| Address | Level 1, 20 Beaumont St, Freemans Bay, Auckland 1010, New Zealand |
| Contact no | 09 379 9182 |
| Website | http://foleyhughes.co.nz/ |
With a combined experience of over 85 years, notary public work will be effortless with Foley Hughes. As such they are certainly one of the best notaries public in Auckland.
Be it a sale of your motorbike or rent of property, they can assist you given their knowledge and expertise. If you have any questions or needs, ask away so that they can bring you the best advice.
Your schedule does not need to be changed as their team is flexible. You can call them whenever it's convenient to let them know when you will notarise your documents.
Highlights
Great notary
Combined 85 years of experience
Customer Reviews
Let's see the review made by Marina Mariano on Google:
"If you are looking for a professional and friendly public notary I highly recommend Simon Jones. Besides looking carefully to my request and being an understanding person, he also speaks Portuguese. It was a good choice to notarise my document at this law firm. He delivered the document exactly as I needed it to be."
3)  George Deeb Notary Public
| | |
| --- | --- |
| Services | Overseas Documents, Powers of Attorney, Passport Copies, Academic Qualifications, International Trade, and Foreign Jurisdictions, Embassies and Consulates, General Notary |
| Address | Unit 1 / 270 Sunset Road, Windsor Park, North Shore, Auckland 0632, New Zealand |
| Contact no | 021 272 5264 |
| Website | https://georgedeebnotary.co.nz/ |
Find other notary services to be a bit expensive? Enquire with George Deeb Notary Services. Here you get lower prices and an array of services as compared to notary services under law firms.
It is owned by George Deeb who is a lawyer himself, having practiced for over 40 years. Also he is a member of the New Zealand Society of Notaries.
You can have him witness or notarise for a passport, transcripts, international businesses, powers of attorney, and sale of land. This makes him one of the best notaries public in Auckland.
Highlights
Affordable service
Member of New Zealand Society of Notaries
Wide range of notarial work
Customer Reviews
P S Pabla scores it 5-stars and writes on Google Reviews:
"George dealt with an urgent matter for me (notarised documents).  He was very professional, went out of his way to accommodate.  Could not recommend anyone more highly.  If your looking for a notary public in Auckland I would strongly suggest you get in touch with George."
4)  Armstrong Murray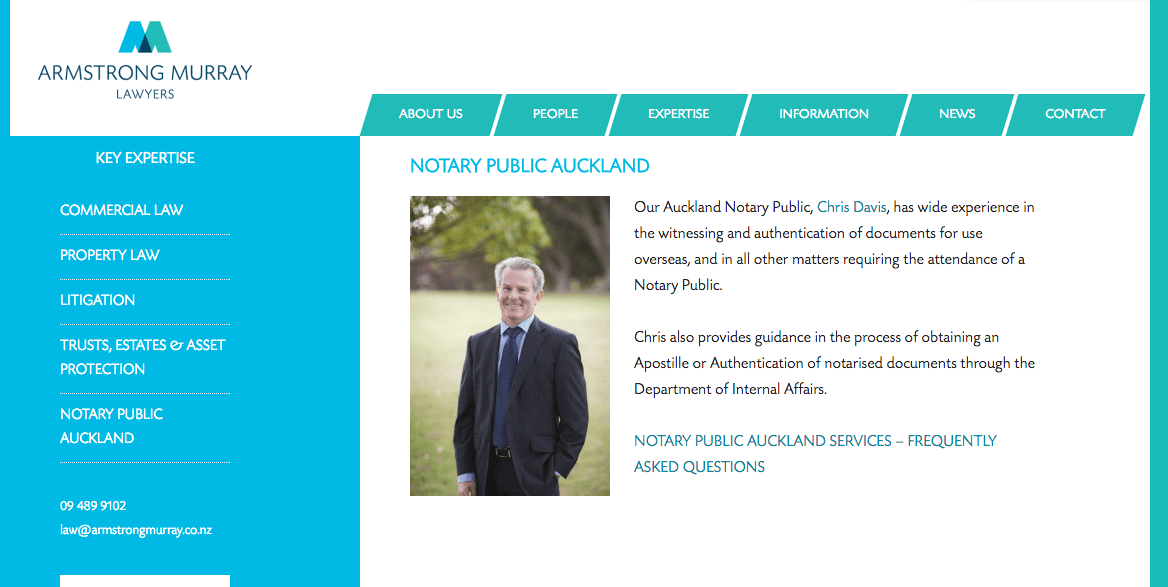 | | |
| --- | --- |
| Services | Overseas Documents, Authentication/Apostille, Witness Signatures, Certify Copies |
| Address | 11 Anzac Street, Takapuna, Auckland 0622, New Zealand |
| Contact no | 09 489 9102 |
| Website | https://bit.ly/3dfbxq2 |
Armstrong Murray Lawyers provide helpful legal services as well as a notary public services. For notary, Chris Davis can handle almost anything like witness during signing and certify true copies.
When it comes to overseas documents, you can count on Chris. He is really knowledgeable and he can also assist and advise you regarding Apostille/authentication.
Before you meet him, kindly set an appointment by first calling him. Note that he is only available on weekdays except Wednesdays.
Highlights
Does overseas notary
Can assist in authentication
Knowledgeable and efficient
5)  Shanahans Lawyers & Notary Public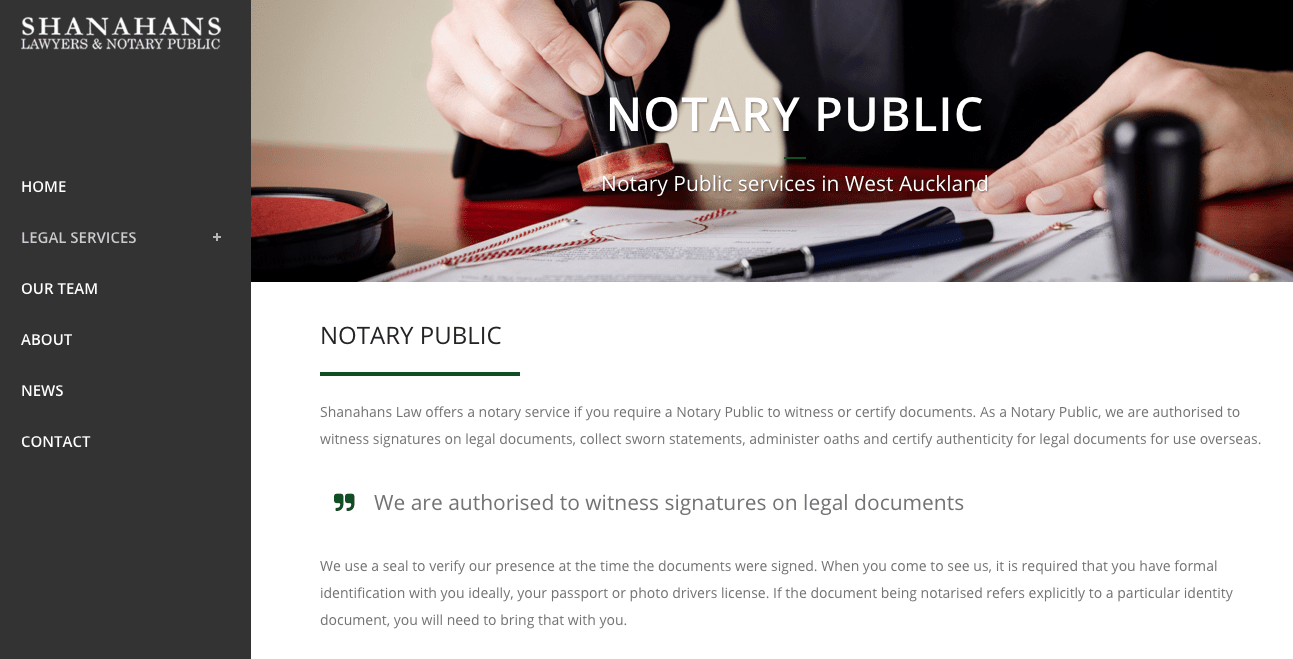 If you're near West Auckland and require a document witness, call up Shanahans Law. Notary services here are usually integrated into the law firm, rather than standalone.
Mary Anne Shanahan is your Public Notary for your legal documents — she's great because she's so efficient despite the small window of availability. She's only available from 2-2:30 pm from Monday to Sunday.
Another one of the best notaries public in Auckland, she can also attest affidavits, deeds, and declarations for you.
Highlights
Does a range of notary work
Reasonable prices
6) Stewart German Law Office & Notary Public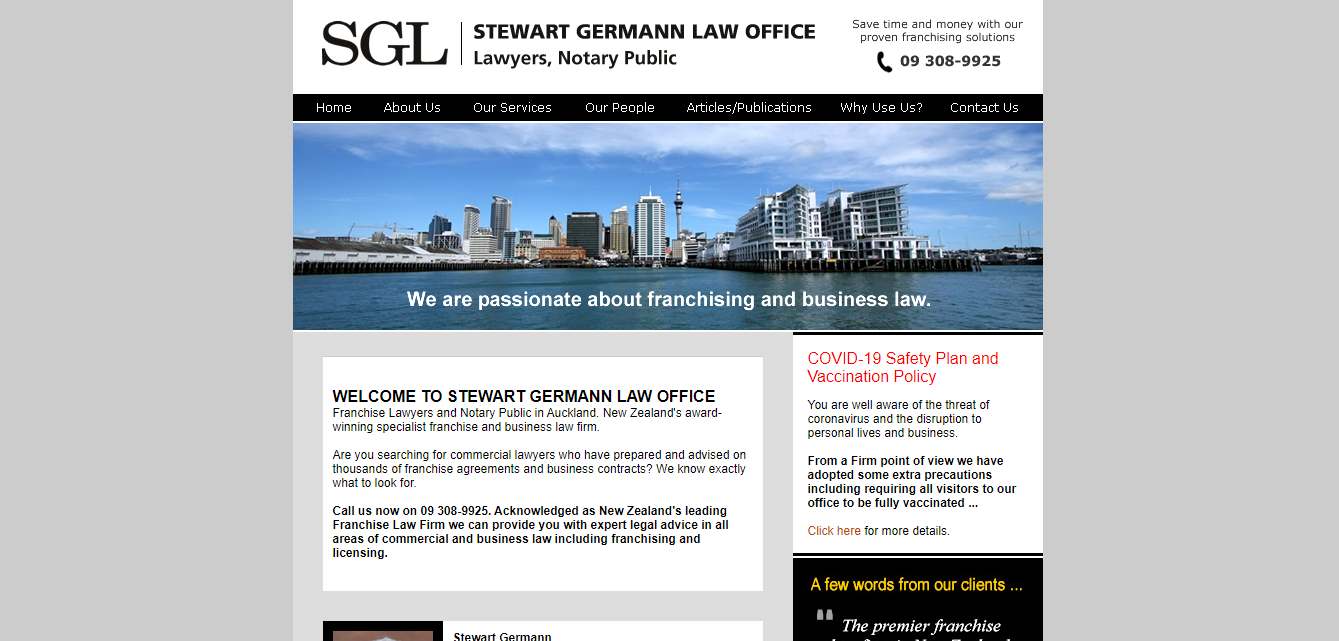 Stewart German Law Office & Notary Public is a business law firm that specializes in handling various franchise-related cases. Locally based, they offer businesses a one-stop shop to all legal services they need when dealing in the commercial setting.
It is headed and operated by Stewart Germann who has had over 40 years of experience in the field which has led his commercial law firm to be part of numerous associations such as FANZ and IFLA.
With deep understanding and continuous pursuit of knowledge, they are recognized and commended by clients for their premier services and timely advice as they work with them.
Though there might be slot and labor limitations since they are currently manned by two individuals and would have been better if they have a network of connections of professionals as well.
Overall, they are described to be professional, pragmatic and solid when it comes to all the services that they offer which clients have found very effective and helpful for their case.
Highlights
Recognized by various associations
Specially geared for commercial settings
Wide network of connections
Customer Reviews
Here are some reviews from their clients:
"In my business I use 18 lawyers in various categories throughout the world. For overall satisfaction, quality, advice and service Mr Germann excels. Mr Germann's perception and logic re the subject matter is outstanding. I could not recommend him more highly. A credit to the legal profession and a wonderful human being." – Kevin Jacobsen of Sydney
"Excellent personal service which has not changed over our 27 year association. We appreciate being treated as equal and accessibility is excellent" – Dr Andrew Webster
And there you have it for the best notaries public in Auckland. Now you can have your documents notarised with everything well taken care of!
Any questions about these notaries public we discussed? Send us a message and we will reply back in the soonest time!
After all those notarising, your stomach might already be churning. For this, you can read about the best food delivery services in Auckland — and probably order!