The 5 Best Office Chairs in New Zealand
Featured Image Source from GQ
Without a great office chair, you can't work at your best. Your chair might be too stiff and unforgiving or lack the support that you need, causing lower back or neck pains.
In this case, you should get a new and better one, which is why we've outlined the best office chairs in New Zealand right here, focusing in particular on the ones that are adjustable and neat in design.
So that you get the best value, we'll delve into the things you need to consider when buying an office chair as well. This will help you find a suitable chair from our top choices later on!
What to Look for When Buying an Office Chair
Finding the right office chair is essential to keeping your body relaxed and comfortable all day as you work to finish your daily tasks, project, report, or presentation.
That said, not every office chair has the same level of comfort and features. They differ from the headrest to the castors, as well as how they generally feel for you.
Here are the key factors you should consider in an office chair:
1. The Cost of Office Chairs
Generally, office chairs in NZ cost from $50 to $3,000. As a rule of thumb, you should get an office chair worth at least $250 to balance comfort, quality, and value.
You don't want to splurge on an office chair that doesn't quite fit your needs, and at the same time, you don't want to get a cheap one that won't last beyond a year.
Besides, some luxury office chairs only have fancy trimmings and finishes but lack the ergonomic options, which is very important.
Alternatively, you might be interested in getting second-hand office chairs. If you do decide to get one, you should buy from trusted retail outlets, not just any online store.
That's because, even if the price is halved, the chair isn't in the best condition and thus won't do you good. If you look around, you can find many retailers that sell second-hand office chairs in great condition and at a good price.
2. Types of Office Chairs
There are three types of office chairs that you can buy—task chairs, bar-stool types, and ergonomic chairs. Let's take a look at each of them in turn:
These are common office chairs that have simple adjustment options. They are generally durable and great for everyday use whether at a home or office.
Also, they may have or may not have armrests or a headrest.
As the name suggests, these chairs resemble bar-stools in that they have footrings. As they can be adjusted to a greater height, they're suitable for use with tall or standing desks.
Ergonomic chairs are task chairs that have full adjustability. With their customisation features, they can suit your body shape and personal requirements when sitting.
If you have lower back pain, you should look for an office with lumbar support.
3. Chair Finishes or Materials
What kind of finish do you like and feel most comfortable to sit on? The most common types of finish are fabric and leather:
Fabric padding gives a soft and relaxed feel to the chair. It is easy to care for and maintain and is great in both hot and cold weather.
Besides that, chairs with fabric seating are far cheaper than their leather counterparts.
Bringing a sleek and luxurious style, leather office chairs are at home in a director or CEO's room. They are spill- and stain-resistant and are easier to clean than fabric ones.
Although leather chairs don't cope well in the heat, some let you add on a mesh back to counter that effect. They do tend to be costly, though.
4. Common Chair Adjustment Points
Being able to adjust your chair helps you feel relaxed when working. It's a great advantage that you can modify the position of different parts of the chair, which include these:
Headrest – As in a car, you can adjust the headrest of the office chair up or down to support your neck as you lean back.
Backrest – You can change the height of the backrest. Usually, you can do so by turning a knob.
Some chairs also let you adjust the tension of the backrest for a harder or looser feel.
Armrests – You can adjust the armrests from side to side or up and down. To know the right height, your elbows at a 90-degree angle should only barely touch the armrests.
Seat Height – The seat height of the chair can be raised or lowered for a comfortable position while you're working at your table.
Seat Pan – Withthis, you can slide the main seat forwards or backwards to find the adjustment you're comfortable with.
5. Warranty
The longer the warranty, the better. You should get an office chair with at least a year of warranty so you won't have to pay for repair costs should there be any problems.
Of course, by the manufacturer's warranty, you can ascertain the quality of the product.
The Best Office Chairs in NZ
You know how to pick the ideal office chair now. As such, we can now give you our picks for the top office chairs in NZ!
1) Jory Henley Lewis Office Chair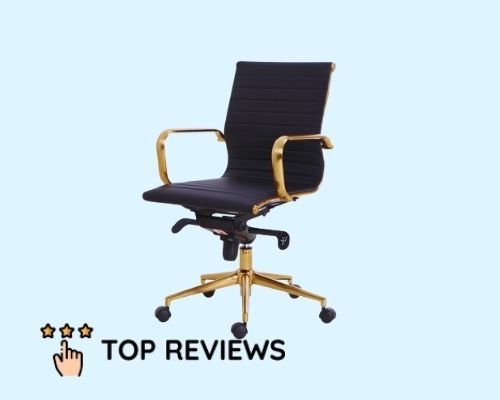 | | |
| --- | --- |
| Best for | Simple and affordable office chair |
| Dimensions | 57.5 x 61.5 x 81.5~89cm |
| Material | Bonded Leather & PVC |
| Price | $228 |
If you're looking for a simple and affordable office chair, Jory Henley's Lewis Office Chair could be for you.
Though it's not made from real leather, it brings ample comfort and support for everyday work. You can adjust the seat height to suit yourself and your workstation.
What's cool about it are the metallic-brown armrests and legs that stray from the common silver. The armrests are quite durable, though they can't be adjusted to your liking.
At most vendors, this office chair comes with a fair 1-year warranty for confidence, should any issues arise. That's not stellar, but it is good enough for most purposes.
Stylish brown armrests and legs
Adjustable seat height
Rugged nylon castors
1-year warranty
2) Buro Gene Fabric Office Chair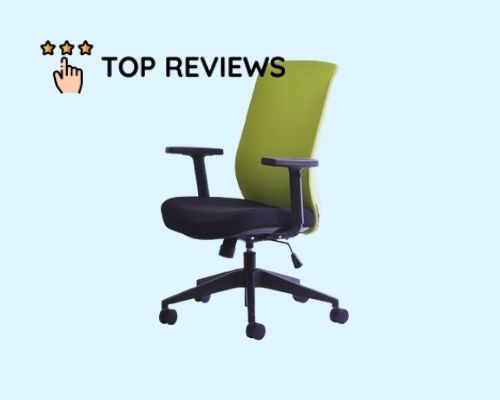 | | |
| --- | --- |
| Best for | Contemporary, adjustable office chair |
| Dimensions | 68.5 x 65 x 105cm (W x D x H) |
| Seat height | 45.5 – 54.5cm |
| Max load | 120kg |
| Material | Polyurethane, Fabric |
| Price | $300.44 |
The Buro Gene Fabric Office Chair brings a contemporary style and comfort to your home or office. It features soft and relaxing PU seats and armrests and adjustable seat height, weight tension, and armrests to keep you comfy and productive all day long.
You can even choose whether you want fabric or mesh back for breathability, as well as a range of colours such as black, orange, yellow-green, and grey. You can usually ask the vendor if these colours are available before you check out.
Plus, this chair has been GreenGuard Gold certified, meaning it was produced with low chemical emissions, making it an eco-friendly choice—better for you, and better for the environment.
Best of all, the Buro Gene office chair frame is warranted for up to 6 years. However, note that this will not cover the seat upholstery.
Quality fabric
Adjustable armrests and seat height
Eco-friendly seat
6-year warranty (excludes upholstery)
Can get damaged if spilt by a liquid
3) Eden Office Highrise Office Task Chair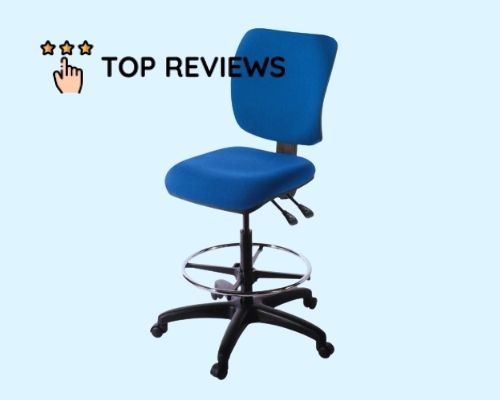 | | |
| --- | --- |
| Best for | Standing-desk office chair |
| Dimensions | Seat: 48 x 46cm (Wx D) Back height: 41cm |
| Seat height | 58 – 83 cm |
| Max load | 140kg |
| Material | Keylargo fabric |
| Price | $420.90 |
Fancy a classic and minimalist chair for your office? If so, consider the Highrise Office Task Chair, which is made for regular or standing tables alike!
Its seat is lightly contoured so that it cradles your body and provides excellent stability and comfort. The ratcheted back can be pulled up and down to your preference and the seat has a footring where you can rest your feet as you work.
Also, you can bet that the office chair is well-made thanks to a decade-long warranty. The item also comes pre-assembled so you can use it right away when you receive it!
Ratchet back-height adjustment
Standing-desk compatible
No assembly required
10-year warranty
Expensive
Only two colours available on the website
4) Zeaway Executive Office Chair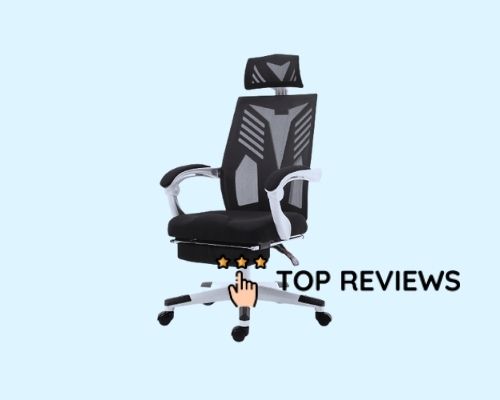 | | |
| --- | --- |
| Best for | Ergonomic features |
| Dimensions | 60 x 65 x 118~128cm |
| Seat height | 59cm |
| Max load | 125kg |
| Material | Fabric |
| Price | $219.96 |
The Zeaway Executive Office Chair keeps you focused and relaxed at the workplace, featuring a thick 9cm foam padding, a slide-out footrest, and an adjustable headrest.
With up to a 150-degree recline, you can lay back whenever you feel pressured and the work has gotten tougher. You won't feel hot too as the mesh backrest is breathable.
Its seat height can be adjusted from 118cm to 128cm as well. You can also turn around smoothly with the 360-degree swivel base, which is well-built.
What's more, it won't look like the countless lookalikes you've seen in the office – that's thanks to its distinct racer-style chair design.
The Executive Chair comes with easy-to-read instructions and is supremely easy to assemble too. Plus, there is a 30-day free return if you happen to change your mind.
Adjustable headrest
Breathable-fabric backrest
Thick seat cushion (9cm)
Simple to assemble
30-day free return
5) Zeaway Leather Computer Office Chair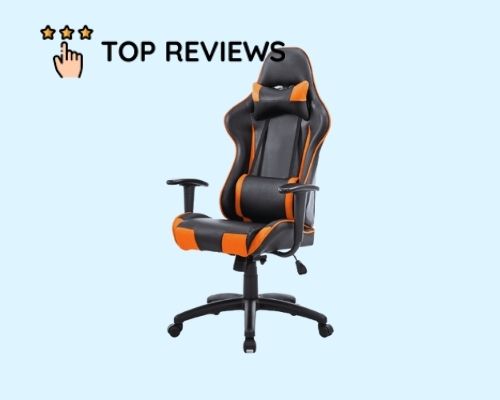 | | |
| --- | --- |
| Best for | Lumbar support |
| Dimensions | 67 x 68 x 125~135cm (W x D x H) |
| Seat height | 48 – 58 cm approx |
| Max load | 150kg |
| Material | Polyurethane leather |
| Price | $164.97 |
Sitting for long hours at work and want to avoid lower back pain? Your problem is solved with Zeaway's Leather Computer Office Chair!
Sporting black and orange colours, its design is both stylish and contemporary. The upholstery and armrests are made from PU leather that is soft and easy to clean.
This Zeaway leather computer chair features a customisable lumbar, head, tilt, and height that will suit your preference and work lifestyle.
The lumbar and head cushions can be taken out if you're not comfortable with them.
Using the gas lift lever, you can adjust the seat height from 48 to 58cm.
You can also recline from 90 to 118 degrees and lock it into position with the tension lever.
Finally, the racer-inspired chair also has a durable nylon base that can swivel 360 degrees freely. Excellent from top to bottom, it's one of the best office chairs in NZ.
Great lumbar support
Premium PU leather
Marvellous design
Tilt-locking mechanism
Easy to assemble
Armrests not adjustable
Gamer-chair looks not fit for an office
FAQS about the Top Office Chairs in New Zealand
---
And that wraps up our top selections for the best office chairs in NZ. These will give you value for money and the comfort that you desire in an office chair.
Any questions or opinions about our list? If you have one, kindly drop us a line, and we'll get back to you promptly.
Also, if you need a minimalist table for your room or home, you can feel free to read about the best desks in New Zealand!