6 Picks for the Best Outdoor Furniture in New Zealand
The outdoors are very much a part of the Kiwi lifestyle. That's why here, we've put together a list of the best outdoor furniture in New Zealand for your deck, patio or poolside.
There is a great array of outdoor furniture wherever you turn in New Zealand. However, since most of them are expensive, you'd want to know which one is worth the cost.
To ensure you're making the right choice, we'll first go over some basic things to help you pick from our list. But feel free to skip this part if you want to.
Either way, we'll be presenting to you the best outdoor furniture in New Zealand! So, let's begin!
How to Pick Outdoor Furniture
Before shopping for outdoor furniture, you have to know your purpose for it. Are you using it for relaxing, dining with your family over a BBQ, or for lounging right beside the pool?
Once you've done that, you'll have to take into account the things we listed below. We'll explain each of them in detail to help you find the right outdoor furniture.
1)   Durability
This is really important as your outdoor furniture will be outside all the time. They should be protected from the harsh elements such as rainfall and UV rays.
If not, your outdoor furniture won't last long, or it will be discoloured or stained quickly. That can put it in jeopardy and will only be a waste of money.
On our list, you'll find durable, stable, UV-protected and weatherproof outdoor furniture unless we state otherwise. So, we pretty much have this covered for you.
2)   Comfort
In addition to design and durability, comfort counts as well. Steer clear of chairs that make you feel discomfort in your back after 10-15 minutes, for instance.
For safety, you should also check the maximum support weight, especially for smaller chairs. This should be indicated on the online store you're buying it from, or if not, you can ask.
And the chair you choose has to offer the proper support and comfort as you sit, even for long hours.
3)   Maintenance
It greatly helps when outdoor furniture is easy to clean. You can imagine how quickly it can get dirty, get wet, or have leaves all over it.
So if you're getting furniture with fabric, you should find ones with a fabric that's weather-resistant and quick to dry. That's so whether it rains or shines, you will only have to do minimal cleaning or washing.
There are also furniture that are low-maintenance since they save you a lot of time and effort in clean-up: you'll see several on our list.
4)   Ease of Assembly
Some pieces of furniture are harder to assemble — you generally don't want that.
If you're the impatient type, steer clear of anything that looks hard to assemble. Check what other users have to say about it.
5)   Price
You can usually get great-quality outdoor furniture from $300 and up. You'll pay more for sets or set pieces like a sofa/coffee table, a dining table with chairs, or a table with a bench.
With the plethora of options available, there's something for every need and budget. However, it won't hurt to spend a little extra if you know you're getting better value.
6)   Warranty
Also, you should make sure that the furniture you're buying comes with a warranty. This covers any manufacturer's defects or issues that may occur along the way.
The longer the warranty, the better! At least look for outdoor furniture with a warranty of a year or more than that.
The Best Outdoor Furniture in New Zealand
Now that you know how to buy outdoor furniture, you're ready to proceed. Here are our choices for the best outdoor furniture in New Zealand:
1)   Tate Concrete Outdoor Dining Set
Best Sustainable Outdoor Furniture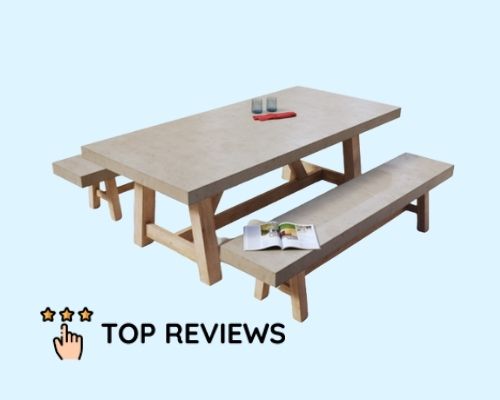 Price: $2,799
For a casual weekend get-together, a moment to get some fresh air, or deck dining to relish the mellow orange sunset, the Tate Concrete Outdoor Dining Set might just be for you!
With its contemporary and neat look, this dining set is a beautiful addition to your deck or patio. It exudes both elegance and class, and is also well-built.
The top portions of the bench and table are crafted of reinforced concrete. Sporting a clean, sanded look, these are very low maintenance and weather-resistant.
As for the legs, they are made from natural acacia wood. Being FSC-certified, it shows that it complies with the highest environmental and social standards in sourcing wood from forests.
What's more, this product comes with a 3-year limited warranty for your peace of mind and utmost satisfaction.
Pros
Elegant, classy and well-made
Weather-resistant reinforced concrete
Low-maintenance
Beautiful acacia wood
Eco-friendly dining set
Cons
Heavyset furniture
Hard to assemble
Customer Reviews
Despite some owners saying that the product is solid, sturdy, and can withstand the elements, it also has its detractors.
One claimed that it became discoloured following rainfall. And another said that it flaked off and became dull and unusable after three months.
Let's take a look at how one customer reviewed this product on tradetested.co.nz:
"The table and benches look contemporary and elegant and at the same time solid and well made.
A big mission to install as the concrete table is a 4 – 6 man lift, but now its in place on the deck we're confident it won't blow away in the next cyclone. 
The screws in my boxes were 20 mms too long – needed shortening." 
Also, McShoe from Auckland said:
"This is a very stylish and sturdy piece of outdoor furniture. I feel that this table will withstand weather and winds."
2)   Flaxmere Hardwood Outdoor Sofa Set (4-Piece)
Best Overall Outdoor Furniture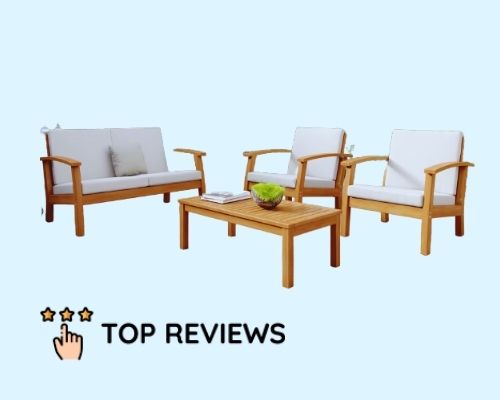 Price: $899
If you're looking for a sofa set that's timeless and comfortable to lounge in, the Flaxmere Hardwood Outdoor sofa pretty much fits the bill!
Eucalyptus wood gives the sofa set a solid and premium look that easily blends in your outdoor area, while the clean white fabric makes for a striking, beautiful contrast.
Speaking of the fabric, it's designed to withstand Kiwi weather. That's because it is UV-protected and quick-drying, which makes them more durable and longer-lasting.
With its wide, comfy seating, it's perfect for relaxation time. It's definitely an inviting set to have on your patio or porch.
The outdoor sofa set has all your worries silenced too with a 3-year limited warranty. That goes for both the eucalyptus frame as well as the fabric.
Pros
Great value for money
Comfortable seats
Very easy to assemble
Solid and premium texture
Sustainably sourced
Lightweight
Cons
Cushions could be thicker for larger persons
Customer Reviews
This sofa set received rave reviews from most owners. They commended the beloved classic look, sturdiness, comfort and value for money.
They used it for many purposes like gardens, decks or smoking areas. However, it's been pointed out by some customers that it may not be for heavier persons.
Check out the review of one buyer, Steve:
"I ordered this garden set for our deck and, at this price, was concerned it would be a little flimsy.  It turned up on a very easy to assemble flat pack with all the tools required to put it together included and a solid set.
I spent an hour and half putting everything, including the additional bench I bought, together and now I have a great outdoor furniture set for my deck.
The only thing I am not 100% happy with are the cushions which are a little thin for my weight however my lighter partner says I'm being picky. I'll probably replace them with thicker ones for summer when I intend to spend many more hours in these seats but for now they are fine for an hour or so of lounging with a cup of tea or a beer.
A great purchase and real value for money!"
3)   Nardi Cube Costa Armchair Outdoor Set (5-Piece)
Easiest to Clean Outdoor Furniture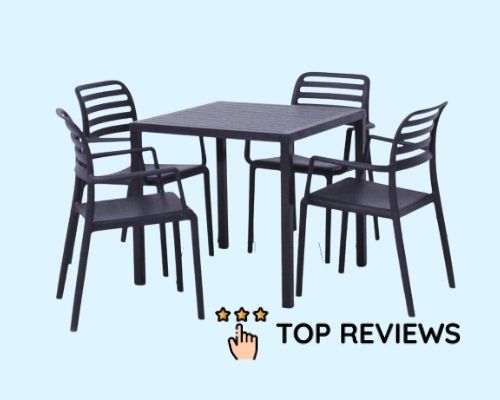 Price: $840.65
The Nardi Cube Costa Armchair 5-Piece Outdoor Set is an Italian-made, ultra-durable and weather-resistant furniture set you can place in your patio, deck or beside the pool.
Made from commercial-grade polypropylene and fibreglass resin, this is a very durable product. Add to that the powder-coated aluminium giving it lightness and resilience.
The 5-piece set is also easy to clean, with virtually no maintenance needed. To clean it, just use mild detergent and wipe it with a damp cloth, then let it dry.
It's been tested to bear a weight of up to 200kg and it's immune to allergens like mould and mildew. This is therefore a healthy and versatile choice for outdoor seats.
In terms of sustainability, you also get to tick that off your list. The product is 100% recyclable too!
And last but not the least, its round profile and slatted back will fit well in the outdoors. So have the guests come in for a chat or for some aromatic coffee after you get this set!
Pros
Proudly made in Italy
Elegant round profile and slatted back
Ultra durable and weather-resistant
Virtually maintenance-free
Sustainable product
Anti-mould, -moss, and -mildew
Cons
4)   Keter Rio Outdoor Set (3-Piece)
Most Affordable Lounging Outdoor Furniture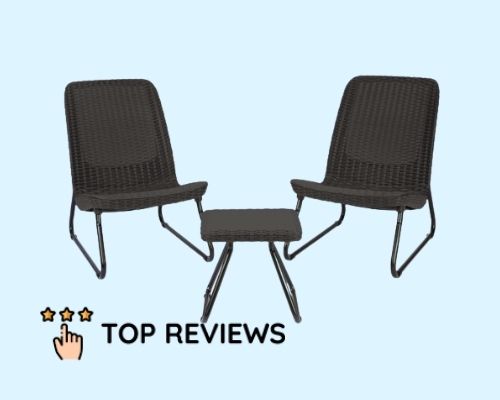 Price: $299
Be it outdoors or indoors, take a break with Keter's Rio 3-Piece Outdoor Set. The gently angled recline and comfortable contour of this seat will relax both your mind and body.
This small set of furniture is woven in UV-resistant rattan standing on powder-coated steel legs. This prevents rust or corrosion from forming over the years of using it.
The chairs are a lightweight and stylish addition that you can easily carry around the house. You'll be ready for a party in your house, lounging alfresco while sipping lemonade.
As it's low-maintenance, you won't have to clean this chair and table a lot. The wicker styling won't throw off your decor or environment either.
Also, you'll have a 2-year warranty for this Keter Rio Outdoor Set. It's quite a steal!
Pros
Superb value for price
Highly durable and stable
Nice rattan looks
Comfortable to sit on
Water- and rust-proof
Simple snap-and-click assembly
Cons
Some customers had trouble with the assembly
Not suitable for larger persons
Customer Reviews
The majority of the buyers and customers on Amazon love this chair! They cited the good looks, super-low price, waterproofness, and sturdiness to be pluses.
Additionally, some of them even improved their sets by adding cushions to the seats, laying a carpet underneath or including an ottoman.
Here's Shopper66 who left a review:
"Wanted something low profile and modern for our condo balcony and these are perfect. They literally snapped together in about 10 minutes. So comfortable. I added chair pads I already had and an ottoman I got here on Amazon. Not using the matching table, but still a great deal!"
It has a low-profile design, but it sure packs a punch. Frenchiegirl said:
"Living in Oregon, it rains a lot. So I wanted a rust proof and waterproof set that wouldn't break the bank. I'm happy with this. It's strong, quality materials, yet lightweight. Nice color. Looks good, and is comfortable. And the price can't be beat. Pretty easy to put together, but I did have and issue with one of the chairs not fitting together exactly right at the chair seam (you can see in the second to the last photo. Last photo shows how it should fit together), which is why I docked one star. Otherwise I'm happy and like the fact that I don't need to move outdoor furniture every time it rains."
5)   Quarterdeck Outdoor Dining Table with Berg Dining Chairs
Best Outdoor Furniture for Families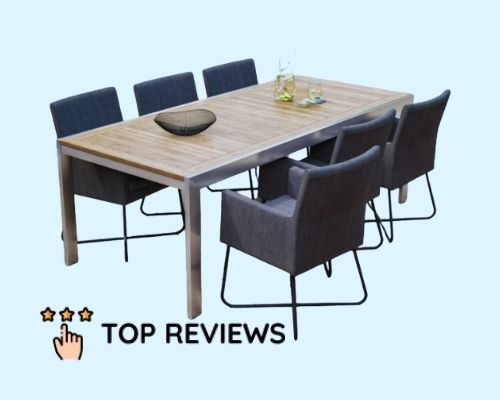 Price: $3,499
Exquisite design, perfect contrast, and nautically-inspired. Who wouldn't want to have the stunning and luxe Quarterdeck Outdoor Dining Table Set?
The luxurious teak wood and stainless steel base lend the table an elegant, impressive look. These are resilient and weather-resistant by nature and will stand the test of time.
6 Berg dining chairs have durable powder-coated aluminium frames. They also sport a Suntex fabric and fast-drying foam that can take the strong rain or the intense, hot sun.
The outdoor furniture set is covered by a 3-year limited warranty. Remember to apply furniture oil on the wood once every 3 months to prolong its life and keep it looking great for the years ahead.
Although the price may be high, it's worth more. In fact, it's one of the best outdoor furniture in New Zealand!
Pros
Stunning and impressive dining table set
Excellent build quality
Fast-drying and UV-protected fabric
Weatherproof
Built to last
Great for the whole family
Cons
6)   Big Mac Slabs Outdoor Furniture
Best for Eco-Friendly and Natural Furniture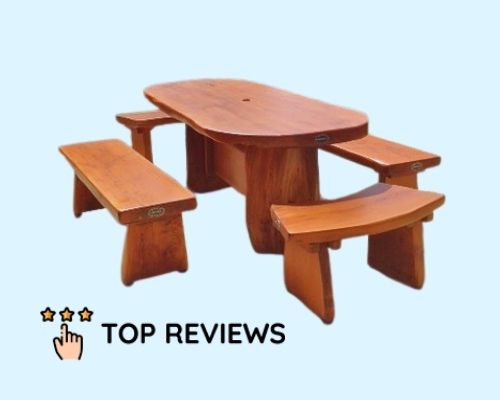 Price: Starting at $ 2,300
Big Mac Slabs Furniture was founded in 2003 as a byproduct of an existing arborist business to efficiently use Macrocarpas that had been felled. It eventually became the founder's core business, spreading their reach all across the nation. 
With a focus on a renewable and sustainable business model, we like that Big Mac Slabs provides both residential and commercial sectors with an eco-friendly alternative. Their naturally produced, wholly New Zealand-made furniture can be seen around the country.
We're impressed with the various options they have for outdoor furniture, with each piece handcrafted and customized to suit your needs. Whether you're looking for a smaller more space efficient table setting or want a larger piece to entertain guests, you'll find an option here that will fit perfectly in your backyard.
Pros
Natural eco-friendly materials
Made of repurposed wood
Durable outdoor furniture
Cons
And that's all for the best outdoor furniture in New Zealand at the moment! Not only do these furniture sets have rad design but their quality is exceptional — they will last a long time.
Do you have any questions or suggestions about this list? If you do have one, feel free to drop us a line and we'll get back to you as soon as we can.
Also, you might be interested in the best TV cabinets in New Zealand! These products will enhance your decor indoors and won't consume much space at all.