The 5 Best Oven Repairs Christchurch Technicians
Baked beans, fish and chips, stew, carbonara, homemade cookies… you can do a lot with an oven. However, if it breaks down unexpectedly, no worries, as we've listed the best oven repairs Christchurch technicians for you today!
What we did was pick the ones who are highly qualified, reliable and prompt in order to fix your oven as soon as possible. Beside these, we also considered those with excellent customer reviews.
And without any further ado, here are the best oven repairs Christchurch technicians!
1)  Tim's Appliance Repairs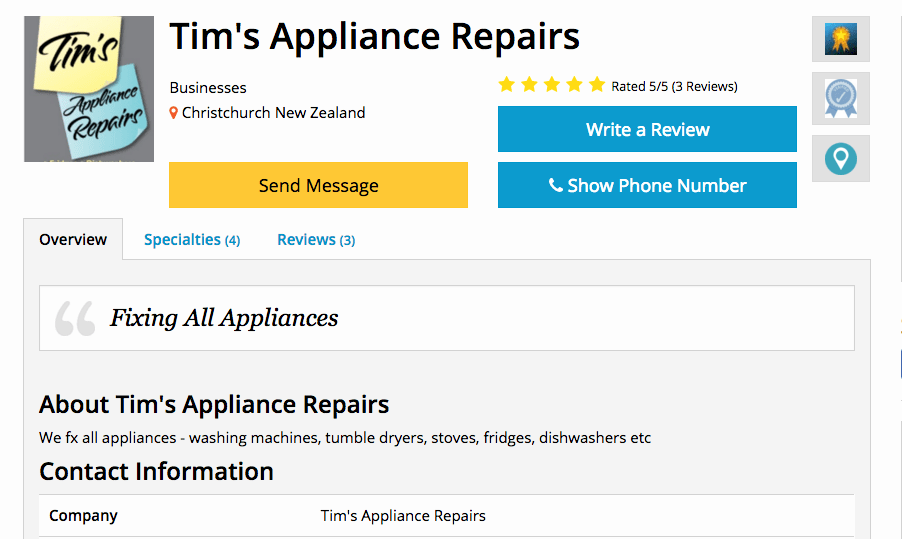 Looking for an honest and dependable oven repair service? Call Tim's Appliance Repairs. They service all makes and models of kitchen and laundry appliances in Halswell, Christchurch.
Same-day service is offered to minimise your downtime and get you back to cooking your favourite food again. Tim is highly skilled and knowledgeable, and won't hesitate to do the job.
Even though he has yet to make a permanent business website, he is one of the best oven repairs Christchurch technicians! Check out what other locals have to say about him to see why.
Highlights
Services all oven makes and models
Same-day service
Adept, honest and prompt
Customer Reviews
Hisham Musa expressed it nicely on Google Reviews:
"I spoke with Tim on the phone about the oven not going. He was able to solve the problem right there in 30 seconds and gave me instructions to set the clock right for it to go. Honest and prompt. Definitely recommended."
2)  Smartway Appliances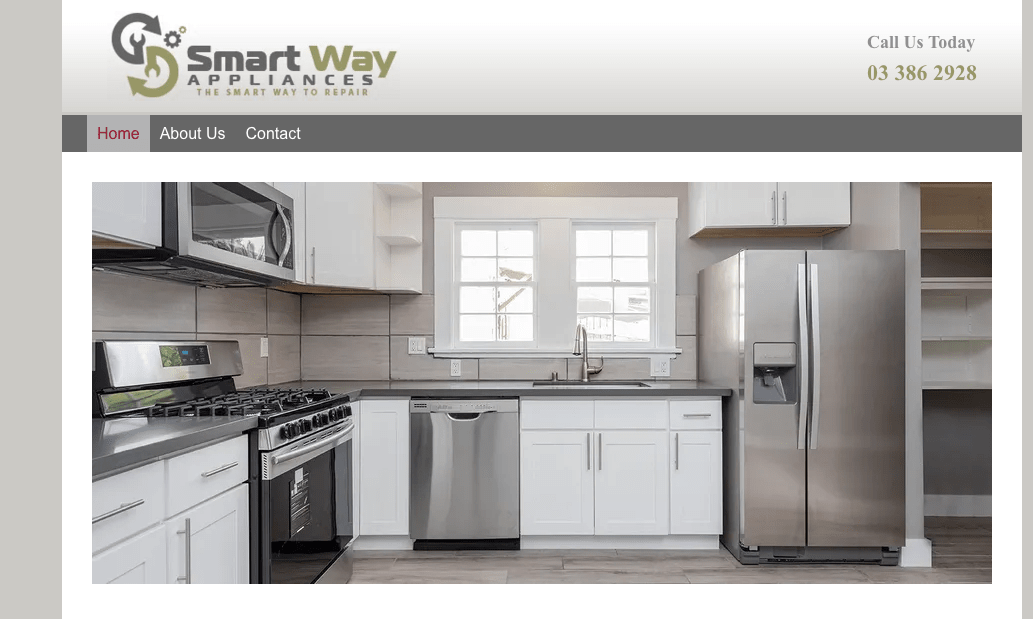 | | |
| --- | --- |
| Best for | Accommodating Customer Service |
| Services | Ovens, Stoves, Washing Machines, Dishwashers, Fridge Freezers, Clothes Dryers, Waste Disposal Units and Cooktops |
| Address | 8 Wilmington Place, Christchurch, New Zealand 8061 |
| Contact no | 03 386 2928 |
| Website | https://www.appliancerepairschch.co.nz/ |
Give your oven a new lease on life by getting Smartway Appliances to repair it. They have competent and knowledgeable technicians as well as first-class customer service.
They have been serving Christchurch for years now and can fix an array of brands. That includes ASKO, Bosch, Classique, Delonghi, Fisher and Paykel, Haier, LG, Samsung, Smeg, Vulcan, and others.
If there's anybody you can depend on for workmanship and customer service, it's Smartway Appliances. Truly, they live up to their name of repairing things the smart way.
Highlights
Stellar customer service
Repairs a broad range of major brands
Competent and knowledgeable team
Customer Reviews
Here's Mrs Bennett's comment as can be read from their web page:
"Mike was very pleasant to deal with. He ordered the part and within a day or two was calling to arrange a time to call. Very efficient – I was so impressed I recommended him to my Mum!"
3)  Appliance Guy Ltd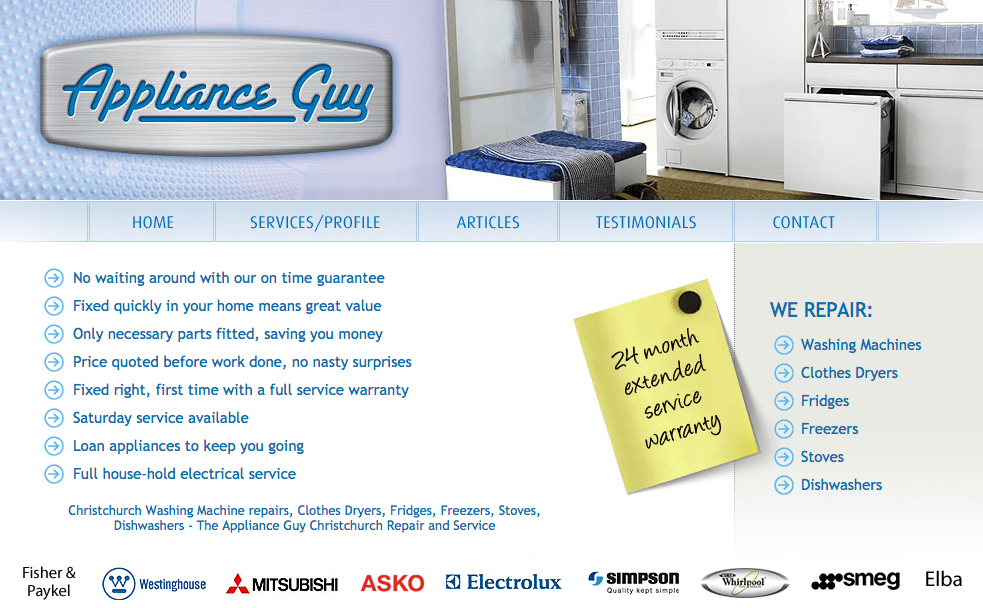 | | |
| --- | --- |
| Best for | Service Warranty |
| Services | Ovens, Cooktops, Washing Machines, Dishwashers, Fridges and Freezers, Dryers, Wastemasters and Heat Pumps |
| Address | 4/8 Vulcan Place, Middleton, Christchurch 8442, New Zealand |
| Contact no | (03) 344 1530 or 0800 233 153 |
| Website | http://www.applianceguy.co.nz/ |
For wall oven or freestanding oven repairs, you can't go wrong with Appliance Guy. Locally owned and operated, their technicians have a combined experience of 30 years.
With an on-time guarantee, you can be sure they will turn up at the appointed date and time. Also, they always carry the spare parts needed for your oven for an efficient and reliable repair.
And they stand behind their work with an industry-leading 24 months' service warranty. That automatically makes them one of the best oven repairs Christchurch options!
Highlights
Always and guaranteed to be on time
Efficient and reliable service
Have a range of spare parts in their van
Provide 24 months of extended warranty
30 years of combined experience
Customer Reviews
As seen on their website, Anthony P from St Martins writes:
"Coutious, on time, and explained clearly the problem, very pleased with the work and the total cost."
4)  Tim Stockman Appliance Services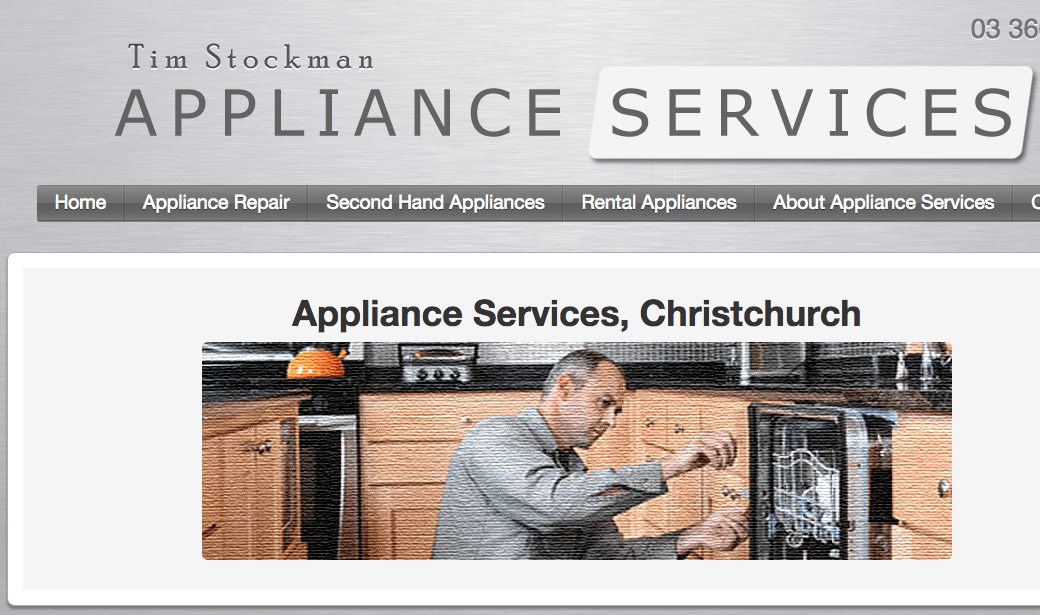 | | |
| --- | --- |
| Best for | Certified and Professional Repairmen |
| Services | Dishwashers, Dryers, Fridge and Freezers, Washing Machines, Ovens and Stoves |
| Address | 128 Antigua Street, Addington, Christchurch, Canterbury 8024, New Zealand |
| Contact no | 03 366 1118 |
| Website | https://www.applianceservices.co.nz/ |
Tired of repair services that leave you with B-standard work? Well, not Tim Stockman. He has an Advanced Trade Certification, meaning he can ensure your oven will run smoothly for as long as possible.
The team can fix renowned brands, including Fisher and Paykel, ASKO, Atlas, Hoover, Maytag, Parmco, Simpson, Telman, Westinghouse and more.
You also get a same-day service — or the day after (if you called at the end of the day). What's more, you are backed by a 6-month repair and 12-month new parts fitted guarantees.
Highlights
Fully qualified engineers
Services renowned brands
Same-day service
Provides great service guarantees
5)  Appliance Guru Ltd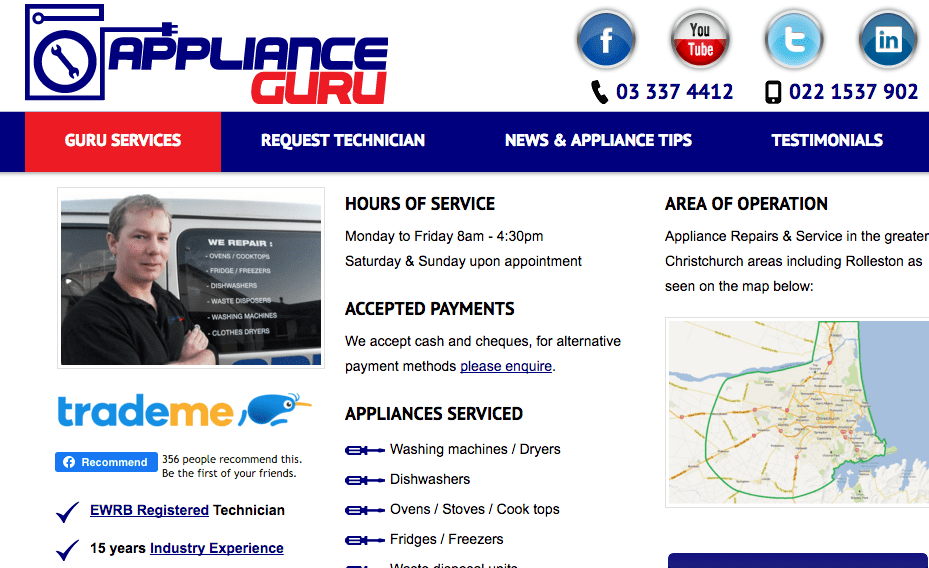 | | |
| --- | --- |
| Best for | Affordable and Quick Services |
| Services | Washing Machines, Dryers, Dishwashers, Ovens, Stoves, Cooktops, Fridges, Freezers, Waste Disposal Units and Range Hoods |
| Address | Christchurch, New Zealand |
| Contact no | 03 337 4412 or 022 1537 902 |
| Website | http://www.applianceguru.co.nz/ |
Appliance Guru Ltd is a whiteware repair specialist that covers Christchurch and the Canterbury Region. It is owned and operated by registered electrical technician Matt Neale.
He repairs a diverse range of appliances from a variety of brands. The rates for his service are competitive too, while offering value through his dependable appliance repair services.
Furthermore, he uses top-quality spare parts for use in your ovens. Additionally, all repairs to your oven are insured by a confidence-boosting 12-month guarantee.
Hence, he's one of the best oven repairs Christchurch technicians you'll come across.
Highlights
Registered electrical worker
Can repair leading appliance brands
Affordable prices
Uses only premium parts
Provides a work guarantee for 12 months
Customer Reviews
Mikayla Haughey wrote on Google Reviews:
"Prompt communication and great service. Matt is very experienced and knowledgable and always our first choice for any appliance repairs! :)"
And there you have it for the best oven repairs Christchurch technicians! If you have a faulty oven, these repair specialists can fix it right then and there and help you get the most out of it.
Any questions about the companies we listed here? Feel free to send us a message, and we will get back to you shortly.
Other than that, you may be interested to read about the best washing machine repairs in Christchurch. They'll be great choices in case you need to repair your laundry appliances!