The 9 Best Painters and Decorators in Christchurch
Featured Image Source: Theme Photos via Unsplash
If you've tried painting your house before, you'll know that it's not as simple as it sounds. Thankfully, you don't have to go through that struggle when you can hire a painter and decorator to do it for you skillfully.
Searching for a proper painter to do the job well can be difficult, though. To save you the trouble, we came up with a list of the best painters and decorators in Christchurch, along with a price table and guide to help you make an informed decision.
How Much Do Painting and Decorating Services Cost in Christchurch?
There are different prices for various parts of a house to be painted and decorated. See below for our table of the usual rates.
| | |
| --- | --- |
| House exterior | $30 – $90/sq. m. |
| House interior | $30 – $50/sq. m. |
| Roof | $15 – $25/sq. m. |
| Wall mural | $3,000 – $5,000 |
| Door | $100 – $175/door |
The Best Painters and Decorators in Christchurch
Your house isn't getting any younger — let's now proceed to the best painters and decorators in Christchurch!
We highly recommend that you continue reading after the list for our guide to choose the best painter and decorator for you.
1. Bond Painters & Decorators Ltd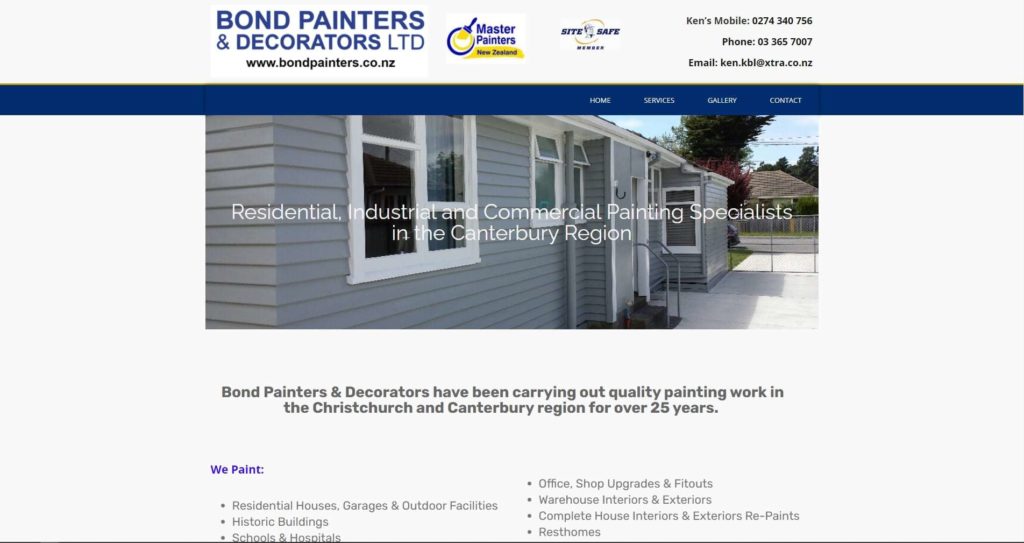 Bond Painters and Decorators is a well-known painting that we think is one of the best painters and decorators in Christchurch
With over 25 years of experience here, they've developed vast knowledge and skills in the field of painting and decorating.
While their main services include painting, wallpapering, and anti-mould treatment services, they also offer special services such as earthquake and crack repairs and historic building protection.
Across the board, their expertise is industrial-level, covering residential, commercial, educational, and healthcare buildings.
In the event of faulty work, Bond Painters and Decorators allows you to use a 1-year warranty with which you can enjoy additional services from them to correct any mistake at no extra cost.
If you're looking for painters and decorators for fixtures such as drawers, cabinets, and stairs, you'll have to negotiate good terms with them, though. They're more likely to accept large-scale projects like walls, roofs, and fences.
For the benefits you receive, however, we can't help but give Bond Pointers and Decorators a strong recommendation.
Over 25 years of experience
Diverse range of services
Assuring 1-year guarantee
Takes smaller contracts most of the time
2. Brown & Syme Holdings Ltd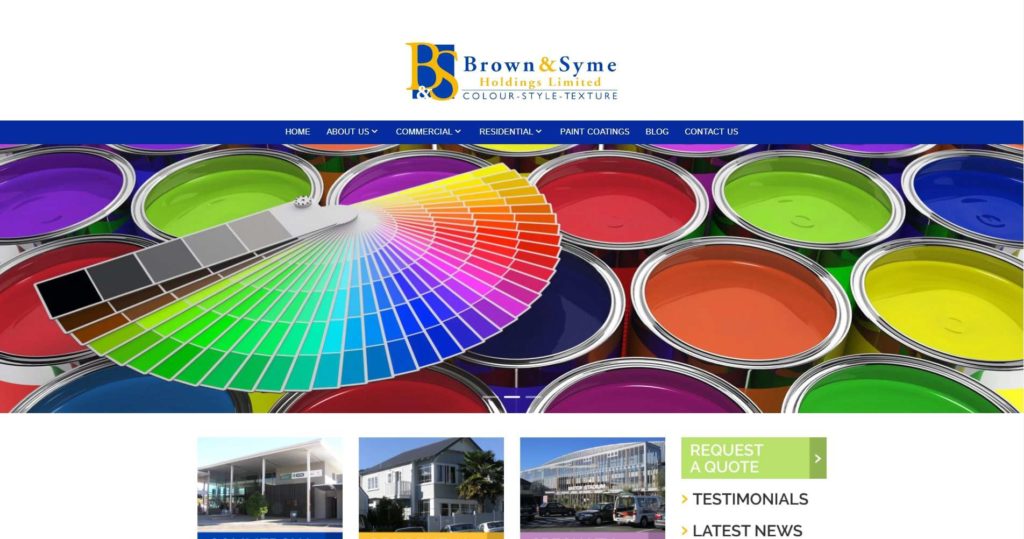 In Christchurch, Brown & Syme Holdings has become a household name for painting and decorating.
They've established their brand in the painting business for the past 85 years in New Zealand. The company has become the go-to for many families and organizations as their painting company of choice.
For those who live in Christchurch, it means that the services Brown & Syme provides are backed with veteran expertise and experience. Having known the usual building conditions in the area, they know the best kinds of paints and techniques for a clean, durable look.
To illustrate, they use a large selection of industrial-grade specialty coatings designed for specific purposes, such as fire protection, sport coatings, and other special finishes.
On top of this, as many clients happily reported, their staff's current leadership under Richard Haynes is very hands-on with all of their customers' needs. If there are any concerns with the current decoration project, Haynes is always ready to address them right away.
Since Christchurch's business sector is growing more active, Brown & Syme has been currently preoccupied with commercial clients, leaving homeowners waiting a little while.
Despite this, we're very confident in saying their work is so clean it's worth the patience!
85 years of painting expertise in New Zealand
Specialty coatings
Hands-on leadership
Currently focusing on commercial clients
Customer Reviews
David and Yvonne Skinner highly recommended Brown & Syme to anyone who wants to give their house a makeover:
"Richard Haynes' employees Daniel and Daniel recently repainted the interior of our house.
We received a very professional standard of work and both 'Daniels' were polite and efficient in their work.
We were treated with respect and nothing was too much trouble. We pointed out some requirements and they were only too pleased to offer advice and to rectify any concerns.
We have no hesitation in recommending Richard and both Daniels to paint other client's houses as we are both very pleased with the results."
Brown & Syme worked with Joanna Perrett and their home several times in the past — and haven't failed even once to satisfy:
"Richard and his team from Brown & Syme, have done painting for us now several times. Richard comes out to do a estimate promptly. He is extremely professional and helpful throughout the whole process.
Our place looks fantastic!
For good work done in a timely manner I would highly recommend Richard and his team from Brown & Syme."
3. Paintspecs Painting Contractors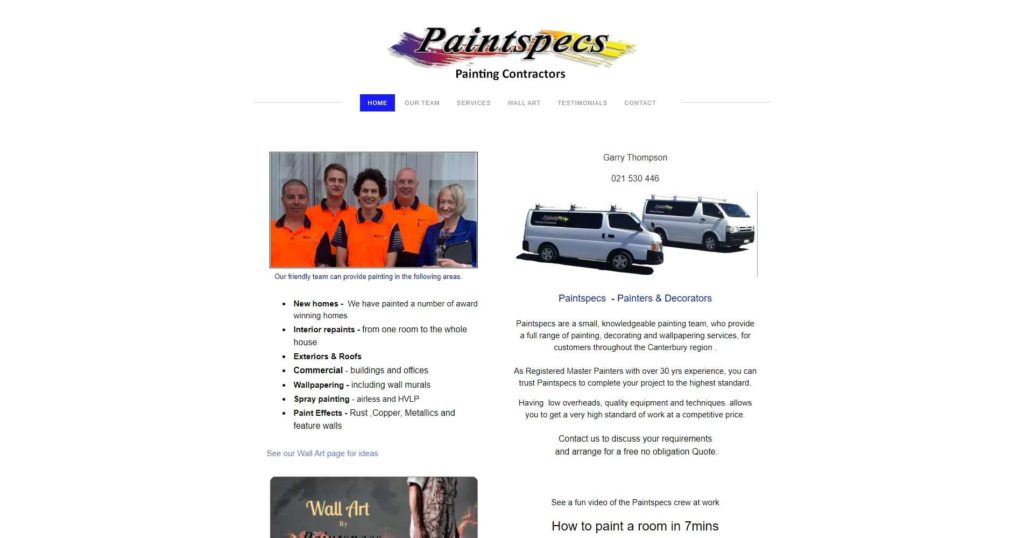 Paintspecs Painting Contractors has a tight knit-team of creative and talented professionals striving to be excellent painters and decorators.
Their claim to fake is the use of designs that both clean up the appearance of a wall and make it "pop." For that, they offer a wide variety of services including painting & decoration for new builds, house interior and exterior, commercial spaces, wallpapering, spray painting, and paint effects.
In particular, their paint effects deserve a special mention as one of Paintspecs' key features, as these bring out unique, rich, and beautiful textures in your walls, flooring, counter fronts, and other surfaces.
Should you opt to use such services, you'll have a lot of freedom on how you want the final product to be, based on color, intensity, and even texture
However, Paintspecs doesn't have a lot of services for paint maintenance and repairs, so you may have to look elsewhere for such services.
On the other hand, if you're looking for a painting company that does a fantastic job in placing unique paint designs and effects in your home, Paintspecs is the best painter and decorator for the job.
Creative and talented professionals
Full range of painting & decorating options
Specializes in applying paint effects
Lacks paint maintenance and repair services
Customer Reviews
Charles Thomas was very impressed with the artistic designs that Paintspecs gave to his office building:
"I would like to thank you and your team for the friendly, professional and courteous manner in which you completed the recent works within our Latimer Square building. We look forward to continuing working with you in the future."
Anna Rogers loved not just the final result of their paint job but also the experience of working with Paintspecs:
"I'm absolutely delighted. I was impressed with the thoroughness of the preparation and the neatness and professionalism of the whole job. It was nice to have such pleasant people around."
4. Simply SDM Ltd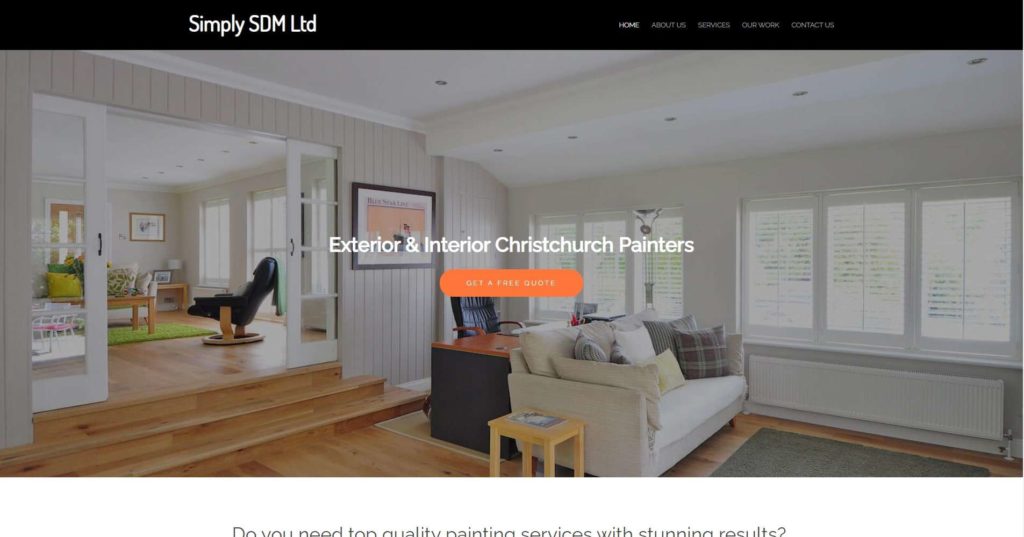 WEBSITE
https://www.sdm.net.nz/
ADDRESS
86 Marshland Road, Shirley, Christchurch 8061, New Zealand
CONTACT DETAILS
+64 3 9607705


[email protected]

OPERATING HOURS
Monday – Thursday: 7:30 AM – 5:00 PM
Friday: 7:30 AM – 4:30 PM
Simply SDM is a company that specializes in interior and exterior painting. They provide their services to communities in Christchurch and Kaikoura.
They offer their services for various types of painting projects, whether for new houses, repaintings, or small businesses. Their offerings also extend to earthquake repairs and insurance coverage, making them versatile in what they can do for their customers.
Former clients have confirmed their professionalism and initiative in sending frequent updates on the status of the project. A lot of the decision-making process also falls on to the clients, which allows them to have a lot of control over what happens next.
In fact, if you want to have the paint job rescheduled some other day, Simply SDM would be glad with any date you name.
The only chink in their flexibility is their lack of experience with renovating to non-modern designs. Many of their renovations dealt with clean, minimalistic designs, but rarely have they worked on other styles.
That aside, we're sure that you'll love the amount of flexibility and hands-on management you'll have when working with Simply SDM.
Offers various types of painting projects
Customer-centric decision making
Flexible timeframes
Inexperienced in non-modern renovations
Customer Reviews
The association between Lorena Hopkins' company and Simply SDM is nothing short of exemplary:
"We own a property management company and use Simply SDM on a regular basis. We have found them to be extremely professional in every aspect. From the first phone call to the finished job the service is second to none. You are kept informed on a regular basis and the finished job is completed to a very high standard. I would highly recommend Simply SDM everytime."
5. Mitchell Decorators Ltd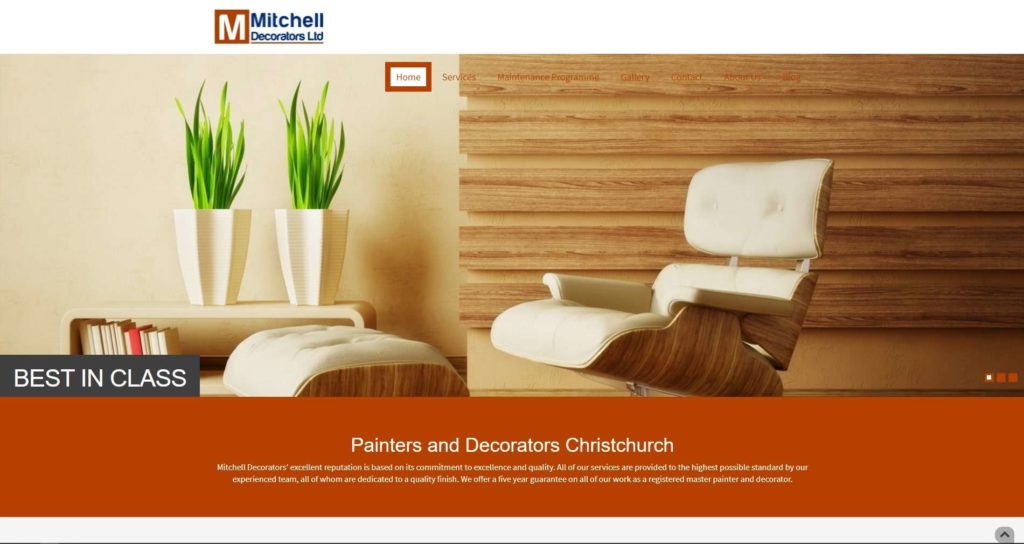 Another veteran in the painting industry, Mitchell Decorators has a lot to offer behind their extensive experience.
They've been operating in Christchurch for over 50 years, during which time they've received multiple awards for their excellence from the NZ Master Painters organization, including a supreme award and a large number of gold awards.
Their proven experience manifests in their streamlined offerings, designed to make it convenient for customers to have a clear choice from their selection of services. Mitchell Decorators is confident that they'll be able to satisfy their clients based on decades of experience working in the field.
On top of that, they feature a whopping 5-year workmanship warranty for customers who experienced defects in their work. A warranty of such length is rare to see in painting companies, and is a huge plus point with one of the best painters and decorators in Christchurch.
Unfortunately, such streamlining also results in a lack of flexibility in special services, which some customers may be looking for. It's easy to circumvent this, however, with a simple call to clarify the services.
If proven industry experience and convenience of choice are what you're looking for, Mitchell Decorators is our pick for you.
Over 50 years of industry experience and awards
Convenient, streamlined services
5-year workmanship warranty
Lack of flexibility in offers
Customer Reviews
Soon after their order finished, Kellie McCallum gave a glowing recommendation to Mitchell
"Hi Wendy, I have paid the invoice today for the above work that has been completed at our property. I would like to say a big thank you to Gary and his team, especially Kevin who worked at our property. He was very courteous at all times and kept in touch with what was happening. I will definitely be recommending Mitchell Decorators to all my friends and family, and will not hesitate to use your business again."
Raymond Eberherd's review was essentially a wholehearted thanks to Mitchell Decorators for their work with his company:
"I'd like to take this opportunity to thank you for your support over many years at Hohepa. When former Chair John Morrissey suggested that I meet up with you and consider using your services, I was somewhat reserved on the matter. However, seeing that John had used you to build his own home, and to effect renovations and repairs at his own factory, I thought it wise to see his suggestion through, and at least to meet with you. I can now describe the meeting as quite fortuitous for Hohepa, as within a few years we were rocked by the earthquakes and there was major work to be carried out to get both sites up and running again. With the massive additional workload that this brought, I can honestly say that I wouldn't have been able to cope without your help and support through those difficult times. The earthquake repairs were, at times, virtually a full time job."
6. Jeff Dermott Painting & Intumescent Coatings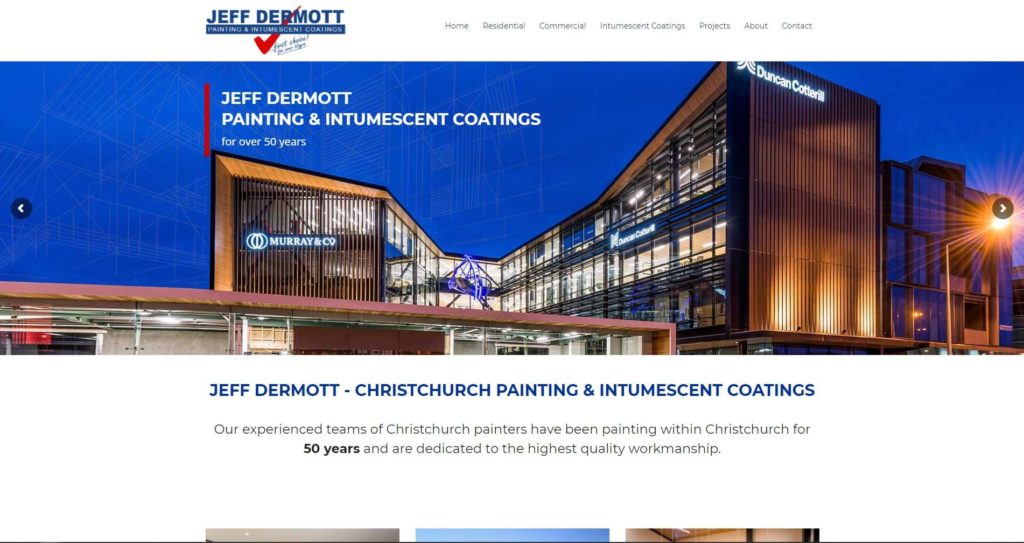 Jeff Dermott Painting & Intumescent Coatings is part of this list because they always hit the mark with their projects.
Their key specialty is in large-scale commercial projects for multiple purposes. From shopping
centres to business shops, their portfolio can be very convincing to those who want to spruce up the appearance of their office building.
The multiple successes they had with such projects indicate their accuracy and attentiveness to every nook and cranny of the building. Aside from asking for the blueprint of the building, they'll also request a representative to guide the team along the building to make sure that they have everything on their plan.
On top of this is their customer service, which is dedicated to clearly and succinctly address any concerns regarding the risks of handling big projects.
Their main focus thus far has mostly been on commercial clients, with little actual experience painting and designing houses. This may be something of note if you're a homeowner.
But if you're a business owner, Jeff Dermott is the perfect pick for you.
Specializes in large scale commercial projects
Precision and attention to detail
Dedicated customer service
Little actual experience with residential projects
Customer Reviews
Steve Jar was amazed by his whole experience working with Jeff Dermott, and would be ecstatic to hire them again:
"From initial contact to job completion the team from Jeff Dermott Ltd were professional in every way. Customer service was delivered at a personalized level. The specifications of the job were met via timely communication, and skilled trades people led by their Project Manager (Jason) who went above and beyond to ensure customer satisfaction. I highly endorse Jeff Dermott Ltd for your next painting and decorating project and I will certainly be utilizing them again."
7. Smart Finish Painting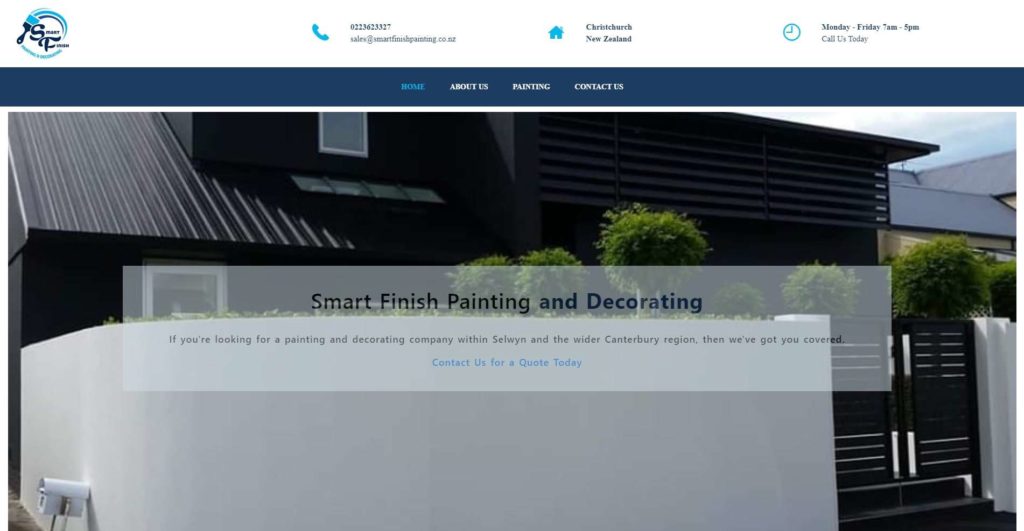 Sometimes, you may just want a paint job for your house, plain and simple. In that regard, Smart Finish Painting is the best painter and decorator in Christchurch for you.
They have several main categories for their services: exterior design, interior design, decorating, and spray painting. What this plain classification tells us is that they're concerned only with giving it straight to the clients with no strings attached.
With that said, their customer support is very friendly and approachable to any potential clients who want to find out the full coverage of their services.
The owner of the company has been in the business for only 11 years, which may turn away anyone who wants only the most seasoned painting companies. On the other hand, they're highly amenable to any changes or suggestions that you may have for the project.
In other words, if you want a no-frills, no strings attached kind of painting and decorating service for your house, then we highly recommend Smart Finish Painting.
Simple services
Dedicated staff
Very flexible
Less experienced compared to other entries
Customer Reviews
Karine Noumea said this about them:
"Nigel was quick to respond when I asked for a quote. He did a great job , found the particular paint I wanted and left the place clear. I would recommend him straight away and will most probably turn to him again for other similar jobs I have in mind."
Hannah Smart said this too:
"Great experience using Smart Finish, professional and well organised service. They do a great job!"
8. Solutions Canterbury Painters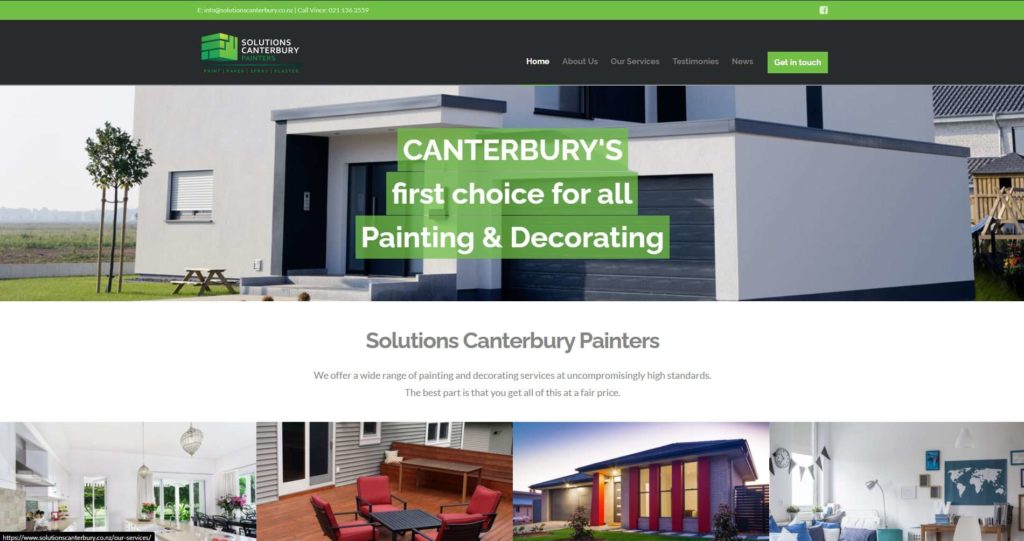 Solutions Canterbury Painters offer a wide range of painting and decorating services at a very specific level.
Having more than 15 years' experience in the industry, they offer a wide and specific set of services for Christchurch's home and building owners.
They have a wide range of painting and decorating services using the very best industry-recognised products, coating systems, application methods and procedures.
One of their most interesting services is "preparation work," an option for DIY fans who don't want the hassle behind building up to the actual project. This kind of offer is rare to come by when the majority of painting companies would insist that they do the whole thing at the customer's convenience.
The only downside when working with Solutions Canterbury Painters is its distance from major areas. Since many residents live in the more urbanized areas, it may take time for them to reach their clients.
Take it from us, though — when they arrive at your place, expect to have a pleasant paint job.
15 years of robust experience
Variety of painting and decorating services
"Preparation work" offer
Customer Reviews
Nicky Barnet adored the owner's sheer dedication to finish the job well:
"From my first phone call I was given all the information I needed from Jo and Vince came out the next day for a quote! Owning a small business I wasn't able to close this wasn't a problem for Solutions Canterbury ,Vince worked nights and weekends to complete the inside painting of my shop! The finished product was amazing . A+++ from start to finish. Thank you Vince and Jo I will be back."
Sarah Schaap saw how careful Solutions Canterbury Painters was when doing a decoration job at their house:
"I used Solutions Canterbury to paint my house before selling – I was so impressed with both the quality of Vince's work but also how discreet he was around my home. He tidied up well as he went and was no imposition at all. Highly recommend"
9. Justpainted Painting Contractors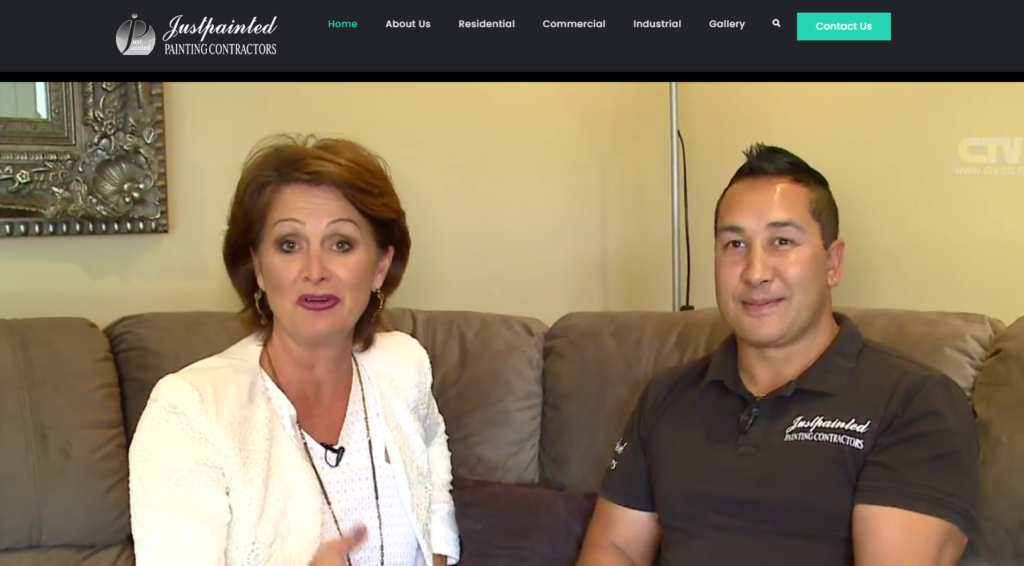 Justpainted Painting Contractors is headed by one Justin Baker, whose years and experience in the field of painting allows him to confidently lead a team that specialises in residential, commercial, and industrial paint works.
Their workmanship is one of the most noteworthy from what we've seen, portraying both quality and longevity.
It doesn't stop there, though, as Justpainted specialises in fields other than painting. The company also offers electrical work, roof and fence painting, wallpapering, kitchen joinery, plumbing and gas, concrete repairs and resurfacing, and commercial cleaning.
No matter the job they are employed for, Justpainted Painting Contractors displays the same level of commitment to quality work.
The company has also been praised for their display of professionalism, always being prompt, friendly, and accommodating to every client they take on.
Caters to residential, commercial, and industrial clients
Wide range of services
Quality workmanship
How to Choose the Best Painter and Decorator in Christchurch
House painting is its own skill set with different specialisations. With that said, every painter and decorator specialises in particular fields of painting and may be better suited to your needs than others.
Generally, it's very difficult to actually identify the best painter and decorator for you, so here are some tips to help you.
1. Ask for a quote
When you hire a painter and decorator, you're paying for both their tools and labor. Each painting company has a different way of gauging how much their services are worth based on the project.
Since that element is difficult to actually control, your best bet for knowing the price of your paint job is by asking for quotes. Fortunately, many painting companies offer free quotes after an evaluation of what you want painted.
Be sure to ask for quotes from multiple companies so that you can have a clear perspective of how much the paint job will cost. Then, pick the company that best suits your budget.
2. Check offers
What else do they offer besides simple paint jobs for the exterior and interior of your house? This question is important because in the long run, you'll probably be asking for more than one paint job.
Thus, it's best to stick with one painting company that offers services such as paint maintenance and even basic wall repairs. You'll benefit a lot from this in the future because they'll serve you very well from having a history of painting — thus, knowing — your house.
3. Read reviews
Customer reviews can let you know what it's like to work with a certain painting company, not only on a single paint job but also for long-term.
If possible, look at reviews by customers who asked for a similar paint job as yours. This will allow you to evaluate if a certain company can satisfy your needs as well.
FAQs about the Best Painters and Decorators in Christchurch
---
With the help of any of the best painters and decorators in Christchurch we listed here, you can transform your home and make it more attractive and durable for the years to come!
Do you agree with the companies we included here? Share with us what you think of them by sending us a message and we'll get right back to you.
Apart from that, you may also be interested about the best flooring companies in Christchurch! Here, they have great flooring options for your home or workplace.