The 5 Best Painters in Hamilton
Do you need professional painters for your home or business? If you do, you're in the right place, as we've listed the best painters in Hamilton here for you!
We chose the companies who are trusted for their expertise and professionalism and who work to a very high standard. We also picked the ones who respond promptly as well as having a friendly and pleasant attitude.
Additionally, we also considered what clients said about them. This proves that we didn't make a mistake in including these painters in this list.
Surely, these contractors will go the extra mile to assure your satisfaction! Anyway, you'll see that for yourself if you hire them — so here are the best painters in Hamilton!
1)  Hamilton Industrial Spray Painters Ltd.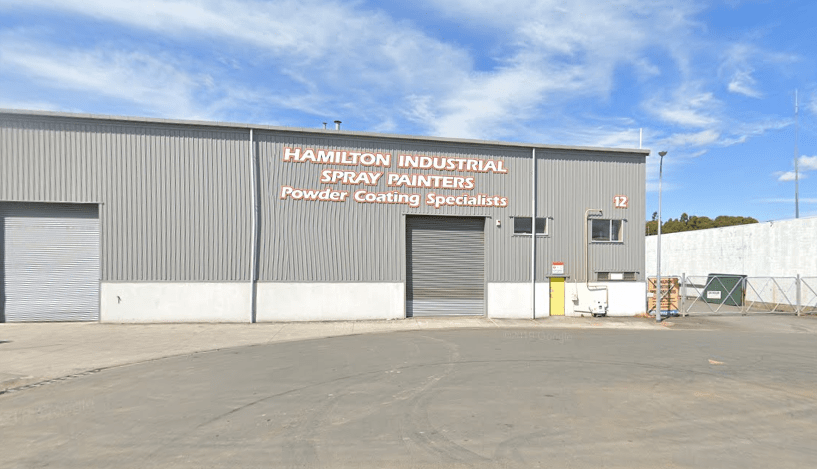 BEST FOR
Powder Coating and Spray Painting
SERVICES
Finishing

Staining

Restoration

Lacquering

Painting

Polishing

WEBSITE
https://yellow.co.nz/y/hamilton-industrial-frankton-hamilton
ADDRESS
12 Belfast Place, Frankton, Hamilton West 3204, New Zealand
CONTACT DETAILS
+64 7-847 8794
OPERATING HOURS
Monday – Thursday: 7am – 5pm

Friday: 7am – 4pm
Hamilton Industrial Spray Painters Ltd is the company to call when it comes to spray painting and powder coating! They aim to provide quality workmanship at a great price.
Most of their clients are from the industrial and commercial sectors. Some examples of what they paint are fences, chassis, go karts, antiques, bookcases, and dining sets.
They were established in '63 and provide a friendly, fast and prompt service. Just hit them up if you need any painting, lacquering, polishing, staining, finishing, or restoration jobs done.
Highlights
High quality workmanship
Spray painting or powder coating specialists
Formed in 1963
Friendly, prompt service
2)  Straight Paint Painting Contractors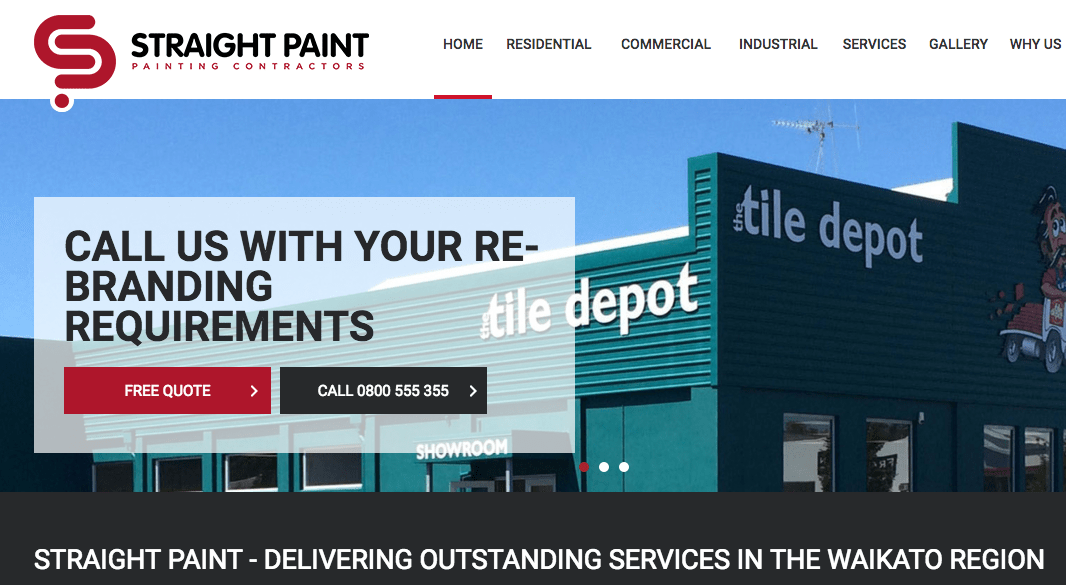 BEST FOR
Expert Commercial Painters
SERVICES
●     Commercial Painting

●     Industrial Painting

●     Residential Painting

●     Renovation Paint Jobs

●     Airless Spraying

●     Water-Blasting

●     Brush & Roller Painting

●     Specialty Finishes

●     Shop Fit-Outs

●     Floor Painting

●     Rust Removal

●     Fireproofing

WEBSITE
https://www.straightpaint.co.nz/
ADDRESS
13 Lake Road, Frankton, Hamilton 3204, New Zealand
CONTACT DETAILS
+64 800 555 355
OPERATING HOURS
Monday – Friday: 7.30am – 4pm
Want to keep your industrial plant appealing? Or maybe you want to paint your new home's interior? Whatever the painting task, Straight Paint Painting Contractors offers it all.
The company has over 30 years' experience in the painting industry. They are composed of a team who are members of Master Painters NZ and Site Safe.
They care as much as you do about your property and work to meet your specific demands and requirements. Time restrictions and deadlines are something they are used to and complete without failing.
They are one of your best painters in Hamilton mainly for the quality of the work they provide you. They utilise top-of-the-line products and guarantee their workmanship.
Highlights
Excellent quality workmanship
Considerate, skilled and knowledgeable contractors
Full spectrum of services
Master Painters NZ and Site Safe member
Over 30 years' experience
Customer Reviews
On the testimonials section of the company's website, Steve W, one client, said:
"I used the Straight Paint team to paint a commercial building that I own and can fully recommend them to anyone else that is considering painting contract. They delivered a great final result but more importantly they were totally professional throughout the process. Without needing to be asked they painted the shopfronts outside of hours to ensure no disruption to my tenants. Thanks guys for the awesome effort!"
3)  Cantec Services Group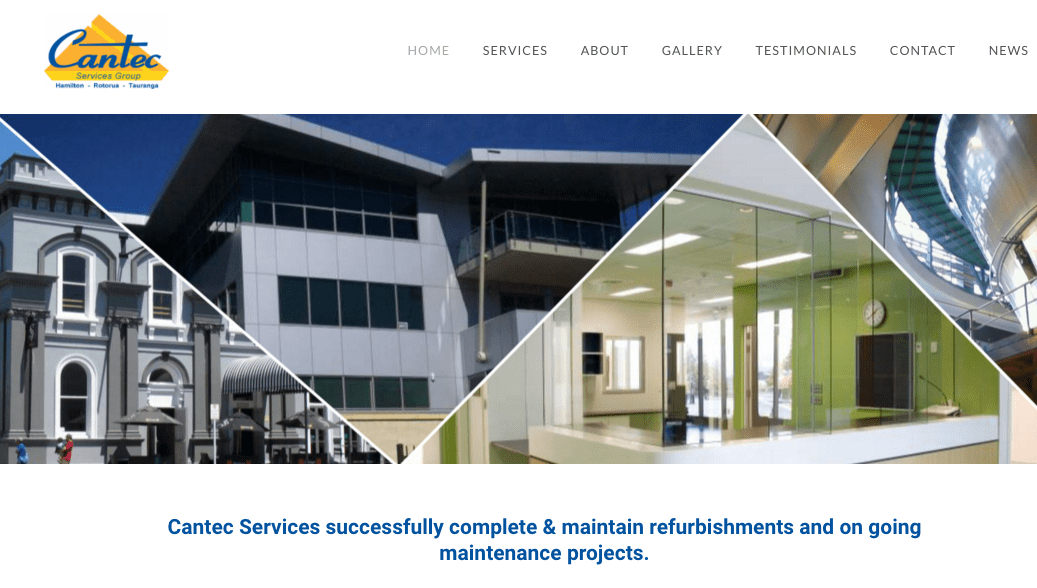 BEST FOR
Refurbishments & Maintenance
SERVICES
Painting & Decorating

Roofing

Specialist Applications

Scaffolding/Access Equipment

WEBSITE
http://www.cantecservices.co.nz/
ADDRESS
118 Norton Road, Frankton, Hamilton 3204, New Zealand
CONTACT DETAILS
07 846 7166
OPERATING HOURS
Monday – Thursday: 7.30am – 5pm

Friday: 7.30am – 4pm
Cantec Services Group specialises in commercial and industrial painting and decoration services. They serve clients throughout the Waikato and Bay of Plenty regions.
They use a range of premium brands and materials, such as Dulux and Resene paints. This results in a superior coating and finish for your place's interior and exterior.
Check out their textured coatings for walls and ceilings with a unique, great-looking touch. Plus, they can waterproof or apply protective coatings for your roofs, gutters and tanks!
Highlights
Superior coating and finish
Provides commercial and industrial painting
Uses premium paint products
Covers the Waikato and Bay of Plenty regions
Customer Reviews
Anne Bennett, the YWCA manager, left a review on the painter's website:
"Les and all your painting staff did a great job. We really appreciate that everyone involved with Cantec always goes the extra mile for us. Your responsible, friendly and hardworking staff worked in and around our daily requirements and met our deadlines.
Well done!
We look forward to working with Cantec Services again at the YWCA."
4)  Painting Hamilton NZ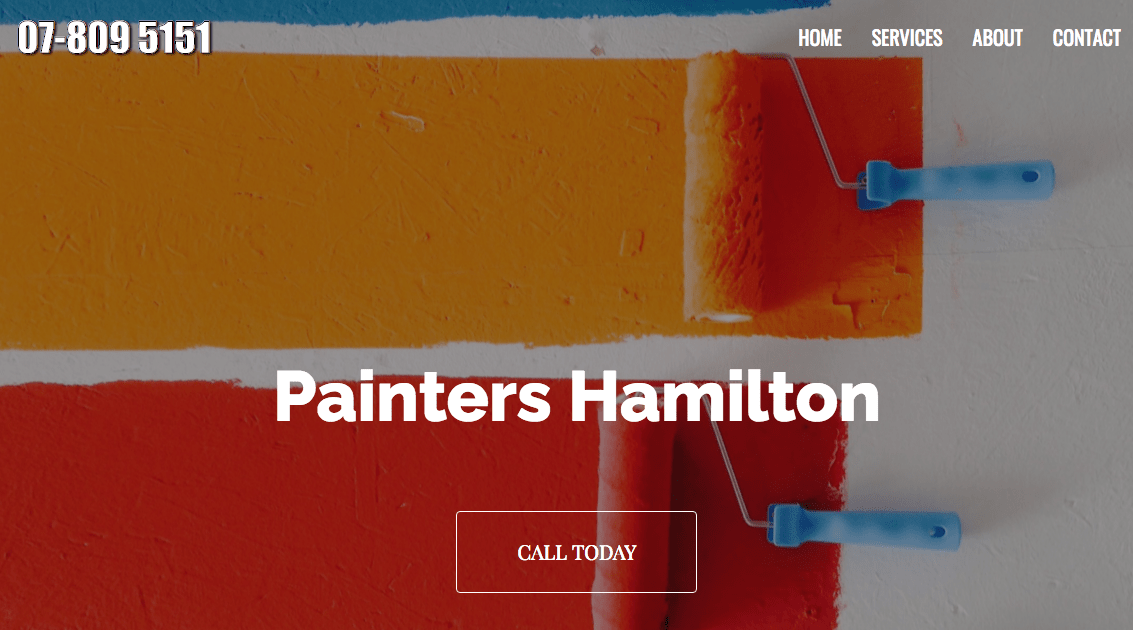 BEST FOR
Neat and Tidy Work
SERVICES
Residential Painting

Commercial Painting

Interior Painting

Exterior Painting

WEBSITE
https://www.paintershamiltonnz.info/
ADDRESS
Hamilton Central, Hamilton 3204, New Zealand
CONTACT DETAILS
+64 7-808 6177
OPERATING HOURS
Monday – Sunday: 7am – 7pm
Dreaming of that perfect colour combination for your property? Painting Hamilton listens to your exact, individual needs and paints accordingly — to an exceptional standard.
They can handle all sizes of painting projects for residential or commercial settings. Their expertise and neat work habits have earned them a solid reputation in the city.
With over 35 years' experience, they keep up with the latest innovations in the industry. They only use high-quality products and always do the job right the first time!
As such, Painting Hamilton NZ has some of the best painters in Hamilton you can call!
Highlights
Exceptional workmanship
Neat and tidy work
Uses only high quality paint products
Over 35 years' experience
Customer Reviews 
One of their clients, Andy, said this on the website:
"I needed a Painter to paint my 3 bedroom house in Fairfield. My Aunt recommended these guys so I Hired them. The Service was fantastic. Very professional and Punctual. They finished the job really quickly. The painters were very friendly. I loved the finished product. Well Done Guys"
5)  Affordable Finishes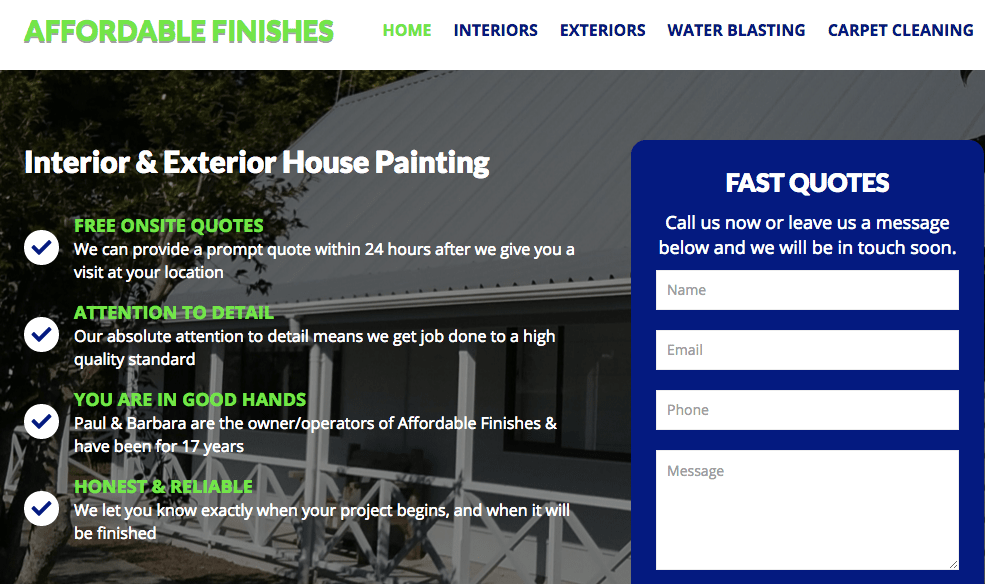 BEST FOR
Honest & Reliable Service
SERVICES
Home Interiors

Home Exteriors

House Washing

Carpet Cleaning

WEBSITE
https://www.affordablefinishes.co.nz/
ADDRESS
Glenview, Hamilton 3206, New Zealand
CONTACT DETAILS
07 853 9711

Paul: 027 247 7385

Barbara: 027 547 7385

OPERATING HOURS
—
If you want fantastic painting quality paired with an honest and hands-on service, you've found it with Affordable Finishes!
This is a small independent business owned and operated by Paul and Barbara for more than 17 years! They provide prompt quotes for your project within a day or less!
Both Paul and Barbara share an interest and passion in painting and have a great eye for detail. They make sure to take care in all aspects of the painting from surface prep to the final coat — and being responsible for your furnishings.
Here, you are going to get more than what you paid for: you are going to get a remarkable service from one of the best painters in Hamilton!
Highlights
Honest and reliable service
Gives a fantastic paint finish to your home
Prompt quotes
Offers painting and cleaning services 
Customer Reviews 
Here's Bernard Brown, one client, whose feedback is posted on the website:
"Affordable finishes are affordable with guaranteed quality finishes. Thanks Paul for completing various projects on time and within budget costs.
Cheers."
And that's it for now for the best painters in Hamilton! Now you know whom to call when you need any painting work done in your house, office or even in industrial sites.
Do you have any questions or suggestions for us? Feel free to drop us a line and we'll get back to you in a bit.
At any rate, you can check out our other Hamilton lists too for further home improvement services. For example, you can try the best locksmith Hamilton services to keep your home and its occupants safe and protected.