The 9 Best Painters in Tauranga
Need your house's facade repainted or hoping to get a fresh, modern interior? If so, then we can help you, as we've compiled a list of the best painters in Tauranga here!
We chose experienced and professional painters to be sure you get the paint job you desire! Also, we selected those who are helpful, friendly and neat at work.
Furthermore, we took into account what clients had to say. That let us know that we were indeed correct in choosing these painters as the best in the city.
Note that these painters can also help you decorate your interior. Without any further ado, here are the best painters in Tauranga!
1)  Professional Bay Painters Ltd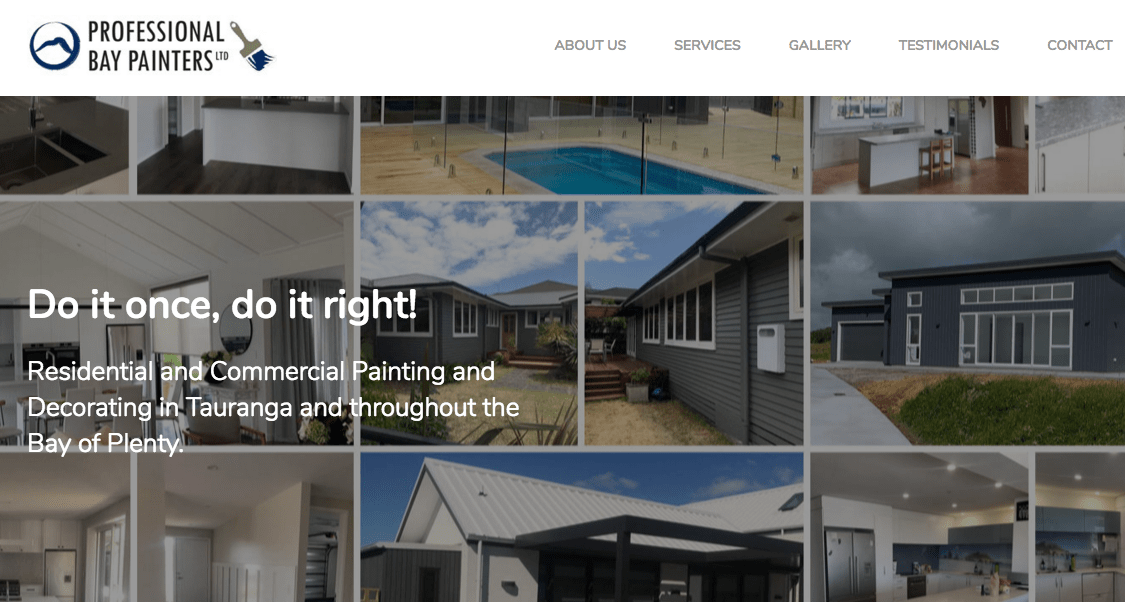 BEST FOR
High Quality Workmanship & Attention to Detail
SERVICES
●     Repainting Existing Homes/Alterations

 

●     New Homes Painting

●     Commercial Painting

●     Roof Paints

●     Staining

●     Airless Spray Systems

●     Spray Finish Doors

●     Repainting Kitchen Cabinets/Draws

●     2 Pac Spraying Systems

●     Wallpapering

●     Waterblasting

●     Colour Matching

WEBSITE
http://www.probaypainters.nz/
ADDRESS
8 Maru Street, Mount Maunganui 3116, Tauranga, New Zealand
CONTACT DETAILS
022 367 0770

 

OPERATING HOURS
Monday to Friday: 8am – 5pm
Freshen up the look of your existing home or paint luxurious colours for your new build! This and a lot more are offered by Professional Bay Painters Ltd!
Having over 20 years of experience, they ensure supreme quality, attention to detail, and great results. They maintain excellent communication in the course of the project too.
They offer a complete array of services, namely residential and commercial painting, repainting, spray painting, staining, and roof painting.
Furthermore, they can even engage in waterblasting and wallpapering. That's why this is a one-stop shop that has all your needs covered in Tauranga and the Bay of Plenty areas!
Highlights
Excellent quality workmanship
Fantastic communication
Offer an array of painting options
Over 20 years of experience
Customer Reviews
Matthew Hart, one customer, shared a comment as posted on the Professional Bay Painters website:
"We used Professional Bay Painters to repaint a number of areas in our New World supermarket and also some touch up work. The standard of workmanship and service we received from Ray and his team was of high quality, value and very prompt. Given our supermarket is open 7 days Ray and his team completed the work over a number of nights, working through the night so as not to disrupt our staff and customers. I would highly recommend Ray and his team at Professional Bay Painters. Thanks guys!"
2)  Painter Girl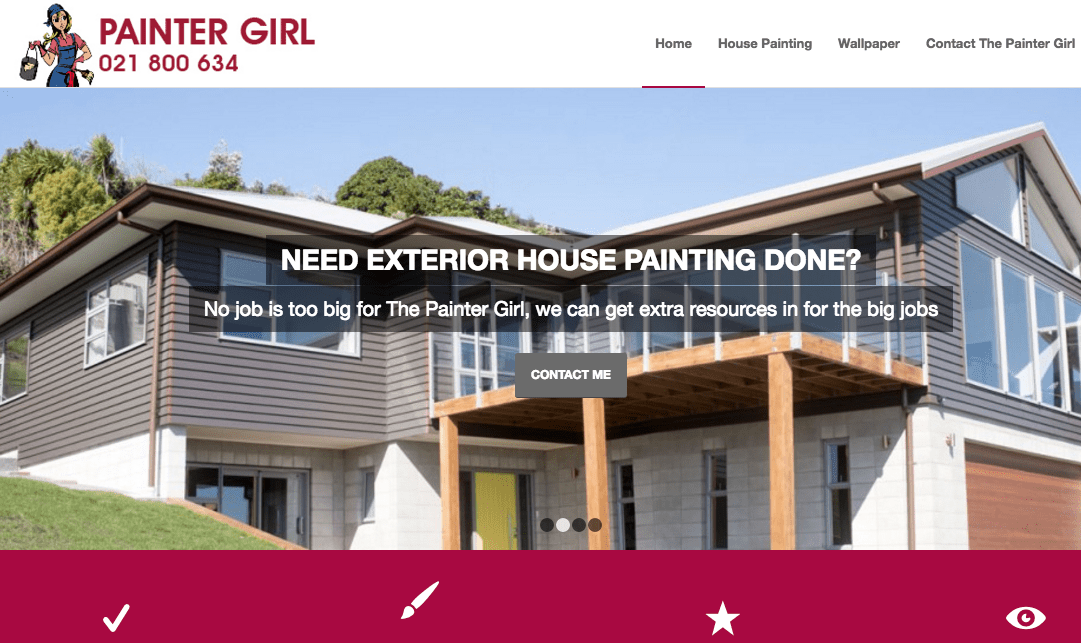 BEST FOR
Flawless and Time-Efficient Finish
SERVICES
Exterior House Painting

 

Interior Décor and Painting

Spray Painting New Homes

Renovation, Refurbishment, Restoration

Detail Painting

Wallpaper Stripping

WEBSITE
http://www.taurangapainter.co.nz/
ADDRESS
21 Asher Road, Welcome Bay, Tauranga 3175, New Zealand
CONTACT DETAILS
+64 21 800 634
OPERATING HOURS
Monday to Friday: 8am – 5pm
Choose someone who's skilled enough to do the job, choose someone who brings you value …and most of all, choose someone who finishes on time and with a flawless finish!
Painter Girl is run by Stephanie Halliday, who has a passion for painting. She and her team have great attention to detail and can assist you on the right colours to use.
They specialise in house painting and can take on any painting job whether it's an old house painting task, refurbishment, exterior, interior, detail or roof painting.
That's why Painter Girl is good enough to be among the best painters in Tauranga!
Highlights
Skilled and passionate painters
Great attention to detail
Specialises in house painting
Can provide expert advice on colour use
Customer Reviews
Here's Cecile Hurford's review which you can find on the painter's website:
"Stephanie painted my kitchen, including the cupboard doors and drawers for me, as well as my bathroom vanity and cupboards. She quoted my a price and stayed within that price, even though the bathroom cupboards were last minute extras. She also estimated the job take 5 days, but in fact she finished in 4.
I am very pleased with the result and can recommend Stephanie to anyone wanting to use her decorating services."
3)  SMARTS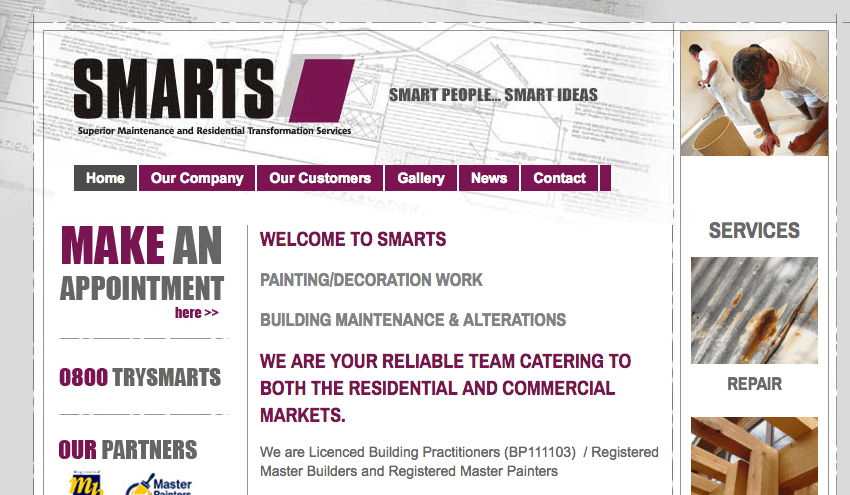 BEST FOR
Quick Response Times
SERVICES
●     Painting – new or existing, residential & commercial

 

●     Building Maintenance.

●     Building Additions/Alterations (transformations)

●     Insurance Repairs (Vero, SIS, ANZ, AAI accredited)

●     Full Building Services

WEBSITE
https://www.smartsltd.co.nz/
ADDRESS
8A Courtney Road, Gate Pa, Tauranga 3112, New Zealand
CONTACT DETAILS
+64 7-571 2576

 

OPERATING HOURS
—
SMARTS is a Tauranga-based licenced builder and master painter company that provides gold-standard work. They can do interior and exterior painting for both commercial and residential properties.
They have a tight-knit team consisting of 2 builders, 5 painters, and administration staff. They are all experts in their trades and work together in order to serve you.
Moreover, they cater to your individual requirements and can even help you decorate your house too. Call them and they will respond promptly, ready to assist you!
And as you can see, it's no question that they are some of the best painters in Tauranga!
Highlights
Licenced builders and master painters
Adept and knowledgeable tradies
Offer interior and exterior painting
Quick response times
Customer Reviews
Let's see Richard Mackey's review, which you can find on the website:
"Arrived on time, no extended breaks and no shooting off to other jobs in between. What's more no mess to tidy after them and the end result is simply fantastic.
So I would like to take this opportunity to thank you and your team for an outstanding job. I would have no hesitation in recommending SMARTS to anyone."
4)  Elite Painting Ltd

BEST FOR 

 

Personalised services

SERVICES

Interior painting

Exterior painting

Wallpaper hanging

Wallpaper removal

WEBSITE

https://www.elitepainting.co.nz/

ADDRESS

148 Evans Road, Papamoa 3118

CONTACT DETAILS

027 3108460

 

OPERATING HOURS

Monday to Friday: 8am – 5pm
Elite Painting may have been founded only recently in 2018, but owner, Chris Young, already has over a decade of experience in the industry.
Chris leads a skilled team of painters specialising in interior & exterior painting and wallpaper hanging. They have extensive knowledge in a range of painting techniques and use the latest technologies available. 
With its small team, Elite Painting prides themselves on attention to detail and quality workmanship using only the most professional products available from Resene and Dulux. 
Highlights
Free no-obligation quotations
Quality workmanship guaranteed 
Wallpaper services
10+ years of experience
5)  Propaint Ltd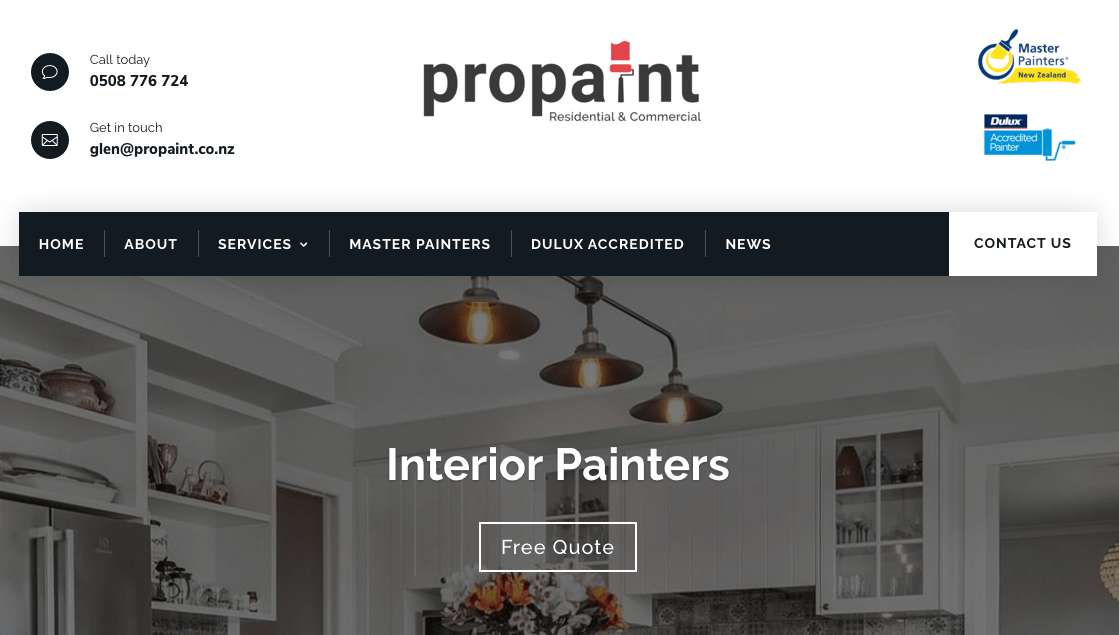 BEST FOR
High-End Interior & Exterior Painting & Wallpaper Hanging
SERVICES
Interior Painting

 

Exterior Painting

Wallpaper Hanging

Shop Fitouts

WEBSITE
https://www.propaint.co.nz/
ADDRESS
156 Evans Road 3118 Tauranga, New Zealand
CONTACT DETAILS
0508 776 724

 

OPERATING HOURS
Monday to Friday: 8am – 5pm
Have Propaint modernise your home's colour scheme. Their trade-qualified team includes master painters who have more than 2 decades' experience.
Specialising in interior and exterior painting, they pride themselves on their remarkable workmanship. They are skilled in different techniques such as spray painting, for one.
As for their wallpaper hangings, they have a wide range of options for you to choose from. And they are careful to hang them in a way that will improve your room.
Therefore, we can safely say that Propaint is one of the best painters in Tauranga, if not the best!
Highlights
Remarkable workmanship
Have a team of master painters
More than 2 decades' experience
Customer Reviews
Let's see the review of one client, Maree Hansen, as posted on the website:
"Glen completed our projects on time, within budget and pretty much independently. It's been great knowing I can rely on someone to use their initiative and take care of the 'look and feel' – I'm based in Wellington and the fit-outs have been Tauranga and Auckland. Absolutely recommend Propaint and will definitely use them again."
6)  Fresh Coats Painting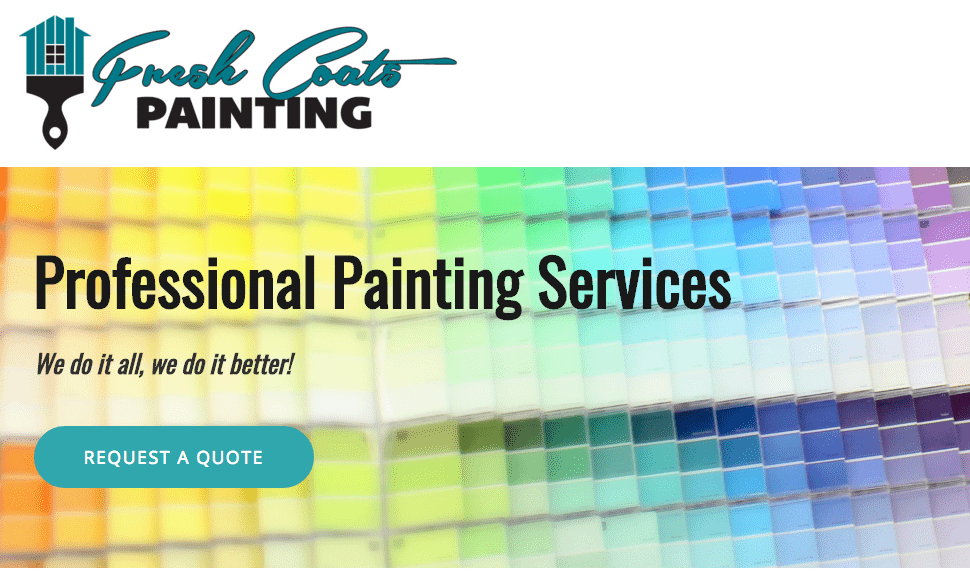 BEST FOR
Competitive Rates
SERVICES
Exteriors

 

Interiors

Fences & Roofs

WEBSITE
http://www.freshcoats.co.nz/
ADDRESS
Tauranga, New Zealand
CONTACT DETAILS
+64 22 421 4261
OPERATING HOURS
Monday to Friday: 7.30am – 6pm
Offering high-quality painting at a competitive price, Fresh Coats Painting is an awesome choice! Since the company started, they have completed 650+ projects within Greater Tauranga.
Their painters are experienced and reliable and only use trusted and high-performance materials. They can paint your home: both the interior and exterior as well as the roof.
Also, they can work within your timeframe without a problem. After all, they are known to provide fast yet superb results for a beautiful and lovely home inside and out!
Highlights
Competitive rates
Fast yet superb results
Experienced and reliable team
Offers a range of painting and decorating services
Customer Reviews
One customer, Lisa Ingham, said on Google Business:
"We are really pleased we chose Dan and his staff to paint our house.  They were fantastic, friendly and really hard working.  The job was completed to a high standard and we would definitely recommend them."
7) MSPS Ltd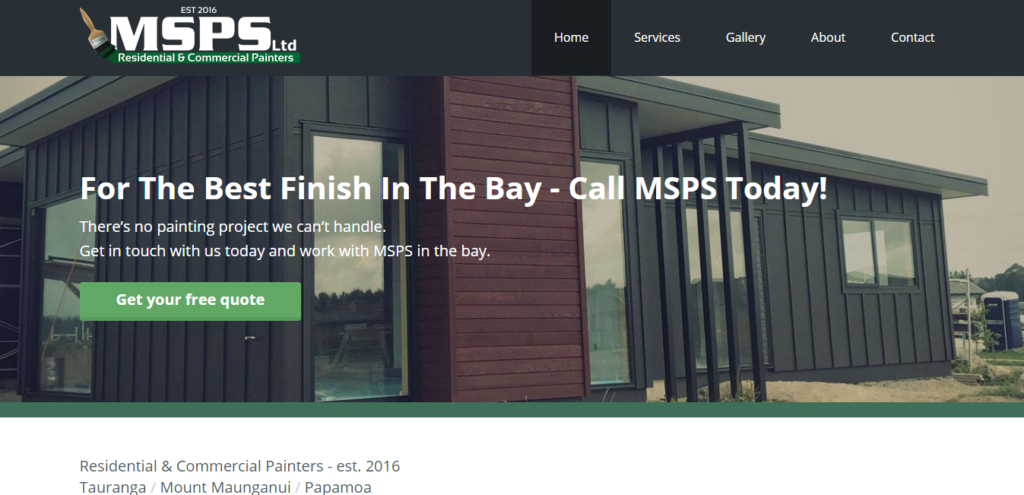 | | |
| --- | --- |
| BEST FOR | High-quality finishes |
| SERVICES | Commercial and residential painting, repainting, painting maintenance, roof painting, staining and reinstatement of steel |
| WEBSITE | https://www.mspspainting.co.nz/ |
| ADDRESS | Tauranga, New Zealand |
| CONTACT DETAILS | +64 22 646 9153 |
| OPERATING HOURS | Monday Sunday: 7:30 AM – 7:30 PM |
Mike Singers Painting Services (MSPS) has been serving residential and commercial buildings in the Tauranga area since 2016. They provide high-quality finishing for any type of painting job, whether it be for house exteriors or inner wall repaints.
As experts in exteriors, they can also do painting services for your roofs and decks. Aside from painting, you can also improve your house exterior with water blasting, another service that MSPS also offers.
Whatever you hire MSPS for, you can trust the quality of its workmanship simply because the company also offers a 5-year warranty.
Highlights
On-time and on-budget services
Friendly yet professional painters
5-year workmanship guarantee
Dulux, Wattyl, and Resene brands
Customer Reviews
Here's a review to help you learn if Mike Singers Painting can really give you what you want for your home or business property:
"Mike just finished our house in the middle of winter and he did an amazing job. His communication is great and he is committed to doing a great job. He is very thorough and we love the outcome!"
8) Regency Painters BOP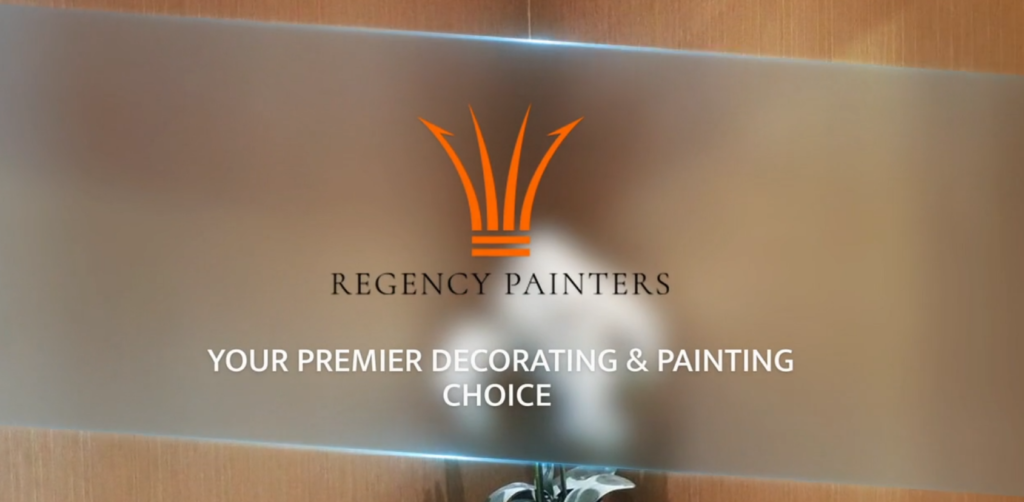 Next on our list is a service company that specialises in the application of wallpaper and paint. Regency Painters BOP has been in business since 1990.
From that year until now, Regency Painters BOP has constantly served the people of Tauranga, endeavouring to provide high-quality painting and wallpapering services to those who are in need of it.
Aside from quality paint and wallpapers, Regency Painters BOP is also known for exceptional efficiency and the highest level of professionalism. Regency Painters BOP is also very flexible, working with whatever paint or wallpaper that the client wants.
Now, aside from the service itself, Regency Painters BOP makes an excellent choice because of its exceptional team, which consists of skilled professionals who are capable of handling any paint or wallpaper job.
Those who have further questions or would like a consultation can contact Regency Painters BOP via phone or email.
Highlights
Skilled, professional team
Free quote
High-quality painting and wallpaper services
9) Lacquer Specialists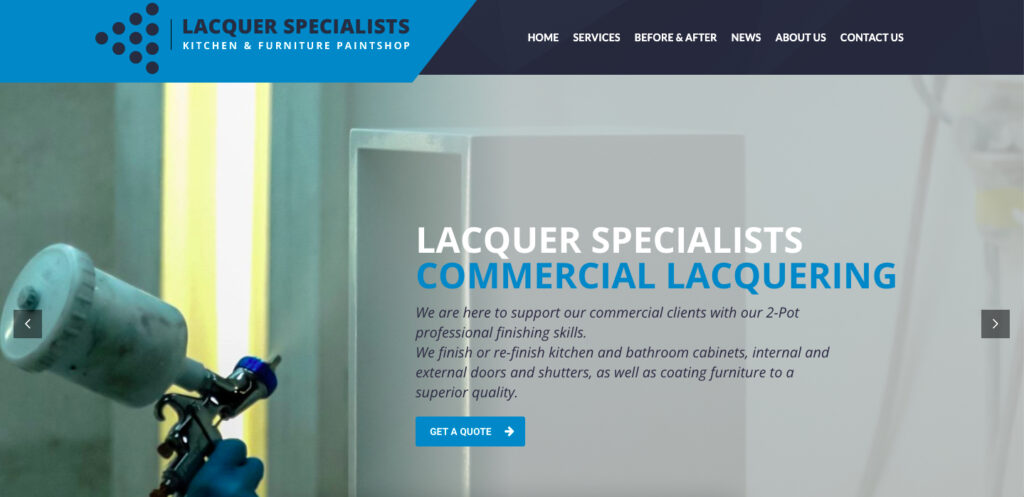 If you need any lacquer spray painting services, we think you should stop your search and go give Lacquer Specialists a shot.
Their company has been in the industry for more than two decades and makes use of the highest quality two-pot lacquer! Plus, they work on both residential and commercial spaces.
We like that they make requesting for a quote so much easier and more efficient. You just have to give them the necessary documents and specs, and they'll reply within 48 hours.
We've gone through their portfolio and we can say that we get why their name is Lacquer Specialists! We can say that they're excellent at what they do.
Highlights
More than 20 years of experience
Quote within 48 hours
Can work on both residential and commercial spaces
Past projects available on website
And there you have it for the best painters in Tauranga! If you're sprucing up your home, you can't go wrong with the professionals we have on this list.
Do you agree with the painters we included here? Feel free to share your thoughts with us or whether you have any questions, and we'll get back to you.
By the way, if you need other home services, check out our other Tauranga lists. For instance, you may want to read about the best plumbers in Tauranga. They will fix your burst pipe, faulty heater, broken shower handle, and others.