The 6 Best Payroll Services in NZ
A payroll requires a lot of effort and time to complete. Even the most simple of errors in payroll can potentially lead to losses in the company revenue.
That said, we've listed the best payroll services in New Zealand to help you effectively manage the payroll for the employees in your company.
We picked payroll services provided by experienced and professional accountants. Also, we made sure that these services provide great communication with clients for a complete, hassle-free service.
Are you ready to see our list of the best payroll services in NZ? If you are, let's begin!
1)  Bookkeeping & Payroll Services Ltd

BEST FOR
Affordable & professional payroll services
SERVICES
Payroll

Bookkeeping

Inland Revenue Filing

WEBSITE
https://www.thebookkeeper.co.nz/
ADDRESS
13 Chipping Dale, Mangere Bridge, Auckland, New Zealand
CONTACT DETAILS
09 634 3556
OPERATING HOURS
Monday – Thursday: 9.00 AM – 5.00 PM

Friday: 9.00 AM – 3.00 PM
Have your business payroll handled for you by Bookkeeping & Payroll Services. You can trust them since they are NZBAI-accredited (New Zealand Bookkeepers Association) and have a great track record with clients.
They offer professional and competitive payroll services for medium-sized and small businesses across New Zealand. The pay slips and associated reports and documents will be taken care of for you.
Moreover, their meticulous bookkeepers will ensure that your payroll complies with the Inland Revenue. They can also handle student loans and Kiwisaver payments.
You can enquire with them through their online form or call them through their hotline.
Highlights
NZBAI-certified member
Skilled bookkeepers
Affordable rates
Complete service
Customer Reviews 
One customer, Sanjay Namburi, shares their experience in this review: 
"David and Helena have been helping us for about 16 years now , there must be a reason for that .. they are proactive , prompt to respond , professional  and I would certainly recommend them."
2)  Rocket Payrolls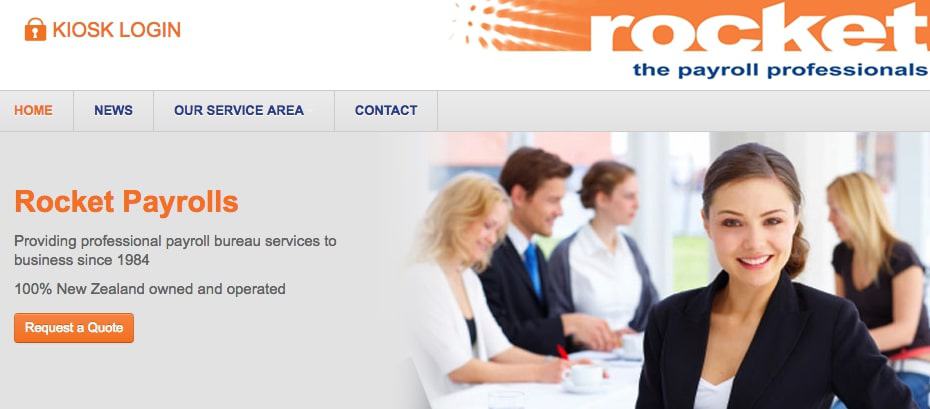 | | |
| --- | --- |
| BEST FOR | Excellent customer service |
| SERVICES | Payroll Services |
| WEBSITE | https://payroll.co.nz/ |
| ADDRESS | 4/706 Great South Road, Penrose, Auckland 1061, New Zealand |
| CONTACT DETAILS | +64 9-525 6872 |
| OPERATING HOURS | Monday to Friday: 9.00 AM – 5.00 PM |
If you're a new or existing business owner and need reliable payroll services, then leave the work to Rocket Payrolls. They've been outsourcing payroll services since 1984.
They will ensure that your employee receives the right amount of salary and entitlements on pay day. Filing to the Inland Revenue will be handled for you as well.
You just need to send in your payroll information to them by email or fax. Once done, the reports will be sent to you as encrypted PDF attachments for security.
Clients say their questions have been answered by the Rocket Payrolls team in a prompt and friendly manner. Other clients also noted that they received accurate payroll results from them.
Highlights
Outsource provider for payroll services
Accurate reports
Friendly and knowledgeable staff
Handle IR filing 
Customer Reviews 
Here is one of the many positive client reviews that Rocket Payroll has received: 
"The staff are extremely knowledgeable and it's refreshing to talk to someone that knows their payroll system and how current legislation is applied."
3)  Alice from Accounts

BEST FOR
Small business payrolls
SERVICES
Bookkeeping

Payroll Services

Administration

WEBSITE
https://www.alicefromaccounts.co.nz/
ADDRESS
Fenwick Crescent, Hillcrest, Hamilton 3216, New Zealand
CONTACT DETAILS
+64 21 259 7760
OPERATING HOURS
Monday – Friday: 8.30 AM – 5.30 PM
Alice from Accounts is a virtual assistant accounting and payroll firm. Its owner, Alice, works flexibly and has over 7 years of experience in accounting and being a virtual assistant.
She's certified with Xero, MYOB, and Ace payroll systems. Her services include payday filing, wage reports, leave balances, and timesheets.
She'll answer your emails quickly and promptly. According to many of her clients, you won't feel the burden and stress in working with her.
With her flexibility and wide range of services, she offers one of the best payroll services in NZ for small businesses.
Highlights 
Virtual assistant firm
Certified Xero payroll user
Fast response
More than 7 years of experience
Customer Reviews 
Check out this positive feedback from one of Alice's happy clients: 
"I just wanted to tell you how much I appreciate your great service. It is fabulous to not have to worry about this side of the business. We are lucky to have you."
4)  Upshot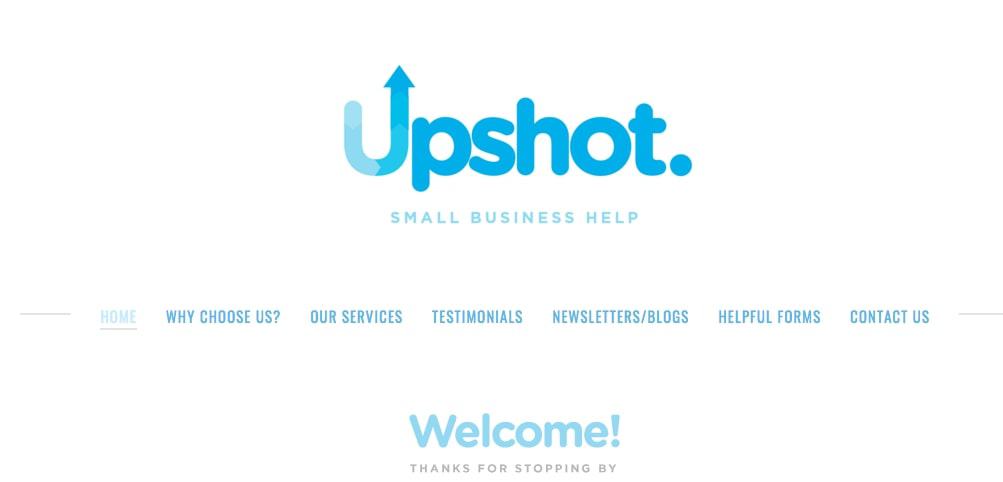 BEST FOR
Hassle-free payroll work
SERVICES
Accounting / Accounts Services

Xero Accounting Software

Payroll Services

Human Resources

Health & Safety

Specialist Small Business Services

Other Accounting & Payroll Software

WEBSITE
https://www.upshotnz.co.nz/
ADDRESS
48 Anne Road, Bellevue, Tauranga 3110, New Zealand
CONTACT DETAILS
+64 7-576 5994
OPERATING HOURS
Monday – Friday: 8.00 AM – 6.00 PM

Saturday & Sunday: 8.00 AM – 3.00 PM
Spare yourself from the stress and headaches of organising and processing a payroll by hiring Upshot for the job.
Led by Chris and Jill Fryer, Upshot is focused on empowering small businesses to succeed. Their company has been serving clients within Tauranga for more than three decades.
Aside from payroll services, Upshot also offers services such as completing your payroll and PAYE returns, managing health and safety policies, HR services, and more. Their services can lighten your work duties, allowing you to focus on more important things.
Their dedicated team of professionals can work either in your office or remotely. Having over 30 years of proven experience in accounting, Upshot is sure to offer some of the best payroll services in NZ.
Highlights
Hassle-free payroll work
Handle tax filing to the IRD
Dedicated team
30 years of service 
Customer Reviews 
Let's read the review of one client, Dylan Batenburg, on Google:
"Jill and Chris are an integral part of making my business run smoothly. Approachable and knowledgeable in their respective field- I can't speak highly enough of these two."
5)  MindYourPayroll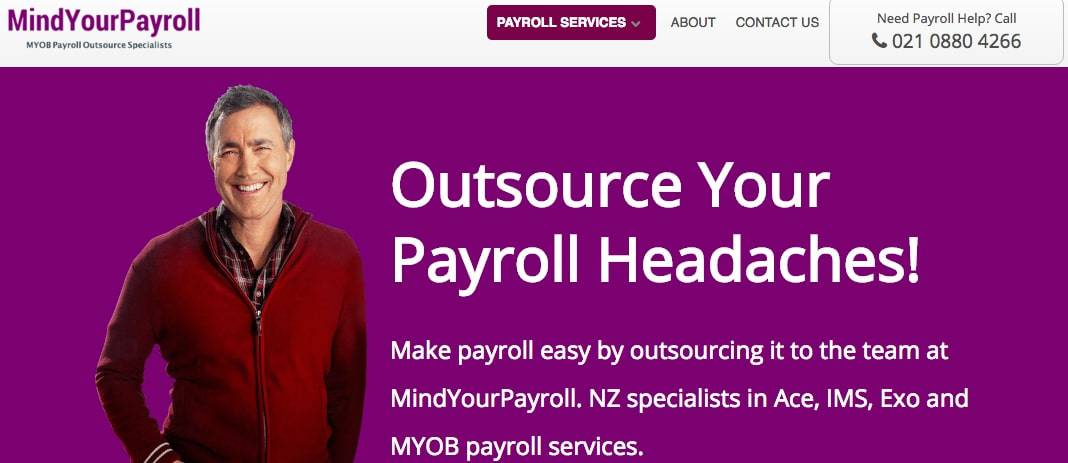 | | |
| --- | --- |
| BEST FOR | MYOB Payroll Specialists |
| SERVICES | Payroll Outsourcing (MYOB, ACE, IMS, EXO) |
| WEBSITE | https://www.mindyourpayroll.co.nz/ |
| ADDRESS | Auckland, New Zealand |
| CONTACT DETAILS | +64 210 880 4266 |
| OPERATING HOURS | — |
Experiencing inaccuracies or errors with your MYOB payroll software? If so, you should let MindYourPayroll's certified MYOB advisors handle your problems.
MindYourPayroll outsources payroll services for small businesses. By using the MYOB payroll software, they can complete your payroll and ensure that it complies with the legislation.
Aside from MYOB, the team at MindYourPayroll also specialises in Ace, IMO, and Exo. Because they operate with a wide variety of payroll software, there's no need to waste time and move softwares.
MindYourPayroll has some of the best payroll services in NZ. With over 20 years' experience, they can process your payroll accurately and efficiently.
Highlights
Accurate and efficient payroll processing
Certified MYOB specialists
Ensure your payroll complies with the law
Over 20 years' experience
6) Entity Solutions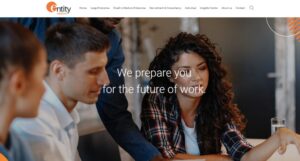 BEST FOR
Tailored Workforce Solutions
SERVICES
Recruitment and Consultancy

Workforce solutions for Individuals, Small, Medium, and Large Enterprises

WEBSITE
https://entitysolutionsgroup.com/nz/
ADDRESS
'The Generator' Level 1, 22 – 28 Customs Street, East Auckland 1010
CONTACT DETAILS
Phone 0800 555 219
Email [email protected]
OPERATING HOURS
24/7
Entity Solutions is a service provider to the contingent workforce. Their work benefits organisations that engage this type of workforce.
Working across most industries, they recognise customers' requirements are continually evolving. Therefore, following a process of discovery, they design, develop and deliver customised workforce solutions.
What is important to their good team is great customer service. They strive to assist each and every customer with a fully customised solution where compliance meets efficiency.
Highlights
Good support for startups
Affordable services
No delays
Customer Reviews
"Great service and pleasant to deal with – very reliable and helpful staff, always go the extra mile."
"Great place to work and always go over and above for the customer/contractors."
And that's a wrap for our list of the best payroll services in NZ. Now you know which payroll services you can entrust your payroll work with.
Do you have any questions or comments that you'd like to ask us? If you do, just send us a message and we'll get back to you as soon as we can.
Also, check out our list of the best accountants in Wellington. They can also check if your payrolls are correct and accurate as well as conform to the regulations.