The 4 Best Payroll Software in NZ Reviewed and Compared
Payrolls are complicated to prepare. Each worker has a different salary, withholding history, deductions, leave balances, and absences to take into account.
To help record these variables correctly and streamline your payroll process, we've collated the very best payroll software in NZ for you!
We'll also guide you through the basics of buying payroll software in NZ. After that, we will show you our top product recommendations.
What to Know When Buying Payroll Software in NZ
You should first consider what your organisation needs in a payroll software. Think about your payroll budget, company size, employee benefits, and so on.
That will give a good idea of where your business stands. You can then use this information to help you narrow down your choice of the best smart payroll software in NZ.
In addition to that, there are several things you have to consider when buying payroll software in NZ. Let's take a closer look at each of them:
1. Cost
Payroll software in NZ can cost from $20 to more than $100 per month. You have to check if the price includes or excludes the Goods and Services Tax (GST) too.
Additionally, you may have to pay fees for the extra features, depending on the company you're buying them from.
Some companies offer a lower price if you get the annual plan as opposed to the monthly plan, so the former are usually better-value.
2. Compliance
Your payroll software has to comply with NZ legislation on salaries, taxes, and the like. Otherwise, you will pay a hefty sum that can shake up your company's earnings.
Also by complying with the law, you can rest easy knowing that you're paying your workers the right amount of salary or wages every time.
3. Features
The features of payroll software in NZ vary from product to product. These can either be built into the software already or added in if you want.
Let's enumerate some of the features of the best NZ payroll software and define them:
Direct deposit – This allows you to pay your employees by transferring their salaries directly into their account, saving time and effort compared to paying by check.
Tax filing – This is an extremely useful feature that generates and files federal and state taxes automatically through the payroll. No need to do it manually!
Self-service -Lets your customers access their payroll information, including pay history, time-out balances, tax forms, deductions, and others.
Integrations – Having integrations streamlines your process and presents you with analytics that provide real-time and accurate business data.
Security – Since payroll software data is sensitive and confidential, it's crucial to have security features that will guard against other users with bad intentions.
Notifications – Notifications help you become more efficient in managing the payroll. These include reminders, push notifications, and email and text alerts.
4. Ease of Use
You also need something easy to use. Aside from that, the software payroll application has to look and feel tidy.
Furthermore, you have to look for payroll software that supports a mobile app so that you can use it on both your desktop and smartphone to save you time and effort.
5. Support
Finally, it's crucial to have customer support to back you whenever you've stumbled upon a technical issue or need to set up your new payroll software for your company.
The Best Payroll Software in NZ Reviewed and Compared
Having gone through the fundamentals, we now present to you the top payroll software in NZ!
1) Smartly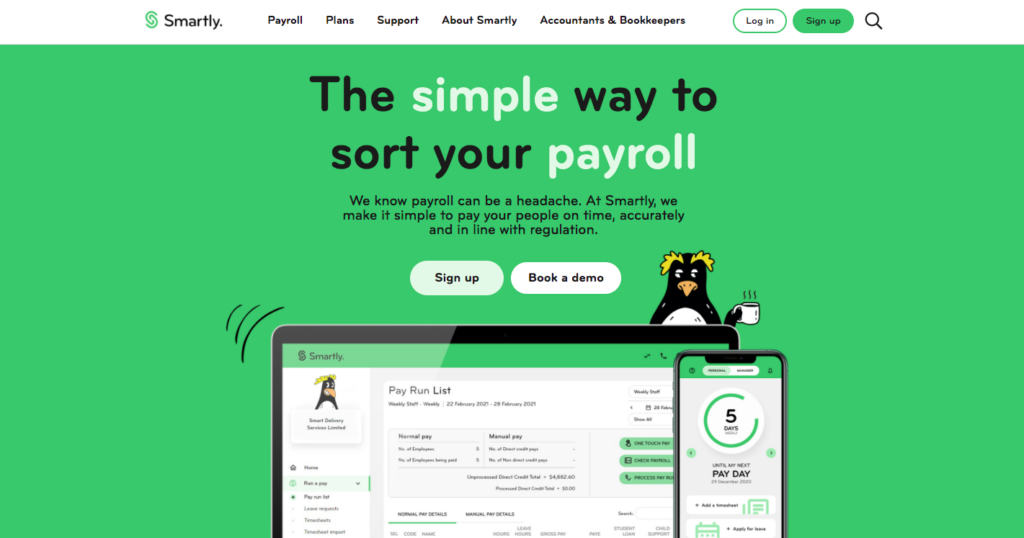 Best for
Easy to use payroll software
Products
Payroll One, Payroll Two, Payroll Three
Address
45 Knights Road, Hutt Central, Lower Hutt 5010, New Zealand
Contact Details
NZ: 0800 10 10 38
International: +64 4 560 9199
Office Hours
Monday – Friday: 8.00 AM – 6.00 PM
Saturday – Sunday: closed
Prices
Kindly enquire here
Smartly is one of our top choices for payroll software in New Zealand because it lives up to its name. It offers an all-in-one solution for all your payroll needs in a neat and easy to understand package.
For instance, it can easily make payments to the IR, KiwiSaver, PAYE, and your employees. You can also use the auto-pay feature to give your staff the same pay for each week, thus automating an otherwise tedious process.
Smartly likewise lets you see the payroll analytics of the company at a glance, including vital information such as the hours workers have spent on the field and how much pay it's equivalent to.
There are two mobile apps for Smartly – one for your employee and one for yourself which provides both end users a range of functionality. For example, employees can view their timesheet and request for a leave while the employer can approve it with a simple touch.
Smartly offers three tiers of pricing so you can freely choose one that suits your needs. Each plan or subscription already includes setup of the application as well as any other support you'll need.
If you're looking for an easy way to do your payroll, Smartly is our "smart" choice. It offers a range of features at different pricing plans, earning thema spot on our list for the best payroll software in New Zealand.
Secured payroll information (through Datacom, NZs largest IT firm)
Mobile-app supported
Free training and support
1-month free trial
Does not offer add-ons that other brands do (i.e. rostering and scheduling)
2) SmoothPay

Best for
Cloud payroll software
Products
Online payroll
Contact Details
NZ: (06) 353 6462
Australia: 1800 940 739
Office Hours
Monday – Friday: 9.00 AM – 5.00 PM
Saturday – Sunday: closed
Prices
Online Payroll

Subscription Plans
Standard: from $35 per month
Group: from $70 per month
Enterprise: $200 per month

Standard: from $365 per year
Group: from $730 per year
Enterprise: $2206 per year
SmoothPay's goPayroll is simple online payroll software featuring automatic reporting and integrations with accounting systems like MYOB, Xero, Reckon, and MoneyWorks.
The software also has a self-service functionality that gives your employees access to their attendance, pay history, and number of leaves. They're the only online payroll that provides a complete and downloadable database, as well as a free offline reader.
Additionally, it complies with the NZ Holidays and Parental Leave Act, so you don't have to manually set it for everyone in the workplace.
The monthly plan is competitive starting from $22.95. However, there's not much of a difference in price (only 4 cents less per month) if you purchase the yearly plan.
Small companies under 5 staff members can especially benefit from their services — their rates can be as low as 138 per year. Start-ups and those who just want the best value may find this to be the best payroll systems in NZ for their needs.
Only company that is compliant with the NZ Holidays and Parental Leave Act
Full training and support at no extra charge (except phone calls)
Free 30-day trial
Weak discount for buying the annual plan
3) MYOB

Best for
Tax-compliant payroll software
Products
ACE
Payroll Essentials
Payroll Accounting + Payroll
Address
Auckland
Level 5, Eden 5, 12 Normanby Road, Mt Eden, Auckland 1024

Christchurch
17 Sir William Pickering Drive, Burnside, Christchurch 8053

Hastings
First Floor, 211 Market Street, South Hastings 4122
Contact Details
Small business: 0800 606 962
Bigger business: 0800 696 239
Support: 0508 328 283
Office Hours
Monday – Friday: 9.00 AM – 10.00 PM
Saturday – Sunday: 11.00 AM – 7.00 PM
Prices
ACE Payroll: $379 + GST
Essentials Payroll: from $30 + GST
Accounting + Payroll: $60 + GST
As the company grows, payroll becomes harder to manage. But not with the MYOB payroll software, as it automates your payroll regardless of how many employees you have.
It has a Pay Centre, which has a neat and clean interface where you can review pay slips, start a pay run, view employee information, and others.
As it's compliant with Internal Revenue regulations, the deductions for KiwiSaver and PAYE are sent to them without the slightest bit of a hassle.
With the MYOB YourPay app, you can also conveniently work on your payroll at the office, home, or your local coffee shop. They also offer a free 30-day trial for the Essentials Payroll and the comprehensive Accounting + Payroll plans.
MYOB is one of the most reliable payroll software in NZ but we really like their generous trial period. It's enough time for you to find out if the software suits your needs, which is better than spending days looking for free payroll software in NZ.
IR-compliant
Has MYOB YourPay app
Free 30-day trial
Expensive subscription plans
4) Crystal Payroll

Best for
Accounting software integrations
Products
Payroll Software Plans
Self-service
PAYE-service
Basic Bureau
Full Bureau
Address
Level 3, Rawene Chambers, 17 Rawene Rd, Birkenhead, Auckland, New Zealand
Contact Details
Sales Enquiries: (0800) 799 899
Email:

[email protected]


Customer Support: (09) 480 0123
Email:

[email protected]


Skype: crystalpayroll.support
Office Hours
Monday – Friday: 8.30 AM – 5.00 PM
Saturday – Sunday: closed
Prices
From 19.90/month (for 5 employees)
Another of the best payroll software options in NZ, Crystal Payroll seamlessly integrates with MYOB, Xero, and Reckon accounting software to conduct your payroll work.
It has robust security to protect the payroll information. It also allows you to download time sheets and reports in PDF or excel format to send to the staff.
With regard to the payments, the software can ace the numbers game. This payroll software in NZ can accurately compute the payroll for multiple staff with differing rates.
And on top of that, Crystal Payroll is cloud-powered, meaning you can access your payroll from any place and any time through Wi-Fi-capable devices.
Tailored plans
Free online demonstration
Robust security standards
Competitive rates
Setup fee of $50
$60 phone training session
Customer Reviews
According to clients, the staff here have been helpful and patient. Amelia from French Revolver Studio left this review:
"Hey just wanted to say your staff have been amazing when I've called. You have been one of the easiest companies to deal with during this period and you implemented the covid wage subsidy code so promptly. The guy I spoke to was super helpful.
Thank you so much, so glad to have Crystal Payroll in our lives!!"
Also, Tony Cox from Peplers Fine Foods wrote this review:
"We've been using Crystal Payroll for over 5 years now, and it's never missed a beat. Questions I think are hard are answered quickly and clearly, and they're happy to talk me through stuff I don't understand. It dovetails into Xero nicely. It is simple to keep payroll records up to date."
FAQS about the Top Payroll Software in NZ
---
And that wraps up our list of the top payroll software in NZ. With them, your payroll will be clear and compliant, making it easy-peasy to pay your employees.
Do you have any questions at all about our picks? If you have one, kindly let us know by messaging us, and we'll get back to you as soon as we can.
Need accounting software? You can also check out our list of the best accounting software in NZ to record your company's finances every day without any hassle.