6 Companies for Best Pest Control in Auckland Compared
Pests can affect your health and comfort, be it in the home or office. To protect you from that, we've collated the companies for the best pest control in Auckland.
Whether you have a band of cockroaches, ants, wasps, or need a rat exterminator in Auckland, your best bet will be to call for pest control. Doing it yourself can put you or your house in danger.
Specialists for pest control in Auckland have the right equipment, tools, and techniques to lure out pests and catch them. Plus, they can protect certain spots or areas in your home to keep the pests away for months or even years.
In any case, before we see the companies for best pest control in Auckland, let's answer a few quick queries first. In particular, we'll go over these:
Why should you hire an Auckland pest control service instead of fixing the problem yourself?
How much is pest control in Auckland?
How should you pick the best pest control in Auckland?
After that, you'll be better-situated to select one of the pest control companies we've listed in this article. Feel free to jump right ahead to the list of companies if you think you already know the answers to the above questions, though!
Auckland Pest Control FAQs
1. Why hire an Auckland pest control service?
It's not hard to answer this one. Simply put, most infestations can't be treated by homeowners, no matter how much they might wish otherwise.
Treating pest infestations is generally more complicated than just leaving out rat traps or insecticides. Rodents can breed too fast for your traps to keep up and the same thing may happen with insects… who may also end up being uninterested in the insecticides you lay out for them.
Pest infestations may be lessened by regularly cleaning your place, but sometimes they really are inevitable.
It takes professional know-how to eliminate many pest infestations at the source. Some homeowners may only worsen the problem if they insist on trying DIY pest control methods.
In terms of long-term costs, hiring a good Auckland pest control service even tends to be cheaper than trying to fix an infestation yourself. The savings only go up further if you consider your sweat equity too!
2. Pest Control in Auckland: Price? How Much is it?
Well now, this depends on a lot of things: the service, the equipment, the gravity of the infestation, and so on.
That being said, we can give some general estimates for the cost of Auckland pest control here. We'll also do it by the type of pest control required.
For the cost of ant pest control in Auckland, you may be looking at anything from $130 (for a single-storey treatment) to $450. Note that the $450 typically comes with a warranty on the work, though — services charging this much for ant treatment usually guarantee their work for 12 months.
What about treatments for the other common insects and arachnids? Well, flea treatments, spider treatments, and cockroach pest control in Auckland  more or less cost the same.
For the average 3-bedroom home, for example, you'd probably spend about $160 to $200 for indoor treatments for these pests.
Expect to spend more if you want to add pest control for your outdoor spaces. You should also expect higher prices if the company offers guarantees (a three-bedroom treatment will be more likely to cost $300 with a 6-month guarantee, for example).
The cost of bed bug treatment in Auckland is usually a little higher because of the equipment and effort required. Expect anything from $280 to $350 for a one-bedroom space with 2 beds.
For mice and rats, prices are usually around $200. The cost of Auckland rat removal or mice treatment may be lower for some companies (nearer $130, for example), but that's usually for single-treatment services that need to be repeated later.
Some pest removal services tend to be charged differently. For instance, if you're getting Auckland bumblebee removal and relocation, you'll probably be charged per nest instead (around $100). The same goes for wasp removal in Auckland.
Something similar applies as well to possum removal in Auckland. Companies that charge for this and feral cat removal in Auckland charge per animal caught.
3. How should you choose the best pest control in Auckland?
In other words, how should you pick an Auckland pest control company out of the many available?
We've actually made the task easier for you with our list of the companies doing the best pest control in Auckland below. But if you want further advice on how to find a good service, here are some key tips:
Ask for references. You want to be sure that the company has the experience to deal with your issue, after all, and the best way to do that is to ask for references from past customers who've had similar infestations.
Get price quotes from 3-5 companies. You have to shop around to get the best prices on pest control services in Auckland. Don't just go for the lowest-cost one, though — sometimes, the cheapest pest control services in Auckland may actually cost more because they don't have guarantees on their work.
Ask for guarantees. Any pest control service worth its salt will guarantee its work and even provide free follow-up if something goes wrong or they miss a few pests.
Ask for a detailed treatment plan. Some pest control services may use methods that you don't like. For example, if you prefer humane treatment of feral animals caught by the service, make sure the company does that. Or if you have pets and kids, make sure they don't use chemicals that could harm your babies, furry or otherwise.
The Companies for the Best Pest Control in Auckland Reviewed and Compared
Now that you know the answers to the FAQs of pest control services in Auckland, it's time to see the best pest control services in the area! Here they are:
1)  Wild Weta Pest Control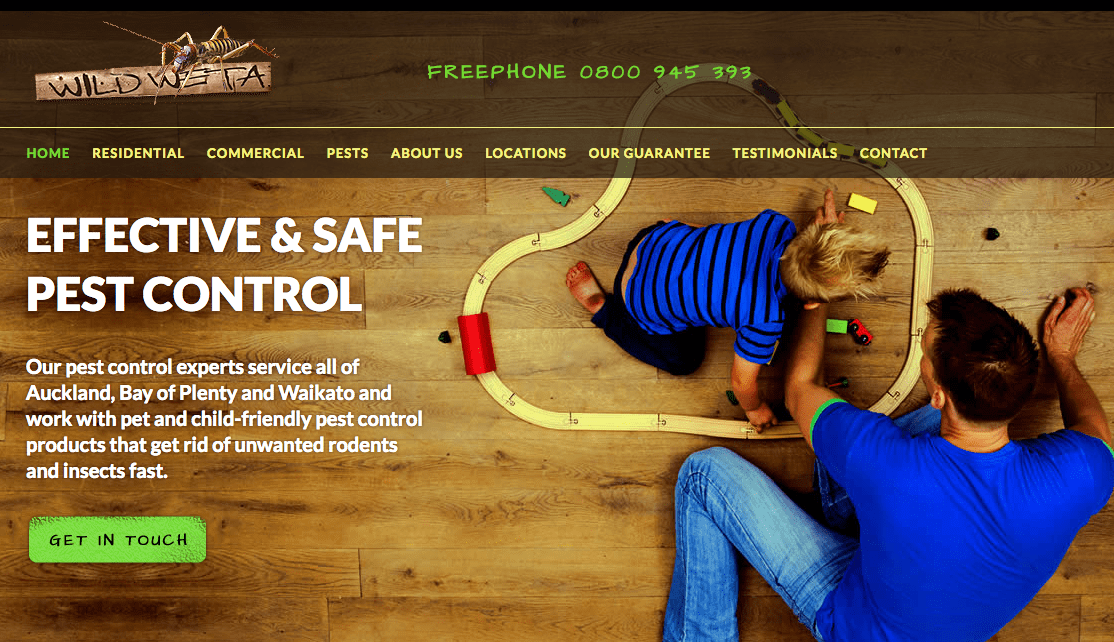 | | |
| --- | --- |
| Areas Covered | Auckland wide |
| Services | Residential and Commercial Pest Control |
| Address | 2 Victoria Avenue, Remuera, Auckland 1050, New Zealand |
| Contact no | 0800 945 393 |
| Website | http://www.wildweta.co.nz/ |
If you're looking for professionals for pest control in Auckland that will remove the marching ants in your kitchen, call Wild Weta Pest Control. Their service is available 24/7 throughout Auckland.
Why did we include them among the best Auckland pest control companies? It's because they have a decade of experience and the skills to eliminate insects and keep them away.
That includes cockroaches, borers, flies, mosquitoes, rodents, and wasps. They only use low-toxin ERMA solution, which is safer around children or pets as compared to the more harmful chemicals that other companies use.
And their services come with a 6-month, 1- and  2-year guarantee. If for some reason the insects return during this time, the team will come back and respray your house or office free of charge.
We really like that their service is 24/7. After all, pest infestation does not have office hours!
And that's one of the reasons why we included them on our list of best pest control in Auckland.
Highlights
24/7 callouts available
Decade of experience
Uses child- and pet-friendly chemicals
All pest control comes with a guarantee
Customer Reviews
One customer Sue Haworth mentioned on Google Business:
"Great prompt, efficient service today. Feel so much happier now that professional action has been taken against eliminating rats in my ceiling. Can already hear them rolling the bait around. Look forward to a good night's sleep. Thank Craig for your help – much appreciated. Highly recommended."
2)  Abolish Pest Control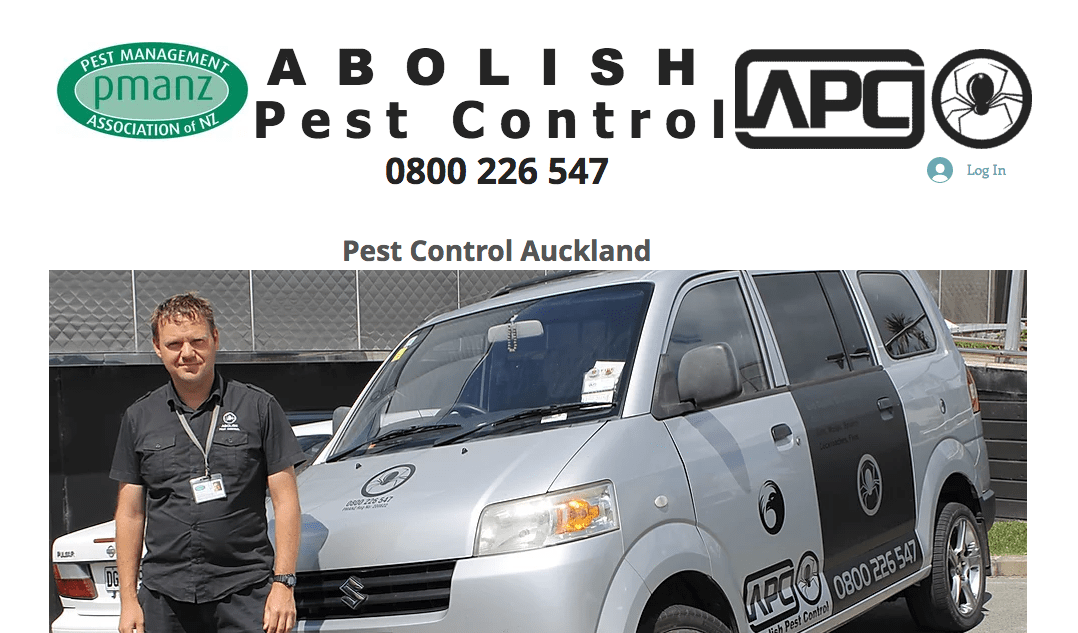 | | |
| --- | --- |
| Areas Covered | Greater Auckland area |
| Services | Domestic Services, Flying Insect Control Unit, Baitstation Services, |
| Address | 28 Bruce Mclaren Rd, Henderson, Auckland 0612, New Zealand |
| Contact no | 0800 226 547 |
| Website | https://www.pestcontrol.net.nz/ |
Abolish Pest Control works with a proactive approach when it comes to ridding your home of pests. It has been servicing private and commercial clients in the Greater Auckland area.
The team is certified with the Pest Management Association of New Zealand (PMANZ) and has the right equipment and gear for every job.
Saw a wasp nest just by the trees, or bed bugs that make you itch at night? No big deal — that also goes for rats, mice, flies and mosquitoes, cockroaches, borers, bees, fleas, and ants.
More importantly, the team of experts in pest control in Auckland are nice, friendly, and efficient. They will advise you on what else you may do in order to be free of them in the home or workplace.
Highlights
Proactive approach
PMANZ certified pest control specialists
Friendly and efficient team
Customer Reviews
Here's a comment from Jane Kramlan on Google Business:
"We needed the removal of a rather large wasp nest in the ceiling. The wasps were coming down through the down lights every day. 24 hours later and not a wasp anywhere. It was the German type we were told. good price too. Would use again."
3)  Bug Zero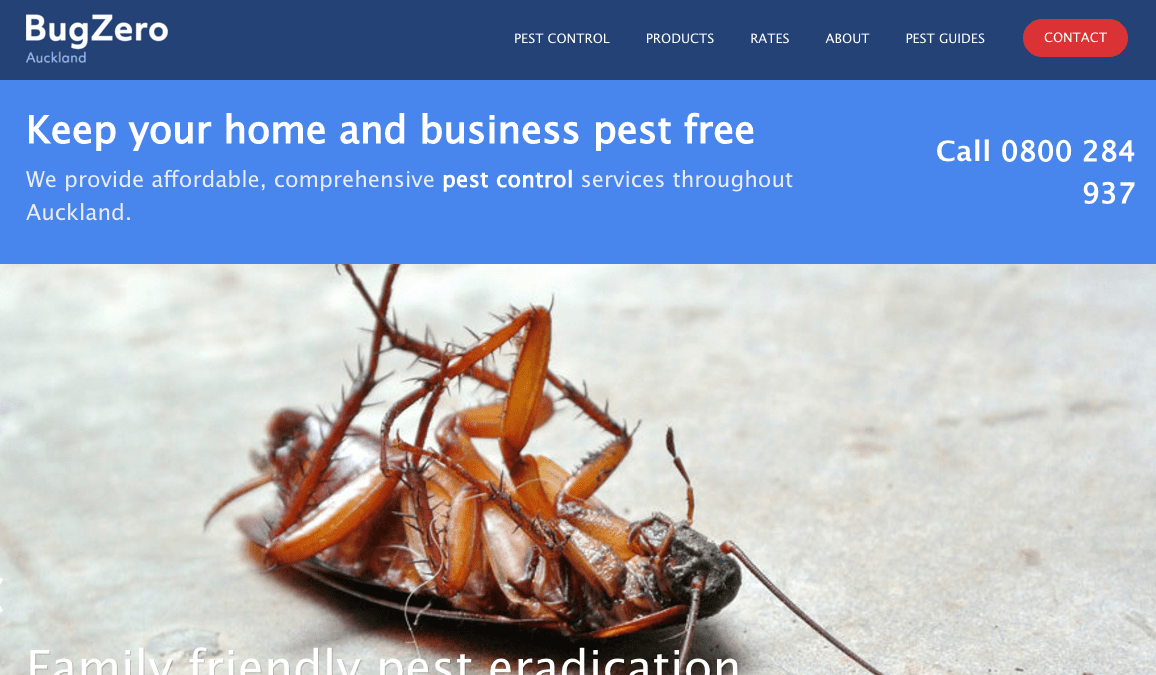 | | |
| --- | --- |
| Areas Covered | Auckland wide |
| Services | Pest Eradication, Ongoing Maintenance Programmes, Urgent Pest Control Call-Outs |
| Address | Not mentioned |
| Contact no | 0800 284 937 |
| Website | https://www.bugzero.co.nz/ |
Let the pests become mere memories with Bug Zero. They only use green and non-toxic products that are safe for people, pets, and mother Earth.
Servicing Auckland for over 20 years, they have seen it all, know the hiding places of disturbing and health-hazardous insects like borer beetles, ants, fleas, bees and wasps, spiders and rodents.
You will get to deal with amiable yet skilful specialists. And since every house is different, they will tailor their services for you in line with reaching your pest control goals.
Then, they offer a service warranty to ensure your satisfaction in the finished work — a satisfaction where the bug count is zero.
What we like the most is that they serve the whole of Auckland so whether you're in need of pest control in South Auckland or pest control in West Auckland, you're absolutely covered!
Highlights
Amiable and skilful pest control professionals
Over 20 years of service
Service warranty to ease your worries
Customer Reviews
Peter Masterton states on Google Business:
"One of their friendly technicians saw my wife the same day and got rid of a huge flea infestation. At the same put us on a Rodent service program for less than $35 a month. One visit of less than an hour sorted our long overdue problem."
4)  World Class Pest Control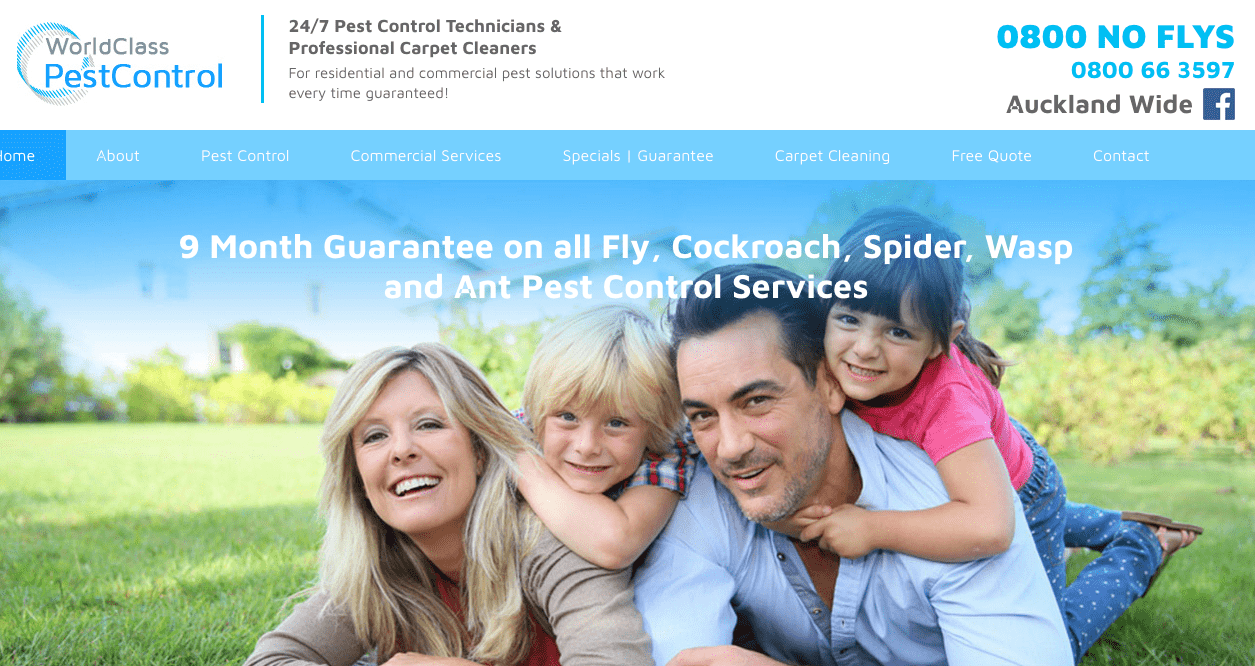 | | |
| --- | --- |
| Areas Covered | Auckland wide |
| Services | Commercial and Residential Pest Control |
| Address | WineVentures, Auckland CBD, Auckland 1141, New Zealand |
| Contact no | 0800 NO FLYS or 0800 66 3597 |
| Website | https://www.wcpestcontrol.co.nz/ |
Need help to effectively eliminate pests with a safe solution? World Class Pest Control is the best pest control in Auckland for that as they use only safe and locally made formulas to finally finish off the invaders.
It surely belongs to the best Auckland pest control companies! This is because the pest control team is accredited by IICRC, a global cleaning and restoration standard they comply with.
Whether you find a beehive or a wasp nest on the roof or backyard, call these specialists. That's the wise thing to do so you can avoid being stung or bitten.
You are also given a 9-month guarantee that no insects and rodents will disturb you again in that span of time. Otherwise, the specialists will come back with no extra charge to fix that problem.
Highlights
Use safe and locally-made formulas
IICRC certified ensuring cleanliness in carrying out their job
Provide you with a solid 9-month service guarantee
Customer Reviews
On Google Business, Sheryl Stone shared what she thought about their service:
"Called and James came that day. Very impressed. The product he used was safe for animals and children. We didn't need to leave the house. He said we should see the first results the next day and we did. He explained how the product worked and how long it might take to kill all the bugs. Gave me a nine month guarantee. I highly recommend this company."
5)  Smash'd Em Pest Control Ltd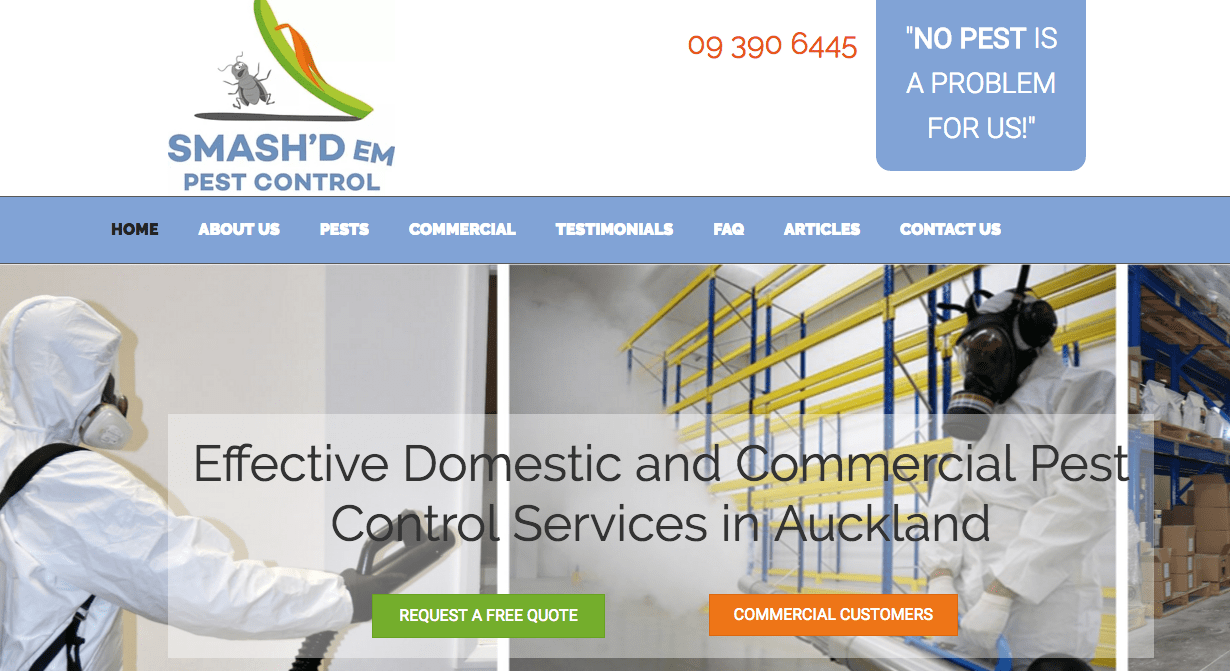 | | |
| --- | --- |
| Areas Covered | Greater Auckland area |
| Services | Residential and Commercial Pest Control |
| Address | Not specified |
| Contact no | 09 390 6445 |
| Website | https://www.smashd.co.nz/ |
If your warehouse or restaurant has shown signs of infestation, there's only one thing to do — smash 'em by calling Smash'd Em!
Smash'd Em has an NZ Pest Control Certification as well as Handling Certification. And the formulas they use are safe for people, pets, and the environment too.
Not only do they possess the equipment but the knowledge as well, which is key to killing off the pests. So all those bed bugs, fleas, cockroaches, rats, Daddy Longlegs are history. If you need rodent control in Auckland, they're the guys to call!
Safety standards are important not only for their clients but also for the team. This is a great indicator of a business which considers the team as important as their clients.
Hence, for businesses and homes, Smash'd Em is one of your best Auckland pest control companies!
Highlights
Uses only child-, pet- and planet-friendly solutions
Complies with safety standards for both their clients and employees
Have the technical know-how and equipment
Customer Reviews
Sarah Sauer wrote on Google Business:
"I am so impressed with Smash'd Em pest control that I give them 5 stars. After being very disappointed using Rentokill, who had to come and do the job 3 times last season to get rid of my flies and spiders, Jonathan did a brilliant job. The problem was immediately sorted, the service was friendly and professional. I wouldn't hesitate to recommend this company to anyone needing flies and spiders eradicated from their premises."
6) EcoSan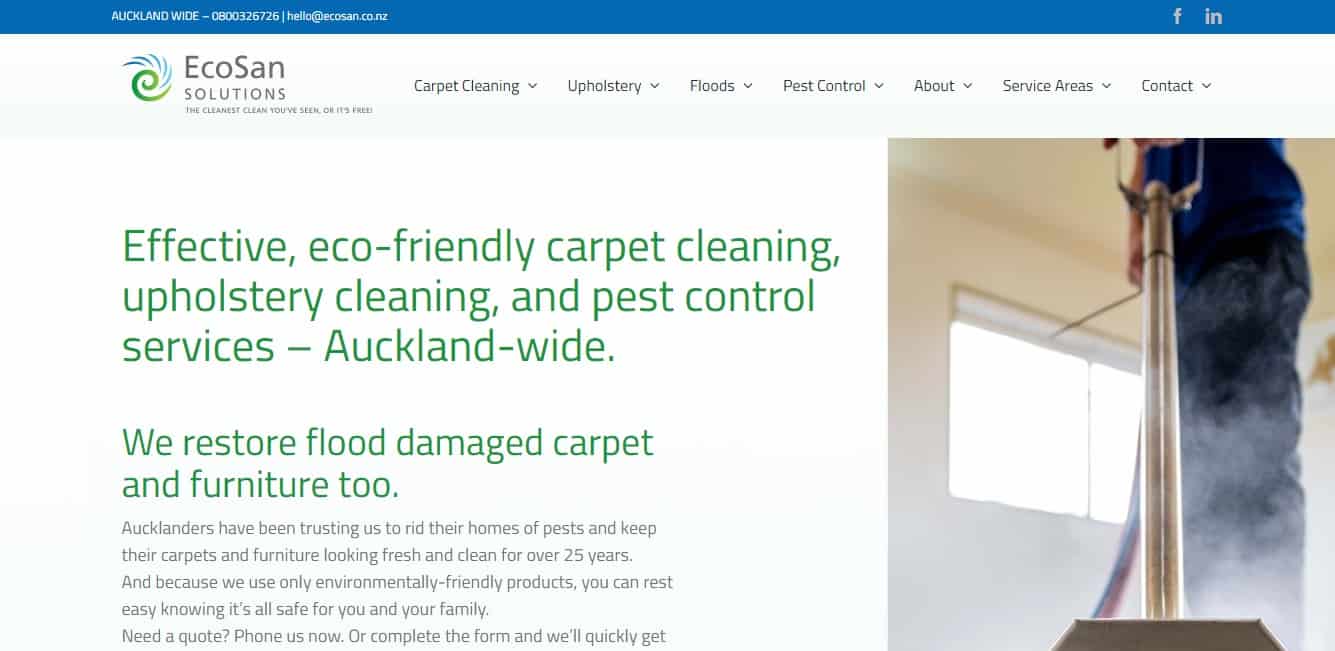 Areas Covered
Auckland wide
Services
Spider Exterminator
Mosquito Control
Fleas
Cockroach Exterminator
Bed Bugs Control
Rat, Mouse, & Possum Pest Control
Borer Control

Commercial Carpets
Nylon Carpets
Woolen Carpets
Upholstery Cleaning

Address
481 Rosebank Road, Avondale, Auckland
Contact no
0800 326 726
Website
https://www.ecosan.co.nz/
EcoSan is a company that offers a variety of professional cleaning solutions that are not only cost-efficient but also eco-friendly to better ensure that clients get the most benefits out of their services. Having over 25 years of experience in the industry, they have since then been bringing effective strategies and solutions that are flexible to the needs of the client.
What we like about their services is that they make sure to use products that are people and pet friendly to better accommodate both commercial and residential jobs wherein clients can have little time needed for quarantine after their services.
Though they do not have flat pricing readily available on their website, clients can easily access their online quotation services so that they can know what to expect and better decide if they wish to avail of their services.
Being part of various organizations such as the PMANZ among many other certifications, clients can be sure that their services are done by experts in the field who are adequately trained and certified for the job.
Overall, with a variety of pest control packages that are ideal for both residential and commercial settings, we highly recommend them to clients looking for a reliable and sustainable approach when it comes to cleaning and pest-control services in the area.
Highlights
Eco-friendly products
Flexible booking and schedules
Online quotation available
Customer Reviews
Here are some reviews from their clients:
"It was a 10 out of 10 job, you were super friendly and nothing was an issue for you, would definitely recommend your services. You gave good advise and I was pleased you left the blower over night."
"Very professional, she found your on google, very friendly, quick, informative, easy, you kept her in touch, rug really looks amazing and will be needing you in the not too distant future."
---
That's it for the companies with the best pest control in Auckland. Now you know which exterminator to call to let you enjoy your home and relax without the pest disturbance.
Now if you've been advised that your place needs more than the help of regular pest control, we suggest taking a look at fumigation specialists in Auckland so you have other options.
Do you have any other questions about these services we talked about? Feel to reach us by sending us a message and we'll answer them.
Pest Control has its place in keeping the bugs away. But if you'd really like to take advantage of that, then we can guide you through the best cleaning services in Auckland.
Those cleaning services will make your place spotlessly clean, and that will keep away pests.