The 5 Best Wellington Pest Control Companies
Pests are called pests because they cause a stir at home, leaving droppings on things and chewing off wires and furniture. You probably need a hand, which is why we rounded up the best Wellington pest control companies.
The usual culprits are bed bugs, lice, fleas, cockroaches, rats, spiders, and sting-freak bees and wasps. It can be awful to have them around!
Wellington has a lot of pest control specialists who will take care of these for you. They typically use a non-toxic harmless solution as well as traps, baits, and odour treatment.
You should look for those who offer a service warranty. This gives assurance in case pests come back before the warranty ends — so the team will return to right it.
With those things said, we now present to you the best Wellington pest control companies!
1) Wellington Pest Management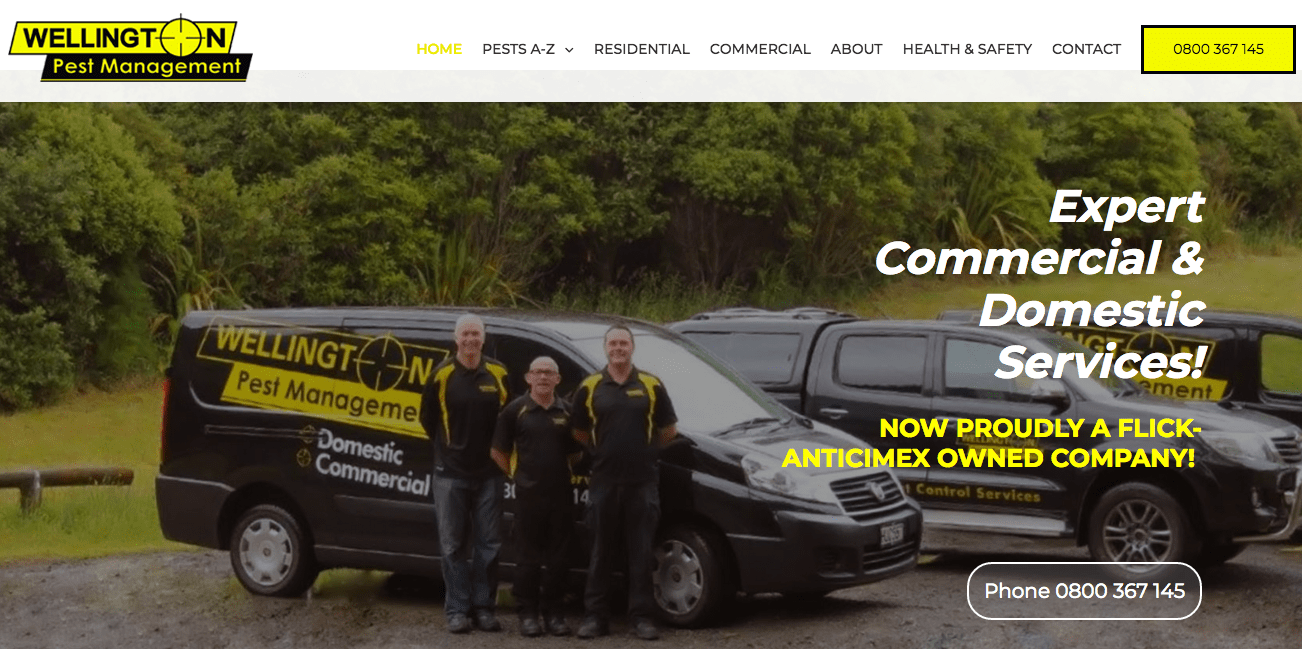 If you have borers at home chomping away at wooden floors or items, you can contact Wellington Pest Management. Keeping all species of borers out of the way is their forte.
That is one of the many pests they handle. They can also deal with cockroaches, possums, birds, spiders, fleas, lice, bed bugs, bees and wasps, pantry pests, mosquitoes, and flies.
They are 100% Kiwi-owned and use planet-friendly solutions safe around kids and pets. Plus they are PMANZ– and HSNO-accredited and conduct their services in those standards.
What's more, they make it among the best Wellington pest control companies thanks to their swift phone response, expertise, and affordable prices.
Highlights
Specialises in eliminating borers
Can handle and keep away a wide roster of pests
Uses child- and pet-friendly chemicals
Prompt response and affordable rates
Customer Reviews
Derek Williamson wrote a helpful Google review:
"Excellent service! I had an awful odour and they came out on a Sunday, and located and removed a dead rat in the ceiling. Terry was prompt, proficient and professional. Can't rate highly enough!"
2) Pest Proof Pest Control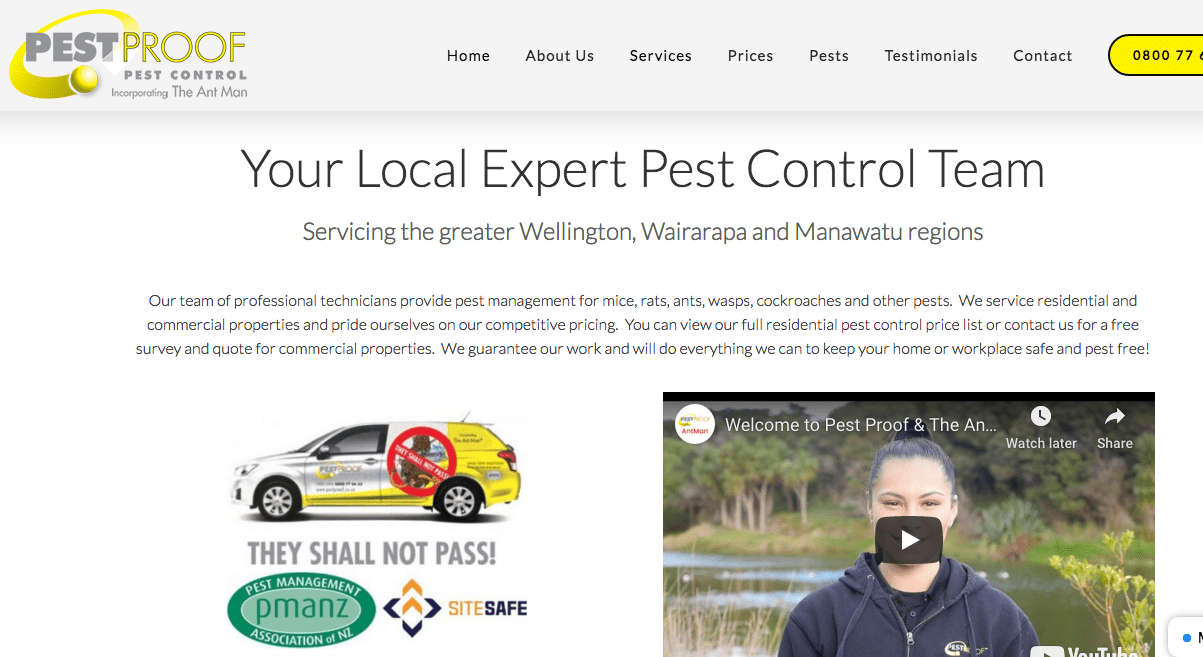 | | |
| --- | --- |
| Areas Covered | Greater Wellington, Wairarapa and Manawatu Regions |
| Services | Residential, Commercial, and Industrial Pest Control |
| Address | 10 Waipapa Road, Hataitai, Wellington 6021, New Zealand |
| Contact No | 0800 77 66 33 |
| Website | https://www.pestproof.co.nz/ |
If you are looking for a one-off pest control for your office or factory, Pest Proof is on it. They always devise a solid plan to keep pests from settling in your space.
Using only harmless chemicals so as not to harm the environment or the people around, they always strive to give the best possible service — they've done so for over 30 years.
Here you will get reasonable prices and a high level of service for pest programmes. Mind you, they don't think about 'killing all pests' but also care about nature's work.
For example, they can try to relocate a beehive instead of spraying them off because bees help pollinate flowers and plants — they're important for the environment.
And that small detail makes a big difference for another one of the best Wellington pest control companies.
Highlights
Caring, expert pest control team
Uses harmless chemicals to ward off pests
30 years of experience in the trade
Customer Reviews
The Pestproof team is indeed knowledgeable about insects or pests. M P wrote on Google Business:
"Paul was excellent. He was knowledgeable, courteous and professional. I had called Pestptoof because I thought I had a wasps nest but – thanks to Paul's knowledge – found out they were harmless native hover flys. Paul was very helpful with the situation. I'd highly recommend him."
3) Pest Control Services Wellington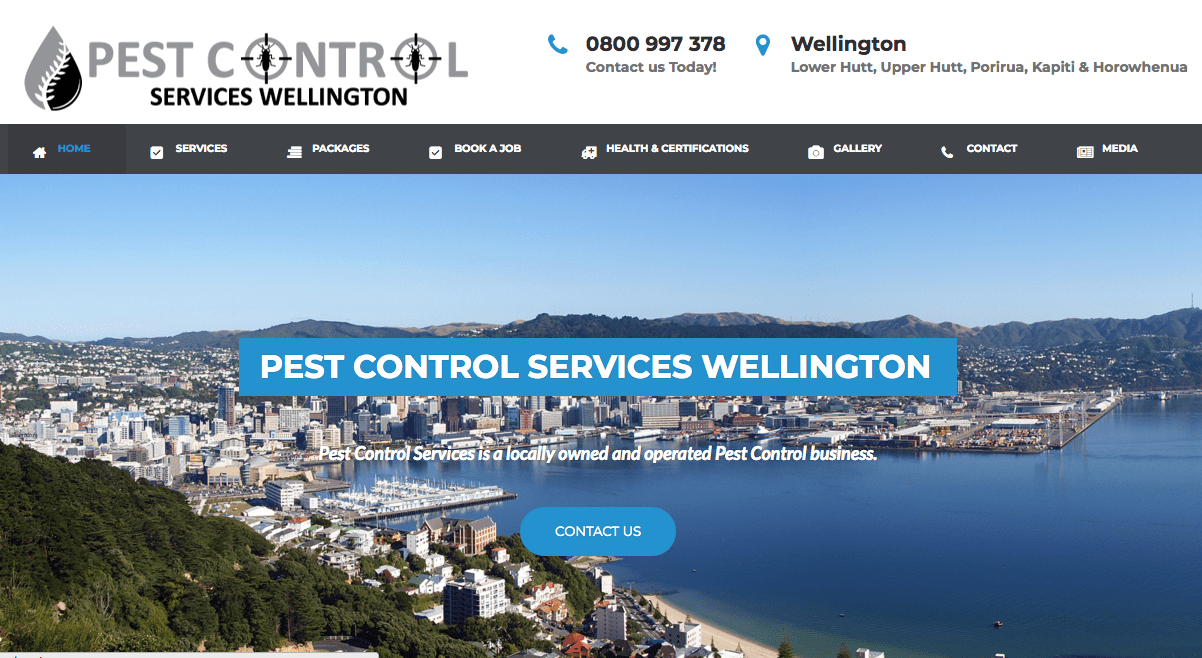 | | |
| --- | --- |
| Areas Covered | Greater Wellington area |
| Services | Pest Control and Treatment for Domestic and Commercial Properties |
| Address | Wellington, New Zealand |
| Contact No | 0800 997 378 |
| Website | http://www.pestcontrolservices.co.nz/ |
Pest Control Services Wellington prides themselves on bringing cost-effective and reliable service to the Greater Wellington area.
Shai is a highly qualified and trained pest control specialist. He is also certified with the PMANZ or Pest Management Association of New Zealand.
There are some sweet deals for either one-off or quarterly cleaning. This will give you more options that fit your current pest control needs.
Before long, those irritating pests making a nest out of your home will be gone and you will be free and productive in your dormitory, office, school or home.
Highlights
Cost-effective pest control service
PMANZ certified team
Offer a plenty of options to meet your requirements
Customer Reviews
Tom Nicholas said on Google Business:
"Great service, arrived on time and only a few hours after my initial call. He was efficient and set up the rat poison instantly and 30mins after he'd left I could here the them eating up the bait. No more rats 5/5."
4) Kwikill Environmental Services Ltd.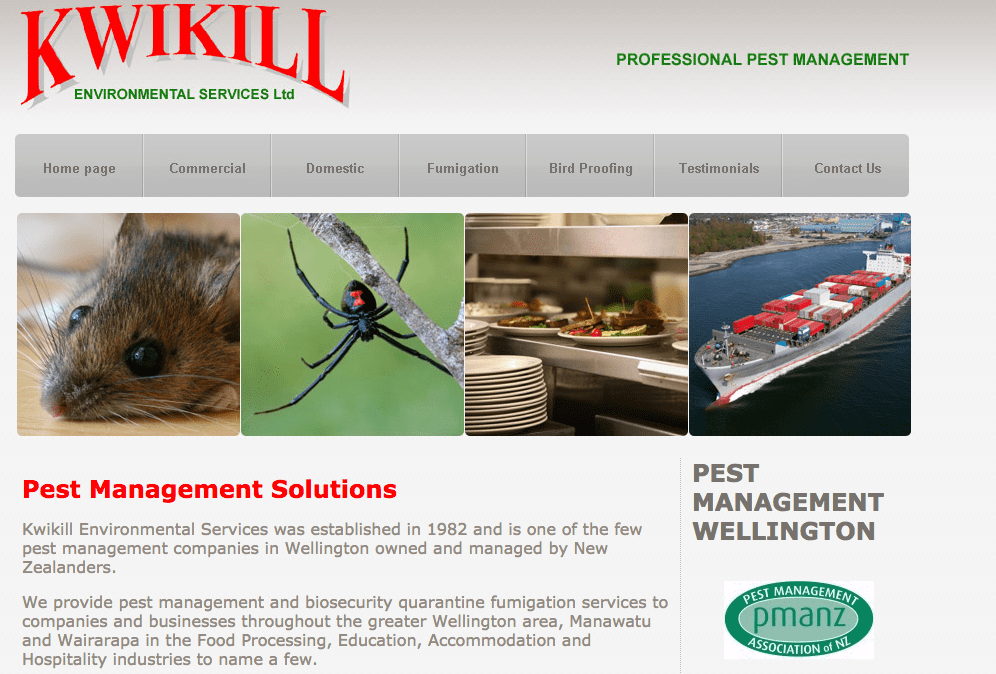 | | |
| --- | --- |
| Areas Covered | Greater Wellington, Wairarapa and Manawatu Regions |
| Services | Commercial and Domestic Pest Control |
| Address | South Road Centreport, Pipitea, Wellington 6011, New Zealand |
| Contact No | 04 236 8398, 027 246 9374 (Paul), and 027 442 6698 (Mike) |
| Website | http://www.kwikill.co.nz/ |
With a focus on food production and hospitality sites, Kwikill Environmental Services is an expert pest control and fumigation specialist.
They are PMANZ and Biosecurity New Zealand members where they comply with the ethics and standards to conduct their work properly — which is to say, in a way that is safe and effective.
Additionally, they lure and destroy pests like ants, fleas, bed bugs, mice, crickets, spiders, mosquitoes. They are also experts in keeping birds away from building ledges or roofing.
One of their prestigious and well-known clients is New Zealand's very own Whittaker's Chocolates. That's one excellent testimony to their skill and level of service.
Highlights
Focuses on food and hospitality premises
Can eradicate a wide variety of pests
Highly trained and experienced contractors
PMANZ and Biosecurity member
Customer Reviews
George Blades remarked on Google Business:
"Very professional, effective and friendly staff. Highly reccomend."
5) Zap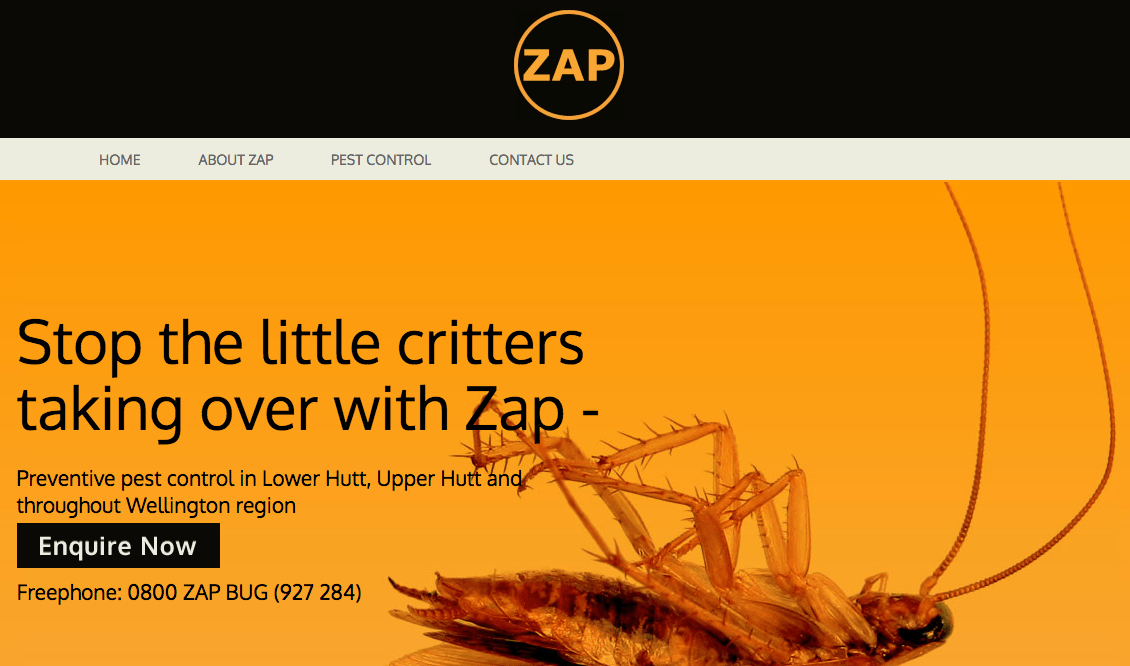 | | |
| --- | --- |
| Areas Covered | Greater Wellington area |
| Services | Preventive Pest Control for Residential and Commercial Properties |
| Address | 250 Fergusson Drive, Silverstream, Upper Hutt, New Zealand |
| Contact No | 0800 ZAP BUG (927 284) |
| Website | https://www.pests.nz/ |
Interested in a pest control service that's on the offensive? Consider Zap, with its PMANZ-certified and remarkable handlers.
Their strategy is basically to destroy the habitat first. Then they zap out scuttering cockroaches, unforgivable termites, troublesome birds, dangerous rodents, and small stubborn mosquitoes.
They use skin-safe chemicals that are harmless for children and pets in the house. Call today and get your cafe, bake shop, hotel, and company sorted out on the same day.
This list of the best Wellington pest control companies wouldn't be complete without Zap in it. The reason is that they have great prices, reliable and knowledgeable team.
Highlights
Remarkable pest handlers
Uses safe, non-toxic chemicals
Competitive prices
PMANZ certified
Customer Reviews
Dean Taylor mentioned on Google Business:
"Was skeptical that the fly and spider spray in the house and garage would last a whole year but after 18 months we were still finding dead flies etc on the window sills! Had our house redone again and surprised when we actually notice or hear a fly in the house but know they won't last long… Thanks Neill."
---
That's it for the best Wellington pest control companies. Spare yourself the trouble of going to the hardware store and spending on pest control products that won't work by enlisting the services of these pros!
Got any questions about pest control companies we've tackled? We'd be happy to hear them, just drop us a line and we will get back to you shortly.
To go even further in keeping your house clean and free from these pests, you can check out the best cleaning services in Wellington. Pests don't like clean spaces, you see.