Featured Image Source from SPCA Nelson Centre
By Amelia Montgomery
With mounting vet costs and the many ways your pet can get sick, getting pet insurance is more important than ever. Having your pets insured helps you to better take care of them.
The pet insurance industry is currently on a roll, offering clients a diverse range of products. This can make it difficult to know which policy will be best for your pet.
Don't you worry, as we'll guide you through the basics of choosing pet insurance. This will greatly help you in selecting from our list of the best pet insurance in NZ later on.
Without any delay, let's start!
How to Choose Pet Insurance
As we know, having a pet is a big responsibility. We have to look after him like our own child, meaning he has to be well-fed and treated, and of course, happy.
We have to get our pets to the vet if they're sick or wounded. Likewise, we have to get them vaccinated to protect them from diseases such as rabies or distemper.
With pet insurance, you won't have to spend more than what's necessary. So If you're applying for pet insurance, here are some helpful pointers:
1. Apply for pet insurance early
Insuring your dog, cat, rabbit, or horse early is practical for a number of reasons.
First, some insurers don't accept dogs and cats over a certain age (typically over 9 years old).
Second, it's also likely that your pet hasn't developed any medical conditions yet at a young age, which makes it easier to apply for insurance.
Plus, you won't be surprised by vet and surgery prices and worry in case your pet needs immediate treatment as a result of an accident or illness.
2. Check the track record of your insurer
Before applying for a policy, it won't hurt to do some background check on your chosen insurers to see if they actually payout their clients during claims time.
You'd want to go for insurers that have high financial strength because, after all, that's what you're paying the premiums for—to get paid in the future when you need it.
3. See whether the benefits your pet needs are included
You have to ensure that the pet policy you're taking out has the coverage you and your pet need, as each insurer offers a different set of products for clients.
Most pet insurance companies offer basic, intermediate, and comprehensive options. You can even add extra benefits such as day-to-day and dental pet care.
There's a policy that only covers accidental injuries, but not medical costs. For example, Southern Cross offers the AcciPet product covering accidental costs up to $5,000 each year.
Note that you have to know the policy's exclusions and limits too so that there won't be any hitches when you lodge a claim.
4. Enquire for special discounts
Look out for special discounts such as membership or multi-policy discounts. This can bring down your premiums and save you a lot of money in the long run.
5. Review the policy wording
As with all types of insurance, you should have a clear understanding of the policy wording—the ifs and buts particular to your chosen insurance product.
If you don't understand something, you can just call the insurance adviser to explain parts of the policy that trouble you.
The Best Pet Insurance in NZ
You now have an idea of how to pick from our top pet insurance in NZ list. Here they are:
1)   Southern Cross Pet Insurance

Best for
Accidental injuries
Products
PetCare, AcciPet
Benefits
PetCare   Accidental injury Illness Inherited conditions Vaccinations/checkups – up to $25 every year Day-to-day care (optional extra) Dental care (optional extra)  
AcciPet   Accidental injury
Address
Private Bag 3240, Waikato Mail Centre, Hamilton 3240, New Zealand
Contact Details
0800 800 836
If your pet has been involved in an accident or sickness, Southern Cross Pet Insurance has you and your little buddy's back covered.
They offer two levels of cover for pets, namely PetCare and AcciPet.
The first plan covers accidental injuries, in-born conditions, illnesses, vaccinations, and diagnostic testing. You can boost it further with dental and/or regular pet care.
The second covers only medical costs for accidents up to $5,000 per year but leaves out cover for illnesses, dental care, and day-to-day care.
For both PetCare and AcciPet plans, you will have to pay 20% co-payment and the insurer will cover the rest.
Why are they one of the best pet insurance in NZ? In 2019, they promptly paid out claims worth $11.2 million for clients—meaning, you can rely on them to cover you.
Strong credit rating (A as rated by Standard & Poor's)
Free insurance advice
Discounts for multiple pet policies
Higher premiums compared to other providers
2)   AA Pet Insurance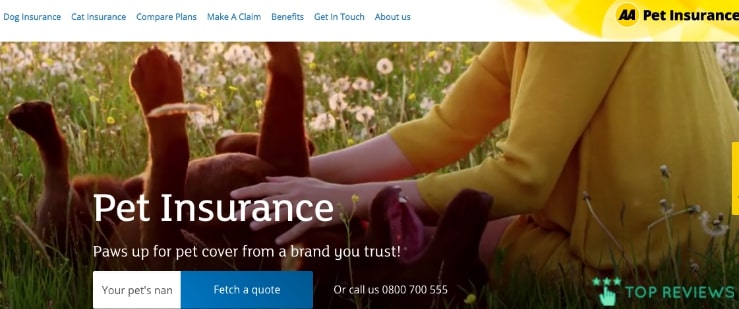 Best for
Comprehensive benefits
Products
Dog insurance Cat insurance Puppies and kittens
Benefits
​Injury ​Illness Specialist Treatment Patella Conditions ​Cruciate Ligament Conditions Alternative Therapy Routine Care Funeral Costs Owner Hospitalisation Lost Pet Holiday cancellation cover Optional dental cover
Address
AA Insurance, P.O. Box 992, Shortland Street, Auckland 1140, New Zealand
Contact Details
General enquiries: 0800 700 555 Email:

[email protected]

Claims: 0800 700 556 Email:

[email protected]

Office Hours
Monday – Friday: 8.30 AM – 5.00 PM Saturday & Sunday: closed
AA Pet Insurance covers your lovable furry friend from his early weeks to later years. They will pay for most of the expenses incurred when he is hurt or unwell.
With AA Pet Insurance, the complexity is taken out. Getting a quote online is as simple as 1, 2, 3, and their three plans are simple and very easy to understand.
Their pet insurance cover dogs, cats, and puppies and kittens. These plans feature a broad range of benefits including lost pet and owner hospitalisation cover.
It's also interesting to note that they have a starter cover for puppies and kittens. This covers the vet bills, injuries, and accidents to your pets. Plus, you won't have to pay any premiums—just $100 excess per claim.
Quick quoting system
Member and multi-pet discounts
Responsive team
3)   Pet-n-Sur

Best for
Claims processing
Products
Cat Plan Dog Plan Rabbit Plan Horse Plan
Benefits
Dog, Cat, and Rabbit Plans:   Vet surgical bills Vet medical bills Specialist vets Hereditary conditions Alternative therapy Vaccinations Desex/microchip Lost / replacement pet Boarding fees Funeral costs  
Horse Plan   Death Theft Vet fees Saddlery & tack Floats & trailers Loss of entry fees Removal & disposal Annual vaccinations Vet Certificate
Address
445 Karangahape Road, Auckland CBD, Auckland 1010, New Zealand
Contact Details
0800 738 678

[email protected]

Office Hours
Monday – Friday: 8.30 AM – 5.30 PM Saturday & Sunday: closed
For dog, cat, horse, or rabbit insurance, you should check out Pet-n-Sur. Pet-n-Sur is a great option if you're insuring one or more of these wonderful pets.
Their plans cover a broad range of benefits that can help you if your pet suffers from a health condition, gets involved in an accident, or gets lost.
The insurer doesn't offer one-size-fits-all plans, as they take into account the breed of your pet and their corresponding needs to present you with a range of options to choose from.
Dogs and cats have a full surgical and medical cover up to $9,000, rabbits up to $1,500, and horses up to $25,000. Furthermore, you won't have to pay extraordinary sums thanks to fixed co-payment options.
Many clients have also said their claims process was speedy and hassle-free. You'll get the payment for the treatment of your pet without delay.
Value for money
Hassle-free claims process
Multi-policy discounts
4)   PD Insurance

Best for
Affordable premiums
Products
Emergency Plan Classic Plan Deluxe Plan
Benefits
Emergencies Illness Accidents Dental Wellness Benefits package (optional)
Address
PO Box 33540, Takapuna, Auckland 0740, New Zealand
Contact Details
+64 800 738 467

[email protected]
With PD Insurance, you get simple and reliable cover for your pet. They offer three products: Emergency, Classic, and Deluxe Plans at competitive rates.
The Emergency plan is the barest, covering only pet emergencies and third-party liabilities. The Classic plan covers emergencies, accidents, and illnesses, whilst the Deluxe plan covers everything the two plans have, along with dental care.
If you want to ramp up the Classic and Deluxe plans, you can add the Wellness Benefits package. Among the benefits included in the package are microchipping, desexing, and boarding cover.
Another good reason to take out cover with PD Insurance is they've partnered with a non-profit group called HUHA (Helping You Help Animals) and donate a portion of their profits to provide food and shelter to NZ dogs and cats.
Affordable premiums
Fast refund within 2 days
Multi-policy discount
No fortnightly payment option
5)   Petplan

Best for
Yearly claim amount
Products
Dog Insurance Cat Insurance Equine Insurance
Benefits
Dogs & Cats   Third-party liability Complementary treatment & alternative therapy Death from illness Death from injury Boarding fees Advertising & reward Loss by theft or straying Holiday cancellation Quarantine expenses & loss of documents Emergency repatriation  
Equine   Mortality, theft & straying  
Optional Extras   Vet fee cover Permanent loss of use Disposal after death Saddlery & tack cover Horse float cover
Address
101D Station Road, Penrose, Auckland 1061, New Zealand
Contact Details
0800 255 426 [email protected]
Office Hours
Monday – Friday: 8.30 AM – 7.00 PM Saturday: 11.00 AM – 7.00 PM Sunday: 12.00 – 6.00 PM
Our pets could get terribly injured or sick which can hurt us deeply. Fortunately, you can insure them through Petplan's pet insurance plans.
With a range of policies for dogs, cats, and equines, Petplan has something to suit your needs and budget. You can get continuous pet cover with them for life.
Of Kiwi insurers, they have the highest yearly claim for dog insurance at up to $20,000. Accidents and illnesses, as well as extras like theft and repatriation, are covered.
The insurance policies for cats and dogs have the same benefits. These include but are not limited to third-party liability, lost pet, boarding, and death cover.
For horse and black beauties, they are covered for mortality, theft, and straying. Also, the benefits consist of bridle, saddle, and tack, veterinary fee cover, and others.
You can trust Petplan as they have 1.5 million pets insured in New Zealand. They also work in partnership with breeders, pet stores, veterinarians, and volunteer groups to offer you some of the best pet insurance in NZ.
Maximum cover of $20,000
Dedicated customer service
Value for money
No multiple pet policy discounts
FAQS about the Top Pet Insurance in NZ
---
And that concludes our list of the top pet insurance in New Zealand. With these policies, your cuddly pet (and your wallet) will be protected.
Do you have any questions or thoughts regarding our list? If you have one, please drop us a line and we'll get back to you in a bit.
Need anything for your pets like food, apparel, or toys? If you do, you can look up the best pet shops in Auckland.