The 11 Best Plasterers in Auckland
Plastering can impart a neat, elegant finish to your property when done well. If you're in need of it, you're in luck, as we are listing the best plasterers in Auckland here for you!
We handpicked those who are professionally qualified and trained to realise what their customers envision. Furthermore, we picked those that are diligent, friendly, and easy to work with.
Also, we based our choices on what customers say about them. It let us know that we weren't the only ones who think that these companies are really good!
So, feel free to browse this list to find out what they can do for you. And without further ado, here are the best plasterers in Auckland!
1)  Quality Plasterers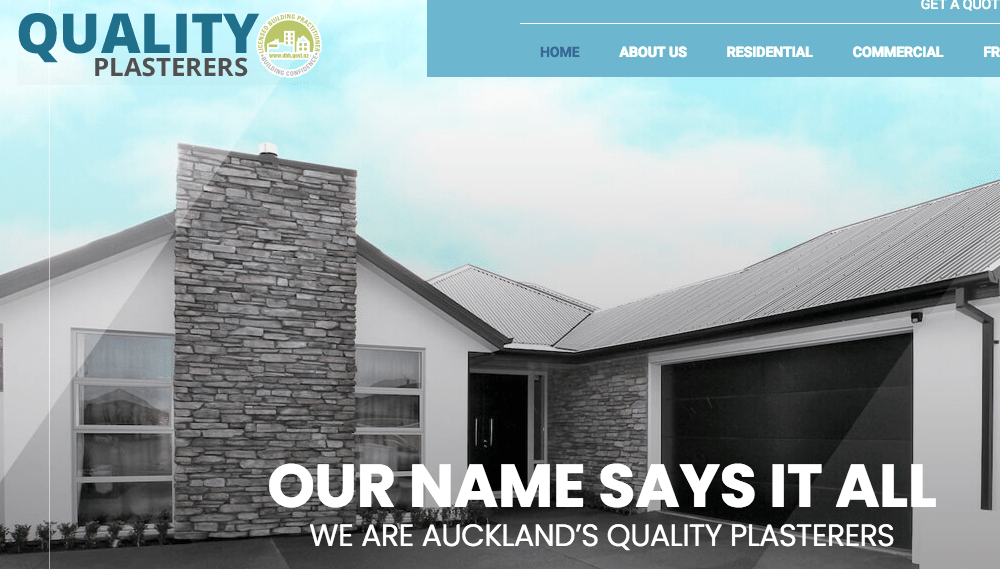 BEST FOR
Reliability, Workmanship & Product Guaranteed
SERVICES
Residential & Commercial Services

●     Solid Plastering

●     Cladding Systems

●     Spray

●     Texture

●     Bricks & Chimney

WEBSITE
https://qualityplasterers.co.nz/
ADDRESS
7 Paton Avenue, Te Atatu South, Auckland 0610, New Zealand
CONTACT DETAILS
+64 9-837 6014
OPERATING HOURS
—
For above-par plaster workmanship, just get in touch with Quality Plasterers! They are committed to your satisfaction and won't stop until you're satisfied with the work.
With over 80 years of experience, they have branches in Auckland and West Auckland. They offer solid plastering, plaster cladding, brick or block plastering, and plaster repair.
Their marvelous workmanship can never fail to improve the appearance and raise the value of your property. What's more, the contractors offer great competitive prices here.
Also their service comes guaranteed and will stand the test of time. And that's owing to the fact that they are Licenced Building Practitioners.
Highlights
Marvelous workmanship
Over 80 years of experience
Highly qualified and knowledgeable team
Offers a wide range of services
Customer satisfaction guaranteed
2)  Auckland Solid Plaster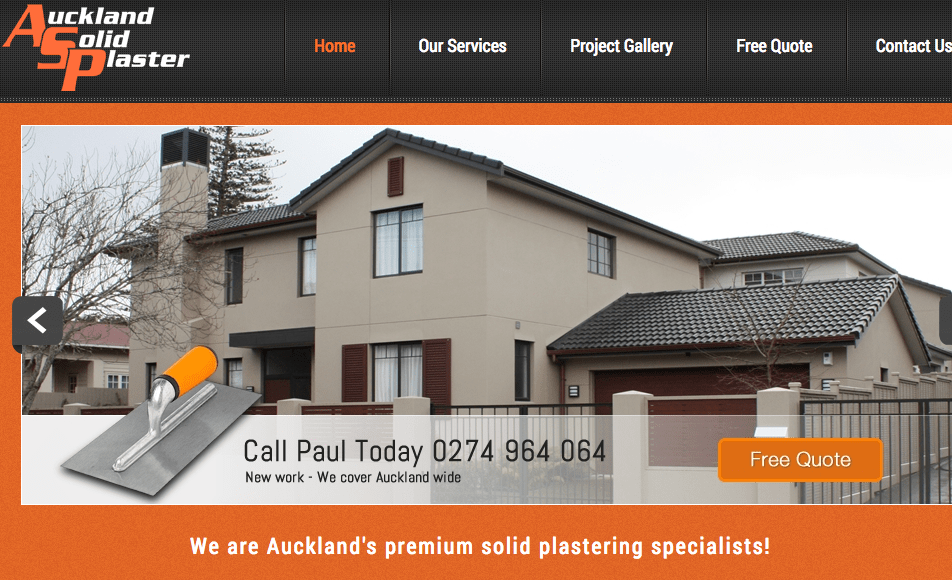 BEST FOR
Great Customer Service
SERVICES
Traditional Plaster

Modern Plaster

Exterior Plastering/Painting

Interior Plastering/Painting

WEBSITE
https://www.solidplaster.co.nz/
ADDRESS
Waitakere, Auckland 0614, New Zealand
CONTACT DETAILS
0274 964 064
OPERATING HOURS
Monday to Friday: 9am – 5pm
Planning to give your new home or commercial build a solid plastering? If you are, we're sure you will find one of the best plasterers in Auckland in Auckland Solid Plaster!
Paul Berry leads this team of professionals who all pride themselves on their workmanship. Their commitment to quality is such that you will feel you are getting your money's worth every step of the way — and that's rare!
They are Licenced Building Practitioners and Auckland Master Plasterers Association members. Only high-quality materials are used for your interior and exterior plastering.
Additionally, they can repair cracked brick, monolithic and solid plasters to prevent further damage that can cause water seepage into your home or office interior.
Highlights
Great-looking, durable workmanship
Solid plastering experts
Fully qualified team members
Only uses high-quality materials
Cost-effective prices
Customer Reviews
Here's an excerpt on Google Business from one of their clients, Rita Steel. She said:
"We had multiple ugly block walls and wanted a dark oxide plaster that many plasterers had little or no experience with or tried to sway us from using. We found Paul and his team who not only instilled confidence in us for the look we wanted but were great sources of advice. When it came to the work: the team were awesome to have on site, happy, friendly, hard working, efficient and always on time."
3)  JA Plasterers Ltd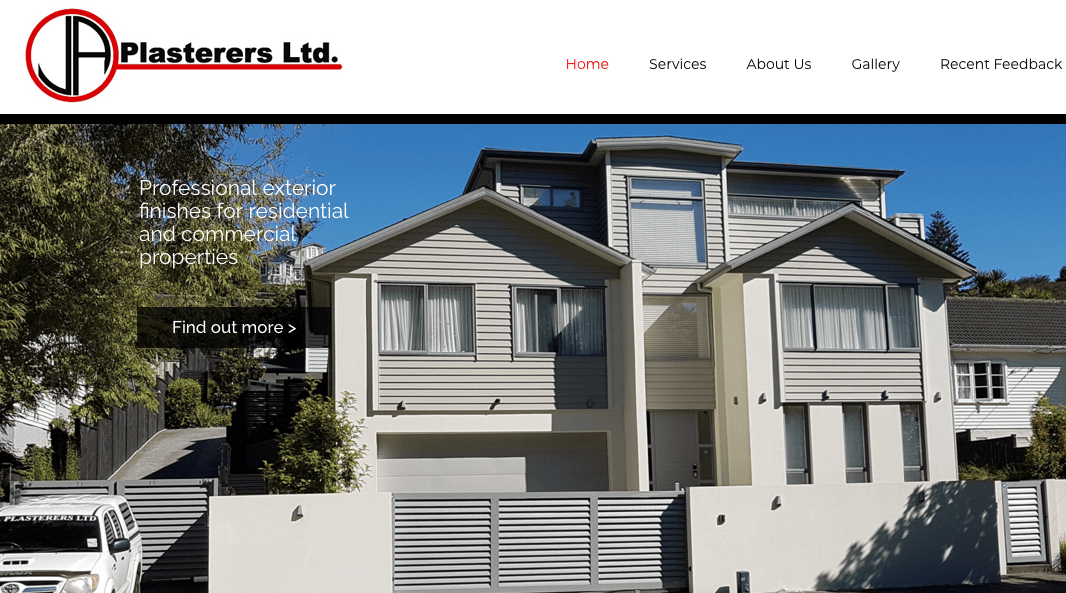 BEST FOR
Immaculate, Wonderful Exterior Plastering
SERVICES
Residential

Commercial

Landscape

WEBSITE
http://japlasterersltd.co.nz/
ADDRESS
Manukau, Auckland 2103, New Zealand
CONTACT DETAILS
+64 (21) 913402
OPERATING HOURS
Monday to Friday: 7.30am – 5pm

Saturday: 7.30am – 12pm

Sunday & Public Holidays: Closed
If you'd like a neat, contemporary and appealing exterior, then you should get JA Plasterers Ltd. Be it residential or commercial work, no job is too large or small for them.
They are composed of honest, hardworking and talented professionals. They make it a point to understand the customer's requirements, and provide them the results they want.
Check out their proprietary exterior cladding that imparts an immaculate, pleasing look to your wall, fence, gate, fireplace or deck. You'll be glad you chose this company for that!
Highlights
Immaculate plastering
Honest, hardworking and talented professionals
Offers a special exterior cladding
Licenced Building Practitioners
Customer Reviews
Let's hear out Jason's review on Google Business:
"Hi Josh, Thanks so much for the recent work you did for us. The professional standard of your work and the level of service was exceptional. Would happily recommend the J A Plasterers team to anyone looking for quality plastering and painting services."
4)  FQS Interior Ltd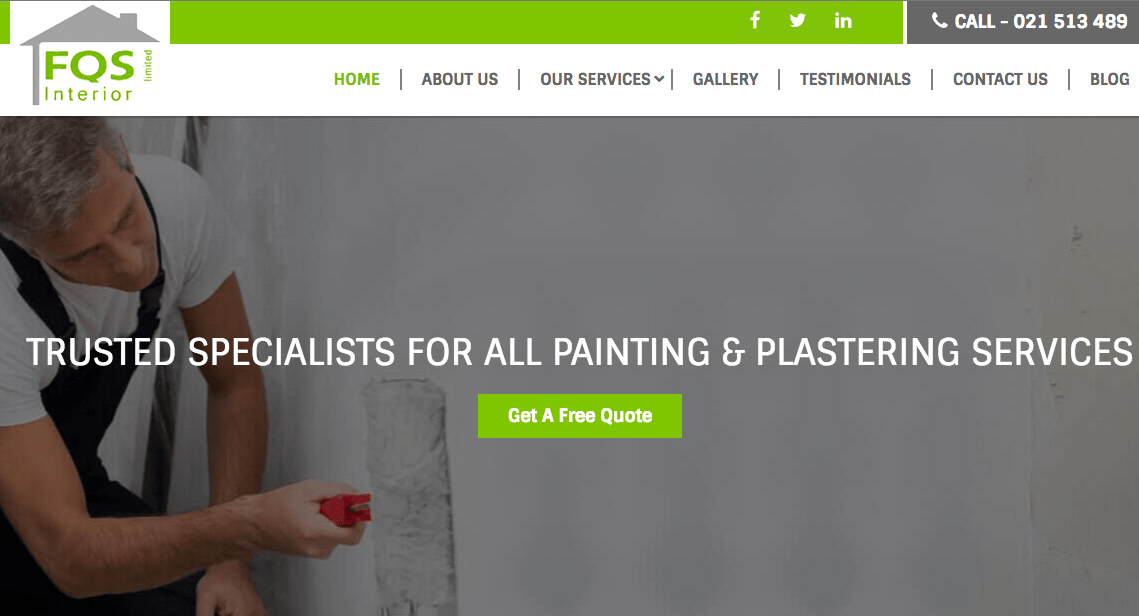 BEST FOR
Plasterboard & Painting Projects
SERVICES
Plasterboard Stopping & Fixing

Gib Supply

Interior & Exterior Painting

WEBSITE
https://www.fqsinterior.co.nz/
ADDRESS
42A Nui Mana PI, Te Atatu South, Auckland 0610, New Zealand
CONTACT DETAILS
09 835 3913

021 513 489

OPERATING HOURS
Monday to Friday: 8am – 4.30pm
Have your home nicely set up and painted just as you want it. FQS Interior are elite plasterers and painters who can work on tasks ranging from patchwork to renovations.
You can let their professional team handle the Gib stopping and fixing as well as painting. Rest assured that your wall or ceiling will have an elegant, smooth texture to fit your interior.
Fast and prompt, the team has a storehouse of plasterboards to supply for you: they promise that these are highly durable and long-lasting. In turn, these will offer you value that's second to none.
Plus, the team always makes sure to clean up after themselves and your place when they are done. Surely, FQS Interior is one of the best plasterers in Auckland for that alone!
Highlights
Handles Gib stopping and fixing as well as painting
Professional, expert plasterers
Leaves the premise neat and tidy
Value for money
Customer Reviews
One client, Adrian Hatt, wrote on Google Business:
"Ali and the guys at FQS have just finished an extensive interior decorating job for us in our family home. The price was extremely competitive, the work completed professionally, to a very high standard of finish and on time and nothing was too much trouble. I highly recommend their services. Adrian., Auckland."
5)  Above Board Plastering Building Contractors Ltd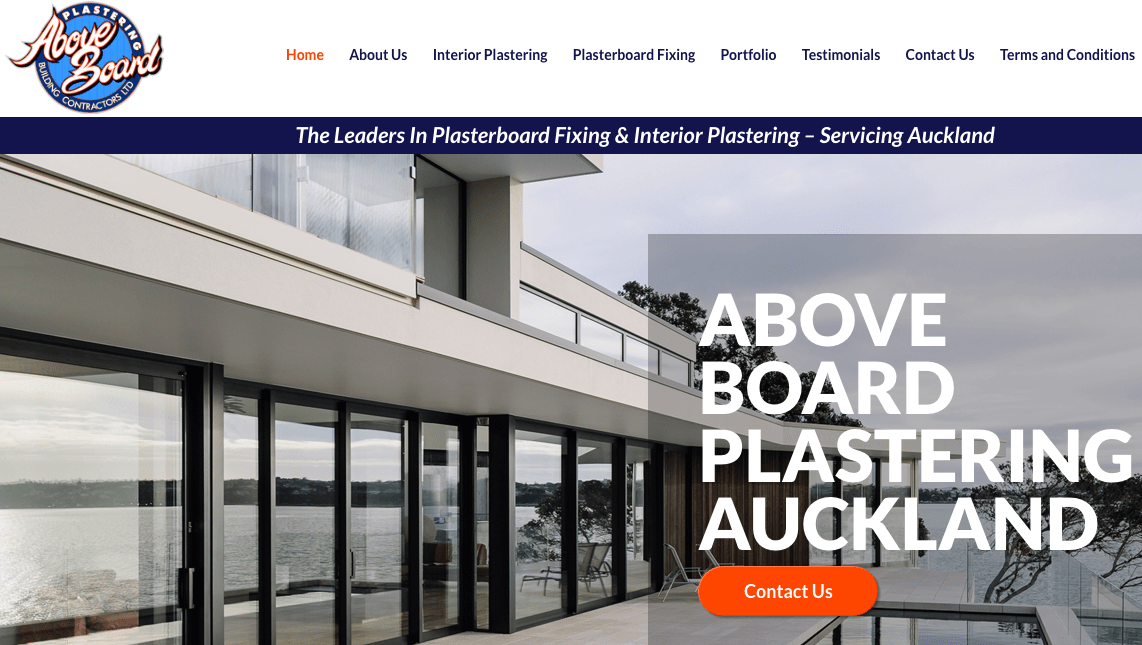 BEST FOR
Plasterboard Fixing & Interior Plastering
SERVICES
Residential Fixups

Small Commercial Projects

New Home Builds

Renovations

Insurance Work

Commercial Fitouts & Refurbishment

Fire Protection

Plasterboard Fixing

Interior Plastering

WEBSITE
https://plasterersauckland.kiwi.nz/
ADDRESS
Auckland, New Zealand
CONTACT DETAILS
 021 446 716
OPERATING HOURS
Monday to Sunday: 7am – 6pm
Above Board specialises in plasterboard fixing and interior plastering focused on homes and small businesses. They easily belong in this list as one of the best plasterers in Auckland.
They are dedicated to completing work to a high standard on time and within budget. Anything about plasterboards or damaged walls or ceilings, you're covered!
A distinguishing factor of the company is their honesty and integrity. This is their aim in operating this business, so you can see or feel this in how they treat their clients.
Availing of their services can make your house attractive from the inside without flaws, patches or rough edges. In other words, you'll get a functional and rad-looking interior!
Highlights
Exceptional plastering work
Meticulous and professional team
Specialises in plasterboard fixing and interior plastering
Finishes on time and within budget
Transparent and honest in dealing with clients
Customer Reviews
Let's see the review from one client, Daniel Gola, on Google Business:
"Lyndon and his team were great. He promptly quoted and organised for the fixing and stopping to be completed to an excellent standard. A pleasure to deal with. Will definitely use again when needed."
6)  Plaster Solutions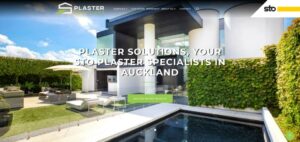 BEST FOR
Plaster Solutions
SERVICES
Sto Plastering Systems
Painting & Coating
Maintenance
Plaster Repairs
WEBSITE
https://www.plastersolutions.co.nz/
ADDRESS
PO Box 65-056
Mairangi Bay
Auckland, 0754
CONTACT DETAILS
PHONE 021 223 9126
EMAIL [email protected]
OPERATING HOURS
N/A
Plaster Solutions is a company that offers top-notch services. From plastering to maintenance, they are able to accommodate any of your plaster needs.
Their decades of experience ensure that you receive only the best when they work on your project. With up to twenty years of warranty, you can rest assured that your investment will last for a long time.
Highlights
Plaster systems can have up to 20 years warranty
More than 20 years of experience
7) Omega Interior Lining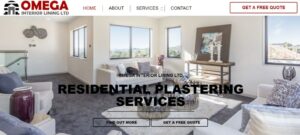 BEST FOR
Plasterboard Fixing & Interior Plastering
SERVICES
– Plasterboard Fixing

– Interior Plastering

–  New Home Builds

– Residential Fixups

WEBSITE
https://omegainteriors.co.nz/
ADDRESS
PO BOX 59246 Mangere Bridge
CONTACT DETAILS
021 0422277
[email protected]
OPERATING HOURS
Monday to Friday: 7am to 6pm
Saturday: 7am to 6pm
Sunday: Closed
Omega Interior Lining aspires to provide their client base with high-quality, hassle-free plastering services. In every project they take on, you can rest assured that they'll only be using the best plasterboard products, not only in terms of quality but how it suits the project as well.
In doing so, Omega Interior Lining can efficiently get the job done. Moreover, clients won't need to worry about the quality decreasing over time.
Highlights
 Skilled and experienced plasterers
Supplies plasterboard and villaboard
Reliable and friendly contractors
8) Grey Skills Auckland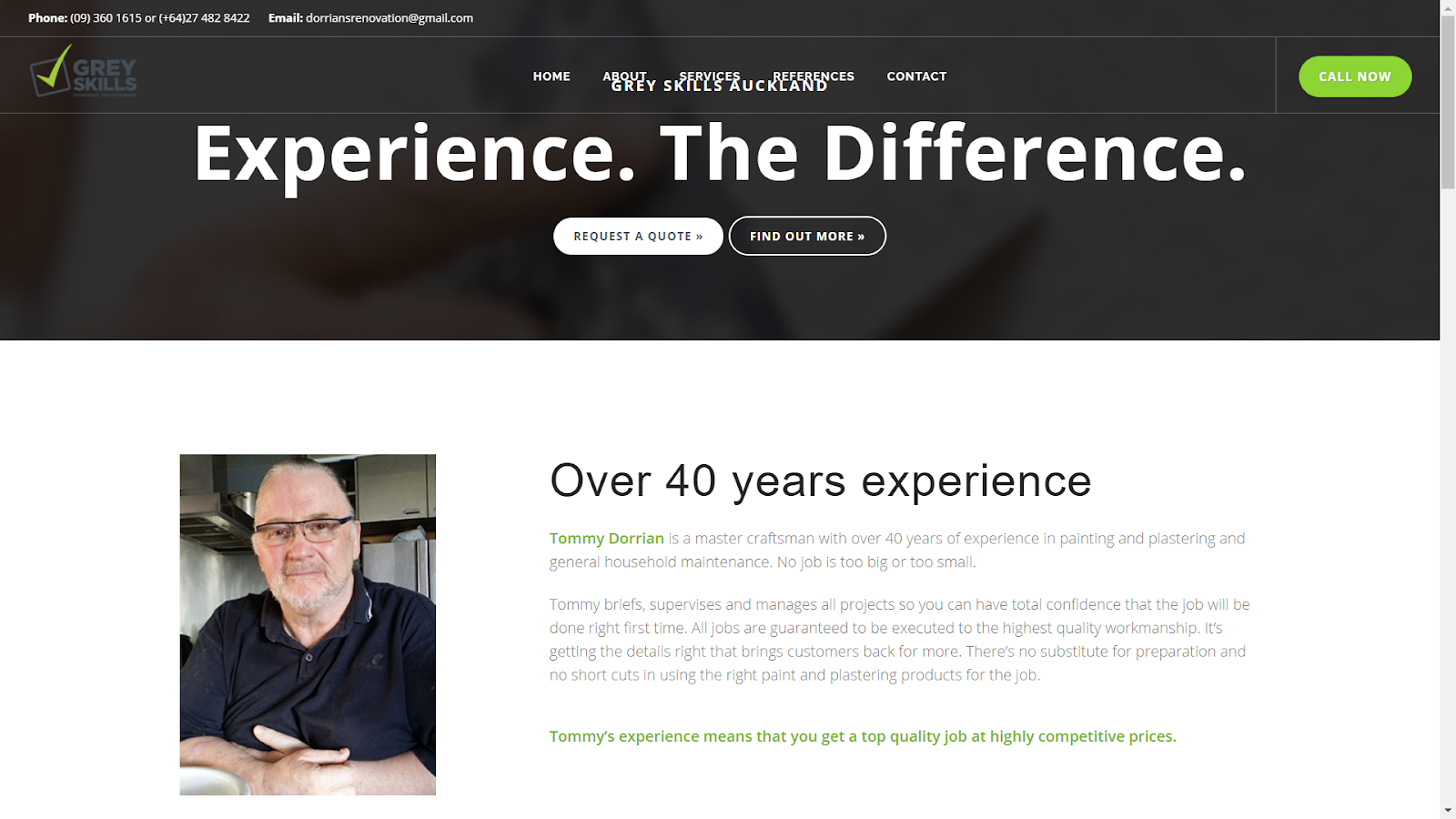 BEST FOR

Plastering

SERVICES

Restoration, House Stripping, Finishing, Clean & Paint Roofs, Plastering, Repainting

WEBSITE

https://www.greyskillsauckland.co.nz/

ADDRESS

132 Sandringham Rd, Sandringham, Auckland 1025

CONTACT DETAILS

Phone: (09) 360 1615

Mobile: (+64)27 482 8422

Email: [email protected]

OPERATING HOURS

Daily, 6:30 AM – 7 PM
Tommy Dorrian, supervisor and manager, has over 40 years of experience in the field assuring you that they will get the job done on the first try. Their services are executed with great caution for quality workmanship.
They believe that the small details maintain good customer relations hence, making them come back more. 
Highlights
Good quality service

Professional

Punctual 
Customer Reviews 
Here's a review from one of Grey Skills' clients:
"Great handyman work from Grey Skills as usual. We have engaged them a couple of times now for plastering & wall repairs.
Would highly recommend Tommy and his team!" – Karl Tercel
Here's another one:
"Tommy did a small job for us at my Kingsland home canopy with a tongue and grove ceiling. Very happy with the finish. Tommy gave the job a coat of oil based wood primer and two top coats lumbers i.e. colour matched to the colour we wanted." – Michelle
9) Andrew Plastering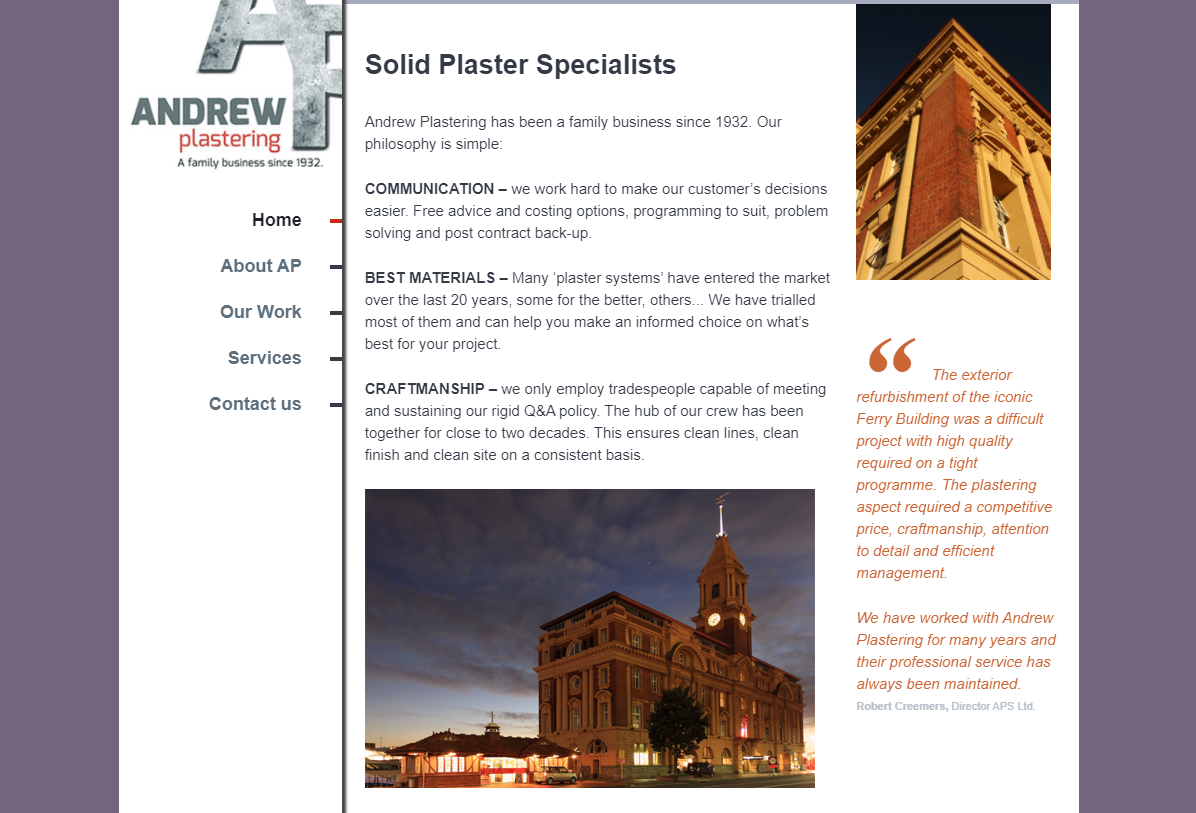 Andrew Plastering is perhaps one of the oldest companies on this list, having been established some time in 1932. From then until now, Andrew Plastering has continuously provided quality plastering services to residential and commercial properties alike.
Now, one of the main reasons why we recommend Andrew Plastering, aside from its years in the field, is its flexibility. Andrew Plastering is one of the few companies that is capable of matching any plastering finish, regardless if the build is new or not.
Another reason for the recommendation is the combination of high-quality material and expert workmanship. Andrew Plastering is a client-centric business, so it isn't at all surprising that the company goes the extra mile to ensure that every job they work on ends successfully, with quality and longevity taken into consideration.
The last reason is the company's professionalism and dedication to keeping communication lines open.
Aside from providing quality work, Andrew Plastering endeavours to make the entire process easy for clients, which is why the company offers free advice and costing options, programming to suit, problem solving and post contract back-up.
Highlights
5 year workmanship warranty on all work
Free detailed quote
Manufacturers warranty for STO and specialised systems
10) HomeSmart Plaster Home Specialists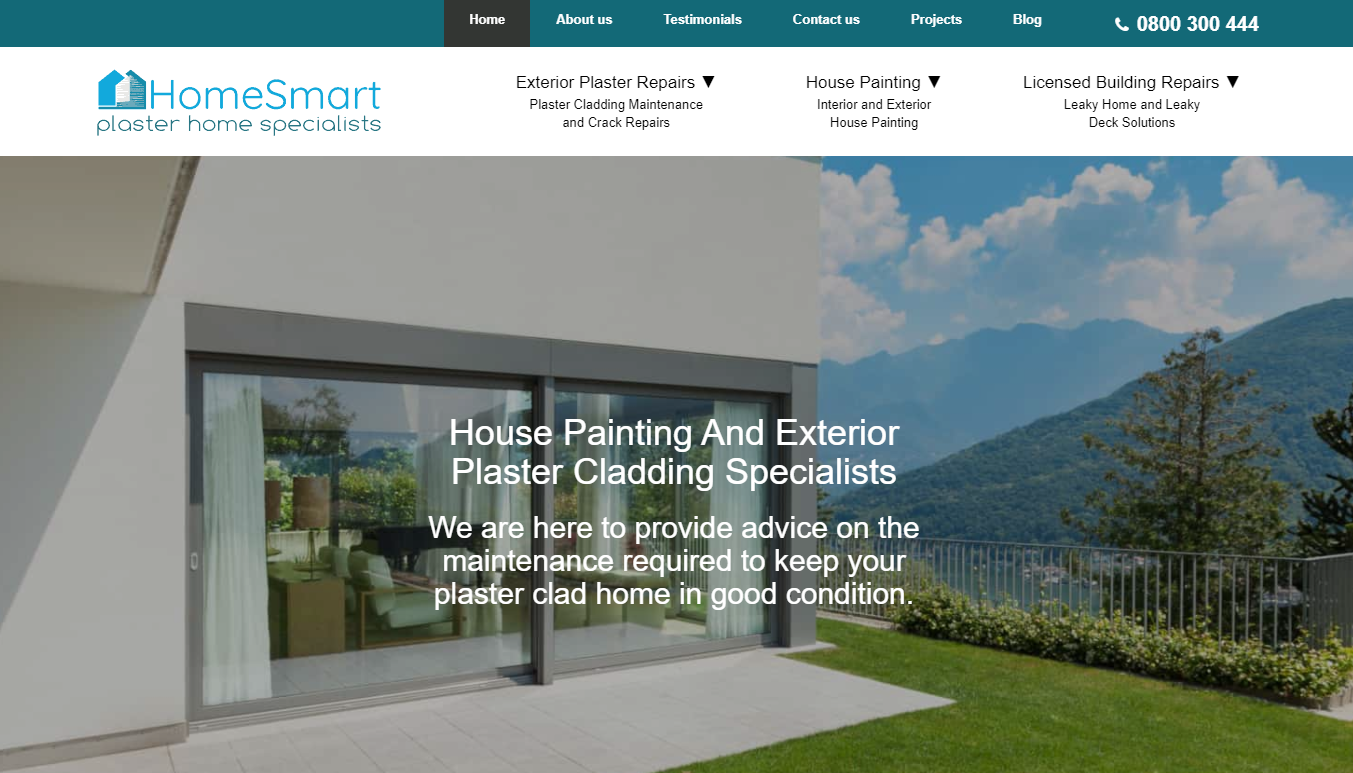 BEST FOR
House Painting and Plaster Services
SERVICES
Plaster Cladding Maintenance
and Crack Repairs
Plaster Cladding Repairs
Plaster Home Maintenance
Monolithic Cladding
Exterior Plastering Auckland
Bagged Brick
Clinker Brick
Solid Plastering

Interior Painting
Exterior Painting
Roof Painting
GIB Stopping

Leaky Home Repairs
Leaky Deck Repairs

WEBSITE
https://homesmart.co.nz/
ADDRESS
Unit A1, 253 Dairy Flat Highway, Albany
CONTACT DETAILS
0800 300 444
OPERATING HOURS
By appointment
HomeSmart Plaster Home Specialists, as their name suggests, is a company comprising plaster specialists, all of whom have a common goal in mind: To get the job done no matter its size.
HomeSmart offers a wide array of home improvement services, including but not limited to interior and exterior painting, plaster cladding repairs, exterior plastering, and leaky home and deck repairs.
HomeSmart endeavours to make things simple and easy for the clients, which is why their services are straightforward and their fees transparent, both of which work to give clients some peace of mind while they're completing the project.
Another thing worth noting about HomeSmart is its team, which comprises full-time professionals who are trained for quality, tidiness, and speed. Along with the expert team, HomeSmart also has a ten year guarantee.
All in all, the combination of the extensive list of services, team of professionals, honest rates, and workmanship guarantee makes HomeSmart an excellent choice for plastering needs.
Highlights
Offers 10 year workmanship guarantee
Team consists of trained full-time employees
Uses quality materials for all projects
11) Unique Painters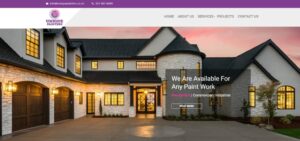 | | |
| --- | --- |
| BEST FOR | Quality Painting and Plastering Services |
| SERVICES | Residential Painting, Plastering, Commercial Painting, Industrial Painting, Office Painting, Roof Painting, Pool Painting, House Washing, Spray Painting, Graffiti Removal, Fence Painting, Wallpaper Hanging, Repairs and Maintenance, Scaffolding |
| WEBSITE | https://uniquepainters.co.nz/ |
| ADDRESS | New Zealand |
| CONTACT DETAILS | [email protected] | 021 061 8400 |
| OPERATING HOURS | Contact for more information |
Unique Painters is a locally owned and operated business with one goal in mind: To provide exceptional painting, plastering, and maintenance services to the people of New Zealand. We recommend Unique Painters for three main reasons.
First, Unique Painters has an impressive list of services, which includes but is not limited to plastering services, residential, commercial, and industrial painting, graffiti removal, wallpaper hanging, and repairs and maintenance.
The extensiveness of the list makes Unique Painters an incredible choice for those looking to improve the look of their properties.
Second, Unique Painters' dedication to quality.
As a locally owned and operated business, Unique Painters strives to make the locals happy and earn their trust, which the company has continuously done by providing quality services with the use of top-of-the-line equipment and products.
Lastly, Unique Painters' team, which consists of experienced professionals who have had proper training in the aforementioned services. These professionals strive to attain the much coveted 100% customer satisfaction, which is why they go the extra mile to ensure that each job finishes successfully.
Highlights
5 year workmanship guarantee
Excellent customer service
Competitive rates
And that's it for now for the best plasterers in Auckland. If you want amazing plastering, just get in touch with one of these specialists we have featured here.
Do you have any questions you'd like to ask us? If you have one, feel free to send us a message and we'll reply to you in a bit.
If you want more construction or design services, check out our other lists. For example, you may be interested in the best concrete pavers in Auckland. These can add an aesthetic touch to your garden, driveway, footpath, or even your commercial site!