Auckland's Top 12 Plumber Services
Have you ever experienced having a leaky pipe? One that disturbs you in the course of your rest at night. Or the water remains chilly all throughout when taking a shower? You might have. These tiny problems, if left alone, gets worse which leads to making the bathroom tile wet and slippery, and add to your utility expense.
Let this be a general guide to get a rough idea of the situation and before you agree for a plumber's help. But, if you live in Auckland, I believe we can help you with that by listing the top plumber services in the city.
There are a number of plumber companies in Auckland in the North, South, West, East, and Central areas. It's practical to choose the one closest to you and in that way avoid an extra transportation expense. Again, it is important to take into account the costs we've mentioned earlier.
1. Craig Plumbing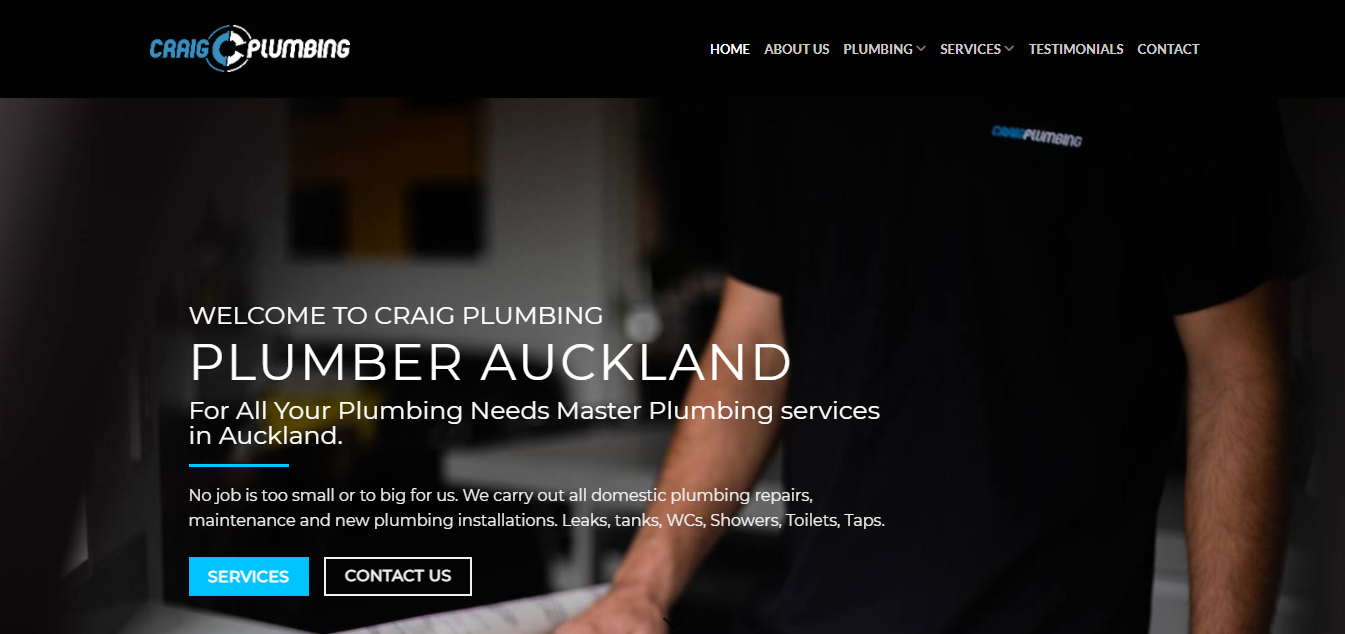 Over the years, Craig Plumbing has built a reputation for themselves due to the quality of their services.
No job is too small or too big for them. That is why people prefer them because they are always ready to help, even after office hours!
Unlike other companies, if the service you aren't looking for is not on their list, you may call them to confimr and they will happily assist you.
From the testimonials of previous clients, they said that they would definitely recommend craig Plumbing because they can provide excellent service, give good advices, and do a high-qualit job.
Customer Review
Here are some reviews from their previos clients:
"Excellent service, excellent workmanship, and woul highly recomment to all"
"Clean, tidy, and efficient. Was a tricky job relocationg pipes but not a problem for them at all."
2. Auckland Plumbable Plumber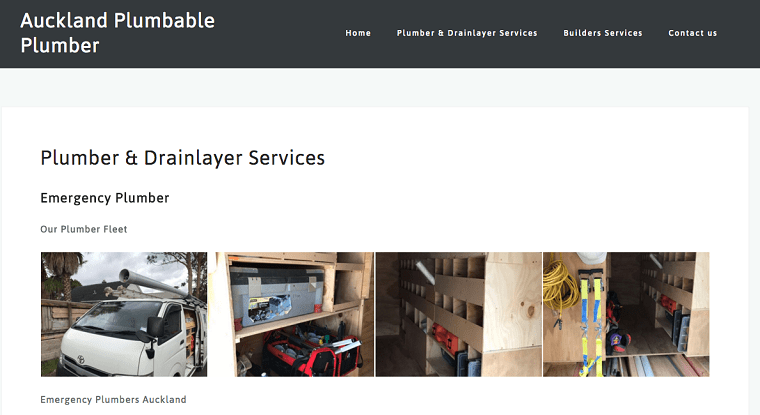 All plumbers of Auckland Plumbable Plumber are qualified to install sinks, vanity, toilet, washing machine, sink erator and repair drainage, dripping taps, and pipe bursts. In their van, they have the plumbing materials that are needed but in case a special equipment is needed, they will redirect the water, turn it off, to come back the next schedule. In Google Review, their services received a 5.0 rating which is high.
3. Platform Plumbing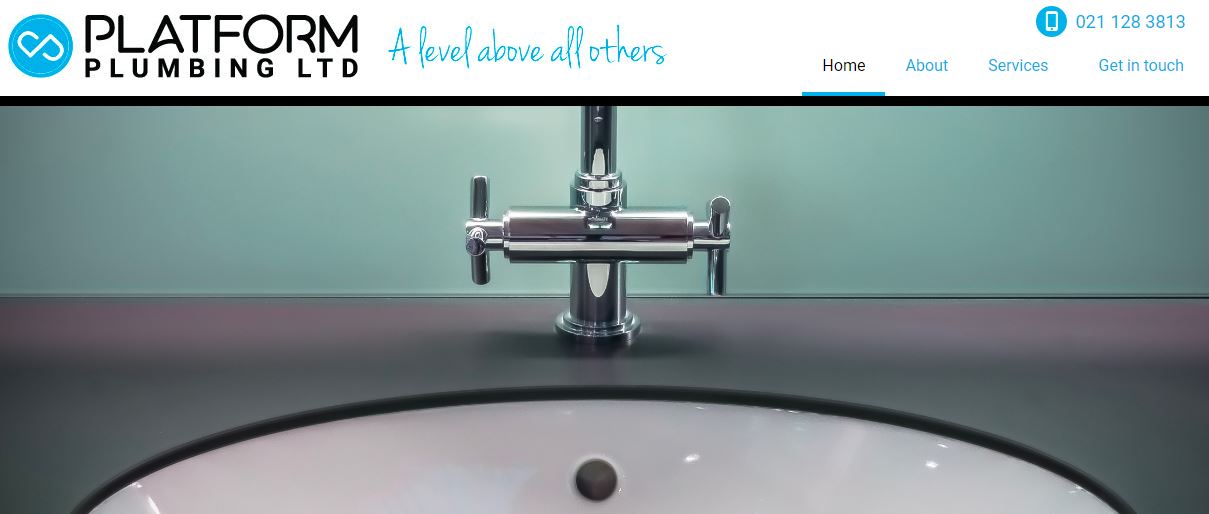 Address: Auckland
Places Covered: Greater Auckland from Pokeno to Silverdale
Out of Service Hours? By appointment
Schedule: Monday to Friday, 9am – 5pm; Saturday, By Appointment; Sunday & Public Holidays, Closed
Contact: 021 128 3813 | [email protected]
Website:
https://www.platformplumbing.co.nz/
No matter what Plumbing, Gas or Drainage issue you are experiencing, Platform Plumbing's professionals have the tools and experience required to deal with your problem. Every member of their team is trained and licensed to undertake Plumbing, Gasfitting and Drainlaying related work in New Zealand. Platform Plumbing is also fully insured and provide a workmanship guarantee. For a quality job by an honest, reliable and experienced plumber, try Platform Plumbing today.
Customer Review
5-star Google review from Faye Banks:
"Ben from Platform Plumbing is amazing to deal with. Friendly, efficient and provides an outstanding quality of work. A pleasure to do business with."
4. Euro Plumbing

Address:
Central Auckland (Mount Wellington)
Places Covered:
Auckland-wide
Out of Service Hours?  Yes
Schedule: 7:30am – 5:30pm Monday – Friday, Saturday and Sunday by appointment or emergency only
Contact: 0800 832 638
Website:
https://www.europlumbing.co.nz/
Euro Plumbing has a safety-first policy and top-quality focus that will make gas fittings, installations, unclogging of drain a no concern for the mind. They operate over the greater Auckland and its suburbs and has more affordable rates compared to others in the region. Plus, they have a caring customer service that attends to your needs in case you're not happy with the result.
5. Fairfield Plumbing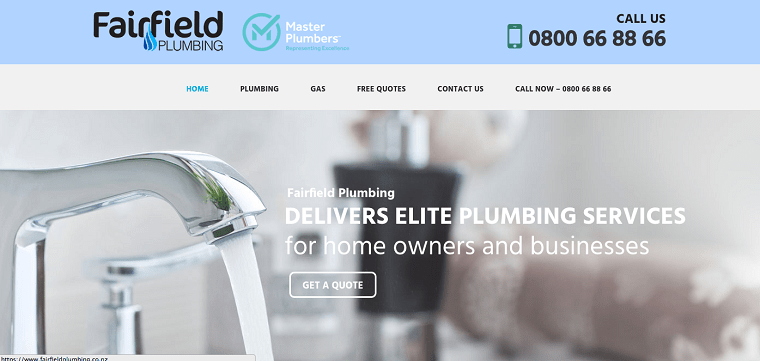 Address:
Meadowbank
Places Covered:
Auckland-wide
Out of Service Hours?  Yes
Schedule: 7:30am – 5 pm Monday – Friday, Saturday and Sunday by appointment or emergency only
Contact: 0800 668 866
Website:
https://www.fairfieldplumbing.co.nz/
Fairfield plumbing can install all sorts of cooking apparatus, sink garbage disposal, fix the brackish water coming out the faucet, and loads more. They are a reputable company and serves all over Auckland. Give them a call if some pipe has been badgering you. Google Review scored Fairfield plumbing a rating of 4.7.
Customer Review
Martin Etherington
"Fantastic job on a tricky renovation. Could not recommend Fairfield Plumbing highly enough."
6. LA Hughes Plumbing & Gas Ltd West Auckland Plumbers


Address:
Henderson (West Auckland)
Places Covered:
Auckland-wide
Out of Service Hours?  Yes
Schedule: 7 am – 5 pm Monday – Friday, Saturday by appointment
Contact: 0800 110 157
Website:
https://www.lahughesplumbing.co.nz/gasfitters/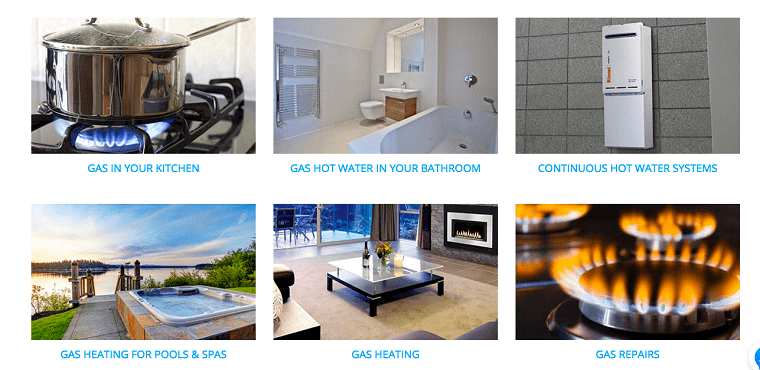 For all sorts of gas fittings and installation, you can call LA Hughes Plumbing and Gas. Even to conduct an overall maintenance on your water heater, stove plugging, gas connection and see needed repairs. A safe maintenance means a safe and healthy home. The team works from Monday to Saturday Auckland-wide.
Customer Review
Jacqueline Yallup
"I WILL be using LA Hughes again for job, office staff are very helpful and friendly. Paul gave good advice and did a brilliant job. He was very knowledgeable and helpful. All round a 100% service from all."
Anne-Marie Luke
Was a lovely friendly serviceman that fitted our new gas line for my new oven. Would definitely recommend this service to anyone looking to get a gas line fitted.
7. South Auckland Plumbing Ltd.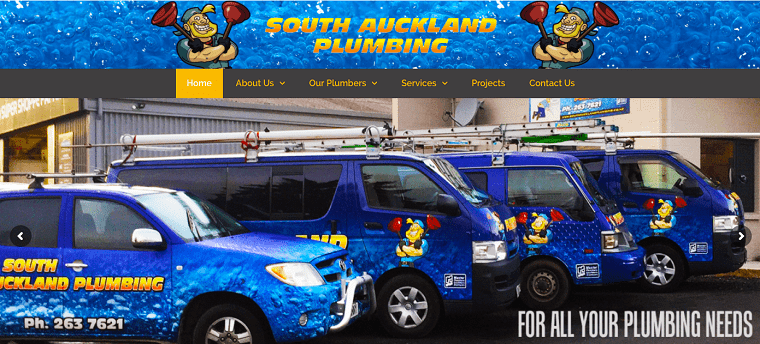 Address: Papakura, South Auckland
Places Covered: South and East Auckland
Out of Service Hours? Yes
Schedule: 7:30am to 5pm, Monday to Friday, 8am – 12pm Saturday
Contact: 0800 873 918 or (09) 263 7621
Website:
https://www.southaucklandplumbing.co.nz/contact-us/
Dealing with plumbing issues for the last 25 years, South Auckland Plumbing Ltd. is on-time, come as they say, deal as they do plumbers. They fix those bursting pipes, and leaking water cylinders in excellent workmanship. They do their service in South and East Auckland including Howick, Manukau, Pukekohe, Manurewa, Papakura, Pokeno.
Customer Review
Barry Boston
"I am only too happy to recommend South Auckland Plumbing, as I have been using this company now, for several years. I havve always been pleased with the service, and quality of workmanship, from members of the staff, who have attended my two properties on my farm in South Auckland."
8. Essential Plumbing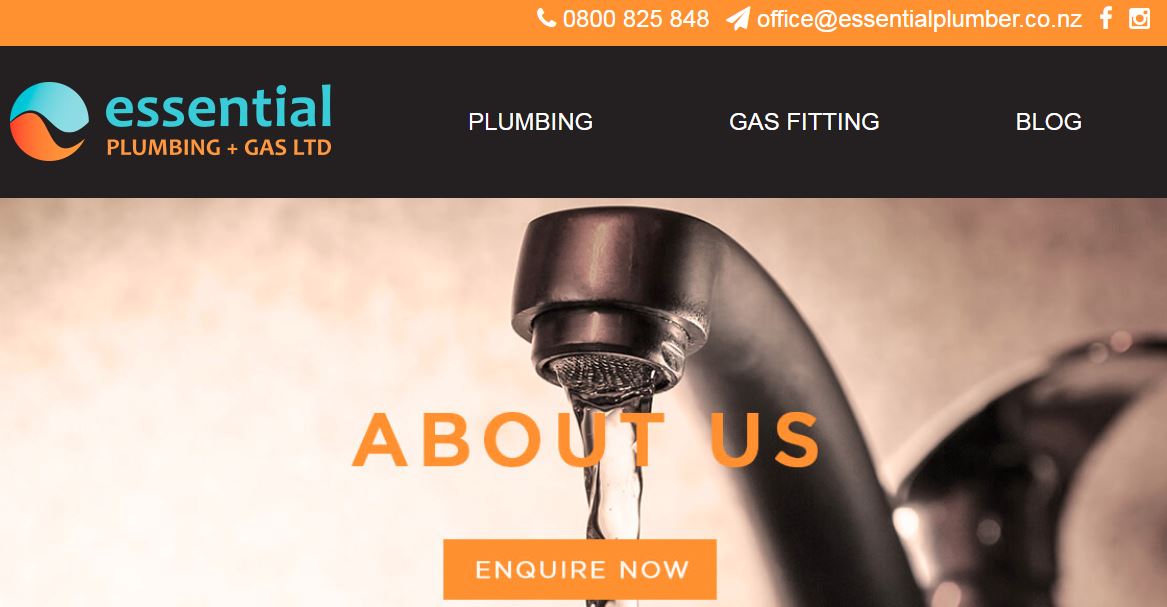 Address: PO Box 87018, Meadowbank, Auckland 1742
Places Covered: South, East, Central, West and North Shore Auckland
Out of Service Hours? Contact for more information
Schedule: Contact for more information
Contact: 0800 825 848 | [email protected]
Website:
https://www.essentialplumber.co.nz/
Essential Plumbing are fully certified, proud members of the Master Plumbers Association, fully insured and up to date with the latest trends and products on the market. Customers love that their pricing is transparent, competitive and their value for money is second to none. They have been serving Auckland homes and light commercial premises for over 10 years, with hundreds of satisfied one-off and repeat customers.
Customer Review
5-star Facebook review from Stu McPherson:
"I have utilised Essential's services a few times for plumbing issues around the house. Despite the small-scale nature of my requirements, they have always been prompt, polite, effective and cost-efficient. Highly recommended."
9. Parris Plumbing Limited
Address: 6 Patrick St, Onehunga, Auckland 1061
Places Covered: Auckland, Onehunga, Penrose, Mt Wellington,  Meadowbank, St Johns, and the Eastern Bays
Out of Service Hours? Contact for more information
Schedule: 24 Hours
Contact: +64 9 570 2910 | [email protected]
Website:
https://www.parrisplumbing.co.nz/
For over 40 years, Parris Plumbing Limited has been serving the community of Auckland and its surrounding areas. They are experts in plumbing, gasfitting, drainage and roofing.
For providing quality, creative solutions for all of their plumbing, roofing, drainage and gasfitting needs, their clients has continued to use their plumbing services.
With their licensed plumbers, they never let their customers down. Now, whenever you need an Auckland Plumber or Gas fitter that you can trust, call Parris Plumbing & Gas Fitting to ensure that the job is done right, the first time.
Customer Review
Here is a review left by a very satisfied client:
"Roof leak after a storm. Logan took time to check over and make urgent repairs plus good advice." – Jeff Smith
10. Blueline Plumbing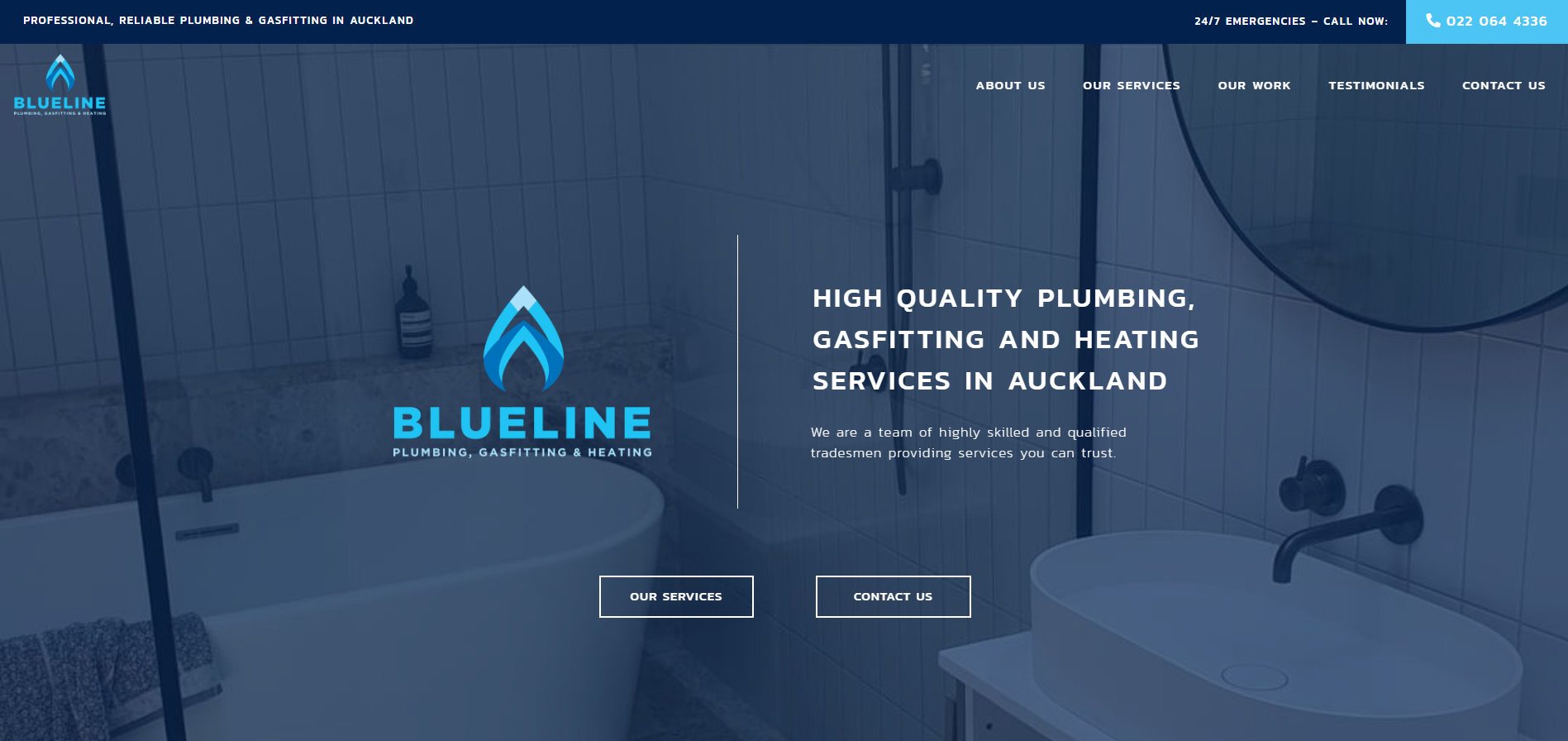 If you are looking for a professional, quality plumbing and gaslifting service, check out Blueline Plumbing first. Their goal is to bring their customers high quality services– being completely transparent along the way.
Their staff are fully qualified, certified and insured so there is no second-guessing on their quality of workmanship and professionalism. By striving to be the best in the industry, they have won awards in the long years of them serving the people.
They're a business that strives to succeed. They are nothing but willing to travel wherever their work takes them, so give them a call now and you can see for yourself how great they are at their craft.
Customer Review
Here is a review left by a very satisfied client:
"We've used Ben and Blueline Plumbing for 3 different jobs in the last 4 months, each time Ben has been excellent and we would recommend him for any plumbing or gasfitting work. We bought a house in September which needed some renovation and we posted a job for a plumber on Builderscrack. Ben responded within a few hours, he estimated the work, then followed through with quality workmanship and invoices that matched the estimates. Absolutely 100% would use Ben again!" – Jamie
11. Ross' Plumbing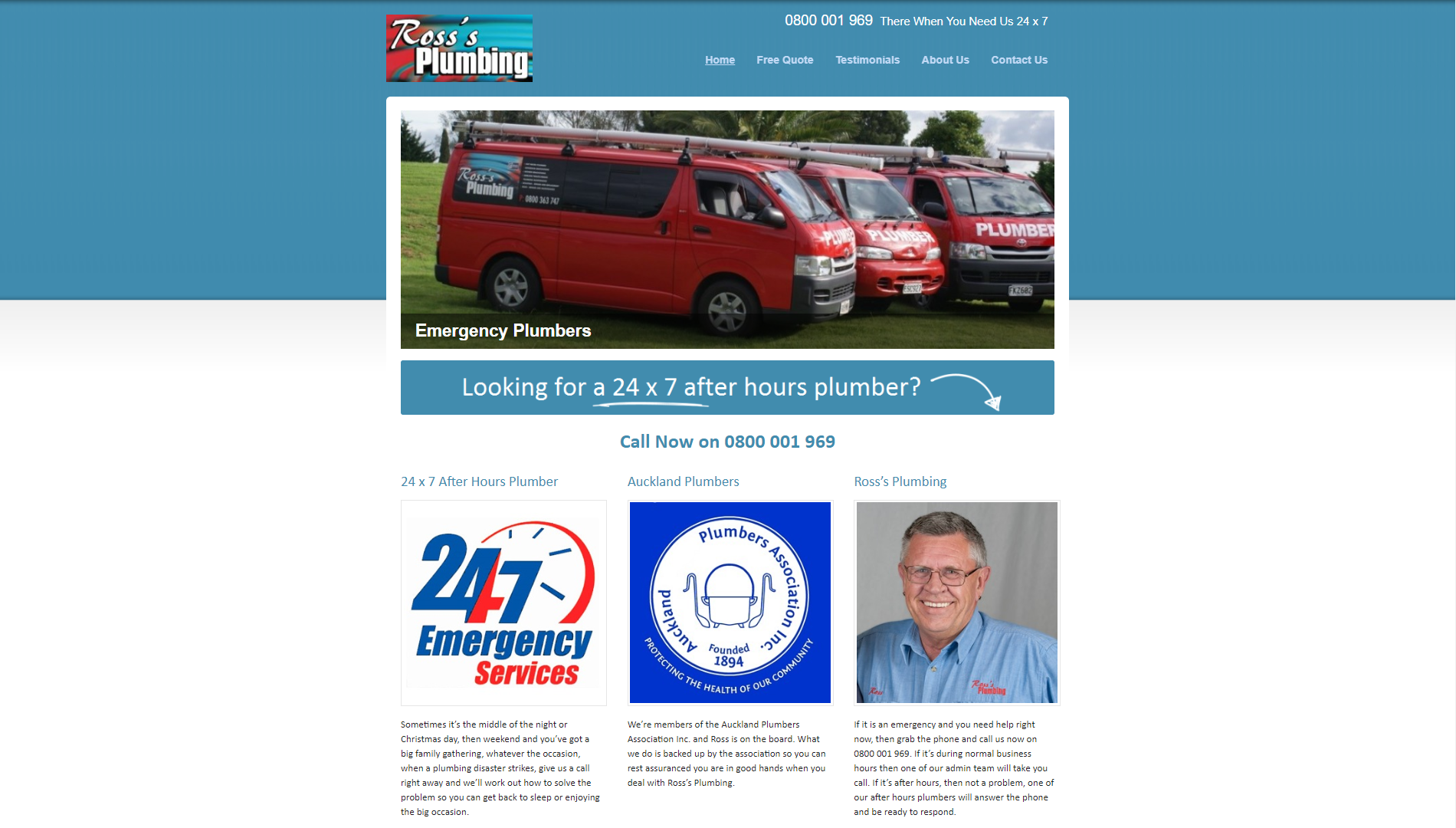 Address: 17 Hobill Ave, Wiri Auckland 2104
Places Covered: Auckland-wide
Out of Service Hours? Yes
Schedule: 24/7
Contact: 0800 001 969
Website:
https://24hourplumber.co.nz/
It is inevitable that sometimes, our pipes at home give up at the most inconvenient times. When this happens, you should quickly find a plumber, to fix the problem as soon as possible.
If you're in need of a trustworthy and 24/7 plumber service provider, then Ross' Plumbing Services is here to serve.
One of their main goals is to provide a quality experience for the customer, from the first phone call until payment is completed. They listen, provide options if necessary, and go from there. As a member who is on the board of the Auckland Society of Plumbers, Ross will always make sure that every business with you is done successfully.
Customer Review
Here is a review left by a very satisfied client:
"After several quotes and bad suggestions from different plumbers, Ross was honest, on-time and extremely professional. He knew exactly what needed to be done. He re-plumbed my whole house, installed a new water heater, bathroom fixtures and toilets, outside faucets and updated the washing machine valves There were no short-cuts, he used the best materials and now the bad smells are gone and my bathrooms are beautiful! Ross goes the extra mile which is hard to find these days!"
12. Sumich Plumbing & Drainage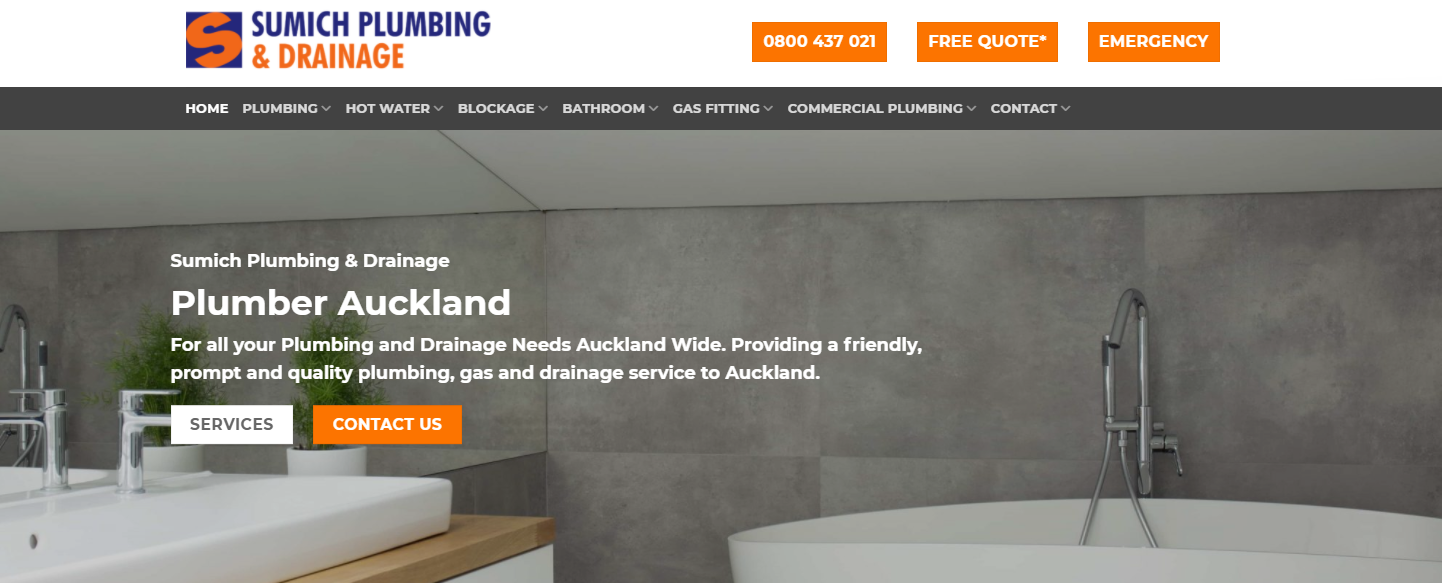 Address: Unit A2 / 50 Keeling Road, Henderson, Auckland 0612
Places Covered: West Auckland, North Shore, and Central Auckland
Out of Service Hours? Yes
Schedule: 24/7
Contact: 0800 437 021 or [email protected]
Website: https://sumichplumbing.co.nz/
Sumich Plumbing & Drainage is a company that specializes in emergency plumbing services, such as clogged drains, burst pipes, toilets and leaking taps.
Sumich Plumbing & Drainage Ltd was established in 1991. It started out because of Chris Sumich's dream of providing reliable and affordable service to the people of Auckland.
The company has since grown into one of the first choices for quality plumbing services in Auckland. Suming Plumbing accommodates emergency requests and caters to clients from West Auckland, North Shore, and Central Auckland.
In addition to that, Sumich Plumbing & Drainage also offers plumbing services to domestic and commercial clients.
Customer Review
Here is a review left by a very satisfied client:
"Quick to do the job…" Sumich Plumbing were quick to do the job even though I don't live in the area. They were happy to go to my property 'up there' and fix my problem."