The 8 Best Plumbers in Christchurch Rated
Find yourself with the hot water running out during your shower or a faucet that won't stop dripping all through the night? We have you covered, as we're going over the best plumbers in Christchurch to fix that for you.
Calling a Christchurch plumber is a good way to resolve the issue efficiently, saving you time and effort. That also keeps it from unnecessarily adding to your water expenses for the month.
But you may have some questions about plumbing services before you pick one. That's all right, because we'll answer the most common questions about plumbers in Christchurch too.
For example, since Christchurch plumbing services differ in their labour, material, and travel charges depending on what sort of repair is needed, we'll include the common problems and their estimated prices below.
Before we get to our main Christchurch plumbers list, we'll also take a look at what you can do to lower your plumbing expenses. The tips we've collected actually come from the best plumbers in Christchurch as well!
Finally, we'll also go over how to pick a plumber in Christchurch. This is to ensure you know how to choose the best plumbers for your needs later on.
FAQs on Plumbers in Christchurch
Let's start by answering the top questions people have about plumbers in Christchurch. Here are the 3 most common ones:
1. How much do plumbing repairs or installations cost in Christchurch?
As noted above, the actual costs differ by case and Christchurch plumber. Some things cost more to fix than others and some plumbers charge more than others.
In general, though, if a plumber charges more than the market standard, he should provide better service. For instance, he should provide a longer warranty on his work.
In any case, we've listed the most common plumbing issues that people have in their homes. We've divided them into several categories and provided the average cost for them for most plumbers in Christchurch.
Keep in mind that the prices listed are only estimates. They can be different from your plumber's actual quote.
On that note, don't forget to get written quotes before actually hiring a plumber. This will ensure you get charged the proper amount later.
Average Costs of Repairs by Plumbers in Christchurch:
Bathroom
| | |
| --- | --- |
| Fixing leaks and pipes | NZ$100-200 |
| Unclogging a toilet | NZ$100-200 |
| Installing a washbasin | NZ$125-250 |
| Repairing or installing a shower | NZ$150-300 |
| Repairing or installing a toilet | NZ$100-500 |
Kitchen
| | |
| --- | --- |
| Fixing leaks and pipes | NZ$100-200 |
| Unclogging a kitchen sink | NZ$125-200 |
| Installing a washbasin | NZ$125-250 |
Bigger Plumbing Repairs
| | |
| --- | --- |
| Fixing slab leaks | NZ$1000 and up |
| Replacing a water heater | NZ$1200 and up |
2. How can you lower the cost of plumbing repair in Christchurch?
The obvious solution here is to shop around for the best plumbing company in Christchurch and look at their rates and prices. You may want to ask plumbers how they get paid, in particular.
You see, some companies charge by a fixed hourly rate, by package, or even by commission.
Which one should you prefer? It depends, but personally, we'd advise going for the fixed-rate plumbers or package plumbers.
That's since commission plumbers tend to encourage total replacements of even fixable parts and typically try to sell more of their services. They get paid more for that, after all, due to the commission-based payment.
Thus, the way they work may not exactly be in your best interests. Luckily for you, the companies that made our list of the best plumbers in Christchurch are all very transparent and fair about pricing.
Other things to do to lower plumbing costs would be to avoid calling for a repair outside of standard working hours (because most charge extra then) and choosing a plumber nearby (because they often charge you for transport costs).
Finally, you should also try to learn some basic plumbing know-how. This can help you maintain your own plumbing better, which should reduce the number of times you need to call in a Christchurch plumber.
3. How should you pick a plumber in Christchurch?
We've already done the research and found the best plumbers in Christchurch for you, as we said. Still, if you want to know how to find a plumber by yourself, it's not that hard.
Here are the basic rules that will help you choose the best plumber in Christchurch:
Ask for references from customers who've had similar repairs done or dealt with similar issues. This is a no-brainer: you want to be certain the plumbers have seen problems like yours before and dealt with them successfully.
Ask for price quotes and guarantees. Generally speaking, we'd advise you to prefer plumbers who have guarantees over those who don't. Even if a zero-guarantee plumber is significantly cheaper than one who guarantees his work, he may turn out more expensive in the long run if his work turns out to be faulty and requires further (costly) repairs. That's why all of the best plumbers in Christchurch have warranties on their repairs!
Ask how long they've been in the industry. In particular, ask how long the plumber has been working. It's fine if the plumbing company is young: that doesn't mean the plumbers are inexperienced. The more experience they have, the better! Make sure you're talking to the person who will actually do the repair, by the way.
Ask if they're insured. It's better to get a plumber with insurance, just in case something goes awry. You want to ascertain too that you won't be held liable for injuries to the plumber while he's working inside your property.
The Best Plumbers in Christchurch Reviewed
Now you know the answers to the most commonly asked queries about plumbers  in Christchurch. It's time for our list of great plumbing companies in the area.
These plumbers are certified and capable of doing nearly all of the plumbing work for your home. So, without any delay, we now present to you the best plumbers in Christchurch!
1. Rex Beazer Plumbing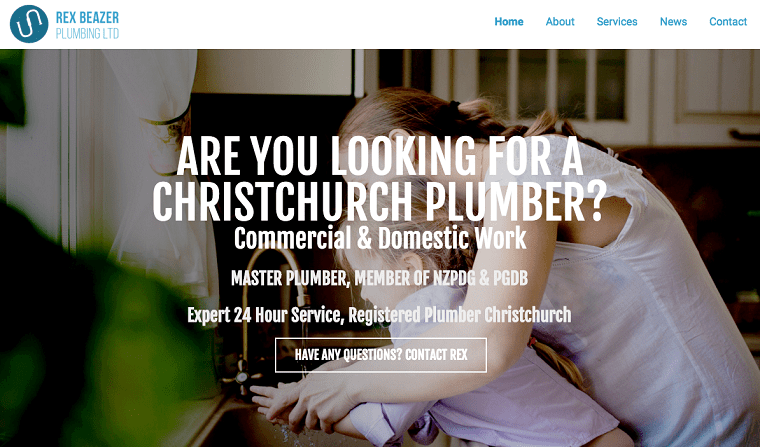 BEST FOR 

 

Impressive Communication and Speedy Service
SERVICES
Hot Water Cylinders, Emergency Repairs, Bathroom Renovations, Maintenance, New Homes, Scheduled Maintenance, Plumbing Management, Consulting, New Buildings and Project Development
WEBSITE
http://rexbeazerplumbing.co.nz/

@rexbeazerplumbing

ADDRESS
Shirley, Christchurch 8061
CONTACT DETAILS
 03 668 1200
If you live within the Canterbury region and need some plumbing assistance right away, Rex Beazer is the plumber to call. Many call them the best plumbers in Christchurch for a number of reasons.
Rex is a member of NZPDG and PGDB, which proves that they comply with safety and health standards. They offer effective commercial and residential solutions for your plumbing needs.
Let them set up your hot water cylinder, repair your toilet, and fix the shower drain, to name a few. Try to call them at the number provided above and tell them what you need.
Highlights
Plumbing for residential and commercial needs
24-hour plumbers
NZPDG and PGDB safety and health registered
Customer Reviews
Paul Culver comments on Google Business:
"Absolutely superb finish for our bathroom and before schedule too! If you're after an A class finish to whatever your needs Rex Plumbing is the way to go."
2. Inline Plumbing Christchurch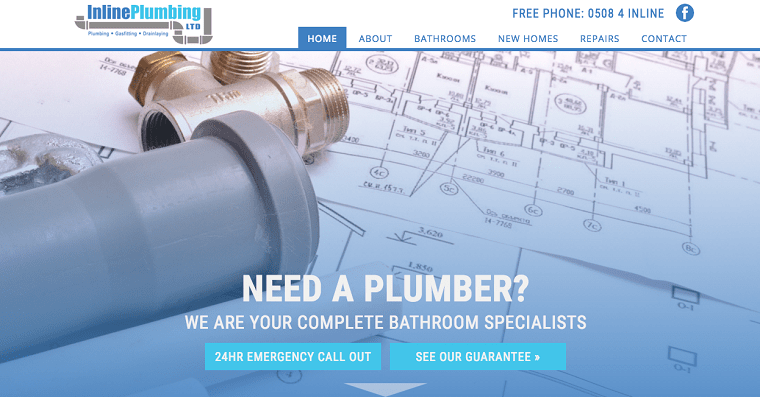 BEST FOR 

 

Knowledgeable and Efficient Plumbers
SERVICES
Toilet Installations, Bathrooms, Ensuites, Alterations and Renovations, Heating, Gasfitting, Electrical, Hot Water Cylinder Replacement, Blocked Drains and Insurance Work
WEBSITE
http://inlineplumbing.co.nz/
ADDRESS
39b Sandyford Street, Sydenham, Christchurch, New Zealand 8023
CONTACT DETAILS
0508 4 (free phone) or 03 377 5806 (office)
Whether you are moving into a new house, installing kitchen gas, or tackling a complex plumbing problem, Inline Plumbing Christchurch has the solution for each and then some.
Not only will they fix the problem but will help ensure it looks good afterwards. You can phone or email them at [email protected] to arrange a visit.
Inline Plumbing Christchurch is accredited by Site Safe too, which guarantees safety in their services. And yes, they all have expert and knowledgeable plumbers who are kind and very helpful!
Highlights
Conducts bathroom repair and maintenance, gas and drainage installation
Site Safe accredited
Personable and helpful plumbers
Customer Reviews
Julie Pratt mentions on Facebook:
"We had awesome service from inline plumbing. Our water cylinder leaked and they came really promptly in an after hours call out. The service, advice and follow up was excellent. Their price was also very reasonable. I can't recommend them highly enough."
3. Plumbfast Christchurch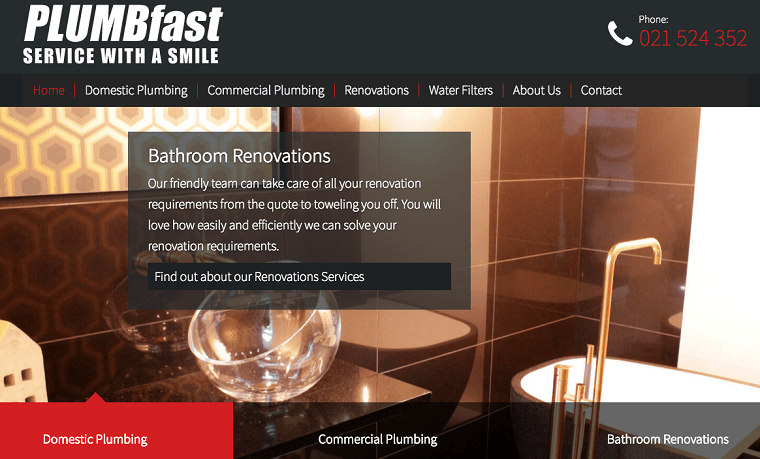 BEST FOR 

 

Value for Money
SERVICES
Domestic Plumbing, Commercial Plumbing, Renovations, Water Filters
WEBSITE
https://www.plumbfast.co.nz/
ADDRESS
160 Westminster Street, Mairehau, Christchurch 8013, New Zealand
CONTACT DETAILS
021 524 352
It's not a problem if you're in a business but need some arduous plumbing work done. In this case, you should lean on Plumbfast Christchurch.
They have been serving the Christchurch and North Canterbury areas for 37 years and have built a strong reputation as some of the best plumbers in Christchurch that way. With the knowledge and experience of their plumbers, your bathroom will be fixed and sorted out in no time.
Not only that, but Plumbfast sees to it that their work offers value. Note that they also renovate bathrooms from top to bottom.
Highlights
Long-standing 37 years of service
Knowledgeable and experienced plumbers
Bathroom renovation also offered
Reasonable prices
Customer Reviews
Sai Johnson has a high regard for Plumbfast Christchurch. He wrote this on Google Business:
"Fantastic service for a great price. Staff are fast, efficient and professional and Glen was always contactable when I had a question. The only plumbers I would use!"
4. Laser Plumbing Christchurch East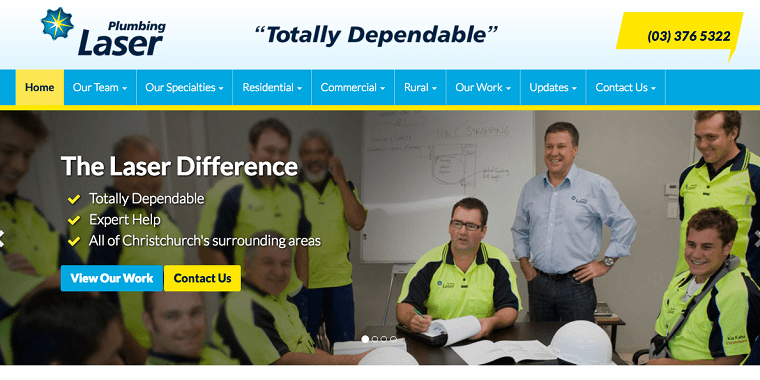 BEST FOR 

 

Skilful and Well-Mannered Team
SERVICES
New Homes, Maintenance and Servicing, Green Solutions, Roofing, Camera TV, Project Management, Commercial Maintenance, Industrial and Civil Services and Septic Tanks
WEBSITE
http://christchurcheast.laserplumbing.co.nz/

https://bit.ly/2uqHsSv

ADDRESS
Unit 3, 11 Tussock Lane, Ferrymead Christchurch 8023, New Zealand
CONTACT DETAILS
(03) 376 5322
Next up for our best plumbers in Christchurch list is Laser Plumbing.
They have a friendly, knowledgeable staff that gets down to the root of the problem in a flash. So if you're looking for Christchurch plumbers that are personable and professional, they won't disappoint at all.
More than just fixing any leaks or pipes or maintaining your septic tank, they even fix your roofing and mount home cameras so you don't need to call anybody else for a lot of handyman tasks.
Their prices align competitively as compared with other plumbing services. Most importantly, their availability, workmanship, and customer service are industry-leading.
Highlights
Excellent workmanship
Perfect handyman and plumbing tasks
Accommodating and personable staff
Competitive prices
Customer Reviews
On Google Business, Trish Clarke, working at Rental Properties A to Z writes:
"I can recommend Laser Plumbing for their reliability and the way they communicate with their clients. It is reassuring to know that any plumbing problems that may arise at the rental properties I look after are sorted out in a prompt, professional and friendly manner."
5. A1 Plumbing Christchurch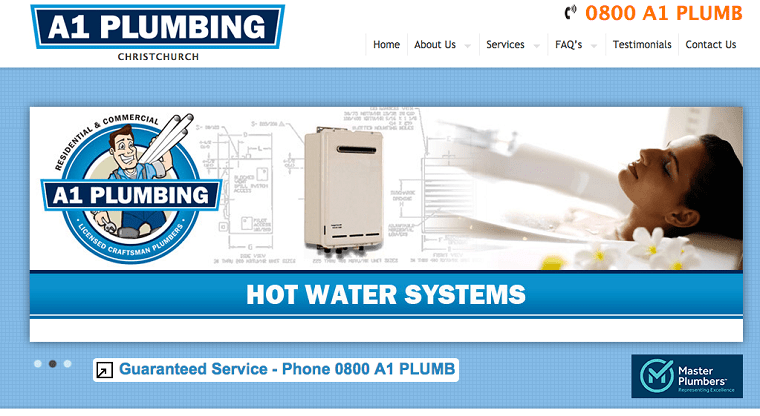 BEST FOR 

 

Helpful and Expert Plumbers
SERVICES
Domestic and Commercial Plumbing, Repairs and Maintenance
WEBSITE
https://www.a1plumbing.co.nz/

https://www.facebook.com/A1-Plumbing-922445887798606/

ADDRESS
30 beach Rd Christchurch, New Zealand 8083
CONTACT DETAILS
0800 217 5862
 A1 Plumbing services are mainly divided into three: hot water cylinders, hot water systems, and bathroom plumbing.
If you somehow find trouble keeping the water hot, you can call up 0800 A1 Plumb. They will even offer suggestions that make your bathrooms both look and function better, and not all plumbers in Christchurch will do that, or even have the flair for that!
And you can be confident with their advice, as A1 Plumbers has highly qualified plumbers and is a member of Master Plumbers brand. If you expect fast service and fantastic workmanship then they're easily the best plumbers in Christchurch for you.
Highlights
High quality workmanship and fast service
Registered Master Plumbers
Experienced and informative tradesmen
Customer Reviews
This is one review that can be found on the testimonials page of the A1 Plumbing's website:
"Had 3 Plumbers try to fix our hot water preassure in the last 4 years and A1 plumbing were the only ones to correctly diagnose and fix the problem. Would highly recommend Kerry, Very professional service."
6. Revolution Plumbing and Gas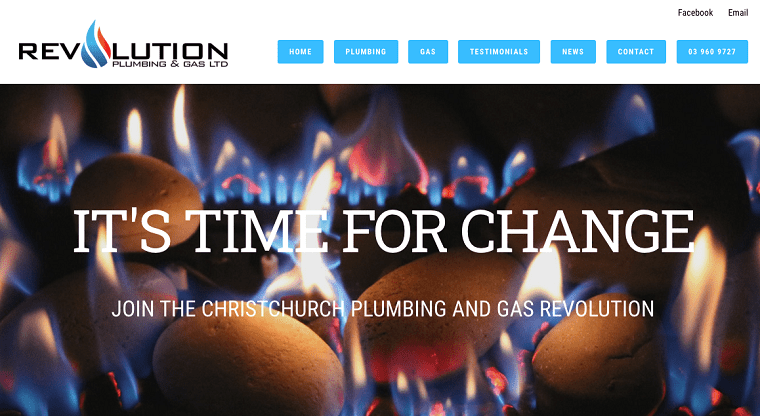 BEST FOR 

 

Gas Hot Water Installations
SERVICES
Renovation, New Home, General Plumbing Services, Gas Hot Water Systems, Gas Cooking and Gas Heating and Fires
WEBSITE
https://www.revolutionplumbing.co.nz/

https://www.facebook.com/revolutionplumbing/

ADDRESS
Somerfield, Christchurch, New Zealand 8024
CONTACT DETAILS
03 960 9727
Specialising in gas hot water installations and plumbing services in Christchurch, Revolution Plumbing and Gas can handle all your plumbing needs.
They have a package for Gas Hot Water services for a total of NZ$2800, GST inclusive. It delivers consistent hot water, is economical, and takes up a smaller space than cylinder-type solutions.
All their Christchurch plumbers are qualified and licensed in drainlaying, gas fittings (either for cooking or heating the room), and keeping the water supply clean for your use.
Highlights
Qualified plumbers, drainlayers and gasfitters
Offers gas hot water packages
Also offers plumbing services for new builds and renovations
Customer Reviews
Vernon Bruce gave a comment on Facebook that explains why people think the staff here to be among the best plumbers in Christchurch:
"This company installed a new Gas Stove for us during a renovation. Good communication prior to the job; replying to emails quickly . They turned up on time and did a nice neat job and left the place clean and tidy. Excellent Service."
7. Smartflow Plumbing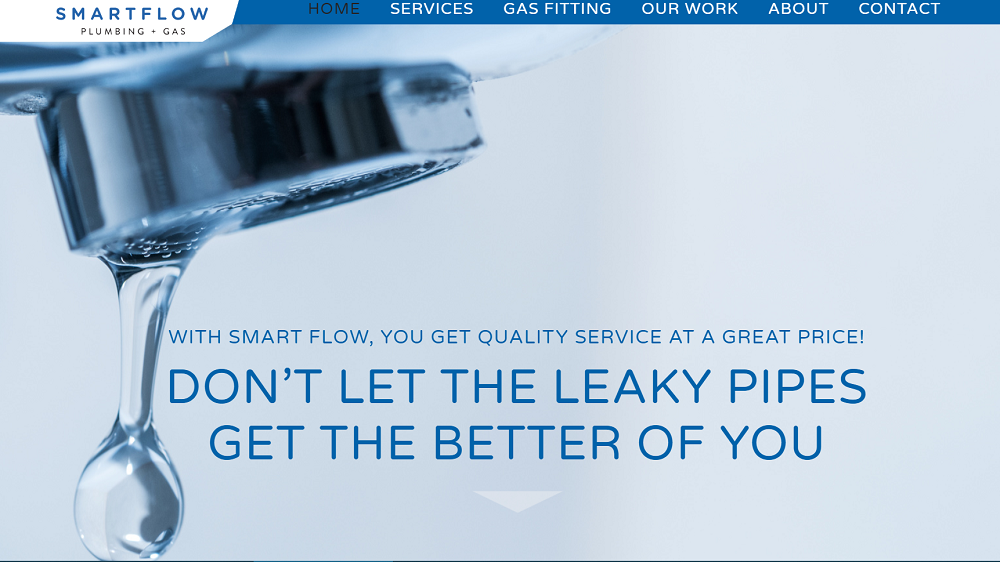 BEST FOR 

 

Fantastic-to-Communicate-with and Reliable Plumber
SERVICES
Plumbing Renovations, New House Plumbing, Hot Water Systems, Maximise Water Pressure with Minimal Flow, Plumbing Repairs and Maintenance, Commercial Plumbing and Gasfitting
WEBSITE
http://smartflowplumbingandgas.co.nz/

https://www.facebook.com/smartflowplumbingandgas/

ADDRESS
116 Fisher Avenue, Beckenham, Christchurch 8023, New Zealand
CONTACT DETAILS
022 605 6733 | [email protected]
Some of the best plumbers in Christchurch, you say? Actually, Smartflow Plumbing is one of the best plumbing services in New Zealand!
Aaron, the managing director and owner of said business, has over 17 years of experience with gas lighting and a wide knowledge on many other things that relate to pipe and plumbing system maintenance.
No matter if it's commercial or residential, Aaron makes sure to provide quality plumbing that is also environmentally friendly. Don't risk letting non-professionals fix your leaky pipes: call Aaron instead to ensure that you fix it right the very first time it happens, and be glad that it won't be as grave as last time.
Highlights
First rate quality plumbing
17 years of professional experience
Has a versatile skill set and is knowledgeable
Uses eco-friendly methods as much as possible
Customer Reviews
Right from the testimonials section on Smartflow's website, Drew Ison from IC Builders expresses it brilliantly:
"Smart Flow Plumbing has completed a variety of jobs for us. Including the full fit off of a three house subdivision of Architectural town houses. Aaron proved to have great problem solving skills and ability to work around tricky situations, producing very tidy work.  Great communication, effortless problem solving, fair pricing  and a great smile are all attributes that keep Smart Flow at the top of our list for all of our plumbing needs."
8. White & Taylor Plumbers
BEST FOR 

 

24/7 Gas & Plumbing Assistance
SERVICES
Residential Plumbing
Commercial Plumbing
Water Filter Installation
Plumbing Maintenance
Installation for Gas Fires and Appliances
Gas Hot Water Heater Repairs
WEBSITE
https://www.whiteandtaylor.co.nz/
ADDRESS
98 Orbell St,
Sydenham, Christchurch
CONTACT DETAILS
03 379 6151 | [email protected]
White and Taylor Plumbers has been serving the Canterbury area since 1940. They have since then grown to provide a wide variety of gas and plumbing services to their clients.
With their years of experience, you can rest assured that they will provide only the best quality services. They're available 24/7, so don't hesitate to call them anytime!
Highlights
Many years of experience
24/7 assistance
---
And that's all for the best plumbers in Christchurch. Anytime you need assistance in any type of bathroom dilemma, just contact these fine plumbers that we have on this list.
Have you booked with these plumbers before? If so, share with us your experience by commenting below. And if you ever find yourself a little north, check out our list of best electricians in Rangiora!
Other than that, we also have a similar lineup for the best plumber services in Auckland. Feel free to check that out too if you ever end up living in the Auckland area instead!