The 9 Best Plumbers in Hamilton
Driving over to your local Bunnings to find the right DIY parts for your bathroom can be time-consuming. If you'd rather leave the job to the pros, we have the best plumbers in Hamilton for you!
We went looking for only the most reliable plumbing experts and outfits in Hamilton for this list. We made sure that they were also easy to work with, besides being punctual.
Some of them are even available 24/7 if what you have can't wait for the workweek. In any case, let's quit wasting time and take a look at the best choices now!
1. DC Plumbing & Gas Waikato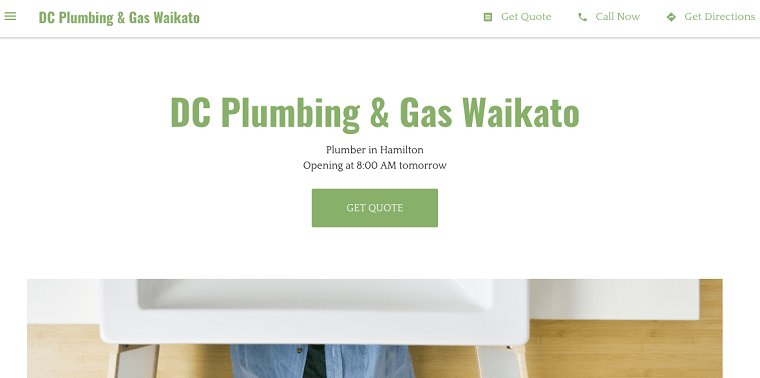 BEST FOR
Reliable, Punctual and Personable Plumbers
SERVICES
New Builds, Maintenance, Renovations, Drainage, Cylinder Replacements and Hot Water Upgrades
WEBSITE
https://dc-plumbing-gas-waikato.business.site/
ADDRESS

43 Sainsbury Rd, Hamilton, Puketaha 3281, New Zealand

CONTACT DETAILS
021 927 969
OPERATING HOURS
Monday to Wednesday: 7:30am to 5:00pm

Thursday to Friday: 8:00am to 5:00pm

Saturday and Sunday: Closed
Looking for a really good plumber in Hamilton? Get in touch with DC Plumbing & Gas Waikato! They will help clean, maintain, or replace your pipes for your new house or renovation projects.
Their plumbers can work on adding a bathroom sink or fixing a broken toilet flush. They can get more hot water to your showers or faucets, and more.
Their coverage spans the entire Waikato Region, which of course includes Hamilton. They are only open from Mondays to Fridays, however, from 7:30 or 8 a.m. to 5 p.m.
Highlights
Punctual, friendly and efficient plumbers
Offers a wide range of services
Covers the Hamilton and the Waikato Region
Customer Reviews
Carol Elliot said on Google Business:
"Dom is a friendly, helpful and efficient worker. You don't need to look any further as you can trust him to do an excellent job with whatever your plumbing or gas needs maybe. I highly recommend him and appreciate the fantastic service he is providing our community."
2. Urlich Plumbing Ltd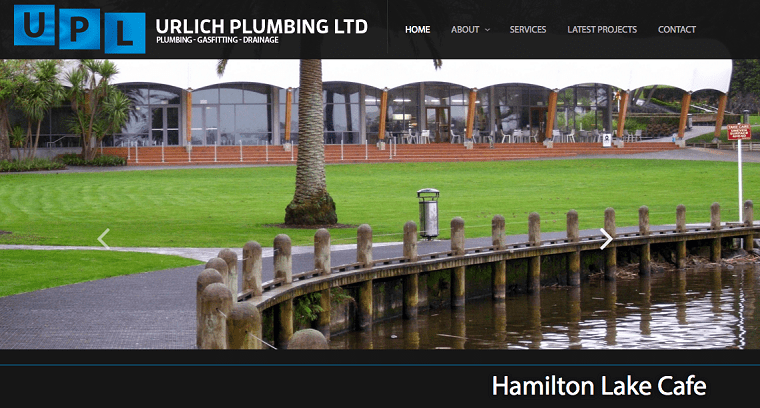 BEST FOR
Commercial Plumbing Projects
SERVICES
Plumbing, Gasfitting, Drainage, Backflow, Septic Tank Systems, Solar Systems, Roofing and Heating
WEBSITE
http://www.upl.net.nz/

https://www.facebook.com/Urlich-Plumbing-Ltd-431223786922789/

ADDRESS
10 Lake Road, Frankton, Hamilton 3202, New Zealand
CONTACT DETAILS
07 855 1391
OPERATING HOURS
Monday to Friday: 8:00am to 5:00pm

Saturday and Sunday: Closed
Urlich Plumbing Limited is a Hamilton-based plumber that provides industry-leading service to private, commercial and real estate properties.
Its portfolio is stellar, including projects for Hamilton Lake Café, Wintec Avalon Hub, McKenzie Rd Auckland, and more. And UPL is a member of the Master Plumbers Association too.
We think this belongs on our list of the best plumbers in Hamilton for the above reasons, and because it can tackle any job from the ordinary and simple to the large and complex.
Highlights
Industry-leading service
Can take on any project size for plumbing, gasfitting and heating
Master Plumbers Association member
Customer Reviews
Joe Terpend comments on Google Business:
"Thank you so much. We have had to contact you guys 3 times during this process and you have responded promptly with the correct paperwork each time, you guys are great, we will definitely recommended you to anyone looking for a plumber in future. Thanks."
3. Hamilton Plumbing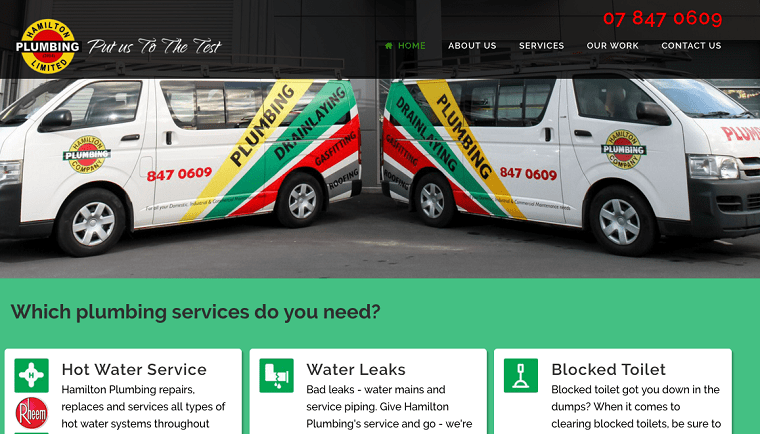 | | |
| --- | --- |
| BEST FOR | Prompt Response and Brilliant Workmanship |
| SERVICES | Residential and Commercial Plumbing, Drainlaying, Gasfitting Emergency Plumber, Backflow and IQP Surveys, and Metal Roofing and Spouting |
| WEBSITE | https://www.hamiltonplumbing.nz/ |
| ADDRESS | 7 Peregrine Place, Hamilton 3204, New Zealand |
| CONTACT DETAILS | 07 847 0609 |
| OPERATING HOURS | Monday to Friday: 7:30am to 5:00pm |
Qualified plumbers, guaranteed solutions, fair prices — it doesn't get any better than this. Whenever your DIY is not enough, Hamilton Plumbing is here to help!
They have several offerings addressing electric or gas hot water, blocked pipes, residential, commercial, leaking taps or showers, gas fittings, and roofing issues.
Though their normal work hours are during weekdays from 7:30 a.m. to 5 p.m. they're also available for emergency calls 24 hours and 7 days a week.
Highlights
Highly qualified plumbers
Provides residential and commercial services
Emergency callouts 24/7
Reasonable rates
Customer Reviews
Here's a great review from Michael Oehley on Google Business:
"Brilliant after hours service from Jordan. Saved us a huge amount of stress by diagnosing a blockage in our water pump and sorting it out within an hour. Great service and really helpful."
4. Euro Plumbing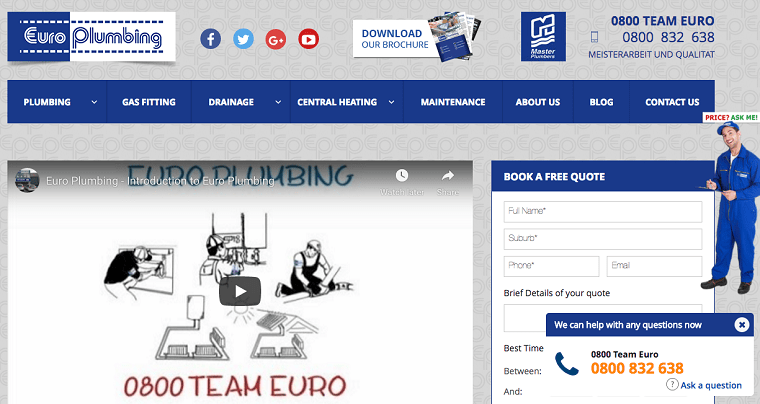 | | |
| --- | --- |
| BEST FOR | Excellent and Clear Communication |
| SERVICES | New Homes, Hot Water Cylinder Installs and Replacement, Maintenance and Repairs, Bathroom Renovations, Kitchen Upgrades and Plumbing Alterations, Roof Leaks, Spouting and Downpipes |
| WEBSITE | https://www.hamilton.plumbing/ |
| ADDRESS | 2nd Floor, 89 Church Road, Te Rapa, New Zealand |
| CONTACT DETAILS | 0800 832 638 or 07 834 0681 |
With Euro Plumbing, your satisfaction and safety come first. Licensed plumbers, first-class customer support, and modern equipment are the reasons it deserves to be on the list of the best plumbers in Hamilton.
Its rates are competitive compared to other plumbers in the country. It covers your drainlaying, plumbing, and central heating needs, be they for your home or office.
The company has recently increased their areas of service in the Waikato region. Speaking of their availability, they also answer 24/7 emergency callouts.
Highlights
Licenced and experienced plumbers
Outstanding customer service
Competitive rates
Available for emergency services 24/7
Customer Reviews
Ed Smith wrote a detailed review on Facebook that can come in handy:
"We have used Europlumbing since it began and have found them to be excellent. Their professionalism, their commitment to quality over convenience and their friendly, knowledgeable staff have made dealing with our issues easy and stress-free.
Whatever oddball problem, ("I've never seen this before!"), we have presented them with has been worked around and they have saved us a considerable sum of money when it would have been easier for them simply to throw away and replace parts and fittings. I am from an era when you fixed things and this ability is a dying art. To know we have such capable people working for us is refreshing in our throw-away society.
I have no hesitation in recommending Europlumbing for any job, large or small, commercial or domestic."
5. Dr Plumber Ltd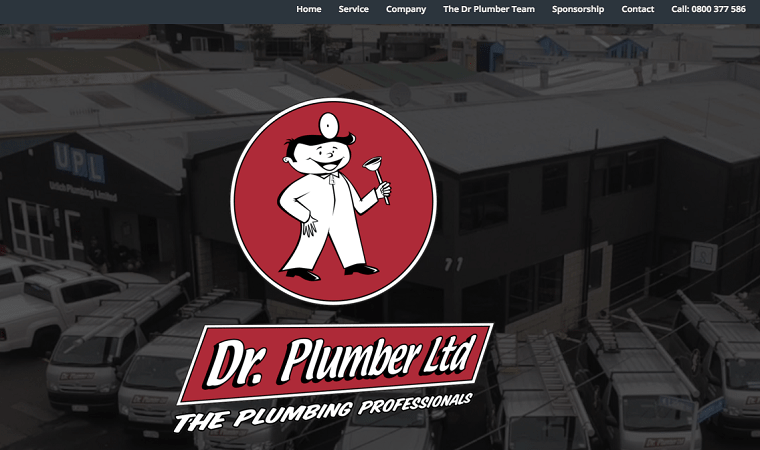 BEST FOR
Service Warranty
SERVICES
Residential Plumbing, Commercial Plumbing, Gas Fitting and Drainage
WEBSITE
https://drplumber.co.nz/
ADDRESS
Unit 2, 59 Vickery Street, Hamilton, New Zealand
CONTACT DETAILS
0800 377 586
OPERATING HOURS
Monday to Friday: 8:00am to 5:00pm
Saturday and Sunday: On Call
From the conception of the idea or development to the final design and repair, Dr Plumber Ltd will cut to the chase no matter how big or small the job.
Certified plumbers with decades of experience are on your side when you work with them. Their products and installs come with a 5-year guarantee where you get a free repair whenever something goes wrong.
They are based in the Hamilton area and have been in the industry for 20 years and counting. There's no surprise they join the ranks of the best plumbers in Hamilton.
Highlights
Works with you from idea to installation
Decades of industry experience
5-year guarantee for fitted parts and installation
Qualified and trustworthy plumbers
Customer Reviews
For an emergency plumbing service, Dr Plumber Ltd is a very reliable company that comes just as you need them. Scott Eichler wrote:
"Phew! Over the weekend I found myself in a situation of emergency! I called the team from Dr. Plumber I was worried that they would not pick up because it was quite late at night! thankfully they did answer my call and rather quickly! They came out in the late evening to sort out a leak. Highly recommend these guys! I know when I renovate my bathroom next year they will be the first on my list to call. Thanks again for the great work!"
6. Mario's Plumbing Services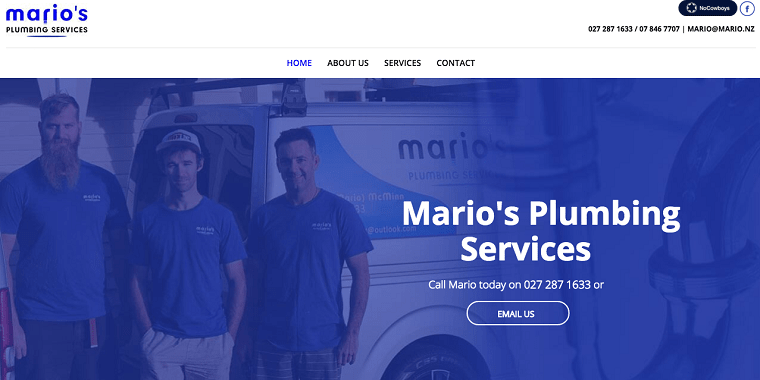 | | |
| --- | --- |
| BEST FOR | Honest and Reliable Professional Plumbers |
| SERVICES | Gas Installations, Gas and Electric Hot Water Conversions, New Builds, Maintenance and Alterations |
| WEBSITE | http://www.mario.nz/ |
| ADDRESS | 11 Parr Street, Frankton, Hamilton 3204, New Zealand |
| CONTACT DETAILS | 027 287 1633 |
Friendly, efficient, and qualified, Mario's Plumbing Services is a great company when it comes to gas fittings and hot water systems in the Greater Waikato area.
They show care for the customer and offer both value of service and safety. One customer has mentioned that they are cheerful and very timely too.
Any leaks or maintenance for your drainage, you can simply count on them. And that's for both residential or commercial properties.
Highlights
Proficient and efficient team
Specialises in gas fittings and hot water system installs
Punctual and dedicated in their work
Cares about the customer in terms of safety
Customer Reviews
Meg gave a 100% score for Mario's Plumbing Services on nocowboys.co.nz. She writes:
"Awesome service….Ryan came when promised and was very cheerful and completed the job efficiently. He even came back as promised to improve the gas element that was not working well from the previous owner. This wasn't even part of his scope and he didn't charge me any more for it. The invoice was a lot less than I expected as well so will definitely use again. Thanks Mario, you certainly have a star employee in Ryan ….. really nice guy!"
7. Riverside Plumbing & Gas Ltd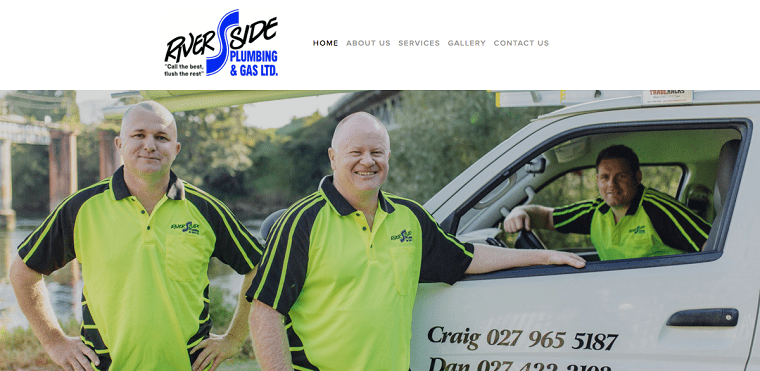 BEST FOR
Minimal Disruption to Your Work
SERVICES
Domestic and Commercial Plumbing, Gasfitting, Service and Maintenance, Waste Water, Hot Water Systems and Drainage
WEBSITE
https://www.riversideplumbingandgas.co.nz/
ADDRESS
25 Grosvenor Pl, Rototuna, Hamilton, New Zealand
CONTACT DETAILS
027 965 5187 (Craig)

027 422 2103 (Dan)

0274 748 377 (After hours Call)
Placing their emphasis on 'Time is money', Riverside Plumbing & Gas Ltd specialises in fast work without compromising quality to keep your company and its employees productive.
They provide plumbing services and gas fittings as well as creative thinking for problem-solving. And the harder the job, the more motivated they are.
Need a quick fix during Sundays or holidays? No problem either! They're available for emergency callouts too, after all.
Highlights
Swift work done to minimise your downtime
Problem solving and creative team
Emergency callouts are available
Customer Reviews
Gary Bottomley writes a stellar review on Google:
"Had Riverside for a renovation job. Ryan was quick tidy and arrived on time. He communicated what needed doing and did the job professionally. The invoice arrived and was very clear fully itemized and the cost fair. Have no hesitation in recommending Riverside plumbing and will use their services again on my next renovation."
8. iPlumber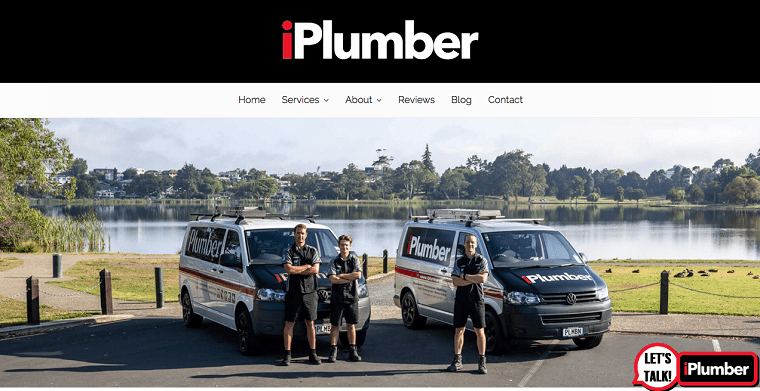 BEST FOR
Guaranteed Top-Notch Plumbing Work
SERVICES
Plumbing, Hot Water Solutions, Emergency Plumbing, Repairs and Maintenance, Gasfitting, Gas Cookers and Hobs, Gas Fireplaces, Kitchen and Bathroom Renovations and Drain Unblocking
WEBSITE
https://www.iplumber.co.nz/
ADDRESS

6/222 Tristram St,

Hamilton, New Zealand

CONTACT DETAILS
07 839 7586

027 758 6237

OPERATING HOURS
Monday to Friday: 8:00am to 5:00pm
Saturday and Sunday: Closed
iPlumber is the all-around plumbing company. The plumbers are all knowledgeable, skilled, and very professional.
Their services include plumbing, gas or hot water installations, drainage cleaning, and alterations. Though they focus more on home plumbing, they also handle light plumbing for your office.
It is backed by the Master Plumbers Guarantee, which insures you against lousy plumbing work or costs that come up in the event the company no longer operates.
And you won't find this with other plumbers, or at least not many: they practise eco sustainable measures! They do this by recycling and reducing plastic, fuel, metal, and cardboard use.
This company didn't win the 2019 Waikato Master Plumber of the Year award for no reason. Hence, it's one of our best plumbers in Hamilton!
Highlights
Trade certified Master Plumbers
Friendly and knowledgeable team
Practises eco-sustainable measures
2019 Waikato Master Plumber of the Year
Customer Reviews
Willem Delport gave a 5-star Facebook review and said:
"Amazing service. Installed a replacement Rinnai Gas system within a few hours from phoning them. Thank you to the installers who did a brilliant job in installing the new system. I can definitely recommend iPlumber Ltd !!"
9. Jamark Plumbing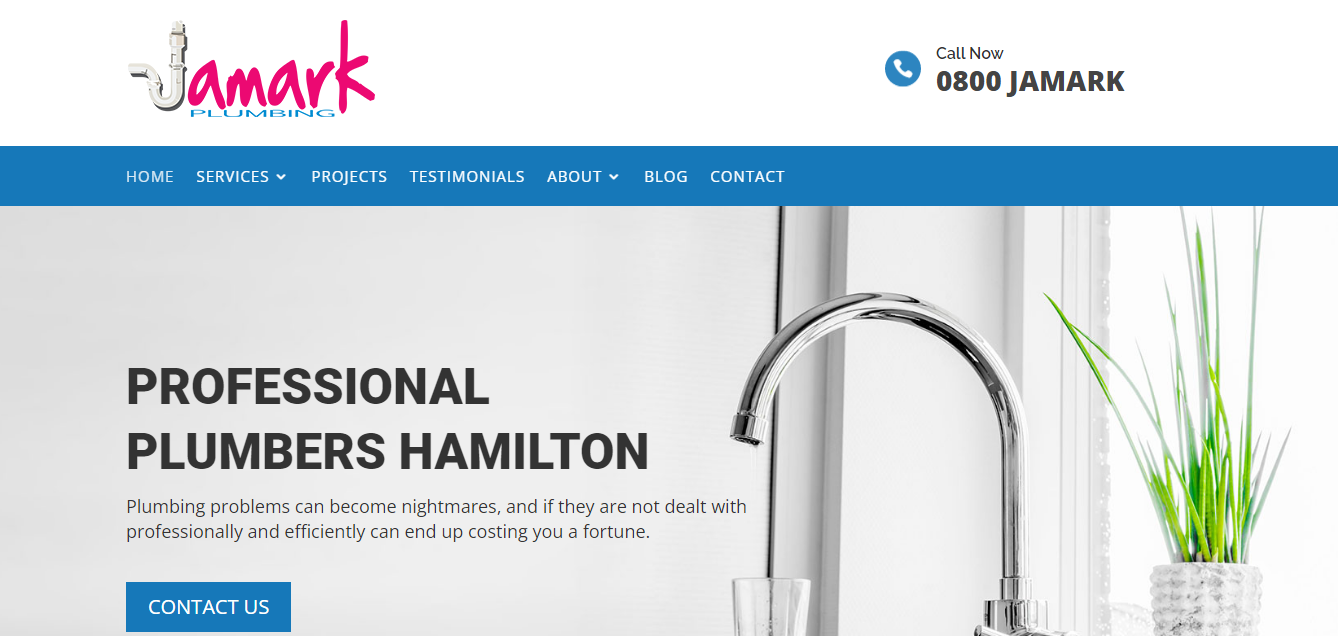 Jamark Plumbing is a company that offers professional plumbing services ever since the year 2005. Their experience in the field is not only evident on their years of diversified situations but also on the reputation they have built as one of the top figures in the industry.
Partnerships are what they aim for when it comes to working with their clients since each of their services are geared toward a balance of profitability and continuous development for both ends.
Comprised of a multidisciplinary team of professionals, they have over 17 plumbers with currently over 10 years of service individually to better accommodate clients at flexible times.
An addition to such stellar work experience, clients have commended them for the pleasant and accommodating attitude that has made working with them hassle-free and enjoyable even.
Apart from this as well, their procedures are reviewed to be prompt, efficient and reliable as it has lasted them for a remarkably long time as well.
Highlights
Slots widely available
Multidisciplinary team
Pleasant customer service
Customer Reviews
Here are some reviews from their clients:
"We had Boydie come out to do our gas this morning. Not only was he very prompt arriving for the quote, but he was very clear in terms of stating each item and labour. He did a thorough job and waited for to be present to explain how it works and test it out. Thank you Boydie for helping us out. We know we can rely on you for reliable gas work." – Yeou Long Wen
"Jamark was prompt to responding to my request to fix my insinkerator. They came on time and after a through inspection no major repairs were required. He got it clean and working and gave some useful recommendations. I was very pleased and would highly recommend them." – Sarah
---
And with that, we're done with the best plumbers in Hamilton. These plumbers all got great reviews and referrals from satisfied customers, so you can trust your projects with them.
Are you familiar with any of the plumbers/gasfitters we mentioned? Leave us a comment below to share your thoughts and opinions.
Aside from that, you might have a friend who lives in Auckland instead and is looking for competent plumbers in that area. In that case, you may read about our top plumber services in Auckland.