The 7 Best Plumbers in Henderson
Featured Image Source: Benjamin Franklin Plumbing
Have a plumbing problem at your home or office? No worries, as we've gathered a list of the best plumbers in Henderson here for you.
But first, we'll tackle the average price of hiring a Henderson plumber so you can keep your expenses to a minimum. After that, we'll be presenting our top choices for this article.
Kindly scroll down to begin!
The Average Price of Hiring a Plumber in Henderson
Since travel costs add to the bill, it helps to call a plumber that's closest to your property. Thus, if you live in Henderson, you will save more by calling local Henderson plumbers.
Plumbers in Henderson charge an hourly fee ranging from $80 to $120. The price can be significantly higher if you call them out during after-hours or holidays.
You will also have to pay for new parts and equipment used to repair the plumbing issue, for example, burst pipes, a faulty hot water cylinder, or a clogged sink.
We already know the labour, travel, parts and equipment costs. All that's left now is the GST of 15%—add that in and that should be your total charge with the plumber.
Now, below is a table showing common plumbing issues and how much their repairs cost in Henderson. Note that the rates can vary depending on the provider.
| | |
| --- | --- |
| Plumbing issue | Cost |
| Toilet repair | $100 – $250 |
| Leaky pipe repair | $100 – $200 |
| New basin installation | $125 – $250 |
| Shower installation or repair | $150 – $300 |
| Sewer line cleaning | $248 – $640 |
| Gas installation or repair | $350 – $570 |
In a nutshell, the price of the plumber will depend on the complexity of the work, your location, and the time you choose to call them out.
Since it's difficult to ascertain the price, you will have to get an onsite or phone quote, both of which should be free and non-obligatory.
And don't miss out on special promos to lower the bill. For this, you can visit a plumber's website or FB page, which will only take a minute or less.
The Best Plumbers in Henderson
Now that you know the cost of getting a plumber in Henderson, you're now ready to see our list. So, here it is:
1) Heron Plumbing

Heron Plumbing is a one-stop-shop offering plumbing, drain laying, gasfitting, and roofing services. Based in Henderson, they've been serving Auckland for over 60 years.
Being Master Plumbers, you can put your confidence in them to carry out the work to a high standard. What's more, all of their work is backed up by a solid guarantee.
Their team is proficient, respectful, punctual, and tidy as they will clean up the site before leaving. The team assures you that their service will be seamless and hassle-free.
They can take on any size of residential or commercial plumbing work and are available round-the-clock.
Indeed, Heron Plumbing is one of the best plumbers in Henderson. After all, many of their satisfied clients would agree on this.
Master Plumbers member
Guaranteed workmanship
Accepts emergency callouts
Expensive
Not a SiteSafe member
Customer Reviews
Some clients complained about the high price. That said, most clients commended the skill, promptness, and friendliness of Heron plumbers.
One client named Mrs Rani remarked of their plumber:
"Harley did the most wonderful job and that he is a true gentleman. You're extremely lucky to have an amazing young man working for us."
Also, here's a review from a long-time client, J Bird:
"For 30 years I have formed a strong relationship with Heron Plumbing. They are knowledgeable, professional, helpful with high standards in their workmanship."
2) LA Hughes Plumbing and Gas

Expertise
Plumbing Gasfitting Facilities management Hot water systems Commercial Gas heating
Website
https://www.lahughesplumbing.co.nz
Address
Henderson, Auckland, New Zealand
Contact details
Phone: 0800 110 157
Email:

[email protected]

Office hours
Monday – Friday: 7.00 AM – 5.00 PM
Saturday – Sunday: closed
From water mains repair to industrial maintenance, LA Hughes Plumbing and Gas has you covered. No job is too big or small for them, so feel free to call!
Their team is registered with the Master Plumbers, Gasfitters, and Drainlayers NZ. They are professional, reliable, and prompt, according to clients.
Furthermore, the work performed for you is guaranteed. So, in the unlikely event that a problem occurs after the repair, you won't have to pay extra fees for repairs to be done.
It's also worth noting that they are accredited with SiteSafe. This means that their plumbing and gasfitting are conducted safely for you and your family.
LA Hughes has a simple quoting system available on their site. From there, you can get an accurate estimate of the project cost.
The only drawback is they don't offer emergency services 24/7. And they're closed on Saturdays and Sundays so you probably would have to wait for a response.
Simple quote system
Master Plumbers member
2-year service guarantee
SiteSafe member
No emergency services
Closed on weekends
Customer Reviews
Clients said that the LA Hughes team were efficient, responsive, early, and lovely to deal with. On Google, they earned 4.8 out of 5 stars.
Take a look at Suzi's feedback below:
"I can thoroughly recommend LA Hughes. From start to finish the service was excellent: good, honest and prompt communication; skilled and professional workmanship; quality teamwork; and very pleasant people to deal with. I always have high expectations when having jobs done, and LA Hughes lived up to the standards I expect! Thank you Luke and team. I am a very happy customer!"
Another client, Anthony, remarked:
"Great service for shower tap repair thank you. Prompt response and next day service. Highly recommended.."
3) Allpoints Plumbing Auckland

Expertise
Plumbing Gas Renovations Maintenance New housing/light commercial work Solar/wetback heating system
Website
https://plumberwestauckland.co.nz
Address
260b Henderson Valley Rd, Henderson, Auckland 0612, New Zealand
Contact details
Phone: 09 818 7646
Fax: 09-818-3736
Mobile: 021 887 664
Email:

[email protected]

Office hours
Monday – Friday: 8.00 AM – 4.00 PM
Saturday – Sunday: closed
A plumbing underdog that's not to be messed with, Allpoints Plumbing is a small business owned and operated by Paul McCallum, a qualified plumber and gasfitter with 20 years of experience.
His team specialises in hot water cylinder installation but can handle all sorts of plumbing work for residential and light commercial clients around West Auckland.
Unlike other plumbers, Paul gives his fullest attention to the client, arrives promptly at the scene (within just a few hours if possible), and charge decent rates.
He will explain the damage or what he and his team are doing in simple language. Most importantly, he finishes the job remarkably, say his many happy clients.
Allpoints Plumbing cover only the West Auckland area. Also, note that they don't offer emergency services, though they can come to you fast during business hours.
Certified plumber and gasfitter
Hot water system specialists
Reasonable pricing
Guaranteed service
Only covers the West Auckland area
Doesn't offer out-of-hours services
Customer Reviews
Allpoints Plumbing received 5-starred reviews from many clients. That speaks for itself even though they're merely a small company based in Henderson.
One client, Lindsay, wrote this of the service:
"Highly recommend. Extremely professional workmanship. Converted my low pressure hot water system to mains pressure and did a delightful job of it. Clear communication and friendly service."
And here's the review of Ramona:
"What I liked about Paul and his team was there promptness and professionalism.
From the beginning he explained the process (keep the language simple so I could understand) gave options of Hot Water cylinder types on his website and then delivered with the quote.
At the end, totally happy with the service and product provided!
Well worth the money spent 🙂
Definitely Allpoints Plumbing is our choice of Plumber."
4) Sumich Plumbing and Drainage

Expertise
Plumbing Hot water Blockage Bathroom Gasfitting Commercial plumbing
Website
https://sumichplumbing.co.nz
Address
Unit A2 / 50 Keeling Road, Henderson, Auckland 0612, New Zealand
Contact details
Phone: 0800 437 021
Email:

[email protected]

Office hours
Open every day from 12.00 AM – 11.30 PM
Formed in 1991, Sumich Plumbing & Drainage offers plumbing, gasfitting, roofing, and drainage services across Henderson and the wider Auckland Region.
Their services include hot water installation, gas fireplace, backflow testing and installation, re-roofing, concrete cutting and drilling, to name a few.
They have a team of registered Master Plumbers, Gasfitters, and Drainlayers. As such, their work will be top-notch to get your water systems running smoothly.
Plus, they offer emergency services to deal with issues like a burst pipe, a blocked shower drain, or a pungent gas smell. You can hit them up at any time of the day.
Licenced plumbers
Extensive range of plumbing services
$35 off of your first job (conditions apply)
Guaranteed work
Complaints about professional customer service
Expensive fees
Customer Reviews
Some clients reported rude customer service and that they were not given updates even if the CS representative promised to do so.
However, this didn't happen to most clients whose experience had been positive. These people were very satisfied with the service given to them.
One client named Alan shared his experience:
"The wait to install sub-soil drainage was worth it. Sumich Plumbing & Drainage were very efficient and professional with the entire project. Oh so happy to see no more storm water leaking in through my garage wall!! The finished concreting to cover the cuttings also looks superb! They kept to their quote too. We highly recommend Sumich Plumbing and Drainage. Well done!"
Furthermore, Jeanine left this comment:
"A necklace lost down the sink ended up with me breaking something in the plumbing. Sumich came to the rescue. Very easy to deal with, lovely staff and great job even if our pipes were a bit difficult. Thanks."
5) Hydroflame Plumbing and Gas

Expertise
Gasfitting Plumbing Renovation Maintenance
Website
https://www.hydroflameplumbing.co.nz/
Address
51 Rhinevale Close, Henderson, Auckland 0612, New Zealand
Contact details
Mobile: 021 116 5629
Email:

[email protected]

Office hours
Monday – Friday: 9.00 AM – 5.00 PM
Saturday – Sunday: closed
Searching for a plumber that charges an affordable rate? If you are, Hydroflame Plumbing and Gas is a brilliant option.
Their team prides itself on providing top service and professional advice.
Their forte is in installing and repairing gas cooking and gas hot water. Additionally, they can deal with plumbing and roofing work for new houses or renovation projects.
Also, you might have use for their great eye for detail to give your home an elegant finish. Feel free to browse their gallery online to have an idea of what they can do.
Their business is nestled at 51 Rhinevale Close in Henderson, Auckland. They are open on Mondays to Fridays from 9.00 AM to 5.00 PM.
Specialises in gas cooking and gas water heating
Affordable rates ($80 per hour + GST)
Provides building renovation services
Customer Reviews
Bevan, who is the owner and plumber of HFPG, is hardworking, knowledgeable, honest, and reliable, according to clients. Most of them raved about the excellent their affordable rates as well!
Here's feedback coming from Selina:
"I went with Bevan for my rental because of the positive feedback. I was a little stressed when I got ph call from tenant saying they had water ova kitchen floor due to hot water cylinder leaking. Excellent Stress free Service, honest, professional & reliable. Highly recommend to anyone looking for a plumber/gas fitter. Thank you Bevan for great job, another happy customer."
Also, another client said this:
"Fantastic service. Phoned for a quote, Bevan was here within 15mins, quoted an excellent rate and booked us in for two days later (awesome) and turned up exactly when he said he would – a job well done. When talking with Bevan, it is obvious he knows what he's doing – an honest and reliable company/individual – Thanks guys, would recommend and will definitely use your services for our next big project!!!!"
6) Matthews Plumbing and Gasfitting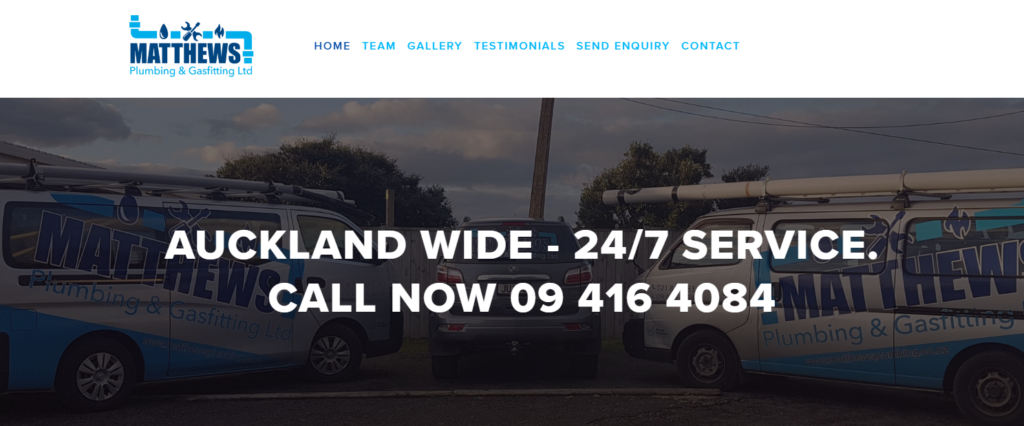 For those who are looking for plumbing companies that can do both regular as well as emergency jobs, look no further than Matthews Plumbing and Gasfitting.
As the company's name suggests, Matthews offers both plumbing and gasfitting services to residential and commercial clients.
Matthews can install and address and solve any problems regarding plumbing and heating systems, water heaters, hot water cylinders, boilers, and equipment connections. Not only that, but they also partner with an amazing cleaning company to offer drain cleaning, too.
In terms of gasfitting services, Matthews can offer installations, upgrades, and repairs for instantaneous hot water heaters, gas heaters, and gas storage hot water cylinders.
It's also worth noting that Matthews Plumbing and Gasfitting are certified plumbers and gasfitters, making the team highly qualified in rendering services to commercial clients. For more information, do contact the company.
Emergency services available
Open 24/7
Certified plumbers and gasfitters
Prompt and professional services
Customer Reviews
Learn more about Matthews Plumbing and Gasfitting from testimonies of previous clients:
"Our temperamental gas fire has been serviced by a number of different gasfitters over the years. Chris was the latest and by far the best. He engaged tenaciously with a supplier following Issues with a defective part and continued to follow up through weeks of Covid-related shipping delays, keeping in touch with us throughout. His work was also excellent. The fire has not worked so well in years."
"Great communicator. Very professional and accomodating. Work completed to high standard. Made the process stress free. Very happy with outcome. Thanks to Chris and team."
7) Euro Plumbing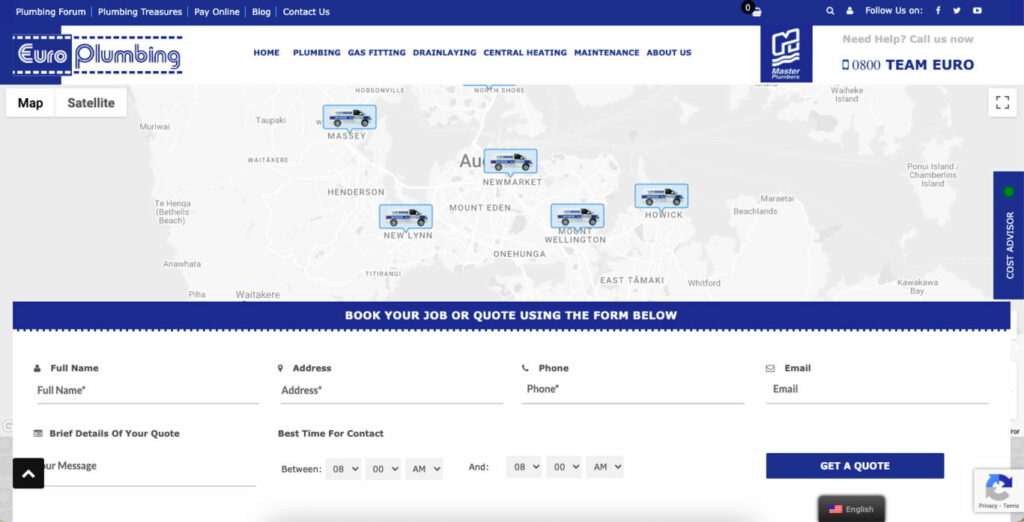 Expertise
Plumbing, Gas Fitting, Drainlaying, Central Heating
Website
https://www.auckland.plumbing/
Address
24e Morrin Road, Saint Johns, Auckland 1072, New Zealand
Contact details
Telephone: 0800 TEAM EURO
Email: [email protected]
Office hours
Contact for more details
Euro Plumbing is named so because they wanted to bring European standards, quality and attention to detail when it comes to plumbing here.
They pride themselves in delivering high quality service and using the latest technology. To them, no job is too big or small.
They're experts when it comes to plumbing, solar heating, drainlaying, gasfitting, and underfloor or central radiator heating.
What we like about this company is that they offer to quote jobs over the phone or by email. If they need to visit the site, they will do so without charging you. What's more, all of these are also subject to no-obligation!
Their commitment to providing quality service is no joke. Their clients commend their technicians for their prompt responses, punctuality, professionalism, and getting the job done quickly.
For the quality of the work that they do, you get value for your money. They're definitely one of the best options you have!
One downside though is that they don't offer emergency services, so you'd have to look elsewhere for urgent plumbing concerns.
Prompt and quality service
Offers quotes with no-obligation
Free site visits for quotes
Operating hours unavailable on website
No emergency services
Customer Reviews
Here are some testimonies previous clients left on Google Reviews:
"I have worked closely with euro in the past. Amazing service, professional and got the job done at an amazing price!!" – loki pearce
"Fantastic service. Did an excellent job on my plumbing at home! Will be sure to recommend to all. Thanks guys!" – Willian Richards
"Excellent service throughout – from initial contact all the way through to having hot water again, Euro Plumbing were great, easy to deal with, but professional as well. A shout-out for Raynesh in particular – he did a great job and left the worksite looking spotless." – Tony Mattson
FAQS about the Top Plumbers in Henderson
---
Anyway, that wraps up our list of the best plumbers in Henderson. You can bet that they will provide you with top-notch work as they are certified Master Plumbers.
Any questions or opinions about our picks? If you have one, kindly send us a message and we'll get back to you promptly.
At any rate, if you need a plumber after working hours, you can also check out the best emergency plumbers in Auckland!