The 5 Best Plumbers in Papamoa
Having a leaking faucet or a busted pipe is a hassle – it can easily ruin your day when you have to think about the damage it may cause. So, if you have any plumbing problems, it's best to call a professional right away.
We've carefully curated this list with what we think are the best plumbers in Papamoa. We based our findings on the company's reputation, services offered, and customer feedback.
But first, we'll need to go over the average cost of plumbers in Papamoa to prepare for the expenses that will come.
How much do plumbers cost in Papamoa?
When you hire a plumber, there are several main factors that make up the overall total cost. These are labor fees, call-out fees, cost of materials, and of course, taxes.
In Papamoa, you can expect the average cost of labor to be around $75 to $135 per hour. If your plumber charges a call-out or transport fee, this can add an additional $100 to $120.
We've summarized in the table below some common services and their estimated costs. Take note that these prices may vary for each plumber, depending on the factors that we mentioned earlier.
| | |
| --- | --- |
| SERVICE | AVERAGE ESTIMATED COST |
| Clearing a blocked kitchen sink | $125 to $200 |
| Replacing a tap or a leaking pipe | $100 to $200 |
| Clearing a blocked toilet | $100 to $200 |
| Installing a new toilet | $200 to $500 |
| Installation or replacement of faulty shower set | $150 to $300 |
Do take note that plumbers charge extra or higher hourly fees for after-hours or emergency call-outs. This usually averages around $200 for the first hour and around $100 for every succeeding hour.
Now, if your plumbing issue isn't an emergency, we highly recommend getting quotations from several plumbers so you can compare their rates. Moreover, always remember to negotiate with any of the plumbers you deal with, as they can usually offer you a discount on the quoted price.
The Best Plumbers in Papamoa
Now that you know what to expect when hiring a plumber, we can take a look at our picks for the top plumbers in Papamoa.
1. Eco Plumber Gasfitter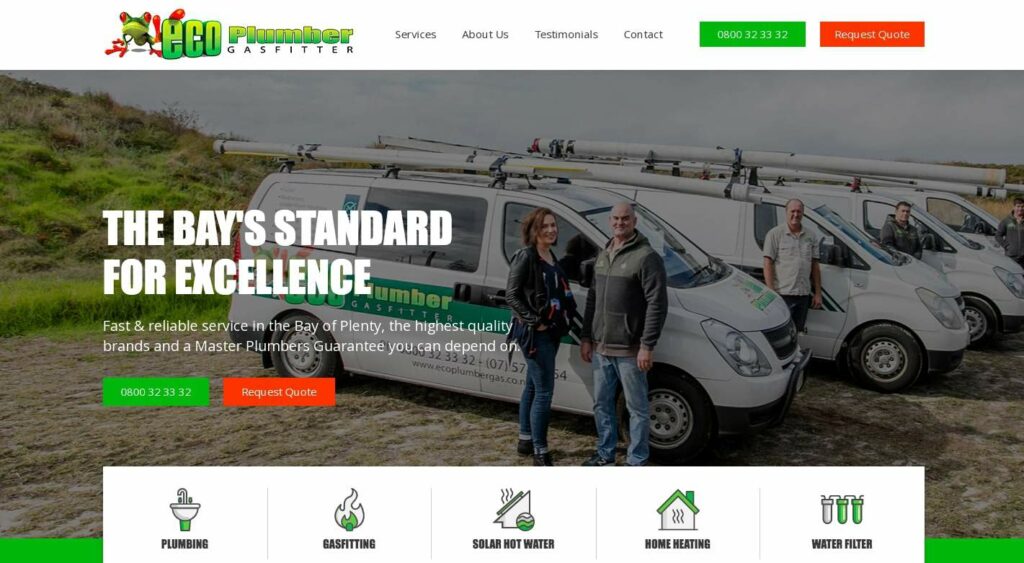 SERVICES
Plumbing, Gasfitting, Solar Hot Water, Home Heating, Water Filter
WEBSITE
https://ecoplumbergas.co.nz/
ADDRESS
1222 Papamoa Beach Road, Papamoa 3118, Tauranga
CONTACT DETAILS
Toll-Free: 0800-323-332
Phone: (027) 574-3348
Email:

[email protected]

OPERATING HOURS
24 Hours a Day, 7 Days a Week
Eco Plumber & Gasfitter was founded by Dale Healy, a Master Plumber, and Certifying Gasfitter based in Papamoa. After over 35 years of experience in the field, he decided to open his own business in 2010 to serve the residents in the area.
The team at this locally and family-owned company consists of qualified plumbers and gasfitters. They offer services for new-build homes, existing homes, food trailers, and commercial properties.
Eco Plumber & Gasfitter also makes it a point to offer only premium brands from New Zealand and Australia that have generous warranties. Speaking of which, all their work comes with a 12-month Master Plumber Guarantee as well.
Their main specialty is plumbing installations in new builds. Their intricate knowledge of building codes helps them ensure that the plumbing systems are correct from the beginning.
They also offer drainage inspections using state-of-the-art camera probes to gain first-hand visuals of any potential problems. This is useful for commercial property owners who have to adhere to codes and regulations, or for those who need documentary evidence of inspections.
Moreover, Eco Plumber & Gasfitter's network of merchants and tradesmen comes in handy when choosing fixtures or supplies. They have special relationships and deals with their partners so that they can get the best prices possible – although you can expect that they may try to make a hard sell on some products.
One of the unique services we like from Eco Plumber & Gasfitter is that they can design and install a rainwater harvesting system for your home. They are authorized agents of Puretec, an Australian filtration systems company, and can walk you through the process of this environmentally friendly solution.
Now, Eco Plumber & Gasfitter doesn't just excel in new builds – they also specialize in renovating old plumbing systems. They can design or upgrade any part of your plumbing, whether it's a new toilet or a total refit of your bathroom.
You can even schedule annual maintenance of your plumbing with Eco Plumber & Gasfitter to ensure that everything is working properly. When they perform a checkup, they use a 30-point plumbing inspection system that ensures all areas are checked.
If you need repair services, their vans are outfitted with all of the common plumbing items and supplies they might need. Not only is it efficient, but it can potentially save time and money for you as well.
In short, we like Eco Plumber & Gasfitter for the range of services and products they offer. With a 24/7 hotline for emergency call-outs, they're a well-rounded service provider and one of the best plumbers in Papamoa.
Wide range of services
Can install a rainwater harvesting system
Provides Master Plumber Guarantee
Fully equipped vans for housecalls
Specializes more in new builds as opposed to repairs
Might highly "encourage" you to buy new fixtures or products
Customer Reviews
Great communication
"We have had Dale to our place three times – underfloor heating problems, gas hot water issues and a stove service. Each time he arrived at said time and explained everything as he fixed the issues. Great communication and would highly recommend. Thanks." – Pauline Schrafft
Brilliant service
"I booked Eco Plumber to relace a shower rose. Due to a change with one of their appointments. They came the same day I booked them. Brilliant service. Prompt. Took all the discarded bits with them. Very fair charge. I will use their service again." – Jo Ferris
2. Armstrong Plumbing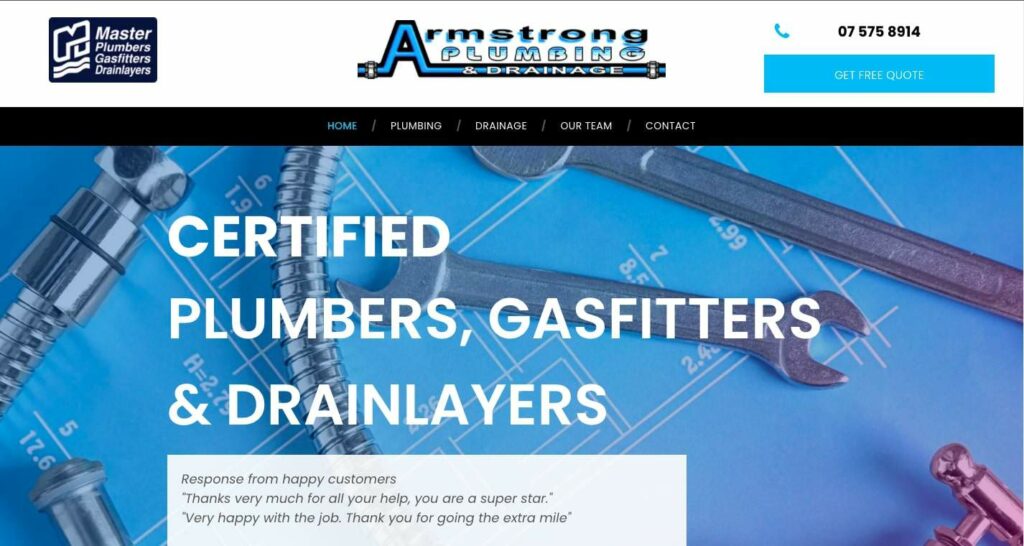 SERVICES
Plumbing, Gasfitting, Drainage
WEBSITE
https://www.armstrongplumbing.co.nz/
ADDRESS
32a Market Place, Papamoa, Tauranga 3118
CONTACT DETAILS
Phone:  (07) 575-8914
Emergency 24/7: (022) 394-5435
Email:

[email protected]

OPERATING HOURS
Monday to Friday: 8:00 am – 5:00 pm
Armstrong Plumbing & Drainage is a family-owned business that was founded in 1928. It's currently under the direction of Cole Armstrong, the fourth generation to run the company's plumbing, gasfitting, and drain laying services.
Armstrong Plumbing & Drainage are registrants of the ​Plumbers, Gasfitters, and Drainlayers board. Being a member comes with expectations to provide customers with the most efficient and cost-effective plumbing services.
Providing residential, commercial, and industrial services throughout Tauranga and the greater Bay of Plenty, the Armstrong Plumbing & Drainage team consists of registered, certified tradespeople.
Professional plumbing is their key service, whether it's a new build, renovation, or repairs. Armstrong Plumbing & Drainage can also provide traditional water heating solutions and (albeit more expensive) environmentally-friendly heating solutions as well.
They can inspect and repair waste pipes, taw washers, roof leaks, blocked drains, toilets, and conduct backflow testing and certification. Experience is crucial in skilled work such as this, and it's safe to say that the team at Armstrong Plumbing & Drainage has probably seen it all already.
The staff at Armstrong Plumbing & Drainage are also expert designers and installers of environmentally sustainable and state-of-the-art solar water heating systems. They can even convert your hot water from electric to gas-on-demand so that you can save on your utility bills.
They may have a limited range of services, but we do think each service they provide is specific to the most common needs and wants of residents of the area. They also offer 24-hour call-out services for emergencies or urgent repairs.
While there isn't anything truly special that makes Armstrong Plumbing & Drainage stand out amongst the competition, our ultimate impression is that they provide reliable service. Besides, a family-owned business always has a personal touch.
For these reasons, we're not surprised that they landed a spot on our list of the top plumbers in Papamoa.
Family-owned business providing all basic plumbing services
Can install and convert gas-on-demand powered heaters
Offers environmentally-friendly solutions
24/7 call-out services
Weak brand image doesn't make them stand out
No promotions or discounts offered
Customer Reviews
Fast efficient friendly and helpful
"I have been using Armstrong Plumbers for some years now and have found them to have a fantastic prompt service. All servicemen I have had dealings with have been polite and friendly. They have all done an excellent job for me and I can also say their office staff are exactly the same. Fast efficient friendly and helpful. I have absolutely no problem writing this review and highly recommend this company and their staff. Thank you all for a great service." – Julie Bush
3. Papamoa Plumbing & Gas Ltd.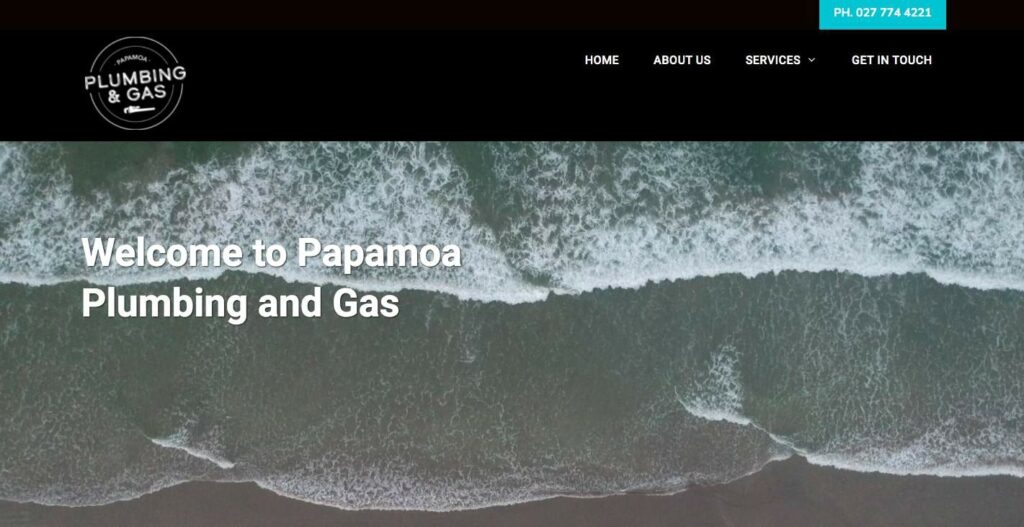 SERVICES
Plumbing, Maintenance, Renovations, Gas Califont Conversions, Woodfires, Gas Installation And Repairs, Gas Heating
WEBSITE
https://papamoaplumbing.co.nz/
ADDRESS
127 Second Avenue, Tauranga 311
CONTACT DETAILS
Phone: (027) 774-4221
Email:

[email protected]
Papamoa Plumbing & Gas is owned by Andrew Vincent and Bruce McBride who are friends-turned-business-partners. Their company is one of the newcomers to the local scene, having only been incorporated in 2019 for providing plumbing services.
Despite their relatively new business, both owners are experienced certified plumbers and gasfitters. Together, they offer a wide range of services covering Papamoa and the Bay of Plenty area.
So, whether you have a leaking faucet or have issues with your wastewater, their team of professional plumbers and gas fitters is ready to take on a variety of jobs. They can handle home renovation projects, perform wood fire installations, and service gas hobs just to name a few.
One of their unique services is installing gas Califonts, which are tankless gas-powered water heaters that provide hot water when needed. While initially expensive, it can resolve issues with low water pressure to provide you with limitless hot water while saving energy at the same time.
Papamoa Plumbing & Gasfitting also offers emergency call-out services 24 hours a day and 7 days a week as well. So, if you have a damaged pipe or sewage is flowing into your home, you can call them even on weekends and after hours, although extra fees will apply.
If you're renovating your home, they can help upgrade your water pressure, build a new bathroom, install washing machines and perform kitchen renovations as well.
Even though they're a new company with less experience than competitors, we're quite impressed with the services that Papamoa Plumbing & Gasfitting offers. This small business is an option worth considering if you're looking for a plumber in the area.
Offers 24/7 emergency call-out services
Can install gas Califonts
Extra charges apply for after hours and weekend call-outs
New company with less experience
Customer Reviews
We will be using them again
"We used Papamoa Plumbing and Gas for an urgent job in one of our rental properties. They responded and fixed it in the same day, with great expertise and a fantastic solution. We will be using them again, thanks guys!"– James Kids Investments.
BONUS: The Best Plumbers near Papamoa
If you can't get a hold of a plumber based in Papamoa, you'll be pleased to know that there are other options nearby that can still attend to your needs. Let's take a look at some of those alternatives below.
4. Bell Plumbing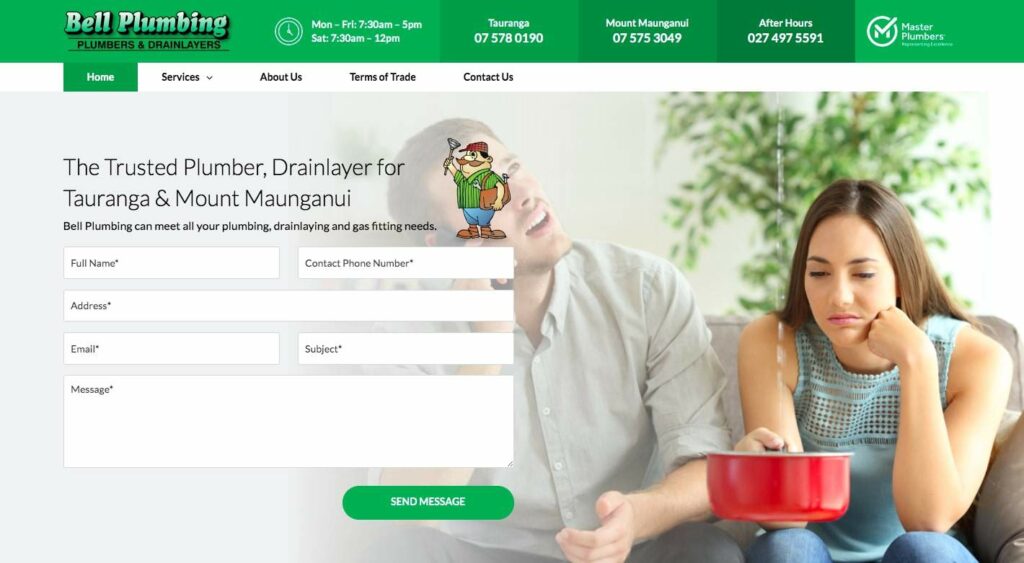 SERVICES
Plumbing, Gas Fitting, Drainage, Roof & Spouting Repairs, Underfloor Heating, Hot Water Systems
WEBSITE
https://bellplumbing.co.nz/
ADDRESS
60 Hewletts Road, Mount Maunganui 3116
CONTACT DETAILS
Phone: (07) 578-0190; (07) 575-3049
Emergency After Hours: (027) 497-5591
OPERATING HOURS
Monday to Friday: 7:30am – 5:00pm
Saturday: 7:30am – 12:00pm
Bell Plumbing was first founded in 1939 by Matthew Bell and is currently on its third-generation family owner. One of their greatest strengths is their experience in the field and the wealth of knowledge that has been passed down in the family through the years.
Their years in the industry mean that they've seen plenty of problems in homes and commercial properties. Having this experience means that they can come up with solutions quickly and innovatively, saving you time and money.
As it's located in Mount Maunganui, Bell Plumbing also provides services in the Papamoa area. Even though they have limited office hours on the weekends, they provide after-hours services – although it's not always guaranteed that somebody can make it out to you.
We like that they have a Master Plumber's Guarantee behind all their work. Furthermore, it's worth noting that Bell Plumbing offers repairs, renovations, and installations in new builds.
One of their specialties is unblocking clogged drains by using specialized CCTV probes that can go deep into your pipes to isolate the problem. However, they can just as easily fix leaks, hot water problems, or replace plumbing fixtures as well.
Another specialty of theirs is installing gas-on-demand and solar-powered water heaters. This is a unique service because not every plumbing company offers both, as it requires specific expertise and training.
Ultimately, we like Bell Plumbing because this old family-owned business has learned to adapt with the times, updating itself with each new generation owner. With this company, you get the best of both the old and the new, which is a great combination to have when dealing with problems in your home.
Provides Master Plumber's Guarantee 
Has specialized CCTV probes to use on clogged pipes
Can install both solar and gas-powered water heaters
Expensive compared to competitors
No guarantee on emergency call-out services
Customer Reviews
Definitely recommend
"Had a Hot Water Cylinder leak. Phoned up and spoke to Bruce who was very professional and nothing was a problem. Alan came, fixed the problem and it was all done without any stress or hassle to myself. Definitely recommend Bell Plumbing. Neat guys to deal with." – Julie C
5. Plumberman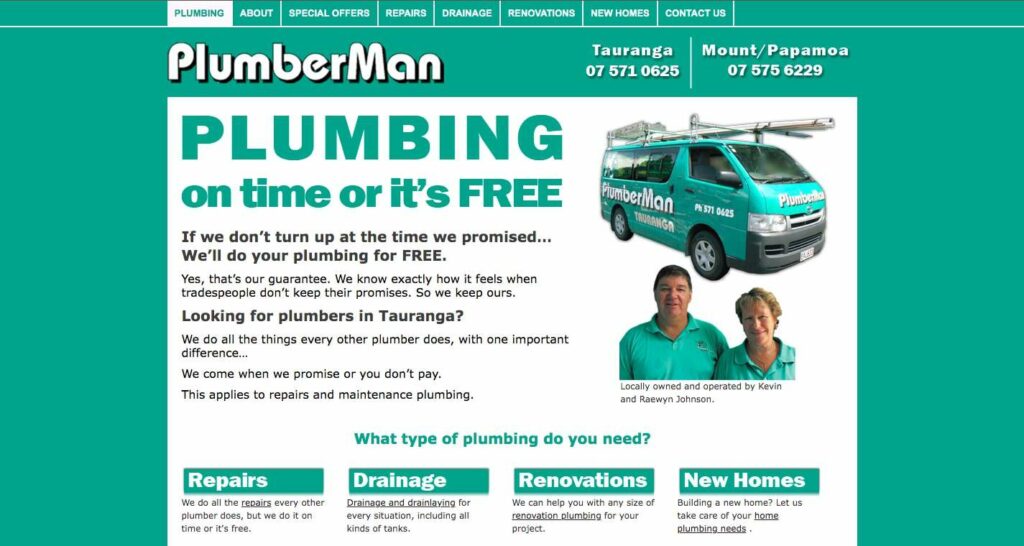 | | |
| --- | --- |
| SERVICES | Repairs, Renovations, Drainage, New Homes |
| WEBSITE | http://plumberman.co.nz/ |
| ADDRESS | 20 Glasgow Street, Tauranga 3110, New Zealand |
| CONTACT DETAILS | Phone: (07) 575-6229 |
| OPERATING HOURS | Monday to Friday: 7:30am – 5:00pm |
Plumberman was founded over three decades ago by Kevin Johnson, who has a family history in the craft dating back to his master plumber grandfather in 1911. Today, together with his wife Raewyn and their children, they hope to continue their family-owned business for more years to come.
Sentiments aside, Plumberman has experienced and well-trained staff, with some of them having over two decades of experience. As a team, their services focus on maintenance, general alterations, new builds, and drainage systems.
Moreover, as Master Plumbers, their work comes with the full 12-month $20,000 Master Plumbers Guarantee. This includes work they perform on any drainage systems as well.
What we especially like about Plumberman is that if they don't show up when they say they will, you don't have to pay. So, not only do they guarantee their workmanship, but they guarantee their promptness as well.
While Plumberman might perform all the work that other plumbers do, having this unique no-pay policy sets them apart and can entice potential customers their way. So whether you have blocked pipes, dripping taps, or hot water overflow, you can rest assured that a plumber will be there on time and on schedule to help.
Plumberman also sells various plumbing fixtures and products, offering discounts and promotions that include installations. So if you're looking to upgrade your faucet or toilet, you may want to check out their special offers.
Moreover, if you're laying new drainage, upgrading your old one, or need to resolve problems with a septic tank, Plumberman has a fleet that consists of a digger and Bobcat. What this means is that you can save on costs since they don't have to hire heavy machinery and labor from a third party.
Plumberman also offers emergency after-hours service, but this is only available for their existing clients. It doesn't come cheap though at $200 for the first hour and $115 per hour afterward.
In short, despite Plumberman's range in services, their stand-out offer is really their "if we're late it's free" policy. That alone, in our opinion, makes them one an option worth considering if you're looking for a plumber in the Papamoa area.
Services are free if they don't' show up on time
Sells fixtures, products and supplies
Offers Master Plumbers Guarantee
Expensive emergency or after-hours services
Doesn't offer eco-friendly solutions or products
Customer Reviews
The only plumber we would recommend
"These guys recently fixed my water pressure in my shower and fitted a new shower head. Fit us in to their schedule easily, Great service, on time, cleaned up afterwards and was the cheapest that we were quoted. PlumberMan is the only plumber we would recommend!" – MelissaR
FAQs about Plumbers
---
And that concludes our list of the top plumbers in Papamoa. We hope you now know whom to call for your plumbing and gasfitting needs.
Did we miss your favorite plumber in the area or do you have any other comments? If so, please let us know by dropping us a line and we'll check it out.
Now, if you need a new hot water cylinder you can check out this list of the best hot water cylinders in New Zealand.  Our list of plumbers here can also install it for you!