The 9 Best Plumbers in Tauranga
Looking for good plumbers in Tauranga? In this article, we have the best plumbers in Tauranga that deliver fantastic workmanship and service.
Whether the project undertaken is for business or personal, you can expect timeliness and professionalism from these outfits. Prices are also competitive and will provide you with the most value.
The recommendations we have are based on customer ratings and industry experience. Now If you're ready, let's start!
1. Smart Plumbing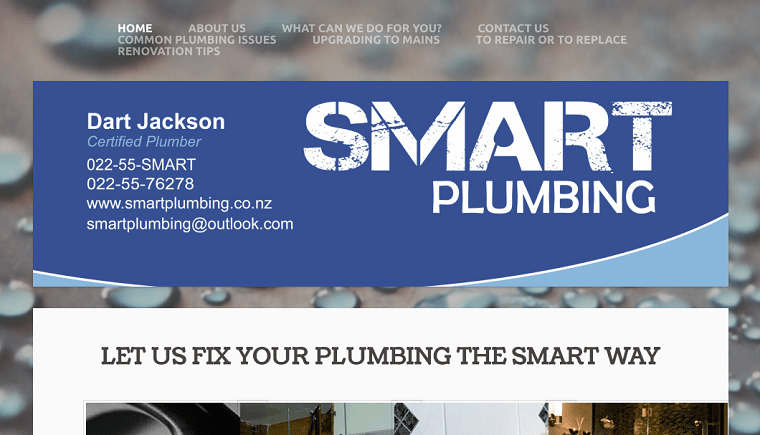 | | |
| --- | --- |
| BEST FOR | Passionate and Efficient Servicemen |
| SERVICES | Maintenance Plumbing, New Home Installations, Plumbing Consulting, Renovations and Repairs |
| WEBSITE | http://www.smartplumbing.co.nz/ |
| ADDRESS | Tauranga, New Zealand |
| CONTACT DETAILS | 022 557 6278 |
Smart Plumbing is a small business led by Dart Jackson. He's a certified plumber with over 9 years of experience.
Its services cover fixing your leaks and taps, unblocking drainage, installing laundry units, maintaining garbage disposal units, putting in new pipe systems, and replacing cylinders.
For any questions you might have, just approach Dart. As the company name suggests, he is smart in approaching his plumbing repairs and can be relied on for expert services.
Highlights
Certified and experienced plumbers
Locally owned and operated
Offers a full range of plumbing services
Approachable, knowledgeable and professional
Customer Reviews
People have been generally impressed with the service of SMART Plumbing. Grace Flavell said:
"Fantastic service. Had a bit of an emergency shower mixer water everywhere. Gave them a ring and they were happy to help. Picked up the parts on the way over and it was done fast and efficiently. Highly recommend to anyone. Plus a huge thank you for coming out sort of rural."
2. Pipe Masters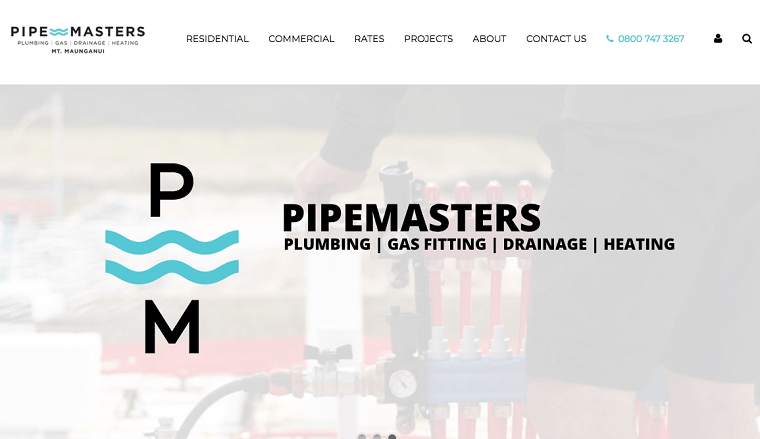 BEST FOR
Timely and Absolutely High Quality Workmanship
SERVICES
Plumbing, Gas Fitting, Hot Water Systems, Drainage, Hot Water Solutions, Outdoor Showers, Drain Unblocking, Heating, Preventative and Scheduled Maintenance, Plumbing Emergency Services, Fault Finding and Repairs; Installations, Plumbing Design Water, Sanitary and Drainage; Green Solutions and Water Harvesting
WEBSITE
https://pipemasters.co.nz/
ADDRESS
5/33 Newton Street, Mount Maunganui, Tauranga 3116, New Zealand
CONTACT DETAILS
0800 747 3267
OPERATING HOURS
Monday to Friday: 7:30am to 5:00pm

Saturday and Sunday: Closed
A New Zealand-based plumbing company, Pipe Masters is the go-to specialist when you want to set up clean tap water to drink and hot water for showers through electric or gas heating.
They specialise in hot water conversion, stormwater and septic tank installations. These things keep your water supply system cleaned and maintained.
Their staff are licensed, so you know you can expect professionalism from them. And what's more, they have a streamlined payment process so it's going to be simple and quick to settle your payments.
Available for emergency calls, they can help fix all your plumbing and water dilemmas. Plus, their customer support is a winner, with fast response times.
Highlights
Specialises in hot water conversion, stormwater and septic tank installs
Offers an extensive range for residential and commercial services
Highly qualified tradesmen
Seamless payment process
Excellent communication
Customer Reviews
Gordon Stewart wrote a helpful review on Google Business:
"I had an emergency with my main pipeline into the house from the road. I called Pipe Masters at 7am and they immediately diverted a plumber from another job to repair mine. I was very impressed with the speed they got there and that it was all sorted. With the pipes being so old they suggested they should all be replaced with plastic which they duly did a couple of weeks later. Can highly recommend them as the final job was done efficiently and with quality workmanship."
3. Bay Brothers Plumbing and Gas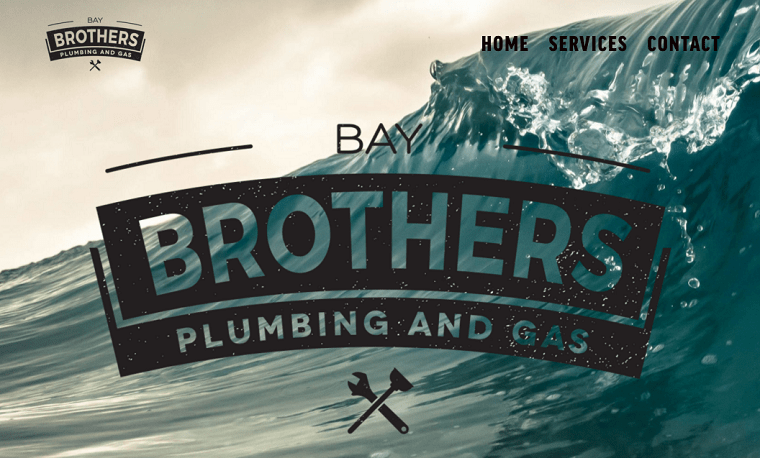 BEST FOR
Professional and Respectful Plumbers
SERVICES
Residential and Commercial Maintenance, Hot Water Cylinder Changeovers, Renovations, Blocked Drains, Solar Hot Water Cylinder Installs, Gas Fire and Wood Fire Installs, Gas Cooktop and Free Standing Oven Installs, Central Heating and New Housing
WEBSITE
https://www.baybrothersplumbing.nz/

https://www.facebook.com/baybrothersplumbing/

ADDRESS
189b Darraghs Road, Brookfield, Tauranga 3110, New Zealand
CONTACT DETAILS
027 327 7260
OPERATING HOURS
Monday to Friday: 8:00am to 5:00pm

Saturday and Sunday: Closed
Formed by brothers Phil and Mark Smith in 2018, Bay Brothers Plumbing and Gas covers the Bay of Plenty area while resolving your plumbing issues and helping with refurbishments.
They offer residential and commercial plumbing, gas or electric hot water changes, gas and wood fire fixtures, and solar hot water cylinder addition.
You can trust them as they are certified plumbers with valuable knowledge and experience in the industry. And if their repairs give in, you are covered by a 1-year warranty.
Highlights
Knowledgeable and qualified plumbers
Quick response and personable attitude
Great range of domestic and commercial plumbing work
Provides a 1-year warranty
Customer Reviews
Anne Moffatt opined on Google Reviews:
"Great service. Mark and the team do a lot of work for my clients they are always very quick at responding and professional. Great service at a fair price."
4. Superior Plumbing and Gas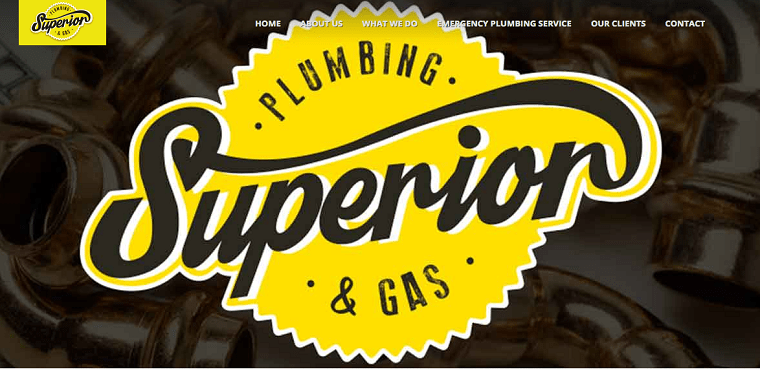 | | |
| --- | --- |
| BEST FOR | New Home Builds and Renovations |
| SERVICES | Plumbing Maintenance, Hot Water Cylinders, Gas Installation and Repairs, Central Heating, Drainlaying and Unblocking, New Builds and Renovations |
| WEBSITE | http://www.superiorbop.co.nz/ |
| ADDRESS | Tauranga, New Zealand |
| CONTACT DETAILS | 021 807 390 |
If you want smooth (or superior) plumbing maintenance in Tauranga, look no further than Superior Plumbing and Gas.
The company has a small group of talents who handle maintenance and renovation projects. And you get to directly communicate with Arron Scott, head and owner of the company.
Aside from this, they provide central heating, hot water cylinder changes, and safe gas installations in your kitchen.
Highlights
Brings a superior quality service
Specialises in new house builds and home renovation
Hands-on advice and communication
Provides a range of plumbing, heating and drainage services
Customer Reviews
Dan Matuschka commented on Google Business:
"Called upon the services of Superior Plumbing and Gas for our new house build and we weren't disappointed. From start to finish, their plumbing service expertise was excellent."
5. Laser Plumbing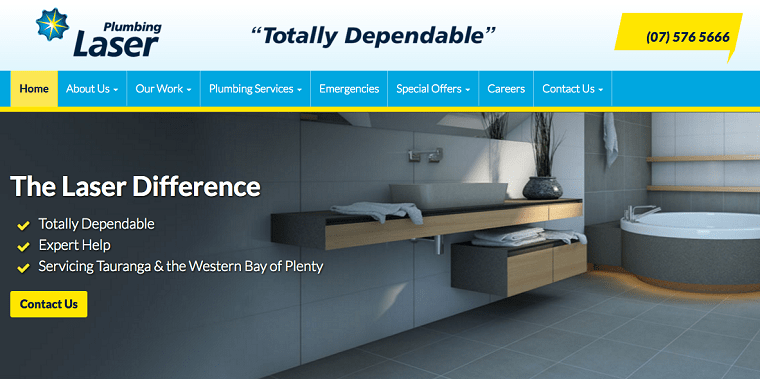 BEST FOR
Well-Rounded Plumbing Company
SERVICES
Maintenance and Servicing, New Home Plumbing, Gas Fitting, Drainlaying, Underfloor Heating, Solar Water Heating, Central Vacuum Systems and Eco-Friendly Solutions
WEBSITE
https://taurangacentral.laserplumbing.co.nz/

https://www.facebook.com/Laser-Plumbing-Tauranga-Central-125743424171963/

ADDRESS
42A Koromiko Street, Judea, Tauranga 3110, New Zealand
CONTACT DETAILS
07 576 5666
An award-winning plumber, Laser Plumbing has a diverse range of offerings for carrying out your plumbing, drainlaying, and eco fixings. Whatever you need in this respect, they can handle it!
The team can take care of your private and commercial plumbing, solar hot water sewerage, water filters, underfloor heating, roofing, and more.
It gets a spot in this list of the best plumbers in Tauranga for its great workmanship, competitive rates, and nice and punctual staff. Their experience in the trade is 25 years and up!
Highlights
Brings a top quality workmanship
Has a diverse range of offerings
Approachable and punctual staff
Competitive pricing
Master Plumbers and Site Safe members
Customer Reviews
Anthony Robertson mentions on Google Business:
"Had septic tank serviced. Very friendly service when booking. Great service from person who came out – showed me what he was doing and what I needed to do. Highly recommend these people."
6. PlumberMan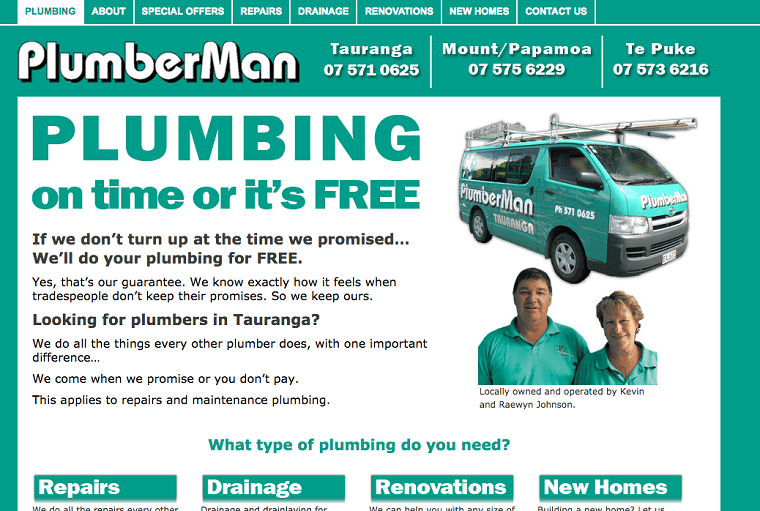 BEST FOR
Strict On-Time Service
SERVICES
Repairs, Drainage, Renovations and New Homes
WEBSITE
http://plumberman.co.nz/
ADDRESS
20 Glasgow Street, Tauranga 3110, New Zealand
CONTACT DETAILS
07 571 0625
OPERATING HOURS
Monday to Friday: 7:30am to 5:00pm

* After Hours/Emergency Callout is available
PlumberMan holds themselves to a high punctuality standard or it's free. It's run by Kevin and his wife, Raewyn Johnson — they started the company in 1995.
Bonded by family values, their plumbers do their work with passion and are kind and helpful to clients. Note also that they are members of Master Plumbers, Drainlayers, and Gasfitters.
Another important thing to point out is that they use the most modern equipment in order to exceed your expectations. Some examples are their drainage cameras and leak finders.
Highlights
Arrives on time or the service is free
Passionate, dependable tradesmen
Affiliated with Master Plumbers, Drainlayers and Gasfitters Board
Uses modern equipment to make their work more efficient
Customer Reviews
Luke Foster writes a reliable review on Google Business:
"We were amazed at how fast they got through everything on our new home build. PlumberMan did the plumbing, drainage, and septic. They made it so easy and worked through every issue smoothly. We couldn't be happier with the job, and the price was very sharp. Thanks so much."
7. JT Plumbing Tauranga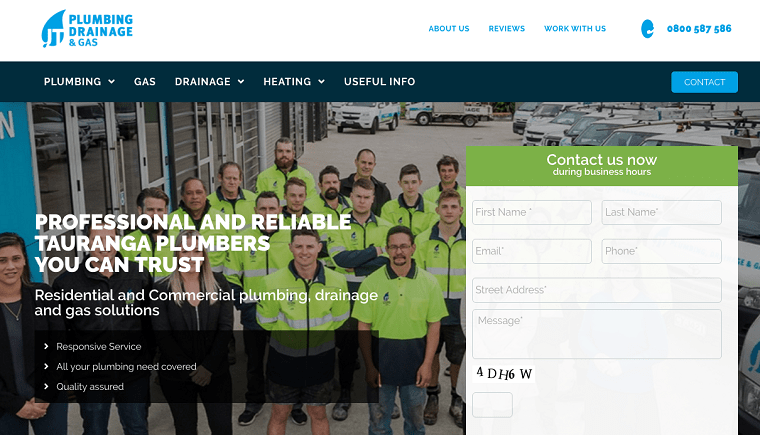 BEST FOR
Instantaneous Response Coupled with an Excellent Service
SERVICES
Plumbing Maintenance, Renovaltions, New Home Builds, Commericial, Gas, Septic and Water Tanks
WEBSITE
https://www.jtplumbing.co.nz/

https://www.facebook.com/jtplumbingnz/

ADDRESS

32 Whiore Avenue, The Lakes,

Tauranga, New Zealand

CONTACT DETAILS
0800 587 586
OPERATING HOURS
Monday to Friday: 8:00am to 5:00pm

Saturday and Sunday: Closed
If you go to the JT Plumbing website, there will be a blue duck (called a Whio) that greets you. It is endangered in NZ, which is partly the reason this company is careful to employ sustainable plumbing solutions throughout their services.
Their team members are Master-Plumbers-certified and can help you in commercial and residential plumbing, drainage, and leaks. You can call them for safe gas installation too.
Highlights
Reliable and safe plumbing and gas fitting
Broad range of services
Master Plumbers
Practises sustainable methods
Customer Reviews
Lisa Mc commends the company for responding promptly and efficiently. She said on Facebook:
"I woke to water in my kitchen and dining area and as i'd seen a J & T Plumbing van the other day I emailed them and had a quick response. Greg arrived quickly and fixed the problem easily and super quick. He even had the parts in the van that were needed. Greg gave awesome advice and service. Best plumbing services I have ever used. Thank you so much."
8. Bell Plumbing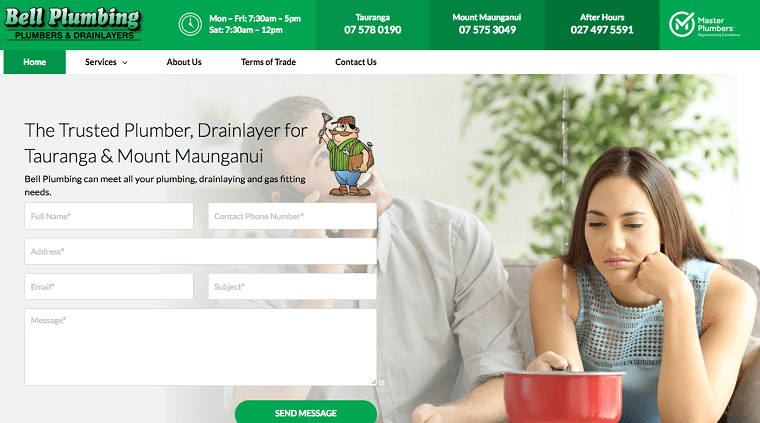 BEST FOR
Honest Advice and Super Fast Response
SERVICES
Plumbing, Gas Fitting, Drainage, Roof and Spouting Repairs, Underfloor Heating and Hot Water Systems
WEBSITE
https://bellplumbing.co.nz/
ADDRESS
60 Hewletts Rd, Mount Maunganui, Tauranga 3116, New Zealand
CONTACT DETAILS
07 578 0190 (Tauranga)

07 575 3049 (Mount Maunganui)

27 497 5591 (After Hours)

OPERATING HOURS
Monday to Friday: 7:30am – 5:00pm
Saturday: 7:30am – 12pm
Three generations of knowledge and expertise spanning more than 80 years makes Bell Plumbing your go-to plumber, whether it's small- or large-scale work.
With the Master Plumbers seal, you are assured of workmanship you'd be proud of with them. Their projects are also covered by a 12-month repair warranty.
Highlights
Incredible workmanship
Over 80 years of experience
Takes on any size of task
12-month service warranty provided
Customer Reviews
David Crowe said on Google Business:
"Had a guy called aven come replace hot water cylinder after I noticed a leak under house. Same day service. Cheaper than quoted. Good communication. Will definitely recommend."
9. Kingfisher Plumbing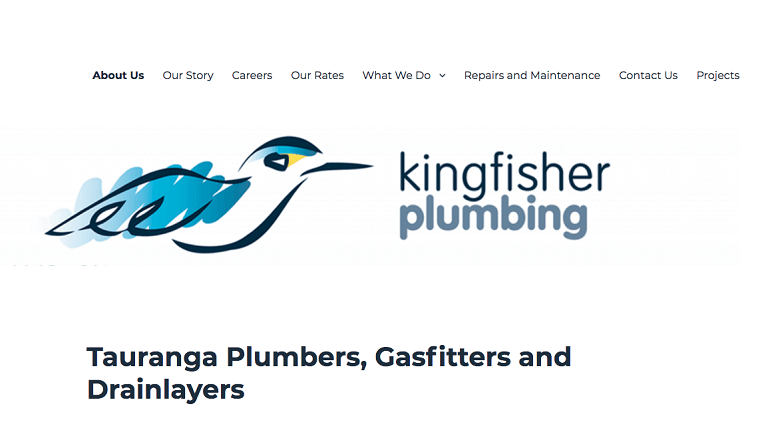 BEST FOR
Competitive Rates
SERVICES
Plumbing, Drainlaying and Gas Fitting
WEBSITE
http://kingfisherplumbing.co.nz/
ADDRESS
404 Fraser Street, Tauranga, New Zealand
CONTACT DETAILS
07 578 8004
OPERATING HOURS
Monday to Friday: 7:30am – 5:00pm

Saturday and Sunday: Closed
Kingfisher Plumbing is a family-owned business, belonging to Quinn and Steph Armit, and serving Tauranga customers. Quinn's dad started this company until Quinn acquired it, along with the experienced and dedicated staff.
The business model focuses on two simple things: quality and competitive pricing. From your tap water fixes or upgrades to total renovation of your bathroom and kitchen, you can rely on their plumbers to help.
And if you need some technical advice, an emergency call out or a free quote, the outfit offers those too. Just give them a call.
Highlights
Solid workmanship plus competitive rates
Family-owned business
Experienced and dedicated contractors
Provides sound, technical advice
You can call them for emergency plumbing
Customer Reviews
Tim Conder writes on Google Business:
"One hundred percent recommend. These guys did a great job for us, very prompt, great advice and attention to detail and went beyond what was requested to make sure we were looked after."
---
And that's all there is for the best plumbers in Tauranga! Give them a call whenever you need some assistance, schedule a site visit, and leave all the work to them.
Have you managed to call one of the plumbers we've suggested? Let us know your thoughts, experiences, and criticism, and we will get back to you in a bit!
Looking for a plumber but in Christchurch instead? Check out our article for the best plumbers in Christchurch.
Or if you live in Auckland, read about our top plumber services in Auckland.