The 5 Best Podiatrists in Christchurch
An aching or wounded foot isn't something to ignore. If you feel pain on your foot or have fungi on your toes, we've listed the best podiatrists in Christchurch to treat them!
We asked locals for recommendations, then vetted them based on their facilities, services, and podiatrists' credentials. And so without any further ado, we bring you the best podiatrists in Christchurch below!
1)  Nicole Waters – Feet First Podiatry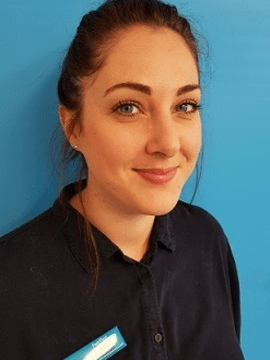 | | |
| --- | --- |
| Best for | Keeping Feet Healthy |
| Services | General Podiatry Care, Fungal Nail Treatment, Diabetes Foot Checks, Foot Correction, Minor Surgery for Ingrown Toenails, Footwear, Rest Homes, Footcare Products and Accessories |
| Address | 37 Main South Road, Upper Riccarton, Christchurch 8042, New Zealand |
| Contact no | (03) 348 7910 |
| Website | https://www.feetfirst.co.nz/ |
Nicole Waters came all the way from the UK to New Zealand with her partner. She has an honorary degree in Podiatry and is a licenced foot health professional in New Zealand.
She is very well-trained and keeps up with the latest studies and treatments in podiatry. She can examine your feet and limbs to advise, diagnose, and treat for healthier feet.
She loves books and that explains her Literature degree, so you can talk to her about your favourite texts too during your session. Not only is she beautiful and smart but she's also one of the best podiatrists in Christchurch!
Highlights
Highly skilled in foot care and treating foot conditions
NZ registered podiatrist
Keeps up with the latest podiatry insights or treatments
Customer Reviews
Clients usually come to have their ingrown nails removed here. Michelle A describes her experience at Feet First Podiatry:
"Great podiatrist and friendly receptionist.  Able to get appointment that week. Thought I needed an operation but didn't and great treatment suggestions. Now have shoes for sale."
2)  Howard Nicholas – Footprints Podiatry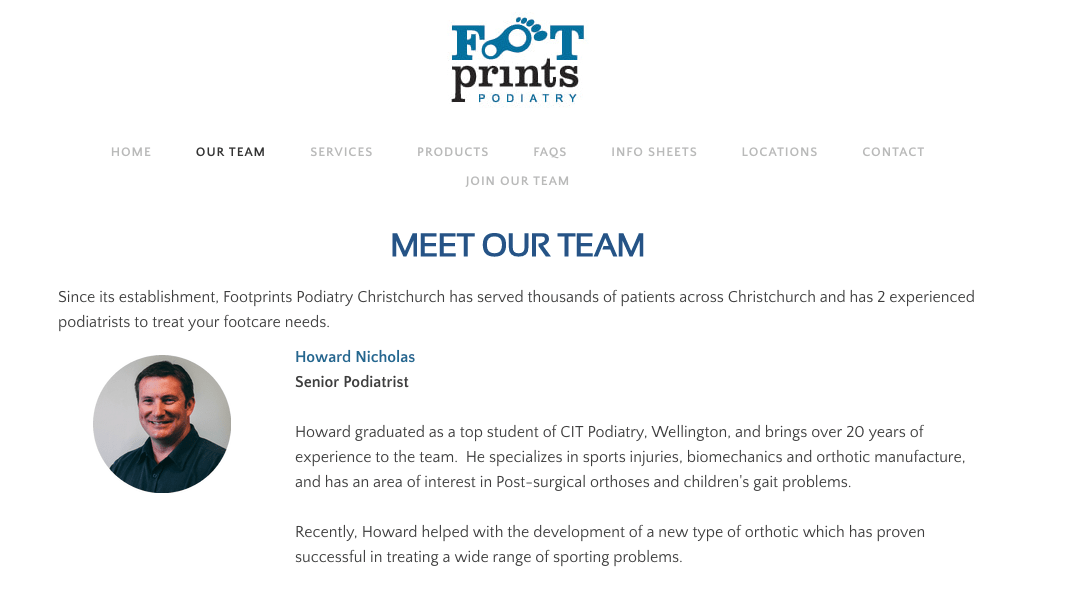 | | |
| --- | --- |
| Best for | Sports Injuries |
| Services | Sports Injuries, Biomechanics, Orthotic Manufacture, Children's Gait, Post-Surgery Orthoses |
| Address | 7 Milton Street, Somerfield, Christchurch 8024, New Zealand |
| Contact no | (03) 332 9792 |
| Website | http://www.footprintspodiatry.co.nz/ |
Are you often bothered by a sharp pain in your foot during training? No problem, just go for a checkup in Footprints Podiatry with Howard Nicholas.
Howard can treat your sport injury with reassuring professionalism. Whether you're a rookie or competing level athlete, he will be able to sort you out given his 20 years of experience.
Along with this, he is also adept in creating orthotics to remedy the pain in your foot and correct it while helping you change your biomechanics too, if necessary.
Highlights
Treats sports injuries caused by the foot or lower limbs
Can correct children's gait and biomechanics
Graduated with honors at CIT Podiatry
2 decades of experience
Customer Reviews 
Victoria Hunt writes a 5 star review on Google:
"Fantastic Podiatrist!! Howard has a wealth of knowledge and tell things straight up, like they are. For the last five years, I had been going to another podiatrist in the city centre with reoccurring foot injuries, that never should have occurred with the right prescribed orthotics. Now, Howard has got me sorted out, and back on my feet!"
3)  Danielle Barclay – Riccarton Podiatry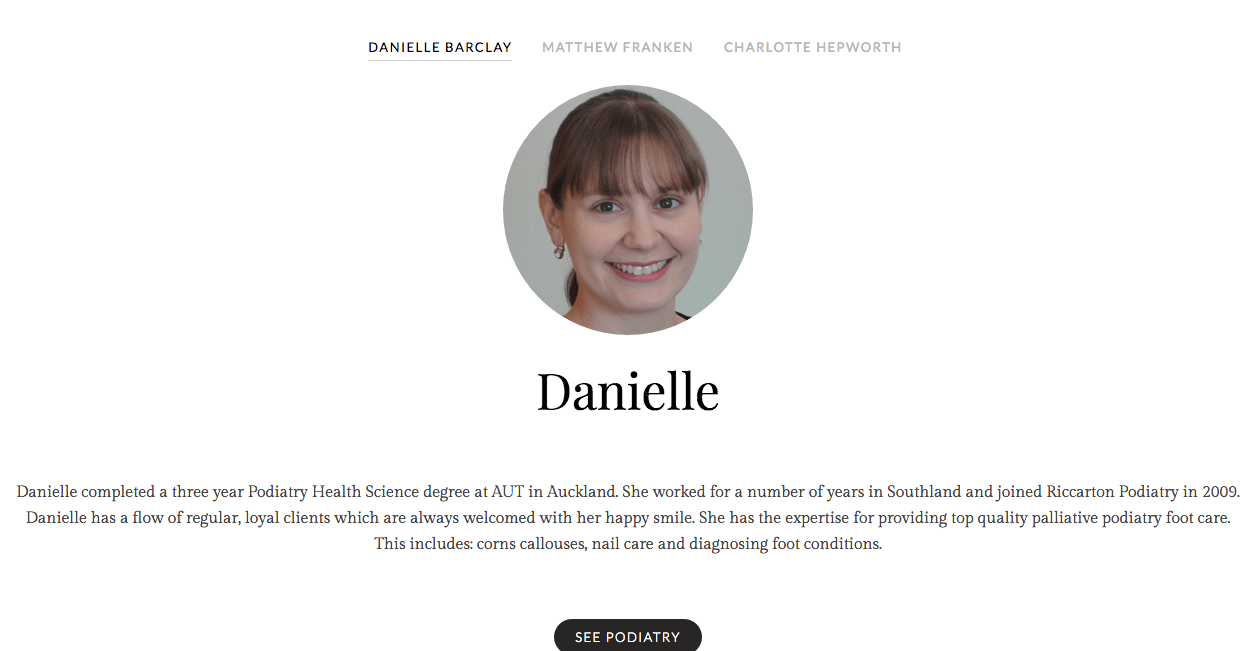 | | |
| --- | --- |
| Best for | Palliative Foot Care |
| Services | Corns, Calluses, Nail Care, and Foot Condition Diagnosis |
| Address | 184 Clarence Street, Christchurch, New Zealand |
| Contact no | (03) 343 4488 |
| Website | https://riccartonpodiatry.co.nz/ |
Get rid of the hideous calluses and corns on your feet with Danielle Barclay from Riccarton Podiatry. She gives expert assessment and treatment for adults, children, and pregnant women.
Danielle is an alumnus of Auckland University of Technology, completing a degree in Podiatry. Before she worked at Riccarton Podiatry, she honed her podiatric skills in the South Island.
She can deftly treat foot conditions if you go to her. That's why we think she's one of the best podiatrists in Christchurch.
Highlights
Treats calluses, corns, blisters, and foot ailments
Relieves the pain on your foot
Holds a degree of Podiatry from AUT
Cheerful personality
Customer Reviews 
Here's a Google Review by Tenley Wallace reflecting about his treatment from Danielle:
"I went to Riccarton Podiatry to treat my Morton's neuroma as I had a long, hard tramp scheduled and wanted to be able to tighten my hiking boot without pain. I met with Danielle who confirmed my neuroma and then taped a metatarsal pad to my foot. That has worked so well! I was mostly pain free on the hike and continue to be pain free.  Thank you!"
4)  Rebecca – Complete Podiatry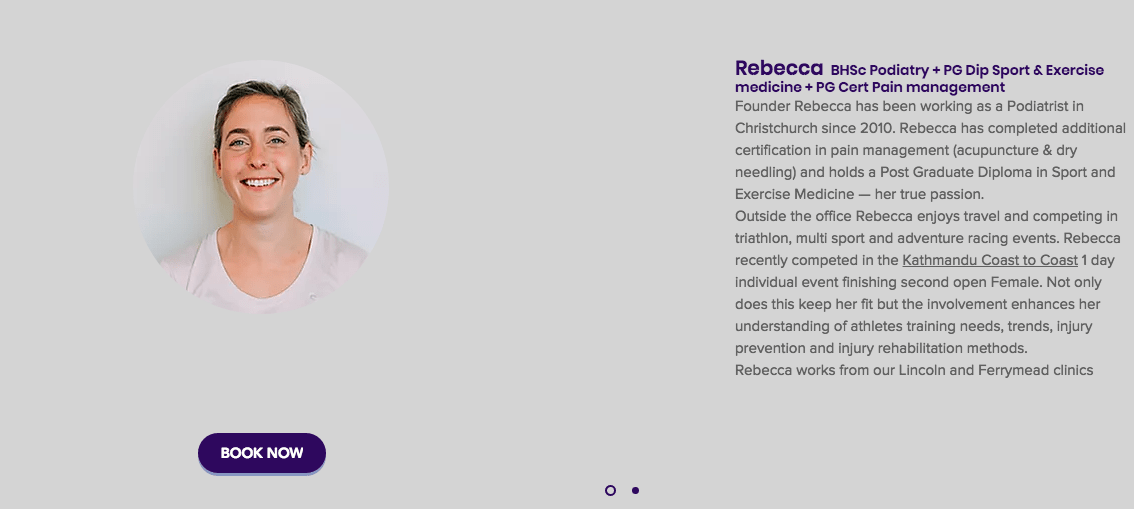 | | |
| --- | --- |
| Best for | Foot and Lower Limb Injury |
| Services | Sports Injury and Pain Management, Nail and Skin, Children's Feet |
| Address | 2/9 Humphreys Drive, Ferrymead, Christchurch 8023, New Zealand |
| Contact no | (03) 366 2550 |
| Website | https://www.completepodiatry.co.nz/ |
Injured during your gym workout, cross-training, or tennis? Rebecca from Complete Podiatry is probably the best one to help you out considering her sports exercise and medicine background.
She'll help get you back on your feet in the course of your rehabilitation. As for little kids, she can guide them on the correct way to use their feet when exercising or engaging in sports.
Her first degree in college was Podiatry after which she received her diploma in Sports Medicine and then Acupuncture. The skills and passion she possesses make her one of the best podiatrists in Christchurch!
Highlights
Has Sports Medicine and Podiatry degree
Can work with you so you can train without pain
Skilful and passionate
Competes in triathlons
Customer Reviews
Kathryn Evans said on Google Business:
"I have recently changed podiatrists to Complete Podiatry and could not be happier with the service and my new orthotics.  Rebecca has fantastic knowledge and was also able to provide me with tips regarding an upcoming specialist surgery."
5)  Ian Graham – Papanui Foot Clinic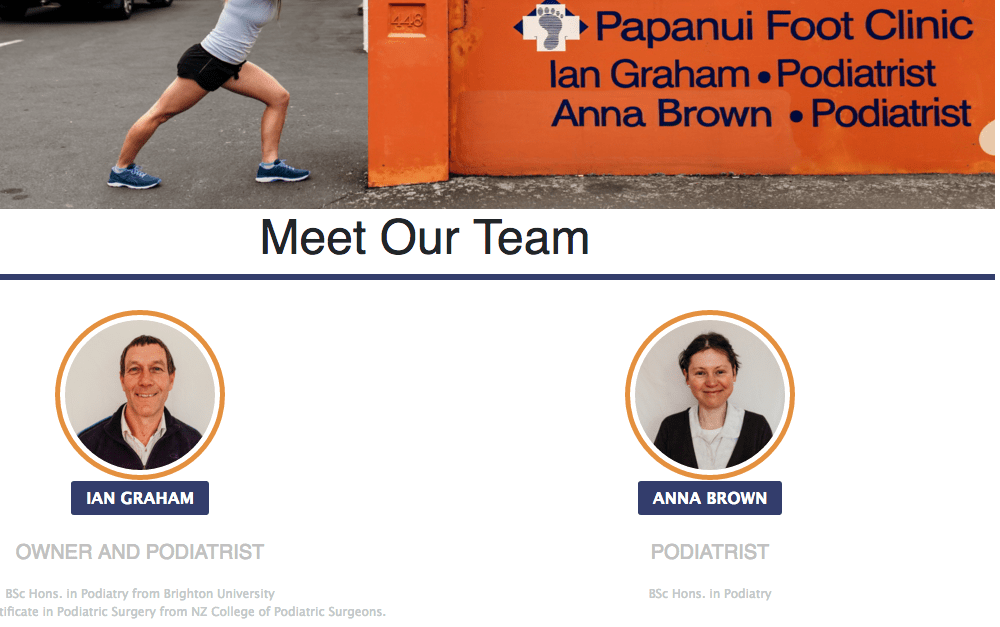 | | |
| --- | --- |
| Best for | Customer Satisfaction |
| Services | Heel, Foot, Leg, Knee Pain, In-grown Toenails, Arch and Ankle Pain, Corn and Callus Removal, Toenail Cutting, Bunions, and Diabetic Foot Management |
| Address | 448 Papanui Road, Papanui, Christchurch 8052, New Zealand |
| Contact no | (03) 352 6400 |
| Website | https://www.papanuifootclinic.co.nz/ |
For all your podiatric needs, look no further than Ian Graham from Papanui Foot Clinic. He offers a broad array of services that treat your ankle, leg, and foot pain and hygiene.
He graduated from Brighton University in the UK in Podiatry and has a postgraduate certification in Podiatric Surgery. His clinic has a vibe that keeps the customer at ease and comfortable.
Therefore, if the pain in your foot is unbearable, you may contact their clinic for an accurate diagnosis and treatment.
Highlights
Brighton University graduate in Podiatry
Treats a wide array of leg, foot, and ankle conditions
Comfortable clinic
Provides podiatric assessment, diagnosis, and treatment
Customer Reviews
Dave Fahey commented on Google Business:
"Ian and his team have been looking after my feet for many years. As a Type 2 Diabetic it's important to maintain my feet, and Papanui Foot Clinic certainly do that."
And there you have it for the best podiatrists in Christchurch. You can let these podiatrists look after your feet if you're having problems with them.
Has everything been crystal clear at this point? If not, we'd be happy to answer some questions, just send it over to us, and we'll reply back to you in a bit.
Lastly, if you're interested in more specialists for your body or health, you can read about the best chiropractors in Christchurch. Chiropractors can greatly help to alleviate your pain especially in the lower leg such as calf, ankle, and foot.