The 13 Best Ponsonby Restaurants
Need quick ideas on which Ponsonby restaurant to enjoy a great dinner at? If so, we have you covered as we've compiled a list of the best Ponsonby restaurants here.
We made it a point to choose those with tasty food and remarkable wines. We also opted for those with attentive and polite staff, a nice and comfortable ambience, and rave reviews.
If you're ready, we now showcase the best Ponsonby restaurants for you!
1)  Sidart Restaurant

| | |
| --- | --- |
| BEST FOR | Indian flavours |
| SERVICES | À la Carte Menu Discovery Menu Gifts & Vouchers Private Dining |
| WEBSITE | https://www.sidart.co.nz/ |
| ADDRESS | 283 Ponsonby Road, Ponsonby, Auckland 1011, New Zealand |
| CONTACT DETAILS | +64 9-360 2122 |
| OPERATING HOURS | Tuesday – Thursday & Saturday: 5.30 PM – 9.30 PM Friday: 12.00 PM – 1.30 PM, 5.30 PM – 9.30 PM |
Take your colleagues or family out to dine at Sidart Restaurant. Indulge in savoury Indian flavours and flavour-rich wines from both local and international vineyards.
Most ingredients are seasonal and are locally sourced from the owners' residential garden. The only exception is their Indian spices which are imported all the way from India.
They offer a great selection of dishes which will leave you completely satisfied. You can take your pick from Pork Vindaloo canapes, authentic beef dishes, delicious and comforting desserts, and much more.
Also, they consider Sidart to be an extension of their home and strive to provide you warm and friendly service.
Highlights
Seasonal Indian flavours
Has local and international wines
Uses fresh and organic ingredients
Warm and friendly service
Customer Reviews
A diner named Ru Ru left a comment about Sidart Restaurant:
"My first experience of Sidart and It was everything and more. To the warm friendly greeting, intimate setting, relaxed vibe and a full vegetarian degustation – it was pretty special.
Would I recommend it – yes
Would I go again – yes
Is is one of the best fine dining experiences I've had – yes!
Thanks for such a lovely dining experience, attentive staff, and faultless vegetarian food – would give you a 6th star if I could!"
2)  Mekong Baby

| | |
| --- | --- |
| BEST FOR | Southeast Asian cuisine |
| SERVICES | À la Carte Menu Beverage Menu Function Menu |
| WEBSITE | https://www.mekongbaby.com/ |
| ADDRESS | 262 Ponsonby Road, Auckland 1011, New Zealand |
| CONTACT DETAILS | +64 9-360 1113 |
| OPERATING HOURS | Tuesday – Sunday: 12.00 PM – late |
Mekong Baby is one of the best Ponsonby restaurants for Southeast Asian food. It has even won Trip Advisor's Certificate of Excellence for 7 years straight!
The menu consists of a variety of Thai, Japanese, Vietnamese, and Indonesian dishes. Along with their fantastic menu, clients said that the service was nice and cordial.
The restaurant is a food lover's haven because of the diverse variety of foods to try. You might want to try their delectable pork belly, lamb ribs, barbecue chicken, squid, or yellow fish curry.
What's more, if you're celebrating a birthday or corporate event, they have neat and comfortable function spaces you can book.
Highlights
Serves Southeast Asian food
Cordial service
Trip Advisor's Certificate of Excellence Awardee
Offers personal and corporate function spaces
Customer Reviews
Let's read this review of Mekong Baby from Bruce M.:
"Awesome. We enjoyed a Banquet meal so were able to experience such a variety of flavours and food. The food started coming out straight away and did not stop until it was done. It was busy but you could not really notice until you left. In other words, the service was excellent. Allowances were made for one of our party who is not a seafood fan."
3)  Prego

| | |
| --- | --- |
| BEST FOR | Classic Italian cuisine |
| SERVICES | Main Menu Pizzas / Classics Children's Menu Wine List Takeaway Desserts Vegan |
| WEBSITE | http://www.prego.co.nz/ |
| ADDRESS | 226 Ponsonby Road, Ponsonby, Auckland 1011, New Zealand |
| CONTACT DETAILS | 09 376 3095 [email protected] |
| OPERATING HOURS | Monday – Sunday: 12.00 PM – late |
Since 1986, Prego has been serving traditional Italian cuisine to guests and patrons on Ponsonby Road, right in the heart of Auckland.
You can choose to dine at the bistro-style table, the cosy bar by the fire, or outside in the lovely courtyard. Clients say that the staff goes out of their way to give you the very best service.
The food is supreme and you'll surely love their delicious pizzas and pasta. These are always prepared using the freshest produce.
Vegan and vegetarian options are available on request for those with particular diets. They also offer the best value wines from NZ and abroad for more enjoyable meals.
Highlights
Delicious and fresh meals
Fabulous service
Best value wines
Customer Reviews
One client, John P., shared his dining experience at Prego in this review:
"Customer service was amazing from the time we arrived til the time we settled the bill (quality was worth the cost). We were seated straight away and outdoor heating was perfect. Table water was being topped up without waiting to be asked and the food was fresh, tasty & hot when served. Atmosphere was great with music and lighting definitely setting the mood for an enjoyable Sunday dinner. Highly recommend this joint ?."
4)  The Blue Breeze Inn

| | |
| --- | --- |
| BEST FOR | Chinese cuisine with a Kiwi twist |
| SERVICES | Starters Mains Vegetables Sweet Treats Chocolate Desserts |
| WEBSITE | https://thebluebreezeinn.co.nz/ |
| ADDRESS | 146 Ponsonby Road Ponsonby Central, Ponsonby, Auckland 1011, New Zealand |
| CONTACT DETAILS | +64 9-360 0303 [email protected] |
| OPERATING HOURS | Monday – Sunday: 12.00 PM – late |
Blue Breeze Inn fuses the cultural traditions of Chinese food and the culinary innovation of Kiwis. They have a range of vibrant and combined flavours for you to feast on.
To start, you can delight in their Sichuan and chilli peanuts, ultra-tasty fried spicy chicken dumpling, steamed chicken prawn shumai, or classic freshly shucked oysters.
For hearty mains, ease your hunger pangs with their delicious stir-fried beef brisket and mouth-watering egg noodles, complete with pork belly and sauce.
The amazing thing is that you can sit across their open kitchen bar to see the chefs at work, giving you both entertainment and great food.
But that's not all! They also have what they call 'the Rum Jungle', made from natural ingredients to provide you with island-fresh flavours for a refreshing cocktail.
With excellent client reviews, the Blue Breeze Inn is absolutely one of the best Ponsonby restaurants you can go to.
Highlights
Chinese cuisine with a Kiwi twist
Ultra-delicious food
Natural and fresh cocktails
Islander ambience
Customer Reviews
Here's what Amber W. has to say about her dining experience in The Blue Breeze Inn:
"Great place to have a shared meal and the cocktails are amazing!"
5)  Saan

| | |
| --- | --- |
| BEST FOR | Authentic Thai cuisine |
| SERVICES | Street Snacks Smaller Dishes Grand Dishes Sides Desserts |
| WEBSITE | https://saan.co.nz/ |
| ADDRESS | 160 Ponsonby Rd, Ponsonby, Auckland, New Zealand |
| CONTACT DETAILS | 09 320 4237 [email protected] |
| OPERATING HOURS | Monday – Saturday: 5.00 PM – late |
Saan offers traditional Thai recipes from the Isaan and Lanna regions in Thailand. The head chef, Lek, aims to share the culinary tradition and culture of his family through his cooking.
Growing up and training in Thailand, head chef Lek makes sure to cook only authentic Thai food using the traditional methods. This became his ethos in opening the restaurant.
He offers great, flavoursome dishes based off family recipes such as Isaan pork sausages, Larb Ped (wok-seared spicy duck), Moo Khrob Prik Khing (crispy pork curry), and Geang Sadoong (semi-cured venison).
Highlights
Authentic Thai recipes
Great, flavoursome dishes
Highly trained chef
Rooted in Thai culture and tradition
Customer Reviews
Find out what one customer, Julia Y., thinks of the food from one of the best Ponsonby restaurants, Saan:
"Amazing service & food
Cannot fault & the experience journey from booking to dinning to payment- 110%
Try for yourself & be sure to order the Passionfruit Mojito (if you don't want the alcohol)
Thank you SAAN Team"
6) SPQR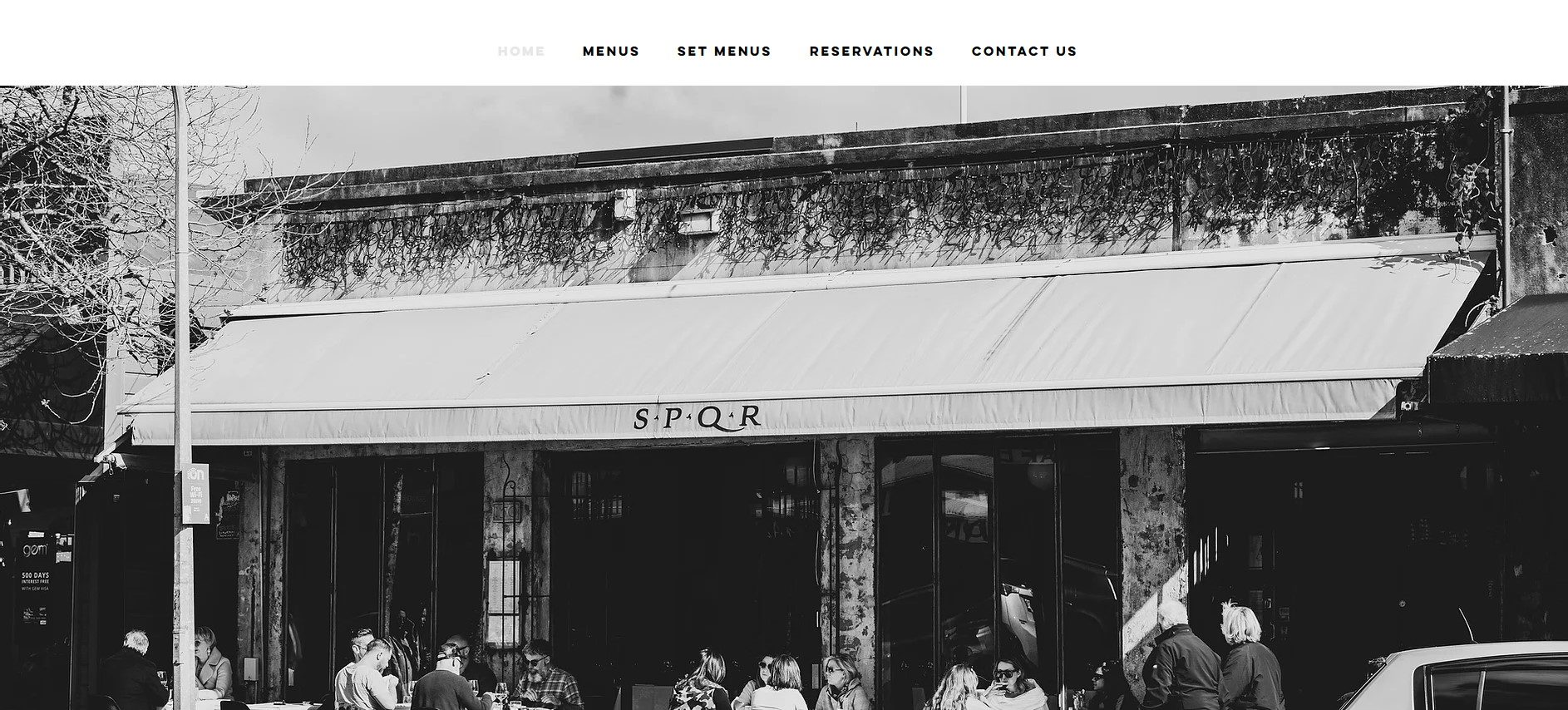 BEST FOR
Three-course lunch meals
SERVICES
Lunch, Dinner, Snacks, Drinks
WEBSITE
http://www.spqrnz.co.nz/
ADDRESS
150 PONSONBY ROAD, AUCKLAND, NZ 1011
CONTACT DETAILS
+64 9360 1710
[email protected]
OPERATING HOURS
MONDAY – SUNDAY
LUNCH 12-3PM AND DINNER 5:30PM-LATE
SPQR is a longrunning restaurant where everyone is warmly welcomed, and offered a place to eat good food and drink quality wine. As a bistro and bar, they're one of the best options for authentic Italian cooking.
While dining, you have the choice to eat inside the restaurant, or eatupfront and watch the buzzing streets of Ponsonby Road as you relax after a busy schedule.
Nevertheless, your whole stay would definitely be worth the price and experience.
Click on their website to make early reservations so you don't get to miss the chance to try out SPQR's amazing meals and company.
Highlights
Comfortable ambiance
Friendly and accommodating staff
Freshly made food
Customer Reviews
See some of the reviews SPQR has received from their very much satisfied customers:
"We had a meeting with a client who we knew appreciates good food. SPQR didn't let us down. The charred squid as an entree was cooked to perfection. As mains we had veal scaloppine and the crayfish ravioli. Both were the sort of dishes you could just keep on eating and eating. Delicious. Many thanks." – Kuhlman Jamaal
"Absolutely wonderful food. Unobtrusive efficient service. As good as you ever were. I'm delighted. " – Fiona Anderson
"Great food and service. Lovely place for a summer's lunch. Sitting on the sidewalk with a glass of red, eating simple but tasty food." – Michelle Goodsir
7) Boy & Bird

BEST FOR
Chicken Meals
SERVICES
Dine-In, Takeaway, Catering
WEBSITE
https://boyandbird.co.nz/
ADDRESS
222 Ponsonby Road, Ponsonby, Auckland 1011
CONTACT DETAILS
Call Us On 09-361 3222
E-mail: [email protected]
OPERATING HOURS
Mon – Sun 10:30 AM – 9:15 PM
Boy & Bird offers meals made from free-range chickens. That means what they serve is sure to be full of protein and other nutrients.
They have other dishes available on their menu. Some of their meals include salads, hot rolls, duck, gnocchi, desserts, and more.
If you don't have enough time to dine in their restaurant, takeaway and delivery are also available. You can order for pickup or delivery on their website.
Highlights
Farm fresh meals
Made from free-range chickens
Wide variety of dishes besides chicken
Delivery available for certain areas
8) Olas Arepas 

BEST FOR
Gluten-Free Arepas
SERVICES
Lunch, Dinner, Takeaway
WEBSITE
http://www.olasarepas.co.nz/
ADDRESS
Ponsonby Central, 136-146 Ponsonby Road, Auckland
CONTACT DETAILS
0210 233 7695
[email protected]
OPERATING HOURS
Monday – Sunday
11:30am – 8:30pm
Olas Arepas offers delicious handmade arepas that are free from additives and artificial ingredients. You can make your own food from scratch at the restaurant, choosing the base arepa and other fillings. Everything is guaranteed to be tasty and good for everyone.
Salads and Cocadas are also available to pair with the arepas, to make your meal even more enjoyable and healthy!
Enjoy this South American delicacy in Ponsonby. Head on to their website and reserve a table now.
Highlights
Freshly grilled arepas
Generous portions
Friendly Staff
Customer Reviews
Read this feedback from Nick Kerr-Bell for Olas Arepas:
"Amazing food, they really have an eye for detail and taste. Highly recommended if your a lover of latin food or want to try something new! Olas Arepas is a great little place nestled in Ponsonby and has a very cozy feel. Will be back here again for sure."
9) Morepork BBQ Ponsonby 

BEST FOR
BBQ Rub
SERVICES
Dinner, Catering, Gift Vouchers
WEBSITE
http://www.moreporkbbq.com/
ADDRESS
1 St Mary's Road, Ponsonby
CONTACT DETAILS
09-303-0477
[email protected]
OPERATING HOURS
Wednesday-Saturday 5:00pm-close
Morepork BBQ Ponsonby is a restaurant that offers authentic Texas-style barbecue. It's one of the best places to eat pulled pork that melts in your mouth. Pork here is tender, juicy, and smoky; all the best qualities to look for.
They use hand-picked premium cuts of meat and the best spices and rubs, taking barbecue on another level. They cook in on a smoker slowly, and every minute is worth the wait.
Contact Morepork BBQ to reserve a table and if you have any more inquiries. They're also open for catering in case you want their food in bigger batches.
Highlights
Amazing barbecue
Slow cooked ribs
Two restaurant branches
Ample free parking
Customer Reviews
Garnering a high rating in Google Review, Morepork BBQ is definitely one of the restaurants to consider if you're craving smoking hot barbecue. Check out some of the feedbacks left fot the restaurant:
"We just had amazing ribs here. As an expat American, I feel like I know ribs and these get a A+++! The pulled pork sandwich was also great and don't miss the mac and cheese for the full Americano experience."
"Awesomeeee BBQ RIBS!!!??? The real American, great taste and very confy place! Staff very kind and helpful the portion is quite generous and the guys are FAST! Less than 10minutes and BANG!? Amazing! Strongly recommend!"
"Delicious American BBQ. Small and cosy place. Loved the nachos. Finger licking slow cooked ribs that easily come off the bones and indulgent pies for desert. Highly recommend."
10) Epolito's Pizzeria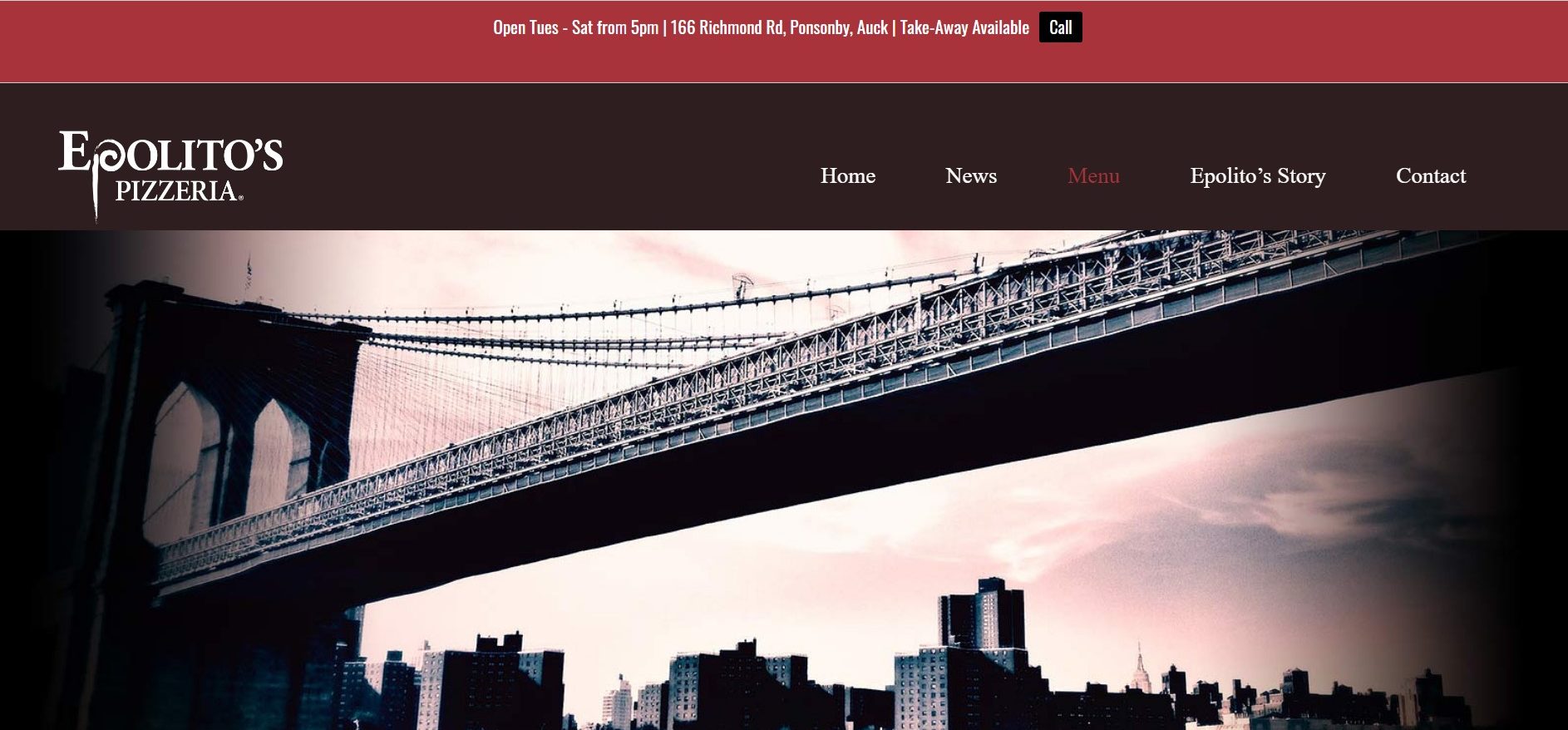 BEST FOR
New York Style Pizza
SERVICES
Pizzas, Bagels, Salads and Extras | Dine-in and takeaway
WEBSITE
http://epolitospizzeria.co.nz/
ADDRESS
166 Richmond Road, Grey Lynn, Auckland, New Zealand
CONTACT DETAILS
(+64) 9 361 1593 | [email protected]
OPERATING HOURS
Monday – Thursday, 5:00 PM to 10:00 PM
Friday – Saturday, 5:00 PM to 11:00 PM
New York native Chickalena Rose first opened Epolito's in 2005 and since then her journey to becoming the most authentic New York Style Pizza in Auckland was solidified. Epolito's menu has all the New York Classics: tomato, cheese, pepperoni, meat ball and sausage.
But what makes their menu so authentic is their crust that are traditionally hand-stretched with care. And as if authentic New York pizza wasn't enough to bring the essence of New York to Auckland, Epolito's fresh bagels also tie in with your favorite NYC classics.
This pizzeria is available for dine-in, but, of course, you can also have this tasty experience at the comfort of your homes since their menu is also available in Uber Eats. Order from Epolito's Pizzeria now to get a taste of New York.
Highlights
Available in Uber Eats
Traditional Hand-stretched pizza
Fantastic bagels
Customer Reviews
Customers recommend Epolito's Pizzeria because of its authenticity.

Antonio left this review:
"I had the pleasure while visiting New Zealand to meet the gals at epolito's Pizzeria. It was a godsend to find such a devine Pie here as I was concerned about withdrawals of NY pizza. The 'Real' thing even down to the hard core language and humour of New Yorker Chicolena!"
11) Gusto Italiano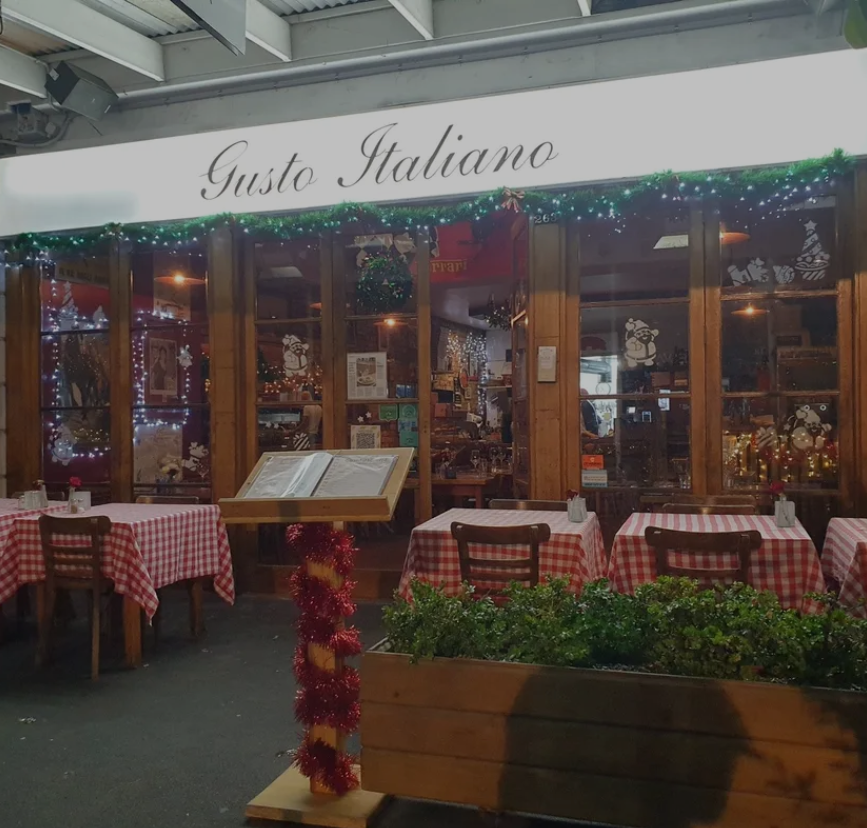 BEST FOR
Authentic Italian Cuisine
SERVICES
Dine-in and Takeaways
WEBSITE
http://www.gustoitaliano.co.nz
ADDRESS
263 Ponsonby Road
Three Lamps
Auckland
CONTACT DETAILS
(09) 361 1556
OPERATING HOURS

Wednesday to Monday: 5PM to 11PM

Thursday to Sunday: 12nn to 11PM
If you're in the mood for Italian food, then we recommend checking out Gusto Italiano while in the Ponsonby area.
Situated at Three Lamps along Ponsonby Road, Gusto Italiano endeavours to bring the authentic Italian experience to the people of New Zealand. The restaurant is charming and has plenty of seating space, and the menu features the best that Italian cuisine has to offer.
Gusto Italiano is most known for their wood fire pizza, but the menu has other freshly prepared Italian classics that are worth trying out, such as various pasta dishes, seafood dishes, meat dishes, set dishes, and desserts to top things off. Gusto Italiano also offers wine to be enjoyed with one's meal.
Some of our personal favourites are the Margherita pizza, the Calamari in Padella, the Tortellini Porcini e Tartufo, the Caprese salad, the Agnello Allo Zafferano, and the Tiramisu Della Casa. Every single dish that comes out of the Gusto Italiano kitchen is guaranteed to be made with the freshest and finest ingredients, helping ensure both quality and taste for every meal.
Aside from the exceptional cuisine, Gusto Italiano is also commendable for its customer service. Customers are greeted by friendly and welcome staff upon entry, and can expect promptness and professionalism throughout their dining experience.
Highlights
Vegetarian options available
Extensive wine list
Gluten-free base for pizzas available
Offerings include set menus to be shared
Open six days a week
Customer Reviews
Here are some comments left by very satisfied customers of Gusto Italiano:
"Fabulous as always -great service and great food . Lovely evening . Nice place to spend a great evening with school friends and hubby's. Feel like you are back in Italy . Just great."
"Five star rating on their food and service. Had our usual Amanti della Carne pizza and it was as expected meaty and divine. Tried the Gnocconi Ripieni for the first time and it was such a warm and soft (as a pillow) gustatory experience. Make sure u leave some room fir dessert and order the Tartufo Nero (ice cream) and Tiramisu."
12) De GRAND
| | |
| --- | --- |
| BEST FOR | Thai Cuisine |
| SERVICES | Dine-in and Takeaways |
| WEBSITE | http://www.degrand.co.nz/ponsonby/ |
| ADDRESS | 42 Ponsonby Road, Grey Lynn, Auckland 1011 |
| CONTACT DETAILS | 09 376 0320 |
| OPERATING HOURS | Sun – Thur: 5 pm – 10 pm | Fri & Sat: 5 pm – 11.30 pm |
When it comes to Asian cuisine, there are few selections in the Ponsonby area that are worth visiting. One of them is De GRAND.
De GRAND offers a taste of authentic Thai cuisine to be enjoyed in a fine dining setting. The restaurant has two branches, one in Ponsonby and the other in Epsom.
No matter the branch visited, customers can expect some of the best tasting Thai dishes, made with quality ingredients and prepared by exceptionally skilled kitchen staff. Moreover, the customer service that De GRAND has to offer is remarkable as well, with the staff polite, friendly, and quick to deliver what is asked of them.
In terms of the menu, De GRAND features a broad range of dishes, divided into several main categories. There are appetizers, salads, soups, curries, stir fried dishes, seafood dishes, lamb dishes, duck dishes, noodle dishes, rice dishes, and various vegetarian dishes.
Some of our personal favourites from the Ponsonby menu include Spring Rolls, Prawns on Toast, Green Papaya Salad with Prawns, Tom Yum Soup, De GRAND Curry, Black Pepper Snapper, Cashew Nuts Lamb, Pad Thai, and Drunken Noodle Vegetables.
Highlights
Vegetarian options available
Online order and pickup available
Open seven days a week
Excellent customer service
13) At Bangkok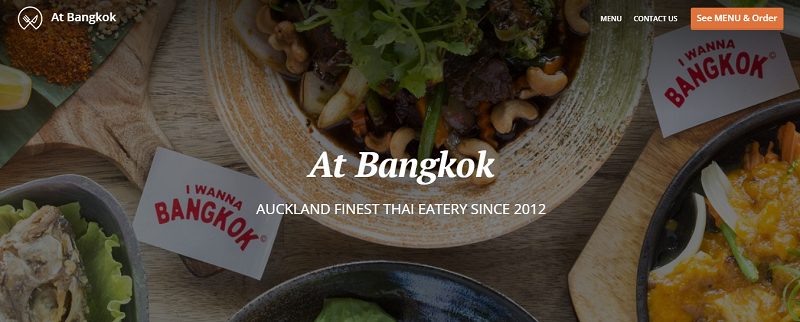 BEST FOR
Thai Cuisine
SERVICES
Dine-in and Takeaways
WEBSITE
https://www.atbangkok.nz/
ADDRESS
438 New North Road, Auckland 1021, New Zealand
CONTACT DETAILS
+64 9-849 6436
OPERATING HOURS
Wednesday – Sunday
5:00 PM – 9:00 PM
Next on our list is At Bangkok, a restaurant located on New North Road that makes an excellent choice for people looking to try authentic Thai cuisine.
At Bangkok has seen a rise in popularity in recent times thanks to their commitment to providing quality food and service. The restaurant's menu features a diverse selection of Thai dishes, all of which are made from the finest ingredients available and cooked to order.
Some dishes you should consider trying out include the Traditional Thai Chicken Satay, Vegetarian Spring roll, Tom Yum Soup, Pad Kra Pow, Green Curry, Spicy Raw Prawns, Pad Thai Noodle, and Pla Ma Now. There are also plenty of side dishes to choose from.
If you can't come in to sit and eat, don't fret. At Bangkok also allows for online ordering to be picked up at their restaurant.
Highlights
Food is cooked to order
Vegetarian options available
Customers can order online
Excellent customer service
And there you have it for the best Ponsonby restaurants. The food, ambience, and service of these featured restaurants will surely impress you and your companions.
Do you have any questions or comments at all about our list? If you do, kindly leave us a comment below and we'll get back to you promptly.
Oh and if you want an afternoon high tea, we know fabulous places for that. You can read all about them in our list of the best high tea places in Auckland.