The 6 Best POS Systems in NZ Tested and Compared
Featured Image Source from POS Technology
Running a store can be effortful, especially when it comes to handling customers' payments. That's why we've gathered a list of the best POS systems in NZ here, if you need for your business.
A POS or Point of Sale software in NZ also provides you with real-time statistics of your inventory and sales and stores your data involving customers and employees.
Since each software has a ton of features and add-ons, it can be very arduous to pick the right nz pos system for your store and harder enough to even know where to start.
That said, we're here to sort you out as we will zero in on how to choose the right POS system for your business's needs. Afterwards, we'll show you our top cloud POS system recommendations.
How to Choose the Right POS System in NZ
First, you should think about what you need in a POS system for your store. It could be an accurate inventory record, reliable card readers, iPad device support, or others.
With the right POS software in NZ, you'll be able to give your clients a superb experience and maximise your profits.
Whether you only have one store or multiple stores dotted around the country, here are the key factors you have to consider before getting a POS system.
1. Price
Cloud POS software have different pricing based on the monthly plan that you've chosen. The prices usually range between $100 to $200 per month.
These plans usually don't have the different hardware that you need. You'll have to get them separately.
Note that some NZ POS systems come with a processing rate which charges a percentage off of each transaction you have.
2. User-Friendliness
A POS system may have great functions and features, but if it's hard to use, then it would affect the productivity of you and your employees in running the shop.
To avoid that, the software has to have a clean, easy-to-read interface, reflect the latest data in real-time, process the payments without delay, and so on and so forth.
To know if the POS system is suitable for you, you can try a free demo first.
3. Reports
Gone are the days when everything had to be manually updated in your shop. From employee time-ins to monthly turnovers, modern POS software in NZ have them covered.
Basic plans mostly give you light reporting with limited customisation. On the other hand, for premium plans, you will get comprehensive reports about all aspects of your stores and will be able to view it by phone, tablet, or laptop.
4. Add-Ons/Integrations
Add-ons and integrations can be a part of or separate from the monthly packages. These include loyalty and promotion programmes, gift cards, reports, eCommerce, payroll, and more.
With them, you can customise your NZ POS system further to make your business easier and more efficient.
5. Customer Support
These teams are all about helping you learn the ropes of your POS software. Some of them can provide tutorials or training should you need them.
Therefore, if you're buying a new POS system, it's very important to have customer support. Pick those that can assist you 7 days a week, or better yet 24/7.
The Best POS Systems in NZ Reviewed and Compared
Now that you know how to pick from our list of the best POS systems in NZ, let's proceed:
1) Vend POS

Best for
Multiple retail stores
Products
POS system
Address
Level 1, 2-36 Nuffield Street, Newmarket, Auckland 1023, New Zealand
Contact Details
Phone: 0800 453 952
Overseas: +64 9 886 5682
Office Hours
Monday – Friday: 9.00 AM – 7.00 PM
Saturday & Sunday: closed
Prices
Lite: $129/month (annual package) or $149/month
Pro: $159/month (annual package) or $179/month
Enterprise: get a quote here
Vend is a beautiful and seamless POS system in nz that's usable on your laptop and tablet. Packed with many features and integrations, it can help you run your business better.
The cloud-based software stores your business data on the internet. These data are secured and backed up every hour to ensure you never lose access to them.
Discounts, loyalty programmes, inventory tracking, and others… Using Vend POS will save you a lot of time and effort in managing your store. And that's what made us consider including Vend in our list of best POS system in NZ.
You can even integrate eCommerce platforms such as Shopify and WooCommerce to your store, allowing you to fulfil customer orders whether in-store or online.
Vend can work with your current set of hardware such as printer, cash drawer, and barcode scanner. That said, they also offer Mac, PC, and iPad hardware that perfectly pair with Vend.
Great for multiple outlets
Lots of integration choices
Reliable customer support
2) Erply POS

Best for
Versatile POS system
Products
POS system
Address
849 South Dowling Street, Waterloo NSW, Australia
Contact Details
+612 8006 2880 +618 7200 0577

[email protected]

[email protected]

Prices
POS without Inventory: $60/month (annual package) or $79/month
Inventory Online & Offline: $111/month (annual package) or $143/month
Inventory + POS: $137/month (annual package) or $165/month
Enterprise: kindly contact them through this link
Erply POS is used by Fortune 500 and small companies worldwide. Its market edge lies in its ability to integrate with third-party software and add-ons for your software.
Featuring a franchise-managing system, the software can sync with your store's database and records, together with the promotions and loyalty perks for customers.
Even if your business grows, this POS system in NZ can adapt and grow with it. That's why it's perfect for any size of retail business, be it franchise or not.
What's more, Erply POS lets you import data from your current POS software. And, it has a lot of customisable integrations and can be used on Android and Apple tablets.
The POS without Inventory plan is affordable for just $60/month while the one with the inventory option costs $100 upwards. Following that, you can expect the feature-packed Enterprise plan to cost more than that.
The reasonable pricing scheme and the ability for the software to grow along with your business are just a couple of reasons why we included Erply in our best POS system in NZ list.
Affordable basic plans
Works on Android and Apple tablets
Dedicated customer service
3) Revel Systems POS

Best for
Cafes and restaurants
Products
Quick Service
POS System
Restaurant POS System
Retail POS System
Address
Level 3/100 Harris St, Pyrmont, NSW 2009, Australia
Contact Details
+61 28520 3344 (Ext. 2)
Office Hours
Monday – Sunday: 7.00 AM – 10.00 PM
Prices
POS software: starts from $99/month
Processing: fixed fee
Implementation: starts from $674
*Prices are in US dollars
Looking for a POS system in NZ for your newly opened restaurant? If you are, look no further than the Revel iPad POS system!
Revel claims to have been the first to introduce the iPad POS tech in the market. It is jam-packed with handy features with serious potential to impress your customers.
For instance, it supports the Delivery XT app to keep track of your order's delivery and input customer information to reward him if he earns enough points in your store.
Also, you can add a self-serving kiosk just like what you use in McDonald's, iPad stands, printers, and contactless payment readers (which helps to keep everyone safe during this pandemic).
Because it's specifically built for the food and beverage industry, we think this is the best pos system in NZ if you have a restaurant or food business!
Designed for food businesses
Customisable client management
Expensive monthly plans
Only supports iOS devices
4) Lightspeed POS

Best for
eCommerce
Products
POS system
Address
Level 10, 15 Green Square Close, Fortitude Valley, Queensland, Australia, 4006
Contact Details
+61 (07) 3911 1216

[email protected]

Prices
Basic: $69/month (annual package) or $79 per month
Starter: $99/month (annual package) or $119 per month
Standard: $119/month (annual package) or $139 per month
Advanced: $169/month (annual package) or $189 per month
Pro: $169/month (annual package) or $259 per month
Enterprise: kindly contact them through this link
*Prices are in US dollars
*Add registers for only $29/month
Selling your goods online to increase your profits? For that, Lightspeed POS is a great option as an nz pos for you as it's designed for eCommerce.
Though it's not perfect in user interface, it comes with all the basics that you need, from stock management and loyalty points to SEO and contactless payments.
They have a range of packages for you to choose from: Basic, Starter, Standard, Advanced, and Pro. You can get a discount if you avail a plan for the entire year.
Also, you can add a cash register to your plan for $40 per month.
We like their budget-friendly and flexible plans and think they're the best pos systems in nz for start-ups or small businesses!
Ecommerce POS system
Integrated loyalty programme
Supports contactless payments
5) Square POS

Best for
Small and growing businesses
Products
Square POS system
Square for restaurants
Square for appointments
Square for retail
Contact Details
1-855-700-6000
Prices
Processing rate: 2.6% + 10 cents per transaction
Hardware: starts from $0 (comes with a free reader)
Monthly fee: $0 per month
*Prices are in US dollars
*If your sales are more than $250,000 per year and your average order size is over $15, they can create a custom plan for you.
In terms of price, features, and ergonomics, Square POS is one of the best POS systems in NZ available. The highly-acclaimed software is not only free but also versatile.
WIth several tailored products, you can decide whether you need Square for everyday transactions, retail tasks, appointments, or restaurants.
It's appealing that there's zero monthly fee with Square POS. However, for every transaction you make, you will only have to pay 2.6% plus 10 cents (in US currency).
Moreover, you can add a suite of hardware such as magstripe readers, terminals, contactless and chip readers and stands, and customisable cash registers.
Simple to use
No monthly fee
Supports contactless payments
Expensive transaction rates
6) Circle Software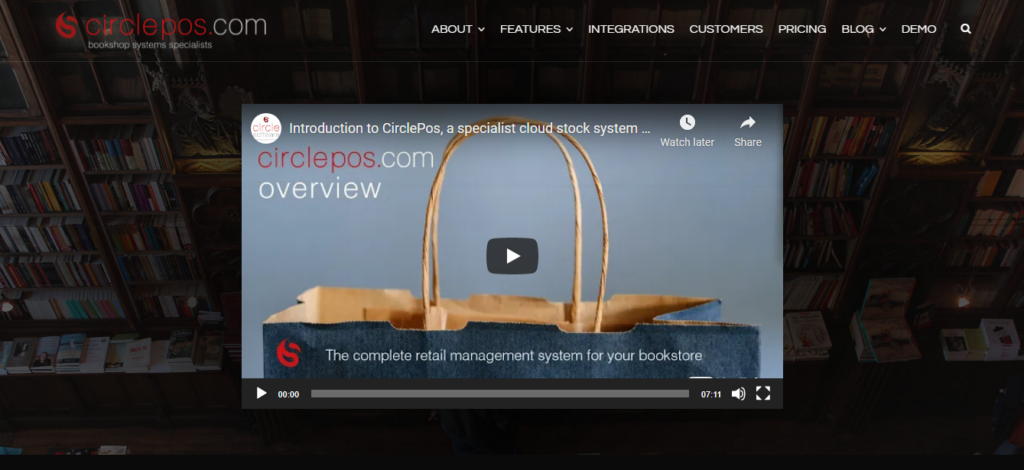 Circle Software is a POS system that is ideal for physical shops and most especially bookstores. It has an all-in-one approach and is backed by international software companies such as Yikebike and Acclipse.
Their features complement each other and give not only team-high productivity but also enhance customer relationships due to the ease of access and transactions.
It is manned by around 14 staff which clients can easily consult with when availing of their software and experience the hassle-free experience themselves.
Currently, it is being used by the numerous independent booksellers in New Zealand so applying bookstores need not worry since it has been tried and tested.
We recommend this POS software for booksellers, publishers, and distributors due to its accessibility, hassle-free management, and functions that highly increase productivity minus all the clutter of paperwork.
Accommodates Australian clients
Offers cloud storage
Backed up by internationally recognized companies
Working hours unavailable
FAQS about the Top POS Systems in NZ
---
And that wraps up our review of the best POS Systems in New Zealand! As you can see, you can equip your stores with one of these POS systems to optimise your business operations.
Do you have any questions or suggestions for us? If you do, please let us know and we'll check if we can add your recommendations in this list.
Also, you might be interested in the best credit cards in NZ. We have all sorts of credit cards there—Airpoints, balance transfers, and low-interest cards, among others.