The 5 Best Pregnancy Pillows in New Zealand
It can be harder to sleep or rest with a baby inside your belly. You may also be having back or shoulder pain along with that. Fortunately for you, we've listed the best pregnancy pillows in New Zealand right here.
There's a great array of pregnancy pillows on the market in different styles, sizes and uses. It can be confusing, however, to find which one suits you the most.
That's why we'll first tackle the fundamentals of buying a pregnancy pillow. Doing this will help you pick from our featured selection later on.
After that, we'll delve into the list of the best pregnancy pillows in New Zealand!
How to Buy a Pregnancy Pillow
The right pregnancy pillow largely depends on your preferences, simply because women have unique body shapes, sleeping positions, and ideas of what's comfortable.
Anyway, we'll enumerate the things that we think are important to consider before you buy a pregnancy or maternity pillow. So if you're ready let's discuss them each in turn:
1) Size
There are plenty of sizes you can find for pregnancy pillows, from small wedge-like pillows to the large U-shaped ones. Some of them can even be too large for your bed
Additionally, if you have a partner, you wouldn't want to get an oversized pillow that takes away his bed space — unless, of course, he's cool with it.
Most shops, including the ones we've listed here, indicate the dimensions of their pregnancy pillows. It helps to know the size of your bed before you buy them.
2) Material
For pregnancy pillow covers, polyester and cotton fabrics are the most common. However, polyester gets warm faster since it's less breathable than cotton.
Velvet covers are not only elegant and soft but are also durable. They won't fail to add a nice, classy look to your bedroom or couch.
3) Support
Support is vital to your choice of a maternity pillow. Your growing belly needs support, especially if you're already 6-9 months into the pregnancy.
That adjustment can make you feel back, hip, shoulder, or neck pain. However, this can be prevented or lessened to a degree by using the appropriate pregnancy pillow.
What sort of pillow should you look for then? We suggest U-shaped pillows as these provide all-body support and keep you from sleeping on your back.
Another excellent option would be to get C-shaped body pillows. They are specially designed to fit a woman's body, offering uncompromised support and relieving comfort.
4) Wash-Friendly
Wash-friendliness is another thing to look for in a pregnancy pillow. Find one that has a zipper cover so it can be easily removed and washed to keep it clean and odour-free.
Make sure to read the care label to avoid damaging the fabric and ensure you get good use out of the pregnancy pillow for the years to come.
5) Price
The price for maternity pillows typically ranges from $50 to $100 — and these are already good ones. But other premium pillows have a higher price tag of up to $300.
The wedge pregnancy pillows are affordable at around $50; side sleeper pillows usually cost around $45. These have great value for money.
You don't always have to go for the ones with the higher price. As long as the pillow has the support, size and comfort that you need, go for it!
The Best Pregnancy Pillows in New Zealand
Now that you know what to look for a pregnancy pillow, allow us to show you the best pregnancy pillows in New Zealand!
1) Nova Convertible Pregnancy Pillow & Baby Nest (Grey)
Safe and Medically-Approved Maternity Pillow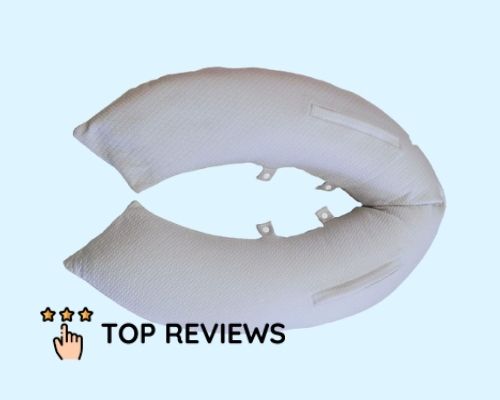 Price: $295.38
The Nova Convertible Pregnancy Pillow is specially designed by the Love N Care team and medical professionals with the baby's safety and well-being in mind.
It gives back and belly support for pregnant mums who like to sleep sideways or in the fetal position. It feels comfortable and soft and will cradle both you and your little one.
Using the baby nest, the pregnancy pillow can be converted into a breastfeeding cushion that provides extra support for your baby as you hold him in your arms.
Your baby can sleep and dream cosily without a care in the world. The dorsal head even cushion supports the baby's head in a safe and proper way.
This pregnancy pillow is 70% cotton and 30% polyester filled with microbeads inside. Made in France, it's one of the best pregnancy pillows in New Zealand you can get!
Pros
Convertible pillow into pregnancy pillow, breastfeeding cushion and baby snuggle chair
Great quality
Offers excellent safety and support
Cosy and soft to sleep in
Cons
Higher price than most others
Only one colour available
2) Pregnancy Maternity U-Shape Pillow (pink + blue)
Best U-Shaped Pregnancy Pillow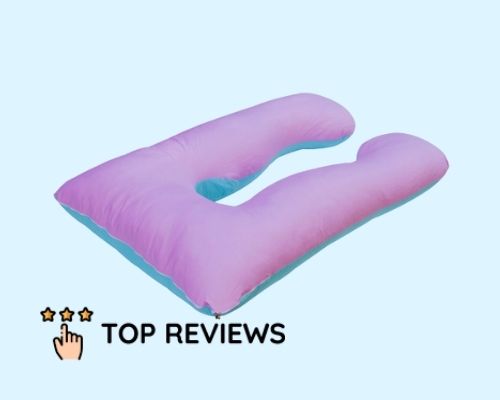 Price: $49.99
With the Pregnancy Maternity U-Shaped Pillow, mums-to-be with their growing bumps can slumber in ultimate comfort. It's in the dreamy unicorn colours of blue and pink.
The maternity pillow has a contoured shape that supports your upper and lower body, your back and knees. Filled with polyester, it feels very soft and comfortable to use.
Its design prevents you from sleeping on your back, which can cause discomfort. Also, after you've given birth, the versatile pillow can provide support when you're nursing your baby.
Furthermore it measures 4.46 feet long and 2.62 feet wide, which can take up a bit of space and seriously diminish the amount of bed real estate left for your partner — but with the comfort you're feeling, he's less likely to mind it.
Pros
Great total body support
Soft and comfortable
Versatile maternity pillow
Gentle, attractive colours
Decent price
Cons
Can take away a bit of space from your partner
Polyester filling can be warmer than cotton ones
3) PharMeDoc C-Shaped Pregnancy Pillow (Mint Green)
Best C-Shaped Pregnancy Pillow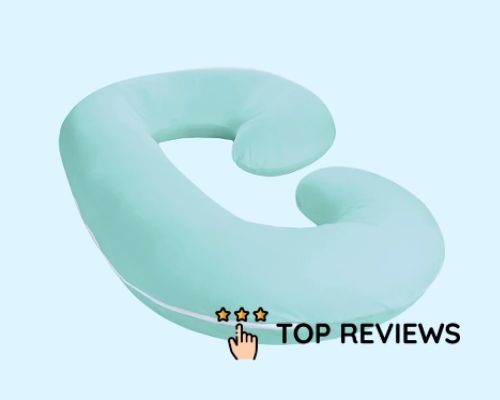 Price: NZ$545
If you want a pregnancy pillow that lets you have a good night's rest free from body aches and pains, then the PharMeDoc C-Shaped Pregnancy Pillow could be for you.
Its C-shaped design lets you side-sleep in a secured position, preventing you from lying flat. This will ease the pain you're feeling in your back, legs, hips, sides and neck.
However, it's not just for sleeping, as it can be configured in many ways. You can comfortably sit up on the pregnancy pillow to watch TV, read a romantic novel or nurse your little one.
Not only that, but the jersey knit zipper cover can be removed for cleaning in the washer. Other colour options include gray, light gray, light pink, and light blue.
Now you won't need to put several pillows around you all at once.
Pros
Full-body support
Helps you to sleep better
Multi-function
Machine-washable
Cons
Customer Reviews
PharMeDoc C-shaped pillow has been well-received on Amazon. It was described by users as being very supportive, soft and comfortable even when you sit up on it.
However, it also had its detractors: one client mentioned the pillow was neither soft nor fluffy because it collapsed when she laid her head or knees on it. Fortunately, this seemed to be a minority experience.
Anyway, let's see an excerpt from Cole's review:
"If you are pregnant woman (yes I assumed your gender), you will immediately fall in love with this pillow. It is soft, supportive, and of great quality. You will be toting it everywhere with you and likely unable to sleep without it. I cannot think of ANYTHING I have bought my wife that she enjoys more than this particular pillow."
And another snippet of review from Adrena Anderson:
"The pillow was great for sitting up in bed, and resting my feet. I never got overheated while using the pillow which was great and a huge plus, the price point was great and when it arrived I didn't have to put in too might work to fluff and get ready for use."
4) Boppy Pregnancy Wedge
Most Affordable Pregnancy Pillow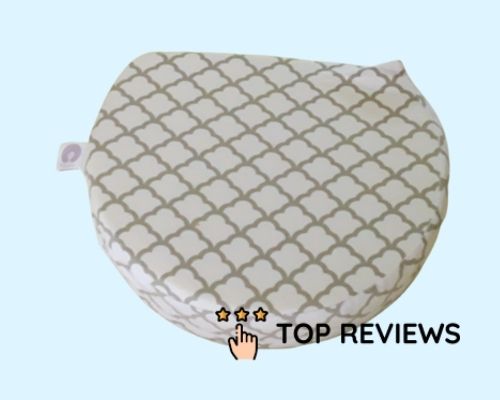 Price: NZ$55
If the U- or C-shaped pillow is not your thing as you like something more compact and lightweight, then the Boppy Pregnancy Wedge is perfect for you.
The inclined wedge pillow is both versatile and supportive. It helps to support a pregnant mum's baby bump, can be placed between the knees, or behind the back.
Its lovely scallop pattern can blend in any background like your bedroom, living room and car. You can take it with you wherever you go without it taking up much space.
Also, the cotton pillow cover can come on and off without any fuss. Yes, it's totally safe to put in your washing machine!
Pros
Fantastic support for baby bumps
Firm but comfortable
Lightweight and compact
Can be used for different purposes
Machine-washable
Cons
Can be small for some users
Customer Reviews
Earning 4.6 out of 5 stars on Google, it's one of the best pregnancy pillows in New Zealand. Users cited how much the pillow had helped them during their pregnancy.
Here's one review from Leng Family:
"This little pillow is helping me get a good night's sleep again.
The firmness is just right to provide support, but still be comfortable. I also like that it comes with its own removable cover. You can hardly feel the pilllow while you're sleeping on it – it's so comfortable and non-invasive, it's almost as though it wasn't there!"
And another user, Beth, shared:
"It's magic, I swear! I use it under my bump. It's small enough that I can sleep on it and still cuddle with my partner, which wasn't an option at all with the wall of body pillow between him and I previously. I'm considering ordering a second one to place behind my back, because I sometimes find that I've rolled into my back in my sleep; if I'm awake enough I move the wedge to the small of my back before rolling, but having a second wedge would be more convenient =)"
5) Leachco Back 'N Belly Pregnancy Pillow
Most Versatile U-Shaped Pillow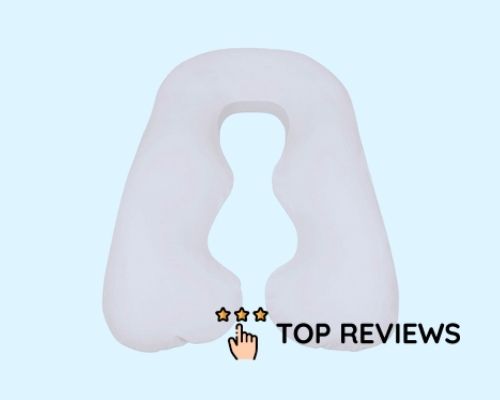 Price: NZ$144
As the months go by, your growing tummy and your back will require more support. One great product for this would be the Leachco Back N' Belly Pregnancy Pillow!
Your body shape fits snugly and comfortably within its hold. In using it, you won't feel the heaviness and pressure exerted on your joints and muscles.
Versatile and comfortable, it can be configured in unique ways. Beside side and back sleeping, Back N' Belly can be reversed for a double decker head support.
Sleeping with this pillow will also help prevent a range of symptoms such as heartburn, sciatica, carpal tunnel, nasal congestion and acid reflux (as the pillow is slightly higher than average).
You'll have a great night's sleep without perturbation and an aching body. Also, you'll wake up refreshed and happy for yourself and your little angel.
Pros
Cradles and supports your back and tummy
Versatile and cosy
Helps prevent a range of health symptoms
Gives you a great night's sleep
Removable pillow liner
Cons
Weighs more than most pillows at 7 lbs
Slightly higher price than average
Customer Reviews
Thus far, reviews have been mostly positive, with many clients praising the comfort and support it gave them for the back, tummy and knees.
While others have complained about the painful seam design on the neck part, it was remediable by adding a pillow on there. Still, it hasn't been a problem for some clients.
Here's an excerpt from the review of one buyer, Alana:
"It makes sleeping on my side so much easier, and natural. The pillow conforms right to your body, providing perfect support on both sides for back and belly. It's so comfortable and soft! I got the grey Jersey cover and love it."
Also, Kari commented:
"Got this pillow when I was 21 weeks, after suffering from horrible hip pain. I tried regular pillows between my knees but they'd always get kicked around, so they never helped. After two nights with the Back 'N Belly pillow, my hip pain is completely gone. It is God's greatest invention. I only wish I had purchased it sooner."
And that'd be all for the best pregnancy pillows in New Zealand. These cuddly and supportive pillows will ease your discomfort and pain while you're expecting a baby.
What did you think of our list? Share with us your thoughts or any questions, and we'll get back to you shortly.
What's more, you may be interested in the best baby monitors in New Zealand. This lets you see what your child is up to at any time — some even let you play a sweet lullaby for him.