The 6 Best Pressure Cookers in NZ
Pressure cookers cut your cooking time by more than half and produce great results. If you need one, we've put together a list of the best pressure cookers in NZ for you!
But before we go any further, we'll delve into the factors you have to consider when buying a pressure cooker. This will help you find the right one from our list later that meets your kitchen needs.
What to Look for in a Pressure Cooker
Here are the things that you need to consider to buy the right pressure cooker:
1) Performance
When shopping for pressure cookers, it's vital to know if a pressure cooker can cook food quickly and effectively.
It's hard to know this unless you can test the cooker yourself. But our featured products here are carefully chosen based on research.
Generally, Instant Pot is the undisputed champ when it comes to pressure cooking. Their pressure cookers cook meat, stews, soups, and vegetables superbly.
Other reliable brands that rival Instant Pot's cooker performance are Ninja and Crock-Pot.
That said, it's not all in the brand. You have to test different models from the same brand too!
2) Cooking Functions
It's great to be able to cook different kinds of food. Multicookers are a solution for that since they let you do everything from steaming to pressure cooking.
Having more functions means cooking can be easier, faster, and more enjoyable. But a multicooker may be better with some functions compared to other ones, so don't expect it to do everything perfectly.
It's quite handy too to have the freedom to adjust the timer and temperature. This way, you can customise your cooking to suit your exact taste and preference.
3) Capacity
Capacity is another factor you should consider in a pressure cooker. The larger the capacity, the more servings of food that you can cook and serve for your family.
You can find pressure cookers or multicookers with 3 to 10 litres of capacity. Larger cookers usually sell for higher prices, though this is not always the case.
For most people, 6- to 7-litre pressure cookers are more than enough.
4) Ease of Use
Apart from performance, capacity, and functions, a pressure cooker should also be easy to use. Easy-to-use pressure cookers just let you set and forget them.
A delayed timer, a light lid, and soft buttons are some of the features that can make cooking simpler. The instruction manual also has to be clear and understandable for you.
5) Safety Features
Safety features for pressure cookers reduce the chances of accident and burn hazards. Examples are a locking lid, auto-pressure release, auto shut-off sensors, and others.
You should look for these features when you get a pressure cooker or multicooker. They will give you peace of mind whenever you're cooking.
The Best Pressure Cookers in New Zealand
Now that you know how to buy a pressure cooker, we now present to you our top-rated pressure cookers in NZ!
1) Instant Pot Duo Crisp, Air Fryer & Pressure Cooker (7.6 L)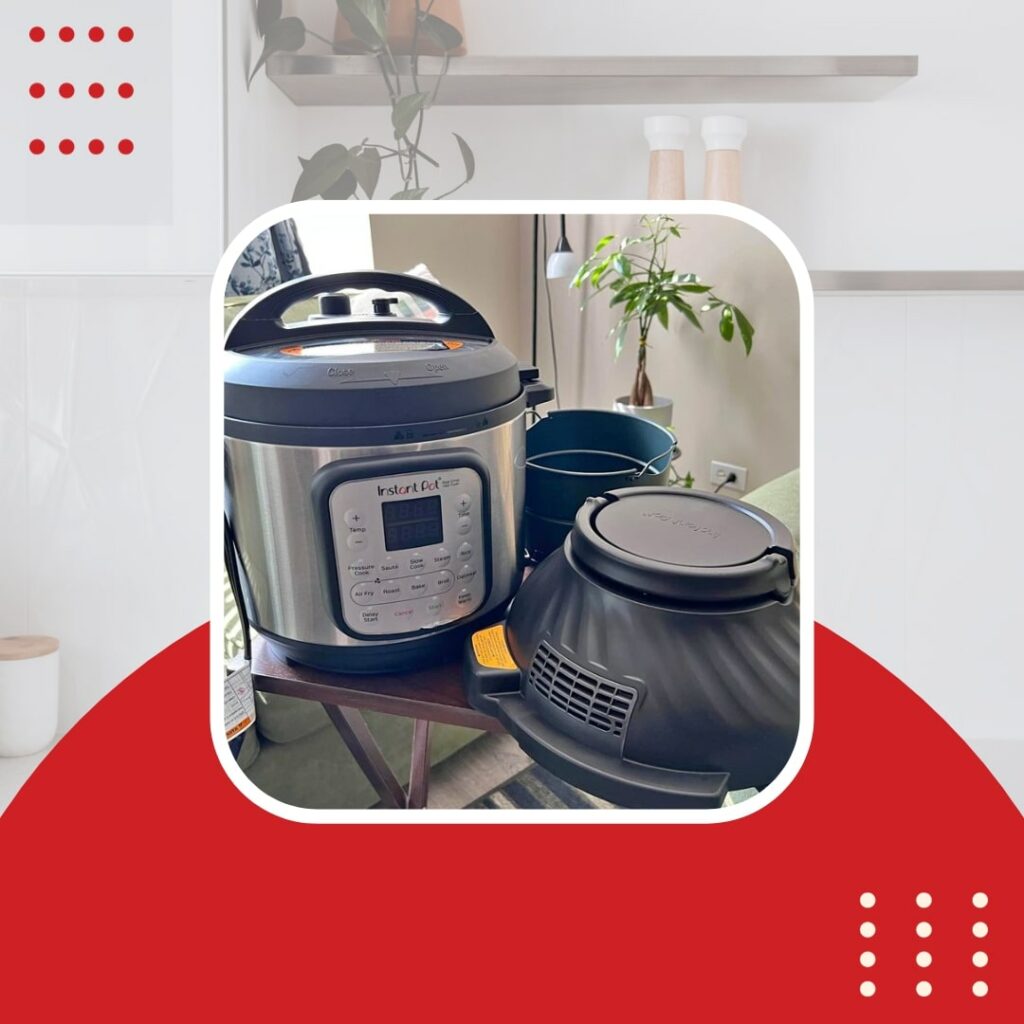 Best for
Air-frying pressure cooker
No. of functions
11
Capacity
7.6 L
Dimensions
With air-fryer lid 37.5 × 34.5 × 38.8 cm (L x W x H)
With pressure cooking lid 37.5 × 34.5 × 36 cm (L x W x H)
Weight
10.02 kg
Price
$399.99
With 11 cooking options, including pressure cook, sauté, and air-fry, you can make all sorts of delicious food using the Instant Pot Duo Crisp, Air Fryer, and Pressure Cooker.
The simple buttons of the cooker suit both novices and chefs alike. It comes with an array of safety features, including a steam release handle, safety lid lock, and overheat protection, among others.
With a 7.6 L capacity, this smart multicooker from Instant Pot is ideal for large families. Sure, it may not be the cheapest model around, but for feeding lots of people, this is a great investment.
11-in-1 functionality
Ideal for large families
Simple to use for novices and chefs
A host of safety features
Expensive
The air fryer basket is prone to scratches
2) Philips Deluxe All-In-One Cooker (6 L)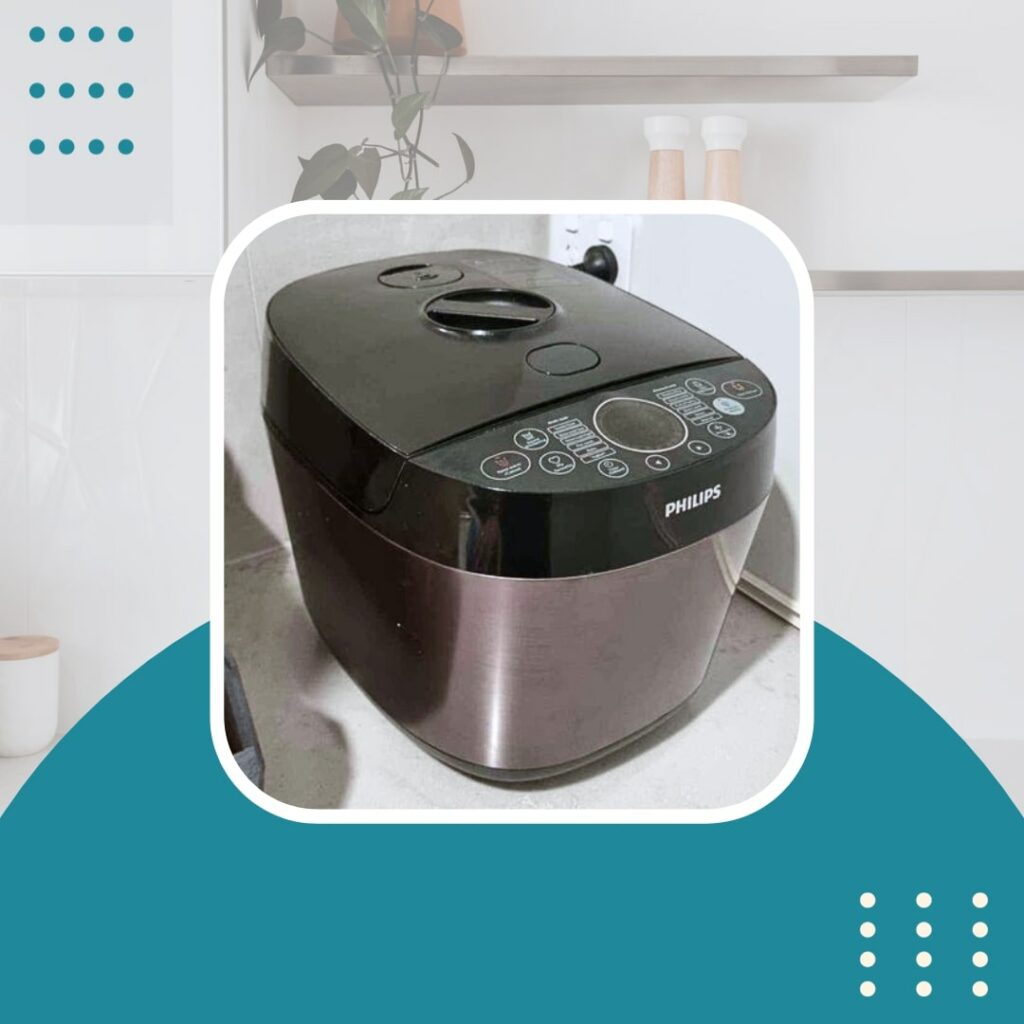 | | |
| --- | --- |
| Best for | Fully customisable pressure cooker |
| No. of functions | 11 |
| Capacity | 6 L |
| Dimensions | 49 x 35 x 37.1 cm (L x W x H) |
| Weight | 9.15 kg |
| Price | $199 |
For simple and affordable cooking, the Philips Deluxe All-in-One Cooker is a great option!
It comes in a shiny-black, stylish, and round design. It has organised buttons and beautiful visuals that indicate the pressure level, cooking time, lid lock, and the like.
You can set the appliance on any of 11 cooking modes to make anything from rice and risotto to flavoursome stews and delightful desserts.
The pressure and slow cooker even has unique buttons for Sauce Thickening and Add Ingredients.
Moreover, the My Favourite button allows you to save your previous setting. This allows you to get consistent food textures and tastes.
Its only downside is that most of the buttons are pre-set, meaning you can't customise your cooking to be precisely just the way you want it.
Versatile multicooker
Classy, premium design
Has many safety features
Non-stick pot
No lid on top
Cooking time and temperature not customisable
3) MasterPro Stainless Steel Electric Multicooker (6 L)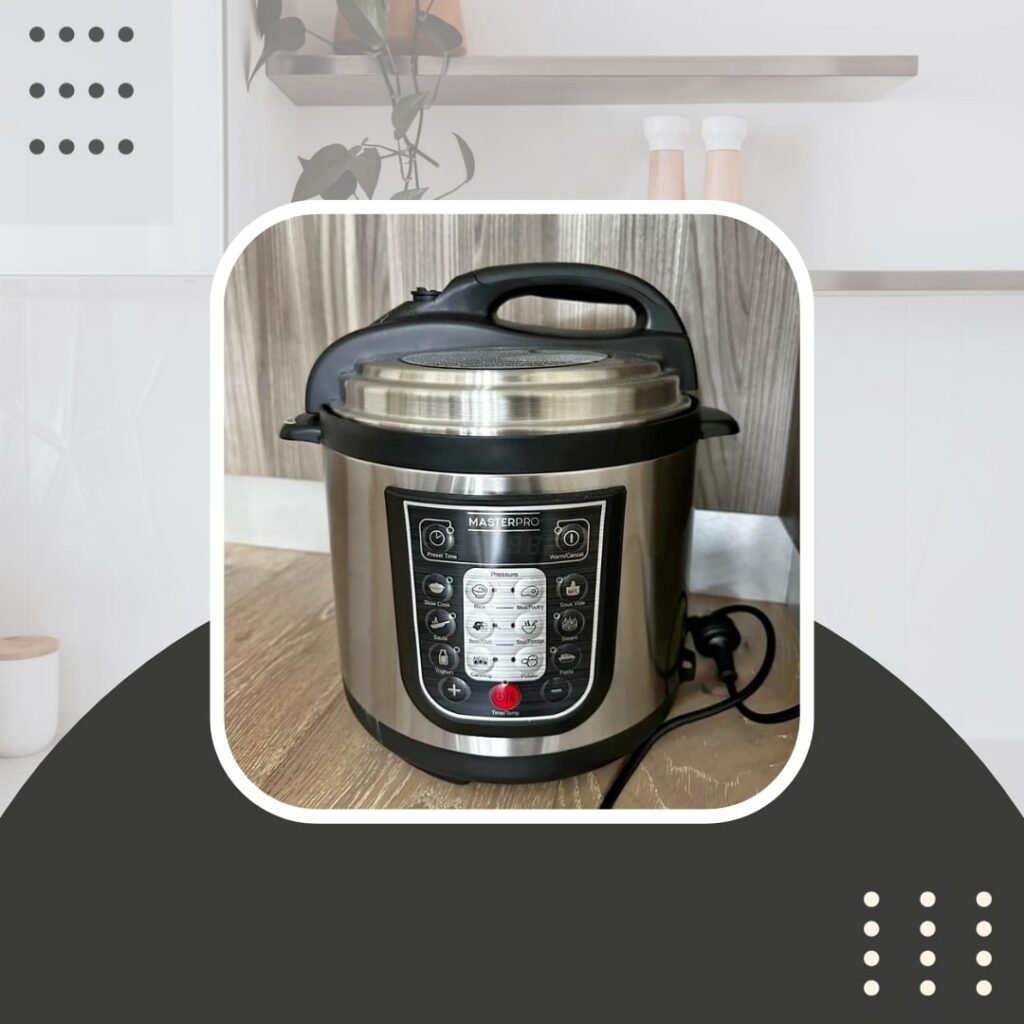 | | |
| --- | --- |
| Best for | Value pressure/slow cooker |
| No. of functions | 12 |
| Capacity | 6 L |
| Dimensions | 34.5 x 31 x 32.5 cm (L x W x H) |
| Weight | 6.36 kg |
| Price | $163.11 |
The MasterPro Stainless Steel Electric Cooker is an underdog pressure cooker or multicooker mode that can compete with the best pressure cookers in NZ.
It features 12 preset programmes and adjustable cooking temperatures for impressive results. Its pressure and floating air valves make your pressure cooking a breeze.
A countdown timer enables you to cook food and leave it for a bit to do your other tasks and the keep-warm function keeps the stew or rice hot right at dinnertime.
It has a neat stainless steel body that is a good addition to your kitchen. Besides that, it takes up less space on your countertop compared to other pressure cookers.
It's also easy to use and pretty reliable, in our opinion. Accessories include inner pot, steam rack, rice paddle, soup spoon, measuring cup, and manual.
Affordable
Simple to operate
Dishwasher-safe accessories
1-year guarantee
Build quality isn't as premium-feeling as others
Customer Reviews
This product is definitely worth the price. Here are some reviews of the MasterPro Electric Multicooker from Kitchen Warehouse.
One satisfied customer named Trish wrote this comment:
"So far I am extremely happy with my Multi Cooker. I have tried a few dishes and have all come out good. Will be doing different dishes over the next few months when I have time to look these up. The only disappointing thing was the small amount of dishes listed in the small booklet. Would have preferred to get a nice book with plenty of recipes."
And here's what Wendy has to say:
"I bought this multifunction pot and it's deffinalty the best pot out there. It is so good that I bought myself one and two for presents. It is so easy to use just love it, my only problem is that one of the pots the teflon is now peeling and is only just over 6 months old. The other two seem to be fine at this stage."
4) Commercial Grade Stainless Steel Pressure Cooker (3 L)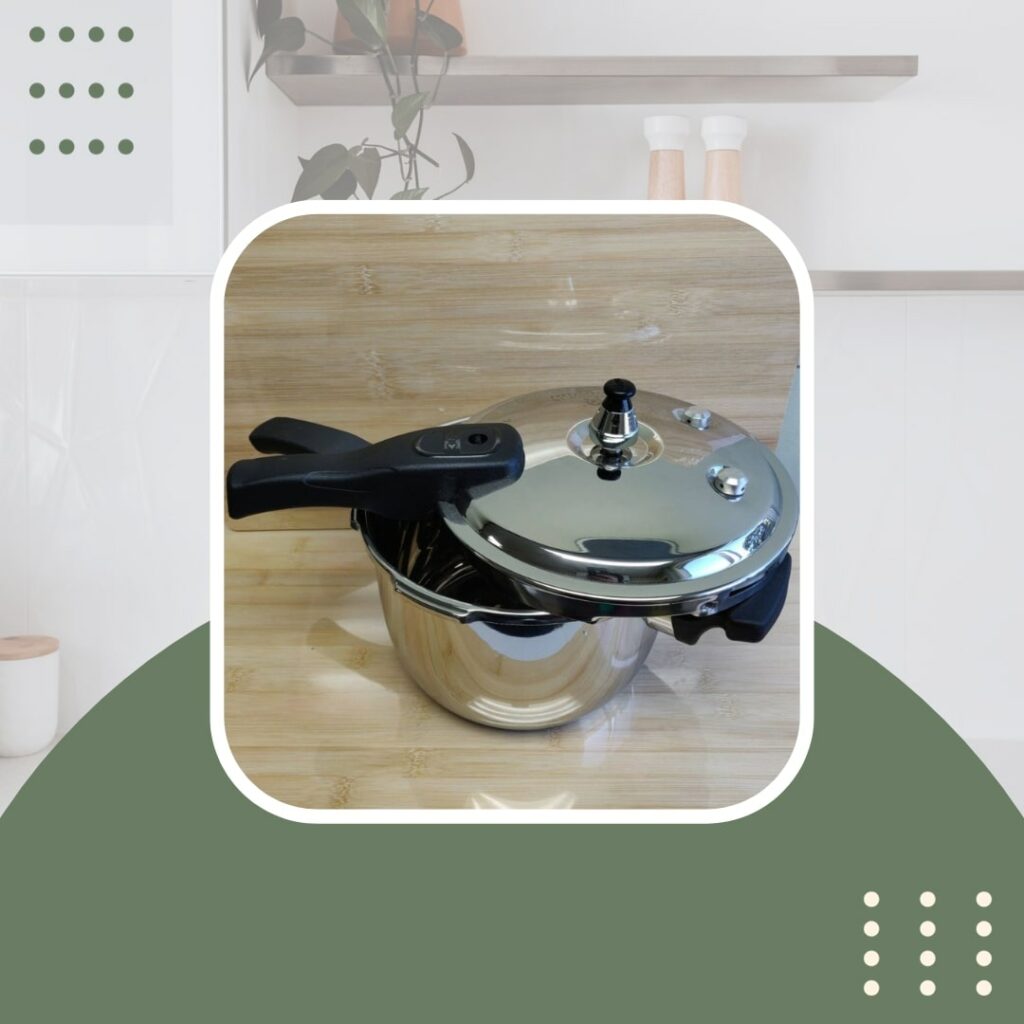 | | |
| --- | --- |
| Best for | Manual pressure cooker |
| Capacity | 3 L |
| Diametre | 18 cm |
| Weight | 2kg |
| Price | $161 |
If you prefer a classic pressure cooker instead, then this nice stainless steel pressure cooker might be for you.
The pressure cooker is suitable for all sorts of stovetops, including induction and gas hobs. It has a thick base made to withstand everyday heating and cooking.
With the easy-grip handles on both sides, you'll never have difficulty lifting it. The quality vent regulator will even give a whistle to indicate max pressure from within.
Plus, it has a 3-litre capacity great for making small dinners. But if you need a bigger size, 4-, 5-, and 8-litre cookers are also available on The Market.
Stainless pressure cooker
Heavy-duty
Easy-grip handle
Thick base
5) Crock-Pot Express Crock XL Multicooker (7.6 L)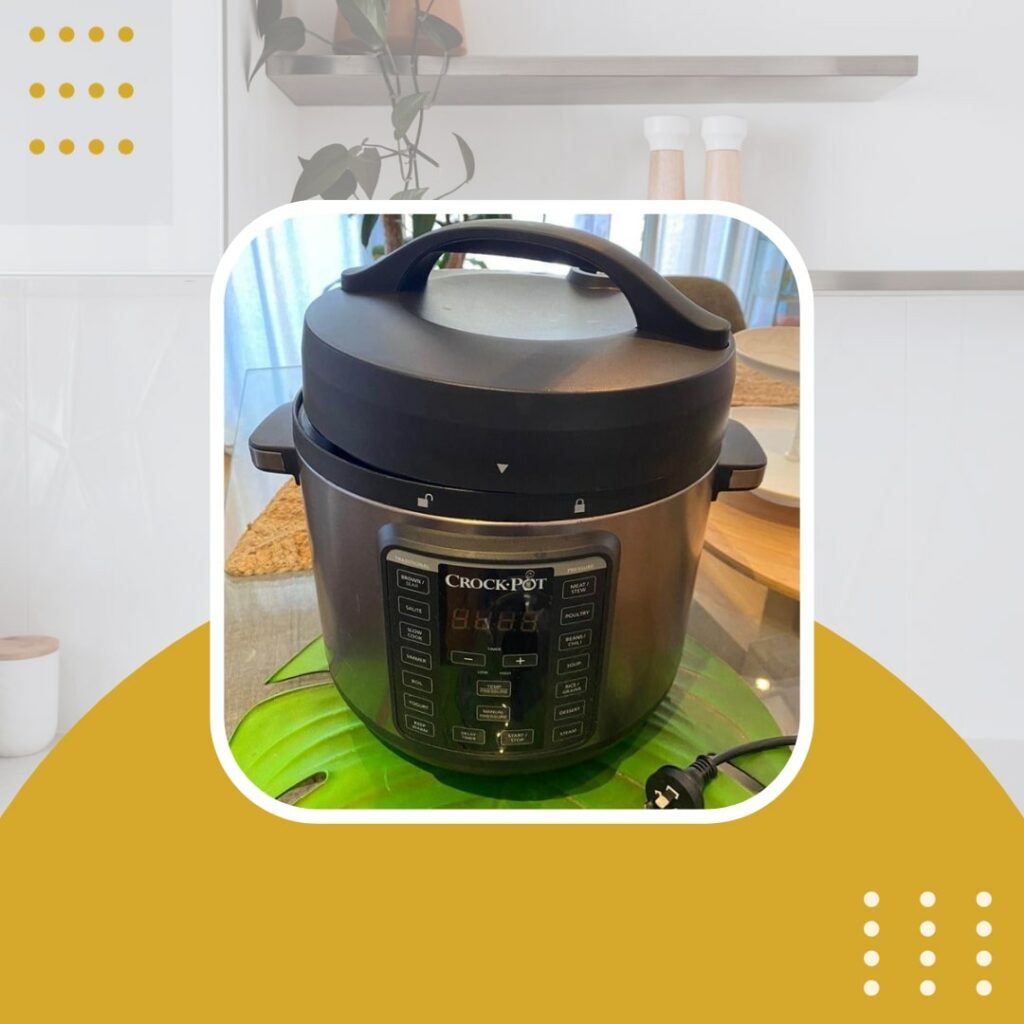 | | |
| --- | --- |
| Best for | Remarkable food quality |
| No. of functions | 14 |
| Capacity | 7.6 L |
| Dimensions | 37 x 35 x 39.5 cm (W x D x H) |
| Weight | 9.2 kg |
| Price | $199 |
Crock-Pot is leading the market with the Express Crock-Pot XL Multicooker. It has everything you can possibly need—versatility, safety, style, simple controls, and value.
It has 14 cooking functions including pressure cook, slow cook, brown/sear, simmer, sauté, boil, and steam.
The inner pot is dishwasher-safe and non-stick, so you won't have a hard time cleaning it. We found operation fairly simple.
Having 7.6 L of space, the appliance allows you to serve up to 12 people. It is more than capable of making gourmet meals and desserts that will amaze your guests.
And it comes with these: a spoon, steaming rack, and measuring bowl. You can also get a warranty for up to a year for this outstanding cooker!
Versatile appliance
Great capacity
Dishwasher-safe cooking pot
Weak sealing
Can have error messages sometimes if you fiddle with the controls too much
Customer Reviews
There were complaints about the weak gaskets and error messages. That said, most customers said that it was a great slow cooker and pressure cooker and very simple to clean.
One buyer named Melissa wrote this feedback about the product:
"I've had the instant pot and could never get food to cook quickly enough. I've also had an off brand that I liked but it died. So I tried this one…and it's my fave so far. Cooks fast – love love love it."
Furthermore, here's another review from a satisfied customer:
"After a lot of research, I purchased the Crockpot 8 quart Multi cooker. It was delivered yesterday and I was afraid that I'd be like most people and leave it in the box for months. Instead, I went to the grocery store and bought $200.00 worth of meats, vegetables and rices to cook….figured it was better to pressure myself into cooking. My first meal was baby back ribs, which cooked in 40 minutes and were fall off the bone tender. My husband didn't see the need for a pressure cooker, but now he's convinced that it was the best investment ever! Cooking pulled pork Carnitas tonight and can't wait to try them.
The only thing I would change is I wish I had bought the 6 quart. The 8 quart is really big for two people."
6) DesignPlus Pressure Cooker 9Ltr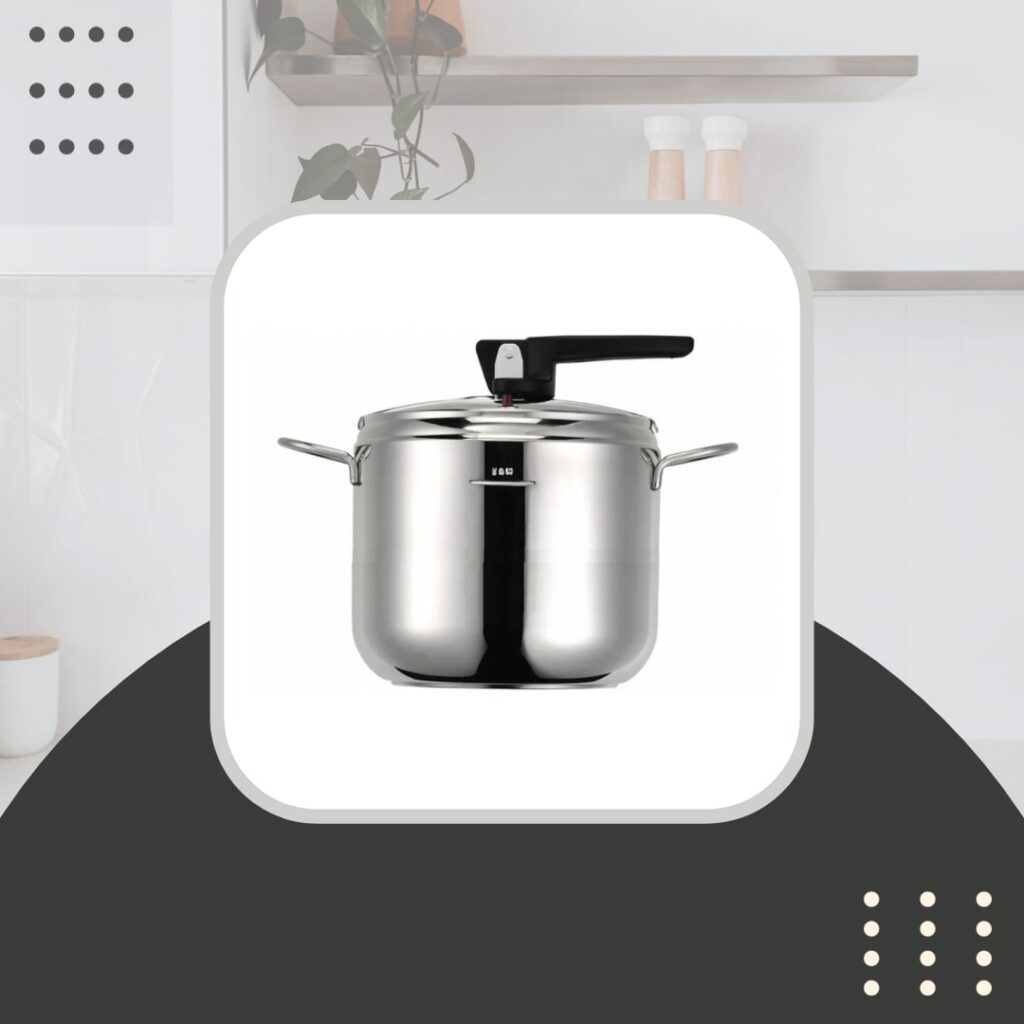 Best for
Pressure Cooking on Any Type of Stove
No. of functions
1
Capacity
9 L
Dimensions
22 cm (diameter)
24 cm (height)
Weight
Enquire for more information
Price
$166.00
For a pressure cooker that's simple and no-fuss, there's nothing better than DesignPlus Pressure Cooker 9Ltr. It allows its users to cook food using a faster and more natural method.
This stainless steel pressure cooker can be used on any kind of heating plate, may it be gas, electric, ceramic, or induction. Meanwhile, it's triple layer base allows for equal heat distribution, ensuring even cooking on all sides.
Best of all, this item is dishwasher safe, making it easy to clean and maintain. This is the perfect kitchen partner for people looking to eat healthier.
Made with quality stainless steel
Reduces cooking times up to 75%
Easy to cook and clean
Dishwasher safe
FAQS about the Top Pressure Cookers in NZ
---
And those were the top pressure cookers in NZ at the moment. With them, you will get to cook a wide variety of foods within a shorter amount of time than ever!
Do you have any questions about the products? If you do, kindly let us know and we'll get back to you promptly.
Looking for an air fryer? You may also want to check our list of the best air fryers in New Zealand, so you can cook and enjoy fried food without any guilt.