The 8 Best Private Investigators in Auckland
Sometimes there are things that have to be done in order to protect ourselves and our assets. If you feel like this and want the help of a private investigator for your situation, we can help. We looked around and found the best private investigators in Auckland for today's list.
There are many things that a private investigator can do. It can be as simple as keeping tabs on fraudulent employees to bringing a master criminal to justice.
Anyway, we picked the firms that have closed the most cases successfully with great reviews from people. Here are the best private investigators in Auckland:
1) Moratti & Associates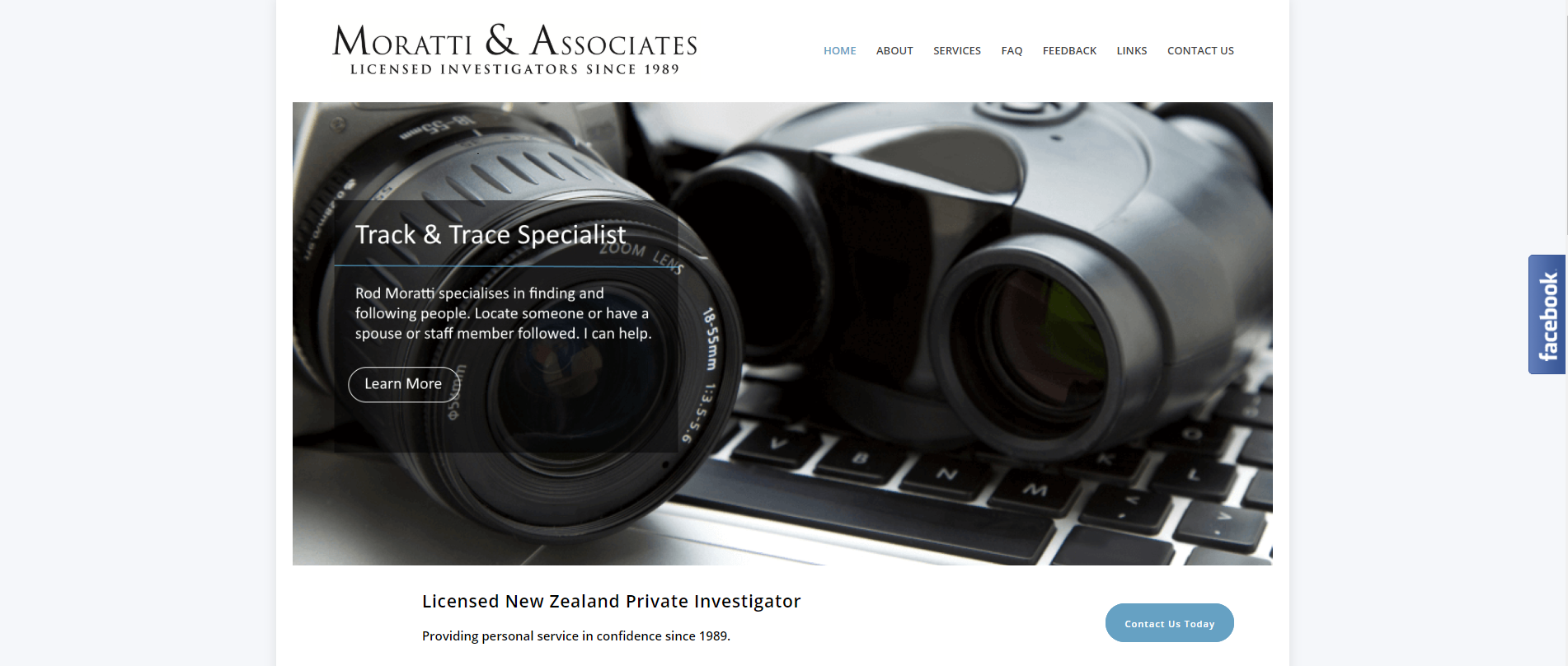 Moratti & Associates, Licensed Private Investigator since 1989.
Rod Moratti was first licensed as a Private Investigator to the New Zealand Ministry of Justice in 1989 and continues to provide expertise and personal service.
When other PI's can't find someone they turn to Rod Moratti as the best in the field.
Highlights
Rapid, cost-effective information
Personal service
2) The Investigators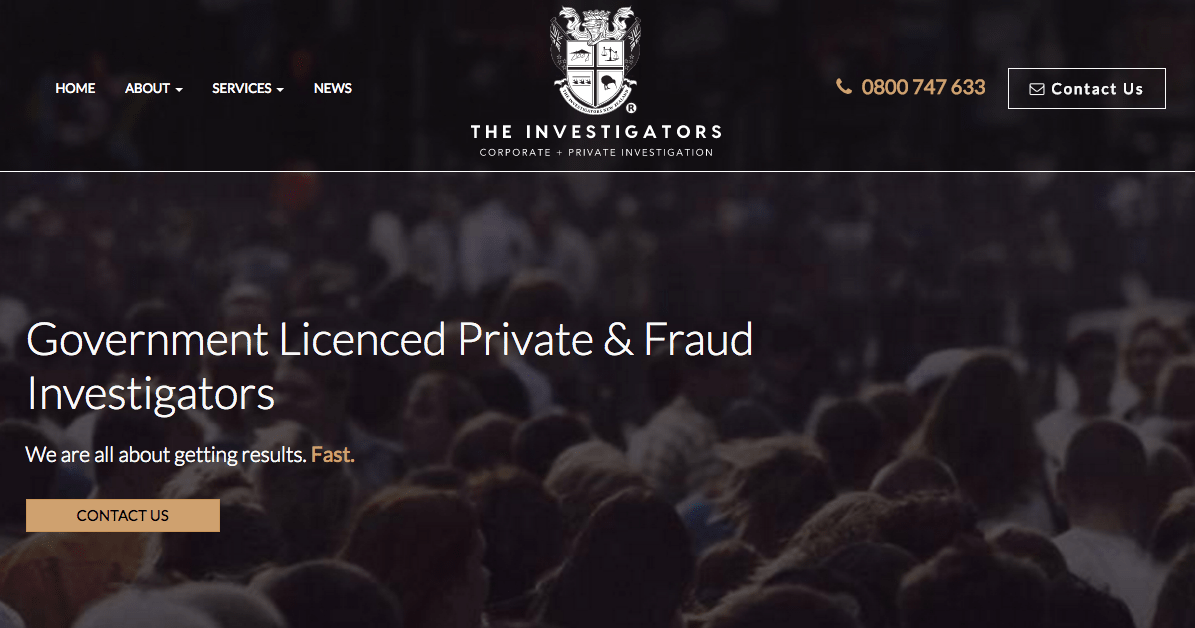 | | |
| --- | --- |
| Areas covered | New Zealand-wide |
| Services | Legal, Private and Domestic, Cybercrime, and Business Investigations |
| Address | Level 1, 22-28 Customs Street East, Britomart, Auckland 1010, New Zealand |
| Contact no | 0800 747 633 or +64 9 3576644 |
| Website | https://www.theinvestigators.co.nz/ |
If you need someone to serve your legal documents to an evasive person, call the Investigators. They have some of the best private investigators in Auckland and can work with a global network of detectives.
They offer private, business, cybercrime, and legal investigation services. Their ultimate goal is to protect you, your property, assets, and company to let you make a well-informed decision.
The investigators, Mike Gillam, Daniel Toresen, & Daniel Thompson treat your case with confidentiality. And they are well-practised in the field of investigation and security.
Highlights
World class investigators
Diverse range of services
Can relate to people from all backgrounds
Drives excellent results
Customer Reviews
Here's Rauf Yousaf from the testimonial page on The Investigators website:
"If ever you need to find someone in a hurry in New Zealand, contact Mike Gillam and his team. You cannot ask for a more professional and effective investigation team. They found a fugitive from justice who had evaded authorities from multiple countries over many years within a week. The speed with which he was tracked down despite a fake identity and changed appearance was amazing. The information was instrumental in leading to his capture and extradition. Thank you Mike."
3) Julia Hartley Moore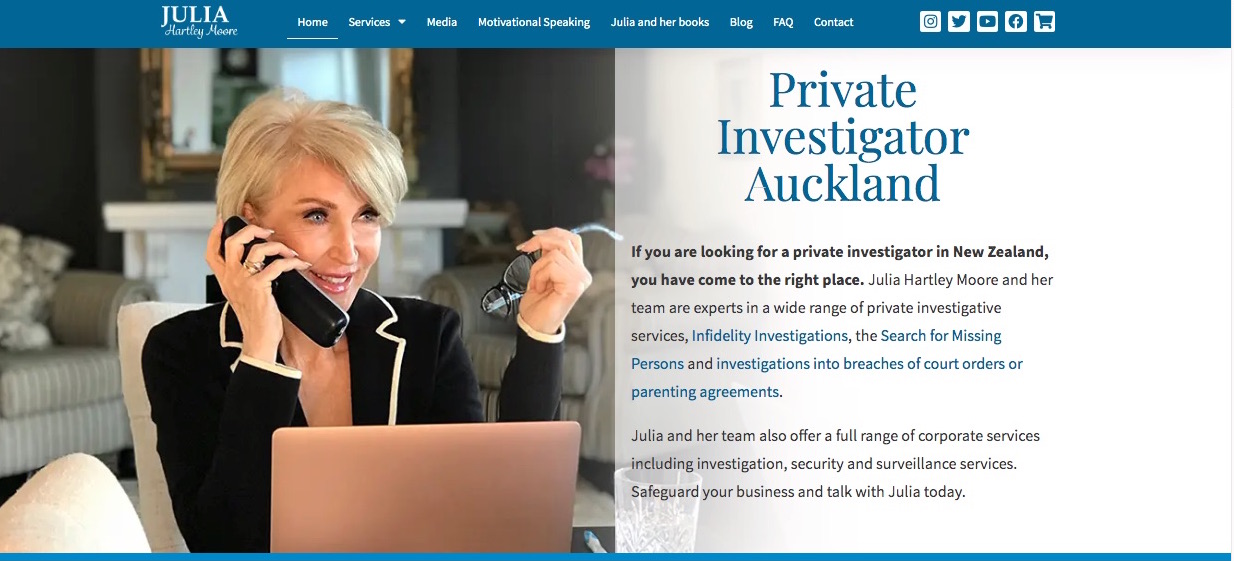 | | |
| --- | --- |
| Areas covered | New Zealand-wide |
| Services | Infidelity, Missing Persons, Computer Forensics, Corporate Services, Child Custody Cases, and Motivational Speaking |
| Address | Auckland, New Zealand |
| Contact no | (09) 536 5500 or (0274) 882802 |
| Website | https://juliahartleymoore.com/ |
One of the issues that cause a dark, brooding emotional pain is infidelity. Here, Julia Hartley Moore can investigate whether or not your partner is having an affair with someone else.
This is her specialty, although she also offers corporate and computer forensics. For instance, she can help you track your biological parents or gather authorised evidence from your phone or laptop.
One of the best private investigators in Auckland, she has also written a book entitled Infidelity to help women and men recover from the hardships and emotional trauma of a cheating partner.
Highlights
Infidelity private investigator
Expert and knowledgeable team
Writer, radio host, and motivational speaker
4) Auckland Investigations and Document Servers Ltd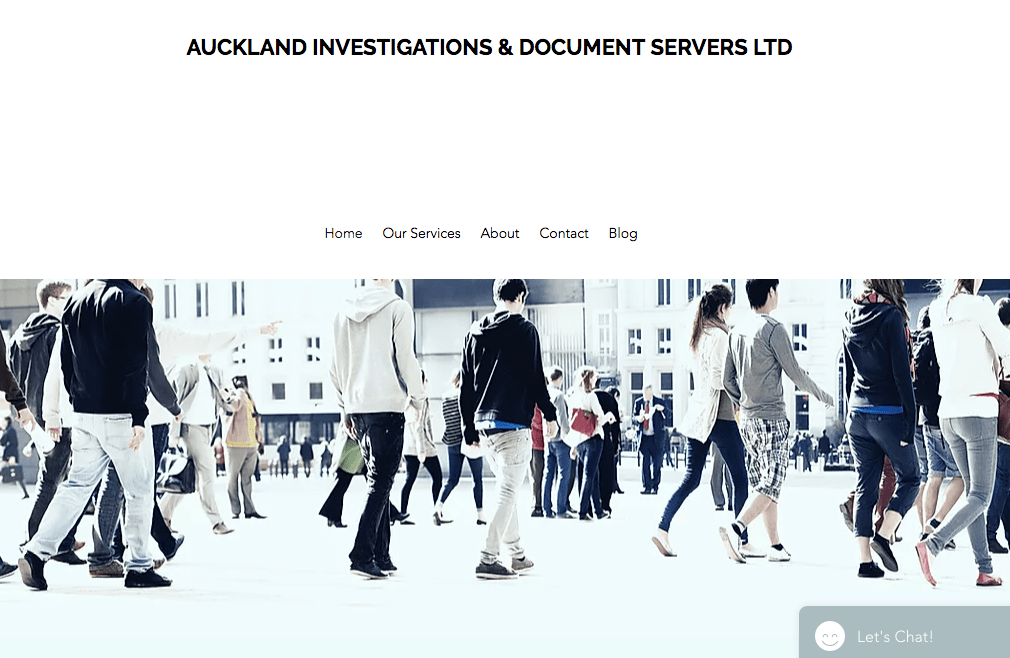 | | |
| --- | --- |
| Areas covered | Auckland and throughout New Zealand |
| Services | Process Serving, Tracing, Background Checks, Surveillance, Investigations, Re-Entrys, Repossessions, Debt Collection, Meth Testing, and Workplace Drug Testing |
| Address | 1/1 Parliament Street, Auckland CBD, 1010, New Zealand |
| Contact no | 0800 746384 |
| Website | https://www.aucklandinvestigations.co.nz/ |
Auckland Investigations is a private investigation agency located in Auckland CBD. Their team has extensive experience, although they specialise in serving legal documents.
Along with that, they can find a person through tracing. They'd be sure to find any person running away or denying that he received papers through a notarised document.
Also, they offer meth testing, which is useful when you're moving into a new house to ensure that the place is safe. Plus, they can also investigate that no worker of yours is into drugs or addictive substances.
Highlights
Nationwide network of operatives
Adept and experienced team
Can follow discreetly and snap photos
Also offers meth and drug testing
5) Paragon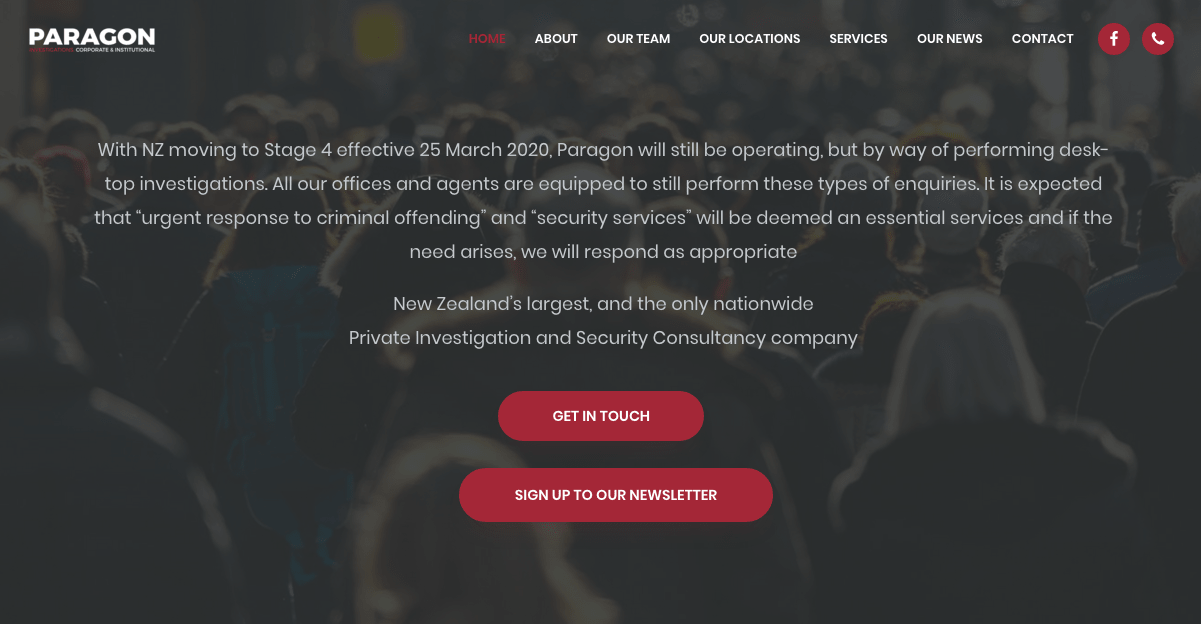 | | |
| --- | --- |
| Areas covered | Auckland and throughout New Zealand |
| Services | Commercial and Private Investigations, Surveillance Services, Security Consultancy Services, Vetting and Criminal History Check |
| Address | Kumeu, Auckland 0892, New Zealand |
| Contact no | 0800 2 Paragon (0800 272 724) |
| Website | https://paragonnz.com/ |
Working for individuals, companies, and government agencies, Paragon offers investigation services that will secure clients and their property from possible criminal acts.
They can operate at a national level since they have connections all across New Zealand. Their team is very competent in surveillance, background checking, abuse or harassment, and cybercrimes.
But they're particularly keen on tracking someone such as a family member or childhood friend. Furthermore, they can assist you in finding criminals or recovering your stolen vehicles.
Highlights
Competent team
37 years of experience
Nationwide network
Offer a diverse range of services
6) iSolve
Areas covered
New Zealand
Services
General investigation or surveillance, Document or process serving, Tracing or locating someone in NZ
Address
PO Box 48186
Blockhouse Bay
Auckland 0644
Contact no
[email protected]
09 391 1100
Website
https://isolve.nz/
iSolve is a licensed private investigation agency for anything investigation and security. They have a personal approach to investigation that is sure to put your on the right track to your solution.
As a plus, they have strategic partnerships with investigative and security experts all over New Zealand. If you're interested, contact them for a confidential chat now!
Highlights
Special offer for new clients
No obligation initial consultation
7) Secure Collections

Areas covered
North Island and South Island
Services
Service Summary, Debt Collection, Process Serving, Tracing, Enforcement of Judgements
Address
Newmarket Law Centre – L1, 19 Mauranui Avenue, Newmarket, 1051 Auckland
Contact no
+64 9-972 0034
[email protected]
Website
https://securecollections.co.nz/
Secure Collections allows you to collect your debts hassle-free. Unlike other companies, they assign a collection officer to each of their cases.
They'll be transparent and timely when it comes to reporting on their progress. With Secure Collections, you won't have to worry about getting your money back.
Highlights
High success rate
Affordable price
8) Aylett Investigations Ltd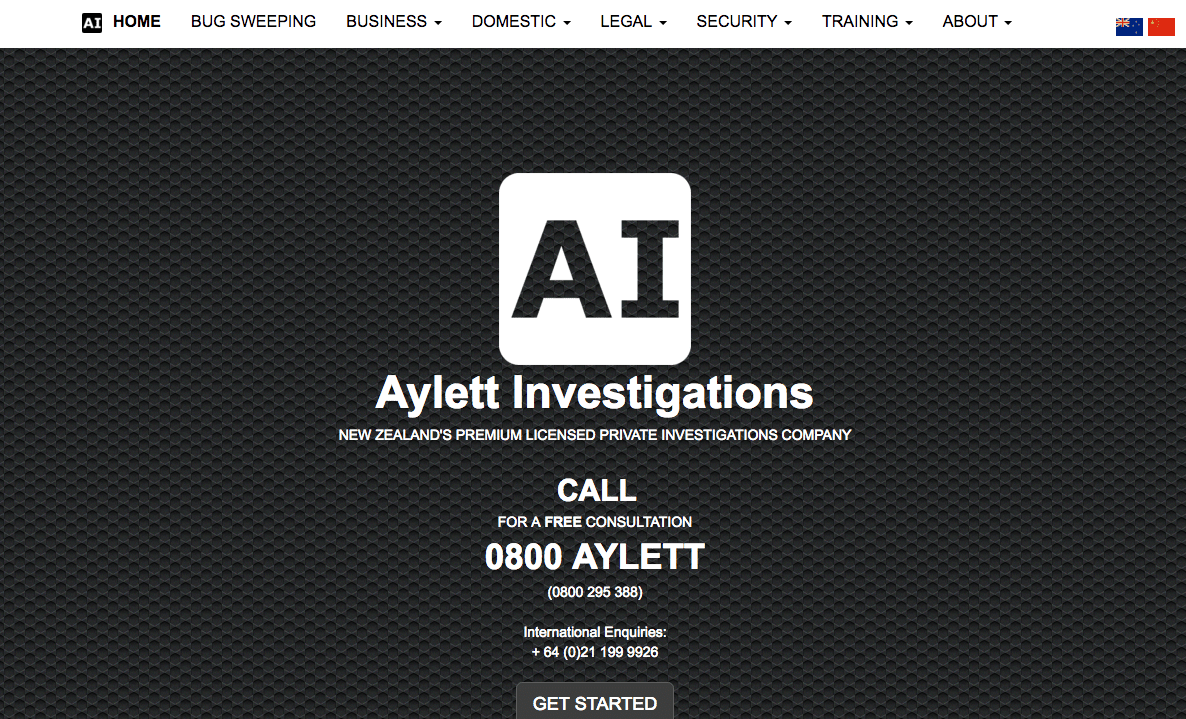 | | |
| --- | --- |
| Areas covered | Throughout New Zealand and Australia |
| Services | Business Investigation, Domestic Investigation, Legal Investigation, and Security Services |
| Address | 9 Capricorn Place, Browns Bay, Auckland 0630, New Zealand |
| Contact no | 0800 AYLETT or (0800 295 388) or + 64 (0)21 199 9926 (international enquiries) |
| Website | https://www.aylettinvestigations.co.nz/ |
If you suspect competitors are sharing your new product plans or your spouse is cheating on you, Aylett Investigations can find out the truth for you.
They have a highly experienced team of investigators. They take on individual, legal or corporate cases including employee theft, evidence gathering, hidden device removal, background checking, and missing person's cases.
Because they have a successful track record in each case they undertake, we consider them one of the best private investigators in Auckland. Plus, you can absolutely trust them!
Highlights
Highly experienced team with a police background
Experts on covert equipment
Handles private, legal, or corporate cases
Successful track record
Customer Reviews
Tony Gribble, a Google Reviewer, said:
"I would thoroughly recommend Graham to anyone wanting advice on debt collection, financial and fraudulent issues with your business and other problems you think a professional private investigator may be able to help you with. Graham runs a very professional organisation with honesty and integrity and you will be well satisfied with his results."
And that's it for the best private investigators in Auckland. As we said, these private investigators boast winning case records and have years of experience for you to benefit from.
Is everything crystal clear about the companies we included? If not, you can send us your questions and we will come back to you in a bit.
Oh, and as private investigators address legal matters, there might be a contract or document you need notarised for your case to continue. For this you can try the best notaries public in Auckland and they will get it done efficiently.