The 5 Best Projectors in NZ
Need a projector for your home or work? If you do, this is your lucky day, as we've compiled a list of the best projectors in NZ here for you!
But before we show you our list, we'll delve into the basics of buying a projector. By doing so, you'll find it easy to pick from our top product choices later on.
What to Consider When Buying a Projector
Here are the things you need to consider when getting a projector:
1) Resolution
Like computer and TV screens, projectors show content such as text, images, and videos in different resolutions.
Resolution is measured by the number of horizontal and vertical pixels. The higher it is, the clearer the picture on the screen.
Projectors can have a picture quality from WVGA (854 x 480p) to 4K DCI (4096 x 2160p), which brings ultra-sharp and detailed images, perfect for your home cinema.
A higher resolution has bigger costs, which isn't always practical if you're using the projector to show business reports and spreadsheets more than movies.
2) Light Source
Every projector uses a light source that is responsible for making the picture bright. It can use either one of these: lamp, LED, hybrid, or laser.
Lamp sources provide a good amount of light for the picture but last for a shorter time. After 500 hours, they lose a great deal of brightness and go down from there.
LED ones stay around for much longer and are optimal in the first 30,000 hours of use. Plus, they're eco-friendly and safer than lamp sources, which contain mercury.
Laser projectors are excellent in bringing out rich colour on the images. Like LED light sources, they run with less heat, meaning less fanning inside is needed.
By combining laser and LED lights, you get a hybrid light source. It translates colour from a wider colour spectrum that results in rich and beautiful image colours.
If you want the most cost-effective option, pick LED, laser, or hybrid projectors. As such, you won't have to spend a fortune on replacing the bulb of a lamp projector later on.
3) Portability
Gone are the days when you had to use a trolley to get projectors into a room. Now, there are mounted versions and those that can fit inside your pocket.
However, smaller projectors compromise a bit on the resolution and battery to be portable.
Still, you can find really good portable projectors that can play a movie wonderfully, as well as allow you to download apps, and play your favourite music.
So if you travel a lot and need to present data to your colleagues or employees, then portable projectors may be for you.
4) Connectivity
Connectivity is also important. If your projector can't connect to your source device, be it a computer, phone, or tablet, you won't be able to use it.
So make sure your projector can be plugged into the device it needs to connect to.
Also, before you buy, check the version of your HDMI ports. Newer versions of HDMI ports can play media with higher resolution and have more features.
Usually, to play 4K UHD HDR films on your projector, you will need an HDCP 2.2 port to connect it to the origin device.
5) Audio
Premium projectors have built-in speakers to play audio on, while portable ones often don't have them.
Because built-in speakers aren't often of good quality, you should usually set up a sound system, or pair it with a Bluetooth speaker.
6) Apps
Finally, you may want to check your smart projector to see what app it supports. This lets you make the most of your projector.
A projector may support apps like Netflix, Amazon Prime Video, and YouTube, as well as voice assistants like Amazon Alexa and Google Voice Assistant.
What Display Type Should You Choose?
A display type is the method used by the projector to cast the image. It is sometimes referred to as imaging technology.
Your projector can be one of the following display types: Digital Light Processing (DLP), Liquid Crystal Display (LCD), Liquid Crystal on Silicon (LCOS), or laser raster.
In the case of LCOS and DLP, the images you see on the screen are split into separate colours, which can cause eye strain for some people.
You might want to get a projector with an LCOS display instead.
Liquid Crystal on Silicon or LCOS brings superb image quality, better than both DLP and LCD. That said, it is bulkier and more expensive.
As for laser raster projectors, they unite the primary colours of red, blue, and green into a single beam, which are then reflected with two mirrors. Using LED lights, they project a sharper and brighter image, while staying cool and conserving energy use.
The Best Projectors in NZ
Now that you know how to find the best projectors in New Zealand, you can sort through our list of the top options.
1) Thomson HD Rechargeable Projector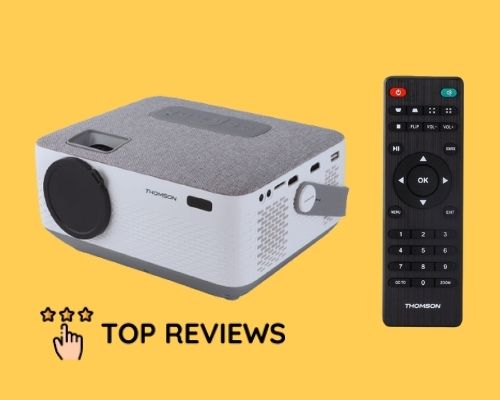 | | |
| --- | --- |
| Best for | Affordable movie projector |
| Light source | LED |
| Native resolution | 1,280 x 720 pixels (HD) |
| Connectivity | x2 HDMI inputs x1 AV input x1 USB 2.0 port |
| Price | $149.99 |
Need a projector for a weekend movie night or gaming experience? If you do, you might like the Thomson HD Rechargeable Projector.
Using an LED light source, it produces a bright screen and can last up to 20,000 hours. Its contrast ratio of 500:1 means the white hues are 500 times brighter than the black on the screen, which is not the best but good enough.
Having a rechargeable battery and a carry handle, it's perfect for taking with you on the go. You can even use it for film-viewing at school or presenting your report.
It comes with 2 HDMI inputs, 1 component video, and a USB 2.0 port. You can also pair this with your Bluetooth speaker to make the sounds in the movie clear and crisp.
Portable design
Rechargeable battery
Elegant woven top
Energy-saving LED light
Only HD picture quality
Low contrast ratio
2) Anker Nebula Capsule Portable Projector (D4111C91)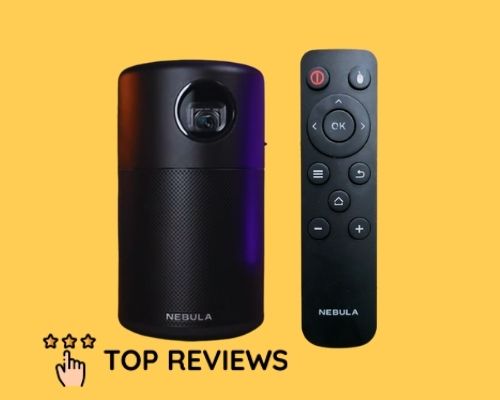 | | |
| --- | --- |
| Best for | Smart pocket-sized projector |
| Dimensions | Height: 11.99 cm Diameter: 6.78 cm |
| Native resolution | 854 x 480 pixels (WVGA) |
| Connectivity | HDMI 1.4, USB, Bluetooth, Wi-Fi, and Screen Mirroring |
| Price | $802.57 |
The Anker Nebula Capsule Projector is a revolutionary pocket-sized projector—shaped like a soda can—with smart features and Wi-Fi connectivity.
It has a 480-pixel resolution and weighs less than a kilogram. But don't look down on this tiny projector, as the picture comes out radiant at 100 ANSI lumens and large from 50 to 254 cm.
The Anker Nebula Capsule is also a fit for taking out with you for music – it even has familiar controls you find in a speaker. It can play up to 3 hours of your favourite tunes via Bluetooth.
What's more, it supports Android 7.1 OS that lets you access content from apps such as Netflix, YouTube, TED, and more.
Handheld projector
360-degree sound
Dedicated Android app
4-hour video playtime
Lower image definition than others
Expensive
Customer Reviews
Owners agree that this pocket projector impresses with great picture quality, battery, and Android apps—truly one of the best projectors in NZ you can get, according to most of the people we talked to.
One owner wrote this review on Anker's website:
"The Capsule itself is wonderful. Small, lightweight and has excellent video quality for the size, even on an unfinished concrete wall as a background it looked magnificent. Kept my nephews busy with two complete feature lenght animated films before the battery ran out. The sound is pretty decent, but can be kind of jarring to have the image in front of you and sound coming from behind. An easy fix was pairing the capsule with a bluetooth speaker and voila! Thrilled to have it and can't wait to get more use out of it. A shame my tripd didn't arrive though. Would have been very helpful. Luck for me my in-laws used to be photographers and they found an old tripod on day 2 of the trip in the back room."
Also, Tamara shared her experience in using the projector:
"I normally never leave review for products but I have to say this little projector is top quality and well made! Although the projector does not compare to a 1080p TV, the picture quality is excellent for its size. The ability to download apps is a major plus and their customer service is top notch!"
3) ViewSonic LED Projector (X10-4K)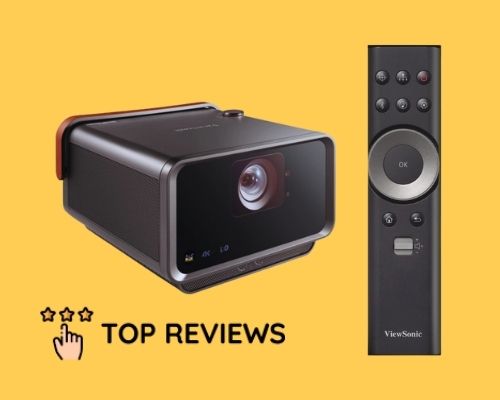 | | |
| --- | --- |
| Best for | Short-throw 4K Projector |
| Light source | LED |
| Native resolution | 3840 x 2160 (4K UHD) |
| Connectivity | x2 HDMI (HDMI 2.0, HDCP 1.4/2.2) x1 USB Type-C x2 Audio input/output x1 LAN x1 Wi-Fi dongle Bluetooth |
| Price | $3,448.85 |
For a projector with great clarity, colour, and brightness, you might want to invest in the ViewSonic X10-4K LED projector.
It's compact, sleek, and portable and features 4K, integrated dual Harman Kardon speakers, and a full set of ports including USB Type-C and HDMI 2.0.
The picture will appear brighter and clearer than previous LED technology at 2400 LED lumens. Its contrast ratio of 3 million to 1 is state-of-the-art, making the images vibrant and realistic.
It even has a 0.8 short-throw ratio, allowing it to project an extra-large screen from just a distance of 3 feet. Frankly, that's amazing and all of us appreciated it in testing.
The projector sports a sleek metallic design with luxurious leather on the carry handle and cover for its numerous ports. Also, it has a two-stage height stand should you want to raise the height of the projector and screen you're looking at.
Fan noise is also brought down with its innovative tri-axis flow fan and smart airflow design. No more distractions when you're watching a film, concert, or live sports.
But that's not all, ViewSonic's 4K LED projector senses if objects are too close to the lens and reduces the beam brightness to be gentler to your eyes. So that means more cinematic enjoyment for you.
Stunning 4K picture
Integrated audio speakers
Voice-assistant enabled
Low-fan noise
Eye-protection technology
4) Acer SVGA Projector (P1155)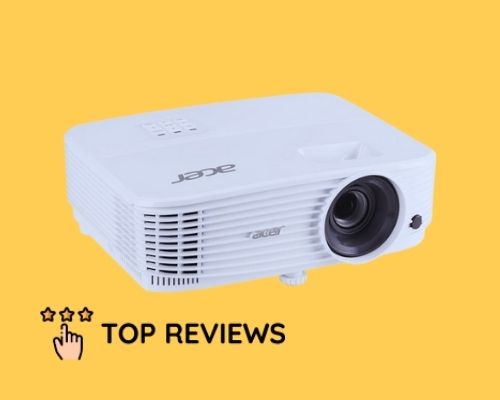 | | |
| --- | --- |
| Best for | Meetings and presentations |
| Dimensions | 30 x 22 x 10.5 cm |
| Light source | Lamp |
| Native resolution | 800 x 600 pixels (SVGA) |
| Connectivity | x2 HDMI 1.4a x1 USB Component video x2 Audio input/output |
| Price | $918.85 |
The Acer SVGA Projector is designed for presentations and school discussions.
With a native resolution of 800 x 600 pixels, the pictures come out crystal-clear. That is paired with 4,000 lumens of brightness so people sitting from behind can see well.
The Acer LumiSense even smartly adjusts the contrast and brightness, while the ColorSafe II works to make the image vibrant and natural.
Plus, the Acer P1155 has a BlueLightShield tech that reduces the strain on your eyes while you're looking at the screen.
Also great is its classic and neat appearance and the easy-to-use controls on top of the machine. You can place it upfront, behind, or on the ceiling in an office or classroom.
Bright and clear pictures
Classic and neat look
Wireless projection
BlueLightShield feature
Expensive
Lamp source uses more energy than most
5) XGIMI H2 Full HD Smart Projector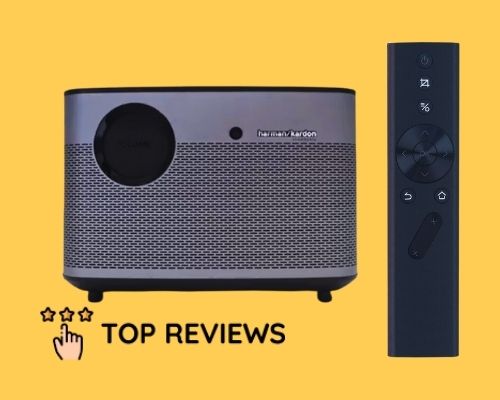 | | |
| --- | --- |
| Best for | Outstanding sound quality |
| Dimensions | 19.99 x 19.99 x 12.80 cm |
| Native resolution | 1920 x 1080 (Full HD) |
| Price | $1,604.05 |
The XGIMI H2 Smart Projector provides excellent Full HD quality pictures and movies. It supports a 4K display, great for your gaming and series-binging!
Struggled to watch a film with other projectors in the daytime? Well, this one won't disappoint, as it has 1350 ANSI lumens to enhance pale and dry colours in the video.
With Harman Kardon dual speakers, it just gets better from here. Each of them is 8W and has been tested to provide superb and accurate sound.
Also, you can run apps with this projector, including Netflix and YouTube. You can simply download them through the Android Store.
Reverberating sound
Great picture quality
Wireless streaming
Quiet operation
Customer Reviews
The H2 has its share of detractors. However, most owners stated that it gave a crisp and clear picture, didn't get hot quickly and was quieter than other models.
Let's see one owner's review on Amazon:
"Really good projector. I bought a stand for it. You have the option to place the projector from behind a white material backdrop sheet and use the rear option. It's very crisp and clear. High definition. Perfect."
Also, here's feedback from another user:
"I bought this to use at our cottage- since there is no space for a TV – we just added a pull down screen from a wood beam. this works really well. either on WIFI or ethernet, we can stream netflix and youtube easily. It is more complicated for Prime TV (but may have an app coming soon) picture quality is great and easy to use. We also have watched DVDs and played videogame on it. The sound is really good and the projector itself is really quiet. Would definitely recommend for someone who wants to use this as their only TV as it is as good during the day. It is definitely more expensive than some others, but it seems to be worth it!"
FAQS about the Top Projectors in NZ
---
And there you have it for the best projectors in NZ. You can now make your dream of having a home theatre come true—and don't forget to get popcorn and drinks!
Has everything been clear so far about our list? If you have any questions at all, kindly send us a message, and we'll get back to you shortly.
Also, you may want to browse our list of the best Bluetooth speakers in New Zealand. You can pair your speakerless projector to one so you can truly enjoy your movies or music!