The 7 Best Protein Bars in New Zealand
Protein bars are an ideal treat for those who need to get their protein fix while on the go. They come in a variety of flavors, textures and sizes, making them a staple snack for those who are watching their health and macros.
We chose our favorite protein bars based on a few key factors – they should have high-quality protein, carbohydrates for energy and a proportionate amount of healthy fat. But more than that, they should be affordable and taste great as well!
Now if you're ready, let's take a look at our top picks for the best protein bars in New Zealand.
1. Musclepharm Combat Crunch Protein Bars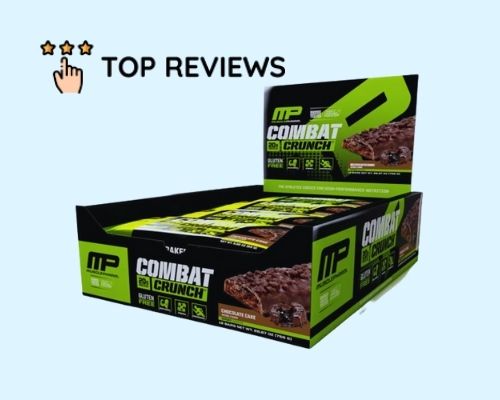 | | |
| --- | --- |
| PRICE | $NZ 49.00 |
| PACKAGING SIZE | 12 pieces |
| SERVING SIZE | 63g (1 bar) |
| PROTEIN PER SERVING | 20g |
| FLAVORS | Chocolate Chip Cookie Dough, Cinnamon Twist, Double Stuffed Cookie Dough, Peanut Butter Lovers, White Chocolate Raspberry, Chocolate Peanut Butter Cup, Cookies 'n Cream, Chocolate Cake |
| WEBSITE | https://musclepharm.com/ |
Combat Crunch protein bars from Musclepharm have one main selling point – they are baked with a secret process that gives them a special soft texture similar to what they claim is a "soft-batch cookie".
Now at this point, you might be confused: a product with the word "crunch" in its name should have… a crunchier texture. However, Muscleharm's point is to differentiate the Combat Crunch from other brands that might be chewier than you'd like.
Nevertheless, this protein bar comes in eight main flavors: chocolate chip cookie dough, cinnamon twist, double stuffed cookie dough, peanut butter lovers, white chocolate raspberry, chocolate peanut butter cup, cookies 'n cream, and chocolate cake.
You'll notice that MusclePharm seems to like their chocolate, but don't be dismayed just yet. Even though most of the flavors are chocolate-based, each flavor is distinctly and delightfully complex.
With 20 grams of protein (consisting of whey protein isolate, whey protein concentrate, whey protein hydrolysate and milk protein isolate), a single bar can be quite filling, making it a perfect snack to take on the go. It's also gluten-free, containing 24 grams of carbohydrates for energy and 12 grams of dietary fiber.
The bottom line is that MusclePharm Combat Crunch bars have friendly macros for those who are counting. They have a distinct texture and complex flavors that make each bar seem more like a guilty pleasure than a healthy alternative, which in our opinion, a lot of people will enjoy.
Soft distinct texture
High in protein and low in sugar
Gluten-free
Most flavors are chocolate-based
Hardness and softness of each bar can vary
Customer Reviews
Flavour is on point
"I look forward to eating these!! I crave alot and these are helping me to be mindful and kerbing the cravings away from biscuits and chips. Flavour is on point. They're really good but you don't get the urge to over indulge" – Mia
Would definitely buy again
"Taste very good! Not too sweet like other protein bars. Would definitely buy again" – Rey
2. Musashi Shred & Burn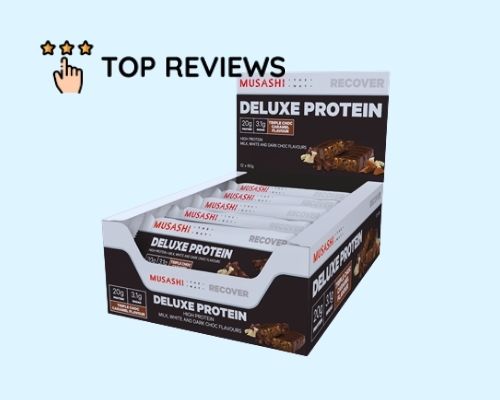 | | |
| --- | --- |
| PRICE | NZ $36.99 |
| PACKAGING SIZE | 12 pieces |
| SERVING SIZE | 60g (1 bar) |
| PROTEIN PER SERVING | 20g |
| FLAVORS | Peanut Butter Caramel, Cookies 'n Cream, Chocolate Mint, And Espresso Hazelnut. |
| WEBSITE | https://musashi.com/ |
Musashi Shred & Burn is a unique protein bar that provides 20g of high-quality protein. This comes in the form of the company's "special protein blend" consisting of whey protein isolate, calcium caseinate, soy protein isolate, and emulsifiers.
What makes this protein bar distinct from other brands is that it contains Garcinia Cambogia, also known as the Malabar tamarind. This is a fruit found in tropical regions that have often been used as a supplement for losing weight.
The Shred & Burn also contains L-Carnitine, a chemical found in our bodies that assists in turning body fat into energy. It can play a vital role in several bodily functions and organs including the heart, brain, and muscles.
Lastly, rounding out the trio of the "powerful blend" found in these bars is green tea extract, which can likewise promote weight loss and boost your body's well-being when consumed in small doses.
With all these special ingredients mixed in, Musashi has managed to concoct a few flavors to make it more appetizing. These are peanut butter caramel, cookies 'n cream, chocolate mint, and espresso hazelnut.
We like that with the right vendor, you might be able to mix up to three flavors in one box when you order. Do take note though that this protein bar isn't gluten-free since it contains milk, peanut products, and soy.
While a greater selection of flavors would have been appreciated and the ability of the "powerful blend" to aid in weight loss is debatable, the Shred & Burn from Musashi is a great-tasting option worth considering if you want something a little bit different.
Contains Garcinia Cambogia, green tea extract and L-Carnitine
May have weight loss benefits
Competitive price
Contains milk, peanuts and soy
Limited flavors
Customer Reviews
So yummy
"These are so yummy and I love putting them in the fridge. I buy the choc mint and cookies and cream nearly on a weekly basis such a good price as well!" – Emma
Will be purchasing more
"The best bar in town – its keeps me full for long time, will be purchasing more and more!" – Sonia
3. Horleys Carbless Crunch Bars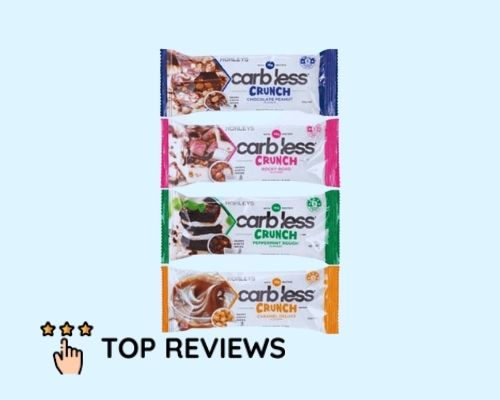 | | |
| --- | --- |
| PRICE | NZ $44.99 |
| PACKAGING SIZE | 12 pieces |
| SERVING SIZE | 50g (1 bar) |
| PROTEIN PER SERVING | 16g |
| FLAVORS | Peppermint, Rocky Road, Caramel Deluxe, Choco Crunchy Nut |
| WEBSITE | https://www.horleys.com/ |
If you're looking to curb your hunger, replenish your energy, and help your muscles recover after working out, Horleys Carb Less Crunch is one of the top protein bars you can get in New Zealand.
Just like other protein bars, it's available in packs of 12 individually wrapped bars if you want to stock up on a flavor that you particularly like.
Each 50g bar contains 16g of plant-based protein along with a 7g portion of energy-giving carbohydrates. If you're a calorie-counter, you'll be pleased to know that each bar contains less than 175 calories and 11 grams of fiber,
The Horleys Carb Less range can keep you full for quite a long time, effectively keeping your cravings for unhealthy snacks at bay. It also provides a quick boost to your daily protein intake while assisting your muscles to recover from exercise on your quest to a trim build.
The Carb Less Crunch bar comes in only four flavors: peppermint, rocky road, caramel deluxe, and choco crunchy nut. We like the varied mix of flavors, with each containing a unique textured blend of gourmet chocolate, real nuts, and crunchy soy protein nuggets.
However, this protein bar isn't vegan even though it is gluten-free and consists of plant-based proteins. Although it has gourmet milk chocolate, it doesn't have artificial sweeteners, effectively keeping your sugar intake at a healthier level.
Another thing to take note of is that no matter how good the Carb Less Crunch may taste, you need to limit your consumption to a maximum of two bars each day. Due to the fiber and polyol content, eating too much can result in an unwanted laxative effect.
The Carb Less Crunch is best for those who are on low-carb diets and are managing their weight. While the low levels of carbohydrates doesn't make this protein bar an ideal pre-workout snack, it is an option worth considering for a treat to take on the go.
Low carb count
Gluten-free
Contains plant-based proteins
Not ideal for consuming for your workout
Only up to two bars a day can be consumed
Customer Reviews
The flavour is delicious!
"I have tried the Rocky road flavour which has a nice crunch + a soft chewy texture unlike many other protein bars which are so hard they feel like jaw breakers. The flavour is delicious!" – Toni
4. Quest Nutrition Protein Bars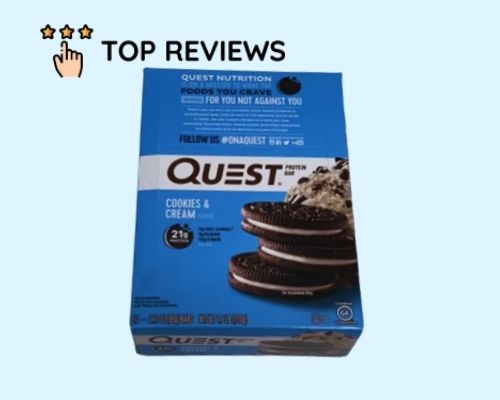 | | |
| --- | --- |
| PRICE | NZ $49.00 |
| PACKAGING SIZE | 12 pieces |
| SERVING SIZE | 60g (1 bar) |
| PROTEIN PER SERVING | 20g |
| FLAVORS | Birthday Cake, Blueberry Muffin, Caramel Chocolate Chunk, Chocolate Brownie, Chocolate Chip Cookie Dough, Chocolate Lovers Variety Pack, Chocolate Peanut Butter, Cookies and Cream, Choc Chip Cookie Dough, Cinnamon Roll, Double Chocolate Chunk, PB Brownie Smash, S'mores, White Choc Raspberry, Mocha Chocolate Chip, Lemon Cake, Maple Waffle, Choco Doughnut, Choco Hazelnut, Mint Choco Chunk, Oatmeal Choc Chip |
| WEBSITE | https://www.questnutrition.com/ |
The Quest Bar is one of the most popular protein bars in New Zealand because they help promote muscle growth. It uses a special cross-flow-filtered whey protein isolate to provide you with a high-quality protein source, making it a great post-workout snack.
Another reason why this bar is popular is that it has one of the best nutritional profiles – it is devoid of any fillers, cheap proteins, or "junk" ingredients. Each serving contains 20 grams of protein, 17 grams of fiber, and only 2 to 7 grams of carbs (which can fluctuate depending on the flavor).
The Quest Bar is a great alternative if you just want something to munch on as well. It's packed with fiber that helps fill you up, aids in digestion, and promotes weight loss.
Although they may be nutritious, those who are conscious of their health needs will take note that it contains whey protein isolate milk protein. This ingredient can cause digestive problems, such as bloating, cramps, and gas.
Nevertheless, what we like best about the Quest Protein Bar is the variety of flavors they offer, with over 25 to choose from. Their top five best-sellers are Chocolate Chip Cookie Dough, Caramel Chocolate Chunk, White Chocolate Raspberry, Birthday Cake, and Chocolate Peanut Butter.
With only 1 gram of sugar in each serving, the Quest Bars are a great alternative snack for those watching their weight. Its nutritional profile makes it a great workout snack and earns a spot on our list as one of the best protein bars in New Zealand.
25 different flavors to choose from
Low sugar and carb content
High fiber and protein content
Consuming too much can lead to digestive issues
More expensive than competition
Customer Reviews
Absolutely delicious!
"Very impressed with the oatmeal chocolate chip flavour. The combination of cinnamon, oats and texture reminds me of gingerbread. Absolutely delicious!" – Harriet
You'd be a fool not to try it!
"Birthday cake flavour is HANDS DOWN the best flavour of quest bar. The outer hard icing-like coating around the bar makes it stand out from the rest in the best way possible! You'd be a fool not to try it!" – Tay
5. Nothing Naughty Protein Bars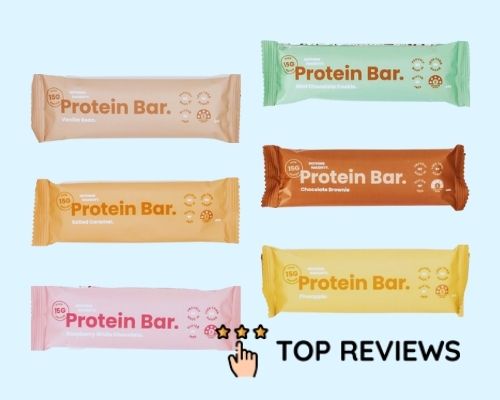 PRICE
NZ $32.00 (Whey Protein)
NZ $34.00 (Plant-based)
PACKAGING SIZE
12 Pieces
SERVING SIZE
40g (1 Bar)
PROTEIN PER SERVING
15g (Whey Protein)
12.1g (Plant-based)
FLAVORS
Chocolate Brownie, Lime Milkshake, Mint Chocolate Cookie, Pineapple, Raspberry White Chocolate, Salted Caramel, Vanilla Bean
WEBSITE
https://www.nothingnaughty.kiwi.nz/
Nothing Naughty is a New Zealand company that originated in the rural farming town of Tirau. This locally owned and operated business is known for creating affordable, healthier snack alternatives and health foods for Kiwis.
Nothing Naughty Protein Bars are popular because they have no artificial colors, flavors, or sweeteners. They only use locally made whey protein as well, which are naturally sweetened with a special blend of brown rice syrup and cocoa powder.
Nothing Naughty Protein Bars are gluten-free as well, with over 15 grams of whey protein that promote muscle recovery after an invigorating workout. Each bar is low in fat with less than 5 grams of sugar, so they're ideal for those who are managing their weight a well.
Even though it only has 15g of protein (which is low compared to its competitors), there's nothing wrong with having more than one serving in a sitting. These protein bars have a 5-Star Health Rating and are lightly coated in chocolate, giving them a full and robust flavor.
You can choose from seven unique flavors as well. These are Chocolate Brownie, Lime Milkshake, Mint Chocolate Cookie, Pineapple, Raspberry White Chocolate, Salted Caramel, and Vanilla Bean.
If you want a plant-based option instead, Nothing Naughty offers three different flavors for vegans: Salted Caramel, Pineapple, and Ginger Crunch. These contain a special mix of pea and rice proteins which are coated in a vegan dark chocolate shell.
The vegan alternatives, although gluten and dairy-free have even less protein per bar though with only 12.1 grams per serving.
So if you're looking for a tasty snack option throughout the day or a protein hit for boosted muscle recovery and repair, Nothing Naughty Protein Bars are an option worth considering.
Affordable
Seven flavors to choose from
Can choose a plant-based variant
Made in New Zealand
Lower protein content per bar
May not be as filling as other protein bars
Customer Reviews
10/10 would recommend
"Only tried a couple of flavours out of the mixed box so far and they taste great and have a slightly more solid filling than the bars I normally get, which I love. Favourite flavour so far is the pineapple, it tastes exactly like pineapple lumps ?? a great, easy and filling snack for on the go. 10/10 would recommend." – Rachel
Yummy flavours
Such a great snack on the go! We were really happy to discover these plant-based protein bars. Yummy flavours, quite filling, and a great balanced snack for having on the go. – Tesh Randall
6. We Are Green Back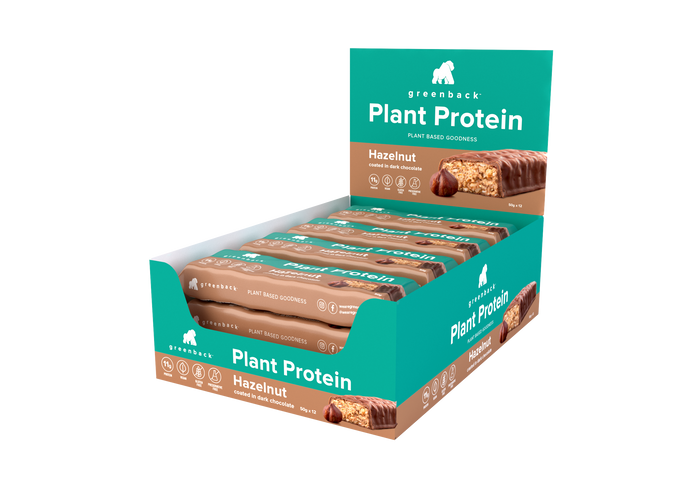 PRICE
NZ $47.00 (One-time purchase)
NZ $42.30 (Subscribed)
PACKAGING SIZE
12 Pieces
SERVING SIZE
50g (1 Bar)
PROTEIN PER SERVING
11.0g
FLAVORS
Hazelnut, Chocolate Mint, Peanut Butter, and Salted Caramel,
WEBSITE
https://wearegreenback.com/
As we all know all protein bars are high in protein, of course. But with Greenback you will also be getting a bar that has fiber, is gluten, dairy, and is preservative-free.
What's great about their products is that they make sure to list all the needed information about their bars. This is nice, especially for those who have certain allergies.
Another factor that we love about them is their unique flavors. You will be indulging in sweets that will not make you feel guilty at all!
We love that they also offer a mixed tray for those who want to try all of their flavors at once. You will never get tired of just eating one flavor.
By the way, if you are a subscriber of theirs, you will get a 10% discount. This is already pretty big as people can consume the bars quickly and buy again.
Packages are dispatched within two days
Free delivery in Australia for orders $19 and above
Free overseas delivery for orders $100 and above
Cannot accept cash payment
Customer Reviews
"Great tasting product. Had to have them under lock and key with the team. A valuable addition to our performance nutrition needs" – Nick W.
"Every flavour is so nice, the texture is nice and smooth, and they are very filling. I love that they are vegan and sustainable too!" – Ruby W.
"This is the tastiest protein bar I have ever had. Love eating one pre-workout to give me the energy I need" – Corinne L.
7. Quest Nutrition Protein Bars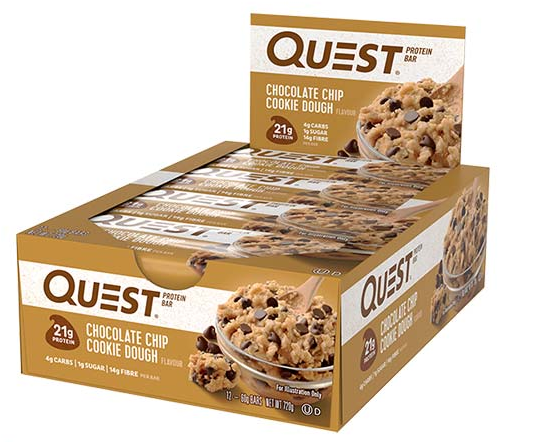 PRICE
$39.95 – $44.95 depending on the flavor
$39.95 for Choc Sprinkle Donut, Double Choc Chunk & White Choc Raspberry
$44.95 for Birthday Cake, Caramel Choc Chunk, Choc Chip Cookie Dough, Chocolate Brownie, Cookies & Cream, Mint Choc Chunk and S'mores
PACKAGING SIZE
12 pieces
SERVING SIZE
60g (1 bar)
PROTEIN PER SERVING
20g per bar
FLAVORS
Birthday Cake, Caramel Choc Chunk, Choc Chip Cookie Dough, Choc Sprinkle Doughnut, Chocolate Brownie, Cookies & Cream, Double Choc Chunk, Mint Choc Chunk, S'mores, White Choc Raspberry
WEBSITE
https://svasthya.nz/
Quest Nutrition is the maker of the #1 selling Quest Bar found in New Zealand. We think that this protein bar isn't just your ordinary protein bar. Why? Because this is preferred by athletes as their go-to protein bar.
Compared to other brands, Quest Bar is made up of all-natural ingredients where it contains 20-21g of high-quality protein, plenty of fiber, low carb, soy-free, gluten-free, and no added sugar.
Their nutrition label at the back of each protein bar is detailed and shows transparency so that if you are religiously counting calories or are on a strict diet, this will guide you on how much of the Quest Bar you are allowed to take.
We must admit, there are days that our sweet tooth kicks in and all we want to do is eat something sweet like an ice cream, a cookie or chocolate.
With Quest Bar, they can satisfy your sweet cravings without you needing to give up to temptation and deviate from your healthy choices in life.
They have different appetizing flavors to choose from, like a Chocolate Chip Cookie Dough or Cookies and a Cream protein bar.
Customer Reviews
"I hate seeing all of the negative comments about these bars. I think they are AWESOME. I have never seen any mold or other foreign objects in my bars, such as other reviewers posted, and they are always the perfect texture. These are the best when you want a sweet treat but are on a high protein (20g protein!) or restricted carb diet (such as Keto- our family counts net carbs, and these bars only have FOUR!). The chewiness, combined with the crunch of the cookies inside, makes these seem like a forbidden treat when dieting. I highly recommend you at least give these a try if you've seen the negative reviews. These are awesome, and so are the apple pie and oatmeal chocolate chip bars!" – JW
"These are AMAZING. I don't want to talk them up too much, because then people will buy them and they will be out of stock lol. But these are THE BEST! I have quite a few flavors of Quest bars. The chocolate donut tasted like ginger to me and missed the mark badly imo – I didn't finish the box 1/10, don't recommend. I was not blown away with the s'mores, but they are edible. The chocolate chip cookie dough was decent, but for all the hype it gets, I was underwhelmed (I didn't try to warm it up though, so maybe I missed out?). Cookies and cream was my favorite until I tried chocolate chip oatmeal – those SLAP hard! (I was actually planning to buy those but they were sold out.. so I decided to try the white chocolate raspberry). The raspberry flavor is legit. It doesn't taste artificial at all! It's the perfect balance of sweet, yet tangy raspberry. I ate 3 of these in one day because I couldn't control myself and they tasted soooo good! I don't recommend that. Seems to cause some serious flatulence lol.
I plan to try more flavors of Quest bars, but I can't imagine there is a better flavor out there than this. If you even like raspberry a little, try these! You will be hooked! I just ordered another box and it's been less than a week. I don't want to run out of these!" – Christy Lynn
Things to Watch Out For When Buying Protein Bars
Protein bars make a great snack as they are a healthier alternative to your average candy bar. Not all protein bars are made equal though, and there are a few things you should watch out for before you grab one off the shelf.
Protein Content
As their name implies, you should always take a look at the amount of protein in protein bars. Some can have as little as only 3 grams per serving, while others can contain up to 25 grams in each bar.
If you're choosing protein bars specifically to build muscle or as part of your workout regimen, then you should be looking for a high protein content. You should consider your dietary needs carefully before munching down on a protein bar to determine if you're getting the nutrition you're looking for.
Flavor & Texture
Obviously, you can't force yourself to eat something that just doesn't taste good. Luckily, protein bars come in a variety of flavors, although don't be surprised that they often come in some chocolate-based variant.
Other than that, the flavor profile is completely up for you to decide. Since protein bars are sold individually wrapped, you can mix and match flavors until you find one that you like.
Nutritional Extras
Not all protein bars are healthy, so taking a look at the nutritional information on the packaging should help you decide which one to purchase. Aside from packing protein, these bars usually have extra benefits that can help with digestion, boost your energy, and supplement your vitamins and minerals intake.
However, you do have to watch out for the amount of sugar and bad fats as well. High amounts of these ingredients may do more harm than good, especially if you're trying to be healthy or lose weight.
Moreover, those who are looking for all-natural protein bars won't be hard pressed for options. There are several gluten and dairy free products that are suitable for vegans as well.
FAQs about Protein Bars
---
And that's our list of the best protein bars in New Zealand! With all the wonderful options out there, we hope we helped you find a bar that you like!
Did we miss your favorite protein bar? If you think we should add it to our list, please send us a message so we can check it out!
Now, if you're looking at protein bars because you want to have a healthier lifestyle, here are some more reviews you may want to check out: