10 Best Protein Powders and Bars in NZ Tested and Compared
Are you training for a competition or just want to retain your muscle as you lose weight? If so, you're in luck, because this article is all about the best protein powders and bars in NZ New Zealand!
We've included a variety of supplements to choose from such as protein powders, protein bars and vegan alternatives. We based our list on each protein powder's nutritional benefits, protein per serving, and any extra benefits they offer.
Before we proceed, let's talk about cost and compare prices first though.
How much do protein powders cost in New Zealand?
Protein supplements are popular among individuals who are interested in building muscle mass or losing weight. Protein is a vital macronutrient that helps build muscle, repair muscle, and can likewise create enzymes and hormones.
The most common form of protein supplement is protein powder, which is what we often associate with bodybuilders or fitness enthusiasts. This form of protein is usually mixed in together with a liquid such as water or milk.
Several factors can affect the price of protein powders, such as packaging size and the type of protein it contains. Generally, a 1kg tub will cost around $60.
Protein bars are another great source of additional protein, although it's mostly marketed as a healthier snacking alternative as opposed to helping individuals gain muscle. A single piece usually costs around $3.
To help you compare prices and value, we've summarised our list of protein products in the table below.
Average Cost of the Best Protein Powders in NZ Compared:
| | | |
| --- | --- | --- |
| Crazy Nutrition Tri-Protein | 1kg | $79.95 |
| Optimum Nutrition Gold Standard | 907g | $50.96 |
| NZ Protein Beef Protein | 1kg | $43.00 |
| Dymatize Nutrition ISO 100 | 2.27kg | $139.00 |
| Go Good Whey Protein Powder | 1kg | $63.00 |
| Noode Natural Pea Protein | 1kg | $45.00 |
| MusclePharm Combat 100% | 2.27kg | $134.90 |
| Horleys CarbLess Crunch Bar | 12pcs x 50g | $44.99 |
| Quest Nutrition Protein Bars | 12pcs x 60g | $44.99 |
| Nothing Naughty Protein Bars | 12pcs x 40g | $32.00 |
The Best Protein Powders and Bars in NZ New Zealand
Now that we have a better idea of how much these supplements will cost, we can proceed with our list of the best protein powders in NZ
Best Protein Powders in NZ
1. Crazy Nutrition Tri-Protein
Best for Muscle Building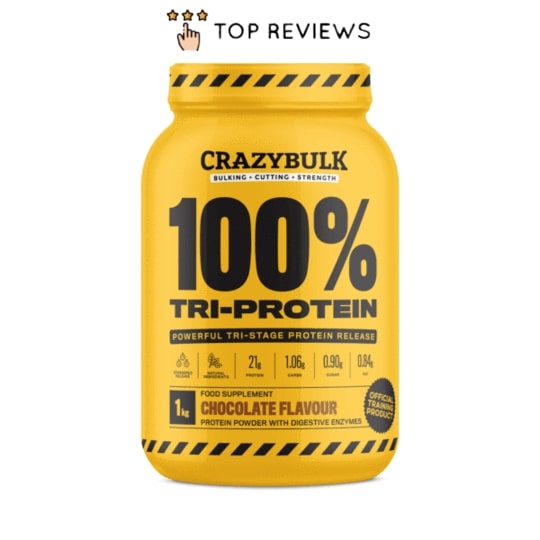 | | |
| --- | --- |
| PRICE | NZ $79.95 |
| PACKAGING SIZE | 1kg |
| SERVING SIZE | 30g (1 scoop) |
| PROTEIN PER SERVING | 21g |
| FEATURES | Six Sources of Protein, Three-Stage Release |
| WEBSITE | https://crazynutrition.com.au/ |
If you're interested in bulking up and improving your overall shape and physique, this may be one of the best protein powders in NZ for you.
Tri-Protein by Crazy Nutrition is described as "the only protein powder you'll ever need" because it boasts a powerful blend of six different sources of protein. What makes their formula unique is that each protein has been formulated to release in three stages.
Delivering 21 grams of protein per serving, Tri-Protein consists of fast, medium, and slow-digesting proteins. What this means is that your muscles will be continually fed with the fuel it needs during and after your workout.
These different stages help your body process the protein at varying speeds thereby helping you build more mass at a continuous rate. This assists you to have better endurance during your workout and while your muscles repair themselves afterward.
Micellar casein and calcium caseinate are the slow-digesting proteins, which release amino acids. These are easier for the body to absorb over extended periods of time and typically work during rest period or sleep.
The medium digesting proteins are milk protein concentrate and whey protein concentrate. The fast-digesting are whey protein isolate and whey protein hydrolysate which aim to provide your body with an alternative source of protein.
Tri-Protein also contains DigeZyme which helps to minimize aches and pains, helping you to recover faster. After all, the quicker your body can repair itself, the faster you can get back to another workout.
At just 97 calories per serving, it's fairly light, but certainly not the lightest on our list. Regardless, this protein powder in NZ is still good for lowering your body fat and building pure, lean muscle.
With six different proteins, Tri-Protein by Crazy Nutrition is ideal for professional bodybuilders and athletes but is suitable for fitness enthusiasts as well. It earns a spot on our list because of its three-stage release formula, which provides you with the necessary protein throughout the day.
Six different protein sources
Contains DigeZyme for recovery
Three-stage release for optimal absorption
Limited flavors available
Expensive
2. Optimum Nutrition Gold Standard Whey Protein Isolate
Best Whey Protein Isolate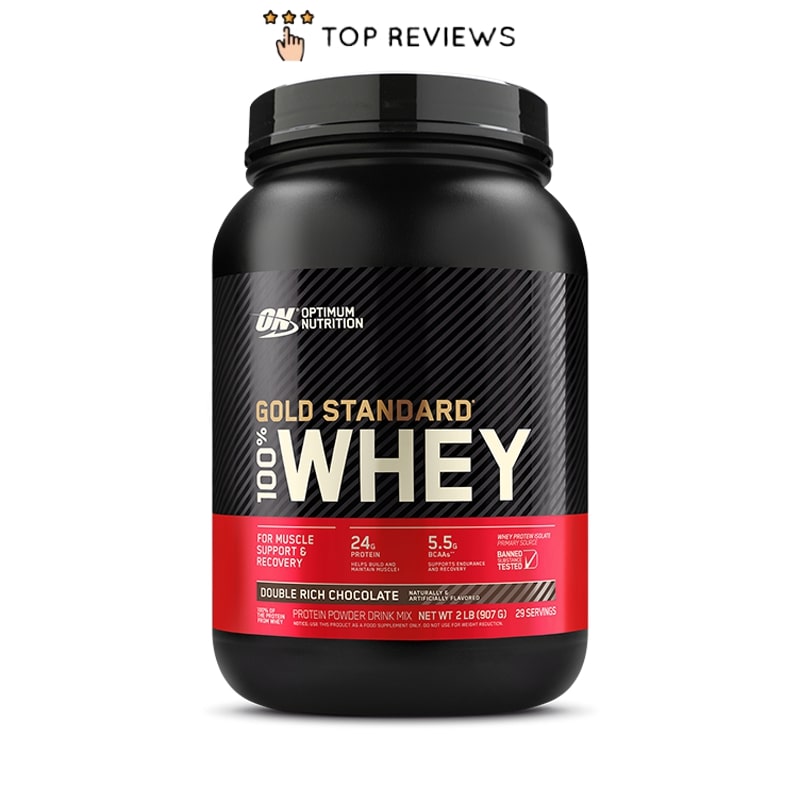 | | |
| --- | --- |
| PRICE | NZ $50.96 – $169.96 |
| PACKAGING SIZE | 907g, 2.27kg, 4.5kg |
| SERVING SIZE | 29.4g (1 Scoop) |
| PROTEIN PER SERVING | 24g |
| SERVINGS PER CONTAINER | 29 Servings (Approx.) |
| FEATURES | 5.5 grams of BCAA's |
| WEBSITE | https://www.optimumnutrition.com/ |
Gold Standard 100% Whey by Optimum Nutrition is another popular brand that can help quickly repair and rebuild your muscles. So if you are one to enjoy hardcore workouts, this could actually be the best whey protein in NZ for you.
Each serving contains 29.4 grams of whey protein, with only around 1 gram each of fat, sugars, and carbs. All the excesses have been filtered out of this mix, thereby leaving you with only 110g of calories per serving.
Gold Standard 100% Whey contains a blend of whey isolate, whey concentrate, and peptides as its main protein base. These can be absorbed quickly by the body and can deliver proteins consistently throughout the day.
However, even though whey protein isolate contains the largest percentage of protein, the procedure to create it removes some of its nutrients that are beneficial for your health and immunity.
Whey concentrate, on the other hand, is more affordable to produce than isolate and has greater potential health benefits. However, it has less protein percentage-wise and more fat as well.
Now, the whey peptides in this powder contain 5.5 grams of naturally occurring Branched Chain Amino Acids (BCAA) in each serving. These are easy to digest, beneficial for muscle growth, reduce soreness, and can also help with liver disease.
In short, it is the combination of three forms of whey that make this New Zealand protein powder well-balanced. Each type of whey has its own strengths that complement the other's weaknesses.
While the whey, peptides, and amount of BCAA are its main selling point, Gold Standard 100% Whey is also a preferred choice for those on low-carb or low-fat diets. The addition of aminogen and lactase helps improve digestion as well.
With 16 flavors to choose from, we suggest sticking to the traditional Chocolate or the Vanilla Ice Cream. In our opinion, the other flavors are a little too sweet or experimental for our tastes.
However, if you mix up the flavors during each consumption, it becomes easier to appreciate. Each variant is 100% gluten-free, contains no artificial growth hormones, and has been banned substance tested.
Its safe composition is one of the reasons why we included it on our list of the best protein powders in NZ.
Has three kinds of whey
Contains enzymes to improve digestion
Low in calories, carbs, and fats
Contains artificial sweeteners
Contains lecithin and soy
Some flavors are too sweet
Customer Reviews
#1 in the industry for a reason
"This product is #1 in the industry for a reason! With all the different flavor options, you will never get bored with protein shakes. The powder mixes well and is great for pre-workout, post-workout, or any time of day that you need to get some extra protein in." – Whitney Wiser
Most cost effective
"Taste great no chalky cardboard taste. Mixes well alone with fruit or mixing the different flavors together of shakes is great too. I've tried many protein shakes over 12yrs and I find this one to be most cost effective & my favorite." – Michelle C
3. NZ Protein Beef Protein Powder
Best Protein Bar for Muscle Building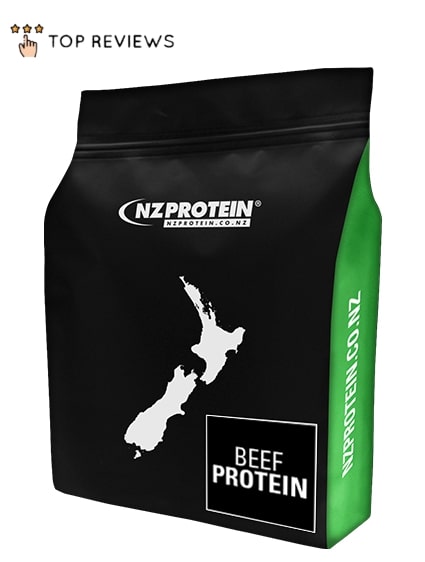 | | |
| --- | --- |
| PRICE | NZ $43.00 |
| PACKAGING SIZE | 1kg |
| SERVING SIZE | 31.25g (2 Heaped Scoops) |
| PROTEIN PER SERVING | 26.9g |
| SERVINGS PER CONTAINER | 32 Servings (Approx.) |
| WEBSITE | https://www.nzprotein.co.nz/ |
NZ Protein's Beef Protein Powder is an option worth considering for those looking for an alternative from traditional protein powders. It offers a flavorful and complete muscle-building protein with essential amino acids.
Beef protein mixes and digests much easier than whey products and has a higher protein level as well. Although it may cost more, it is actually more economical because you get more bang for your buck.
It is high in collagen with a very low level of fat or carbohydrates. Beef protein is also naturally hypoallergenic because it doesn't contain dairy, gluten, and sugars.
There are no slow-digesting proteins in beef protein powder. This means it can help promote growth and quick recovery from your workout.
Just make sure to mix it with less water or milk than you would with whey products. This helps prevent it from becoming diluted so it can retain a creamier texture and flavor.
One serving of NZ Protein's Beef Protein Powder contains 128 calories and approximately 30 grams of protein. This is one of the highest amounts of protein per serving we have seen.
If you think that's impressive, their unflavoured version has a 98% protein count.
The exceptionally high concentration of protein and collagen is great for muscle and joint building and repair, and that's one of the reasons why we consider this to be one of the best protein powders in NZ.
Beef is also lower in L-leucine, which is one of three Branched Chain Amino Acids (BCAA) that's primarily involved in muscle protein synthesis, growth, and recovery. L-leucine also assists in the regulation of blood-sugar levels, growth hormone production, and healing of wounds.
Although only two flavors are offered, namely Double Chocolate and Salted Caramel, they are both full-bodied and neutral so that you can easily consume them while you go about with your daily routine.
High in collagen
Hypoallergenic and gluten-free
Certified Halal
Unflavored variant has 98% protein composition
Lower amounts of BCAAs 
Slow digestion speed
Only 3 flavors
4. Dymatize Nutrition ISO 100 Whey Protein Hydrolysate (5lbs)
Best Whey for Recovery After Workouts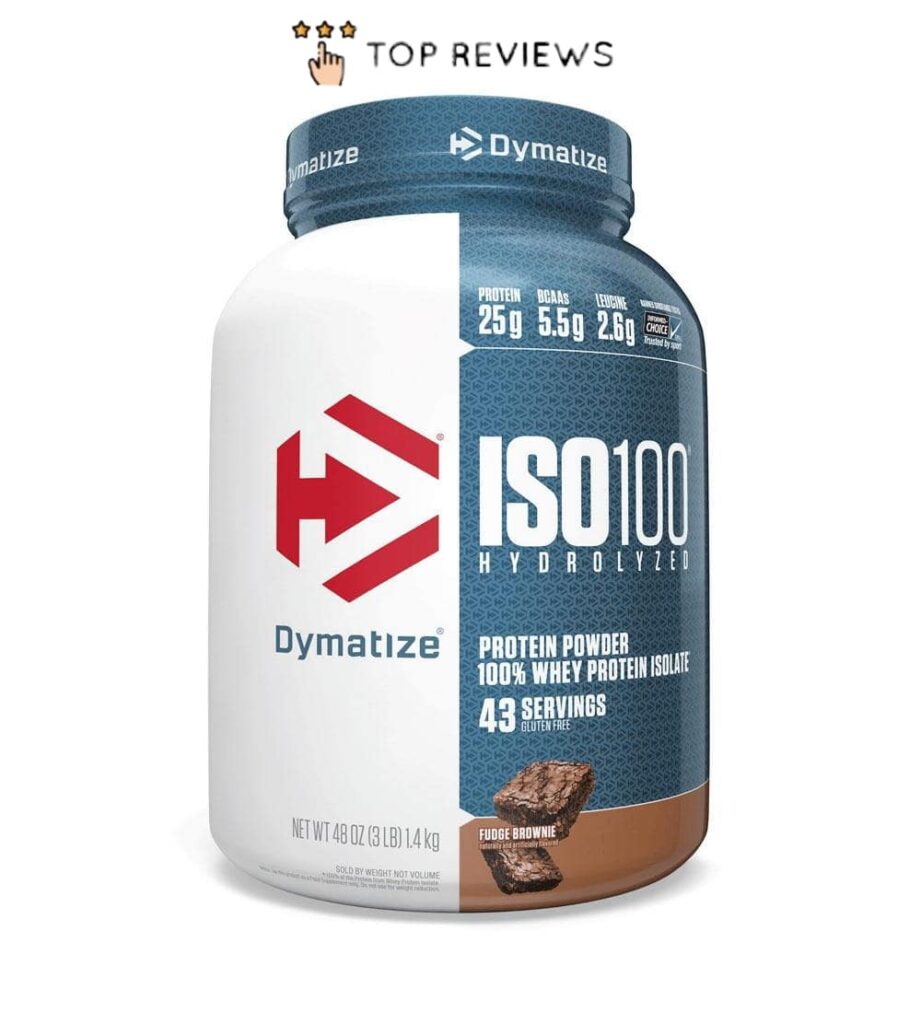 | | |
| --- | --- |
| PRICE | NZ $139.00 |
| PACKAGING SIZE | 5 pounds (2.27kg) |
| SERVING SIZE | 32g (1 Scoop) |
| PROTEIN PER SERVING | 25g |
| SERVINGS PER CONTAINER | 71 Servings (5lbs) |
| WEBSITE | https://www.dymatize.com/iso100 |
Whey isolate is the lowest-fat and lowest-calorie variant of whey. It is digested by your body faster than standard isolates and is best for an extra effective recovery after a workout.
The Dymatize Nutrition ISO 100's main ingredients are hydrolyzed whey protein isolate and whey protein isolate. It also has salt, soy lecithin (for mixability), natural and artificial flavors, potassium chloride, and Splenda.
For those that are watching their salt intake, it's worth noting that each scoop or serving size contains around 160 milligrams of sodium or 7 percent of the recommended daily intake (RDI).
However, there's no need to worry as you'll probably need the extra salt, especially when you're consuming this protein powder during or after your workouts.
Hydrolyzed whey is often considered "pre-digested" since it's already partly broken down by enzymes or acids. It can benefit those who have digestive issues and can help athletes recover their strength much quicker.
Moreover, products with hydrolyzed whey are often more expensive because it costs more to produce. However, the Dymatize Nutrition ISO 100 is fair in its pricing, and you can save even more if you buy the larger tubs.
Speaking of which, we like that it's available in several sizes. You can choose from 20 servings, 1.6lbs, 3lbs, 5lbs, and a 6lbs container.
There are 15 flavors to choose from as well, but their Gourmet Vanilla and Gourmet Chocolate are the best sellers.
Their wide variety of flavours and sizes make it really convenient for everyone and that's a good factor in choosing the best protein powder in NZ.
Dymatize Nutrition ISO 100's typical flavor profile is sweet and tastes equally well with either water or milk. Thanks to the soy lecithin, it mixes and dissolves well, but don't be surprised if a good amount of froth is present.
Each serving offers around 25 grams of protein, 2 grams of carbs (1 gram of sugar and no fiber), and 0.5 grams of fat. With 4.8 calories per gram of protein, it may not be the leanest, so those who are watching their excess carbs or fat may want to steer clear.
Dymatize Nutrition ISO 100 is most probably best suited for athletes since the average person probably won't be able to tell the benefits of hydrolyzed whey against other forms of whey. It digests quickly and helps you recover quicker, so it still earns a spot on our list.
Easily digested and absorbed by the body
Gluten-free
Banned substance tested
Low cholesterol and lactose levels
Not 100% hydrolyzed whey
Contains soy
Contains artificial sweeteners
5. Go Good Whey Protein Powder
Best Whey Protein Powder for Recipes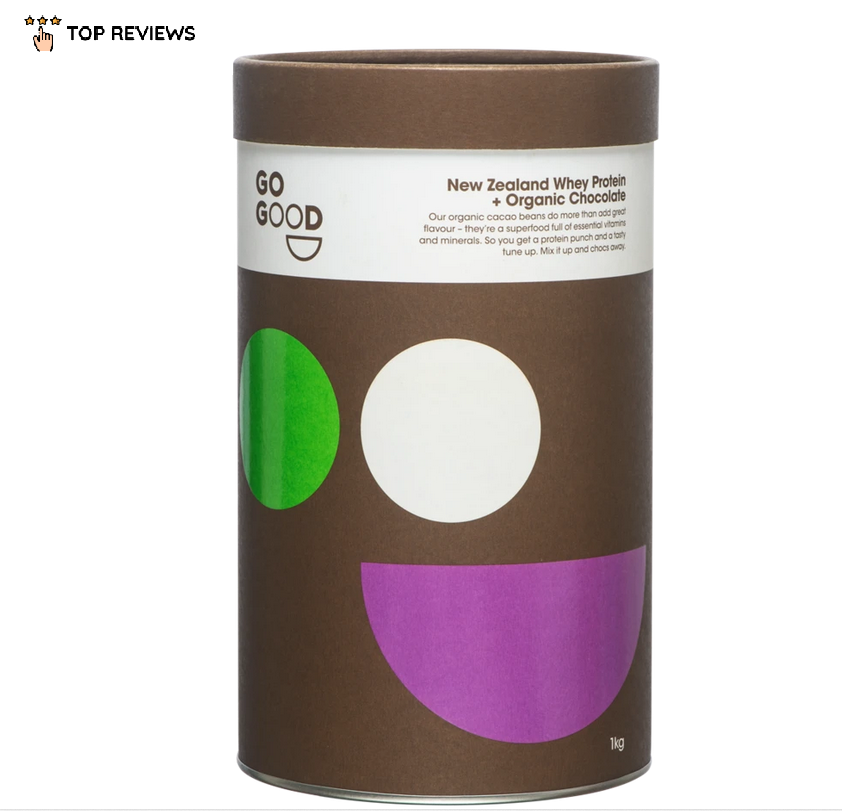 PRICE
NZ $39.00 (500g)
NZ $63.00 (1kg)
PACKAGING SIZE
500g, 1kg
SERVING SIZE
30g (2 Heaped Scoops)
PROTEIN PER SERVING
22.5g
SERVINGS PER CONTAINER
16 Servings (500g)
33 Servings (1kg)
WEBSITE
https://gogood.co.nz/
Go Good is an Auckland-based company whose mission was to create a healthier alternative to commercial food supplements that mostly had unhealthy ingredients.
Utilizing many of New Zealand's locally produced high-quality protein powders, they infused flavors from organic fruits and superfoods to enhance their formulas. The result was naturally flavored and nutritious powders that offered an alternative for the health-conscious.
Go Good also made an effort to make sure their product stayed organic and remained sourced from sustainable ingredients.
Their packaging is also designed to be sustainable and plastic-free. The canisters the powders are packed in are made from 90% recycled cardboard and the included scoop is also compostable!
One of Go Good's most popular flavors is their Organic Chocolate, which uses New Zealand whey protein sourced from Friesian dairy cows. These are grass-fed animals that are raised without any harmful antibiotics, growth hormones, or GMO interference.
Moreover, Go Good uses real, organic cacao – not only does the cacao provide a robust flavor, but it's full of antioxidants as well. It's known as a superfood because of its impressive nutritional profile.
Go Good also claims that their product is consistently tested by independent third-party laboratories to check that they're adhering to health standards. The protein powder is approved by both nutritionists and naturopaths with a 5-star Health Rating.
With 22.5 grams of protein per serving (2 heaped scoops), this whey protein powder is a little low on dietary fiber at only 0.7 grams. However, it has 503kJ of energy which is great for a workout.
So whether you need to build muscle, increase strength or lose weight, Go Good's Whey Protein Powder is an alternative well worth looking into for your protein needs. It promotes a healthy metabolism, has a low carb count, and low fat which provides your body with "clean" fuel to power through your workout.
Overall, its low fat content and great flavour are what make Go Good one of the best protein powder for weight loss in NZ.
Low in fat content
Contains organic raw cacao (chocolate flavor only)
Offers plant-based alternative
Made from organic and sustainably sourced ingredients
Only two flavors available
Low fiber content
6. Noode Natural Pea Protein
Best for Vegans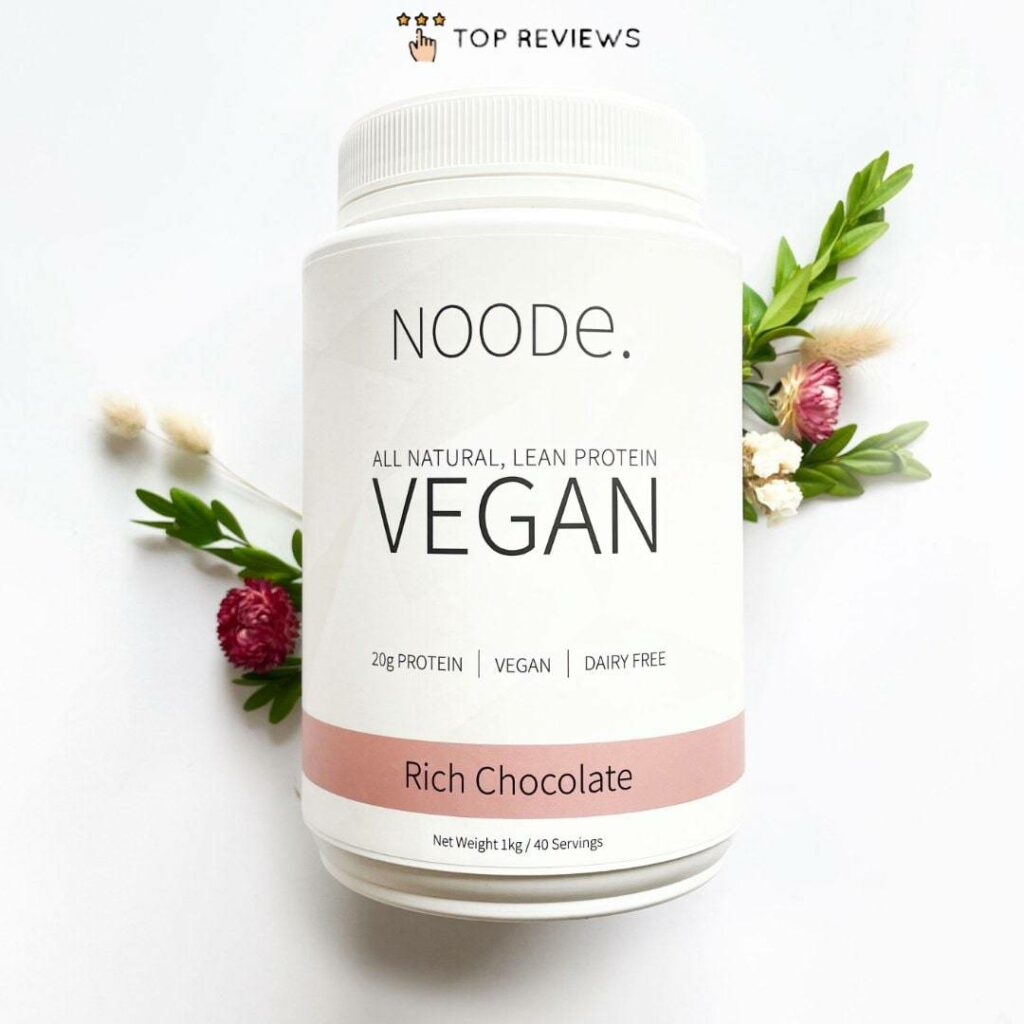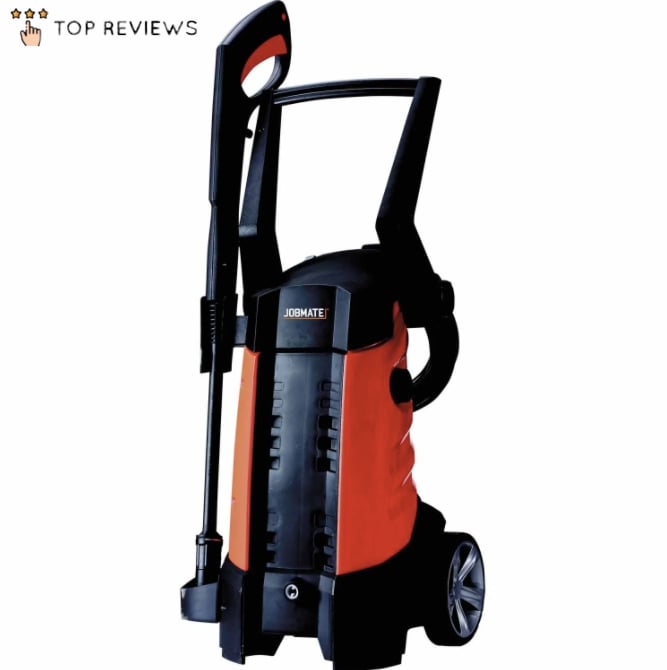 | | |
| --- | --- |
| PRICE | NZ $45.00 |
| PACKAGING SIZE | 1kg |
| SERVING SIZE | 25g |
| PROTEIN PER SERVING | 20.2g |
| SERVINGS PER CONTAINER | 40 Servings |
| WEBSITE | https://noode.co.nz/ |
The rising movement of veganism has fortunately brought about more product options across a range of different categories. So, it only makes sense that plant-based protein powders would increase in options as well.
Noode's natural pea protein is a dairy-free protein powder that can add a sweet touch to your breakfast, baking, and smoothies. These powders are filled with only the good stuff, so it has something to offer everybody, whether they're vegan or not.
We like Noode's Natural Pea Protein because they keep their base powder simple with only three main ingredients. These are Canadian Golden Pea Protein, natural flavoring, and sweeteners.
Canadian Golden Pea protein contains all nine essential amino acids, which makes it ideal for helping your body rebuild itself and recover from a workout. This excellent source of protein also helps fill in any potential gaps in a vegan's diet as well.
The only other ingredients added would be flavoring, and this would depend on the flavor you choose. Your options include Vanilla Bean, Gingerbread, Rich Chocolate, and Salted Caramel.
While there are only four flavors to choose from, Noode has chosen a natural sweetener to give them their flair. They've opted to use Stevia since it's 300 times sweeter than sugar, thereby allowing them to only use 0.1 grams per serving.
The only downside to Noode's Natural Pea Protein is that it can only be mixed with milk, and almond milk is highly recommended for best results. Take note that it needs to be shaken and cannot be stirred, mixed, or blended.
If you're looking for the best protein powder for weight loss for females in NZ, this one's a strong contender as it has very low fat and carb content.
Now depending on your dietary requirements, Noose suggests drinking the powder twice a day. Although Natural Pea Protein is gluten, lactose, and GMO-free, you should still consult a health professional if you want to increase your intake.
Additionally, do take note that shelf life is typically 18 months from the date of manufacture. So you may want to check the best before dates on the package, as all-natural products tend to have shorter shelf lives.
If you don't want to get the 1kg tub, Noose offers a sample pack consisting of one serving for each flavor.
Nevertheless, if you're looking for a vegan plant-based protein powder that promotes muscle growth, recovery and is easy to digest, Noode's offering is worth considering. This New Zealand-based company offers free shipping within the country, and can even make recurring monthly deliveries at a special discount.
Only three main ingredients
Very low fat content and carbs
100% Vegan
Can only be shaken when mixing
Cannot mix with water
Customer Reviews
Absolutely divine in flavour and texture
"I'm moving towards a whole food plant based lifestyle and was searching for a CLEAN vegan protein powder. I'm so happy I stumbled upon Noode. So far I've tried the caramel and also vanilla. Both are absolutely divine in flavour and texture. They mix super easy for great creamy smoothies. No clumps." – Kathryn
7. MusclePharm Combat 100% Isolate
Best for No Carbs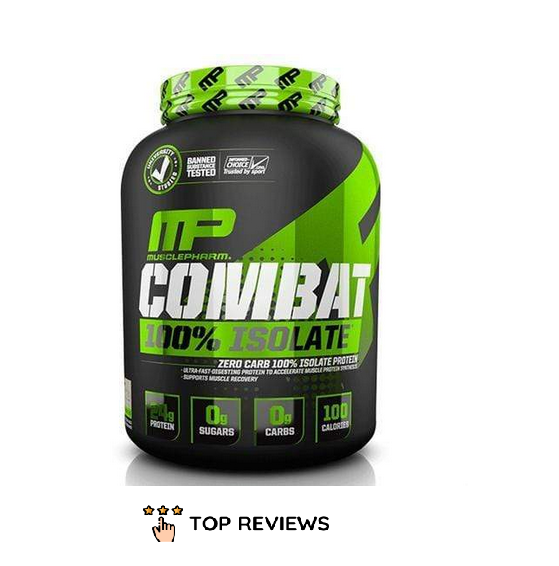 | | |
| --- | --- |
| PRICE | NZ $134.90 |
| PACKAGING SIZE | 5 lbs |
| SERVING SIZE | 27g |
| PROTEIN PER SERVING | 24g |
| SERVINGS PER CONTAINER | |
| WEBSITE | https://musclepharm.com/ |
Let's get it out of the way – the best part about MusclePharm Combat 100% is that it has absolutely no carbs. So if you've been searching for a protein powder that can help you build muscles without any extra calories, you've found what you're looking for.
This finely filtered protein contains no other carbohydrates, lactose, fat, or sugars. So, if you're a calorie counter, you can do so with precision without having to consider any extra hidden ingredients.
MusclePharm Combat 100% is designed to contain only protein and no other macro ingredients. This is especially important if you're training to meet certain fitness goals, but do take note that nutritional information may vary between flavors.
Delivering 24 grams of 100% whey protein isolate per 27 grams, MusclePharm Combat provides the necessary source of protein for quick muscle-building. The isolated proteins are highly digestible as well and can be broken down quickly by enzymes, allowing easy absorption.
Consuming a fast-acting protein source promotes the body's amino acid activity, which in turn, results in accelerated muscle growth and recovery. This makes MusclePharm's offering a worthy choice for professional bodybuilders and athletes.
However, some might argue that a product that doesn't contain digestive enzymes can hamper your body's ability to absorb protein efficiently. For those that have good digestive health and have allergies, MusclePharm Combat 100% is an option worth considering.
In summary, MusclePharm having zero carbs in the product has made it one of the best protein powder for weight loss in NZ.
No carbs included
100% whey protein isolate
Highly digestible
2 Flavors only
5lb pound or 2lb tub only
Customer Reviews
Will definitely keep buying
"I really like this protein powder. The flavour is good. It mixes easily with my blender. No after taste and you can't beat the macros. 0 fats 0 carbs! I have had it with water and unsweetened almond milk. Both great. I sometimes add spinach and blue berries and it taste great. Will definitely keep buying." – Niki
1. Horleys Carb less Crunch Bars
Best Delightful Taste for Protein Bars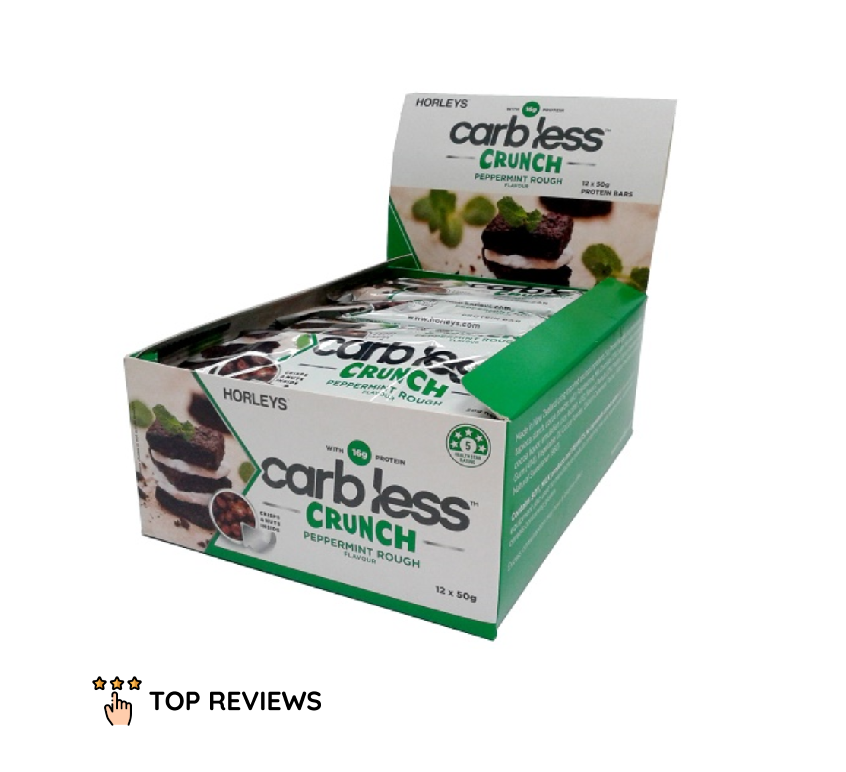 Protein bars are a great alternative for those who want a tasty snack while reducing their carb intake. They're a great snack that can easily fill you up and is a great treat to enjoy with a cup of tea or coffee.
Horleys Carb Less Crunch is one of our choices for best protein bars in New Zealand to curb your hunger, refuel your energy, and help your muscles recover post-training.
Each 50g bar provides you with 16g of plant-based protein and 7g of carbohydrates. You can purchase each bar individually or in a package of 12 pieces if you find a flavor you particularly like.
If you're counting calories, each bar contains less than 175 calories and 11 grams of fiber, so it can keep you fuller for longer and keep your cravings for unhealthy snacks at bay.
The Horleys Carb Less range offers a quick boost to anybody's protein intake but also provides support recovery from exercise and helps maintain a trim physique.
Carb Less Crunch bars come in only four flavors: peppermint, rocky road, caramel deluxe, and choco crunchy nut. Regardless of which flavor you choose, each has gourmet chocolate, real nuts, and crunchy soy protein nuggets.
While they may be gluten-free and have plant-based proteins, do take note that it's not vegan because of the gourmet milk chocolate. It doesn't have artificial sweeteners though, so at least you can keep your sugar intake in check.
However, do take note that because of the fiber and polyol content, you have to limit your consumption to only two bars per day. Eating more than the recommended intake may have a laxative effect.
Moreover, since Carb Less Crunch bars are low in carbohydrates, it isn't highly recommended to use them before or after exercise. They are best for those on low-carb diets, a weight management regimen, or those who want healthy snacking on the go.
Low in carbs
Gluten-free
Plant-based proteins
Affordable
Not ideal for consuming during or after workouts
Only up to two bars a day can be consumed
Customer Reviews
"I have tried the Rocky road flavour which has a nice crunch + a soft chewy texture unlike many other protein bars which are so hard they feel like jaw breakers. The flavour is delicious!" – Toni
2. Quest Nutrition Protein Bars
Best for Hi-Protein Snacking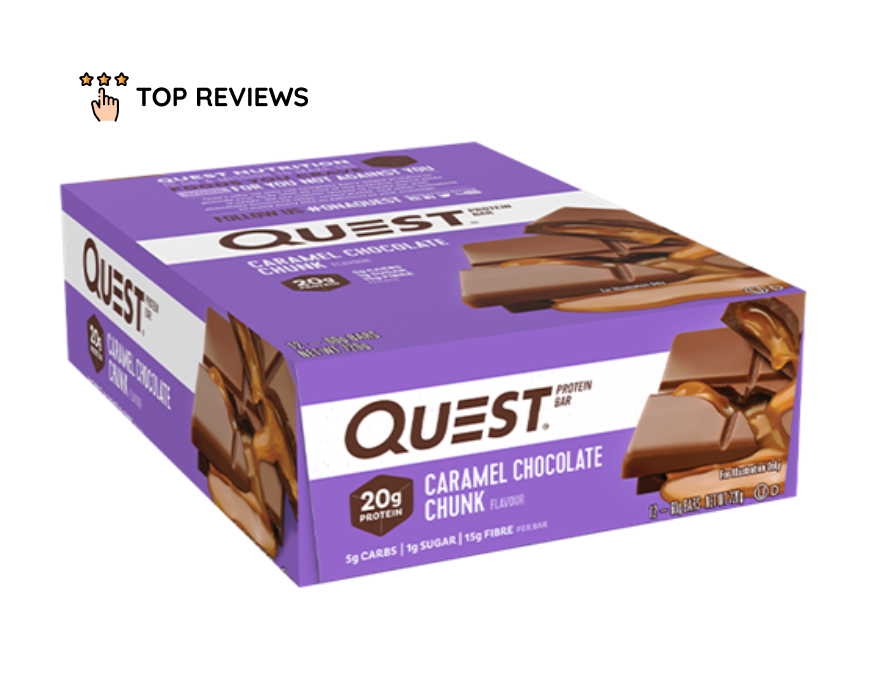 Quest Bars use a cross-flow filtered whey protein isolate which provides a high-quality protein source. It can help promote muscle growth and is a great post-workout recovery snack.
Each bar contains around 20 grams of protein, 17 grams of fiber, and only 2 to 7 grams of carbs depending on the flavor. It has one of the better nutritional profiles on the market since it has no fillers, cheap proteins, or junk ingredients.
Quest Bars are a great alternative to snacks – they're as delicious as a candy bar but come packed with a high nutritional profile. They're packed with fiber which helps make you feel full, aids in digestion, and promotes weight loss.
Although they may be nutritious, those who are conscious of their health need to know that whey protein isolate milk protein can cause digestive problems, such as bloating, cramps, and gas.
Nevertheless, what we like best about Quest Protein Bars is their diversity of flavors, offering over 25 different variants to choose from. Their top five best-sellers are Chocolate Chip Cookie Dough, Caramel Chocolate Chunk, White Chocolate Raspberry, Birthday Cake, and Chocolate Peanut Butter.
Despite having all that flavour and nutritional value, Quest Bars boast an impressive amount of only 1 gram of sugar in one low-calorie bar.
For these reasons and more, Quest Bars are a great alternative snack for those watching their weight and earn a spot on our list of the best protein products in New Zealand.
25 different flavors to choose from
Low sugar and carbs content
High fiber and protein content
Consuming too much can lead to digestive issues
Customer Reviews
Absolutely delicious!
"Very impressed with the oatmeal chocolate chip flavour. The combination of cinnamon, oats and texture reminds me of gingerbread. Absolutely delicious!" – Harriet
You'd be a fool not to try it!
"Birthday cake flavour is HANDS DOWN the best flavour of quest bar. The outer hard icing-like coating around the bar makes it stand out from the rest in the best way possible! You'd be a fool not to try it!" – Tay
3. Nothing Naughty Protein Bars
Best Protein Bar for Those on a Diet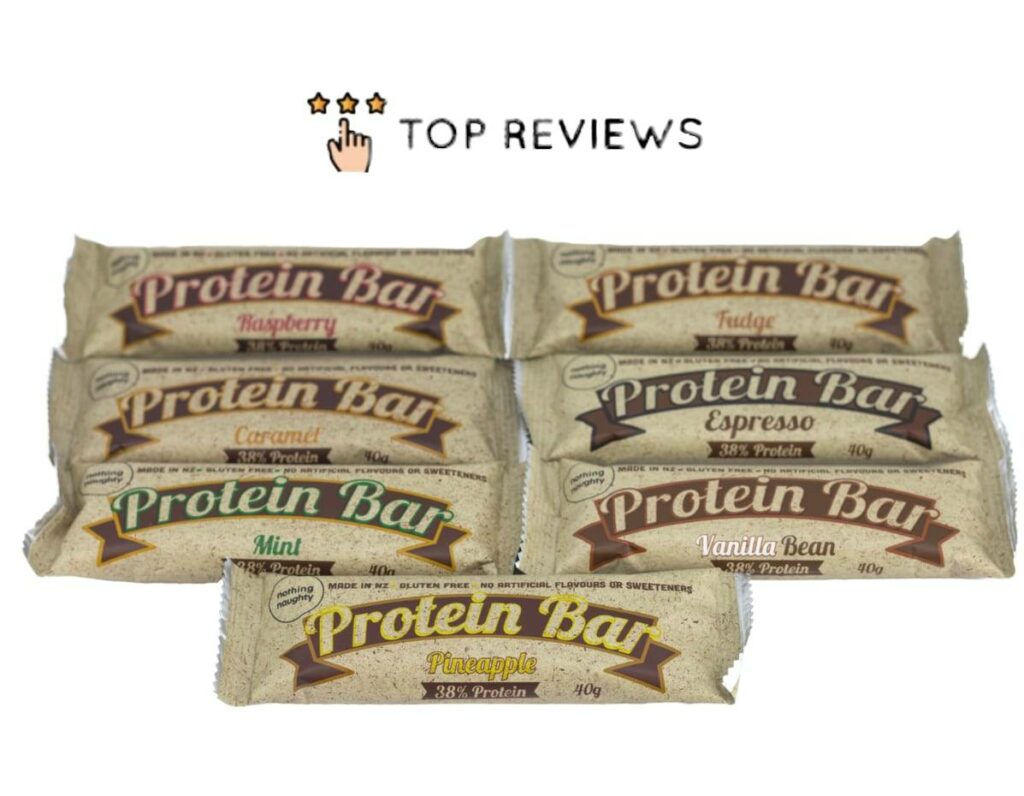 PRICE
NZ $32.00 (Whey Protein)
NZ $34.00 (Plant-based)
PACKAGING SIZE
12 Pieces
SERVING SIZE
40g (1 Bar)
PROTEIN PER SERVING
15g (Whey Protein)
12.1g (Plant-based)
WEBSITE
https://www.nothingnaughty.kiwi.nz/
Nothing Naughty is a New Zealand company founded in the farming town of Tirau. They produce a range of affordable, healthier snack alternatives and health foods for all kiwis.
Made freshly in the country, Nothing Naughty Protein Bars have no artificial colors, flavors, or sweeteners. They use locally made whey protein that's sweetened with brown rice syrup, cocoa powder and lightly coated in chocolate.
Nothing Naughty Protein Bars are gluten-free as well, containing over 15 grams of whey protein to help your muscles recover from a workout. They're low in fat with less than 5 grams of sugar per bar, so they're ideal for those who are managing their weight.
Lightly coated in chocolate, these protein bars have a 5-Star Health Rating. While a single bar may not fill you up, you're more than welcome to have more than one when snacking.
They're available in seven flavors namely Chocolate Brownie, Lime Milkshake, Mint Chocolate Cookie, Pineapple, Raspberry White Chocolate, Salted Caramel, and Vanilla Bean.
Nothing Naughty also offers plant-based protein bars in three different flavors. These contain a special mix of pea and rice proteins which are coated in a vegan dark chocolate shell.
The vegan alternatives have less protein per bar with only 12.1 grams per serving. However, since they are gluten and dairy-free, you can have second helpings whenever you want to.
If you'd rather chew on your protein than chug it down, this is one of the best protein bars in NZ available.
So if you're looking for a tasty snack option throughout the day or a protein hit for boosted muscle recovery and repair, Nothing Naughty Protein Bars are worth considering.
Affordable protein bar
Over seven flavors to choose from
Offers plant-based vegan variant
Kiwi made
Lower protein content per bar than competitors
May not be as filling as other protein bars
Customer Reviews
10/10 would recommend
"Only tried a couple of flavours out of the mixed box so far and they taste great and have a slightly more solid filling than the bars I normally get, which I love. Favourite flavour so far is the pineapple, it tastes exactly like pineapple lumps ?? a great, easy and filling snack for on the go. 10/10 would recommend." – Rachel
Yummy flavours
Such a great snack on the go! We were really happy to discover these plant-based protein bars. Yummy flavours, quite filling, and a great balanced snack for having on the go. – Tesh Randall
The Benefits of Whey in Protein
Whey protein is a side product that comes from making cheese. It begins as a liquid which is then made into a powder through various processes.
It's a very high source of protein because it contains nine essential amino acids. This makes it an excellent catalyst to lose weight without reducing the size of your muscles.
Whey also helps you build muscle and help you recover from intense workouts faster than other protein sources.
Medical journals have also noted that whey protein has benefits for weight loss, asthma, hypertension, cholesterol, and even cancer. While the research might be sparse and preliminary, whey has the potential to be a superfood for your health.
Types of Whey Protein in NZ
There are three types of whey protein present in protein powders. Let's take a look at them one by one.
1. Whey Protein Concentrate
The concentration of this type of protein can range from 30-90% depending on the product. Whey protein concentrate is a good source of protein and is low in carbs and fats.
2. Whey Protein Isolate
With this protein, nutrients such as carbs, fats, and vitamins are filtered out so that only the protein remains. Hence, it is easier to digest when building muscles or losing weight.
3. Whey Protein Hydrolysate
These are often called 'pre-digested' proteins because they've gone through hydrolysis – the process of breaking down the protein into smaller parts. When it's consumed as a beverage, the protein is absorbed in your body faster than the other two types.
FAQs about Protein Powders in NZ
---
We've finally come to the end of our list of the best protein powders in New Zealand! We hope you found one that can help you with your workout regimen!
Any questions about protein bars or whey products? Throw them our way and we'll check them out!
Now, if you're looking for an option to work out in the comfort of your home, you may want to check out our list of the best treadmills in New Zealand.