8 Centres for the Best Psychologists in Wellington
A lot of people are trapped in their emotions or mental troubles. Not to worry if you're one of them, though, as there are solutions: we have put together the best psychologists in Wellington to help you cope.
We go day by day and have unique experiences — some good and some bad. It comes as no surprise then that sometimes we can't help but become panicked, traumatised, or sad.
That's where psychologists come in. They keep your emotions stable and in control, let you see the bigger picture, and most importantly, help you open up to accept what can't be changed.
So, let's go through them. Without any more ado, we now bring you the best psychologists in Wellington!
1) Wellington Psychological Associates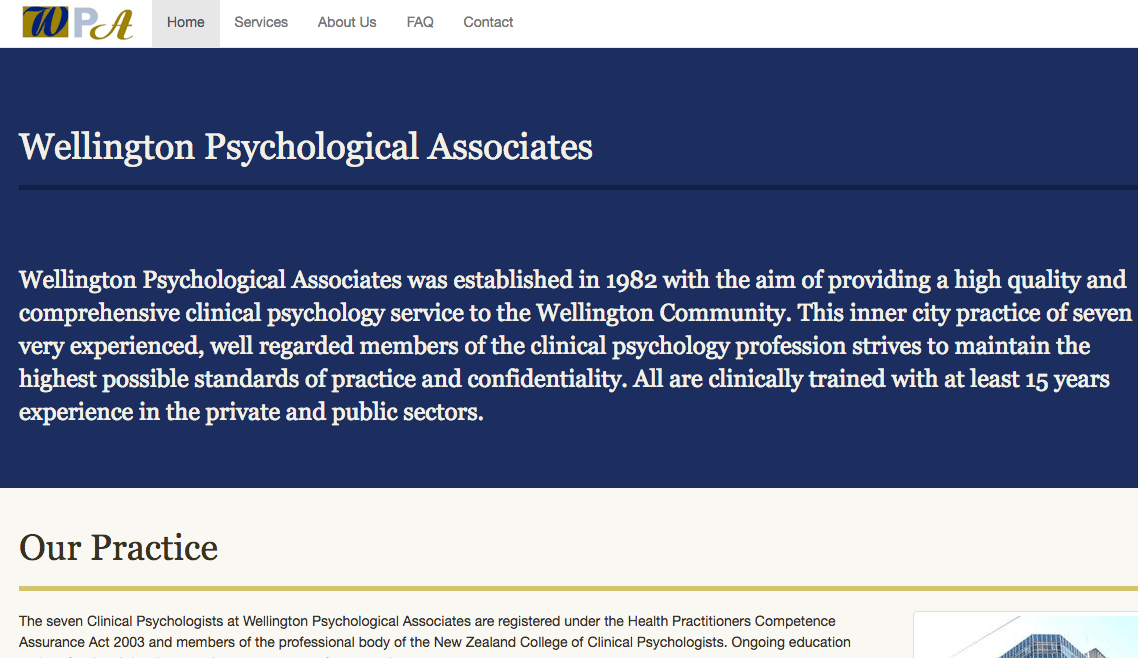 BEST FOR
Trust and Confidentiality
SERVICES
Anxiety Disorders, Eating Disorders, Stress, Work Related Problems, Sexual Problems, Trauma, Pregnancy, Post Partum, Childhood and Teenage Problems
WEBSITE
https://welpa.co.nz/
ADDRESS
Level 5, 166 Featherston Street, Wellington, New Zealand
CONTACT DETAILS
(04) 472 0710
OPERATING HOURS
Monday: 1 – 5pm

Tuesday to Friday: 8.30am – 5pm
Wellington Psychological Associates has been operating for almost 40 years in Wellington. They pride themselves on keeping all the information in your session confidential.
They treat a broad range of problems too, from phobia and sleep problems through to pregnancy and unacceptance. And they have seasoned and registered psychologists who work with you to reach your goals.
Whether you're coming solo or as a couple makes no difference to one of the best psychologists in Wellington. So, feel free to come here for assistance with any psychological problem.
Highlights
Empathic psychologists
40 years of experience
Broad range of service
2) Alanna Forde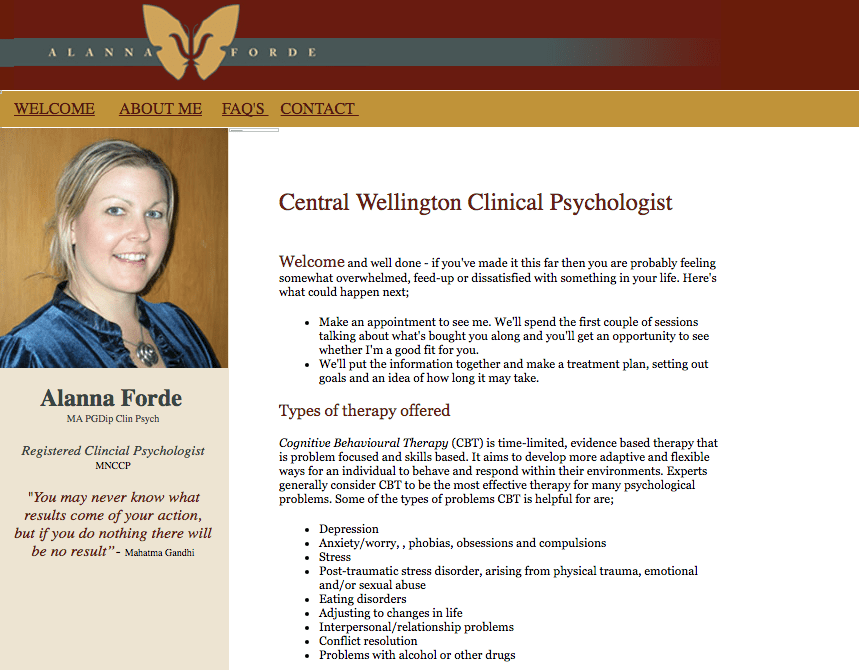 | | |
| --- | --- |
| BEST FOR | Evidence-Based Treatments |
| SERVICES | Depression, Anxiety, Worry, and Phobia, Obsessive Compulsive Disorder, Post Traumatic Stress Disorder, Drug or Alcohol Problem, and Conflict Resolution |
| WEBSITE | http://alannaforde.co.nz/ |
| ADDRESS | Level 2, Prime Property House, 2 Woodward Street, Wellington Central, 6011, New Zealand |
| CONTACT DETAILS | 021 160 4122 |
| OPERATING HOURS | Not indicated |
If you are stuck in a loop of checking or flare-ups of anger, Alanna Forde can help you manage it. She is a registered clinical psychologist who uses behavioural therapies to cure those.
Alanna is very skilled at the use of CBT and DBT for treatment of stress, depression, substance abuse, and trauma. It is effective at helping the person see the right way of doing things.
Also during her time in London, she has provided therapeutic support to kids with Autism.
Sessions cost NZ$150 per 50 minutes wherein the problem will be identified, explained, and gradually treated as you go.
Highlights
Skilful in evidence-based treatments
Treats alcohol and drug abuse
Offers therapy for kids with autism
3) Kotahitanga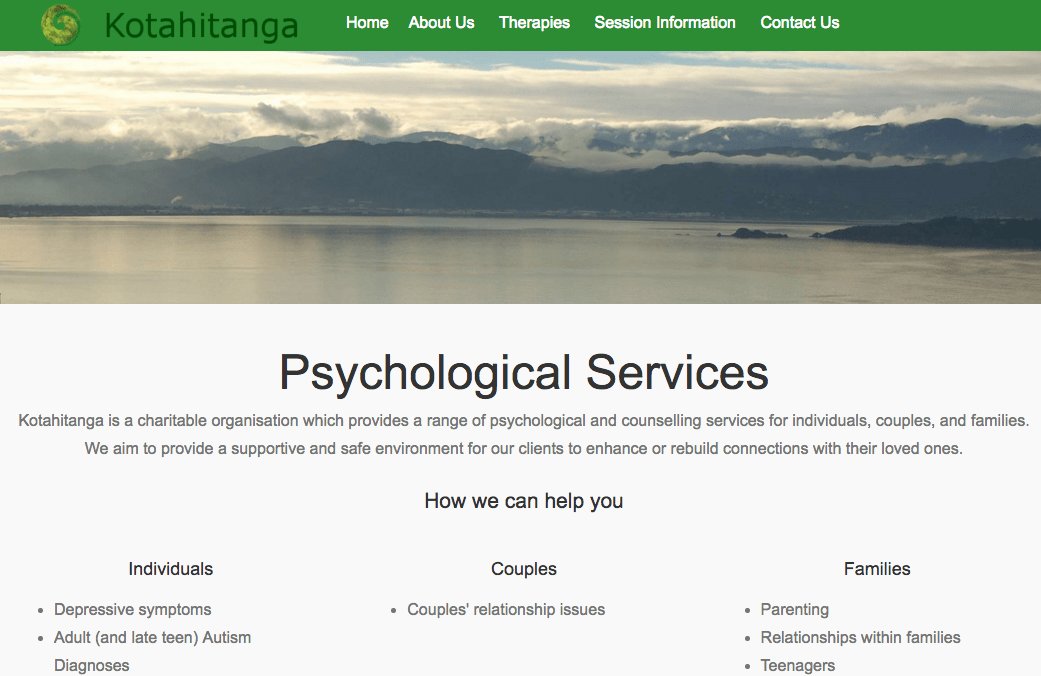 | | |
| --- | --- |
| BEST FOR | Relationship Counselling |
| SERVICES | Depression, Autism, Anxiety, Anger and Stress Management, Trauma, Relationship, Parenting, and Children Behaviour |
| WEBSITE | http://kotahitanga.org.nz/ |
| ADDRESS | 35 Box Hill, Khandallah, Wellington 6035, New Zealand |
| CONTACT DETAILS | 021 672 0170 |
| OPERATING HOURS | Tuesday and Thursday: 9am – 5pm |
If your relationship with your spouse or family has been strained, work your differences out with Kotahitanga. Having this sort of relationship can affect all other areas of your life.
You will be guided by qualified doctors — either Dr Celia Falchi or Dr Maria Ulloa. Both are members of the New Zealand Psychological Society.
Services include Autism diagnoses, parenting, relationship, anxiety, trauma, stress. Apart from that, they also tackle attention deficit disorders & assist you for healthy emotional control.
The difference between Kotahitanga and other clinics is that the sessions have a longer duration of 90 minutes. This is to hopefully help in the resolution of the couple or family before the session is finished.
Highlights
Specialises in relationships
Wide range of services
90-minute sessions
4) Wellington ACT Centre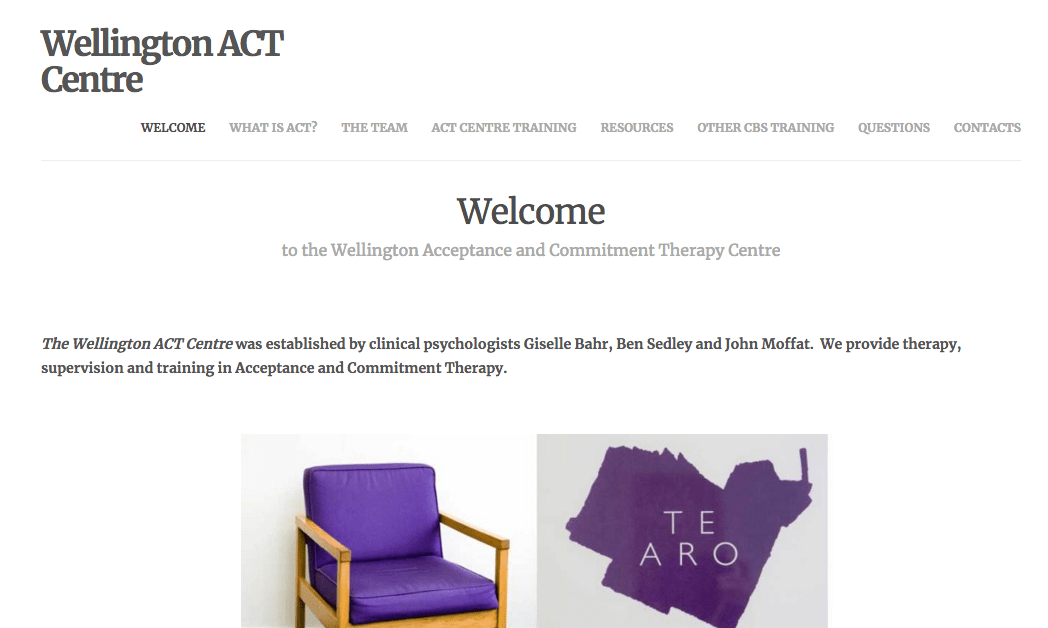 BEST FOR
Acceptance and Commitment Therapy (ACT)
SERVICES
Anxiety, Depression, Relationship, Physical Pain, Trauma, Parenting
WEBSITE
http://actwellington.co.nz/
ADDRESS
Level 1, 27 Dixon St, Te Aro, Wellington, New Zealand
CONTACT DETAILS
021 214 7945 (John)

027 567 4496 (Giselle)

027 4757 383 (Ben)

OPERATING HOURS
Not indicated
Heard the saying 'an angry person is like a person wanting others to die but drinking the poison himself'? Often being angry or holding grudges can affect your actions and thoughts negatively.
For help, you can visit Wellington ACT Centre, which offers Acceptance and Commitment Therapy. Like its name, it helps you to let go, accept the pain, and not react.
The clinical psychologists will check on you and use ACT in a range of problems. Among them are depression, anxiety, teen challenges, trauma, identity and relationship.
Run by Giselle Bahr, John Moffat, Ben Sedley, Wellington ACT Centre's experts can be among the best psychologists in Wellington.
Highlights
Trained in ACT
Heart lightening
Effective treatment
5) Anxiety Specialists

BEST FOR
Stress, Depression, Anxiety, and associated disorder
SERVICES
Personalised Treatments, Online Courses
WEBSITE
https://anxietyspecialists.co.nz/
ADDRESS
131 Queens Drive, Lower Hutt, New Zealand 5010
CONTACT DETAILS
+64 4-386 3861
[email protected]
OPERATING HOURS
Tuesday-Friday: 12 PM-6 PM
Saturday, Sunday, Monday: Closed
Anxiety Specialists believes that the best psychological services are those that use a warm and empathic approach– as well as methods supported by research. That is how they help patients live healthier and more fulfilling lives.
Their specialty lies in treating stress, depression, anxiety, and other disorders associated with the beforementioned.
Highlights
Personalised treatments
Authentic and constructive communication
Anti-Anxiety Academy: award-winning service that helps patients overcome anxiety
6) Linnet Psychology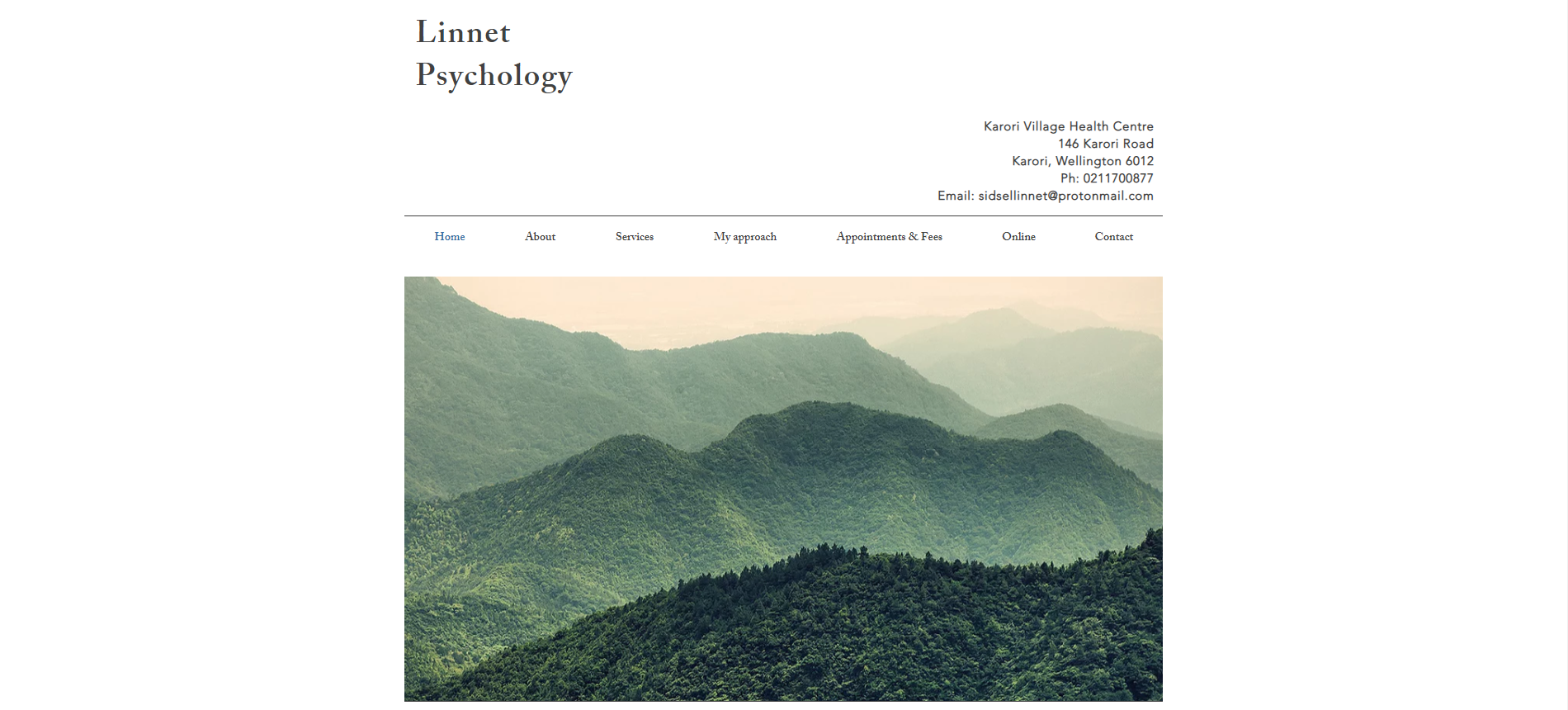 BEST FOR
Adolescent Therapy
SERVICES
Adolescent Therapy & Counselling, Parental support, Cognitive assessments
WEBSITE
https://www.linnetpsychology.com/
ADDRESS
146 Karori Road

Karori, Wellington 6012

CONTACT DETAILS
Ph: 0211700877

Email: [email protected]

OPERATING HOURS
N/A
Sidsel Linnet is a registered clinical psychologist. She specialises in working with children and adolescents.
What motivates her the most is making a difference in people's lives. As someone who has more than enough qualification as a psychologist, you can rest assured that she is a psychologist who will listen to you wholeheartedly.
Highlights
Specialises in clinical child and adolescent psychology
Trained in Mentalisation-Based Therapy
7) Jenna Hammington Psychology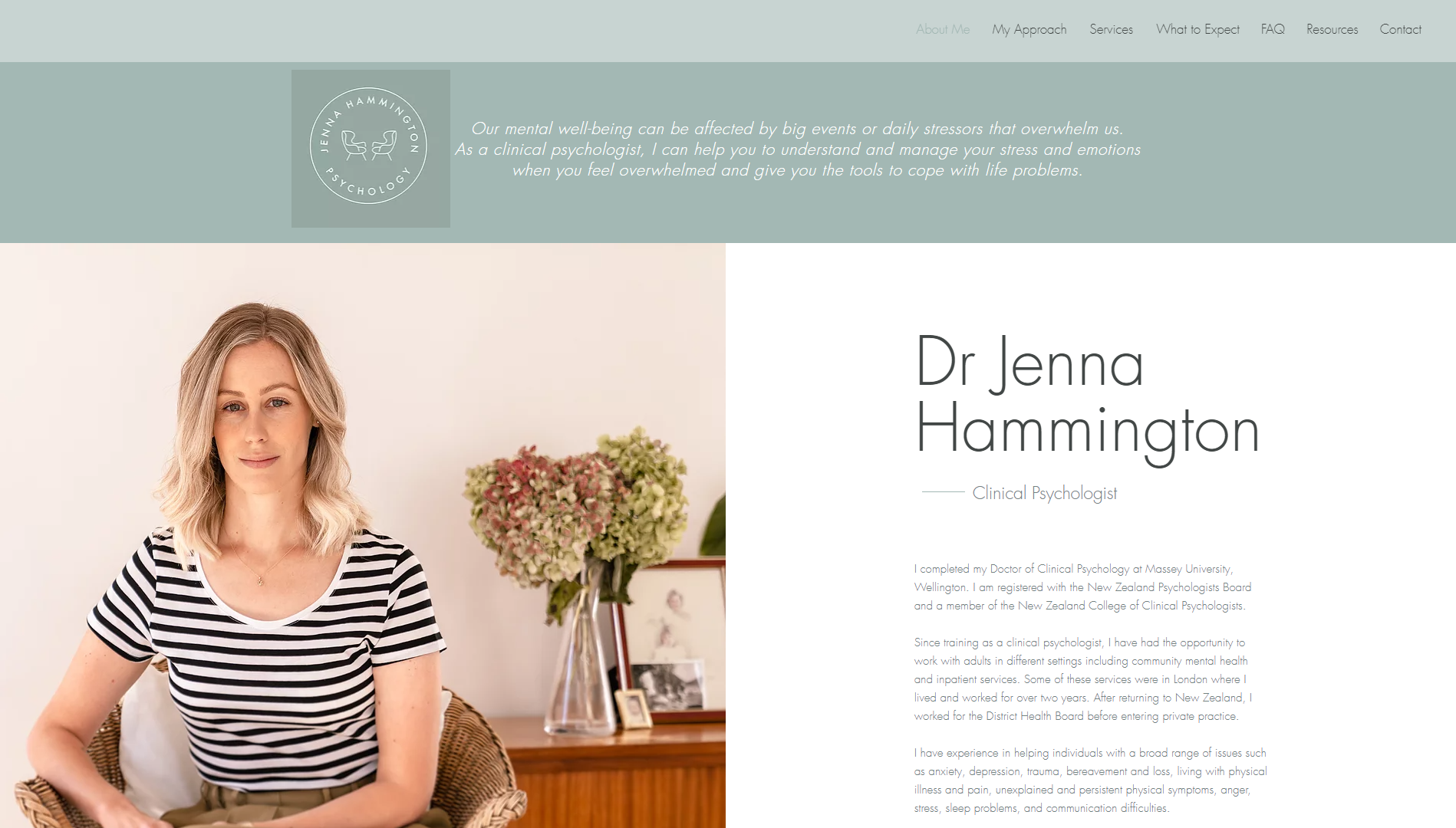 BEST FOR
Treatment for a broad range of issues
SERVICES
Treatment for:
Depression and low mood
Anxiety problems (e.g., phobias, social anxiety, generalised anxiety, health anxiety)
Self-esteem problems
Stress
Obsessive-compulsive disorders
Depression and low mood
Sexual abuse and trauma
Childhood trauma resulting in later life psychological difficulties
Bereavement/grief
Anger problems
Living with physical illness, pain, and injury
Interpersonal and relationship difficulties
WEBSITE
https://www.jennahammington.co.nz/
ADDRESS
Level 1
Zephyr House
82 Willis Street
Lambton Quay
Wellington 6011
New Zealand
CONTACT DETAILS
[email protected]
022 495 9715
OPERATING HOURS
N/A
Dr Jenna Hammington is a clinical psychologist who's worked in New Zealand and overseas with adults with a broad range of problems. She has over five years of experience in the field.
Jenna is skilled in various types of therapy that have good evidence for their effectiveness. Under her care, you can rest assured that she will do her best to help you. Jenna provides a safe and non-judgmental space to talk.
Highlights
More than 5 years of experience
Capable of handling many mental health problems
8) Mary Miller Clinical Psychologist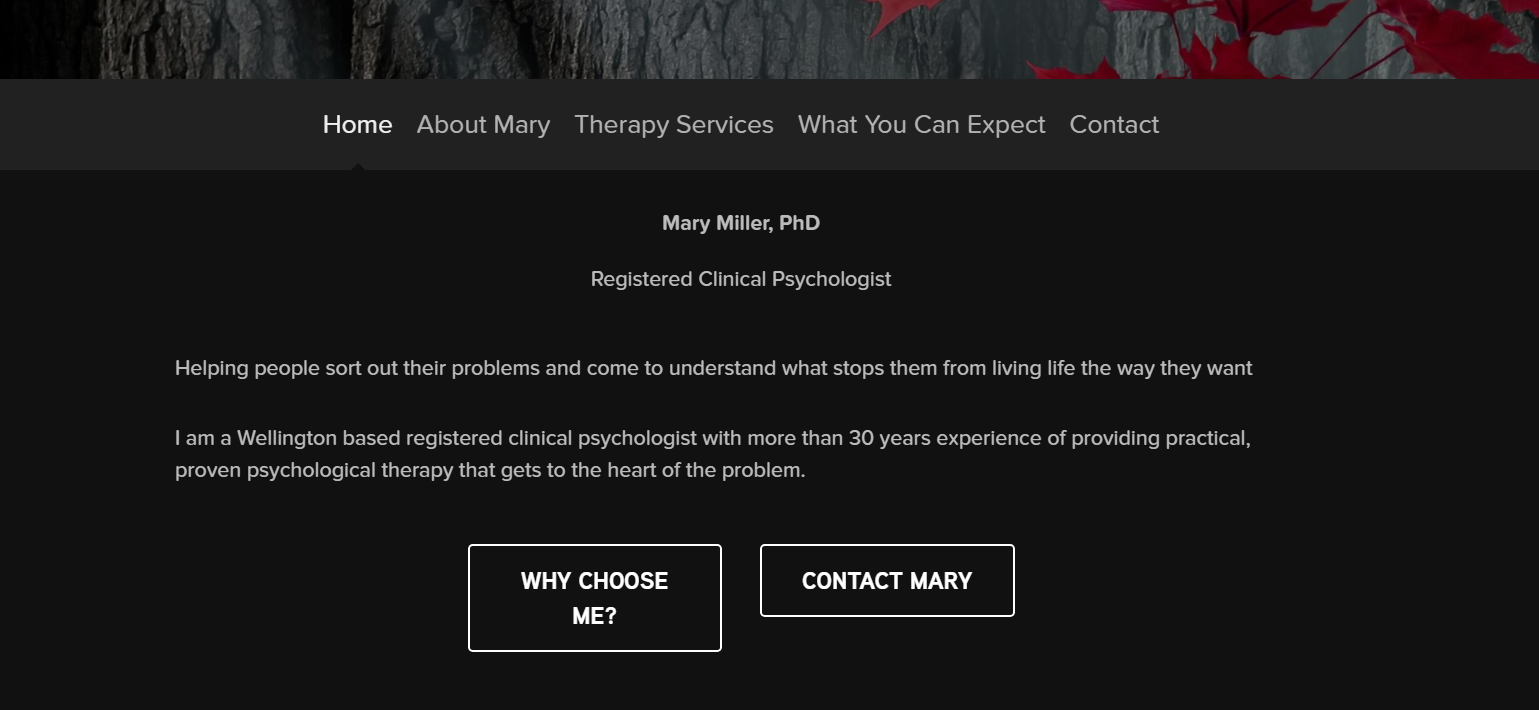 With over 25 years of experience in the field, Dr Mary Miller, Ph.D., NZCCP, NZPsyS is one of the most renowned psychologist in the Wellington area. She has worked under several practices and clinics before establishing her own private practice in 2007.
Many patients, new and old, have commended Dr Mary for her warm, pleasant personality. This is one of the main reasons why we highly recommend receiving treatment under her care: She's highly personable and patients can expect no judgment regardless of the burdens they bring into the sessions.
Another reason why we recommend Dr Mary is her range of expertise. Dr Mary has extensive training in a range of techniques such as CBT, problem-focused, and psycho-dynamic therapy, not all of which she employs in the sessions.
Instead, she takes the time to learn more about her patients in the first session before she moves forth with any treatment. Now, in terms of issues, Dr Mary can help address a myriad of issues, including mental health issues like depression, anxiety, addictive behavior, and many more.
To close things off, patients need not worry about information divulged during the sessions getting out since Dr Mary has a confidentiality agreement. Nothing mentioned will get out if the patient doesn't want it to.
Highlights
25 years of experience
Convenient and accessible location
Wide range of expertise
24 hour cancelation fee available
---
And that's a wrap for the best psychologists in Wellington! A psychologist can equip you with skills and techniques you can use for life to be a happy, optimistic, and healthy individual.
Do you have any questions about these psychologists we listed? Ask away by sending us a message and we will reply to you as soon as possible.
And if you want to try alternative or supplementary treatments, take note that doing yoga has its benefits too for a more balanced, calmer mind. If you want to try it, you can read about the best yoga studios in Auckland.