The 17 Best Queenstown Restaurants
Settled on Lake Wakatipu, Queenstown is a stunning city with harbour views, snowy mountains, and picturesque landscapes.
Although a small city, it punches above its weight when it comes to restaurants. Be it wholesome or indulgent food, there are many options you can choose from.
Whether you're living in or are visiting Queenstown for a few days, our list of the best Queenstown restaurants can guide you in making the right choice. Note that we split them up into casual and fine dining options for your convenience!
The Best Casual Dining Restaurants in Queenstown
If you're ready, here are the best Queenstown restaurants for casual dining!
1)   Taco Medic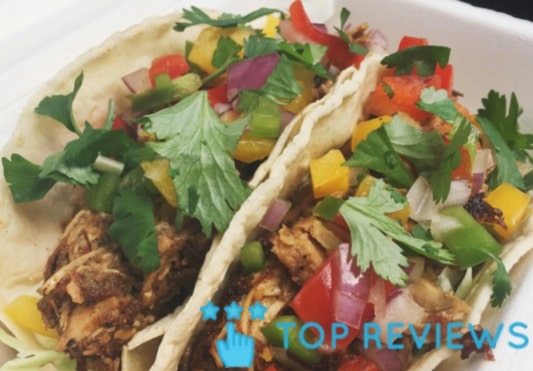 BEST FOR
Delicious and healthy tacos
SERVICES
Lunch and dinner Mid-afternoon snack Drinks Takeaways
WEBSITE
https://tacomedic.co.nz/
ADDRESS
19 Grant Road, Frankton, Queenstown, New Zealand    3 Searle Lane, Queenstown, New Zealand
CONTACT DETAILS
+64 3-442 8174

[email protected]

OPERATING HOURS
Open every day from 12.00 – 8.00 PM (Searle Lane) Open every day from 11.00 AM – 8.30 PM (Grant Road)
PRICES
Please contact the company for details
This eatery is the brainchild of two Kiwi cousins who went to Mexico. Taco Medic aims to bring people together through great-tasting tacos while respecting Mother Earth.
Now, if you take a look at their menu, you'll find that it has land, ocean, and soil categories.
For instance, the Fisherman Taco uses newly caught fish along with rubbed spice, onions, and coriander, whereas their Shepherd Taco uses lamb, carrot, and parsnip.
Their menu is designed to be 100% gluten-free and has vegetarian and vegan options, with the goal of providing tacos that can be eaten by anyone, regardless of dietary restrictions.
Also, you can partner their food with Pete's Natural Organic Soda or Coconut Water to cool you in the summer heat.
Pros
Serves gluten-free, vegan, and vegetarian options
Accepts Visa, Mastercard, and Amex
Outside seating available
Cons
Customer Reviews
Taco Medic proves to be one of the leading Queenstown restaurants where the locals are concerned. With incredible taste, their tacos easily crush their rival companies and other vendors.
Petrovinvers shared his experience with Taco Medic:
"After leaving the pub stumbled across the Taco Medic. Being peckish thought we would get a couple, got a fish one and a chicken one forgive me they do have more descriptive names but they were both delicious."
Here's another review from a satisfied customer:
"Oh my goodness, words can't describe the delicious meal I ate here. They have a great variety of tacos, I got a lamb taco, pork taco, and veggie taco and ate the all within minutes. They were so easy that I barely had time to admire the look and perfection as I gobbled them down. So yummy and a perfect taco fix after lockdown! Eat here, because it will be the best dinner you can get in Queenstown in an alleyway."
2)   Bella Cucina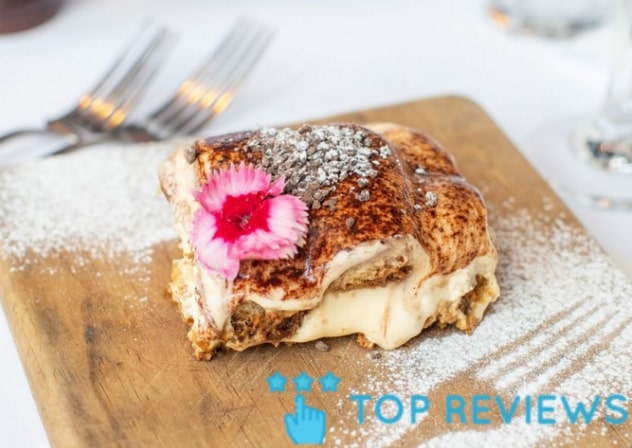 BEST FOR
True Italian cuisine
SERVICES
Breakfast, lunch, and dinner Drinks
WEBSITE
https://www.bellacucina.co.nz/
ADDRESS
6 Brecon Street, Queenstown, New Zealand
CONTACT DETAILS
+64 3 442 6762

[email protected]

OPERATING HOURS
Monday, Wednesday – Friday, and Sunday: 8.00 AM – 10.00 PM Tuesday & Saturday: 5.00 AM – 8.30 PM
PRICES
Kindly visit their website to see their rates
Italian food is hands-down one of the best cuisines in the world. At Bella Cucina, you get to experience this fully as they offer true Italian flavours.
You will be enamoured by their warm decor, white table sheets, and elegant chandeliers.
Their bread is baked fresh and their meats are cured in-house every day. The menu reflects the seasons so you know you're getting the freshest and most flavourful food.
Their wood-fired pizzas are a must-try, such as the Porchetta (slow-cooked pork belly with tomato and walnuts) or vegetarian Margherita (with parmesan, mozzarella, and basil).
And for the pasta, they serve up superb Spaghetti ai Frutti di Mare and Lamb Ragù Pappardelle, whether you like the pasta in the traditional or al dente style.
Pros
Offers vegan, vegetarian, and gluten-free choices
Wheelchair-accessible
Accepts credit cards
Cons
Limited menu options (only a con if you really like a lot of variety, though, as it didn't bother us)
Customer Reviews
With excellent food made from local and seasonal ingredients, divine desserts like panna cotta, and wonderful staff, customers say this great Italian restaurant is a dream.
Here's Alex weighing in about the restaurant:
"The staff have been one of the most switched on staff I have seen in many years, the pizzas were simply perfect, panna cotta was to the point! (We ordered a second round of desserts, never done that before- ever!)
This is a must visit when in Queenstown!"
Another customer posted this review:
"I'd always walked past this little place but on a rainy afternoon it looked so inviting. Very friendly atmosphere and lovely ambiance. Waitress explained their ethos and how everything is fresh, local and the menu changes every day. Very quick service, lovely food and wine. Went with my daughter but would happily go by myself too. We were served by 3 different ladies and all were very cheerful and helpful."
3)   Yonder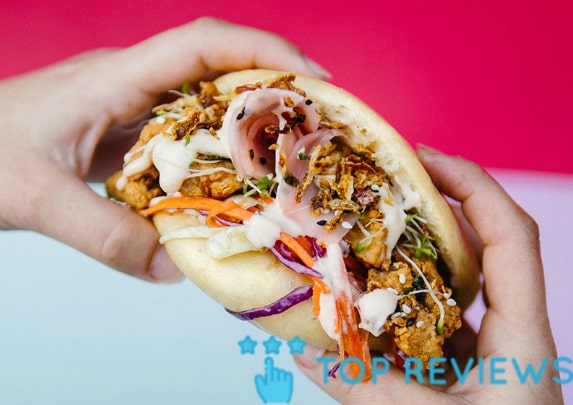 Are you up for wholesome food and live music? If so, look no further than Yonder. Their menu is filled with favourites from around the world.
Chicken focaccia sandwich with house-made bread—check! Summer veggie hash—check! Healthy grilled nashi pear and pork belly burger with fries—check and check!
Whether you want a vegan, vegetarian, or gluten-free meal, they have them. As such, you can keep up with your diet or avoid gluten-related symptoms.
What's more, since all their bread, sauces, marinades, and sweets are made in-house, they are always fresh and delicious!
Yonder is all about bringing Queenstown good times. It's one of the best Queenstown restaurants for dining and relaxing with friends over Martinis or cocktail drinks.
Pros
Haa both healthy and indulgent foods
Vegan, vegetarian, and gluten-free options
Fresh and seasonal produce
Cons
Customer Reviews
Clients praised the eatery's breakfast, ambience, and music events. In addition, they said that it had affordable meals and wonderful staff.
Let's see one customer's feedback on Tripadvisor:
"Stopped in for breakfast after a brisk morning walk! Lovely sitting in the sun under the heaters, coffee, hot choc, smashed avo, eggs bacon, pulled pork benny was lovely!!"
Another guest, Chloe, shared this review of Yonder:
"Such a good atmosphere, an amazing acoustic band played in the patio while we had dinner. Great value for money and unreal food. Especially the vegan menu!"
4)   Flame Bar and Grill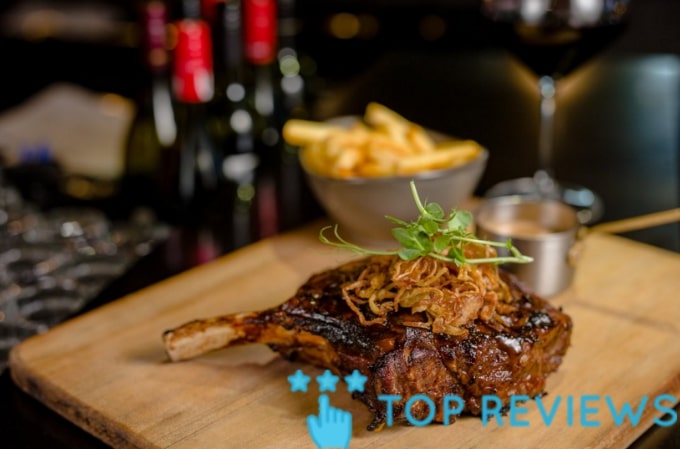 BEST FOR
Steak lovers
SERVICES
Lunch and dinner Drinks Takeaways
WEBSITE
https://www.flamegrill.co.nz/
ADDRESS
1st Floor, Steamer Wharf, 88 Beach Street, Queenstown, New Zealand 9300
CONTACT DETAILS
+64 9-409 2342

[email protected]

OPERATING HOURS
Monday – Thursday: 4.30 – 11.45 PM Friday – Sunday: 12.00 – 11.45 PM
PRICES
Kindly refer to their menu here
Using the secret recipe of South African Braai, Flame Bar & Grill's succulent steak and ribs are so exceptional that you'll come back for more.
They pride themselves on their grilled steak and ribs. After all, they bagged the Gold and Silver awards at the 2018 World Steak Challenge held in the United Kingdom.
Additionally, they have a fantastic variety of burgers, salads, and appetisers. From crispy calamari and tasty skewered meats to vegetarian burgers, they have them!
While you're dining, you can enjoy the picturesque view outside of the sunny dock, the cool blue lake, and the foggy mountain in the distance.
Pros
Offers gluten-free and vegetarian food
Accepts Visa, Mastercard, and Amex
Highchairs available
Cons
Customer Reviews
According to customers, they had an enjoyable time at the steakhouse, thanks to the  amazing food, friendly servers, and the quaint lakeside view.
One customer named Tyson left this comment:
"So we had the meat for 2, omg we were full with happiness and the food with delicious. Our waiters had such great service
Highly recommended
Thank you."
Furthermore, Carlien M. said of the steakhouse:
"Food were absolutely delicious and good size portions!!! Definitely recommend this nice grill "
5)   The Taj Indian Kitchen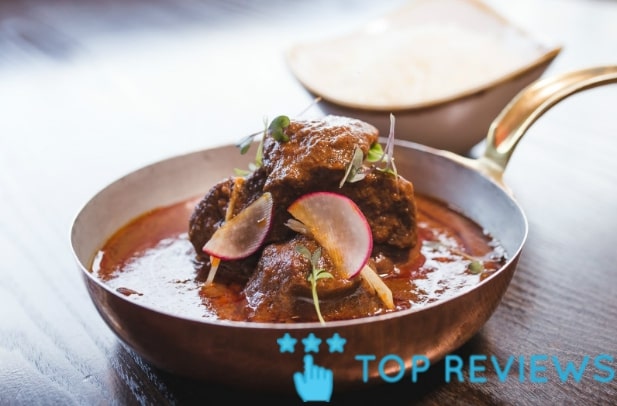 | | |
| --- | --- |
| BEST FOR | Indian street food |
| SERVICES | Lunch and dinner Degustation |
| WEBSITE | http://www.thetajqueenstown.co.nz/ |
| ADDRESS | 75 Beach Street, Queenstown, New Zealand |
| CONTACT DETAILS | (03) 442 5270 |
| OPERATING HOURS | Open every day from: 12.00 – 3.00 PM, 5.00 – 9.00 PM |
| PRICES | Kindly see their menu and prices here |
Named after the sublime marble mausoleum Taj Mahal, The Taj Indian Kitchen has a large array of Indian dishes made from imported spices and classic ingredients.
Their lunch menu consists of the street foods of India, which are constantly evolving and changing. Just like their enjoyable Dahi Poori, Dosa, Pav Bhaji, and Kebabs.
They have your favourite curries as well, like Ambala Lamb Curry, Subz Diwani Handi (spinach and vegetable curry), and Nilgiri Jhinga (tandoori prawns curry).
If you want to go on a culinary adventure, we recommend their degustation menu or The Taj tasting dishes. You also have the option of Dal Taj or Poppadum bread for both menus.
With trained chefs hailing from India, the food is as authentic and superb as can be. Thus, The Taj Indian Kitchen is among the best Queenstown restaurants to visit!
Pros
Authentic Indian dishes
Traditional and local ingredients
Cons
Somewhat on the expensive side
Customer Reviews
On Tripadvisor, The Taj Indian Kitchen ranks 5th among Queenstown restaurants in terms of ratings. Customers complimented the high-quality food, sizable portions, and friendly and attentive staff.
Ambrish wrote feedback of the Taj:
"I have one of the finest experience while having my dinner with The Taj. It started with entertaining my request to have a table where I have Lake view. We ordered basis dishes (much chicken, Paneer butter masala and Dal Makhani) since we are visiting them for first time.
The curries were amazing and specially dal and murg reminds me my collage days back in Delhi, India."
And Amrit also commented about the eatery:
"We went to this place for lunch and they had a huge variety of food on both lunch and dinner menu.We ordered from both the menus and the food was amazing. Our server Edita was very good and attentive as well. Will be back soon to try some other dishes."
6) Boliwood Restaurant & Bar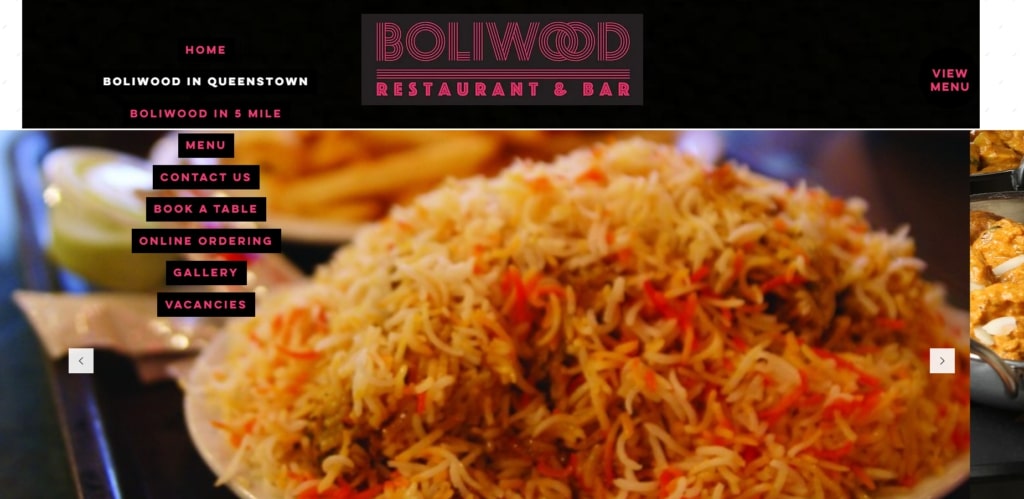 BEST FOR
Authentic Indian Food
SERVICES
Lunch, Dinner
WEBSITE
https://www.boliwood.nz
ADDRESS
62 Shotover Street, Queenstown
CONTACT DETAILS
03 442 7779 (for Town)
03 442 2019 (for 5 Mile)
OPERATING HOURS
Daily: 11:30 AM until late
PRICES
Kindly see their menu and prices here
Boliwood is one of the restaurants in Queenstown that serves authentic Indian food. They have many mouthwatering dishes to offer for their lunch and dinner menu.
They serve various meat (except pork), vegetable, and seafood meals to their diners. All their food is guaranteed to be halal.
If you're interested, online reservations and bookings can be made through their website. They have various promos throughout the year, perfect for celebrations with loved ones.
Pros
Authentic recipes
Halal food
Open most hours of the day
Online ordering and reservations available
Cons
Might have full seats during peak hours
7) I Love Kimchi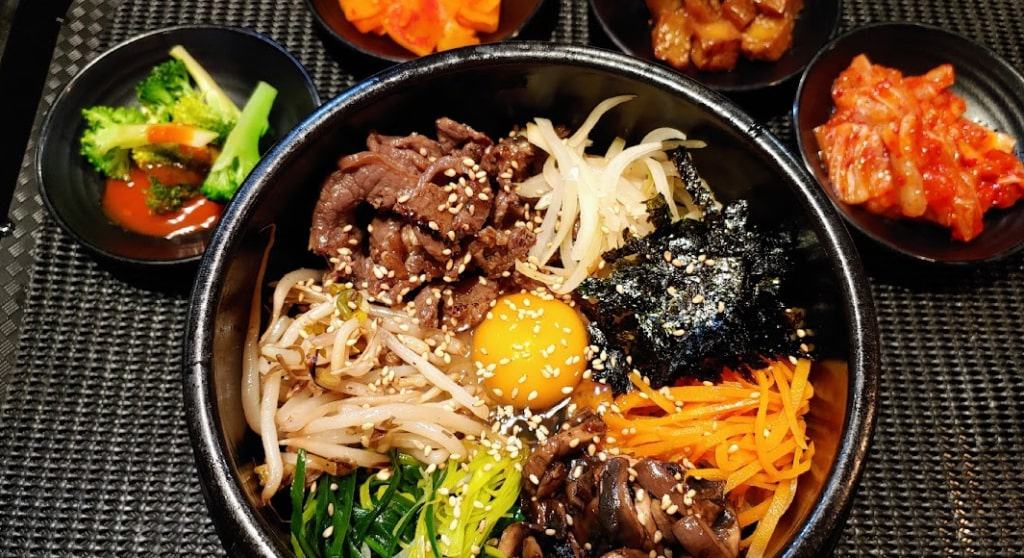 | | |
| --- | --- |
| BEST FOR | Authentic Korean Food |
| SERVICES | Lunch, Dinner |
| WEBSITE | https://ilovekimchi.business.site |
| ADDRESS | 54 Shotover Street Queenstown 9300 New Zealand |
| CONTACT DETAILS | 03-441 1210 |
| OPERATING HOURS | Daily, 5:00 – 9:30 PM |
| PRICES | Kindly see their menu and prices here |
Next on our list is a Korean restaurant that seeks to introduce the people of Queenstown to authentic Korean cuisine.
I Love Kimchi is its name and it has been serving the area for quite some time now. Locals and visitors alike have been drawn to the promise of good food and service, and it is very rarely that I Love Kimchi disappoints.
In terms of food, the menu is extensive at best, featuring a wide array of dish options that can cater to every palate. There are various Bibimbap (rice bowls), noodles, sizzling hot plate, Tteok Bokki, stews and soups, and fried chicken dishes to from.
Some of our personal favourites include Deep Fried Dumplings, Vegetarian Bibimbap, Spicy Stir-Fried Pork, Ttoek Bokki Stir-Fried Rice Cake with Fish Cake, Tofu Stew with Seafood, Japche with Beef or Chicken, and Honey Soy Fried Chicken.
It's also worth noting that service at I Love Kimchi is excellent.
The staff are quick on their feet, professional, and very friendly. Plus, they work to ensure that every dish is delivered as quickly as possible without sacrificing the quality of the dishes.
Pros
Vegetarian, seafood, and meat options available
Open seven days a week
Serves authentic Korean cuisine
Excellent customer service
Cons
8) Fat Badgers Pizza Bar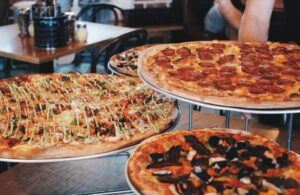 | | |
| --- | --- |
| BEST FOR | New York-Style Pizza |
| SERVICES | Lunch, Dinner |
| WEBSITE | https://fatbadgerspizza.com/ |
| ADDRESS | 33 Camp Street, Queenstown |
| CONTACT DETAILS | 0800 749 927 |
| OPERATING HOURS | 7 DAYS A WEEK NOON – LATE |
| PRICES | Kindly see their menu and prices here |
With a dream, extensive kitchen skills, a bar with a pizza stone, and the support of the local community, Fat Badgers Pizza Bar opened its doors to the public in 2010.
The menu began with five traditional 20″ New York-style pizzas, which soon grew to ten and then twenty different classic and gourmet flavours. Some of our personal pizza favourites include the Margherita, the Fun Guy Pizza, the Fat Badger, and the La Fiesta Mexicana. Fat Badgers Pizza Bar also offers 24″ pizzas, best enjoyed with the Badger Bowl — a 1 litre of tap beer in a bowl.
Aside from the Classic and Originals, Fat Badgers Pizza Bar also offers vegan options like the Vegan Poutine, and sides and salads like the Garden Salad and Gourmet Hot Wings.
We'd like to also note that Fat Badgers Pizza Bar's excellence extends to its customer service, which is one of the finest we've encountered so far. Every member of the staff is very polite and friendly, works quickly, and helps ensure that all diners have a spectacular time while dining at Fat Badgers Pizza Bar.
Pros
Open seven days a week
Vegan options available
Top-notch customer service
Cons
9) FOGO Brazilian BBQ Experience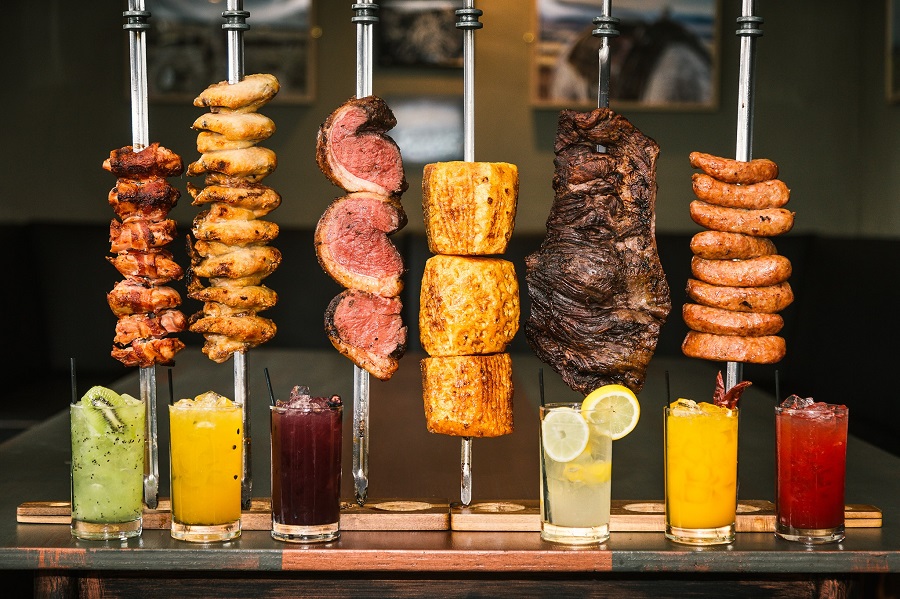 BEST FOR
Brazilian Barbecue
SERVICES
Lunch, Dinner
WEBSITE
https://www.fogo.nz/
ADDRESS
28-30 The Mall Ballarat Street Queenstown 9300
CONTACT DETAILS
03 409 2254
OPERATING HOURS
Lunch available daily 12-3pm
Dinner available daily from 5pm to 9:30pm
PRICES
Kindly see their menu and prices here
If you're looking to have a hearty meal in Queenstown, one that you can enjoy alone or with company, then we recommend trying out the Brazilian barbecue at FOGO.
FOGO makes use of the iconic Churrasco (Barbecue) method, which was forged by the Gaúcho (cowboy) of the South Brazilian plains. It entails a slow roast over fire, creating a nice sear on the food and preserving the juices and flavour.
Given the restaurant's specialty and renowned cooking style, it's not at all surprising that their menu features an All-You-Can-Eat Barbecue experience. For $62.95, adults can make the most of this, choosing from a wide array of dish options that will no doubt leave one feeling full and satisfied after the meal.
Some of the dishes customers can try during the barbecue experience include the Picanha, which is a rump cap, Steak with garlic, Herbed Flank, Brazilian Sausage, New Zealand Lamb Leg, Pork Fillet, and even a Cinnamon Pineapple to cleanse one's palate!
To accompany the meat dishes, FOGO also offers an array of sides, like roasted potatoes, seasonal vegetables, tomato salsa, chimichurri, Malagueta chili, and crumbed banana.
Customers can dine in at FOGO for lunch and dinner, with the restaurant open daily.
Pros
Open seven days a week
Accommodates private functions
Online booking available
Cons
Closed during early mornings
The Best Fine Dining Restaurants in Queenstown
And that takes care of the more accessible options! Moving forward, let's proceed with the top fine dining restaurants in Queenstown.
1)   Blue Kanu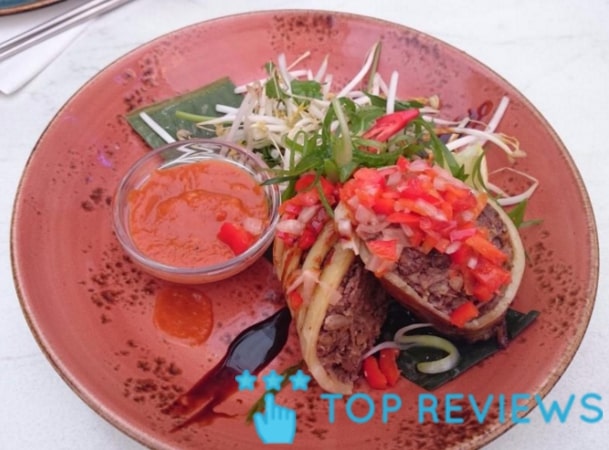 BEST FOR
Asian-Pacific cuisine
SERVICES
Dinner Drinks
WEBSITE
https://www.bluekanu.co.nz/
ADDRESS
16 Church Street, Queenstown 9300, New Zealand
CONTACT DETAILS
+64 3-442 6060

[email protected]

OPERATING HOURS
Open every day from 5.00 – 10.00 PM
PRICES
Please see this link to see their rates
Forget about the world by trying Blue Kanu's "Polynasian" cuisine. Combining Asian and Pacific cuisines have resulted in interesting flavours that will float your boat!
For the mains, you should try out their jungle-style lamb curry with kumara, snake beans, and coconut yoghurt or briny mussels with yellow curry, fruit chutney, and prawn toast.
Feel like sharing? They offer large servings of pork dumplings, tofu, and Korean fried chicken, as well as their heavenly Fijian Chocolate Loaf and pineapple cake dessert.
And of course, they have an array of cocktails to refresh your mind and body. The bold but fascinating The Wahine and the lovely Lychee Petal Martini are perfect for summer.
Pros
Offers vegetarian, vegan, and gluten-free options
Wheelchair accessible
Outside seating available
Accepts major credit cards
Cons
Not open for breakfast and lunch
Customer Reviews
Customers love this funky restaurant in Queenstown. They praised everything about it, from the energetic decor to the faultless service.
Here's one customer's feedback of Blue Kanu:
"This restaurant seriously deserves its reputation. The decor, the atmosphere, the service plus the food and drink were spot on. We had the Feed Me, the chef got everything right and we left absolutely brimming with food. Delicious."
And another diner named Sue shared her experience:
"A perfect spot to enjoy an evening out. We chose a table outside, shaded but superb. The food to be shared arrived in perfect harmony. The wine, Wooing Tree rose, a match made in heaven. Wonderful night, thank you Blue Kanu."
2)   Rātā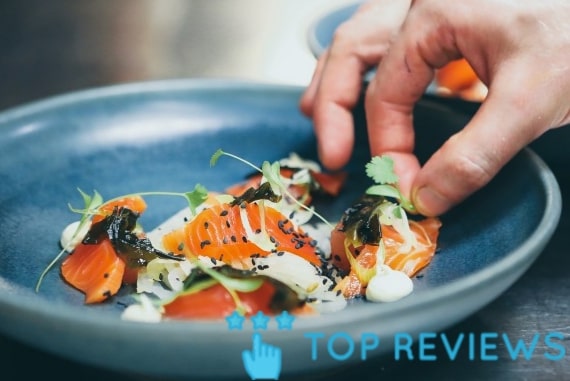 BEST FOR
Local New Zealand flavours
SERVICES
Lunch and dinner Dessert
WEBSITE
https://www.ratadining.co.nz/
ADDRESS
Te Nuku, 43 Ballarat St, Queenstown, 9348, New Zealand
CONTACT DETAILS
+64 3 442 9393

[email protected]

OPERATING HOURS
Dinner (Tuesday – Sunday): 5.00 PM – 10:00 PM Lunch (Friday – Sunday): 12:00 PM – 2.30 PM
PRICES
View their menu and rates here
Rātā prides itself on bringing distinct New Zealand flavours to your plate. The ingredients are sustainably and freshly sourced to prepare a delicious range of food.
Surrounded by forest scenery and enduring historic buildings, the restaurant has a calm and relaxing ambience.
For appetizers, we suggest you try their tomato bread and goat cheese profiteroles to whet your appetite. Afterwards, you can proceed to their succulent merino lamb rump and 55-day aged beef fillet mains.
Their wines encompass those from Otago, Greater New Zealand, and abroad. Their Elderflower Parfait with olive oil jelly and blueberry sauce is simply divine.
Pros
Uses sustainable and fresh produce
Accepts cash, Mastercard and Visa
Cons
Limited menu selection (again, only an issue for some)
Customer Reviews
According to clients, the eatery offers a fabulous fine-dining experience with great food and staff. One also mentioned that the 3-course lunch gave value for money.
Alpna, one satisfied customer, wrote this review:
"We had a wonderful time at Rata. It was a great experience with delicious 3 course meal. It was made special by the warm and friendly service by the staff. Enjoyed the tomato bread! The vegan menu was a bonus!"
Also, Steve commented of the restaurant:
"Absolutely amazing Kiwi fine dining. An enhanced, incentive menu featuring local ingredients served in interesting and innovative ways. The lunch menu is incredible value: 3 courses fit NZ$45. They could easily charge twice that. Great wine, beer and spirits list too. A must if you're visiting Queenstown."
3)   Tatsumi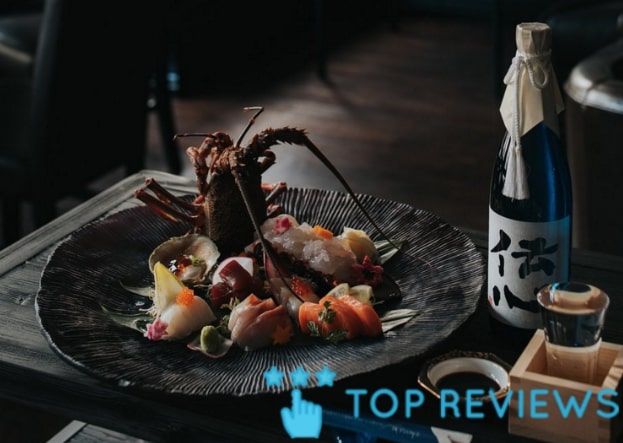 | | |
| --- | --- |
| BEST FOR | Japanese fusion cuisine |
| SERVICES | Dinner Drinks Deliveries |
| WEBSITE | https://tatsumi.co.nz/ |
| ADDRESS | 9 Beach Street Upstairs, Queenstown 9300, New Zealand |
| CONTACT DETAILS | +64 3-442 5888 |
| OPERATING HOURS | Open every day from 5.00 – 9.00 PM |
| PRICES | Check out their rates here |
Within walking distance of Queenstown Mall, Tatsumi is a great spot to relax and refuel. The restaurant offers traditional Japanese fare with a modern European twist!
Set in a lounge setting, the ambience is cosy and elegant contrary to ordinary Japanese eateries. It has first-class wines displayed on the racks in a beautiful pattern.
They have a wide assortment of fresh nigiri, sashimi, and sushi rolls you can choose from. And if you want something more filling, try out their crispy Karaage Chicken, Merino Lamb Rack Cutlets, or Agedashi Tofu.
For dessert suggestions, we highly recommend their sweet Black Sesame Crème Brûlée, delicious Mango Pudding, and irresistible Green Tea Fondant.
Pros
Offers vegetarian, vegan, and gluten-free options
Near Queenstown mall
Cons
Customer Reviews
Many customers praised their delectable and well-presented food as well as their service. No matter how many times you visit, their food quality never falters, said patrons.
Let's see Shigelbinks's review on Tripadvisor:
"Great staff and delicious food. The king prawn gnocchi was sublime! The sashimi was tasty and beautifully presented. I would definitely go back!"
Another customer left this comment:
"From the lovely owners, to the helpful and charming staff, this restaurant never ever disappoints. Impeccable quality of the food, service, drinks, and desserts, sets the bar.
I have made my way through the entire menu a few times over the years and have never been left thinking whatever I sample was only meh. Every dish is made with such care and attention to detail. Balance is always present."
4)   The Bunker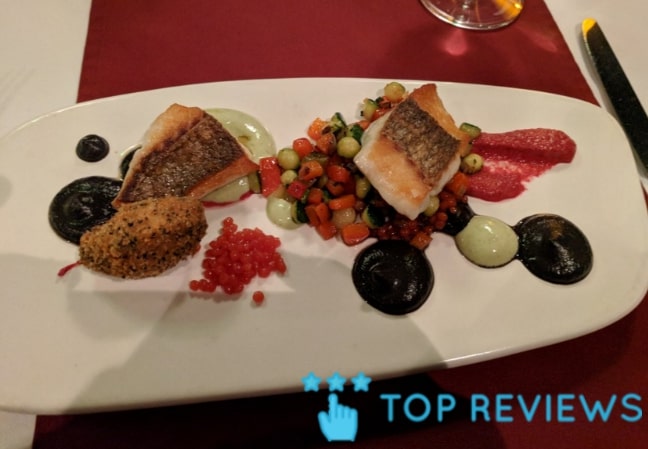 BEST FOR
Rustic fine dining
SERVICES
Dinner Functions Deliveries
WEBSITE
https://www.thebunker.co.nz/
ADDRESS
14 Cow Lane, Queenstown, New Zealand
CONTACT DETAILS
+64 3 441 8030

[email protected]

OPERATING HOURS
Open every day from 5.00 – 11.00 PM
PRICES
Kindly refer to their menu here
Food that's simple and consistently delicious—this is the reason customers keep coming back to The Bunker.
With a homey fireplace and vintage music, the fine-dining restaurant is excellent for a romantic date or family dinner, even late into the night.
Their flavourful lamb, venison, and snapper dishes are perfectly paired with their vast collection of wines, beers, and cocktails. You can also order side dishes, such as truffle mash croquettes and seasonal salads.
The Bunker is situated at 14 Cow Lane in the heart of Queenstown. They also accept private large group dinners for 10 up to 28 people.
Pros
Has vegan, vegetarian, and gluten-free options
Accepts Visa, Mastercard, and Amex
Can host large group dinners
Delivery service available
Cons
Customer Reviews
Customers said that the restaurant had amazing food and service. Also, they greatly enjoyed the degustation course, which lets you try a variety of foods and wines.
One diner stated this of the restaurant:
"Fabulous fine dining . Great service with friendly staff. Venue very cool!! Would definitely recommend for friends."
Furthermore, DeKoster shared his experience:
"We finally made it. Belated 40th celebration and wedding anniversary. Degustation and wine pairing was enjoyed. Everything was spot on and devine. A hidden little gem. The staff were fantastic and knew their product. Thanks for a great evening. Highly recommend."
5) Pog Mahone's Irish Pub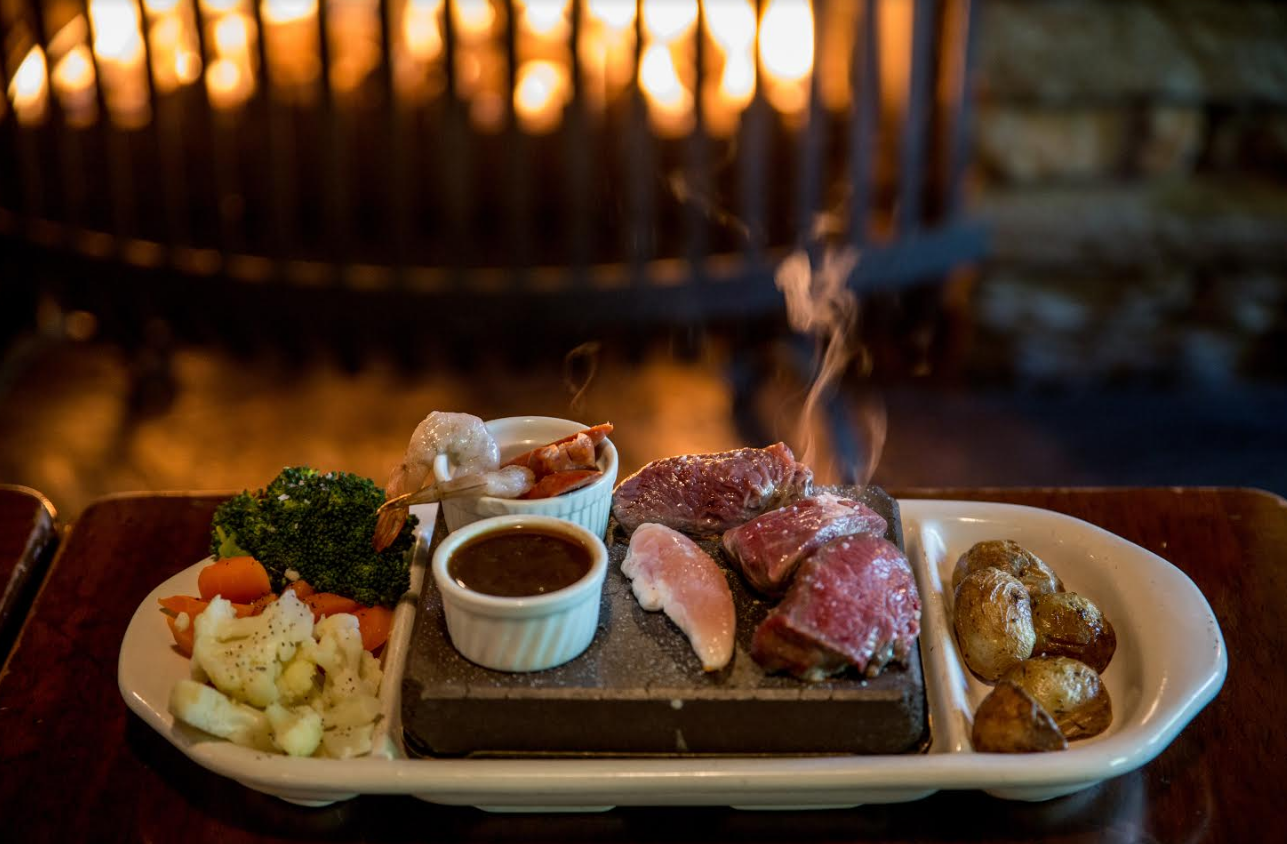 Póg Mahone's offers an authentic Irish atmosphere in Queenstown! It's designed exactly like an Irish pub, so you'll definitely get the feel of relaxation and unwinding.
Also offering lively music and amazing service, you can never go wrong with it as you eat their mouthwatering food.
Take a look at their menu and book seats for your next lunch or dinner date. Experience Ireland in New Zealand, only at Póg Mahone's.
Pros
Fantastic Irish hospitality
Friendly service
Great meals and good drinks
Cons
Sometimes quite noisy and busy with drinkers, live music, or sport
Customer Reviews
Read what Sarah Becker had to say about Pog Mahone's food, environment, and overall service:
"We stopped by here after lunch and just wanted to enjoy the beautiful scenery. There are only a few tables along Lake Wakatipu but it was a great spot to enjoy some post-lunch beverages. I ordered a hot chocolate with Bailey's and my husband got a beer. Inside was theme-appropriate decor with a friendly staff, but you cannot beat the views here! The food menu looked good, but we never got a chance to go back!"
6) Kinross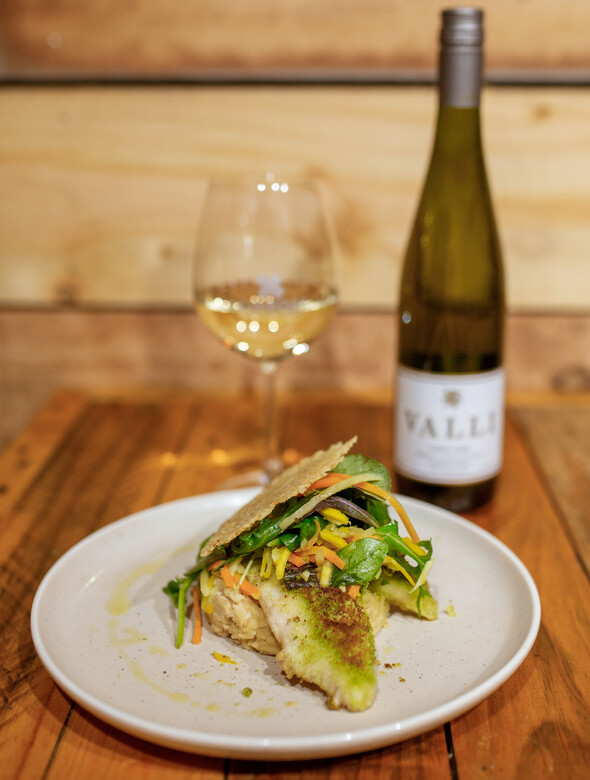 Kinross Bistro offers a delectable selection of meals for breakfast, lunch, and dinner. They're open all-year round, with only Christmas day as an exception, so you have plenty of time to check them out.
Aside from their food, another thing they're known for is their wine and gorgeous vineyard. Each bottle is handcrafted, quality assured and is sold at the best price. This restaurant is a place a lot of people would recommend to try at least once in your life.
You can contact Kinross for reservations, and even room accommodations if you'd like to stay for longer in the premises.
Pros
Amazing wine selection
Always open
Great food portions
Cons
Customer Reviews
Garnering a high rating in Google Review, take a look at some of the feedbacks left by Kinross' customers, proving their deserving spot as one of the best restaurants in Queenstown:
"Amazing stay here at Kinross! Would definitely recommend. The place itself is gorgeous and has very helpful staff. We stayed in one of the cottages and had dinner at the bistro. Shout out to our server Tristan who's attention to detail and wine recommendations perfected our evening. Thanks Kinross!" – Patrick Taylor
"Excellent service and great tasting experience that was tailored to my palate and exploring new flavours at the same time. It was coupled with learning about the history and grapes of the region. The bistro offered excellent food and similarly great service. Strongly recommend to visit." – Nikoletta Soos
7) AKARUA WINES & KITCHEN BY ARTISAN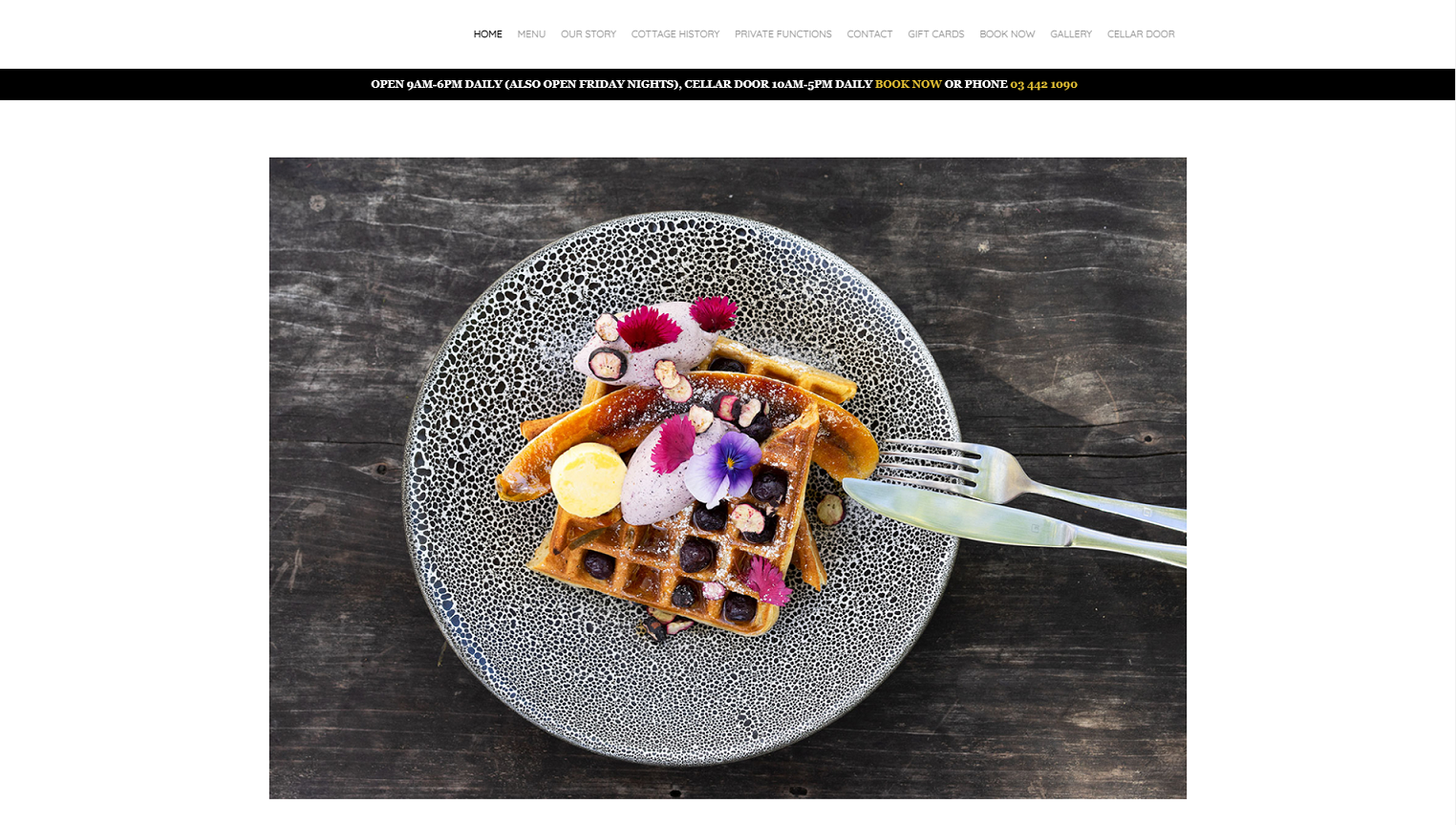 BEST FOR
Alfresco Dining and Tasting
SERVICES
Dining, Wine Tasting, Private Functions
WEBSITE
https://akaruaandartisan.co.nz/
ADDRESS
265 Arrowtown- Lake Hayes Road, Arrowtown 9371
CONTACT DETAILS

Phone
03 442 1090

Email
[email protected]

OPERATING HOURS

Monday to Friday, 9 AM – 5 PM

Saturday and Sunday, 9 AM – 6 PM

Cellar door, 11 AM – 5 PM

PRICES
Menu
Akarua Wines & Kitchen aims to deliver the best food and wine experience to their customers. Quality is guaranteed, no matter if you're getting something from their winery or being served food from their kitchen.
Their Cellar Door offers a wide range of Akarua wines, from Pinot Noirs to Central Otago wines. Their dishes, meanwhile, is handcrafted and uses the freshest ingredients available.
The food is to die for, same with the view the restaurant offers. The beautiful garden and cottage is the perfect place for dining and sightseeing.
Pros
Unique food and wine experience
Wide range of Akarua wines
Knowledgeable cellar door staff members
Akarua Wine Club delivers straight to members' door
Cons
Customer Reviews
"Beautiful food with a peaceful outdoor setting, the duck was to die as well as the potatoes and the tomato salad 10/10"
"Stunning setting, good range of well presented and tasty food with great wines and friendly and prompt service. Great place to relax on a sunny day. Highly recommend."
"We had booked to have lunch at Akarua Wines & Kitchen by Artisan as a stop off our hop on hop off wine tour. The garden setting is beautiful. The staff are very accommodating and helpful. The food was delicious. The lamb is really worth a mention, scrumptious, falling off the bone and full of flavour. The sides were so tasty, delicate and carefully put together, a real treat. Highly recommend this restaurant but be sure to book in advance so as to not be disappointed, it is packed."
8) Mantra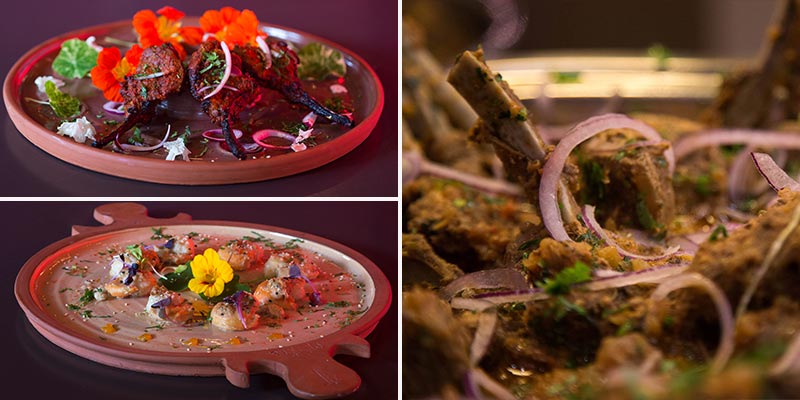 BEST FOR
Indian Cuisine
SERVICES
Lunch, Dinner, Events Venue
WEBSITE
http://www.mantra.net.nz
ADDRESS
12 The Royal Oak, 50 Buckingham St, Arrowtown
CONTACT DETAILS

[email protected]


+64 3 442 0880
OPERATING HOURS
Lunch: 12pm
Dinner: 5pm
*Varies depending on public holidays and seasonal opening hours
Based in Arrowtown, Mantra does not only offer Indian cuisine but also delivers fine dining experience to its customers. They also have vegetarian-friendly meals, vegan options, and gluten-free options on the menu.
Aside from having a regular lunch or dinner, Mantra caters celebrations, intimate dining, business entertaining, and other functions. They cover a lot of events for different occasions.
They open at 12:00 noon for lunchtime and from 5 pm for dinner. Mantra's operating hours, however, vary depending on their seasonal opening hours and public holidays.
To control the volume of people, a table reservation is highly recommended by the restaurant. We recommend arriving on time to not miss out on your reservation after 15 minutes of your expected arrival.
Mantra's menu is also available on their website for customers to see beforehand. This is also a plus to those who are interested to know their pricing.
Pros
Fine dining experience
Authentic Indian cuisine
Offers vegetarian, vegan, and gluten-free options
15-minute table reservation
Can accommodate functions
Cons
Price is higher than the average
Waitlisting for those without reservation
Customer Reviews
With 379 reviews, Mantra has a rating of in Tripadvisor. Here are some of the reviews:
"Mantra is now on our list for celebrating all the special occasions , everything is just so good, you won't be disappointed at all. Samosa chaat is super delicious and tempting. We loved our food, the captivating beautiful interiors, superb service and the overall positive vibes, You'll get everything at a single place!"
"This was the best Indian meal my husband and I have had for a long time. Delicious, complex flavours, beautifully presented and cooked perfectly. We had a range of starters and the lamb chops were outstanding, lean, tender and so tasty. Our 3 mains dishes were all beautiful and very distinct. The fish curry was a particular highlight. We enjoyed the elegant surroundings in this restaurant and our Nepalese waiter was charming and very attentive. We will definitely be back!"
You've just read through our list of the best Queenstown restaurants. As you can see, their menus are diverse and will surely make your day.
Did we leave out other fantastic Queenstown restaurants in our list? Send us a message and we'll check out your recommendations!
Planning to stay at a hotel and enjoy exquisite food? If you are, you might want to read about the best New Zealand hotels.