The 6 Best Real Estate Agencies in Christchurch
A real estate agent can help you navigate the rugged terrain of property transactions. If you need such assistance, you're in luck, as we've listed the best real estate agencies in Christchurch here.
We included the ones who have the knowledge, work ethic and integrity to help you with your property needs, according to their clients. Aside from that, we picked those with lower commission rates.
With their help, you'll make a smart choice in the real estate market. So, if you're ready, here are the best real estate agencies in Christchurch!
1)  Smart Real Estate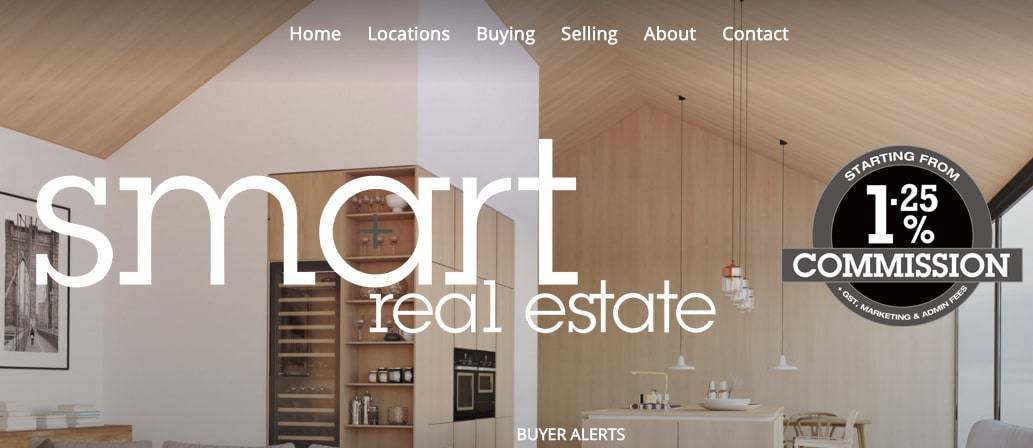 BEST FOR
Lower Commission Fees
SERVICES
Buying

 

Selling

Auctioning

WEBSITE
https://www.smartrealestate.co.nz/
ADDRESS
150 Major Hornbrook Road, Mount Pleasant, Christchurch 8081, New Zealand
CONTACT DETAILS
+64 3-384 8600
OPERATING HOURS
Monday to Friday: 8.30am – 5pm
Smart Real Estate was started in 2013 by Debra Hakaraia, who had then worked for a renowned real estate agency alongside the best sales crew and business experts.
They offer a complete real estate service, from photography to sales, with a low commission rate of 1.5%. This has made them attractive for many clients, especially as they receive top results.
Her marketing strategy is proven and effective: your property will be exposed to millions of buyers worldwide. She is said to be completely knowledgeable about the marketplace, in addition to being a great listener and worker.
Smart real estate offers purchase and sale of property across the Canterbury, Central Otago and Queenstown regions.
Highlights
Lower commission rates than most
Knowledgeable and hardworking agent
Effective marketing strategy
Cover the Christchurch, Central Otago and Queenstown regions
Customer Reviews
Their clients Keremeta and Kay Hodge wrote this on the website:
"We found Debbie very efficient and knowledgeable. Communication and advise was excellent. She went above and beyond to sort out any issues we came across. Thank you so much for everything."
2)  Ray White Next Step
BEST FOR
Exceptional and Transparent Service
SERVICES
Buy

 

Auctions

Sell

Rent

WEBSITE
https://nextsteprealty.co.nz/
ADDRESS
422 Innes Road, Mairehau, Christchurch 8052, New Zealand
CONTACT DETAILS
+64 3-386 0311
OPERATING HOURS
Monday to Friday: 9am – 5pm
Based in Mairehau, Ray White Next Step is another of the best real estate agencies in Christchurch you can get.
That is owing to their committed team who work together to bring you the best prices for the sale and management of your property.
Their philosophy is to be open and transparent to the client at all times. Honesty and integrity is at the heart of what they do and has kept customers returning.
Like most classic agencies, they also have open-home periods for walking you through the house and showing you its distinctive features. Plus, the entire process will be handled for you without a hitch, like they've done for a large number of their buyers and sellers.
Highlights 
Bring outstanding results
Honest and transparent service
Committed team
Seamless process 
Customer Reviews
Here's the feedback of one client, David Frost, as posted on the webpage: 
"Brad has assisted with purchases and sales of three of our houses and we hope to continue using his services well into the future. Brad made me feel like nothing else around him was as important as the sale of my house, whilst delivering professional and personalized customer service along the way."
3)  Mike Pero Real Estate Cashmere
BEST FOR
Personable and Patient Agents
SERVICES
Buying

 

Selling

Open Homes

WEBSITE
https://cashmere.mikepero.com/
ADDRESS
8 Cashmere Road, Cashmere, Christchurch 8022, New Zealand
CONTACT DETAILS
+64 3-423 9862
OPERATING HOURS
24/7
Mike Pero Real Estate is an established name in the buying and selling of real estate. It was founded in 1991 and currently has over 60 offices and 200 salesmen nationwide.
They pride themselves on their down-to-earth and knowledgeable team. They have achieved scintillating results for their clients at competitive commission fees.
They are committed to bringing an honest and excellent service for clients by going above and beyond all the time.
Also, they offer a free, no-obligation appraisal of your property. You just need to fill in the online form on their website.
Highlights
Produce top results
Friendly and knowledgeable realtors
Honest and excellent service
Low rates
Customer Reviews 
Check out the review of Alex and Melissa on Google Business: 
"Alan has been most helpful and helped sort any issues we have had with the purchase of our new home. Alan has been professional, reliable and a pleasure to work with. Many thanks & looking forward to keeping in touch in the future."
4)  Total Realty Ltd
BEST FOR
Cost-Effective Service
SERVICES
Buying

 

Selling

WEBSITE
https://www.totalrealty.co.nz/
ADDRESS
2/680 Barbadoes Street, Edgeware, Christchurch 8013, New Zealand
CONTACT DETAILS
+64 3-940 9797
OPERATING HOURS
Monday to Friday: 9am – 5pm
If you're after a cost-effective service, you should definitely get Total Realty. They were voted at the top of a Consumer magazine poll for offering a fairer price than other real estate firms.
Each of their consultants brings at least a decade of experience with a true passion for the real estate sector. Not only that but they have proven to perform outstandingly in sales too.
The company offers a huge range of properties across the entirety of South Island. They have branches in Christchurch, Rangiora, Nelson, Dunedin and Invercargill.
With a combination of excellent services and prices, you get the total package from Total Realty — one of the best real estate agencies in Christchurch.
Highlights
Cost-effective service
Great at selling properties
Wealth of experience
Have branches within the South Island
Customer Reviews
One seller, Chelsea Botting, had this to say on Google:
"The process with Randa and Total Realty was really easy and straight forward. Randa had excellent communication and was always readily available to us. Randa is passionate and a good listener, she's honest, smart and works hard for a good outcome.
Our house sold quickly and we achieved what we wanted. We will definitely use Randa again in the future, to buy or sell."
5)  Professionals Christchurch Ltd
BEST FOR
Simple and Professional Process
SERVICES
Subdivisions

 

Buying

Selling

Renting

WEBSITE
https://www.prof.co.nz/
ADDRESS
33 Halswell Road, Hoon Hay, Christchurch 8025, New Zealand
CONTACT DETAILS
+64 3-338 5924
OPERATING HOURS
Monday to Friday: 8.30am – 5.30pm
Locally-owned and -operated, Professionals Christchurch Limited offers real estate sale and purchase services as well as property management services.
Their realtors undergo regular training enabling them to perform at the highest levels of skill and professionalism. Clients shared that the process had been simple and professional for them.
With specialist tools and resources available, they strive to provide you with the best price on the market whether you are renting, buying or selling a house.
They are also some of the best real estate agencies in Christchurch that give back to the community. Some of those they contribute to include the Child Cancer Foundation, local schools and sports clubs.
Highlights 
Excellent outcomes
Complete real estate services
Trained and dedicated agents
Simple and professional process
Supports the local community
Customer Reviews
On Google, one client, Louise Conza shared this:
"I found Anna to be lovely to deal, she had a huge volume of people to communicate with after the open home, but she worked hard to make sure we had fast and informative responses to our questions, she is a great mix of personable and professional and was extremely helpful through both the offer and purchase stage. I would highly recommend her."
6) Whittle Knight & Boatwood Ltd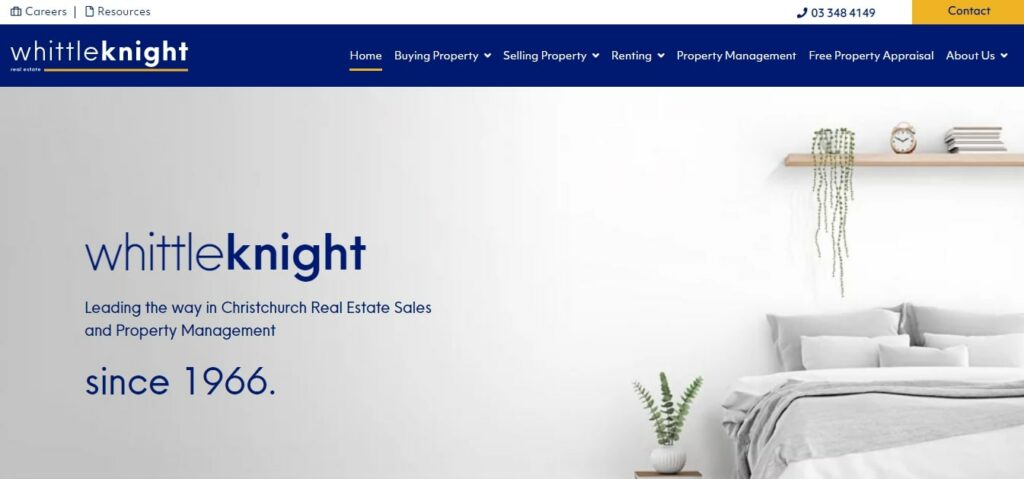 | | |
| --- | --- |
| BEST FOR | Comprehensive Listing |
| SERVICES | Buying, Selling, Renting |
| WEBSITE | https://whittleknight.co.nz/ |
| ADDRESS | Cnr Riccarton & Clyde Roads Upper Riccarton Christchurch 8041 |
| CONTACT DETAILS | 03 348 4149 / [email protected] |
| OPERATING HOURS | Monday to Friday: 8.30am – 5pm |
Whittle Knight & Boatwood Ltd is a real estate firm that offers thorough and outstanding services in the Christchurch area. They are founded back in 1966, and since then they have been serving the community and delivering consistent services for over 50 years already.
We find their diverse portfolio of properties to be very accommodating and convenient for clients looking for a specific property for them in the area in a much smoother browsing experience.
Another thing we think to be impressive is their amazing website user interface that helps both buyers and sellers browse and register their properties with their comprehensive listing system as well.
Their clients have since commended them to be very hospitable and accommodating in terms of customer service, we recommend them to clients looking for a property in Christchurch.
Highlights
Accommodating customer service procedures
Easy to use website
Comprehensive and diverse connections
Customer Reviews
Here are some reviews from their clients:
"I am very happy to have had WKB over the last 7 years as Property Manager… I am everyday grateful for their great service! Thanks Fiona Thompson for being so easy going, freindly and for alway having the rich advice at hand 😉!
I wish WKB team an awesome and successful New Year 2019 😀!"
"Sarah was awesome tonight, gave us a lot of information which made us super excited for next year!!"
And there you have it for the best real estate agencies in Christchurch. You now know whom to call when you're looking for a new place to call home or selling your old dwelling.
Do you have any questions about our topic today? If you do have one, just let us know by sending us a message and we'll reply as soon as we can.
Also, you might like to read about our other construction and design lists. For example, you can check out the best driveway gates Christchurch fabricators to give your new property some privacy, while also making it stylish and secure.