The 9 Best Recruitment Agencies in Christchurch
Looking for career-building work at a decent company? If so, you're just in time, as we've collated the best recruitment agencies in Christchurch here for you!
We chose the ones that have reliable and helpful recruiters who can guide you throughout the process. Also, we included those that give tailored services and have stellar reviews.
Anyway, if you're ready, here are the best recruitment agencies in Christchurch.
1) Bishop Associates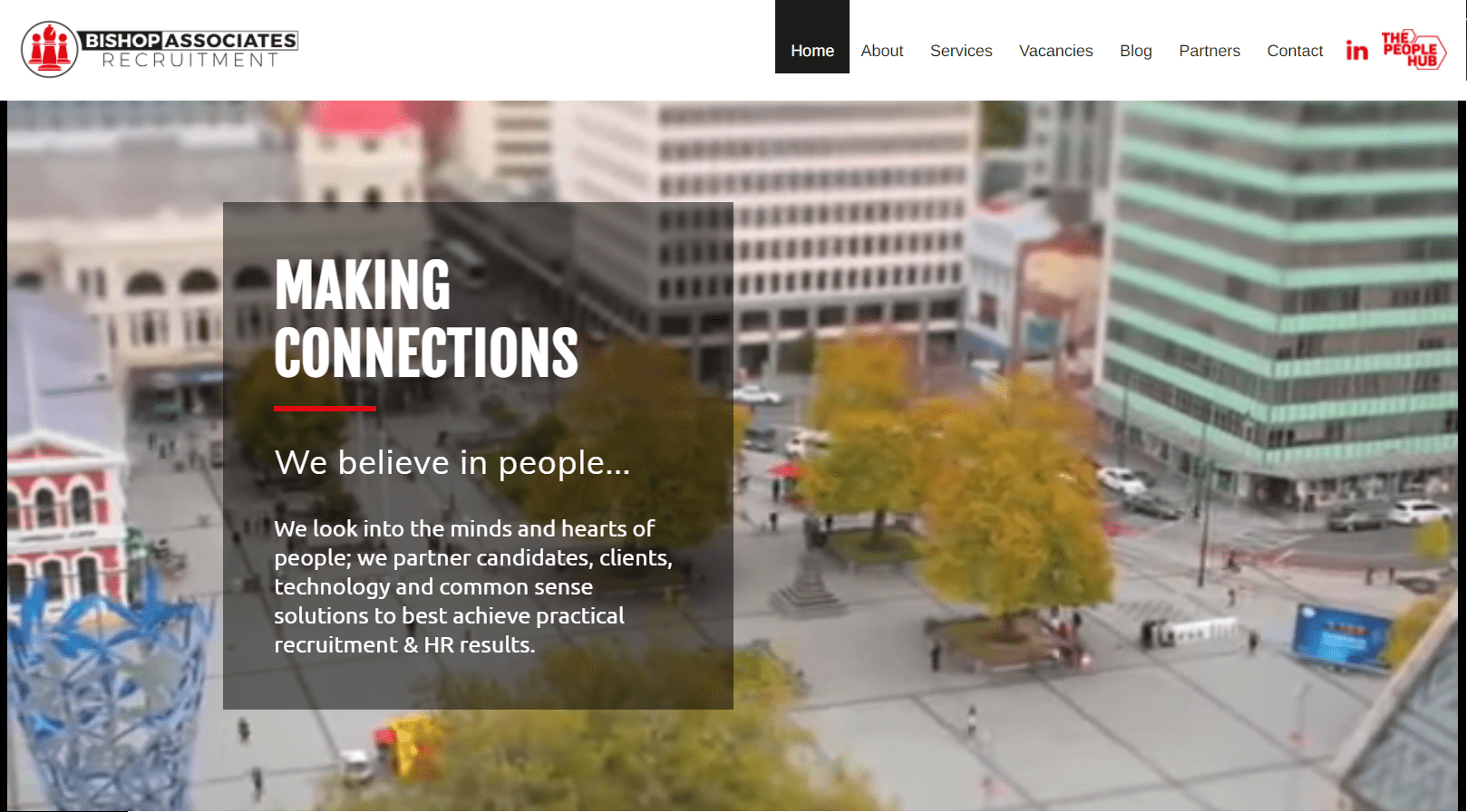 BEST FOR
Long-term Consultant Relationships
SERVICES
Recruitment & HR Consulting
Search & Selection Recruitment
Executive Lease/Temp
Psychometric Assessment
WEBSITE
https://bishopassociates.co.nz
ADDRESS
The People Hub
D1, 150 Lichfield Street
PO Box 9196
Christchurch
New Zealand
CONTACT DETAILS
OPERATING HOURS
Monday to Friday: 8:30 am – 5 pm
One of the things Bishop Associates will guarantee its clients is that they always strive to achieve thorough understanding of the specific role needs and culture, so as to create the most apt matches.
Bishop Associates has a hands-on process that seeks to determine clients' needs and candidates' skillsets and circumstances down to the nitty gritty. Their client base is composed mostly of long-term business relationships and so this can attest to the effectivity of their processes.
Their leader Rob Bishop has been working in recruitment in Christchurch since 1998 and is well known in the HR sector. He has a reputation for providing a high level of integrity to his methodology and has built a small team of experienced, high calibre consultants around him.
Highlights
Hands-on process that determines the specific role needs and culture in order to make apt matches
Puts a primacy on building long-term relationships with clients
Has a team of knowledgeable and experienced professionals
2) Ryan Recruitment

BEST FOR
Reliable & Efficient Consultants
SERVICES
AccountingFinance

Insurance

Customer Service

Management

Business Support

Administration

Engineering

Operations

Civil Construction

Traffic Management

Manufacturing

Production

Warehousing

Logistics

Sales

Technical

FMCG

WEBSITE
https://www.ryan.co.nz/
ADDRESS
Unit 5a/303 Blenheim Road, Upper Riccarton, Christchurch 8041, New Zealand
CONTACT DETAILS
+64 3-365 0294
OPERATING HOURS
Monday to Friday: 8am – 5pm
Need a temp staff for your sales department, HR services to handle all applications flooding in, or a great-paying job you're passionate about? Ryan Recruitment can help with all these.
The agency boasts their 30 years of experience and expertise, serving clients in Canterbury. They offer permanent, temporary, part-time and contractual work opportunities from an array of sectors.
One client said that the team listened and strove to understood his staffing needs before pitching a qualified candidate. They don't just recommend anybody out of the blue.
What's more, Ryan Recruitment seeks to build long-term relationships with clients, ready to assist whenever you need them.
Highlights
Reliable & efficient staff
Offers jobs across a wide range of sectors
30 years of experience
Carefully selected candidates
Customer Reviews
One client, Angela Byles, wrote this on Google, showing that the company is one of the best recruitment agencies in Christchurch:
"Gaby Rush has been my point of contact at Ryan Recruitment since the beginning of 2020. I've been registered with them for a while and recently had my first assignment with them.
From start to finish Gaby and the team have been nothing but, kind, supportive, positive and extremely professional. My assignment was great and I was placed with a lovely company, I thoroughly enjoyed my work there and can't thank Gaby and the team enough for their support and professionalism. Thank you!"
3) Advanced Personnel Recruitment Solutions

BEST FOR
Construction and Industrial Jobs
SERVICES
Engineering and Manufacturing

Infrastructure and Construction

Food Processing and Logistics

Hospitality

Business Support and IT

WEBSITE
https://advancedpersonnel.co.nz/
ADDRESS
280 Cashel Street, Christchurch Central 8011, New Zealand
CONTACT DETAILS
+64 3 365 4322

0800 365 4322

OPERATING HOURS
24/7
Established in 1987, Advance Personnel is an NZ-owned and -operated recruitment firm specialising in the construction, professional and industrial sectors.
When you work with Advance Personnel, you get the benefit of their 24/7 consultancy service. The team has extensive knowledge and the network to assist you in finding your desired job.
Plus, you won't just be another numbered applicant to them. That's why they provide a personal touch to really get you the most value out of their service — enabling you to find the job of your dreams.
Highlights
NZ-owned and -operated
24/7 consultancy service
Knowledgeable team
Personal touch
Customer Reviews
Here's what Kim Row, one applicant, has to say on Google:
"I've worked (or tried to work) with other job agencies, and Advanced Personnel is a step above the others. In an industry that can make you feel invisible, Advanced Personnel staff were communicative and found me steady part-time work. I recommend them highly!"
4) Kinetic Recruitment

BEST FOR
Personalised Solutions
SERVICES
Recruitment

HR / Consulting Services

Education / Healthcare

WEBSITE
https://www.kinetic.co.nz/
ADDRESS
Central City, Christchurch 8011, New Zealand
CONTACT DETAILS
+64 3-260 2960

OPERATING HOURS
—
Simple and straightforward, Kinetic Recruitment aims to connect the right applicants to the right companies for mutual success — both for the company and individual.
Its Christchurch office opened in 2016 and is the newest of the bunch. Other offices are located in Auckland, Wellington and Tauranga.
They offer recruitment and human resource services as well as career advice. Their ethos is to listen really well to their clients' needs to deliver a personalised solution.
As one of the best recruitment agencies in Christchurch, their goal is to exceed their clients' and candidates' expectations all the time with passion and understanding.
Highlights
Personalised solution
Listens to clients well
Also offers career advice
Customer Reviews
Find out about the comment of Sokunthea Keo on Google Reviews:
"Mandy from chch kinetics is truly amazing she is so friendly and caring and goes out of her way to make things happen 🙂 highly recommended."
5) Hays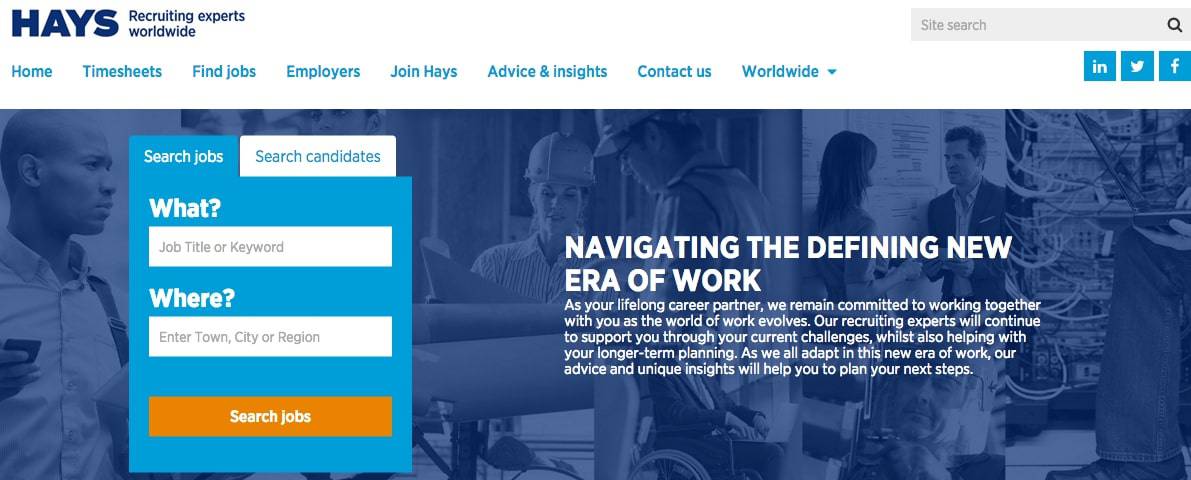 BEST FOR
Excellent Communication
SERVICES
Accountancy Jobs

Call Centre Jobs

Construction Jobs

IT Jobs

Marketing & Digital Jobs

HR Jobs

Temporary Jobs

Contract Jobs

WEBSITE
https://www.hays.net.nz/home
ADDRESS
131 Victoria Street, Christchurch Central, Christchurch 8013, New Zealand
CONTACT DETAILS
+64 3-377 6656
OPERATING HOURS
Monday to Thursday: 8am – 5.30pm

Friday: 8am – 5pm
Going further with the best recruitment agencies in Christchurch list, we have Hays. Whether you're searching for a candidate or job, this company can sort you out.
They have experts who work hard to find you fitting career choices and nice opportunities. Clients mention that they keep you in the loop at all times, making everything a breeze.
You'll find permanent, temporary and fixed-term jobs here from a range of fields. This includes IT, call centre, marketing and sales, and construction jobs.
Highlights
Hardworking and efficient team
Offers work from a wide range of fields
Outstanding communication
Customer Reviews
On Google Reviews, Kevin wrote this:
"Worked with Matthew for months prior to accepting a position elsewhere, however I wanted to say how completely impressed I am with how Matt has gone above and beyond to gather potential opportunities, to set up interviews, with respectful and discrete communication, etc. Definitely and positively a job well done and I would highly recommend getting in touch with Hays for help with your search for work."
6) Tech 5 Recruitment

BEST FOR
Top Talent Recruitment
SERVICES
Trades & Labour

Construction Engineering

Transport, Logistics & Warehouse

Manufacturing & Processing

Corporate & Commercial

WEBSITE
https://www.tech5.co.nz/
ADDRESS
Level 1/789 Colombo Street, Christchurch Central, Christchurch 8013, New Zealand
CONTACT DETAILS
+64 3-377 5955
OPERATING HOURS
Monday to Friday: 8am – 5.30pm
Tech 5 Recruitment is an industry leader when it comes to meeting your recruitment needs or offering candidates enjoyable and fulfilling work across New Zealand.
It is a proud family-run company dedicated to delivering top service quality. Their team is highly knowledgeable, flexible and also understanding — they're people you can depend on for finding a job or recruiting skilled staff.
They fill in vacancies among the biggest industries in NZ, which consist of corporate, construction, manufacturing and logistics as well as trades and labour services.
Need labour staff or carpenters ASAP? Executive management for sales? Or a truck driver to deliver stocks to your clients? Tech 5 can absolutely supply them for you.
Highlights
Recruits top candidates
Highly knowledgeable and flexible staff
Proud family-run company
Offers work in different fields
Customer Reviews
On the webpage, Seth Gleeson who works at Datum Projects, shared this:
"Datum Projects have utilised Tech 5 as our construction recruitment and labour hire partner of choice for the past 9 years. The reason we keep returning to Tech 5 is their ability to ensure our requirements are actually met through intimate knowledge of our industry."
7) Max People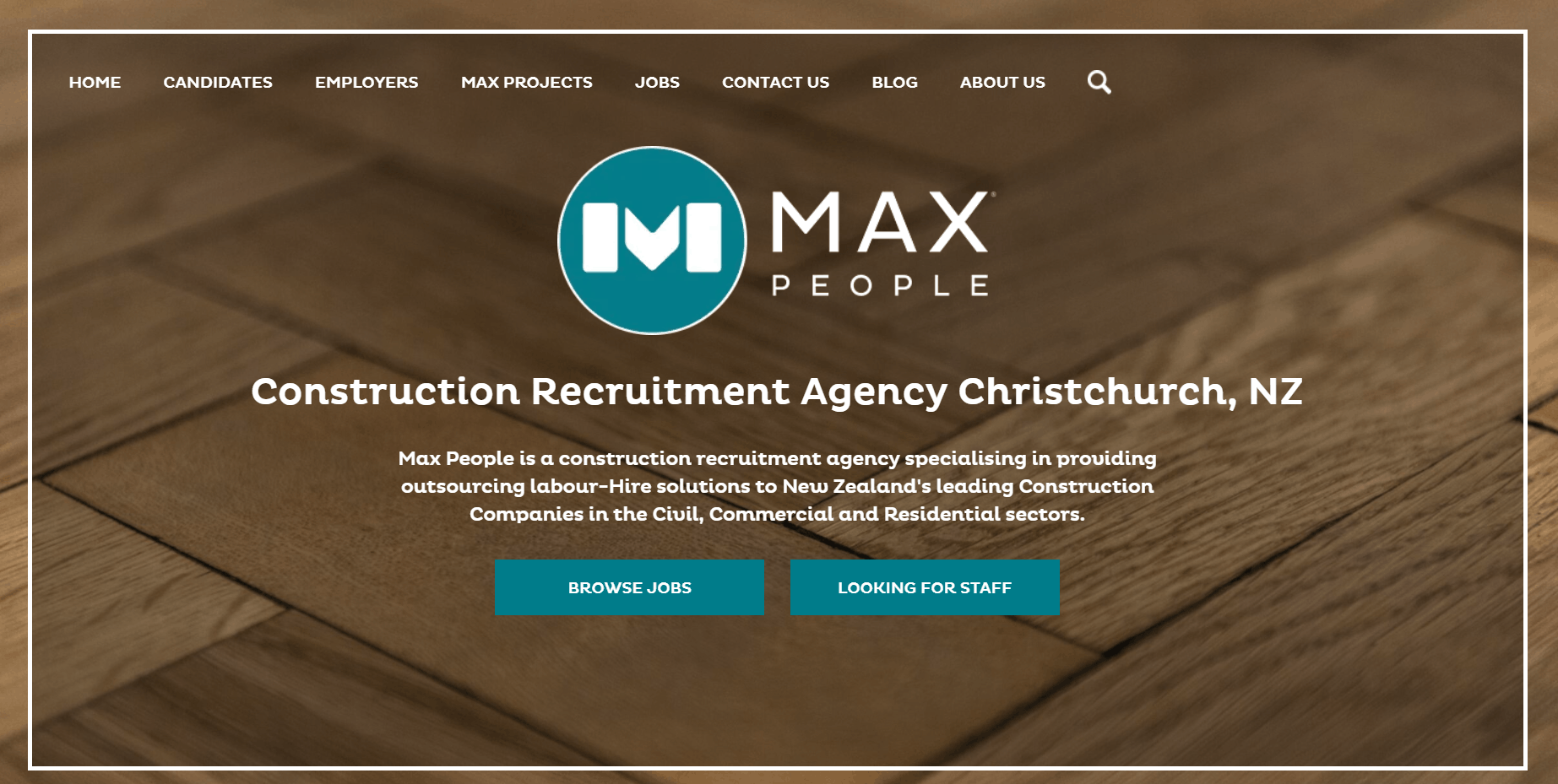 BEST FOR
Construction Companies
SERVICES
Recruitment for Civil, Commercial, and Residential Sectors
WEBSITE
https://www.maxpeople.co.nz
ADDRESS
187 Waltham Road
Sydenham
Christchurch 8023
CONTACT DETAILS
Phone:
03 365 0088

Email:
[email protected]

OPERATING HOURS
Monday – Friday: 7:30 AM – 4:30 PM
If you're interested in working in construction, Max People is one of the best recruitment agencies that can help you out. They specialise in providing recruitment solutions for the construction industries, mostly in the civil, commercial, and residential sectors.
They offer a diverse set of solutions to companies, such as temporary labour, permanent labour, and their unique Three-tiered Managed Labour service packages. These recruitment options come with a team leader that works on-site, so they can ensure that the requirements of the job are met.
To ensure that their labourers do their work properly, they take the time to train each and every one of their employees for the job. Moreover, they motivate their workers so they perform at their best, keeping productivity high and minimising the labour costs needed.
Finally, they also foster their employee's growth and learning, so they develop alongside the company they're working under. Given their flexible solutions and excellent employee management, Max People remains unmatched by many when it comes to the construction recruitment industry.
Highlights
Flexible business model
Temporary and permanent recruitment available
Structured and motivated labour teams
Increased productivity and reduced costs
8) Superstaff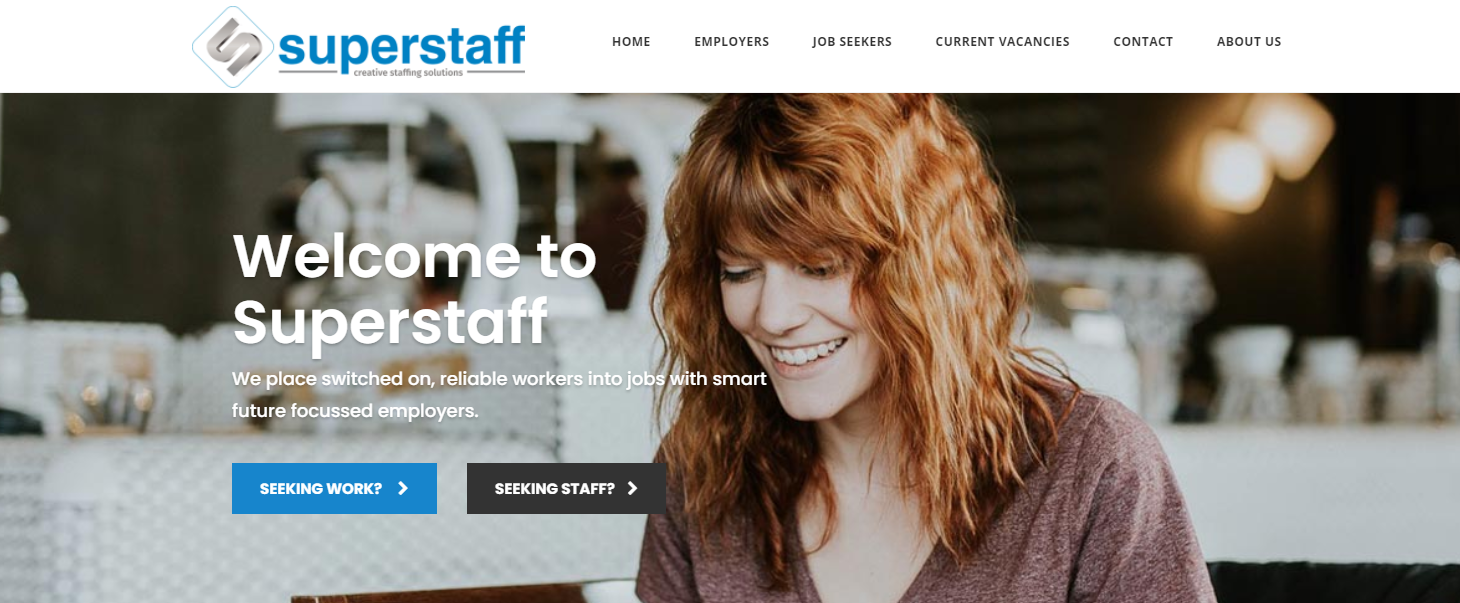 BEST FOR

Temporary and Permanent Staff Members

SERVICES

Casual workers (from 1 day +)

Long-term & Short-term Projects

Permanent placements

Temporary assignments

Cover for leave

Payroll outsourcing

Covid-19 Cover

WEBSITE

https://www.superstaff.co.nz

ADDRESS

New Zealand

CONTACT DETAILS

Auckland:

09 6222540

Christchurch:

03 3386987

OPERATING HOURS

By appointment
Established in 2006, Superstaff is a boutique recruiter that first began its journey in Christchurch. Over the years, Superstaff experienced substantial growth to the point where the recruitment firm was capable of bringing their services to Auckland for the people to enjoy.
Now, there are many reasons why one should consider opting for Superstaff's services.
For one, Superstaff is one of the recruitment firms that accommodate both employers and job seekers alike. No matter the type of client the firm is handling, it does its best to deliver on its promises.
Another reason is Superstaff's flexibility. Unlike other recruitment agencies, Superstaff caters to clients from all walks of life and industries.
Lastly is the quality of service itself.
See, despite being a small team, Superstaff is capable of handling the end to end recruitment process. The Superstaff team takes the time to understand both the candidate's and the client's requirements, which gives them an easier time finding the person that best fits the role given.
Highlights
Caters employers and job seekers alike

Accommodates requests for temporary and permanent employees

Capable of working with companies from various industries
9) Drake New Zealand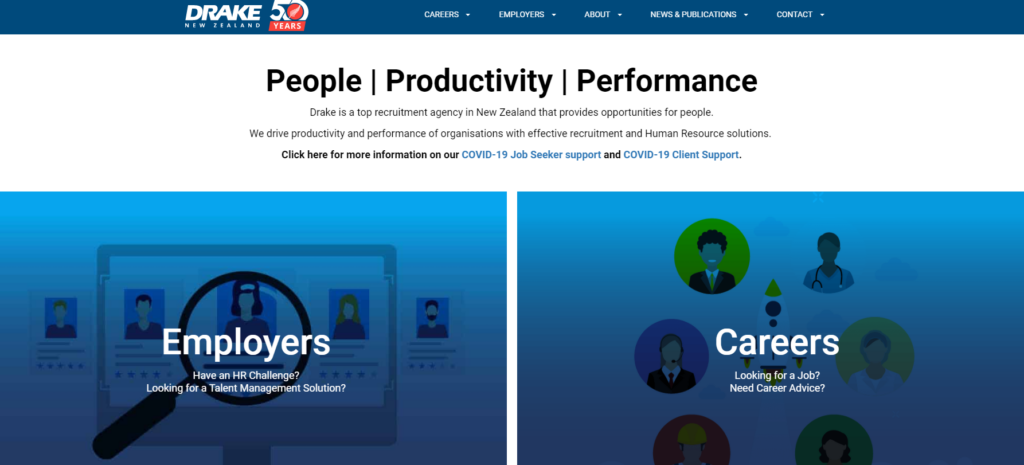 BEST FOR

Full-time, Part-time, and Temporary Recruitment

SERVICES
Recruitment in the following industries: manufacturing, warehousing, transport and logistics, office administration, and human resources
WEBSITE
https://nz.drakeintl.com/
ADDRESS

834 Colombo Street, Level 1 Christchurch CBD 8013

CONTACT DETAILS
Tel: (03) 381 3670
Fax: (03) 381 3125
OPERATING HOURS
Monday – Friday: 8:30am – 5:30pm
Recruitment agencies in Christchurch are an integral part of the hiring process that many companies use to hire new employees.
They provide the necessary manpower and expertise that many companies lack to help them find the right person for their company.
Drake New Zealand has been in operation for 50 years, and has 9 offices across the country, including one in the Christchurch CBD. They are committed to providing their clients with outstanding customer service and to finding the best talent for their respective roles.
Their team of recruiters are highly skilled and dedicated to finding the specific type of person that each client is looking for.
They work with various industries, including manufacturing, warehousing, transport and logistics, office administration, and human resources.
Drake works with employers throughout the South Island placing talented candidates in many roles, including: machine operators, forklift drivers, factory workers, food processors, labourers, devanners, picker packer, call centre and customer service, business support, project management, administration and cleaners.
Highlights
Caters to requests for full-time, part-time, and temporary employees

Accommodates clients from a wide range of industries

After Hours customer service team available 24/7
So that's it for the best recruitment agencies in Christchurch. You can get in touch with them for your recruitment, career changes or some tips to ace your interview.
Do you have any questions, opinions or comments so far about the article? If you have one, pitch them over to us by message and we'll sort you out in a bit.
Also, while you're waiting for updates from the recruiters, you may like to earn some money by completing surveys. For this, you can check out the best paid survey New Zealand companies for awesome cash prizes and vouchers!