The 6 Best Recruitment Agencies in Wellington
Finding the ideal candidates to work for your company can be a hard and tedious process. Alternatively, if you're a job seeker, finding the perfect job may also prove to be difficult.
Fortunately, recruitment agencies are there to help you with any of your employment needs. To make the process easier, we've put together a list of the best recruitment agencies in Wellington here for you.
We picked out the ones with reliable and professional consultants to guide you through the process. Also, we selected those with great track records and have a wide selection of jobs.
Without any delay, we now bring you the best recruitment agencies in Wellington!
1) Robert Walters

BEST FOR
Individual consulting and advising
SERVICES
Accounting Jobs

Risk & Compliance Jobs

Business Transformation Jobs

Tech Jobs

Legal Jobs

Human Resources Jobs

Procurement & Supply Chain Jobs

Sales, Marketing & Communication Jobs

Secretarial & Business Support Jobs

WEBSITE
https://www.robertwalters.co.nz/
ADDRESS
Harbour Tower 2 Hunter Street, Wellington Central, Wellington 6011, New Zealand
CONTACT DETAILS
+64 4-471 9700
OPERATING HOURS
Monday – Friday: 8.30 AM – 6.00 PM
Formed in 1985, Robert Walters is a global award-winning recruitment agency offering a diverse range of jobs across Auckland, Wellington, and Christchurch.
It prides itself on its team of professionals that specialises in various fields. This means that they can provide consultations and professional advice so that you can find suitable candidates to fill your vacancies.
If you're a job seeker, you can search the latest job postings on their site for accounting, tech, legal, human resources, supply chain, and business and secretarial roles.
As many of their clients will agree, they are one of the best recruitment agencies in Wellington.
Highlights
Globally-recognised recruitment agency
Individual advising and consulting
Covers Wellington, Auckland, and Christchurch
Customer Reviews
One aspiring jobseeker, Mya H., shared this review of Robert Walters's services:
"My experience at Robert Walters was top notch. From complimentary coffee to great staff. I was extremely impressed with Natalie E for helping me with my job search and putting me in contact with the right people to get me into a job I could not only excel at but allowed for opportunity to move up. Her customer service was outstanding and she was able to answer all of my questions. Truly impressed. Would recommend."
2) Beyond Recruitment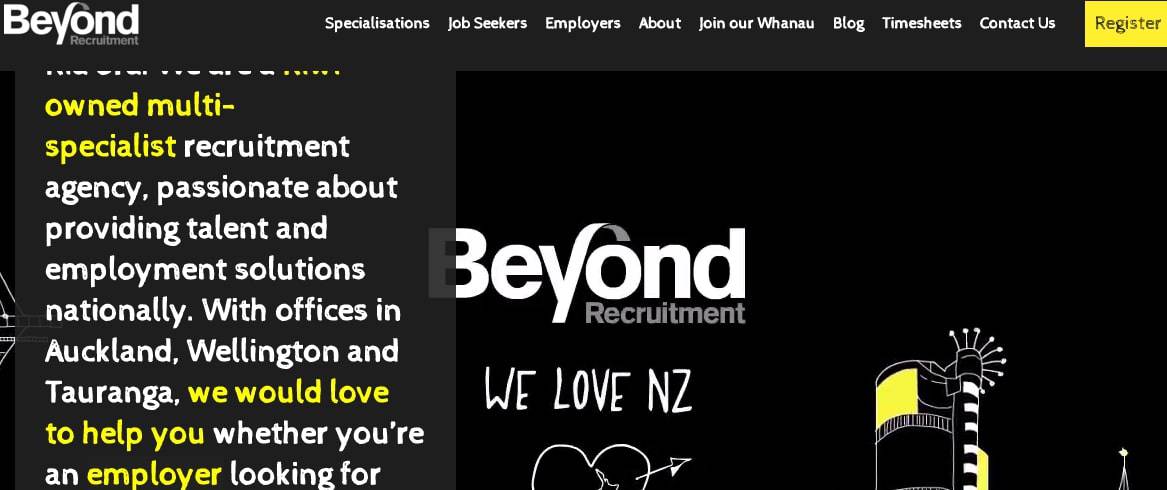 BEST FOR
Encouraging and professional recruitment consultants
SERVICES
Technology, Transformation & Digital

Accounting, Finance & Financial Services

Corporate Support

CX, Digital, Sales & Marketing

Customer Services

Engineering & Technical

Government & Policy

Human Resources

Procurement & Supply Chain

Property, Construction & Architecture

WEBSITE
https://www.beyondrecruitment.co.nz/
ADDRESS
Level 10, Fujitsu Tower, 141 The Terrace, Wellington 6011, New Zealand
CONTACT DETAILS
+64 4 472 2434
OPERATING HOURS
Monday – Friday: 8.00 AM – 5.30 PM
If you're looking to hire competent applicants or want to build your skillset at a new company, try Beyond Recruitment.
Beyond Recruitment is a Kiwi-owned and -operated company with reliable and trustworthy consultants. They'll support you in your professional journey every step of the way.
They have consultants for different specialisations so that they can link you with a job where you naturally fit. You can find many permanent, temporary, or contractual job opportunities here.
Interested? You can come by at their Wellington office or call them to discuss your recruitment or job search needs.
Highlights
Kiwi-owned and -operated
Dedicated and supportive team
Has top-calibre listings of companies
Customer Reviews
Here's feedback from one job applicant, Amy S., regarding her experience with Beyond Recruitment:
"Beyond Recruitment have by far been the easiest and most reliable recruitment company I have ever worked with. Ashley and Sharlene have been friendly, approachable and have answered all my questions. They are very supportive, and even encouraged me to try some different career avenues that I had previously been unsure of. Within a few weeks of my meeting with them I was starting a new full time job that I have been very happy with so far. I would definitely work with them again in the future!"
3) GBL Personnel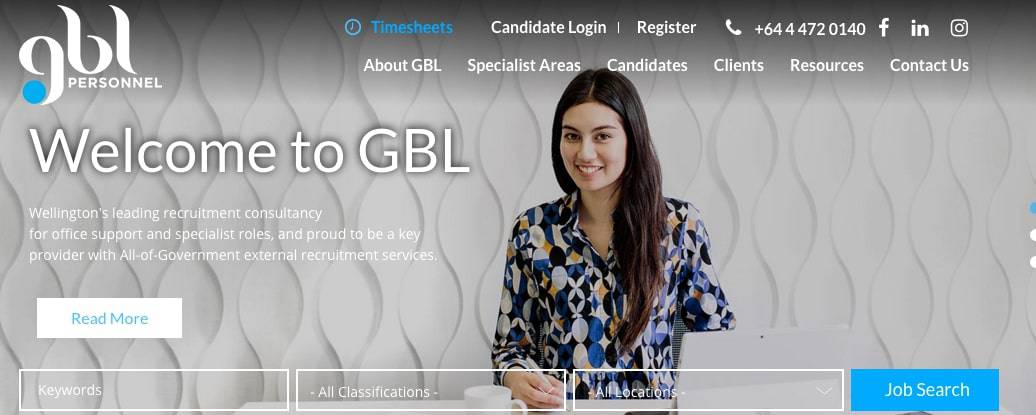 BEST FOR
Office and administration roles
SERVICES
Administration & Secretarial Jobs

Legal Support Jobs

Project / IT Support Jobs

Government Jobs

Accounts / Finance Jobs

Specialised Jobs

WEBSITE
https://www.gbl.co.nz/
ADDRESS
Level 5/107 Customhouse Quay, Wellington Central, Wellington 6011, New Zealand
CONTACT DETAILS
+64 4-472 0140
OPERATING HOURS
Monday – Friday: 8.00 AM – 5.30 PM
GBL Personnel is one of the best recruitment agencies in Wellington, especially for office roles. They offer a range of recruitment services for all levels of appointment.
They are also an AoG (All-of-Government) key recruiter and provide jobs for those interested in public sector roles.
They are committed to working with clients and candidates to provide exceptional quality of service with integrity, professionalism, and creative thinking.
With their services, GBL Personnel clients have found good work quickly. Whether you're looking for a job or want to find the best employees, GBL Personnel can help.
Highlights
Specialises in office roles
All-of-Government key recruiter
Exceptional service quality
Easy-to-find work
Customer Reviews
Check out Hannah S.'s review on Google:
"Allie has been amazing! She called me after I enquired about any vacancies and found me a role within 4 days, which was the exact type of role I'd been looking for. She has been friendly and professional, and very communicative. I would absolutely recommend to anyone needing help finding work!"
4) Jobsmith Recruitment

BEST FOR
Old school approach with social media use
SERVICES
Architectural & Civil

Construction

Electrical

Infrastructure & Utilities

Mechanical & Structural

Manufacturing

Security

Transport & Logistics

Trade & Industrial

IT & T

Office Admin Support

Sales & Marketing

WEBSITE
https://www.jobsmith.co.nz/
ADDRESS
38 Waring Taylor Street, Wellington City, Wellington 6011, New Zealand
CONTACT DETAILS
+64 4-499 5119
OPERATING HOURS
Monday – Friday: 9.00 AM – 5.00 PM
Jobsmith Recruitment is a down-to-earth recruitment consultancy for job seekers and employers alike. In their 25 years of service, it has become a recognised name in the industry.
They source opportunities for people who are starting out, wanting to build their skill set, or looking to advance their career. Whether you're applying for a small and medium company or a multinational firm, Jobsmith Recruitment has got you covered!
Their approach is old school while still utilising social media. Moreover, their experienced staff will support and guide you in finding the work that you want.
Highlights
Large range of job choices
25 years of service
Old-school approach
Professional and friendly team
Customer Reviews
Take a look at what Kayla R., a Jobsmith Recruitment client, has to say about their services:
"I have dealt with a few recruitment companies over the years…
JOBsmith is the best recruitment agency in Wellington by far. Quick, professional and friendly, the team at JOBsmith really make you feel valued and showed a genuine interest in what sort of career I was looking for. Highly recommend!!"
5) Talent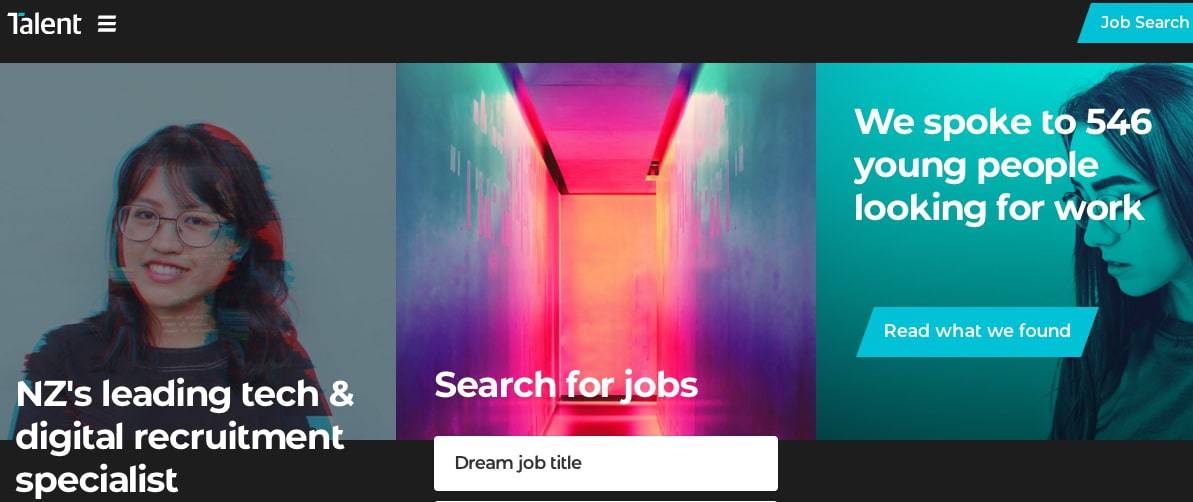 BEST FOR
IT & digital recruitment
SERVICES
Business Applications

Cloud & Infrastructure

Cyber & Info Security

Business Intelligence & Data Analytics

Digital Marketing & Advertising

Digital Product Management

Executive Search

PMO & Transformation

Sales & Business Development

Software Development

Telco & Communications

UX / CX Creative & Design

WEBSITE
https://www.talentinternational.co.nz/
ADDRESS
Level 3/31 Waring Taylor Street, Wellington Central, Wellington 6011, New Zealand
CONTACT DETAILS
+64 4-499 1200
OPERATING HOURS
Monday – Friday: 8.30 AM – 5.30 PM
Talent International Wellington is more than just a typical recruitment agency. It stands out from the rest because of its commitment to driving positive social change through its work.
Specialising in IT and technology positions, they are dedicated to helping their clients find the perfect role. In everything they do for them, they do it with true care and compassion.
What's more, it's bagged 27 industry awards in the past 10 years, including the Best Contribution to the NZ Hi-Tech Sector and 2019 SEEK Large IT Agency of the Year.
They offer tailored solutions for scouting permanent, contractual, and even executive positions. It is one of the best recruitment agencies in Wellington, having over 16 locations around the world.
Highlights
Award-winning recruitment agency
Provides custom solutions
Full breadth of IT and tech jobs available
Cares about its clients and the community
Customer Reviews
Take a look at Ben's review about his experience with Talent International:
"She was very focused on making sure that she did the best by me whenever possible and kept in touch regularly. Again very shortly after the interview I had an offer to work at an amazing workplace in an excellent opportunity that really suited me and will allow me to continue growing my career. I would highly recommend Georgia to anyone out there in the IT world looking for a new role – she is a very friendly, professional and driven recruiter who will always do her best by you, not just to place you in a role, but to place you in a role that's really suited to what you are looking for and what you are capable of."
6) Veritas Education New Zealand

Veritas Education New Zealand is one of the best education recruiters in New Zealand, and specialise in placing kiwi teachers in great schools across London and the UK. They cater to roles in Early Childhood, Primary and Secondary schools and can assist with supply, fixed-term and permanent placements. Veritas work with partner schools that are accustomed with having overseas teachers, and therfore have excellent support systems in place.
Veritas make the transition to the UK seamless and many praise them for their comprehensive recruitment process, from registration to relocation. They also offer a generous relocation package.
Through their resourcing office in New Zealand, they accommodate prospective recruits from New Zealand, Australia and around the world. Timezones won't be an issue, as they have employees working at various times of day to hold interviews and consultations.
Given their many resources, various connections, and well-versed employees, Veritas Education New Zealand is no doubt a reliable recruitment agency for anyone in the education industry to consider. With their assistance you'll not only be able to find a job, but also be able to adjust to it well.
If you are interested in teaching in England please reach out to Roscoe Price Moor — the International Resourcing Manager for further information.
Highlights
Diverse client-base
Accommodates interviews from various time zones
Dedicated and attentive consultant
Honest and transparent communication
And there you have it for the best recruitment agencies in Wellington. With their expert help and advice, finding the perfect job has never been easier.
Think we missed a recruitment agency on our list? If you do, kindly send us a message and we'll get back to you as soon as we can.
Anyway, you can check out the best electric scooters in New Zealand too. This lets you commute to work without being late for your interview or the first day of work.