The 9 Best Restaurants in Auckland
Taking your family or a special someone out for dinner? Well, we have you covered as we've put together a list of the best restaurants in Auckland for you.
We selected the ones that bring top-notch service and have a warm and inviting atmosphere. More importantly, we chose those that offer seasonal and flavoursome food you'll delight in.
Without any further ado, here are the absolute best restaurants in Auckland!
1) Kazuya Restaurant
Want to try European cuisine with a Japanese twist? If you do, then Kazuya Restaurant is perfect for you.
Chef Kazuya uses low-temperature roasting for meat and Japanese methods for preparing fish dishes. The food here is savoury and interesting at the same time, as many customers can attest to.
You can choose among 7-course, 4-course, or premium 7-course meals. Of course, they also have juicy and delicious Japanese Wagyu beef.
Combining fresh ingredients and a modern restaurant setting, Kazuya Restaurant is one of the best restaurants in Auckland to try out.
Highlights
European cuisine with a Japanese touch
Uses premium ingredients
Modern restaurant setting
Three meal courses you can choose from
Customer Reviews
Check out this feedback from Christian Q. about Kazuya Restaurant:
"One of the best fine dining experience I've ever had in Auckland. All the flavors in the dishes are very well balanced with amazing mixture of textures. Service was top notch and an excellent wine selective. Good price for the quality of food. Highly recommend."
2) The Grove
The Grove is a fine dining restaurant located in the heart of Auckland. It offers a degustation menu with vegan and vegetarian options as well as premium wines.
They offer scrumptious and variegated food from their seasonal menu. You can personalise your course menu or order individual dishes.
What's more, they have a valet parking service for your convenience.
Having bagged multiple awards for food and service, The Grove has already secured itself as one of the best restaurants in Auckland.
Highlights
Offers degustation dining
Vegan and vegetarian menu
Intimate and warm environment
Valet parking service
Customer Reviews
Here's what one client, Glenda G., wrote about The Grove:
"My husband and I decided to celebrate our anniversary at The Grove and it was an excellent choice. The atmosphere was romantic and relaxed. We opted for the vegan tasting menu and I can't express how amazing it was. Every dish was presented with such grace and a thorough description of everything and how the flavors complimented each other. Each dish was the perfect portion and all together made a very filling meal. The staff was incredibly sweet and made us feel at home. They even presented us with a congratulatory card signed by all of them! It was such a special evening and I highly recommend this experience to anyone considering splurging a bit. Absolutely worth it!"
3) Luncheonette by Culprit
For a quick lunch in Auckland CBD, Luncheonette by Culprit is a great choice! Here, they offer light, simple, and seasonal lunch meals crafted for the urban diner.
You'll be amazed by their exquisite and delicious food. We highly recommend their Lamb Ribs, Pork Cheek Bow-Tie Pasta, and vegan Courgette Flower.
Afterwards, you can order their heavenly desserts such as the Miann Milk Chocolate Trifle or Amaretto & Coffee Mess to complete your day.
For dinner, you can swing by the restaurant from Tuesday to Sunday from 5 to 10 PM.
Highlights
Light, simple, and seasonal lunch
Well-presented and delicious food
Group menu available
Customer Reviews
One customer, Messy J., wrote a review of his dining experience at Luncheonette by Culprit:
"Had a fantastic meal at Culprit. The service was excellent, fun dining experience with trolley service for the entrees, and the most tender meat. All the food was fresh, light, and delicious. Love that the meal starts with a koha. Retro feel with overhead projectors and neon lights on the walls."
4) O'Connell Street Bistro
Formed in 1997 by Chris Upton, O'Connell Street Bistro serves a variety of delectable European bistro food made from seasonal and imported ingredients.
It has been voted as one of the Top 50 Restaurants in Auckland and is recognised by the Cuisine Good Food Awards. They have also won the Wine Spectator Award for 17 years straight!
According to several customers, the hospitable and reliable staff provide exceptional service. As such, many customers end up having a very enjoyable experience at the restaurant.
You can enjoy a little tipple at their bar which has a great selection of wines. Also, a private dining space beside the bistro is available for bookings and can accommodate up to 25 people.
Highlights
Serves European bistro food
Multi award-winning restaurant
Exceptional service
Great wine selection
Customer Reviews
Here's Sheridan D.'s feedback of O'Connell Street Bistro:
"Lovely, ambient atmosphere due to thoughtful touches such as the tableware and lighting. Varied menu in a really interesting wine list that contains some unusual varieties backed by an excellent sommelier. The owners of O'Connell Street bistro understand how to make dinner out feel special."
5) Amano
Handcrafted pasta, freshly caught and cooked fish, and other Italian fares are offered at Amano. It's a bakery and restaurant nestled in the historic Britomart Place.
Amano is one of the best restaurants in Auckland for its diverse food choices. From light dairy meals to hearty entrees and tempting desserts, you're in for a treat!
They're open 7 days a week from morning 'til late, so can you can dine in for breakfast, lunch, or dinner. You can also get fresh produce from them or order food to be prepared at home.
With their down-to-earth and attentive service, they strive to make guests feel relaxed while appreciating the flavour and tradition of Italian food.
Highlights
Serves Italian-inspired fare
Down-to-earth and attentive service
Relaxing ambience
Open 7 days
Customer Reviews
One guest, Camilo M., wrote this review about Amano:
"Well worth the visit and the food was great and we had a lovely waitress but forgot to get her name. She is from Holland and made my little girl who is 11 feel part the of party and was kind enough to explain and repeat the dessert specials. The service is second to none and we all felt welcomed and kept happy with the food speed and the quality of cocktails. Will visit again."
6) Nanam Eatery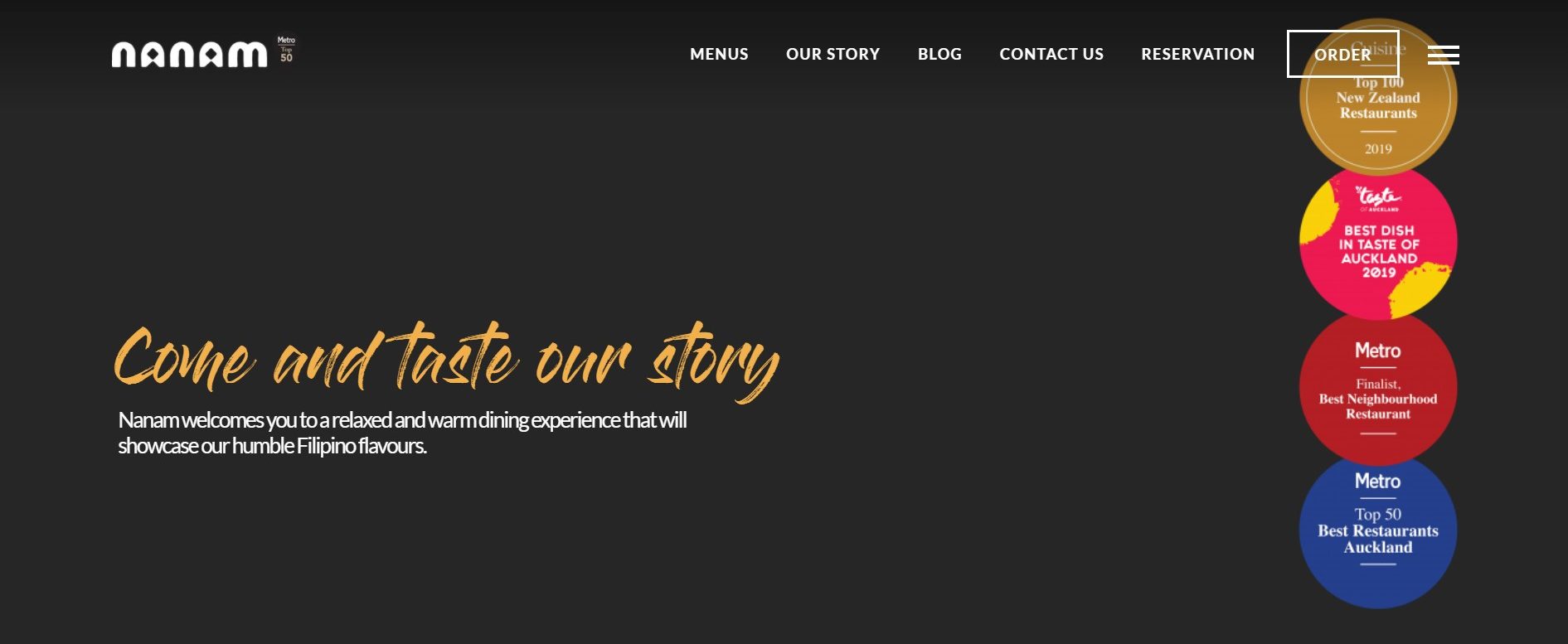 BEST FOR
Filipino Cuisine
SERVICES
Brunch, Set Menu, Catering
WEBSITE
https://nanam.co.nz/
ADDRESS
178 Hurstmere Rd, Takapuna, Auckland
CONTACT DETAILS
09 488 9976
[email protected]
OPERATING HOURS
Monday Closed Tuesday and Wednesday 4:30 pm to 10:00 pm Thursday to Saturday 11:30 am to 3:00 pm 4:30 pm to 10:00 pm Sunday 11:30 am to 3:00 pm   Pop-Up Bakery Thursday to Sunday 8:30 am to 3:00 pm
Enjoy a great dining experience after a week's worth of work, at Nanam Eatery. They offer amazing food at the best price, incorporating unique and quality Filipino twists in dishes.
The atmosphere inside the restaurant is also very relaxing, providing a warm ambiance that sets the mood. With Nanam's overall food and service, you're sure to leave satisfied and ready to book seats again in the restaurant..
Check out their menu online and reserve a time for you and your loved ones.
Highlights
Rich taste and varied spices on dishes
A lot of food to try
Delicious desserts
Amazing customer service
Customer Reviews
Read some of the feedbacks on Nanam's food and service, proving just how amazing the restaurant is. Consider them next time you want to try out new things!
"Surprisingly good. First time trying Filipino food and it's impressive. Ordered two tapas curry and eggplant, each tastes unique and refreshing, ordered rice to go with the curry, a special aroma in the rice so I finished everything couldn't any bits in the plate. Have no space for dessert will try next time as it sounds interesting from the menu. Highly recommend to anyone who wants to try the unique Asian taste and fusion. Added as one of my favourite spot." – Li Pearl
"Always a pleasure to bring my guests to the best restaurant in Auckland. So proud of such unique gastronomic talents by Chef Jess and Andrew. I have been bringing my guests to this place since I arrived in New Zealand in 2018. The service and quality of food of reasonable prices have never disappointed me. Kudos to the team! Keep shining, guys!" – Sheila Simajon
7) The Fox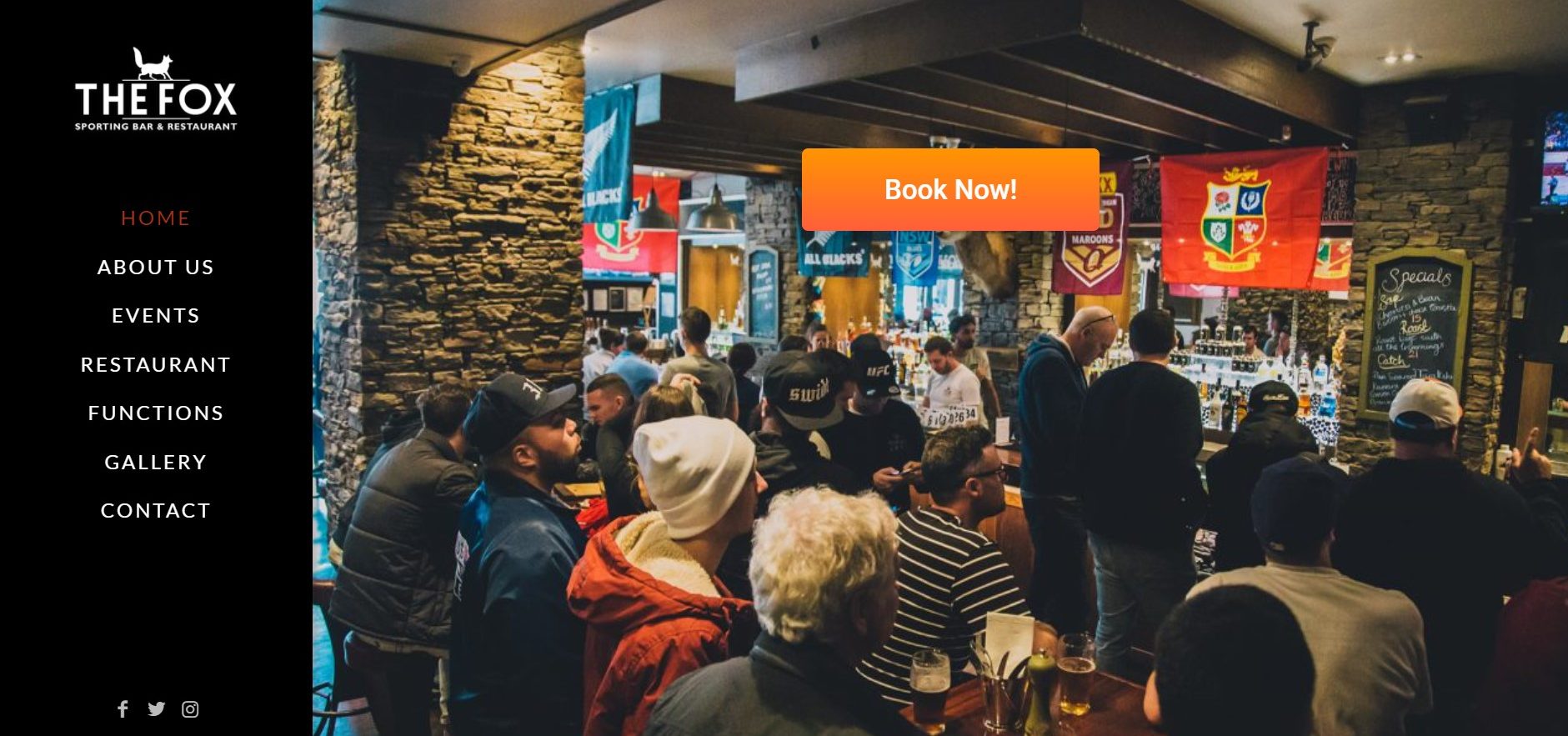 BEST FOR
Taste of New Zealand
SERVICES
Breakfast, Lunch, Dinner, Events, Drinks and Bar
WEBSITE
https://thefox.co.nz/
ADDRESS
85/87 Customs St W, Auckland, 1010
CONTACT DETAILS
[email protected] | 09-358 2767
OPERATING HOURS
Friday – Saturday; 11am–1am
Sunday: 11am–11pm
Monday – Thursday: 11am–10pm
The fox was established in 2002 with the goal of providing the people of New Zealand good local food and drinks daily. From breakfast, upto dinner and even for happy hour after, their place is available for you to unwind at and relax after a stressful week.
The food they have ranges from burgers and steak, to seafood and samosas. The wide range of selection will ensure that you never run out of options to try any time soon.
The Fox also screens any and every sports event they can, if you have a request, you can take it up to them and they'll be happy to accommodate you! For any other details, head on to their website. You can also reserve function rooms there.
Highlights
Well-priced food and drinks
Sports on screens all day
Cozy atmosphere
Great portions of meals
Customer Reviews
Below are some of the feedbacks left on The Fox's Google Review, proving just how amazing their food and overall service can be.
"A pulsating atmosphere when major sporting events are happening. Great staff, very friendly surroundings and decent priced drinks and food. The bar manager was very helpful and accommodating when I arranged an event there last year and it's a place I always nip into when I'm in the CBD." – Mark Fearn
"Me and my friends been at this place last weekend. The steak was on top and was perfectly cooked. We were really pleased with all the meals we had there. I would highly recommend everyone to visit at this place once if they wanna have something best to eat." – Dilpreet Kaur
8) Mulan Malaysian Restaurant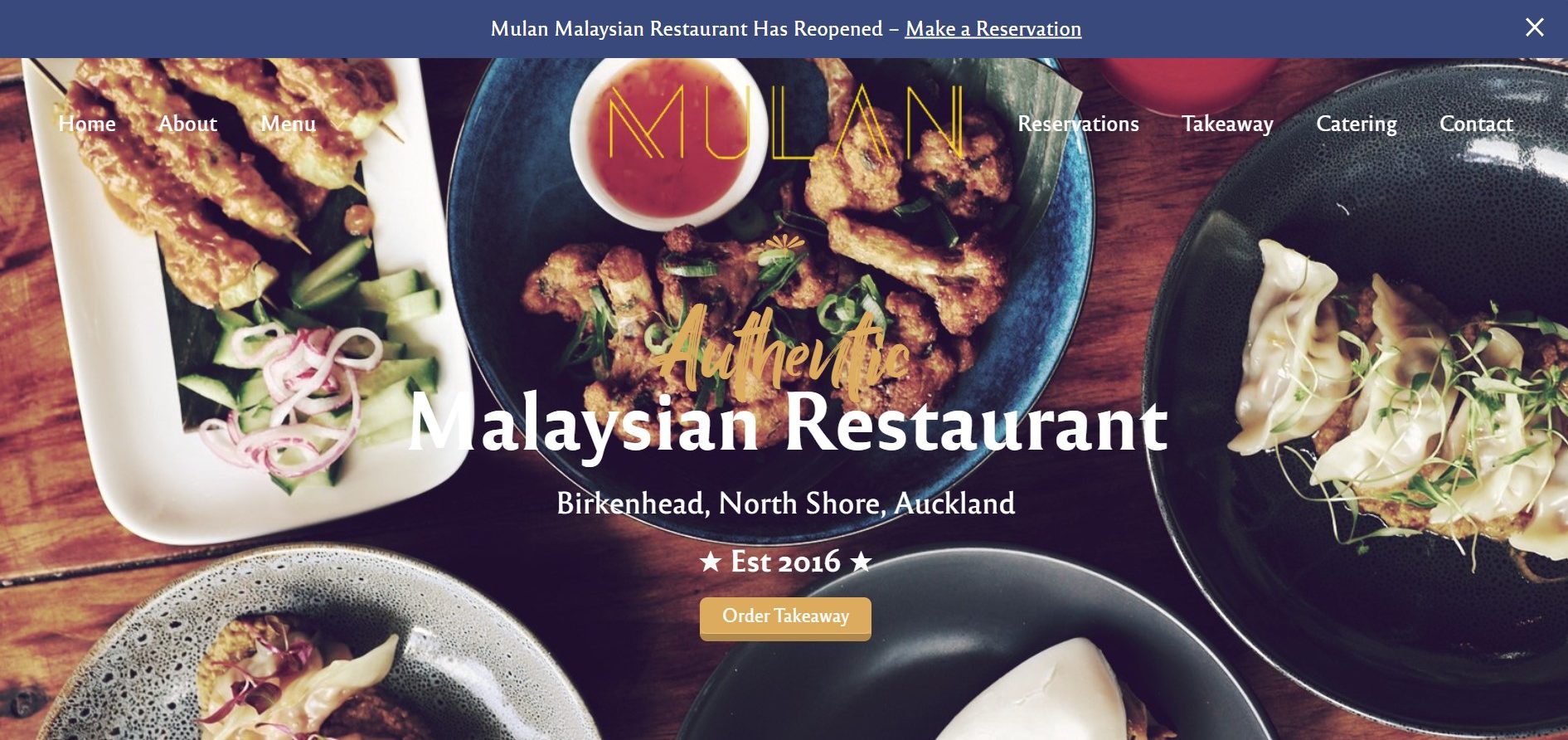 | | |
| --- | --- |
| BEST FOR | Vegan Menu |
| SERVICES | Dinner, Takeaway, Catering |
| WEBSITE | https://mulan.co.nz/ |
| ADDRESS | 243 Hinemoa Street, Birkenhead, Auckland 0626 |
| CONTACT DETAILS | 09 480 2806 |
| OPERATING HOURS | Tuesday to Sunday: 5:30pm – Late |
Experience authentic Southeast Asian Cuisine at Mulan Malaysian Restaurant. Nestled in the suburbs of Birkenhead, Mulan is owned by James Balakrishnan, a Malaysian chef with over 20 years of experience in the industry.
The restaurant offers home-style cooking, using only the best ingredients and making dishes as customers order, to ensure the freshness and quality.
To add on to it, everyone is certainly welcome in Mulan as they have both meat and vegan dishes for people to enjoy. You can bring anyone here and you'll have less worries about allergies and whatnots.
Check out their menu on the website and contact them for an early reservation.
Highlights
Outstanding customer service
Amazing food
Comfortable atmosphere
Budget-friendly pricing
Customer Reviews
Garnering an almost perfect 5-star rating, you can read more of the feedbacks left for Mulan Malaysian Restaurant below:
"Visited here for a special birthday dinner. Had to book us beforehand since the place so popular for their delicious food.
We bought a birthday cake for this special person and the manager asked what the special occasion was for. When we let her know, she led the whole restaurant customers and staff sing the happy birthday for our family member.
It was a great evening and a memorable experience. Would recommend and come here next time. Thank you Mulan staff and team"
"Just had chicken satay and market fish, they were all delicious, so rich. And also service was awsome. As I understand this place is family restaurant. I highly recommend to try this restaurant"
"Such a beautiful restaurant with amazing staff. The food was authentic and delicious – every dish we tried was unique and cooked to perfection! Will definitely be dining here again soon."
9) Tony's Lord Nelson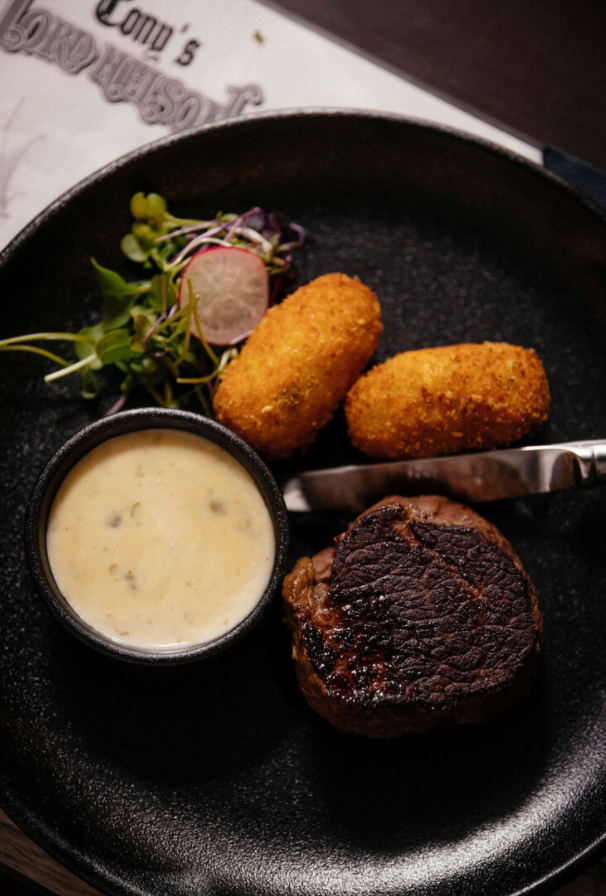 Next on our list is Tony's Lord Nelson Restaurant, one of the longest-running restaurants in Auckland, having opened its doors to the public in 1978. 
Tony's Lord Nelson Restaurant is known for many things, one of which is its eye-catching, one-of-a-kind setting complete with private booths and open spaces. Those who are looking to enjoy intimate dinners can do so in the lower portion of the restaurant, while larger groups and parties can have a swell time upstairs.
Another thing worth noting about Tony's Lord Nelson Restaurant is its menu, which features a wide array of dish options to choose from. There's a meal for every palate, what with Tony's Lord Nelson Restaurant offering seafood, venison, lamb, chicken, and of course, their world-famous prime steaks. 
Each and every dish is created with care, with the finest ingredients used and some of the most capable chefs handling the kitchen. Customers can expect mouthwatering dishes no matter the time of day or day of the week they come in. 
Lastly, Tony's Lord Nelson Restaurant doesn't only accommodate regular diners. The restaurant is also known for catering to different occasions, like birthdays, meetings, and anniversaries. 
Clients are welcome to book a meeting with the restaurant's team to tailor a menu befitting the event and its guests. 
Highlights
Excellent customer service
Diverse and mouthwatering menu
Large dining areas
Caters to large groups and events
And that completes our list of the best restaurants in Auckland. As you can see, these restaurants are sure to give you a fantastic dining experience.
Do you have any questions or comments about our list? If you have one, kindly leave us a comment and we'll get back to you in a bit.
Apart from what we've mentioned, how about trying Indian food for your lunch or dinner? For this, you can read about the best Indian restaurants in Auckland.